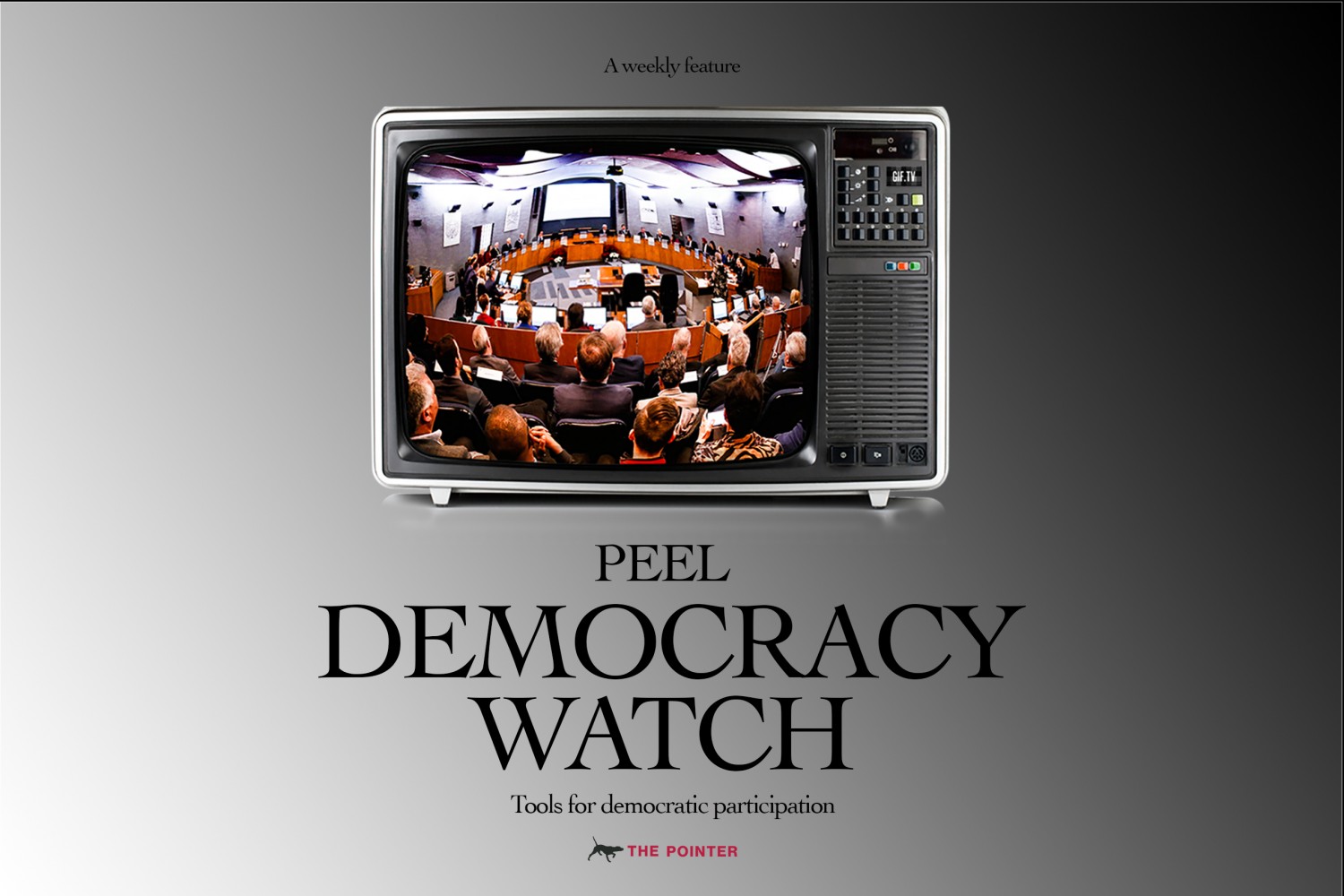 Feature illustration from Joel Wittnebel/The Pointer
Board to hear accounts of police involved shootings; 'substantial resistance' within PDSB to ministry's anti-racism directives
Peel Democracy Watch is The Pointer's weekly feature aimed at increasing the public's awareness and political involvement in the Region of Peel by highlighting key agenda items, motions and decisions.
---
Peel Police Services Board
Date: Friday June 24 at 10:00 a.m. | Delegate | Full agenda | Watch live
Board members to hear delegations on the inquest of Marc Diza Ekamba's death
In 2015 a young Black man was shot and killed by Peel Regional Police (PRP). The inquest into his death, which took place earlier this year, made strong recommendations asking PRP to re-evaluate how it deals with those in mental health crisis, including its Mobile Crisis Rapid Response Teams. The recommendations, which are non-binding, also asked police services across the province to ensure their officers are adequately trained to respond to the specific concerns and continue de-escalation training. Two delegates on the topic will touch on the inquest, one from community activist Dave Bosveld and Ann-Marie White, the mother of Jamal Francique who was killed by Peel Regional Police in 2020. The full report and inquest are not found on the agenda, but the recommendations made can be found here.
Previous reporting:
Auto theft increasing in Peel
According to data from Peel Regional Police, between January 2021 and May 2022 over 2,000 vehicles have been stolen in Peel with only 897 of them recovered. Top stolen vehicles are the Honda CRV, Lexus RX350 and the Land Rover. Police say keys or fobs are being duplicated or stolen from inside the house. The report explains culprits are groups of organized crime from the Greater Toronto Area and from Quebec.
The presentation can be viewed here.
Previous reporting:
Hate crimes increase in Peel in 2021
Hate/bias-motivated crimes are on the rise in Peel Region. A report to the police services board says there were 115 such crimes in 2021, an increase from 93 in 2020. Despite the increase, the region is faring much better than the national statistics which saw a 32 percent increase in 2020, the report states. The most common type of largest hate-motivated crimes were mischief, followed by uttering threats. Hate crimes motivated by race/nationality increased from 71 in 2020 to 90 in 2021. Similarly, crimes motivated by religion saw a jump from 26 in 2020 to 36 in 2021. Those who practice Judaism reported the most incidents, and crimes motivated by sexual orientation saw the largest increase from 6 in 2020 to 16 in 2021.
Previous reporting:
Board Meeting
Date: Wednesday June 22 at 7:00 p.m. | Delegate | Full agenda | Watch live
'Substantial resistance' to ministry directives
Ministry Directive 19 (part of the ongoing work to eradicate systemic discrimination from within board) asks the Peel District School Board to remove the practice of streaming which sorts students by their perceived academic ability. The practice has shown to disproportionately impact Black and Indigenous students, hampering their future education opportunities. While the board has made some progress on destreaming efforts, the report from Rashmi Swarup, PDSB's Director of Education, states "there has been substantial resistance to implementing all of the directives, including Directive 19." The report outlines a number of ways in which resistance had "manifested", including efforts to discredit or minimize the trauma of students; and "creating narratives that attempt to decentre the work of anti-Black and anti-Indigenous racism rather than engaging in work to address the intersections and/or solidarity work."Currently all schools within the board in Grades 9 and 10 have math and english destreamed. In the 2022-2023 school years PDSB is working on achieving de-streamed science classes.
Read the full report here.
Previous reporting:
Board finalizes anti-racism policy
As part of the Ministry of Education's comprehensive review of PDSB, the board has been tasked with creating an anti-racism policy that will form the foundation of their efforts to eradicate systematic racism. For the past two years the board has consulted with stakeholders, policy developers and created a plan to protect students of all backgrounds. The policy was developed in large part with the Ontario Human Rights Commission. The anti-racism policy provides board members and staff with knowledge and direction to avoid harmful practices of the past and work to be inclusive of the PDSB's multiracial students and faculty.
Read the report here.
Previous reporting:
Board Meeting
Date: Tuesday June 21 at 7:00 p.m. | Delegate | Full agenda | Watch Live
Staff report confirms deficit; recommends eliminating more than 30 teaching jobs
With the school year wrapped up, the Dufferin Peel Catholic District School Board (DPCDSB) is facing a unfortunate financial reality. The board is carrying a deficit of $43.7 million. To ensure the deficit isn't carried over, staff are recommending significant reductions to the 2022-2023 school year budget. According to the report, 34 full-time secondary school teacher positions, four vice-principal positions, and one corporate staff will be eliminated along with an overall budget reduction. Staff cited declining enrolment, COVID-19 expenditures and less funding from the Ontario government as the reasons for the reductions. "The Dufferin-Peel Catholic District School Board of Trustees appreciates the investments the Ministry of Education has made but wants to express concern regarding the ability to sustain these areas without ongoing investments by the Ministry of Education," a previous statement from the board reads. This past school year, DPCDSB saw a 2.5 percent decrease in enrolment. The provincial government for the upcoming year is projected to give the board $885,503,574 million, a reduction of nearly $40 million from the 2018/2019 school year. Since that time, student enrolment has dropped from 79,813 to a projected 71,419 students expected to be enroled next year.
Read the report here and the Grants for Student Needs Projections here.
Council
Date: Thursday June 23 at 9:30 a.m. | Delegate | Full agenda | Watch live
Regional council hears update on Housing and Homelessness Master Plan
Peel staff say demands for housing services have continuously outpaced the Region's actions. Of the 35 actions the 2018 Housing and Homelessness Master Plan committed to, 18 percent have not started, 40 percent are complete and 42 percent are in progress. According to the update, staff assisted 1,582 people find a permanent home, and a further 7,923 people who were facing eviction or who were at risk of homelessness had housing stabilized. At the end of 2021, Peel's housing subsidy waitlist had grown from 22,445 to 28,227, a 16 percent increase in a single year and an 88 percent increase from 2019.
Read the full report here.
Previous reporting:
Region moving forward with district energy at Lakeview Village
If approved Thursday, Enwave Energy Corporation and the Region of Peel will enter into a Memorandum of Understanding (MOU) to create a district energy project for Lakeview Village. Along Lake Ontario in Mississauga, Lakeview Community Partners (LCP) (a conglomerate of large developers in Ontario) are creating a project which will transform the area. The development sits directly beside the Region's G.E Booth Wastewater Treatment Facility. Peel and LCP want to use the thermal energy from the wastewater facility to heat and cool the 8,050 residential homes and other institutional buildings that will be built on the 177-acre site. Peel is pitching in $450,000 for the construction of the district energy system.
Read the report here.
Previous reporting:
Peel Paramedics ask for two ambulances 'immediately' along with 22 more staff members
The pandemic restrictions may be losening, but the workload for Peel Paramedics is ongoing and increasing. In a report going before councillors Thursday, staff are recommending the addition of two 24/7 ambulances at a cost of $953,000 to alleviate stress on the region's paramedics. A total of 22 pre-hospital care staff are also needed at a cost of $3.34 million. These workload pressures are only expected to increase as Peel's population continues to grow. The staff report states that Peel's three municipalities had an average one-minute increase in paramedic response times in 2021 compared to 2020. Paramedics are also facing a delay due to hospital shortages. From 2019 to 2021 the amount of time paramedics spent at hospital waiting to offload patients increased by 14 percent.
Read the report here.
Previous reporting:
Peel bolstering long-term care staff to align with provincial changes
In April of this year, the Ontario government passed the Fixing Long-Term Care Act (2021) to spark more action to protect those in long-term care. To comply with the Act, Peel Region will hire 80 new full-time staff in order to achieve four hours of daily contact with all residents; 10 staff for specific healthcare needs; two staff for the implementation of the Act and four permanent staff to manage the funds. The Province has asked all long-term care homes to better manage disease/virus outbreaks and increase contact with all clients from two hours, 45 minute average to four hours. The Act also forces all Regional councillors to obtain a police record check regardless if the person is serving on one of the committees serving the homes. The changes will cost the Region about $1.7 million to implement.
Read the full report here.
Previous reporting:
Council
Date: Wednesday June 22 at 9:30 a.m. | Delegate | Full agenda | Watch live

Motion asking staff to create a business sustainability hub in Southdown community
Ward 2 Councillor Pat Mullin is moving a motion Wednesday with the aim of decreasing air pollution and noise in the Southdown District. Along Royal Windsor Drive and Southdown Road near the Queen Elizabeth Way (QEW), large trucks can be seen attempting to bypass slowdowns on the highway or delivering materials to the numerous businesses in the area. Mullin mentions in her motion the area is adding new businesses, but the growing district creates problems for local residents, including dust, increased traffic and noise. The councillor wants City staff to create a hub supporting both sustainability practices and business efforts to appropriately balance growth in the community.
Read the motion here.
Previous reporting:
General Committee Meeting
Date: Wednesday, June 22 at 9:30 a.m. | Delegate | Full agenda | Watch live
Note: Due to an ongoing dispute among Brampton council members, Brampton City council did not make quorum for its regularly scheduled meeting last Wednesday, or a Special Meeting of Council called last Friday. It's unclear if Wednesday's General Committee meeting will proceed as scheduled. Read more here: Patrick Brown and his four council allies are striking—Brampton City Hall business delayed indefinitely
Brampton satellite police station budget increasing
The tender to construct a Peel Regional Police satellite station in Gore Meadows closed in May with 11 submissions. All submissions exceeded the budget of $230,000. Staff are now asking for council to increase the budget to $501,000, nearly doubling initial estimates for the project.
"The increase in project costs is attributed to escalation of construction costs, largely due to a busy marketplace," the report states.
Read the report here and view the staff presentation here.
Updated design for downtown Brampton Riverwalk project
Brampton councillors finally have an urban design master plan for the Riverwalk project. The design will seamlessly integrate flood protection measures, environmental improvements, focus on resilient/sustainable development and bring more active transportation to the downtown core. An earlier report estimated the entirety of the Riverwalk project would cost the City of Brampton $264 million. Approximately $107 million of that estimate is flood mitigation efforts—which have funding commitments from upper levels of government. However, the remaining budget for urban design improvements remains without a funding source.
Read the staff report here.
Previous reporting:
Brampton 2021 infrastructure gap at $550 million over next 10 years
According to Brampton's asset management plan (AMP), the City currently has an infrastructure gap of $550 million over the next decade. The infrastructure gap refers to how many projects will need to be paid for over the next 10 years, but currently do not have a funding source in the City's budget. According to the staff report, the expected growth of the city will fund a large portion of the gap, bringing it down to $307 million by 2031.
Read the staff report here.
Previous reporting:
Brampton surplus of land could mean new long-term care facility
Indus Community Services has been looking for land to house a South Asian specific long-term care home—a project the organization received funding support for from the provincial government. The City of Brampton is now considering a 2.13 parcel of land along Goreway Drive to potentially lease or hand over to Indus for the project. In order to do so, the City-owned property would need to be declared surplus to the City's needs. Council will debate the land designation on Wednesday.
Previous reporting:
Planning Committee
Date: June 21 at 7:00 p.m. | Delegate | Full agenda | Watch live
Town planning for future with developers involved
A report to Caledon's planning committee on Tuesday showcases the potential growth coming to Caledon. After the Region of Peel expanded its urban boundary, Caledon staff are now working to determine where the 300,000 people expected to move into the town by 2051 will be housed. The growth concept focuses on intensifying residential communities in Bolton and Mayfield West. Proposed development is primarily around the potential Highway 413. The meeting also sees delegations from numerous developers.
Previous reporting:
---
Email: [email protected]
Twitter: @taasha__15
---
COVID-19 is impacting all Canadians. At a time when vital public information is needed by everyone, The Pointer has taken down our paywall on all stories relating to the pandemic and those of public interest to ensure every resident of Brampton and Mississauga has access to the facts. For those who are able, we encourage you to consider a subscription. This will help us report on important public interest issues the community needs to know about now more than ever. You can register for a 30-day free trial HERE. Thereafter, The Pointer will charge $10 a month and you can cancel any time right on the website. Thank you
Submit a correction about this story