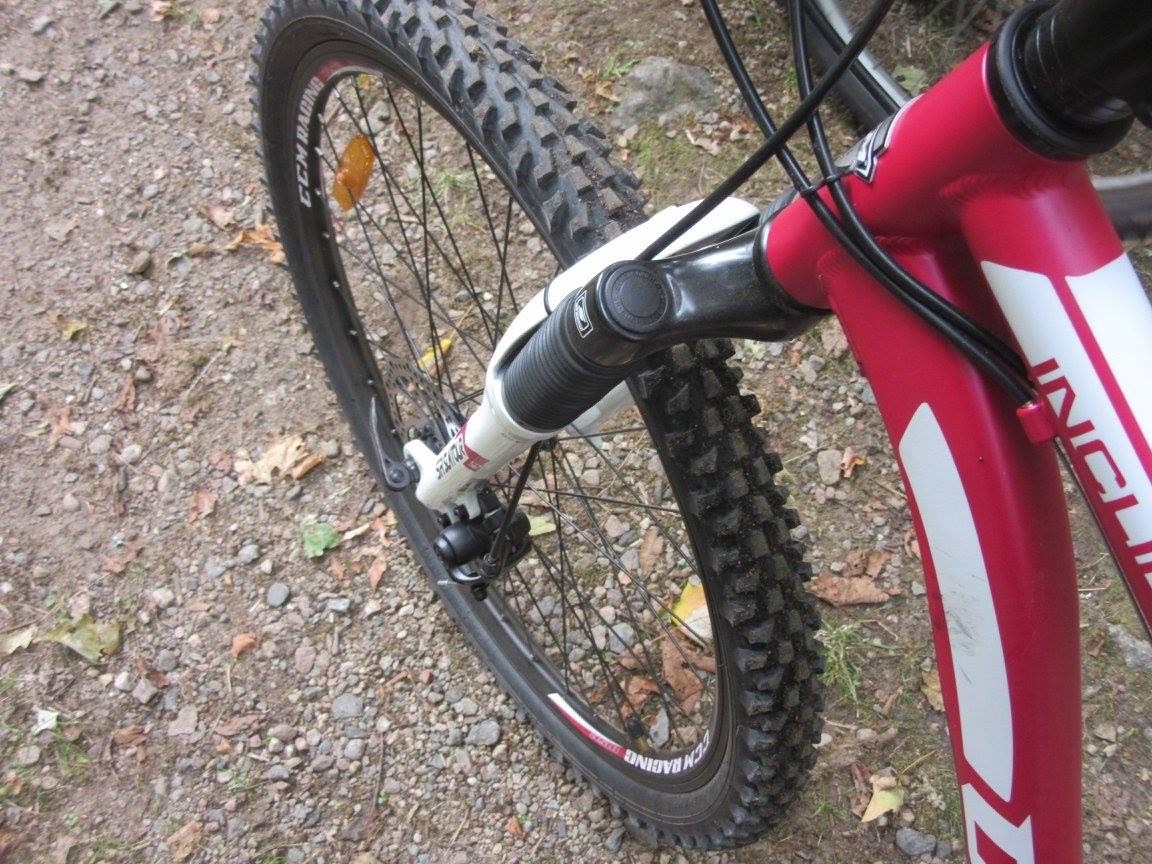 Feature image from Natasha O'Neill/The Pointer
Deaths on local roadways deterring Mississauga residents from opting for greener transportation 
"Assume they're going to hit you."
It isn't the most encouraging of mindsets for cyclists, but David Shellnutt, founder of the Biking Lawyer LLP, a group of personal injury and human rights lawyers and bike enthusiasts based in Toronto, says it can keep cyclists safe.
"Assume they aren't going to see you, or they're not looking for you, or they don't care."
Shellnutt, an avid cyclist, was hit by a car while in a designated bike lane on Dundas Street East in Toronto, a story that isn't uncommon in Mississauga. With a green bike light Shellnutt cycled forward when a vehicle that didn't signal or check its blindspot cut in front of him.
His broken wrist and elbow eventually healed, but the psychological injuries lasted longer. When he did build up the courage to get back on his bike months later, he found himself angry and scared, which led him to a psychotherapist to talk about his trauma.
Shellnutt still rides, and hopes cities will start protecting their cyclists with designated lanes.
"It's the best part, at the beginning of my day, and the best part at the end of my day when I'm commuting to and from work," he said. "I wouldn't give that up for anything, and I encourage others not to as well, just protect yourself."
The City of Mississauga has been in the slow process of adding more designated and separate bike lines to its highway-like commuter thoroughfares, to protect and encourage residents to opt for more green methods of transportation. In 2020, only 14.5 kilometres of bike lanes, multi-use and off-road trails, shared routes and tracks with separate lanes, were added to the city's network.
Under the Cycling Master Plan (CMP) which Council endorsed in 2018, 897 kilometres of cycling infrastructure is to be built over 27 years, with an average $5.2 million to be invested in these projects every year. Councillor Pat Saito was unimpressed with how little the plan achieved this past year despite biking becoming more popular during the pandemic.
"I am really disappointed in what we have done or haven't done in providing safe cycling access on roads," she said. "I've been asking for over a year for bollards to be installed along 10th Line because every time I drive on that road, there are cars driving in the bike lane."
Saito also mentioned the southern parts of Derry Road where the bike lane is very narrow causing cyclists to ride on the sidewalk.
"I can't blame them. I don't feel safe riding my bike on 10th Line, because of the behaviour of the traffic," she said.
Automated counters on Etobicoke Creek and Waterfront Trails indicate cycling increased 122 percent from 2019. As social distancing rules persisted over the summer and fall of last year, people found new ways to see friends and family outside. Bike shops in the City also reported record sales with the municipality's 13 bike shops averaging about 1,000 bikes sold, each.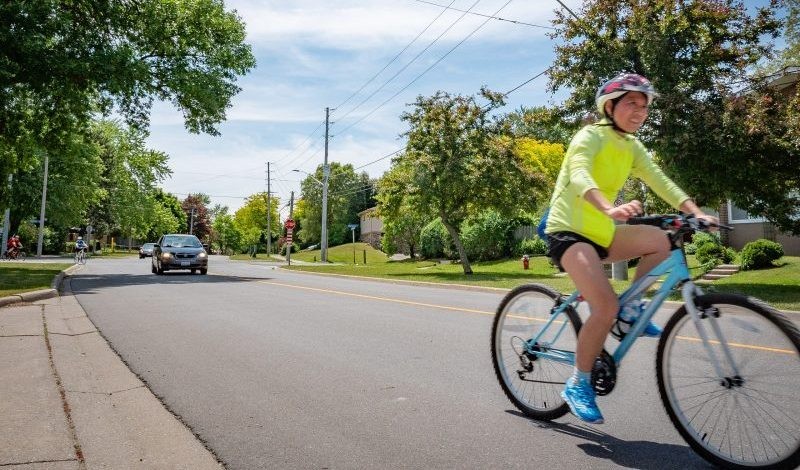 With high-speed traffic and limited bike lanes, cycling can be a dangerous choice in many areas of Mississauga.
(Photo from City of Mississauga)
As a socially distanced summer continues in the province, bikers continue to use lanes and roads for pleasure and for commuting, and some have been injured.
"Had it been a segregated bike lane, I wouldn't have been hit," Shellnutt told the Pointer.
Painted bike lanes don't offer any sort of protection to cyclists when drivers are careless or do not know the rules of the road. Separate, or segregated, bike lanes have barricades or raised blocks to prevent drivers from steering into bike paths.
In 2020, the City only completed 0.7 kilometres of separated bike lanes, and mostly focused on off-road and multi-use trails with a combined total of 10.3 kilometres. They are proposing more lanes with designated barricades. When these lanes will be completed is unknown.
Minimal progress has been made over 2020 to add more bike lanes in the city.
(City of Mississauga, presentation from June 23)
The success of the CMP aligns with various other master plans the City has in the works, including the Transportation Master Plan (TMP), Vision Zero, the Pedestrian Master Plan (PMP) and the Climate Change Action Plan.
Looking at the roads and infrastructure in Mississauga, it's clear planning for large amounts of vehicular traffic was front of mind. The long stretches of, two, three, even four-lane roads that run all across the municipality are built not only for speed, but for a lot of commercial trucks. Many bikers don't feel safe sharing the roads with high speed traffic and large vehicles.
The idea of Vision Zero, a concept that originated in Sweden almost 25 years ago, is to completely eliminate traffic-related fatalities and injuries from local roadways. Council opted into the plan in February 2018, ahead of Brampton, which approved its own vision in June 2019.
Currently, Peel Region is far from zero fatalities; in 2020 there were 43 motor vehicle collisions that caused death. Mississauga recorded 13 deaths in 2019, down 1 from 2018.
There were 25 cyclist-collisions reported to PRP, three caused death, nine had non-fatal injuries, nine resulted in property damages and four were non-reportable.
For pedestrians, the numbers were even more worrisome; 77 were involved in a collision with vehicles throughout 2020. Five of them resulted in death, 59 had non-fatal injuries, 10 resulted in property damages, and three were minor, not requiring a police report.
Scrolling down PRP's Twitter updates shows the issue is persisting in 2021.
UPDATE
-The male cyclist in his 60's has since died at hospital
-The roadway of Highway 50 is closed from Queen St.E. to The Gore Rd. Brampton, as the Major Collision Bureau and Forensic Identification Services process the scene
-No other vehicles outstanding
-21-0210650

— Peel Regional Police (@PeelPolice) June 18, 2021
COLLISION:
- Derry Rd/Dixie Rd in #Mississauga
- Pedestrian struck by a vehicle
- Pedestrian is conscious and breathing.
- Driver remained on scene and co-operating with police
- Pedestrian is an adult male
- C/R at 8:44 a.m.
- PR21-0202416

— Peel Regional Police (@PeelPolice) June 11, 2021
The Mississauga Bicycle Racing Club (MBRC) is celebrating a significant anniversary this year: 50 years of no recent injuries or deaths among its 60 members. But that doesn't mean problems don't exist. Jason Coulson, secretary of MBRC, told The Pointer debris in bike lanes can be dangerous.
"In Milton, there's been construction going on and the bicycle lanes just fill up with gravel coming off the trucks and if that's not maintained, then basically that's just a catch basin," he explained.
The average speed for riders in MBRC is 30 km/h, when debris is on the road they quickly swerve around to avoid it, which can be dangerous for cyclists and vehicles alike. If Mississauga creates more lanes dedicated to biking, keeping them maintained and free from debris will also be high on the list of needs from cycling enthusiasts.
Peel and Mississauga's Climate Change Action plans largely revolved around lowering carbon emissions from vehicles, and incentivizing residents to opt for bikes or walking. To achieve this, the City must plan for more sidewalks for pedestrians to use. The PMP identifies the need for 1,167 kilometres of new infrastructure. Of the new walkways needed, 232 kilometres are of high priority for Mississauga as they are not connected, often referred to as sidewalk "gaps".
The orange on this city map represents the sidewalks that have gaps, 232 kilometres are designated as high priority.
(City of Mississauga, PMP)
Gaps are defined as places where there are no sidewalks or a multi-use trail may be on each side. The maps presented by the City do not take into account the quality of the walkways.
To complete the high priority sidewalks the City is looking at a financial plan that will commit to funding eight kilometres per year, costing $3.1 million in funding annually. At this rate, the City will complete the higher priority areas in 30 years. Currently, the City is only allocating $1.5 million in funding toward these projects.
Increasing spending on walkway infrastructure will allow the City to complete the projects quicker.
(City of Mississauga staff report, June 8)
With the slow move toward creating more bike and pedestrian access in the City, Mississauga will continue to push more people into cars, which goes against many of its future-forward strategies.
The lack of easy public transit for those without a vehicle and the dangers of the road, will continue to turn residents away from using their own two feet as their mode of transportation around the booming municipality.
---
Email: [email protected]
Twitter: taasha__15
---
COVID-19 is impacting all Canadians. At a time when vital public information is needed by everyone, The Pointer has taken down our paywall on all stories relating to the pandemic and those of public interest to ensure every resident of Brampton and Mississauga has access to the facts. For those who are able, we encourage you to consider a subscription. This will help us report on important public interest issues the community needs to know about now more than ever. You can register for a 30-day free trial HERE. Thereafter, The Pointer will charge $10 a month and you can cancel any time right on the website. Thank you.
Submit a correction about this story