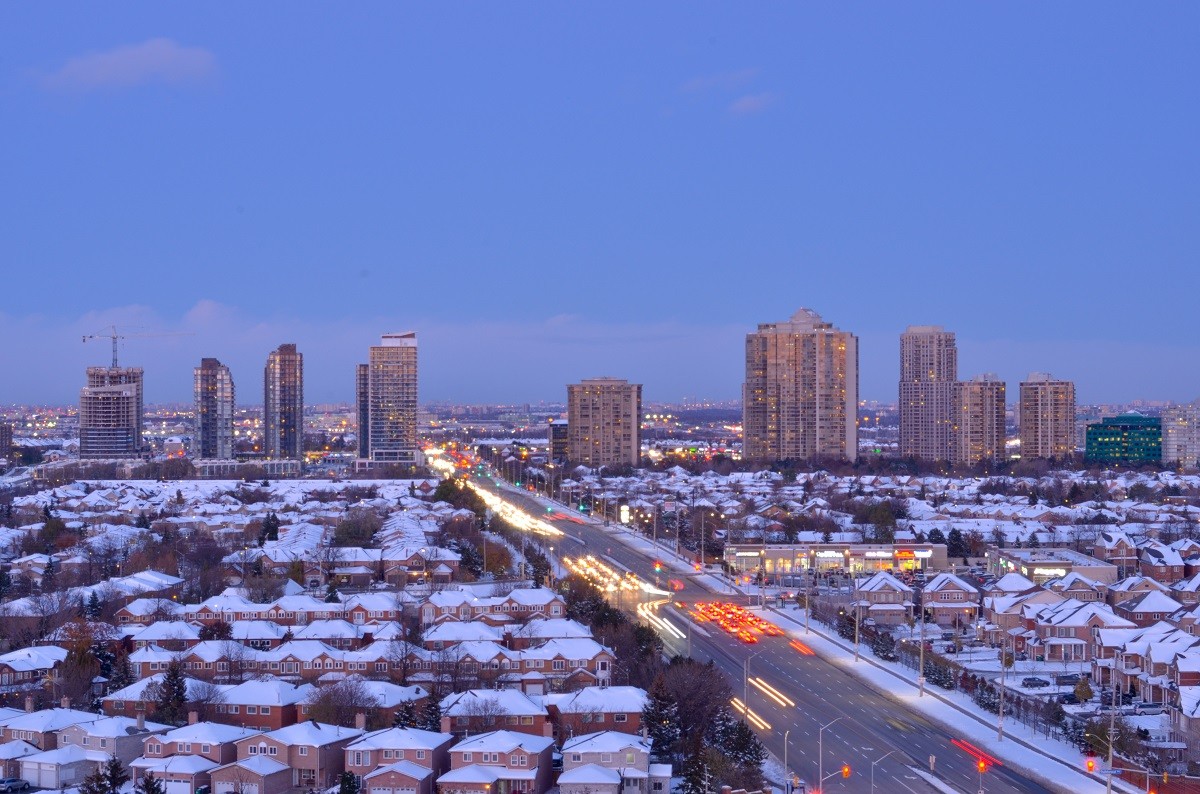 Feature image from City of Mississauga/Twitter
'I'm angry about what this could do to our city': Mississauga pans Provincial housing report that does little to solve housing crisis 
Mississauga council has long been aware of the housing crisis plaguing the city. They are also aware of how the situation worsened over the course of the COVID-19 pandemic. A new report from the Province, heralded as a guide map out of the crisis, appears to be anything but.
A report to Regional council in October highlighted how approximately 80 percent of residents are priced out of the housing market in Peel, unable to afford ownership or rental costs.
The Region's housing subsidy waitlist increased from 14,997 households in 2019 to 22,445 households by the end of 2020.
While Mississauga and Brampton have worked on their own solutions to the housing crisis—like inclusionary zoning or a municipal housing strategy—much of the responsibility for creating affordable units falls on the Region of Peel. Despite ambitious promises in its Home for All plan, little progress has been made to create a significant number of affordable units in Peel over the course of the current council.
Now, a few short months away from a provincial election, the PCs have released a report that it claims holds an array of solutions to Ontario's housing crisis.
In December 2021, the Province set up a Housing Affordability Task Force, made up of home builders, real estate professionals, and experts in the not-for-profit housing sector, to try and address the ongoing housing affordability issues plaguing families across Ontario.
The task force released a report in February listing 55 recommendations it hopes will help address the problem.
Among municipal officials and housing experts, it significantly missed the mark.
Mississauga council agreed that many of the recommendations in the report will not contribute to improved housing affordability in the city, in fact, many of them could potentially do the opposite.
"There are almost 20 actions that staff believe will not contribute to improved housing affordability, but could adversely impact quality of life in the city," the staff report states.
Mississauga staff opposes 29 out of the task force recommended actions and supports 19 recommendations as they align with Mississauga's Housing Strategy and work currently underway to implement inclusionary zoning (IZ).
According to the task force report, home prices in Ontario have almost tripled in the past 10 years, rising faster than incomes. Canada has the lowest amount of housing per population of any G7 country and two thirds of Canada's housing shortage is in Ontario. According to the report, the province is approximately 1.2 million homes —rental or owned—short of the G7 average.
Over the last 10 years, the average house price in the province has climbed 180 percent, while average incomes have grown roughly 38 percent, the report states.
The increasing cost of housing has vastly surpassed the increase in household incomes over the last 10 years.
(Ontario Housing Affordability Task Force Report)
The average price for a house across Ontario was $923,000 at the end of 2021, whereas in 2011 the average was $329,000.
"Building more homes will reduce the competition for our scarce supply of homes and will give Ontarians more housing choices. It will improve housing affordability across the board," the task force report states. "More supply is key."
Members of the task force believe building 1.5 million homes over the next 10 years can help address Ontario's housing affordability issues. Mississauga staff don't necessarily agree. City staff point out that the report assumes the price of housing will come down when the market is flooded with units—something the task force provides no evidence to support. The same can be said for many of the task force report's recommendations.
"Overall, the Task Force has provided no evidence for why many of its recommendations would succeed," Mississauga staff state. "In Mississauga's experience these recommendations won't contribute to improved housing affordability."
Further, Mississauga has concerns that some of the recommendations will strip council of decision making powers, limit community engagement, change design standards, impact quality of life and livability for residents and reduce revenues generated by development related charges.
Andrew Whittemore, the commissioner of planning and building, told city council the provincial task force is proposing broad-based, province-wide regulations, and the removal of specific processes, including certain public engagement mechanisms.
"We do not feel any of those types of recommendations are really practical nor wise—nor would it lead to greater affordability," Whittemore told council.
Commissioner of Planning and Building Andrew Whittemore presenting areas of disagreement with the provincial task force to council earlier this month.
(City of Mississauga)
The task force report suggests that NIMBYism (not in my backyard), attitudes are a "major obstacle to building housing," and recommends eliminating municipal policies that prioritize preserving "neighbourhood character", that can be obstacles to new developments.
"Municipalities allow far more public consultation than is required, often using formats that make it hard for working people and families with young children to take part," the task force report states. "One resident's desire to prevent a shadow being cast in their backyard or a local park frequently prevails over concrete proposals to build more housing for multiple families. By-laws and guidelines that preserve 'neighbourhood character' often prevent simple renovations to add new suites to existing homes." There was no evidence provided to support these claims.
Many of the report recommendations would drastically curtail the opportunities for public engagement on certain types of developments. The task force recommends allowing "as of right" zoning for developments up to four storeys on a single lot, and unlimited height and density if that development sits in a major transit station area (and the area is not already meeting provincial density targets), and for developments between six and 11 storeys along any public transit route. "As of right" zoning does not require a public hearing process or a vote of council in order for a development to proceed.
Whittemore says the recommendations in the report would make the planning process less transparent, less accountable and very difficult for community members to be involved with projects that impact their neighbourhoods.
"This report really positions all community facets that make up a great neighbourhood versus affordability, and the reality is affordability and good neighbourhoods should not be a choice. They should not compete with each other," Whittemore said. "They should be living mutually."
He explained that the task force's persistence on placing the blame for affordability issues at the feet of the municipal planning process is a simplification of a complex issue. He provided the example of Mississauga's downtown, which has a streamlined approval process, requiring only site plan approvals for new developments.
"That has not led to affordability— it's still market (value)," he said.
"I'm not sure that we are aiming for the same thing because we know here in Mississauga, we don't have a supply issue," said Mississauga Mayor Bonnie Crombie.
Crombie said placing the blame for the housing crisis on municipalities and the local planning process is not accurate.
"They would like to build what they want, where they want, when they want to, but it doesn't work like that," she said.
Crombie, along with Ontario's Big City Mayors (OBCM) feel that "the province is encroaching a little too much in the local planning process."
"We know our municipalities, we understand our cities, we plan our cities, we know what our residents want and what they're willing to accept," she said.
Throughout Premier Doug Ford's tenure, the Province has consistently shown its desire to assert more control over the local planning process. Nowhere is this more clear than the continued use of Minister's Zoning orders. This tool allows the Ontario government to hand approvals to developers for projects, and circumvent the local planning process—even if that development is not supported by the municipality or may be located on ecologically sensitive lands.
The task force currently consists of only a single urban planner and does not include any representatives from the municipal level, something Crombie said was a significant shortcoming and missed opportunity.
Councillor Pat Saito who was a part of a similar committee created by the Ontario NDPs in the 1990s, said she was disturbed by the report's recommendations.
"This one really scares me I think the most. It is poised to destroy neighbourhoods by taking away the right of residents and local councils to make decisions as to what is appropriate within their own neighbourhoods," she said.
Saito said the City needs to ensure it is releasing simplified information ahead of the provincial election that clarifies the information in the provincial report and where Mississauga stands.
"Putting out a schematic of, 'this is what your street could look like if the Province proceeds with this', and show a whole bunch of four-storey and six-storey buildings on a local residential street, that's what's going to get residents up in arms," she said. "That's what's going to get them to respond and to comment, not a whole bunch of information that is way too much and over the head of most people."
"Let's get them angry," she added. "Quite frankly, I'm angry about what this could do to our city and what it could do to our neighborhoods, and I think everybody should be."
Councillor Pat Mullin said the report does very little to help municipalities, but goes a long way to making life easier on the development industry. The PCs have made numerous changes to legislation at Queen's Park, including the Environmental Assessment Act, Species at Risk Act, and Schedule 6 of its COVID-19 recovery omnibus bill stripping power from conservation authorities, all to make obtaining approvals to build easier for developers.
"I don't think there's any guarantee through any of these recommendations that affordable housing will be built," Mullin said.
Ward 5 Councillor Carolyn Parrish said the reason the PC Party has released this report, is to make it clear that its recommendations will be a key piece of its reelection platform.
"That's going to keep all the developers happy and loading their campaign offices with funds," she said. "I think a minority government [has] got to happen this time or we're in big trouble."
Mullin echoed Councillor Saito's thoughts on raising public awareness, by bringing in visuals to explain to the public what kind of impacts the report's recommendations could have on communities.
"We've produced a bit of a report card already that's red, yellow and green, that we will be able to circulate following this that does outline which recommendations we support, which ones are neutral on and which ones we have issues with," said Robert Trewartha, the City's director of strategic communications and initiatives.
A colour-coded report card outlining Mississauga's position on each recommendation in the Ontario Housing Affordability Task Force report can be read here.
Out of the total recommendations, Mississauga opposes 47 percent, supports 31 percent and is neutral on 22 percent.
---
Email: [email protected]
Twitter: Anukul_AT
---
COVID-19 is impacting all Canadians. At a time when vital public information is needed by everyone, The Pointer has taken down our paywall on all stories relating to the pandemic and those of public interest to ensure every resident of Brampton and Mississauga has access to the facts. For those who are able, we encourage you to consider a subscription. This will help us report on important public interest issues the community needs to know about now more than ever. You can register for a 30-day free trial HERE. Thereafter, The Pointer will charge $10 a month and you can cancel any time right on the website. Thank you
Submit a correction about this story