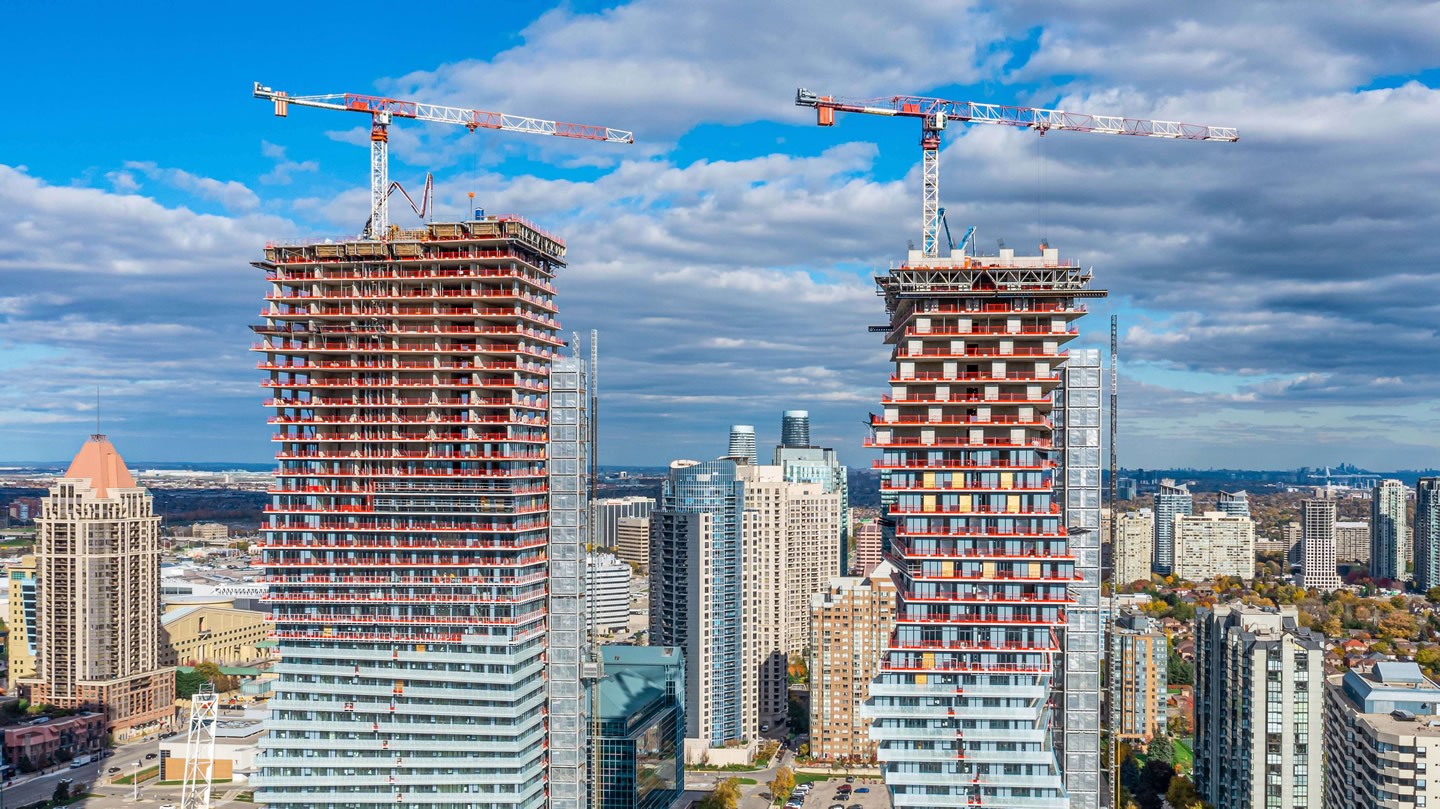 Feature image from Rogers Real Estate Development Limited
Mississauga hosts public forum on inclusionary zoning policy to create affordable housing 
Clarification: A previous version of this article stated that inclusionary zoning policies could require up to 10 percent of units in new developments meet the criteria of affordable. The policy could require between 5 and 10 percent of the building area for new developments be affordable. Further, under the Community Benefits Charge, the City of Mississauga is only allowed to charge a developer 4 percent of the land value, not 15 percent as previously stated. The Pointer regets the error.
---
"I don't agree with the set aside rates, I think they're quite abysmal." That was the bold statement by a woman named Nabeela, a Port Credit resident, during a recent virtual public town hall meeting in Mississauga to discuss how inclusionary zoning could help solve the ongoing affordable housing crisis.
"I think we need at least 20 percent, and I don't agree with the targeting of middle income households. I think that the city really needs to focus on the lack of housing for low income households."
She shared her thoughts on February 24 after City staff explained that a proposed inclusionary zoning policy would demand between five and 10 percent of the building area for new developments around transit stations qualify as affordable.
As the giant cranes that touch the sky suggest, Mississauga continues to morph into a booming metropolis.
City staff and council members see a bright future on the horizon. And they have big plans to shape Mississauga into a walkable, innovative, environmentally friendly community, turning it into an attractive destination for businesses and industry to locate. For the future many of its leaders envision City planners need to balance Mississauga's economic promise with affordable accommodation so all residents can take part in the prosperity being shaped.
A key component in designing Mississauga's future involves much more affordable housing. In Peel 80 percent of residents can't afford current housing and rental prices. To help build more housing for low and middle income earners, the city is turning to a tool called inclusionary zoning (IZ).
In its simplest form, IZ is a zoning bylaw that mandates a minimum number of units in certain new developments qualify as affordable. The strategy being pursued in Mississauga involves special zoning applied to residential land around major transit station areas (MTSAs), which are designated in the Region of Peel Official Plan (ROP). Mississauga is drafting a policy only applied to ownership of condominiums with 50 or more units, and has various requirements of how many units need to be affordable based on the community's existing characteristics. For example, projects around the future Hurontario light rail transit (LRT) system will eventually be required to have 10 percent of the units qualify as affordable.
Developments in transit areas on Ninth Line (Derry and Britannia) will require 5 percent of the units to be affordable, based on the density and characteristics of the community.
The process to implement IZ and understand what this means for the city is awash with urban planning jargon and confusing zoning bylaw policy. Changes can be met with skepticism or push back from residents. To combat this, city planners hosted a public forum last week to educate residents and make sure the process is transparent.
During the virtual forum, Catherine Parsons and Bashar Al-Hussaini, both planners with the City of Mississauga, led residents through two presentations breaking down key components to implementing IZ. Al-Hussaini focused on MTSAs; the locations, why they are strategically placed and the collaborative work done with the Region of Peel. Parsons explained the draft policy for IZ and common misconceptions of the regulation.
The meeting was a stark contrast from a Highway 413 forum hosted by the Government of Ontario The Pointer attended last summer, which allowed limited communication with those presenting information, curtailing questions, and served as more of a lecture than an open discussion about a significant issue in the province. In Mississauga's case, the intentions of City planners were clear, encouraging residents to ask as many questions as needed to gain a sound understanding of what IZ could offer to local neighbourhoods.
"MTSAs essentially are lands generally within 500 to 800 metre radius, or about a 10 minute walk, from a higher order transit station or stop, mostly located along existing or planned transit corridors," Al-Hussaini told residents, virtually.
To be designated in the ROP, Peel has to create these potential IZ areas and implement them for approval by the Province as part of the Municipal Comprehensive Review process by July 2022, a process well underway. The Region has designated approximately 54 current and future MTSAs. Since IZ is only applied to land zoned as residential, MTSAs around employment areas will not have IZ enacted, unless the Ministry of Municipal Affairs and Housing designates them otherwise.
The map above shows five extra areas for future designation where more transit can be expanded.
(City of Mississauga)
"They're really intended to strengthen existing community character, support a mix of uses, allow for a range of housing types, create transit supportive neighborhoods, direct higher densities where appropriate and strengthen multimodal access and connectivity," Al-Hussaini said.
Following the presentations, some residents wanted more information on why and how MTSAs are designated and how the density targets set out by the Province will be achieved.
Everything Mississauga has to do procedurally is directed by the Ontario Government. It informs the criteria municipalities have for MTSAs and also provides minimum density targets to achieve. Projections show Mississauga's population will reach 925,000 people by 2051, where to house and employ these residents is the priority. To do this the city has to achieve a certain percentage of density, which will be found mostly near MTSAs to create a walkable community.
The lack of affordable housing is a significant issue in Mississauga.
Rent and home ownership prices have reached new highs over the pandemic, with the average price for single detached homes hovering around the $1.2 million mark. The Region's standardized waitlist for affordable housing assistance has ballooned by 50 percent over the course of the pandemic. Peel support and advocacy organizations are pleading for immediate action.
Peel Alliance Ending Homelessness (PAEH) shared a horrifying reality with Regional Councillors late in 2021, explaining if no action is taken, chronic homelssness could spike 25 percent this year.
The people facing homelessness are able to receive grants and be put on housing waitlists for income based units. Mississauga hopes IZ will assist middle income earners, households who do not apply for housing subsidies because they aren't facing poverty, but are still struggling in the volatile housing market.
Parsons defined these earners as people/households who are earning approximately $58,000 to $109,000 annually. People who are renting in Mississauga are earning $34,000 to $64,000 a year on average; they are considered middle income renters.
"These households are all struggling to afford market housing, but they typically don't qualify for assistance that's targeted at our lower income households. So there's a gap there," Parsons said.
This is why the beginning of IZ implementation will only focus on home ownership and force developers to create units in an affordable price range. According to the city's definition, affordable ownership will be approximately $294,000 for a 1-bedroom, $359,000 for a 2-bedroom and $432,000 for a 3-bedroom home.
Toronto was the first municipality to adopt an IZ policy in Ontario. Since IZ is applied to specific parts of cities and adopted as a bylaw, each municipality will have different standards. Toronto approached the topic by applying IZ to both rental and ownership of condominiums. Three areas will have different percentages of affordable housing with the highest being focused in the downtown area.
There are a few differences between Mississauga's drafted IZ policy and Toronto's active one.
(Natasha O'Neill/The Pointer)
The process of implementing IZ is a long road. A lot of studies are being conducted, like market feasibility, the implementation of specific policies, along with constant collaboration with the Region. Staff are aiming to finish stakeholder meetings, finalize the policy and send it to council for implementation by the end of 2022.
By the end of the two presentations the chat box was filled with comments, questions and concerns.
"I'm a current architecture and engineering student and I work in the development industry and I consider myself a housing advocate," Pierre, a lifelong Mississauga resident said. "I have a couple questions about how inclusionary zoning can be applied to large scale redevelopment such as Lakeview [Village] or the Reimagining the Mall initiatives."
The City's website explains the latter concept. "To ensure the healthy development of our City, we are creating policies to direct potential redevelopment and intensification at strategic areas. The Reimagining the Mall project will guide the long-term evolution of six (6) areas anchored by the following indoor shopping malls:
"The study will help to ensure that future intensification in these areas is done in a way that fosters healthy, mixed-use communities. The idea being that you can live, work, play and raise a family all within your own 'complete community'. The purpose of the project is to make sure that land use policy is proactively in place should a landowner choose to redevelop in the future."
This is where the implementation of IZ becomes very important.
According to Parsons, none of the Reimagining the Mall sites, except a portion of Erin Mills, fall within an MTSA, meaning future developments built in the area are not required to have affordable units. In addition, the draft policy indicates a few exemptions for where and when IZ will not be applied. The policy can't be passed until late 2022, meaning any developments in the current process of being rezoned or that have building permits issued will not follow IZ policies.
This means despite Lakeview Village being on the future line of the Lakeshore Bus Rapid Transit system, the poorly negotiated affordable units council asked for will be the maximum for the project. Originally the community and councillors asked for 10 percent of the units to be affordable, but Lakeview Community Partners, the developers, wore them down to 5 percent, under their definition of "affordability."
Of the 400 units deemed affordable under the developer's definition, this includes 50 "artist units", 50 to 80 "off-site" units and only 140 to 230 onsite affordable units.
"While the purpose-built market rental units are desirable in providing rental tenure units at more affordable prices, the rental rate for market units would not meet the Regional definition of affordable housing," a Peel Region housing report that addressed the agreement, stated.
Until IZ is enacted, developers can buy up prime land in Mississauga and start the process for development before they're required to build affordable units.
This means most of Mississauga's largest developments, like M City, will not be required to have affordable units because construction is already underway.
"We intend to pass the IZ official plan policies and the IZ bylaw on the same day, but it's possible that the policies could be adopted and the bylaw is delayed to a later date," a city spokesperson told The Pointer in an email.
Mississauga staff are working to count how many developments around MTSAs would fall under the IZ policy.
Before these policies are in place, developers are free to to buy land around MTSAs, which are going up in value with the transit stations nearby, and hope rezoning or building permits are issued before IZ is adopted, leaving them with no requirements to construct affordable units.
Land at 30 Queen Street at the base of Port Credit Go was recently sold to a partnership of developers named Edenshaw Queen Developments Ltd. The future condominium tower will feature an underground connection to the Hurontario LRT station, and be a perfect opportunity for affordable housing. Metrolinx, which owned the lot, gave both Mississauga and Peel the opportunity to buy the land, but both turned it away. The Province went to private bidders where Edenshaw acquired it.
The location is perfect for residents. Steps from two higher order transit systemes, a short walk to local shops and dining, and close to the coveted Lake Ontario waterfront. It's unlikely the City will be able to negotiate proper affordable units for the development since their track record is far from great.
There aren't many more open areas for Mississauga to grow, meaning if developers are quick to acquire land, IZ may not be as successful as needed. It's clear a quick implementation is desired in order for the city to take advantage of the tool.
If Mississauga is unable to enact IZ quick enough, the set rates for required affordable units may not be enough to curb the housing crisis. One resident at the meeting was critical of the low percentage of affordable units being considered.
The meeting hosted Feb. 24 by city planners, allowed residents to ask questions and voice concerns on the inclusionary zoning draft policy.
(City of Mississauga)
IZ is one of the tools Mississauga can use to either make developers build affordable units or acquire funds from the project. An additional policy being worked on is the implementation of the Community Benefits Charge (CBC).
Since taking office the current Progressive Conservative Government has rewritten, edited, or taken out certain aspects of the Planning Act. Most recently, Bill 108 (More Homes, More Choice Act) and Bill 197 (Economic Recovery Act), replaced Section 37 of the Planning Act. This section previously gave councils the opportunity to amend density or height regulations if developers provided funds to community oriented projects, such as affordable housing.
Ontario changed some policies around CBC from Section 37, making it easier for developers to pay less. This discussion has been ongoing since September 2020 and will be adopted as a bylaw in September 2022.
Unlike IZ, the CBC can only be "levied from (re)development" that is at least five storeys and contains 10 residential units. Before the amendment, Section 37 allowed the city to negotiate values as high as they could with the developer, usually done based on land value.
According to an October 2021 staff report the Province shifted from Section 37 to CBC in order to "provide a more predictable environment for property developers to pay for, and municipalities to fund growth-related infrastructure and services."
Instead what it did was limit the municipalities' capabilities to require more funds based on land value.
For example, a prime plot of land in the heart of the City Centre, surrounded by transit and businesses where the community is towering above, will be more expensive than land in residential neighbourhood in Erin Mills. The most Mississauga can require a developer to pay is 4 percent of the land value, five percent of which goes to the Region. An earlier report from staff explains how the new model leaves the city with less funding than before, even though the Province promised it wouldn't.
"In Mississauga's case, a CBC cap of 10 percent applied to all land uses may result in similar collections over a 10-year period (about $247M - $287M including Section 37)," staff wrote.
Instead, an updated report predicts the 4 percent cap will raise $60 million over the next decade, a fraction of the money Mississauga had hoped to get.
"The anticipated revenue is considered moderate," staff wrote.
Moderate revenue won't build the affordable units Mississauga desperately needs.
Between Ontario changing laws, limiting the ability of municipalities to collect revenue from new development and attempting to appease both the public and developers, staff have a huge task to manage.
Mississauga enacting the proper bylaws and squeezing developers' deep pockets for money could set the stage for a more affordable, walkable community many city planners, councillors and members of the public hope for.
---
Email: [email protected]
Twitter: @taasha__15
---
COVID-19 is impacting all Canadians. At a time when vital public information is needed by everyone, The Pointer has taken down our paywall on all stories relating to the pandemic and those of public interest to ensure every resident of Brampton and Mississauga has access to the facts. For those who are able, we encourage you to consider a subscription. This will help us report on important public interest issues the community needs to know about now more than ever. You can register for a 30-day free trial HERE. Thereafter, The Pointer will charge $10 a month and you can cancel any time right on the website. Thank you
Submit a correction about this story