Feature image from Ev/Unsplash
Despite clear warning that homelessness could spike 25% by next year, Region won't create more units in 2022
When Janet Dankwa spoke to regional councillors in October, her harrowing story about the struggle to cling to housing made one thing crystal clear to elected officials who looked visibly distressed—for tens of thousands of Peel's precariously housed residents, time is of the essence.
Through her tearful speech, Dankwa courageously told her story of the inequality, suffering and the trauma she continues to face in Peel due to lack of affordable housing.
Constant forces—lack of supply, discriminatory rental practices, rising anxiety and declining mental health—trap people like Dankwa in a downward spiral when housing slips out of reach.
She is not alone.
She spoke on behalf of thousands of people in horrible circumstances across Peel that were further exacerbated by the pandemic. The Region's affordable housing waitlist grew by 50 percent in one year as a result of COVID's impact on the financial situation of residents.
"We need more. We need more affordable housing, we need better healthcare… the system is not working," Dankwa said in October.
During the same meeting, council heard a presentation from the Peel Alliance to End Homelessness (PAEH) which shared a bleak future for the Region of Peel if it doesn't increase supply of units. Through a recent study completed by the organization, PAEH found that without enhanced investment for affordable housing the region could see a 25 percent increase in people suffering chronic homelessness over the next year.
This warning went unheeded by Peel councillors.
They passed the Region's 2022 budget earlier this month with only a single meeting to discuss the financial blueprint for the coming year at such a crucial point in the pandemic era. It does not include any further financial assistance toward the exploding housing crisis. Peel's Housing Master Plan (HMP), endorsed by council in 2019, called for no new rental units to come online in 2022, with further additions to rental stock planned for the following years. However, this document was approved before COVID-19 reshaped the lives of Canadians and exacerbated inequalities, surfacing the most hidden problems in our society.
After almost two years it seems municipal governments still do not understand the reality that had already existed and the effects of the pandemic that have made the situation even worse.
Peel's housing investment — approximately $141.9 million for 2022 including staffing — offers little hope for the 22,445 households that were on the subsidized waitlist about a year ago, up from 14,997 at the end of 2019.
Walking back to 2018 and the budget approved a half-decade ago, one might be alarmed to see the disconnect between the goals of Peel's elected officials and the reality of their decision making since.
"Four-year priorities are what we are focused on making advances in during this Term of Council," the 2018 financial blueprint claimed, highlighting "increased affordable housing" as a priority.
"Enhanced service levels to accommodate continuing rapid population growth and an aging population, with special focus on Paramedic services and affordable housing support," was the stated goal with a particular focus on, "investing in affordable housing to reduce waiting list times."
The waitlist has since exploded, rising 50 percent in just one year since, largely due to the pandemic, but moving in the wrong direction even prior.
The Region's own master plan to add 7,500 affordable, middle-income and market rate units each year between 2018 and 2028 was so badly ignored that it has effectively been abandoned and less than 1 in 2,600 new ownership units that came online between 2018 and 2020 were affordable for low-income families despite a goal to have more than ten percent meet that threshold.
The net expenditure for housing support in the 2018 budget was $115 million. Five years later, the approved 2022 budget includes $141.9 million, a compounded increase of less than 5 percent a year while the housing crisis reaches emergency levels and while 7,500 new units were supposed to be added annually.
Meanwhile the utility rate spikes have gone up more than the increase for housing support.
After the October meeting, members of council were visibly shaken by Dankwa's candid delegation and few offered words of encouragement that assistance was on its way to address the crisis.
While this marked one of the first times councillors were confronted by an actual victim of the horrific housing situation — they have been told by staff that 80 percent of Peel residents cannot afford current prices — the reality is councillors should be well aware of what their constituents are going through.
Countless critical reports from regional staff have outlined the situation and recommended immediate action to help solve the problem. A lack of action and a lack of investment, compounded by confusing housing plan targets that are rarely met, have all led to a crisis that can only get worse without action.
The situation isn't impacting the councillors or staff with a steady income, but the people the Region is supposed to serve.
Lack of affordable housing causes increased demand for a range of supports, from mental health care, temporary shelter and emergency public health care, overburdening social services during a global pandemic that are stretched to a point of near collapse.
PAEH estimated approximately every year in the Region, 89,000 people are in need of core housing, meaning their current living situation is either unsafe or far beyond affordability. Its study also concluded 14,977 people are at risk of becoming homeless, 2,804 people need transitional housing and 701 are chronically homeless each year.
What these numbers don't show are the thousands of people who are suffering from hidden homelessness, described as somebody who does not have a permanent address and could be rotating between the homes of friends and family, couch surfing.
Housing plays a crucial role in the stable upbringing and mental health of children and youth. It offers access to healthcare, financial opportunities and at the very least, keeps people warm and dry.
After the subsidized housing waitlist jumped 50 percent from 2019, even more residents who could not be immediately helped were forced to seek out shelters, and if the limited spaces were filled, or they didn't trust these support systems, more turned to the streets, slipping dangerously through the cracks.
"The number of people accessing emergency shelters has been increasing, with a 26.9% increase from 2015 to 2016 and the current supply of emergency shelters in Peel Region can no longer keep up with the need," a housing report by regional staff prior to the pandemic stated.
"While reliable data on chronic homelessness was not available, anecdotal information suggests an increasing number of people who are chronically homeless and the growing normalization of shelter life. This is due to the very limited supply of affordable housing in Peel Region as well as the lack of reliable pathways for people to get out of poverty."
That was before the pandemic greatly impacted families and individuals while shelter capacity had to be drastically reduced to accommodate social distancing requirements.
Since 2019, the Region has constructed a tiny fraction of its approved target, with only 234 affordable housing units coming online, and has supported the completion of 90 units by third-party providers, a spokesperson from the Region told The Pointer in an email.
Councillors had the opportunity in 2022 to narrow the huge gap between the actual number and the targets they set prior to the pandemic, but instead approved a housing support budget of $141.9 over the next year, which does not allow council's own approved goal to be met.
The largest sum, $75 million, will go toward multiple affordable housing projects under Peel's HMP, a subsection of the aspirational Home For All Plan council passed to meet 2018 to 2028 targets. This strategy was approved by councillors in 2018, and included a commitment to build 7,500 new housing units per year over a decade, with at least 2,000 each year at an affordable rate for low-income earners and 5,500 for those at a middle income or above.
More than three years into the plan, the numbers have effectively been abandoned, as councillors have failed to provide the funds in each budget to meet their own commitment.
It's unclear why there are two separate plans showcasing vastly different housing numbers.
(Natasha O'Neill / The Pointer)
The Pointer asked the Region what the $75 million will go toward in 2022. A spokesperson said in an email, "We will share more information once the project has been awarded."
According to a February 2020 HMP document, three projects with a total of 750 rental units are set to start next year, with finished units in 2027 and 2028. It's unclear if the $75 million allocated is covering the upcoming planned projects.
The HMP paints a more realistic picture of which projects the Region is planning to fund. The document lays out how 31 projects will create over 5,650 rental units, 226 supported units and 60 shelter beds by 2034. The plan does not include financing plans, but instead acts as a long term outline for Peel.
This is less than 8 percent of the overall number of units promised in the Home For All plan by 2028, through a mix of public housing and supply provided by private sector partners, to create low, middle and market-rate housing.
A year after the Home For All Plan was endorsed, council announced a plan to spend $1 billion for initial implementation of the HMP, securing to date approximately $680.4 million — $335.5 million of which is from the Region, the remainder from other levels of government. There is currently a gap in funding which if the Region can't cover could lead to the cancellation of the financial commitments from higher levels.
The Canada Mortgage and Housing Corporation (CMHC) has told the Region that if it is unable to come up with $319.6 million by 2028 to support a number of housing projects, it will pull the approximately $276.4 million it has allocated for Peel.
As of October, 11 of the 16 HMP projects with CMHC are fully-funded leaving five with financing question marks around them. The Region has not set aside its own funds to support these specific projects and reports from staff continue to emphasize advocating to higher levels of government for further assistance.
Various other projects by third party groups and the private sector are in progress; the budget states 864 units/beds are being planned or constructed, but will not be available next year.
Breaking down the HMP goals, the Region will be creating no new affordable rental units or additional shelter-bed capacity in 2022.
In 2023, approximately 500 rental units will be created. The Region is also planning for 60 shelter beds next year, but these are only replacing existing beds and will not add any additional spaces. At the time of the 2020 HMP update there was no location given for the project.
Using the Housing Master Plan, The Pointer laid out the expected completion of new rental units and shelter beds. Supportive housing is included in the overall number of units.
(Natasha O'Neill / The Pointer)
The plan states only 60 new emergency shelter beds will be created between now and 2034. This is a significant issue as Peel shelters are already working at or near capacity chronically. The 2022 budget even states the "average length of stays in shelter systems are increasing."
"The Region's shelters have operated in overflow capacity since 2016," said Aileen Baird, director of housing services with the Region of Peel in 2019, prior to the pandemic which made the situation worse. "In the last two years we've had to operate in overflow more often, particularly in the Peel Family Shelter. This is happening because more people, especially families, are having to stay longer in the shelters due to the challenges they face in finding suitable affordable housing."
Based on the Region's figures, it is difficult to get a clear picture of the current crisis in Peel's shelter system.
In 2018, Peel released a Community for Life report stating there were 15,741 overall visits to regional emergency shelters and/or transitional housing that year. In the 2019 budget, it states there were 13,519 visits to regional shelters. In 2020, the budget indicated a "growing demand on the shelter system due to homelessness," with 11,891 visits to Regional shelters, and 3,955 unique individuals accessing emergency shelters. Peel then shifted to only sharing data related to the number of people visiting shelters.
In the 2021 and 2022 budget documents the Region shows 4,800 and 3,367 individuals each year were served in emergency and transitional shelters.
The document does not explain how many times each of these people required assistance from Regional shelters, a figure that would better illustrate the demand for services in Peel.
It's unclear why the Region is changing the way it measures how many people are accessing their shelters, when it's clear from the waitlist and affordability data that the number of people who need shelter support has increased since the start of the pandemic.
A 2019 shelter capacity report by Employment and Social Development Canada, indicated Peel has 484 emergency beds; the document does not specify how many total permanent beds the Region had at this time.
Peel Region's own 2020 shelter fact sheet showed the following: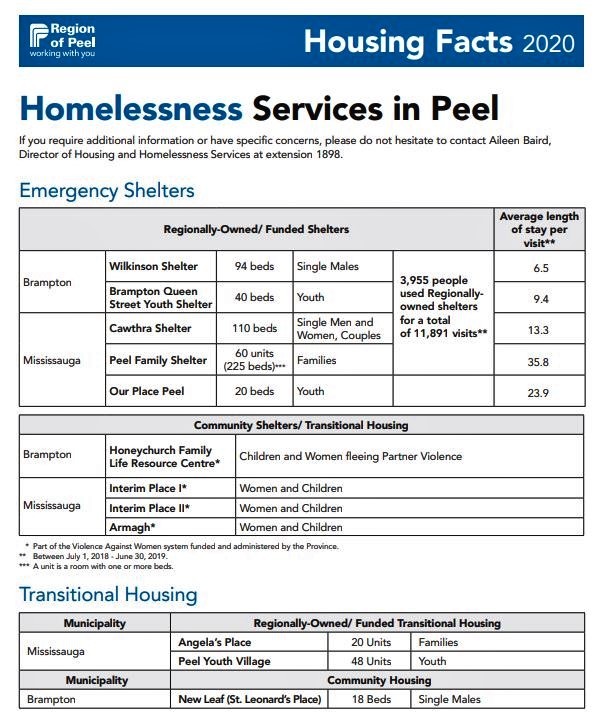 The 2019 federal report stated Peel had no women's shelters at the time, one male specific shelter, two youth centred shelters, one family shelter and one general shelter. Out of all cities indicated in the report, Toronto had the highest number of beds at 3,381, followed by Ottawa with 869 beds.
The Region's HMP indicates Peel has not gained any new beds since 2019. A replacement building for the Brampton Youth Shelter is supposed to come online in 2022 with 40 beds, but the document shows these are not new beds, but replacing existing ones.
"The pandemic is a wake up call for the need for more deeply affordable housing in Peel," Daphna Nussbaum, program coordinator and analyst and PAEH, said in October.
A wake up call governments continue to hang up on.
PAEH is a group of various employees in different social services across the Region. It fosters a collaborative approach to end homelessness in Peel and provides decision makers and staff with updated local statistics. In October, Nussabuam and Amanda DiFalco, the research consultant on PAEH's study, presented four recommendations for council to consider.
The first was to adopt an integrated system that would create a holistic approach to reducing, preventing and ending homelessness with the Region working closely with social service organizations across Peel. It would allow these various organizations to gain access to local data that could help find services to meet the needs of clients much faster. The second is to create a more compassionate, "person-centered" system. Third, to decrease the number of people becoming homeless by increasing supports for housing and tools to help clients maintain housing.
The fourth recommendation is to boost the production and access to permanent housing for people experiencing homelessness.
It's clear there will not be an increase in production in 2022 as per the budget document that was passed this month. The budget outlines a continued allocation of funding towards pre-pandemic goals, not an updated figure to support more people suffering homelessness than before.
There is little consideration for the rapid population increase in Peel, as the region continues to be a magnet for newcomers including many immigrants drawn here by large cultural networks and the proximity to Pearson International Airport.
Projections show Peel's population will go from about 1.6 million residents now to almost 2.3 million in less than 30 years. That's the equivalent of adding the population of Brampton in less than three decades, and many planners have observed market forces, settlement patterns and available land could see the Peel population reach 2.5 million people by 2050.
The homeless population has also visibly spiked in parts of the booming area.
In September 2020, regional social services began keeping track of those experiencing homelessness in Peel using a system called a by-name list. In February 2021, there were 400 people experiencing chronic homelessness, which means they do not have a home for more than six months out of the year.
It's hard to fully comprehend the full impact of homelessness on Peel residents. Statistics like those presented by PAEH do not convey the human suffering and social costs and are therefore easier to ignore. Behind these numbers are more people on the brink of homelessness; more people in the community suffering at the hands of inadequate housing; more people without a roof over their head for the holidays; more people sleeping on the street or in alleyways.
Residents and business owners might complain about the sight of homeless people in neighbourhoods where this was uncommon just a few years ago, but until the issue is seen as a broader societal problem, history shows little attention is paid to the plight of those suffering without shelter.
All of this combines to put pressure on Peel's other social support systems as those without a home are more at risk of succumbing to addiction, suffering from mental health problems, or becoming the victim of crime.
One of the most dire statistics in the PAEH research indicated that if no further housing is provided, Peel will see an increase in chronic homelessness by 25 percent over the next year. In order to reduce this by 15 percent, the study suggested the Region would have to nearly double the number of people who are currently able to move into affordable housing each month. Currently, the average move-in rate is four per month, the PAEH study shows it needs to be closer to 7.
Most of the remaining $141.9 million housing support budget is going toward various state of good repairs for regional housing buildings and shelters. About $39.6 million is being invested in Peel Living, the region's largest public housing provider. Another $247,000 is going towards shelter specific repairs.
The approved 2022 budget includes a $6.2 million operating cost increase, most of which is going toward the hiring of more staff to meet the growing demand for housing services. Of this sum, $1.2 million is being dedicated to two full-time staff to continue the needs-based approach for the housing waitlist, a pilot project council approved in July 2021.
This specific approach deals with households on the subsidized waitlist which historically operated as a first-come-first-served model. Instead, the needs-based approach looks at who is suffering the most and assists them first. Factors such as health and safety, homelessness risk, and current living conditions, among other considerations will now be taken into account when determining the services a client requires and where they are placed on the waitlist.
"This will also ensure that some, but not all needs-based subsidies will go to the chronically homeless or those with the most complex needs," the July 8 staff report states.
While this model will start assisting the most vulnerable first, it doesn't address the rapidly growing number of people being added to the waitlist. Without proper infrastructure in place, social services won't be able to refer clients to affordable housing because there simply won't be any availability.
Social services work overtime during holiday periods attempting to give food and support to people suffering from homelessness.
(Jon Tyson/ Unsplash)
The Region is the biggest provider of affordable housing, but it's financial constraint of depending mostly on property tax-based revenue is not enough to tackle the problem alone. In almost every staff report, the recommendation is to continue advocating to the provincial or federal government for further funding. This is typically followed by the municipality sending letters to government ministries requesting assistance, but nothing more.
The revenue constraints for lower-tier municipalities leave them dependent on the upper levels of government. However, when the Province or Ottawa use their own financial pressures as an excuse, it can leave jurisdictions like Peel to fend for themselves when it comes to major portfolios like affordable housing, even though much of the demand is created by provincial growth policies and federal immigration policies.
Early in December, Ontario's Auditor General Bonnie Lysyk released a report detailing the Ministry of Municipal Affairs and Housing's approach to the ongoing housing crisis. The document provides details on the "fractured approach" the provincial government is taking toward the housing crisis and preventing people from becoming homeless.
In the past decade, five Ontario ministries have presented 14 strategies to attempt to reduce poverty, mental health, homelessness, addictions and violence against women. These plans tackle different aspects of poverty and homelessness and do not offer an overarching approach to implement one clear plan. It means the $1.8 billion the province has spent over the last five years to address these issues has gone toward disconnected and uncoordinated strategies that have failed in their goal to reduce homelessness.
"Our audit found that the province does not have a clear picture of the state of homelessness in the province," Lysyk stated. "Without a better provincial focus on the problem and co-ordination of services, many Ontarians will continue to be left out in the cold."
This lack of cohesion at the provincial level hinders the funding connection between Ontario and Peel, hurting the very people it was designed to serve. The lack of action on approved strategies also sets a poor example for cities.
For example, the Region has two separate goals presented over a similar time period between the Home For All Plan (2018) and the Housing Master Plan. There are two vastly different sets of targets Peel is aiming to meet with neither being fulfilled.
Documents describing how to pay for expensive housing buildings and increased services rely on financial assistance from the provincial government. The government of the day also dictates when funding is given and how much.
Lysyk mentions in her report the way the Province funds municipalities is by an outdated method using historical funding levels with data from 2016. Instead of a population factor, the Province justifies how much cities get for housing based on past funding levels, this creates unfairness between the 47 municipalities and hurts local services and residents, especially in hyper-growth communities like Peel that have seen a large increase in population without the financial assistance to support the increased needs.
December 16, the province is hosting a summit on housing with all of Ontario's big cities and regions. The opportunity will allow municipalities to lobby the government and enhance opportunities to tackle the affordability crisis.
Ahead of the meeting, the Toronto Region Board of Trade proposed a framework to Ontario explaining how the elimination of exclusionary zoning that prevents "modest" housing developments from taking place is a key to changing the outdated housing stock. Buildings like triplexes and small low-rise apartment complexes are commonly referred to as "the missing middle" and assist low and medium income earners with affordability in cities that have used exclusionary zoning to keep these types of units out in favour of much more expensive single family homes.
"The elimination of exclusionary zoning policies has a host of benefits beyond housing affordability," said Craig Ruttan, Policy Director, Housing, at the Toronto Region Board of Trade. "This framework would provide opportunities to help address systemic racism, maximize existing infrastructure and deliver environmental benefits – it's a winner across the board."
The move is in the hands of the Province and could allow for more affordable units to be completed, especially at a time when reports from Peel staff outline how investments and the attempts to address the ongoing crisis "fall significantly short of need," according to one of the recent reports by Regional staff.
"Additionally, the affordability gap widens with each passing year in Peel. Between 2016-2020, average housing prices in Peel increased by 42 per cent and average rental rates for new tenants increased by at least 27 per cent. Over the same time period, there is no evidence to suggest that incomes in Peel grew at similar rates," staff wrote.
To make matters worse, data on people suffering from homelessness have largely not been collected by the Province; 2018 was the first and last time a study was done. Without proper provincial data it's impossible to achieve targets such as the 2016 goal to eliminate chronic homelessness by 2025.
To assist with data collection, Ontario required all municipalities to create a by-name list of those in need of housing, the same program used in PAEH's study. While this will start helping the provincial government understand needs for affordable housing, adding a person's name to the list does not ensure they will receive assistance, it's merely a tool to calculate the number of individuals in precarious situations at a given point.
Peel social services are using this mandate to help inform their needs-based approach, but this plan is not mandated by the Province, creating a patchwork of solutions rather than a fully integrated system.
When coordinated funding is given to municipalities, social services and staff are able to assist people more effectively instead of seeing these resources wasted in a patchwork of disjointed programs. During peak pandemic lockdowns, emergency funding was flowing to cities easily and money was being put to good use. Peel received more than $93 million in funding from both the provincial and federal governments, allowing the Region to increase protocols, gather data and transition people into stable housing, avoiding the perilous slip through the cracks that can lead to individuals being chronically dependent on public support.
Isolation hotels and recovery centres became a way for community partners to provide a number of services to people suffering from homelessness. The 14-day voluntary quarantine would give people the opportunity to be in a safe space while having access to counseling, healthcare and food, while often being introduced to a range of other services for employment and supportive transitioning.
Between February to April 2021, 3,600 visits were made to the Nelson Street Drop-In Centre in downtown Brampton. Over the same period, Peel police reported an overall decrease in calls for the downtown area related to unwanted loitering and other issues involving people who are homeless.
The creation of the isolation centres was to keep people from spreading COVID-19, but it also played a bigger role in improving housing situations. Between February and September 2021, 524 people who had precarious housing were taken into the centres and were referred to housing support workers. An amazing 302 (58 percent) were discharged from isolation into stable housing.
Now, after 19 months, funding is starting to dry up and isolation centres and emergency shelters are starting to close. Despite being instrumental in giving support to people suffering from homelessness all funding will cease to exist by March 2022.
Even though the pandemic has created an even greater need for support, governments seem unable or unwilling to provide more.
Until all three levels of governments invest heavily in affordable housing more people will become homeless, especially as the cost of living continues to increase beyond income levels.
The Region's 2022 budget doesn't offer much hope for the coming year, as the crisis gets worse.
---
Email: [email protected]
Twitter: @taasha__15
---
COVID-19 is impacting all Canadians. At a time when vital public information is needed by everyone, The Pointer has taken down our paywall on all stories relating to the pandemic and those of public interest to ensure every resident of Brampton and Mississauga has access to the facts. For those who are able, we encourage you to consider a subscription. This will help us report on important public interest issues the community needs to know about now more than ever. You can register for a 30-day free trial HERE. Thereafter, The Pointer will charge $10 a month and you can cancel any time right on the website. Thank you
Submit a correction about this story