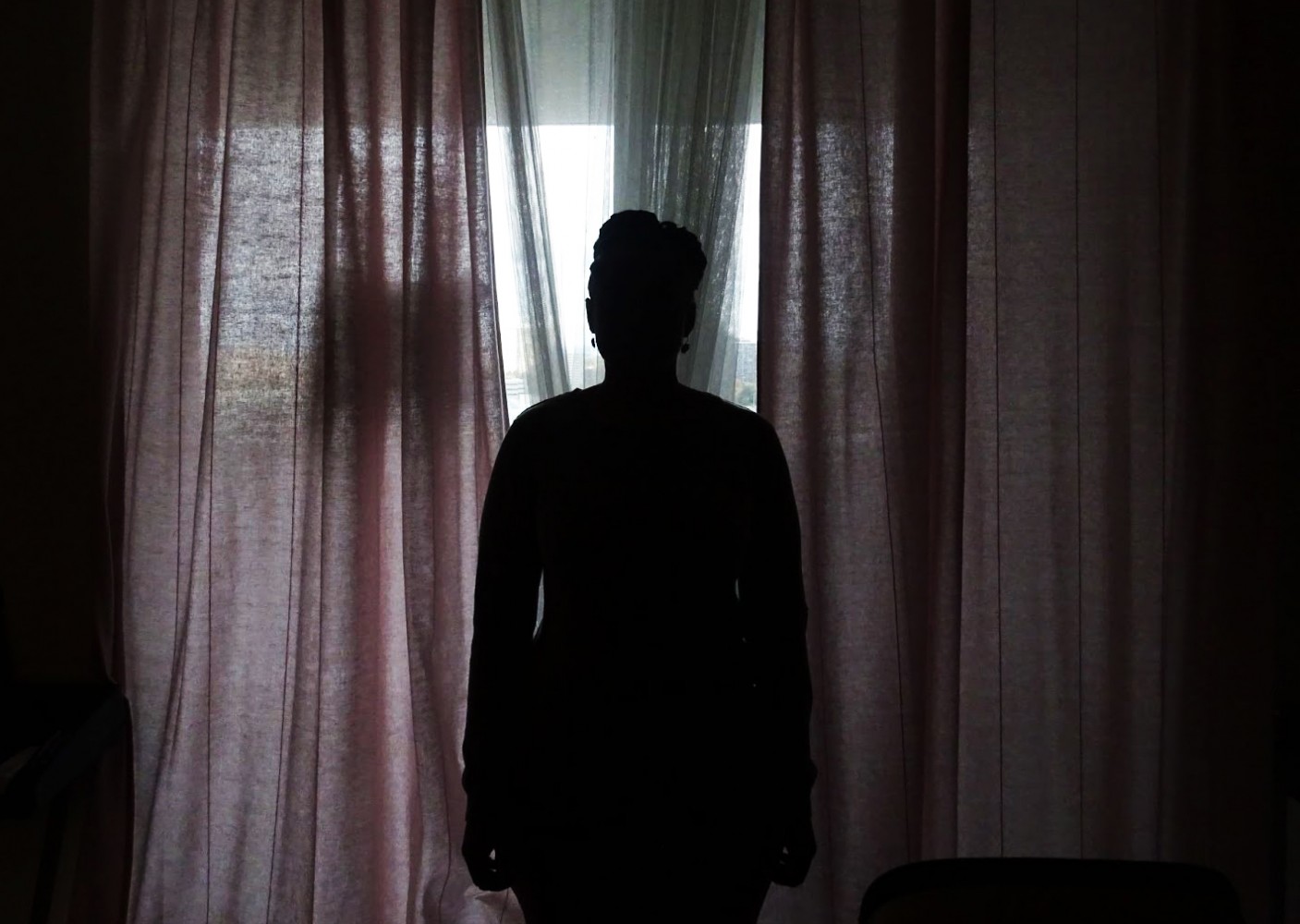 Feature photo from Natasha O'Neill/The Pointer
Regional Council hears sobering presentation on Peel's homeless crisis
Sometimes problems can be easy to ignore, even when they're right under your nose.
Those suffering from homelessness are easy to cast away, wiped from memory seconds after seeing them at a busy intersection or neighbourhood park.
Elected officials and public servants charged with protecting the most vulnerable among us should not have this luxury.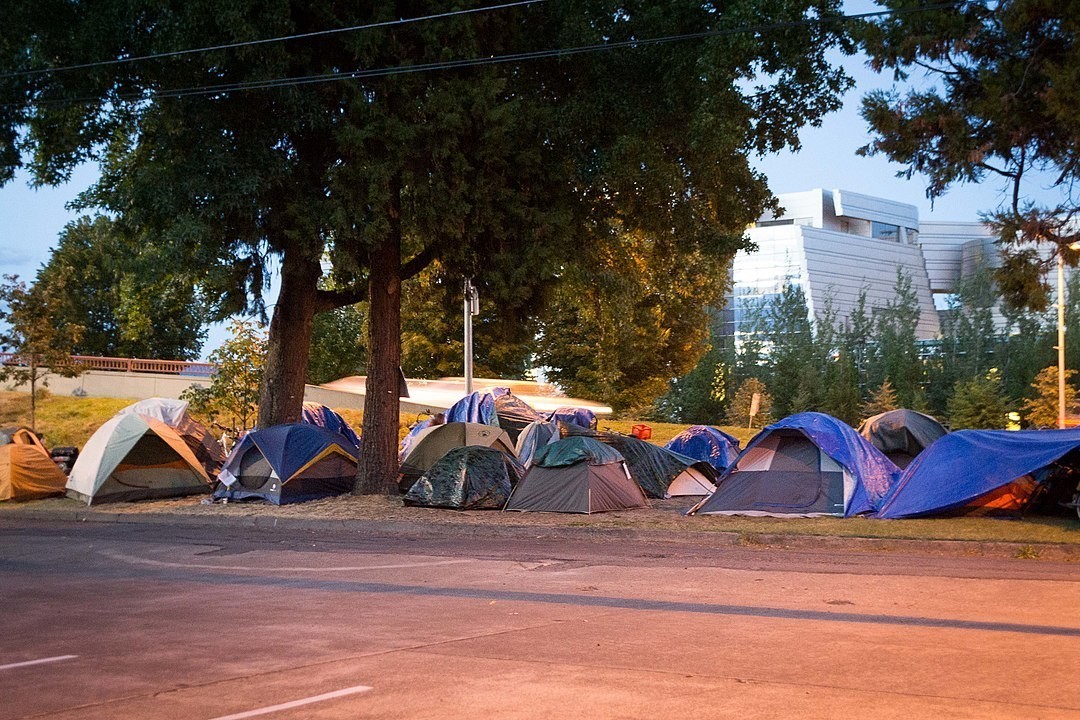 The COVID-19 pandemic has exacerbated a housing crisis in Peel that was already seeing homelessness increasing in recent years. During the first wave of the pandemic, a tent city appeared in Mississauga.
(Photo from The Pointer files)
Last Thursday, Region of Peel councillors had to face the haunting reality that more and more of their constituents are dealing with, head on, and it left many feeling ashamed and stunned.
The agenda for the meeting was filled with reports from staff on the ongoing homelessness and housing crisis that has been reported on for years in Peel. Presentations from the Peel Alliance to End Homelessness (PAEH) and Restoration and Empowerment for Social Transition (REST) centred on how the pandemic has pushed shelters and social services beyond their limit.
The statistics are not new, and councillors are aware from many previous presentations and reports from staff how quickly the situation has deteriorated. Too often, the numbers and statistics have been largely ignored, as those who represent Mississauga, Brampton and Caledon around the regional decision making table habitually point a finger of blame at Ottawa and Queen's Park.
Many sit politely through the presentations and don't say a word, perhaps unable to quite grasp the gravity of Peel's worst crisis. That's how things were shaping up last Thursday.
Until Janet Dankwa spoke to members of council.
It was a raw and emotional delegation that left some elected officials visibly shaken.
She began by thanking them for their time, and praising the social services that allowed her to speak to council that day. Dankwa has been homeless many times in the last few years and is awaiting an imminent eviction from her apartment in Brampton.
"Usually, I would have a presentation or something really nice written down, but I want council members to hear from a resident of Peel, who has experienced homelessness and is still experiencing the fear of losing my apartment," Dankwa said virtually.
She started by holding up eight different prescription bottles, medication she takes everyday for various reasons. She wanted them to understand what she had to go through to function in society, to have the privilege of being strong enough to share her story with them.
Dankwa suffered from her abusive husband for years until she got the courage to flee with her children. She found her way from Virginia to Toronto through the kindness of friends and strangers alike. Many times she questioned if leaving was the right decision, there was no plan and no money.
Many women stay in abusive relationships for the fear of leaving and not knowing what is next. Dankwa's situation was complicated further by her three young children; her future was at stake and so was theirs.
Arriving in Peel with no money, Dankwa and her kids moved from motels, shelters and friends' couches, sometimes sleeping on the streets. Finally, she was able to get an apartment, which took every monthly paycheck to keep a roof over her head.
When she was involved in a car accident things took a turn for the worse. She wasn't able to work from the injuries she sustained and quickly her small amount of savings was running out. She called the Region of Peel eviction line, a service put in place to help those facing pending displacement. Dankwa was told they couldn't help her because she didn't have an income.
"I don't have an income? That's why I'm calling," she said. "But the program is set up so that in order for them to help you with eviction, you have to have an income."
The Pointer reached out to the Region for an understanding about the eviction hotline it provides. Jennifer McLaughlin, manager, system performance, for housing services says the Region focuses on a needs-based approach, assisting those who require assistance most urgently and whose situation is most severe.
"While we can't comment on specific cases, I can say that we look to help find long-term solutions based on the client having some form of regular income — whether through employment or government support," McLaughlin told The Pointer in an email.
Support through the Region can include both monetary or non-monetary compensation like mediation between landlord and tenant, first/last months' rent, covering moving expenses, and aid with certain bills.
"We recognize the pressures and needs of the system and acknowledge that additional funding from other levels of government will be vital if we are to achieve our goals of increasing the availability of affordable housing and ending homelessness," McLaughlin said, repeating the refrain heard so often whenever Peel Region's responsibility for providing affordable housing and shelter support is raised. They are not the jurisdiction of Ottawa or Queen's Park. "Internally, we ensure our annual budget is directed towards the most urgent needs of our clients, as part of our needs-based approach."
At this point, Dankwa explained to members of council she was not the only one in the same situation. She told them through tears how many other people like her are suffering and slipping through the cracks of services designed poorly or without enough funding, and how her phone and internet will get cut off November 5, because she doesn't have the money to pay for them.
She explained the hurdles she had to jump through, to borrow a laptop and have secure internet just so she could speak with them.
"The pandemic didn't make it easier on none of us. There are so many drug addictions going up and people dying on the street; because there is no home for them to go to. And all they have is doing this on the street, and that's not healthy for any of us."
She pressed on.
"We need more. We need more affordable housing, we need better healthcare… the system is not working."
There was a brief moment of silence from councillors as they absorbed the emotional presentation. Dankwa pleaded with them to fix the problems she and more and more Peel residents are facing. She prayed they would have the strength to help people suffering in their cities.
But the brutal statistics presented publicly by the Peel Alliance to End Homelessness suggest local leaders have failed to understand the suffering described by Dankwa.
Only two percent (not a typo) of those experiencing chronic homelessness in Peel are getting housed, compared to 37 percent in Toronto.
"Homelessness throughout the course of the pandemic has highlighted how unsupported Peel residents are due to the current lack of services for individuals experiencing homelessness in Peel," says registered nurse Ameek Singh. He and other clinicians like him grew tired of seeing the effects of homelessness in hospital settings, and the group Homeless Health Peel was founded to fill gaps being chronically ignored by the region's leaders.
The problem of homlessness in Peel "is different than a hyper-urban model such as Toronto," he says. "The services we need here in Peel Region have to be specific to the needs of Peel."
"Jurisdictions like Hamilton, Ottawa and Toronto all have a central healthcare agency that provides primary care, mental health services and medical services to individuals experiencing homelessness. There is a continuity of care for individuals experiencing homelessness in those regions. Peel does not have such a service. There is no primary care agency in Peel shelters at this time."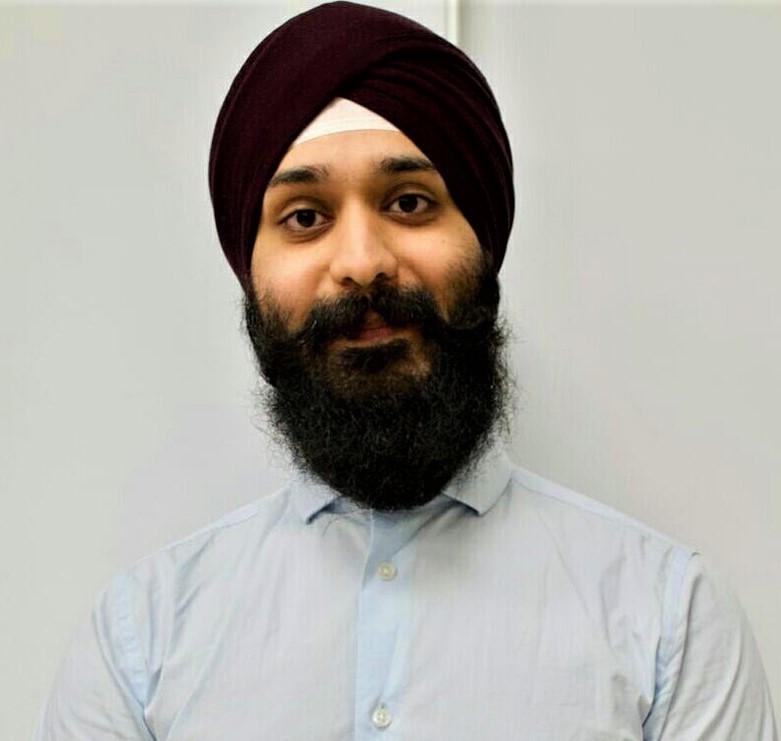 Registered nurse Ameek Singh has seen the impacts of homelessness in Peel first hand.
(Photo submitted)
SIngh described the situation as dire, saying that with the cost of housing going through the roof and such a massive shortage of affordable housing in Peel, with only a fraction of the shelter spaces needed, homelessness here is sure to explode.
His group is trying to provide emergency medical care for more and more Peel residents, including families, finding themselves on the streets.
A huge motivation for him and the other nurses working with Homeless Health Peel, as many juggle hospital and other clinical work, is to "maintain the dignity" of the patients they help.
The Region of Peel endorsed a 10-year housing plan called Home for All and set aggressive goals to meet the growing needs of the community for affordable housing. By 2028, the document projected 75,000 units would be built.
These aspirational targets are not even close to being met.
"The 10-year Peel Housing and Homelessness Plan (2018-2028) identified that more than one in 10 new homes that are built must be affordable to low-income households to keep up with forecasted growth – since 2018, less than one in 2,600 new ownership homes built have met that threshold," read a staff report from June 2020.
While construction on units stalled, the list for households waiting for subsidized housing grew enormously. By the end of 2020 it had grown to 22,445 households, an alarming jump from the 14,997 on the waitlist near the end of 2019. A 50 percent increase in a year illustrates how many people are suffering, living precariously on the edge of becoming homeless or are already in Peel's inadequate shelter system… or on the streets.
"I'm so sorry, so ashamed that I don't have something to give you to make your life better right away," Ward 7 Councillor Dipika Damerla said to Dankwa. "I just want you to know that your story will be there with me for a long time."
Damerla recently tried to block construction of dense housing in her own Mississauga ward, because some of her older residents opposed the idea of introducing alternatives to larger single-family houses, the type of supply people like Dankwa can not afford.
Unfortunately, Dankwa is one of many who continue to suffer at the hands of inadequate funding and policies. Staff reports have said time and time again how the list of needs continues to grow but the funding is not there, while many elected officials in Mississauga and Brampton continue to support the type of '80s-style suburban housing that contributes to the embarrassing lack of affordable housing in Peel.
Mississauga and Regional Councillor Carolyn Parrish told The Pointer last year she was so frustrated with the lack of will among council members and staff to aggressively and creatively address the crisis, that she began working on her own to pursue solutions directly with certain socially responsible builders.
She has also worked directly with Habitat for Humanity to create affordable housing in her own ward, circumventing the system controlled by City Hall and the Region.
Efforts like inclusionary zoning, currently being mandated by the City of Toronto to address its lack of affordable housing, could force builders in Peel to create a minimum number of units in each project for low and middle-income individuals. But local leaders, many closely aligned with the development industry that aggressively opposes inclusionary zoning, have failed to pursue similar solutions in Peel.
Damerla claims to care about people like Dankwa but has failed to do anything to help them.
An updated report to Regional Council on October 28, reiterates sobering statistics on the affordability crisis in both the rental and ownership market. Approximately 80 percent of households cannot afford either in Peel, a number that could possibly grow as society emerges from the pandemic.
"Current service levels do not fully address the growing need for affordable housing," reads the report.
Staff recommended Regional Council increase the 2022 budget by $1 million for housing subsidies to those in dire circumstances, an approach which would see those suffering acute or chronic homelessness assisted first. Staff also asked council to approve an additional $300,000 to hire two full-time workers to deliver the extra services.
It's unclear if this means staff salaries and other related costs for two positions would amount to 30 percent of the total being added to actually help residents facing immediate homelessness.
McLaughlin told The Pointer the total needs-based budget for 2021 was $30.6 million, and staff are recommending this budget be increased by about 3 percent in 2022.
In June council supported a needs-based prioritization of efforts toward those who need it most.
(Graphic from the Region of Peel)
In 2021, the housing support budget had a yearly expenditure of $225.8 million, with a net operating budget of $135.7 million. It is the largest tax supported Regional program after Peel Region Police. About half of the total expenditures went to subsidies, both operating and rental, and these services come in three types: rent geared-to income (through Peel housing corporation and community providers on the centralized wait list); needs-based subsidies (given to private landlords to prevent them from evicting tenants); and needs-based portable subsidies (given directly to clients).
Even with the significant investments into housing and the attempts to address the ongoing crisis, Regional staff wrote that, "available resources fall significantly short of need."
"Additionally, the affordability gap widens with each passing year in Peel. Between 2016-2020, average housing prices in Peel increased by 42 per cent and average rental rates for new tenants increased by at least 27 per cent. Over the same time period, there is no evidence to suggest that incomes in Peel grew at similar rates," staff wrote.
There is desperation for people waiting to be approved through Regional programs on the subsidized housing wait list. The amount of households approved and who obtains secure housing are dealt with through a painfully slow process.
There is some hope for the thousands of individuals and families who are waiting for housing assistance or other services to help avoid falling through the cracks.
When funding is given to the Region, programs and organizations running these services do assist vulnerable people and have a huge impact on their overall quality of life and future. This is shown in the more than $93 million in emergency funding from the provincial and federal governments during the pandemic, which had a dramatic impact.
The funding has allowed Peel to enhance cleaning protocols, gather more data from shelters and prevent COVID-19 outbreaks. The Region estimates its homeless pandemic response prevented 653 COVID-19 cases in the homeless population.
During the height of the pandemic, housing services and community partners operated four isolation and recovery centres, for members of the homeless population to self isolate. The additional 363 rooms aided 2,888 individuals between March 2020 and August 2021. This step reduced shelter occupancy by 50 percent, allowing people to keep their distance and recover from any illnesses safely. Only 60 cases of COVID-19 were reported among the homeless population from March 2020 to April 2021.
The Nelson Street Drop-In Centre in downtown Brampton provided a nurse practitioner to work directly with the homeless population, giving them needed medical treatments, counseling and Naloxone kits. Between February to April 2021, 3,600 visits were made to the centre. Over the same period, Peel police reported an overall decrease in calls for the downtown Brampton area related to unwanted loitering and other issues involving people who are homeless.
This highlights what workers can provide when given a steady supply of funds, it also proves when funding social services adequately, police will have a decrease in certain types of work and can then focus on other pressing public safety issues.
But this funding is ending.
The money given for these programs allowed a glimpse of what Peel could accomplish, but it was not permanent. In June, federal funding for the homeless ended; the Ontario Isolation Centre Initiative funding ended in September, and Social Services Relief Fund Phase 4 support ends March 2022.
Total breakdown of how Peel Region allocated funding from other levels of government.
(Graphic from Region of Peel)
The short-lived experience of providing needed care to the population is being taken away, as staff start demobilizing the additional (needed) shelter hotel sites. Without the funding from other governments critical services will be harder to obtain for people, despite the hardships being faced coming out of the pandemic.
Singh says Homeless Health Peel aims to bridge the gap.
"As an agency we saw the need and started to meet the need of the chronically underserved population. Homeless Health Peel is a nurse-led service providing a better quality of healthcare and the continuity of healthcare (medical and mental health care) for Peel residents experiencing homelessness."
Without some of the pandemic supports it's unclear what will happen to those who benefited from the various temporary programs.
Isolation centres have been key in limiting the spread of the virus throughout the community, and they also played an important role in improving housing situations. Between February and September 2021, 524 people who had precarious housing were taken into the centres and were referred to housing support workers. An amazing 302 (58 percent) were discharged from isolation into stable housing.
"Lack of adequate, stable provincial health funding for the homeless means that the improved access to health supports made possible through the pandemic will end in 2022, if permanent funding cannot be secured," according to a report by Regional staff.
A critical study done by Peel Alliance Ending Homelessness, gave Regional Council tangible actions to take. Their study was informed by people experiencing homelessness and various other community partners, and left council with four priority areas to focus their funding efforts on.
Regional staff can work closely with PAEH and align their goals with recommendations from the organization. The Peel Housing and Homelessness Plan has matched priorities to PAEH's efforts, which has been endorsed by Regional Council.
"Rather than having to choose from a few options that may not be a good fit, we can offer them custom solutions for what they need right now," McLaughlin said of the needs-based approach. "The aim is to help people GET and KEEP affordable housing and improve their experience."
The first priority is to adopt an integrated system for approaching, preventing and reducing homelessness, to eventually end the issue altogether. Through this recommendation, PAEH states creating a governance model, a map for the service system, increasing production and access to housing, and strengthening collaboration will assist in slowing the crisis.
Priority two goes hand in hand with recommendation one, by discussing a more equitable homeless service system. This deals with ongoing racism training, truth and reconciliation and learning from the lived experiences of people who are homeless.
Recommendation three asks council to prioritize a homeless service system to decrease inflow and increase outflow. This means building on coordination with community groups, prioritizing residents from Peel, increasing exits from shelters to permanent housing and adding to the training for workers.
The last priority PAEH touches on is more data on those suffering from homelessness. Without permanent addresses many people don't show up on the government Census, leaving measurement of service needs unclear while the percentage of homeless individuals using shelters is also difficult to measure. PAEH wants to integrate a system allowing all organizations assisting the vulnerable population to have access to data input and the overall collection of statistics so tools can be developed based on the facts.
These changes within the system can be achieved only if the funding is allocated.
The councillors from the Region heard an intimate and vulnerable story from Dankwa. The harrowing account by one Peel resident touched everyone present at the meeting.
For Dankwa, it is not just a story, but her reality. She only hopes by sharing her story and being honest with councillors that it will light a fire within them.
"I ask for more strength for you to do your job. And I pray that you get that strength every day to come and do your job."
---
Email: [email protected]
Twitter: @taasha__15
---
COVID-19 is impacting all Canadians. At a time when vital public information is needed by everyone, The Pointer has taken down our paywall on all stories relating to the pandemic and those of public interest to ensure every resident of Brampton and Mississauga has access to the facts. For those who are able, we encourage you to consider a subscription. This will help us report on important public interest issues the community needs to know about now more than ever. You can register for a 30-day free trial HERE. Thereafter, The Pointer will charge $10 a month and you can cancel any time right on the website. Thank you
Submit a correction about this story