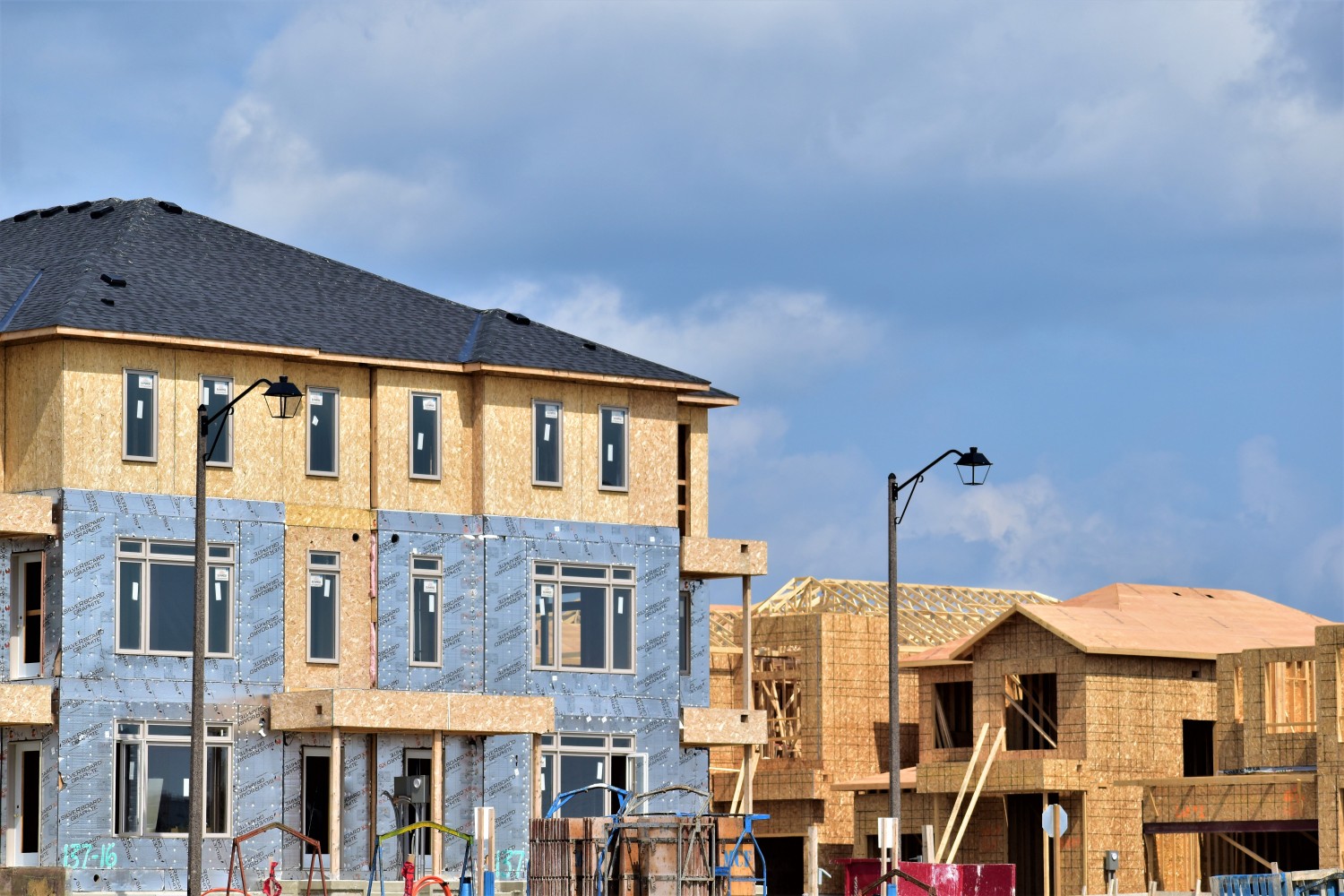 Isaac Callan/The Pointer
Will Mississauga stand up to developers by adopting new policy to fix its affordable housing crisis?
"Not in my backyard!"
Otherwise known as NIMBY-ism, it's a commonly heard refrain among city councillors or planning staff attempting to accommodate publicly driven ideas to create more affordable housing.
Well settled residents who cry NIMBYism whenever a new project is proposed for their neighbourhood, which might effect the character or, in their minds, reduce property values, have significant sway with the councillors elected to represent them.
Sometimes council members give in to a loud minority.
Developers are often the target when they push projects such as townhouses, apartments or row housing deemed by residents in the area to be a threat: Traffic volumes will increase; crime might go up; property values might go down; and the feel of the community will change.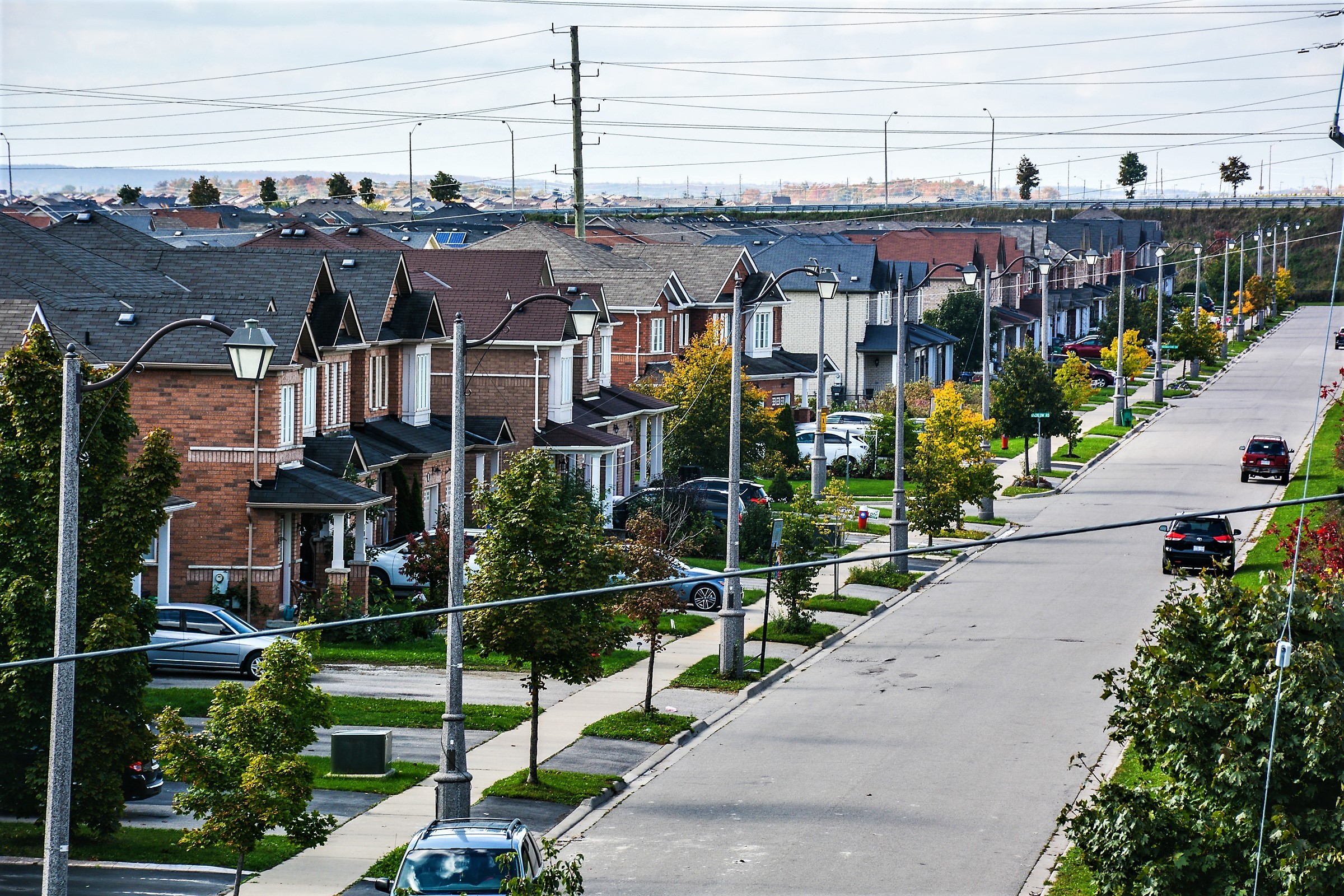 A typical Peel subdivision with no affordable housing.
(Joel Wittnebel-The Pointer)
But builders are also on the other side of the debate, lobbying against inclusionary zoning that would force them to create more affordable housing in each of their projects. They argue the loss of profits from having to offer a fixed number of units at a lower cost would simply be offset by charging other buyers more.
They don't like the idea. Their rationale is that the market will simply go elsewhere, to find housing in municipalities that don't use inclusionary zoning. This leaves companies holding the bag, having already purchased land where they intended to build.
Their threat to the host municipality is to pull up and leave. The lobby group that represents new home developers, the Building Industry and Land Development Association (BILD) uses aggressive tactics to keep municipalities, and more specifically elected officials, onside.
Its website tells voters to support candidates that align with the lobby group's position, and it's no secret that its members, even with recent rules in place to prevent private sector contributions, donate heavily to candidates.
The Pointer recently reported that employees and family members of a large development consortium called Lakeview Community Partners, which is building the massive Lakeview Village project on Mississauga's eastern waterfront, gave about $86,000 to the campaigns of current Mississauga Council members in 2018.
When developers operate under the expectation they control planning decisions through their influence with elected officials and staff, there is little that municipalities can do to create better housing supply if they are unwilling to stand up to large builders and their well funded lobby group, BILD.
Peel Region's inability to get developers to cooperate was highlighted in a jaw-dropping report a couple years ago. The affordable housing plan approved by regional council, including Mississauga's twelve members, was so badly ignored in the face of private sector ambivalence that only 1 in 2,600 new ownership units that came online between 2018 and 2020 were affordable for low-income families despite a goal under the approved plan to have more than ten percent meet that threshold.
Builders said, 'No thanks' and elected officials caved.
Meanwhile, the United Way released a report showing that rental and ownership costs are out of reach for 80 percent of Peel's residents (this figure is likely even higher now with home prices spiking dramatically across the region over the last two years).
Too many people are getting priced out of the area. The centralized housing waitlist in Peel grew 50 percent in one year by the end of 2020.
The crisis has been building for years, and has been largely ignored by council members and staff at the region and inside City Hall. Over the next year, despite the desperate need, the Region's Housing Master Plan (HMP) will add no new rental or shelter units. It lays out more realistic targets than Peel's Home for All Plan (HFAP), which was endorsed in 2018 (calling for 7,500 new units annually between 2018 and 2028) before it was almost completely ignored by staff and council members who refused to force the issue with developers, many of whom donated to campaigns through employees, family and friends.
Entangled within the affordable housing crisis is a mess of other societal failures like hidden racism in the housing market, the lack of support for seniors and the increased number of the working poor. Advocates agree there is a long road ahead to fix the broken past—there won't be a one policy fits all scenario.
One tool stands out: Inclusionary Zoning.
This Thursday, February 24, the City of Mississauga will host a public meeting to address the bold planning concept:
"Join us for a community meeting on Inclusionary Zoning and City-wide Major Transit Station Areas. Staff will present preliminary policy directions affecting future developments in major transit station areas. Learn how these policies could help to bring more affordable units to the City over the long term."
Date: Thursday, February 24, 2022.
Time: 6:30 – 8:00 PM
"Register Here for the virtual community meeting!"
---
If Mississauga were to adopt an inclusionary zoning (IZ) bylaw, as Toronto did late last year (despite a relentless lobbying campaign by BILD) affordable housing could be tacked on to every development near a transit station or major stop in the City.
It could help residents to understand the widespread benefits of affordable housing and push up against knee-jerk NIMBYism.
Inclusionary zoning represents a step in the right direction for a city so desperately in need of housing.
History
Although IZ is not new, its usage in Ontario is scarce. It comes from the United States and was conceived as a tool to curb housing problems in its largest urban city centres. It was developed in the 1960s when social justice struggles for basic rights, such as housing, were fought for.
During that decade the Department of Housing and Urban Development was established and the U.S. Congress passed the Housing Act, allowing for resources to flow freely to housing projects for low income households. This along with the Civil Rights Act of 1968, created an influential dynamic for the future of housing and policy around poverty, and how governments dealt with the issues.
But forcing companies to bid on projects yielding them little to no return started to become a problem. When these units were created they were mostly on the outskirts of urban centres or in the heart of cities, creating isolated neighbourhoods of their own and not allowing social integration among those from different income levels.
This is when modern NIMBYism began.
Inclusionary zoning was introduced in response to "exclusionary zoning," a practice of excluding certain developments (often highrise, low income units,) from a certain community based on historical zoning that for decades had used concepts such as "red lining", the practice of denying certain investments and opportunities in specific areas that had particular demographic characteristics (race and income being the typical markers).
The 1960s also brought early environmental considerations around housing, making some question post-war planning that involved little consideration of the way available land was used. Not long after, growth management plans started popping up and planning with future considerations in mind began across parts of North America by the '70s.
In Ontario, by the '90s, affordable housing was downloaded onto municipalities right after the federal government had downloaded it to the provinces. An indication of how prevalent the apathy toward progressive housing had become was the political reality. It was the Liberals who downloaded housing from Ottawa to the provinces, and the PCs in Ontario who then kicked the responsibility to cities.
Municipalities were given no additional revenue tools to pay for the staggering cost and affordable housing has languished ever since.
Over the past decade, Mississauga leaders, including Mayor Bonnie Crombie and veteran Councillor Carolyn Parrish, have attempted to adopt mandatory minimums for the number of affordable housing units in new projects, but developers have threatened to pull investments in the city, resulting in little action.
A successful form of IZ was created in Montgomery County in Maryland which saw the creation of 10,000 affordable units in about 25 years, as rules are still in place to ensure 12 to 15 percent of new homes are offered at below-market rates.
On the other side of the country, California was battling the worst of the affordability crisis, and started implementing IZ programs left and right. Some of the earliest forms were passed in the San Francisco Bay communities where they would mandate developers create affordable units in their new projects, and pay development impact fees (DIFs) to assist cities in paying for public infrastructure.
The argument against IZ was pretty simple: Developers argued it increased their costs, not just through the subsidizing of below-market rate units, but due to all the application and permit work required to deal with technical and policy requirements around IZ projects at the municipal level; Politicians were in constant fear of NIMBY backlash.
But in California, the benefits (decreased rates of poverty and visible homelessness, better mix of local labour market opportunities for employers, increased takeup of certain municipal services such as transit, lower crime rates, healthier local economies as a result, gentrification of previously depressed areas, new small businesses that cater to wider segments of the surrounding demographic, and reductions in costly services including public health and safety that stem from housing shortages) outweighed the problems that some claimed would arise.
According to research by state planners, between 1994 and 2003, the number of programs increased 50 percent, creating over 30,000 affordable homes in 30 years.
The City of Toronto successfully passed a motion in November to implement IZ after years of studies, research and careful consideration.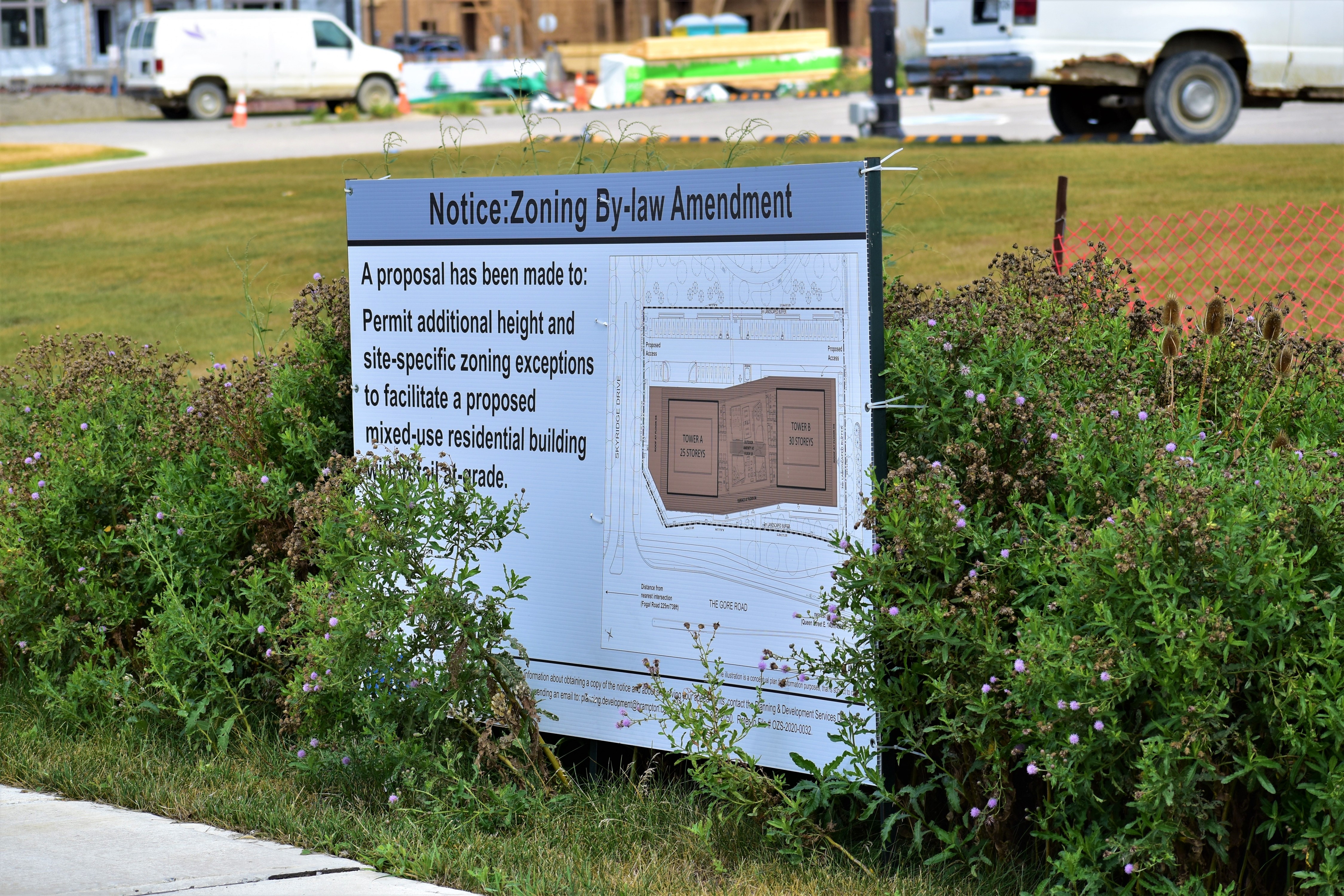 Sprawl has played a role in shaping attitudes toward single detached living and the power developers have.
(Isaac Callan/The Pointer)
What is the Inclusionary Zoning process?
In Mississauga the move toward IZ has been slow. Staff have considered the city's specific housing market and watched Toronto's implementation. According to a January 2022 overview, the City has been trying to increase its tools to build more affordable units since 2017. According to staff, the report called "Making Room for the Middle — A Housing Strategy for Mississauga," identified IZ as a key tool to increase the supply of affordable housing.
Since then, the pricing situation has gotten exponentially worse, with various dire reports from Regional and City staff on the worsening housing crisis. As of January, the average home sale price in Mississauga was $1.15 million, but middle income earners can only afford prices around $432,000 or less.
Renting is a similar problem, with middle income earners able to afford prices of $1,500 a month, about $500 less than the average cost. Lower income households continue to be priced out of the market.
"Without intervention to influence the right type of housing supply, a significant segment of residents will continue to struggle to find housing that is suitable and affordable," City staff wrote in one of the recent reports.
In order to implement IZ, both the City and Region have to be on the same page, and work needs to occur simultaneously between the two governing bodies. According to Jason Bevan, Mississauga's director of city planning strategies, the two are in "constant communication."
At its simplest form, IZ is a zoning bylaw that could, for now, be applied to land around major transit station areas (MTSA). In order to pass the bylaw in Mississauga, Peel has to designate where the MTSAs are in its Official Plan, a process being updated currently and finalized before July.
The developments included in IZ have to be within a 500 to 800-metre radius of a transit station, like the Hurontario Light Rail Transit (LRT) system, Dundas/Lakeshore Bus Rapid Transit systems and Go Stations. The calculations are based on a 10-minute walk from public transit.
Bevan told The Pointer in an email, Mississauga has been advocating for changes in this framework to allow cities to enact IZ everywhere, and for it to be applied to provincial land when sold, avoiding certain failed opportunities such as one in Port Credit recently reported on by The Pointer.
According to Peel, a number of studies need to be conducted before IZ can be fully implemented, including a feasibility analysis, a housing data update, a third-party independent peer review of the study, a study understanding the opportunities for IZ, and a draft of the policy to be presented to elected officials for a vote.
Will they stand up to BILD and the developers strongly opposed to inclusionary zoning?
"Local municipalities are currently conducting further studies on local market conditions and potential policies and conducting consultations that will inform a local municipal IZ by-law," a Peel Region spokesperson told The Pointer in an email. "This by-law is required in order for IZ to proceed in each local municipality."
Because each municipality develops its own IZ bylaw they will vary from city to city.
Toronto is the first municipality in Ontario to pass an IZ mandate after creating three separate geographic areas to apply different requirements to.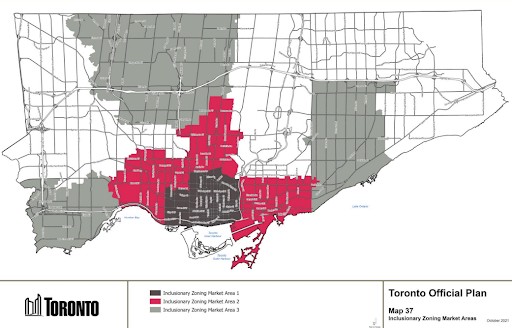 Located in the centre, IZ Area 1 will force developers of proposed condominiums to allocate 10 percent of the residential gross floor area (GFA) as affordable ownership or a minimum of seven percent of the GFA should be for affordable rental units.
Further outside the core, condominiums will have a minimum of eight percent of the GFA as affordable ownership and six percent dedicated to renting. The outskirts will see the smallest amount of mandated affordability, with a minimum of seven percent of the GFA being affordable to owners and five percent for renting.
Toronto also passed a mandate that all affordable housing (renting and ownership) will be in the price range for low and middle income earners for at least 99 years, meaning after a period of time the owners can not sell or rent the property at whatever the market can bear at the time.
Inclusionary zoning will not be applied to projects with 100 residential units or less, or 8,000 square metres or less of residential GFA, according to the policy adopted by Toronto City Council on November 12, 2021. The requirements will take effect on September 18, 2022, forcing builders to start incorporating affordable units in their projects.
Mississauga's first draft of a potential new policy indicates different parameters for an IZ bylaw than Toronto, focusing largely on ownership and not rental units. Projects surrounding the future Hurontario LRT will eventually be required to have 10 percent affordable housing, the City's plan indicated this percentage will be achieved over time not right away. The 10 percent threshold will also be applied to Clarkson GO station.
Dundas Street will require residential builders to have seven percent of homes affordable, and Lakeshore Road East (Dixie, Lakefront, Promenade and Haig) and Ninth Line (Derry and Britannia) will have up to 5 percent of units meet affordable housing criteria.
According to the city's definition, affordable ownership will be approximately $294,000 for a 1-bedroom, $359,000 for a 2-bedroom and $432,000 for a 3-bedroom home.
Comparison between Toronto's implemented IZ policy and Mississauga's proposed one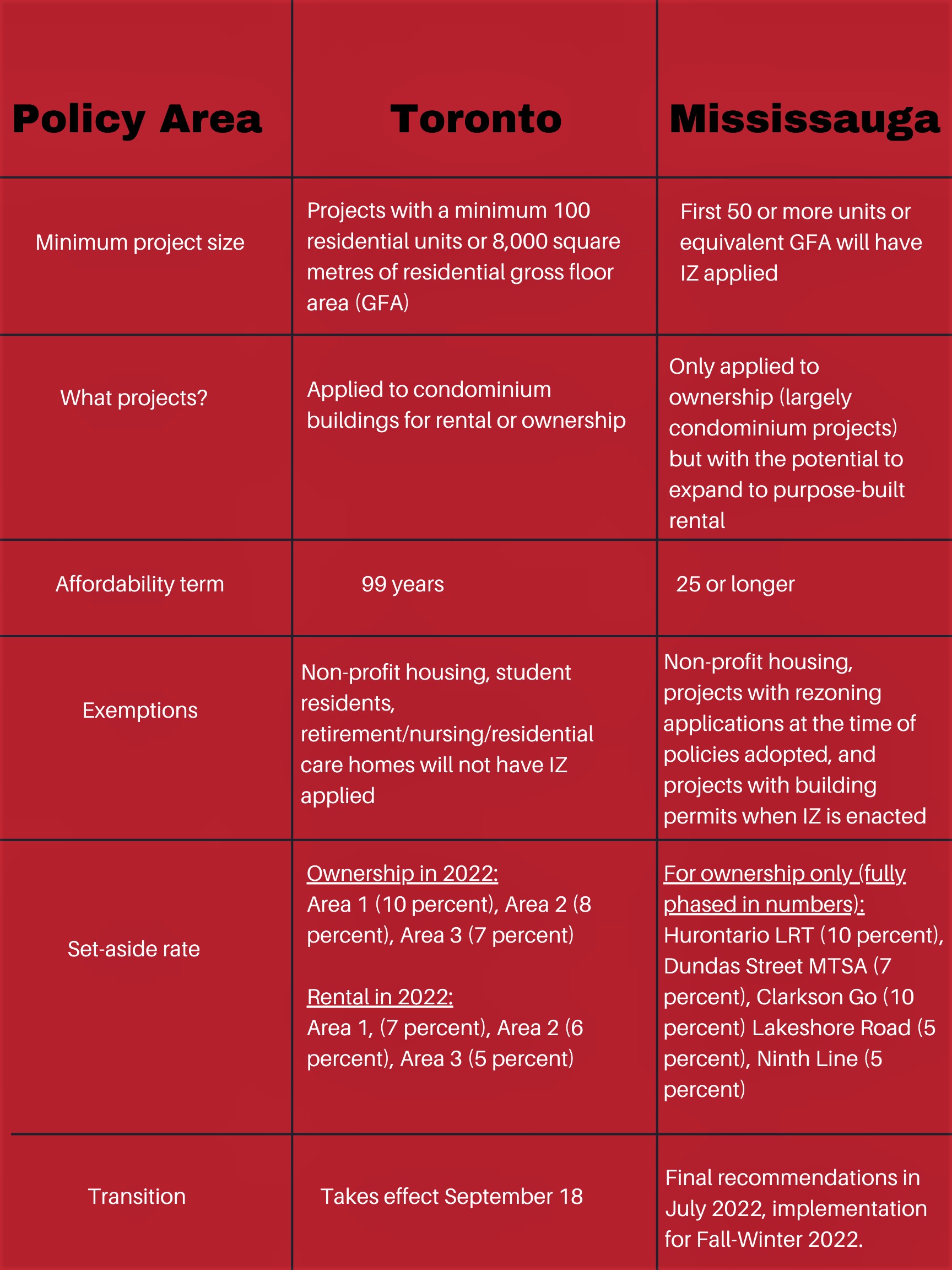 On top of developing a framework to apply the bylaw, staff need to address four other areas for a successful IZ implementation. Mississauga has to secure a commitment from developers through a legal agreement, establish a system for matching occupants to units, make sure units stay affordable over time and monitor/report on IZ every two years with market updates every five.
"The City and Region collaborated on MTSA development and the IZ assessment report and peer review that provides guidance on where IZ is most economically feasible," Bevan said. "Currently we are working with the Region on the administrative structure".
Consultations with all stakeholders are taking place over the next few months.
In the past City staff have conducted a number of meetings with developers, including the Building Industry and Land Development Association (BILD), who expressed concerns about the possible consequences on the housing market.
"Comments have been provided by the development industry suggesting that developers receive incentives or offsets for their provision of affordable housing required to be provided through IZ," a regional spokesperson told The Pointer. "Currently, the Region has no plans to provide financial incentives."
In a 2021 report BILD argues, without incentive/offsets to developers the cost of building housing with IZ applied could be passed down to the individual consumer. According to the association's research development prices would rise an average of $116,000 for those paying market-rate prices, effectively subsidizing the lower prices for affordable units.
This is potentially misleading because IZ is a zoning bylaw applied to the location of the property, not the individual structure. This means with IZ enacted, the purchaser of the land could likely buy the property for less because it's within the IZ designated area. These lower land costs are categorized into the developers' bottom line meaning the lower cost for land can result in money saved that goes toward affordable units. Property owners, often governments who own land within MTSAs, are predicted to absorb much of the costs for implementing IZ.
The City of Toronto underwent an evaluation of potential impacts of IZ by N. Barry Lyon Consultants (NBLC) who tested market scenarios for the best policy implementations. In its 2019 report, NBLC tested the policy in various neighbourhoods.
"On average the impact of providing 20% of added density in affordable housing reduced residual land value by an average of $17 per square foot (psf) in the scenarios tested," NBLC concluded from their research. "The impact ranged from about $45 psf in the Downtown area to about $5 psf in the Etobicoke Centre example where base zoning is assumed to be relatively permissive (fewer affordable units required)."
Bevan hopes more municipalities in the GTA enact IZ, setting the policy as a new normal for developers, who would then be forced into a widespread market condition, unable to take their investments elsewhere because other cities would operate under the same policy.
"As the assessment report indicates, longer term impacts of IZ are likely to be absorbed through land values," he told The Pointer. "We are recommending IZ not be applied to rental projects as this market has more financial challenges than condos."

Why is this important?

The housing crisis is dire.
Mississauga councillors and staff have been well aware of the affordable housing storm brewing for years, and with the pandemic, it's reached a breaking point. Critical staff reports have painted harrowing pictures of many families and individuals unable to access affordable housing in the Region. Those who are lucky enough to find housing pay most of their monthly income to shelter costs, exacerbating underlying issues of health and wellbeing.
An updated report to Regional Council on October 28, reiterated sobering statistics on the affordability crisis in both the rental and ownership market. Approximately 80 percent of residents are priced out of the market.
"Current service levels do not fully address the growing need for affordable housing," the report stated.
The lack of affordable housing directly impacts the overall wellbeing of the community. The Region's own housing subsidy waitlist increased from 14,997 households in 2019 to 22,445 households by the end of 2020.
These incredible numbers show too many people falling through the cracks, overburdening homeless shelters that were already beyond capacity, while other social services cannot meet the growing demand.
Multiple Peel organizations have outlined and recommended immediate action to help solve the problem. A lack of action and investment, compounded by confusing housing plan targets that are rarely met, have all led to a crisis that will only get worse.
Peel's 2018 Home For All Plan (HFAP) was endorsed to add 7,500 affordable, middle-income and market rate units each year between 2018 and 2028. It was effectively abandoned, as mentioned earlier, when developers working with the Region created less than 1 in 2,600 new ownership units between 2018 and 2020 that qualified as affordable for low-income families. The goal, as stated at the top of the article, was to have ten percent of new units meet this threshold. Practically none of them did.
The approved housing plan included next to no ongoing measurement tools, aligned with the planning approval and permit process, to help ensure the targets would be met.
Instead, a year later, the Housing Master Plan (HMP) was introduced with more realistic goals for the Region. The document lays out how 31 projects will create over 5,650 rental units, 226 supported units and 60 shelter beds by 2034, a fraction of the original plan. It does not include financing plans, but instead acts as a long term outline for Peel. The figures represent less than 8 percent of the overall number of units promised in the original HFAP by 2028, through a mix of public housing and supply provided by private sector partners, to create low, middle and market-rate housing.
The HMP indicated the Region will not be creating any new affordable rental units or additional shelter-bed capacity in 2022.
A lack of policies or will-power is often to blame for allowing the housing crisis to become so bad, but the reality is municipalities are not set up to address such a huge financial responsibility. The jurisdiction has been downloaded on cities and without extra revenue tools to fund massive housing projects, municipalities are left begging the province and federal government for help.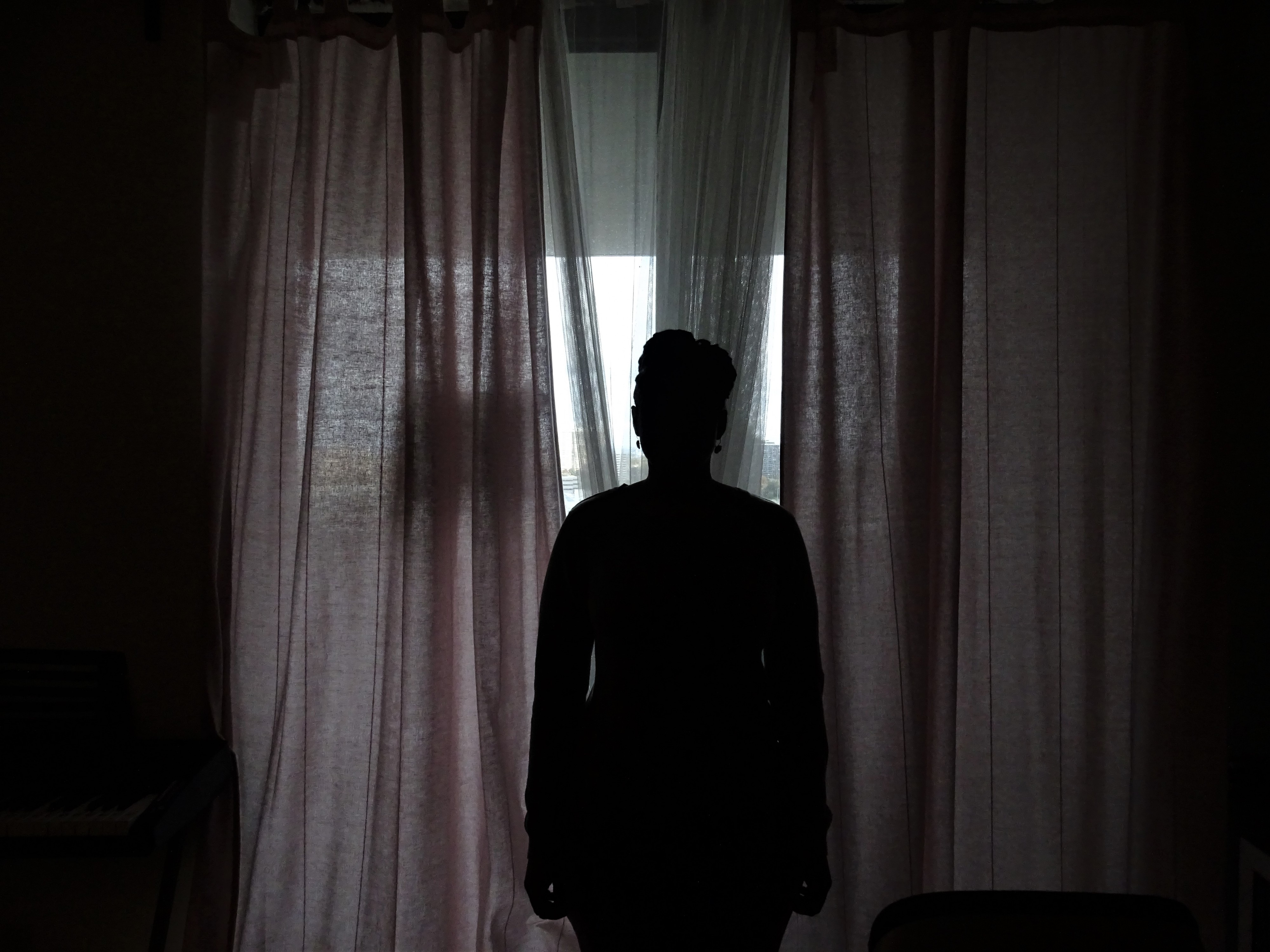 In October, Janet Dankwa, a resident of Brampton, made a heartbreaking plea to Regional Council asking them to take immediate action towards housing affordability.
(Natasha O'Neill/The Pointer)
Cities can ask developers to create affordable units within their projects, but without trade offs this rarely happens out of good-will.
"Some developers have provided land, housing units or cash for affordable housing, while others are more resistant," Bevan said. "In general, larger developments can more easily address city/regional affordable housing policies."
If discussions are initiated between developers and the City, Mississauga has a track record of allowing developers off the hook. A prime example was the discussion between councillors and the Lakeview Community Partners (LCP), the conglomerate of developers constructing Lakeview Village.
The mixed use residential, employment, commercial and institutional project will result in changing the waterfront forever. LCP has pushed for extra height and fewer affordable units much to the dismay of the public. After intense back and forth between developers and councillors who originally argued for 10 percent of the 8,000 units to be affordable, LCP bargained for 5 percent, but the Region has said a huge chunk of these will not actually meet affordability criteria.
So, of the 400 units deemed affordable under the developer's definition, this includes 50 "artist units", 50-80 "off-site" units and only 140 to 230 onsite affordable units.
"While the purpose-built market rental units are desirable in providing rental tenure units at more affordable prices, the rental rate for market units would not meet the Regional definition of affordable housing," a Peel Region housing report that addressed the agreement, stated. Only 1.7 to 2.9 percent of the units would actually be affordable, and some of them might not even be on site.
Staff's recommendation was conclusive: without legislative power to mandate the units, five percent was, "a fair amount" but the city won't even get five percent.
This is why enacting an IZ bylaw is so important, so council's (often) poor negotiations with developers many members are committed to, are no longer needed.
Firm policies, instead, would dictate the rules of the game.
If developers don't want to play, they can look elsewhere. If all municipalities across Southern Ontario take similarly bold action, IZ could become the norm, and old school builders can either step aside, or learn how to operate under a new planning and growth model demanded by more and more residents.
As discussions continue, Mississauga staff are recommending a speedy approach. With other provincial amendments under the PC government to the Planning Act, cities have lost some tools to acquire money or units from developers. Mississauga is running out of options.
Inclusionary zoning could be a major part of the solution to fix a housing crisis that will otherwise get exponentially worse, before the market collapses.
Residents can weigh in this Thursday, and help decide the future of their city.
---
Email: [email protected]
Twitter: @taasha__15
---
COVID-19 is impacting all Canadians. At a time when vital public information is needed by everyone, The Pointer has taken down our paywall on all stories relating to the pandemic and those of public interest to ensure every resident of Brampton and Mississauga has access to the facts. For those who are able, we encourage you to consider a subscription. This will help us report on important public interest issues the community needs to know about now more than ever. You can register for a 30-day free trial HERE. Thereafter, The Pointer will charge $10 a month and you can cancel any time right on the website. Thank you
Submit a correction about this story