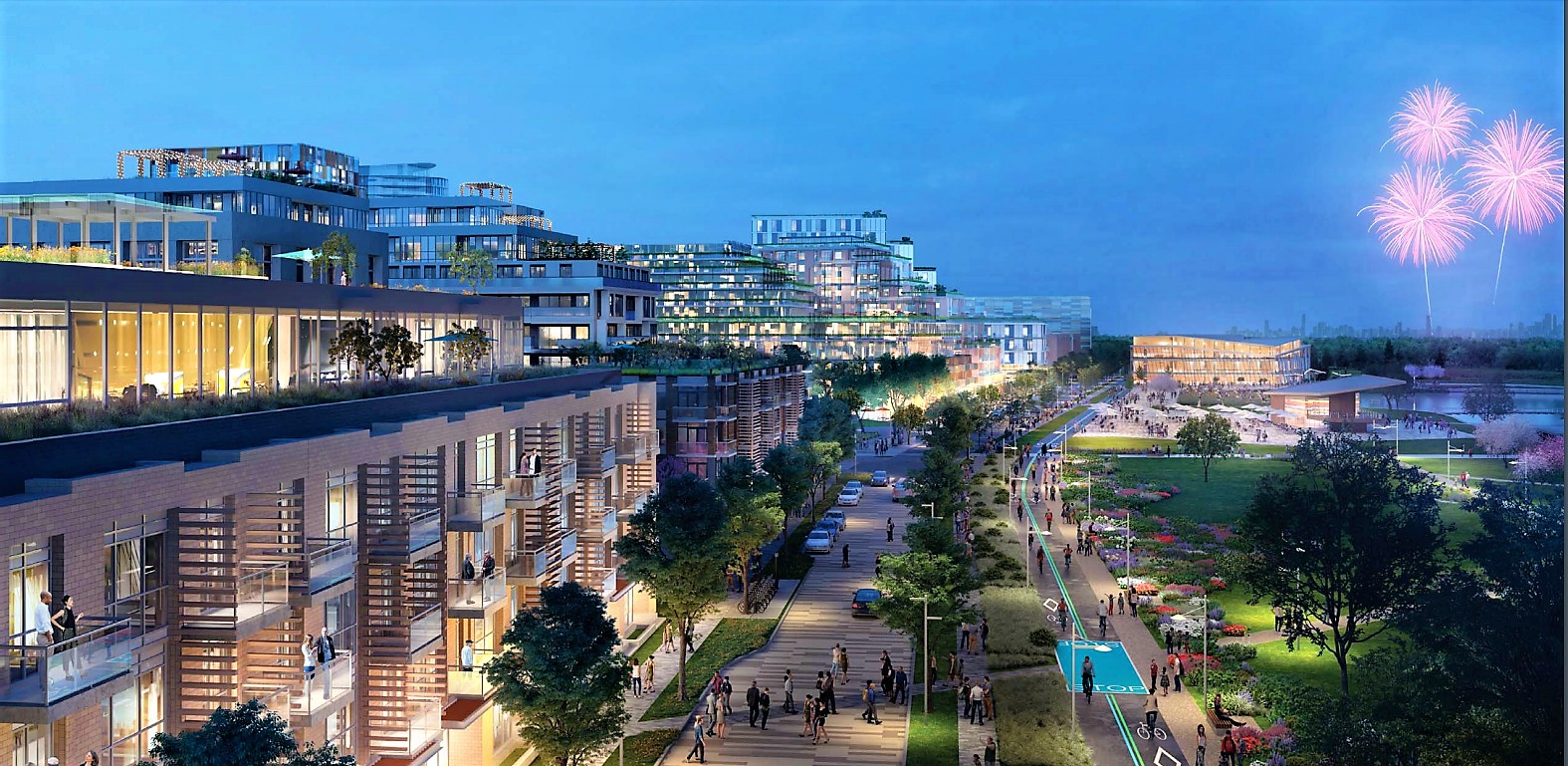 Rendering City of Mississauga
Mississauga council to make key decision on giant Lakeview project after employees and family members of developers donated $86K to election campaigns
Those who plan our cities and those who physically construct them are closely linked.
Mayors, city councillors and planning staff who shape a city that offers residents the amenities they desire and the opportunities they expect must mesh their priorities with those of developers and landowners looking to get the best bang for their buck.
Nowhere is this push and pull more evident than in Mississauga's Lakeview Village project, on the site where the once iconic Four Sisters power plant stood for decades. The massive redevelopment of the former brownfield area is set to come before council members for a significant official plan amendment on Monday, November 8.
From This...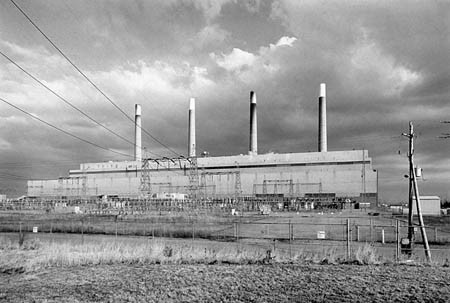 To This...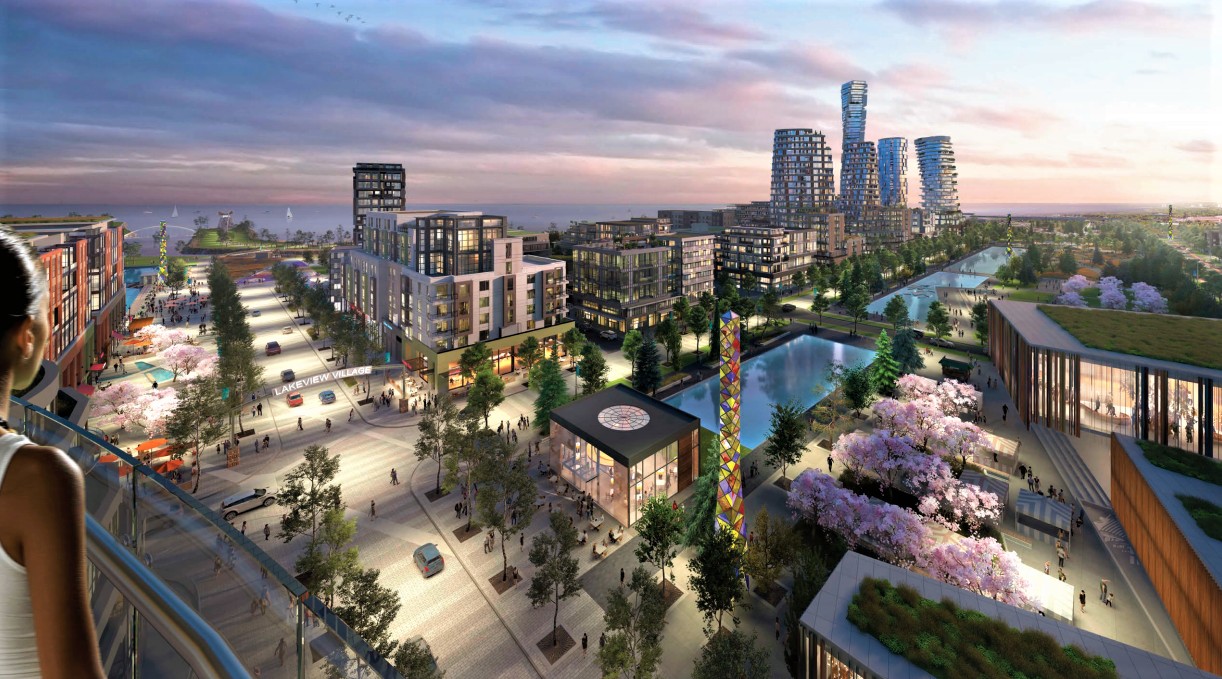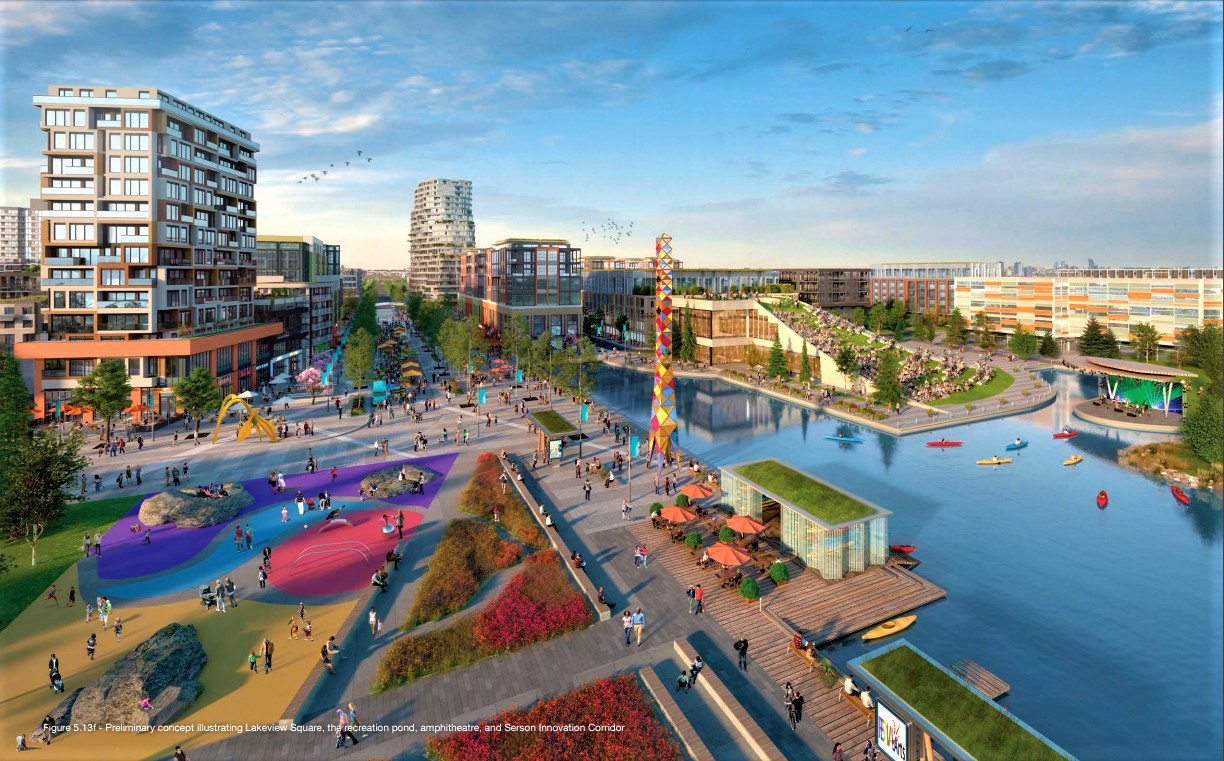 The old Lakeview power plant, top, and renderings of the planned Lakeview Village development.
(Wiki Commons; City of Mississauga)
A yes, to the proposed amendment — being recommended by the City's planning staff — would see multiple towering buildings rise over Lake Ontario's shoreline, along a completely redeveloped waterfront boulevard. An entire 'village' between Lakeshore Road East and the waterfront will house one of the largest development projects in North America.
The current plan would see 8,050 units in a mixed-use waterfront community with opportunities for employment, commercial and institutional development along with cultural spaces and parks.
A no, would see Lakeview Community Partners (LCP) head back to the drawing board on its multi-billion-dollar project that has been plodding through the planning process for several years. After council approved a resident-driven plan, with the help of former ward councillor Jim Tovey, who passed away suddenly at the beginning of 2018, many locals were disappointed when elected members later sided with the giant development consortium, allowing a new proposal to come forward. Unlike the previous plan, which was designed to a human scale with a gradual elevation in building heights and lower density, the scope of the project shaped by LCP is much larger, with more units, increased height along the waterfront and better opportunities to maximize profits from the footprint of the entire redevelopment area around the former industrial site of the old Lakeview power plant.
In 2018, the land at 1082 Lakeshore Road East and 800 Hydro Road was sold to LCP, a conglomerate bringing together some of Ontario's largest and most powerful development companies, including: Argo Development Corporation, TACC Construction Limited, Branthaven Homes, Greenpark Group and CCI Development Group of Companies.
These names will be familiar to all councillors around the table not only because the companies are major players in many developments that have shaped the GTA, but because the employees or family members of employees of these companies donated directly to many of their election campaigns in 2018, the same year LCP purchased the Lakeview property.
By reviewing publicly available election contributions donated to Mississauga council members, The Pointer was able to determine that employees or family members of employees working for several of the largest developers involved with the Lakeview project contributed significant amounts of money to local elected officials in the 2018 municipal election. The practice is very common and perfectly legal.
The names on public campaign finance submissions were cross-referenced with information from company websites or LinkedIn pages.
The Pointer found that employees of Argo or family members of employees donated approximately $56,850 to all council members, except for Ward 4 Councillor John Kovac. TACC staff members or family of staff contributed $14,900, but not to Councillors Kovac, Carolyn Parrish, or Dipika Damerla. The majority of donations from employees or family members of employees of Greenpark were to Mayor Bonnie Crombie with one sum each of $1,200 allocated to Councillor Ron Starr and Sue McFadden, spending $9,600 in total. Staff who work for Branthaven donated $4,800 solely to the Mayor.
For the 2018 municipal election the limit for campaign contributions to one candidate was $1,200, which went up from the previous amount of $750. Corporations and trade unions were not allowed to contribute, under new rules that had been introduced by the Ontario government prior to the last municipal election.
The Pointer's investigation found no rules were violated by any of the contributors included in the reporting.
The money was spread out between donations from various employees and, in some cases, individuals with ties to the company, who share a last name and address with a company employee. The Pointer did not determine the specific relationship.
All of the contributions associated with Branthaven were by employees.
The involvement of large corporations in elections is nothing new. In Ontario, large developers and unions have always contributed to politicians deemed supportive of their interests. However, in 2016, the Liberal government set out to change that.
That year, legislation was passed banning the practice of corporations and unions donating to municipal candidates.
"These reforms mean Ontario will have one of the strongest and most transparent election financing systems in the country," stated former premier Kathleen Wynne at the time. "We have delivered on our commitment to bring in clear and fair election finance rules that the people of Ontario can have confidence in."
The legislation led to many individual donations from employees of construction/development companies as well as those from their family members, whose contributions are not considered to be from the corporations they are associated with.
For those trying to link campaign contributions, instead of having to put their names front and centre, corporations no longer appear on the public disclosures that highlight campaign contributions to municipal candidates. Employees and their family members contribute directly under their own names, and can now give as much as $1,200 each to each candidate.
The change makes it more difficult for members of the public to track who is donating to whom, and what ties might exist between donors and potential elected officials who will take votes that impact the community directly.
Elected officials are supposed to make decisions on behalf of their constituents who elected them to represent the collective interests of local residents. A project of Lakeview's scale can be a catalyst for an entirely new character that defines the community and sets the tone for future opportunities in the area.
The Mississauga Code of Conduct for Members of Council, states gift receiving is allowed as long as the councillor or mayor do not show favoritism to the giver.
"Personal integrity and sound business practices require that relationships with developers, vendors, contractors or others doing business with the City be such that no Member of Council is perceived as showing favouritism or bias toward the giver," the Code reads.
Council members are allowed to accept gifts, within strict limits, from developers, or any member of the public. Whether these types of acts or campaign contributions from employees or the family members of employees have any impact on the decisions made by elected officials is unclear.
"There will never be a perfect solution," the Code reads.
When former premier Kathleen Wynne brought forward the new municipal campaign financing rules in 2016, she said, "The government will bring forward a plan in the fall, and that will include… transitioning away from corporate and union donations... and at the same time keeping the transparency measures currently in place on real-time reporting."
The conundrum around how to truly make the process transparent is ingrained in the political back and forth between developers and those seeking to make campaign financing less influenced by private or union interests.
The Pointer cannot confirm if Mississauga council members have received recent gifts (while in office) from any of the LCP companies.
During their time in office, council members cannot receive tokens of appreciation (pens, mugs, photos or other items) worth more than $1,000 in a calendar year. Items under perishables such as food do not need to be recorded unless it's alcohol, with a value over $100. Art, business meals and hospitality are also listed with maximums of $1,000 in a year.
"An invitation to attend a function with a developer or supplier could be seen as allowing the giver an opportunity to influence the elected official," the Code states.
---
Lakeview Village is the type of planning opportunity that highlights the struggle between private and public interests.
A 2014 official plan titled Inspiration Lakeview, was to bring approximately 5,200 low-rise housing units to the waterfront built to a human scale and allowing for plenty of public access to the surrounding waterfront.
The idea came from residents who spearheaded the development to create medium density for the growing Lakeview community, while maintaining access to the lake for Mississauga residents. Late Ward 1 councillor Jim Tovey advocated with residents to scrap plans for a gas power generation plant where the old Four Sisters coal-fired power generation plant sat. The idea was replaced by a plan for homes and local greenspaces that would provide the community direct access to the water. However, the vision of developers was much different. They saw prime real estate along one of North America's longest stretches of prime waterfront property, where the Four Sisters had belched out smoke from its stacks since the '60s, cutting off the entire area from the rest of Mississauga.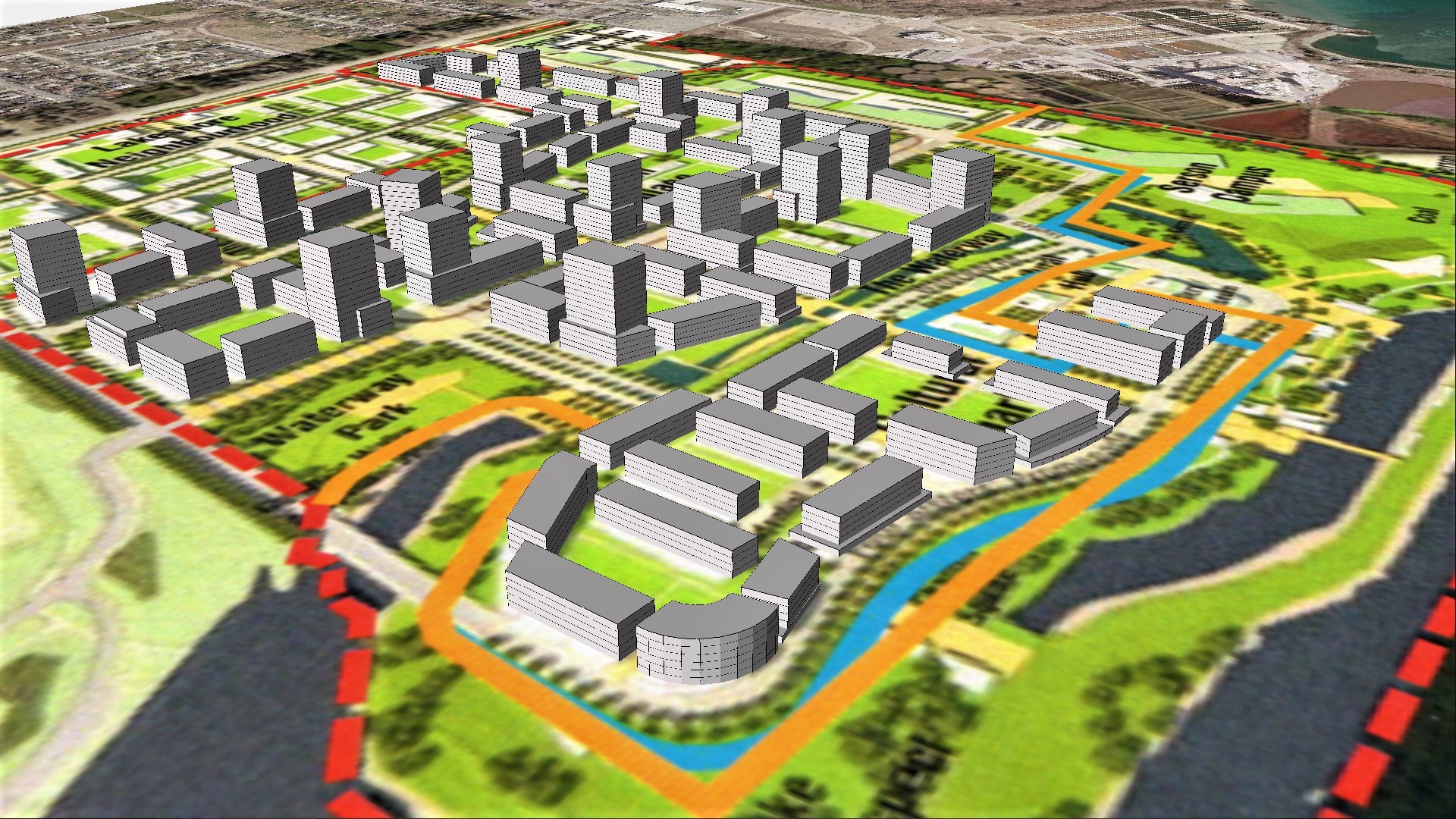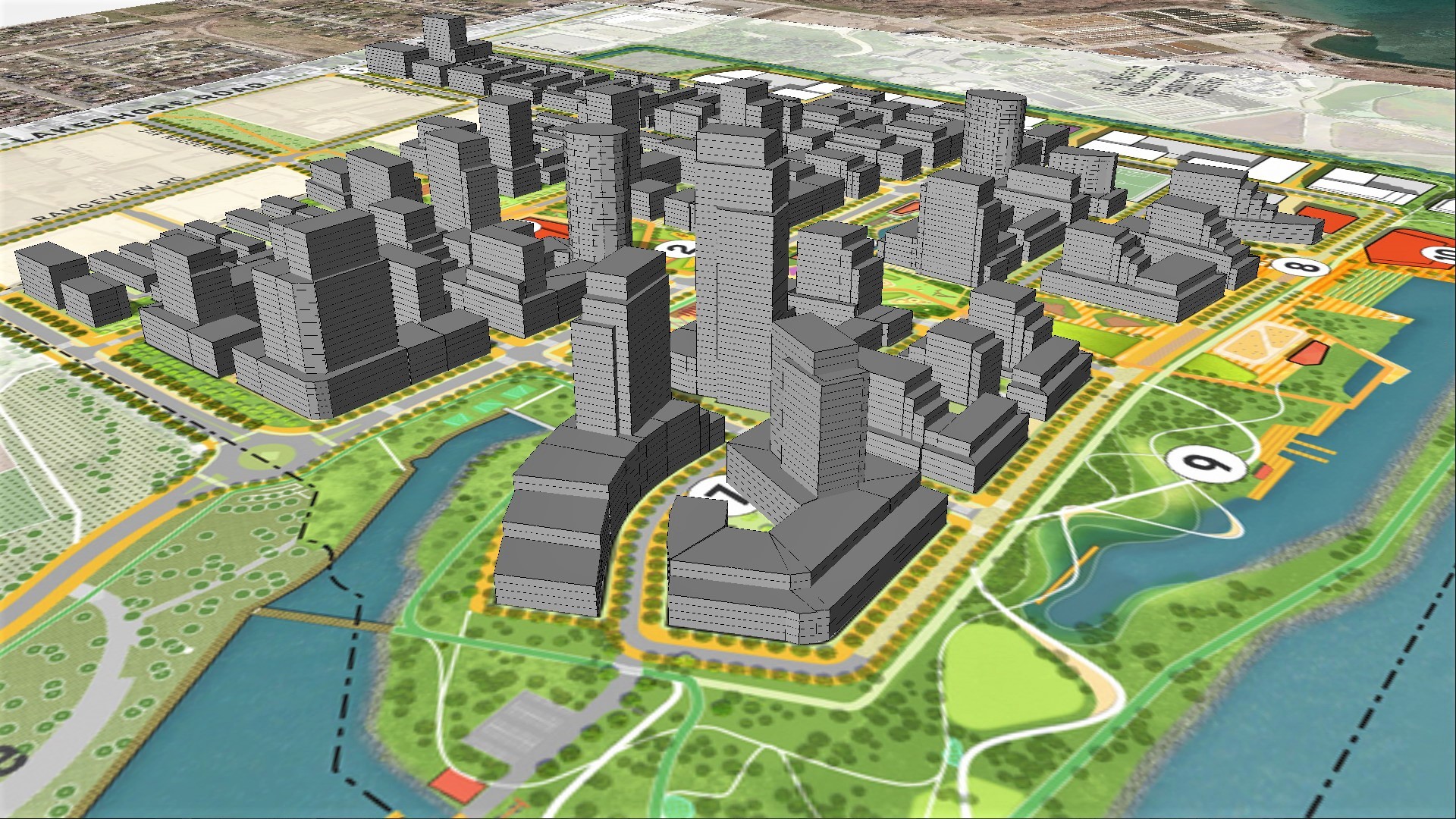 The original community-plan, top, and the plan first submitted by LCP.
(City of Mississauga)
Hoping to boost profits, developers increased height and density, decreased the amount of affordable housing and stretched the boundary line of the development to just 120 metres away from the G.E. Booth Wastewater facility.
The towering proposal, filled with high-rise condos, checked the wishlist for LCP but contradicted the lower density, human scale character of Lakeview initially envisioned by the community.
Peel is in a desperate position with its affordable housing crisis. Projects like Lakeview were to offer some units in a desirable area with a price more residents could afford. Instead, LCP offered market rental, artist units and funds to build other, more affordable units, away from the property. LCP has only offered the City and Region between 1.7 percent and 2.9 percent of the units to be built for lower income residents.
The list of those employed by one of the LCP development companies who contributed to council member election campaigns in 2018 is lengthy.
Gord Buck, Argo's founder and owner, donated a total of $4,300 to various campaigns. Other ARGO employees such as the president, vice president, director of human resources, director of development, VP of acquisitions and financing, commercial development manager, project coordinator and controller, also donated to the campaigns of members currently sitting on council.
Some individuals with the same last names as some employees also donated. Dino Ferri, VP of acquisitions and financing, shares an address with Diane Ferri who donated a total of $4,300. The Pointer found a decision and order from the City of Toronto Local Appeal Body which specifies Dino Ferri is the son of Ines Ferri, who donated $2,450. On the contributions list Ines shares an address with Tullio Ferri, who contributed a sum of $1,850.
Each individual has the right to contribute to election campaigns of their choosing, however, the new rules raise concerns on how the public can track where the donations are coming from.
Katherine "Kathy" Roberts, Argo's controller, donated $4,150 and also shares an address with Steven Roberts who also donated $4,150.
Brian Sutherland, vice president, donated $4,400 to councillors' campaigns. He also shares an address with Melanie Sutherland who contributed another $1,500.
Developers play a huge role in the growth, look and feel of cities, and their private investments are viewed as critical to all communities that know these companies can take their money elsewhere to create the types of spaces so many people want.
But sometimes needs, such as adequate affordable housing supply or manageable growth that pays for itself, are not a priority for developers. This is when elected officials are expected to do their job to uphold community values and the protection of taxpayers.
TACC Construction Ltd. employees and those associated with staff donated approximately $14,900 to the 2018 municipal campaigns, except to Carolyn Parrish, Dipika Damerla and John Kovac. The De Gasperis family, owners of TACC, donated $11,200 spread out from different members. The chief financial officer contributed the rest.
The 2018 election was a campaign run on a new set of rules from the Province of Ontario. While corporations couldn't donate funds to campaigns, individuals also had a limit on what they could give per person. A $1,200 cap was in place for all councillor candidates, while $2,500 could be given to Mayoral candidates by each individual donor.
There is no sign the rules will be changed for next year's municipal election.
Greenpark Group employees and family members donated $9,600 to current Mississauga council members in 2018. Carlo Baldassarra, the company's CEO and founder contributed $1,200, while two other individuals with the same last name donated $4,800. The administration manager, development manager and high rise developer for Greenpark Group also donated.
Among other companies linked to LCP, Branthaven Homes' chief financial officer, sales manager, president and design centre manager donated a total of $4,800. NAK Design Strategies' founder donated $2,200 and a Glenn Schnarr and Associates partner donated a sum of $1,200.
Mississauga Councillors will make their decision on the Lakeview development November 8 at 6 p.m. during the next planning and development committee meeting.
With reporting by Isaac Callan, Vjosa Isai and Joel Wittnebel
---
Email: [email protected]
Twitter: @taasha__15
---
COVID-19 is impacting all Canadians. At a time when vital public information is needed by everyone, The Pointer has taken down our paywall on all stories relating to the pandemic and those of public interest to ensure every resident of Brampton and Mississauga has access to the facts. For those who are able, we encourage you to consider a subscription. This will help us report on important public interest issues the community needs to know about now more than ever. You can register for a 30-day free trial HERE. Thereafter, The Pointer will charge $10 a month and you can cancel any time right on the website. Thank you
Submit a correction about this story