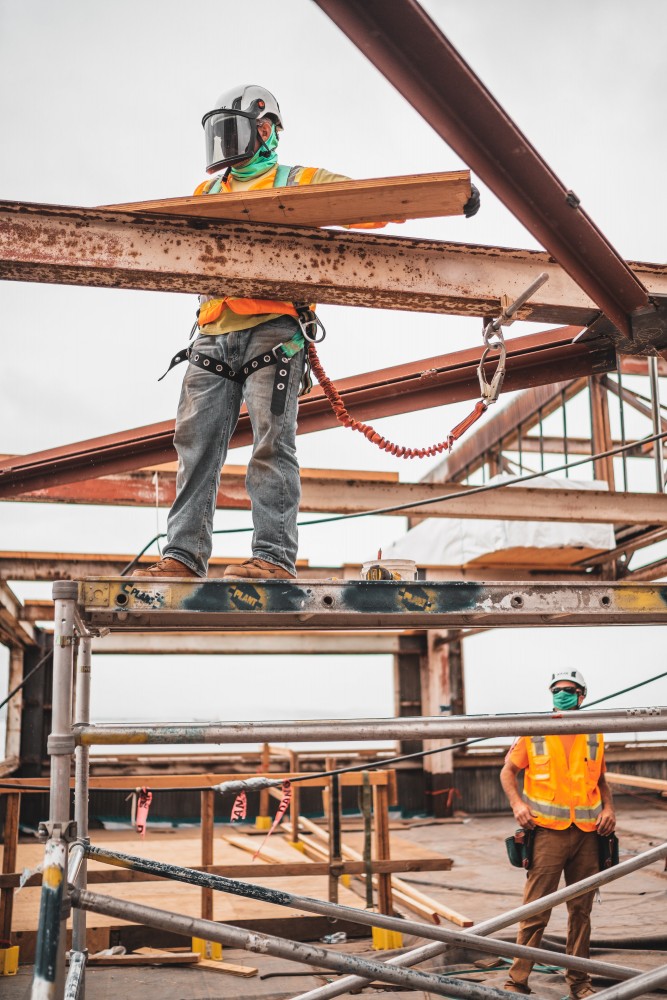 Photos from The Pointer files/Ian Muttoo & Creative Commons/Jeriden Villegas & Unsplash
The complex balancing act between cities and PCs vying for power over local planning
The City of Mississauga has picked a few fights with Queen's Park.
In February, councillors voted to oppose the GTA West Highway, an environmentally destructive infrastructure project Doug Ford's Progressive Conservatives brought back from the dead. Councillors have repeatedly slammed the Province for its handling of vaccine allocations. Just last week, Mississauga Mayor Bonnie Crombie invited Doctor Peter Jüni, director of the Ontario COVID-19 Science Advisory Table, to her virtual press conference to tell Ford to reopen outdoor recreation.
Until recently, the use of Ministerial Zoning Orders (MZO) could also have been included on the list of problems the City had with Queen's Park. MZOs are effectively a provincial veto over the planning process that allows Queen's Park to unilaterally approve projects or land use changes without local consultation or opportunity for appeal.
Ford and his government have relied heavily on the mechanism to fast-track developments, issuing them far more regularly than their predecessors. The Liberals issued fewer than ten MZOs over their last decade in power, while the PCs have already ordered more than 40 since taking over government in 2018. An MZO for lands in the provincially significant Duffins Creek wetland complex east of Toronto sparked province-wide condemnation.
Reports endorsed by Mississauga council in January and March made it clear the City had a number of concerns about the increasing use of MZOs.
During the summer of 2020, the Province issued two orders to speed up projects relating to senior care in the city. The two moves were the first experience City Hall had of the sweeping powers in action.
"City staff have found that the details contained in these two MZOs do not align with Mississauga's current Zoning By-law (i.e. zoning and land use definitions)," a report in January complained. "The proposed developments do not meet some of the City's engineering requirements, nor do they clarify how engineering costs are to be covered (e.g. costs associated with new road access etc)."
The feeling around the council table seemed clear: there would be no support for a top down planning regime in Mississauga.
"City staff do not support the routine use of MZOs as they circumvent municipal autonomy and community engagement. Additionally, MZOs often involve significant deviations from in-force planning, heritage and environmental regulations," a City report reads. "City staff are also not convinced that their use will always result in more timely development outcomes."
There have been several disagreements between the City of Mississauga and the Government of Ontario
Then a film district proposal emerged. A purpose-built studio area offered the city an opportunity to seal its reputation as one of Ontario's best filming spots. The proponent, Studio Bottega, promised to bring more than 5,000 skilled jobs and world class Hollywood productions to Mississauga if they could apply for an MZO to knock nine months off the planning process and get cameras rolling sooner.
"Demand has grown to the extent that there's just a lack of production space for these shows and where shows are actually produced — the movies, the TV series — is entirely dictated by where they can find studio space," Scott Dorsey, Studio Bottega's CEO, told councillors, laying out his case for an MZO.
When she introduced a successful motion last month to ask the Province for an MZO, Mississauga Ward 5 Councillor Carolyn Parrish said she and her colleagues were opposed to the process "on principle" because it limited local planning powers. Speaking at one of her weekly press conferences, Crombie echoed Parrish's sentiment saying her council does not "believe in asking for MZOs".
Studio Bottega was an exception, both argued. The massive influx of skilled jobs, combined with verbal endorsement from planning staff, made the case to proceed.
Mississauga has requested an MZO to help make Studio Bottega a reality
"Twenty jobs are not a qualifier; 8,500 jobs — 5,300 [of them] permanent, quality jobs — make a more impressive argument," Parrish told The Pointer by email. "The next project that comes along offering high quality jobs, apprenticeships, etc in a suitable location and approved by staff, would have my support."
A spokesperson for the Province said Mississauga's MZO request has not yet been received.
Keen to grasp a rare opportunity, while cautious of opening the floodgates, Mississauga found itself in a difficult position.
In isolation, the film district MZO made perfect sense: Mississauga's commissioner, planning and building, Andrew Whittemore, said as much at the time. It was an employment use on an employment land; it promised to bring skilled jobs to the city and the developers didn't want to skirt around the site plan process. "This, from a planning staff point of view, is probably one of those kinds of proposals that aligns with what we would ever envision an MZO being applied to," Whittemore explained to councillors.
In a broader context, Mississauga's MZO request could be interpreted as a degree of implicit support for a planning approach it had previously poured scorn upon. "What needs to be changed is the yardstick by which requests for MZOs are requested and granted [by the Province]," Parrish said. "A return to the significant reasons for which they were envisioned."
Mississauga Councillor Carolyn Parrish does not think her motion will lead to a surge of MZO requests.
Ken Greenberg, an urban designer and progressive city building advocate, agrees.
"I think this is the rare exception that proves the rule," Greenberg told The Pointer. "In this case it seems like a surgical, exceptional move that everybody agrees would be helpful."
In order to allow municipalities to take advantage of MZOs as a planning tool while avoiding a slippery slope, Environmental Defence, a climate campaign group, has drafted a council motion for willing councils to adopt. It codifies when the order makes sense and when an MZO is a no-go. The template motion lists seven situations an MZO on land within a city would be acceptable and includes direction to the Province to rollback and limit the use of the orders.
The specific situations Environmental Defence suggests MZOs could be acceptable include emergency circumstances, requests consistent with broad planning policies such as an Official Plan or the Provincial Policy Statements or requests that do not allow development to expand urban boundaries or build on environmentally sensitive land. Mississauga's decision to request an MZO for Studio Bottega is consistent with this list.
The template removes the possibility of negotiable decisions or susceptibility to lobbying and it could allow cities to use MZOs without triggering an avalanche of MZO requests.
"We are trying to be very clear that this isn't about opposing all MZOs, it's about sprawl MZOs," Phil Pothen, Environmental Defence's Ontario environmental program manager, told The Pointer. "[The motion is designed] to avoid some of the awkward situations folks are getting into where, with good reason, folks take a stand against MZOs and they appear to be taking a stand against MZOs in general. Really what they're objecting to is a particular class of MZOs that is very much outside the purpose the MZO power was created [for]."
In a statement, the Ministry of Municipal Affairs and Housing repeated its mantra that MZOs on non-provincially owned land are issued only with support of local councils.
"MZOs are a tool our government uses to get critical local projects that people rely on, located outside of the Greenbelt moving faster," a spokesperson said.
Environmental Defence's template motion echoes a plan Mississauga's own staff suggested for the Province. In March, planning staff suggested "establishing clear criteria to guide" provincial use of MZOs.
Ontario Premier Doug Ford and his Minister for Municipal Affairs and Housing Steve Clark have issued a large number of MZOs since 2018.
Adopting a transparent strategy where, on the advice of experts, MZOs are acceptable in certain situations could provide massive benefits to cities like Mississauga. Instead of finding themselves caught between their own interests and a philosophical opposition to provincial planning decisions, there would be clear and incontestable situations where MZOs are okay and others where they are not.
"Planning decisions should be made on principle rather than … on an unplanned case by case basis," Pothen added.
Parrish, who pointed out Environmental Defence's motion is primarily concerned with stopping sprawl-inducing MZOs, said some local latitude is still necessary.
"I don't want to see rigid lines drawn by the Province," she said. "Making the decision to request an MZO is still the purview of council, leaving decision making in the hands of local representatives. We know our communities best and what projects should be accelerated. MZOs as the Province is using them, circumvent their own legislation which lays out a process to be followed for planning initiatives."
A city policy could bring predictable and clearcut transparency back for this important planning tool.
"It becomes a vicious circle, it's kind of like the LPAT phenomenon," Greenberg explained of unbridalled MZO usage. "If the council doesn't feel it really does have authority and the ability to make meaningful decisions, then they don't take their responsibility seriously."
---
Email: [email protected]
Twitter: @isaaccallan
Tel: 647 561-4879
---
COVID-19 is impacting all Canadians. At a time when vital public information is needed by everyone, The Pointer has taken down our paywall on all stories relating to the pandemic and those of public interest to ensure every resident of Brampton and Mississauga has access to the facts. For those who are able, we encourage you to consider a subscription. This will help us report on important public interest issues the community needs to know about now more than ever. You can register for a 30-day free trial HERE. Thereafter, The Pointer will charge $10 a month and you can cancel any time right on the website. Thank you.
Submit a correction about this story