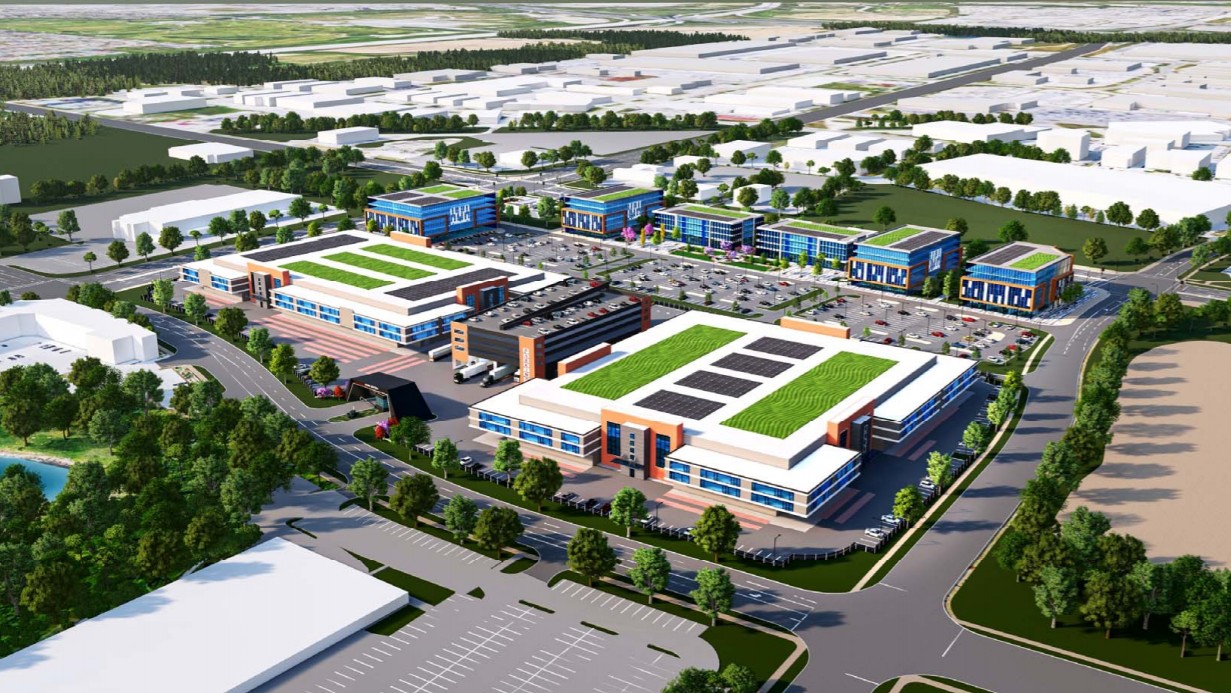 Renderings by Studio Bottega/Google Maps/City of Mississauga
Mississauga overlooks local planning stance in seeking rapid approval for movie district
The City of Mississauga's journey to becoming a major North American film destination took another step Wednesday, as councillors pushed to rapidly construct a film district along the future route of the Hurontario LRT.
A motion, moved by Ward 5 Councillor Carolyn Parrish, asks Steve Clark, the Minister of Municipal Affairs and Housing, to issue a Ministerial Zoning Order (MZO) for 15 acres of land at Hurontario Street and Derry Road. It would supersede the local planning process, allowing a purpose built film district proposed by Studio Bottega Inc. to be constructed faster.
MZOs have been a planning flashpoint across Ontario under the Progressive Conservatives. Premier Doug Ford and his government have relied on them heavily to fast-track developments, issuing them far more regularly than their Liberal predecessors, who used the planning tool fewer than ten times during their last decade in office. As of March 21, the PCs have approved 43 MZOs, according to The Toronto Star.
An MZO issued in Caledon during the summer, and overriding decisions at the Region of Peel, caused consternation in Mississauga. It granted the Town of Caledon's local wish to move forward with a development on lands near its border with Brampton, a move the Region specifically voted twice to delay.
"I am disappointed by the decision to grant a Ministerial Zoning Order because it supersedes two votes and the democratic will of Regional Council, as well as moves ahead quickly a project that is not ready," Mississauga Mayor Bonnie Crombie told The Pointer at the time.
A separate MZO for lands in the provincially significant Duffins Creek wetland complex east of Toronto also caused province-wide condemnation.
On Wednesday, council specifically requested an MZO, meaning it is unlikely to be subject to the same controversy. Clark has previously said he defers to local council decisions when issuing an MZO, although this stance has been tested in the case of Caledon last summer or on provincially owned land.
The studio district has been proposed for employment land around Derry Road and Hurontario Street.
The studio district would add a new element to Mississauga's rapidly growing film industry. It is planned to feature state-of-the-art studio space, offices, set storage and even an area for carpentry and prop creation. Studio Bottega says the design, known as Class A studio space, would be only the second of its kind in the GTA.
The plan lists two four-storey studio buildings with six stages, service towers, offices and support infrastrastructure.
It could complement Mississauga's existing film offerings, which will total eight studios by the middle of 2021, accounting for more than one-million-square-feet of space. To date, studio space in Mississauga has concentrated on ambitious warehouse renovation projects to convert the city's aging industrial areas into creative hubs.
"The last three years, it has just skyrocketed," Carmen Ford, manager of creative industries at the City of Mississauga, previously told The Pointer. "Right now it's the best place to open a studio."
Studio Bottega is the first film space in Mississauga to seek support for an MZO to speed up its timelines. In past interviews, the teams behind William F. White Studios and CBS Studios, both with facilities in the city, have praised staff in Mississauga Mayor Bonnie Crombie's office and the City's planning department for simplifying the process. No-one else has asked for an MZO.
"The City is really progressive and works very hard with the film industry," Rick Perotto, Vice President Business Development for Whites, told The Pointer last summer.
The proposed film district will feature studio space as well as offices.
Studio Bottega and its CEO, Scott Dorsey, argue pent-up-pandemic-demand for film and television content means their project has to move forward even faster.
"Demand has grown to the extent that there's just a lack of production space for these shows and where shows are actually produced — the movies, the TV series — is entirely dictated by where they can find studio space," Dorsey told councillors last week. "North American studio space right now is essentially full; Vancouver and GTA space is pretty much fully booked for the next two years. What we have is we have clients right now essentially begging us to find them studio space. And wherever they can find that studio space is where that production goes next."
The numbers behind the studio's creation caught the attention of councillors desperate to spur their city's recovery after more than a year being battered by COVID-19.
Studio Bottega estimates development will create 3,295 construction-related jobs and annual operations will lead to 5,591 high-paying prospects. It also projects construction will be worth roughly $70 million in government revenue and annual operations should yield $80 million.
It is unclear if these funds would flow exclusively to the City and Region of Peel or if the calculations include payments to other levels of government.
"Sometimes you just need to take that leap of faith and grab a good thing when it comes forward and try to cut some red tape and make it happen," Ward 9 Councillor Pat Saito said after the presentation, echoing the positive sentiment among councillors.
Some members, including Ward 1's Stephen Dasko and Ward 7's Dipika Damerla, questioned if an MZO was strictly necessary. Speaking on April 28, Damerla and Parrish both promised a more fulsome debate would take place the next week, May 5, but neither asked to remove the motion from the consent agenda in the end.
"I'm going to get into it in a lot more detail when we debate this next Wednesday," Parrish said on April 28.
Councillors were given a virtual presentation on the studio's economic benefits last week.
The motion requesting an MZO to support Studio Bottega will be sent by City staff to Steve Clark, Minister of Municipal Affairs and Housing, and Lisa MacLeod, Minister of Tourism, Culture and Sports.
The Ministry of Municipal Affairs and Housing told The Pointer they had not yet received the request on Wednesday afternoon and did not comment further. The Ministry of Tourism, Culture and Sports provided a generic response.
"We're proud to support the film and television industry, which contributed $1.5 billion to Ontario's economy in 2020 and created 29,667 high-value full-time equivalent direct and spin off jobs for Ontarians, while making such a positive impact in the province," a spokesperson said via email.
Staff reports shared with council in January and March voiced concerns about the use of MZOs. Outlining the limited circumstances where they might be acceptable, a January report cautioned that, "staff and councillors have been receiving an increasing number of inquiries to support site-specific MZO requests" and that such decisions can "set a precedent".
"This is a very special circumstance, we as a council don't believe in asking the Province for MZOs," Crombie told The Pointer at her Wednesday press conference. She listed job creation, affordable housing and projects geared towards seniors as special circumstances. She said construction jobs or market housing would not be sufficient to convince her to support an MZO.
Wednesday's motion passed on Council's consent agenda without discussion from councillors who had heard the presentation from the project's planners the week before. Speaking to councillors on April 28, David McKay, who has been retained by Studio Bottega as a planner, said an MZO would simply speed up a project that would inevitably be approved anyway.
Mississauga Mayor Bonnie Crombie says the studio request is a "special circumstance".
"This is an employment use on employment land and unfortunately there are some specifics in the Official Plan and zoning for the site that do not allow the production studio to happen," he said. "We would be saving, through this zoning order, at least nine months of time."
The MZO would not negate the need for Studio Bottega to submit a site plan for approval by City staff or the requirement for a building permit to be issued. The full planning process, City staff and Studio Bottega agree, could take more than nine months.
If an MZO is swiftly approved by the Province, the studio hopes to have shovels in the ground by the end of 2021.
In this instance, planning staff have suggested the MZO is a sensible request.
"I will say David McKay has outlined a very good argument that is very much aligned with the Growth Plan and the City's economic development strategy and really our Official Plan, which is key," Andrew Whittemore, commissioner, planning and building, said last week. "The MZO is a tool in the Planning Act to be used for those rare occasions and this, from a planning staff point of view, is probably one of those kinds of proposals that aligns with what we would ever envision an MZO being applied to."
---
Email: [email protected]
Twitter: @isaaccallan
Tel: 647 561-4879
---
COVID-19 is impacting all Canadians. At a time when vital public information is needed by everyone, The Pointer has taken down our paywall on all stories relating to the pandemic and those of public interest to ensure every resident of Brampton and Mississauga has access to the facts. For those who are able, we encourage you to consider a subscription. This will help us report on important public interest issues the community needs to know about now more than ever. You can register for a 30-day free trial HERE. Thereafter, The Pointer will charge $10 a month and you can cancel any time right on the website. Thank you.
Submit a correction about this story