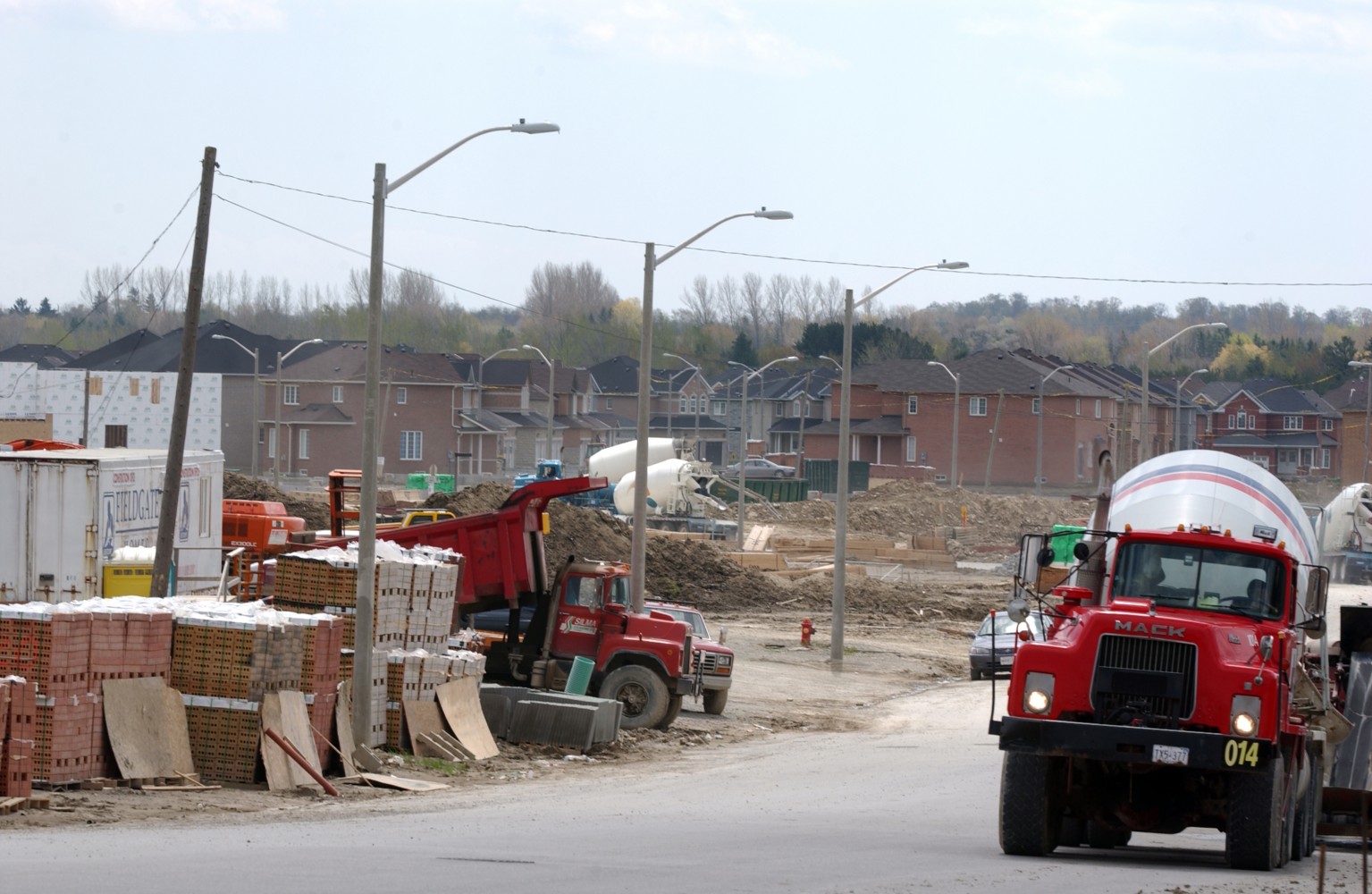 Photos from The Pointer file/Government of Ontario/Region of Peel/Google Maps
Province overrides Peel Region, allowing controversial sprawling Caledon development to move ahead as battle lines are being drawn
The provincial government has given the greenlight to a large-scale development plan in Caledon despite Region of Peel councillors voting twice to defer it because not enough is known about future population and infrastructure needs in the area currently dominated by farmland.
On July 10, Steve Clark issued a Ministerial Zoning Order (MZO) for a planning change in the southwest of Caledon. The area in question is known as Regional Official Plan Amendment (ROPA)34.
ROPAs deal with how land is planned and what it can be used for. In this case, the change would allow largely agricultural plots to be designated for single-family housing and developers to come in to construct new properties.
Development of ROPA34 will bring 7,500 new residents and jobs to the isolated rural area, located around Chinguacousy Road and Mayfield Road in the southwest of Caledon, where it borders Brampton. The majority of the area would be low-rise subdivisions, with a spot of medium density.
As Ontario's population continues to grow, the Region of Peel is expected to expand significantly.
With Mississauga almost entirely built out, a significant number of new residents will call north Brampton and Caledon home. Between 2018 and 2046, the province predicts Peel's population will grow by almost 1 million people, from just under 1.5 million in 2018 to about 2.5 million in 2046.

Population projections for the province of Ontario show Peel growing by more than 1 million people by 2046.
"A Minister's Zoning Order was made in response to a request from the Town of Caledon to help get shovels in the ground faster on a much-needed housing project," a spokesperson for the province told The Pointer. "The Minister's Zoning Order supports the goals of the Action Plan by removing unnecessary delays and barriers, making it easier to build more homes and provide more housing choices quicker."
The MZO is essentially a ministerial veto, allowing housing Minister Steve Clark to supersede the local planning process. At the municipal level, the planning process is thorough and can take time to get proper approvals; MZOs are instant. They are not subject to appeal at the Local Planning Appeal Tribunal (LPAT).
Zoning orders have been rare and traditionally used to protect sensitive areas under provincial conservation and sustainability legislation. But the PC government has been using them in the opposite manner, instead of ensuring development in already built up urban areas, the ruling party has been issuing MZOs to allow developers to construct in more rural settings. It's a radical departure from the planning approach over the last 15 years, which has attempted to curtail sprawl and protect various environmentally sensitive and agriculturally rich areas across southern Ontario.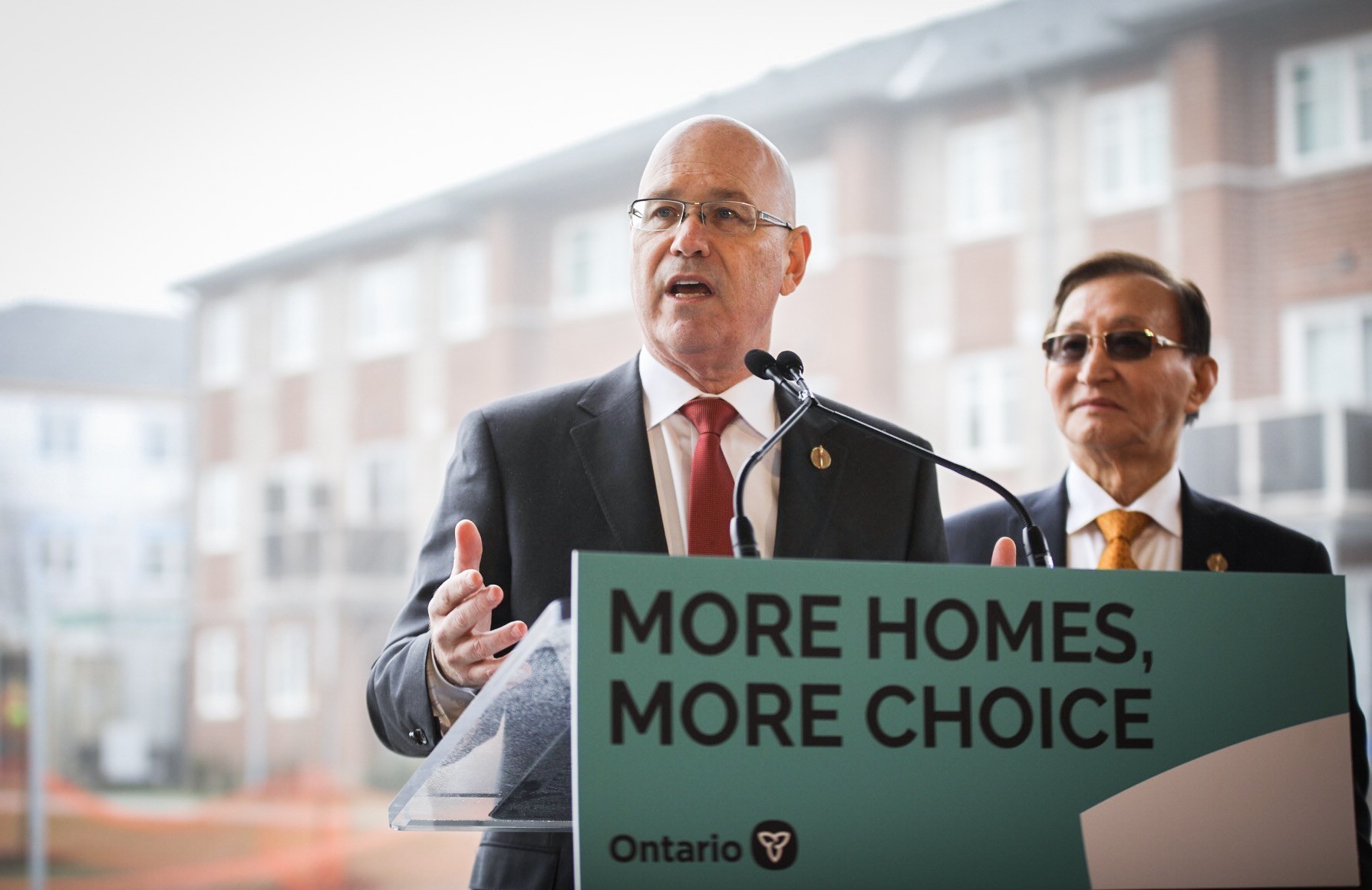 Minister of Municipal Affairs and Housing Steve Clark
The news will be welcomed by the majority of councillors in Caledon, where seven of its nine elected officials voted to request the province step in. In Mississauga, it is viewed less positively.
"I am disappointed by the decision to grant a Ministerial Zoning Order because it supersedes two votes and the democratic will of Regional Council, as well as moves ahead quickly a project that is not ready," Mississauga Mayor Bonnie Crombie said to The Pointer in an email. "The Region voted to do a full comprehensive review to sort out population and infrastructure needs. I have a duty to stand up for my taxpayers and ensure that planning in the Region is done properly and that costs are contained. This is yet another reason why Mississauga should not be part of a regional government. It's all pay and no say for us."
The issue has caused a divide between Caledon, Brampton and Mississauga. Those in favour argue the project has been ready for years, while critics question the urgency and some associated safety aspects, as well as the questionable planning approach of building more costly sprawling subdivisions at a time when compact urban design is critical to the future of the region, which can not afford to fund infrastructure that has to be built out to far flung rural reaches and services that will be needed in isolated corners, away from existing population centres.
Caledon has been warned in the past by its own planners, officials at the Region, provincial experts and appeals tribunals that it cannot keep planning for unsustainable sprawl that does not fit regional and provincial policy.
The development was initially delayed in 2017 after the Ontario Liberals suspended the Environmental Assessment for the GTA-West Highway in the face of mounting concerns. The proposed route of the corridor, now reactivated by the Progressive Conservatives, skirts the edges of the ROPA34 lands around Mayfield Road.
A staff report presented to regional councillors in March explains the proposal was "postponed at the time [2017] as a result of uncertainty related to the GTA West Transportation Corridor and changing provincial policy context."
On March 12, ROPA34 was back on the table. Staff at the Region of Peel brought the amendment back to council, recommending it be approved.
Ontario allocates its predicted population around the province in stages, something that guides how municipalities plan for the future. In order to greenlight development of the ROPA34 lands, regional staff suggested using projected population allocated for 2041, which have not yet been entirely distributed around the Region of Peel.
To some councillors the move made perfect sense and allowed a much-delayed project to begin, to others it suggested chaotic and piecemeal planning that is being rushed through without a proper picture of where and how at least one million new residents will be accommodated over the next 20 years.
"Stage One hasn't proceeded, hasn't begun, [and] you want to approve Stage Two on numbers that haven't been allocated," Crombie said at the meeting, referencing the 2041 population figures required for the amendment. "This, in my opinion, is not good planning... I don't like piecemeal planning."
Brampton councillor and chair of his city's Planning and Development Committee, Martin Medeiros, also said it felt unnecessarily urgent and perhaps not in line with good planning.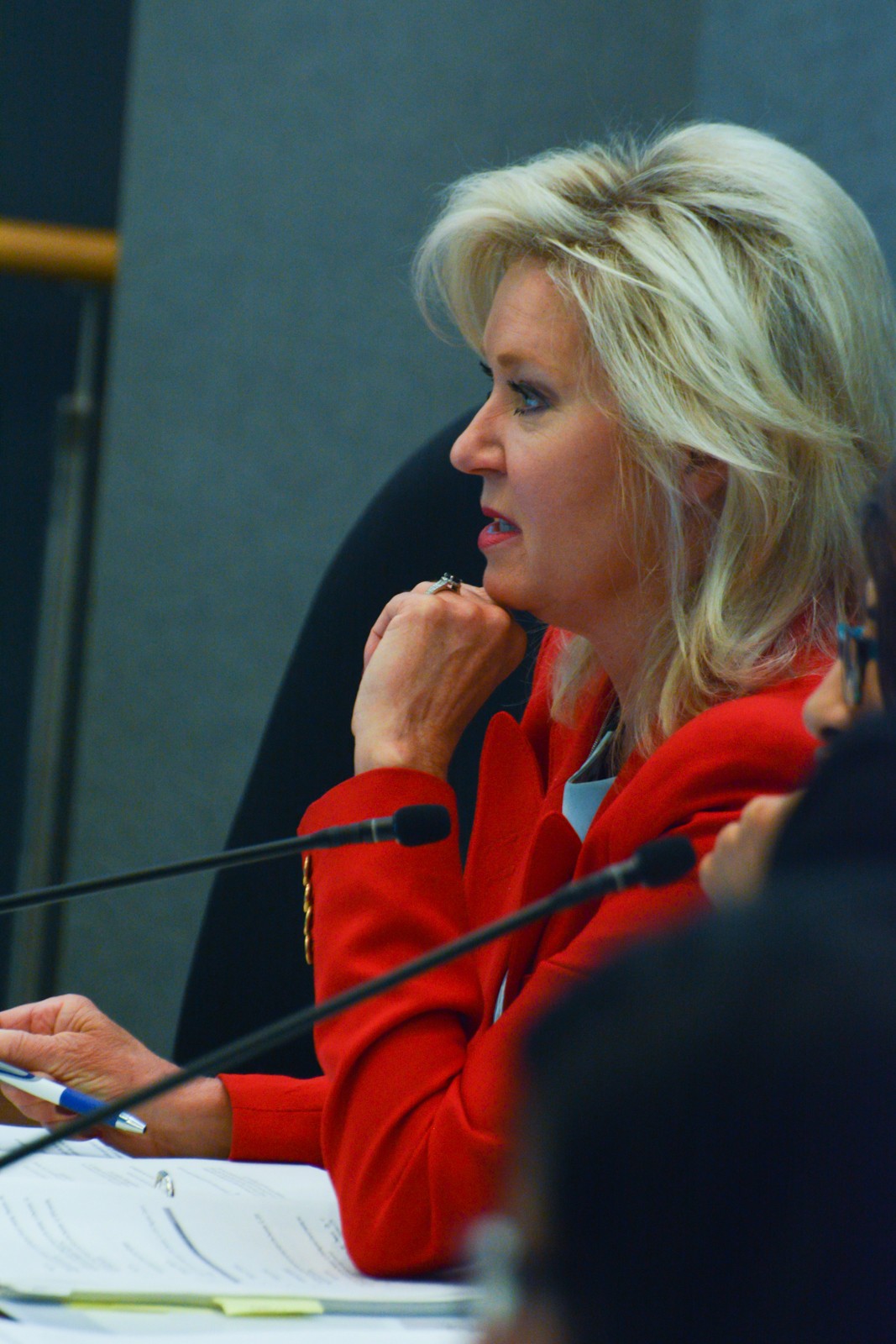 Mississauga Mayor Bonnie Crombie
The cautious words of Crombie and Medeiros were echoed in a deputation made by a Caledon Ward 2 resident, Rob Harrison. Harrison presented to council twice on the topic in 2020 and raised concerns around the Environmental Assessment and planning process behind ROPA34.
Harrison lives in Valleywood, a subdivision near the lands set aside for ROPA34, and fears the significant increase in traffic as a result of development will be a danger. There is just one road in and out of the subdivision he lives in, where a fire station shared with Peel Paramedics is located.
Currently, the route in and out of Valleywood has a total of four lanes. Two are devoted to traffic and two are painted over to reserve them for cars to pull aside and allow emergency vehicles through. ROPA34 would mean all four lanes are given over to regular traffic, leaving no room for emergency vehicles to enter or leave the subdivision.
The route into Valleywood is currently one lane.
The only other access in and out of Valleywood is a locked gate onto Highway 10. A July 2019 investigation by the Ministry of Labour confirmed the gate could only be opened for emergency services vehicles if the highway was first closed to traffic.
"In a sentence, the Valleywood bridge traffic will double and there are no dedicated emergency lanes available," Harrison wrote in a deputation delivered to councillors in February. "Station 307['s] duty load must be expected to increase as well when Mayfield West Secondary Plan Phase II is added."
Harrison fears fire trucks and paramedics could be trapped inside his subdivision unable to respond to calls nearby based on the current planning.
Those in favour of the project's progression, including Caledon's Johanna Downey, say the planning work is done and the project should move ahead. Planners at the Region of Peel and Town of Caledon agree the planning is sound and have also suggested it be approved.
Those opposed view the push for an MZO as unnecessary and hasty. But proponents have a new ally in the PC government.
"The development went through extensive environmental studies in order to satisfy the rigorous standards of both the Toronto Regional Conservation Authority and the Credit Valley Conservation Authority," the provincial spokesperson said. "They both concluded that they had no objections with the proposed development based on their expert analysis and reporting."
A locked gate blocks the only other potential route in and out of the Valleywood subdivision.
Regional councillors listened to Harrison's concerns and, alongside confusion about piecemeal planning, voted 16 to 5 in February to defer the plan until a complete review could take place, believed at the time to be around the end of the year. Discussions did not suggest anyone planned to block ROPA34.
The issue did not end there.
Months later, on May 26, Downey brought a motion to Caledon's local council asking Minister Clark to step in with an MZO. The motion was not included on the agenda and took those opposed to it by surprise.
"We had no idea an MZO motion was coming forward to Caledon council, we were completely blindsided by that, there was nothing on the agenda," Caledon Councillor Annette Groves said during a discussion at regional council in June.
"(Councillor) Johanna Downey brought this motion out of nowhere, procedurally it should not even have been allowed," she added in an interview with The Pointer. "I can tell you that she has no regard for her residents in Valleywood because the Valleywood folks are very upset that this went through."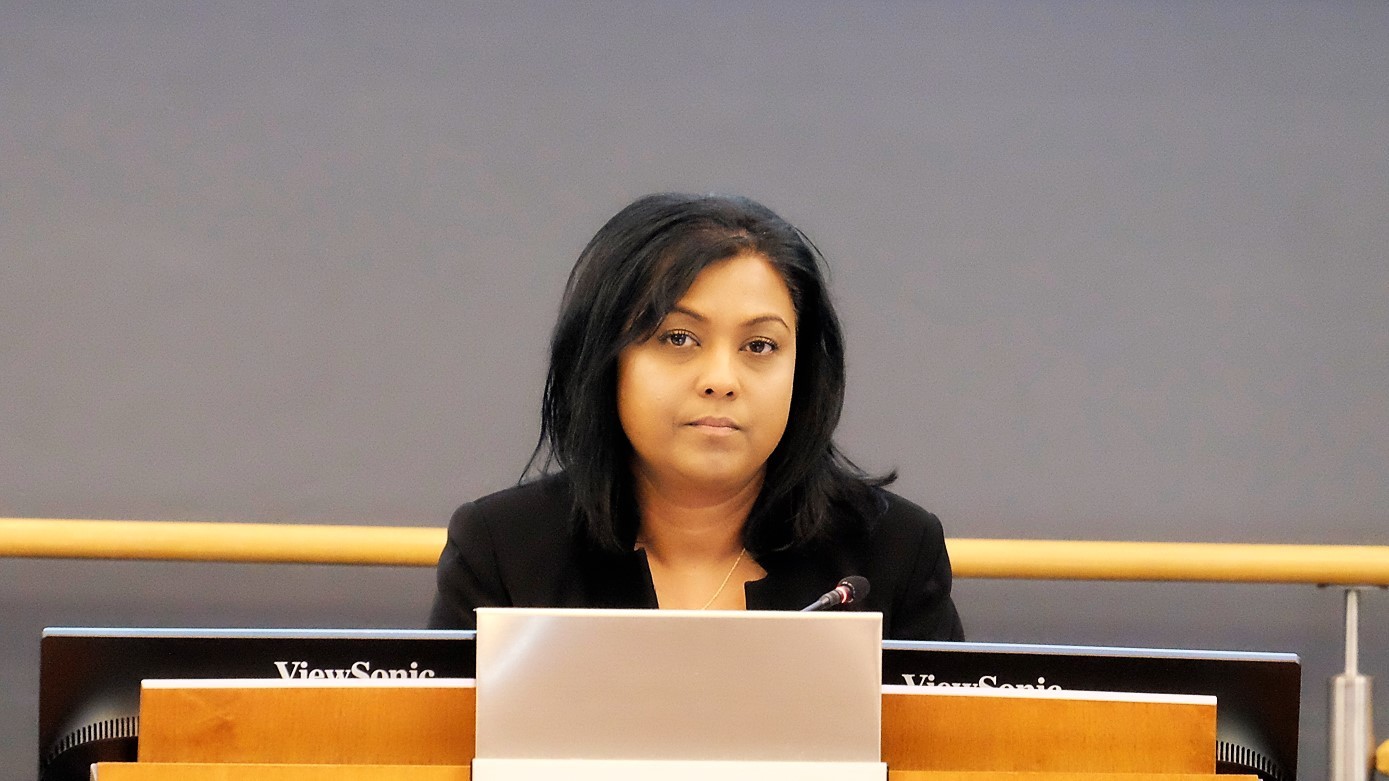 Caledon Councillor Annette Groves
Speaking to The Pointer, Downey disagreed. The motion, which stemmed from an item relating to Caledon's Official Plan, did not need to have notice provided as it sprung from a related issue. "[It was] procedurally appropriate, no notice was needed because they fully understood the length and breadth of process this development had undergone over several years," she said. "I take my role on council and my service to the community very seriously; I am in constant contact with residents (many of them personal friends) in Valleywood and the perspective shared by my colleague is misleading and reflective of her lack of understanding of this community," she added.
It's unclear why Downey did not allow for proper consultation on her motion or place it on the agenda in time for community members to at least be aware it would be dealt with publicly. It's also unclear why, even if the matter was dealt with previously in some form, the actual MZO request, a rare move to circumvent the Region of Peel, was not shared by Downey with the public in advance, as residents would usually be given the opportunity through a committee meeting to weigh in on such a deeply impactful move by the councillor.
Harrison was one of the residents frustrated by Downey's last second motion. He said he would have moved heaven and earth to make his concerns known to councillors if he had been warned the MZO request was coming.
"Once we get to the point where we are side-stepping democracy and we are short changing the clock to activate a response, that kinda indicates people are trying to push things through they know are going to be resisted," he told The Pointer.
For critics like Harrison, it is not clear why the majority of councillors in the Town of Caledon are in such a rush to begin development of ROPA34.
The Pointer reached out to all five of the town's regional councillors (including Mayor Allan Thompson) for comment, Groves and Downey responded.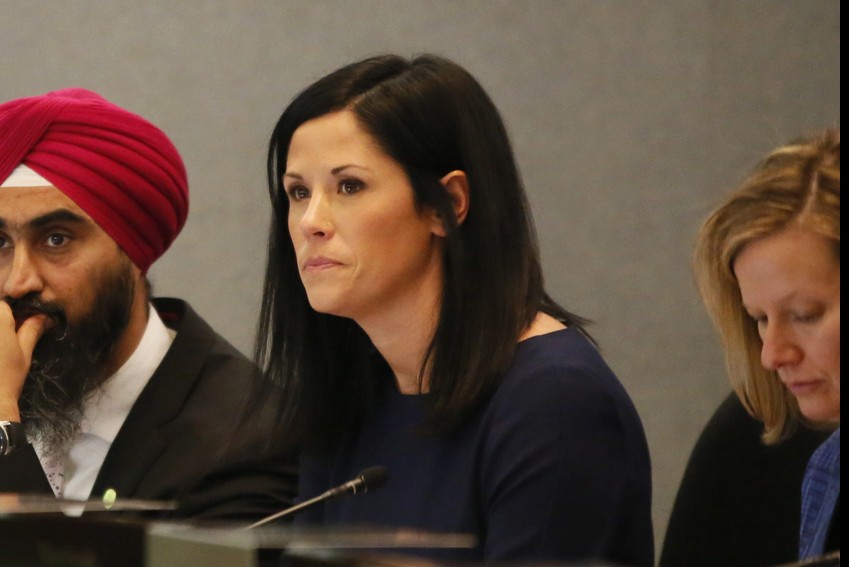 Caledon Councillor Johanna Downey
Downey highlighted her frustration with the Region of Peel which, in 2018, voted to ask the province to allow it to make phased amendments to its Official Plan. She says Regional council's decision to delay ROPA34 until a thorough review of its plan is contradictory with its request two years ago to proceed in phases.
In short, Downey said she was tired of stalling and delays; her request for the province to step in was to unblock a log jam.
In June, furious at Caledon's decision to continue to push for ROPA34 after the region delayed it, Mississauga Ward 5 Councillor Carolyn Parrish tabled a motion to object to the MZO request.
It sparked heated debate.
"What is it about Caledon that you don't like?" Thompson asked pointedly during a testy virtual meeting at the region in June. "You know what, I already know the answer. At this council table, rules and policies are applied differently to Caledon, there's a complete lack of respect for our local council decision making, for our local planning process. In fact, I don't know another lower tier municipality that has been subjected to the level of interference by an upper tier government [as] what happens here."
Thompson had an ally in Brampton Mayor Patrick Brown, who said he would be "offended" if regional council interfered in Brampton's planning. "I think we should be respectful of their council decision and Mayor Thompson makes some very valid points... Why is there so much interest in this issue? If anything I think it sends a message to the province, a very negative message, that we're trying to interfere."
Caledon councillors Downey and Jennifer Innis echoed the sentiments, saying the planning had been complete for some time and the only blockage was regional councillors. Mayor Brown and Innis have a close personal friendship and were tied to the PC party since their involvement with its youth arm as teenagers.
Groves, one of the two Caledon councillors to vote against the MZO at the Town's council, took the opposite view.
"The reason the region gets involved in Caledon's decisions is because Caledon plans by individuals, not by good planning," she said at council. "Mayor Thompson said the Region of Peel is interfering with Caledon, but Caledon also has no regard for the decisions of Peel Region. Considering that Peel Region do[es] pay the dollars for infrastructure, we just need to be patient. For these developers, I don't know what the rush is."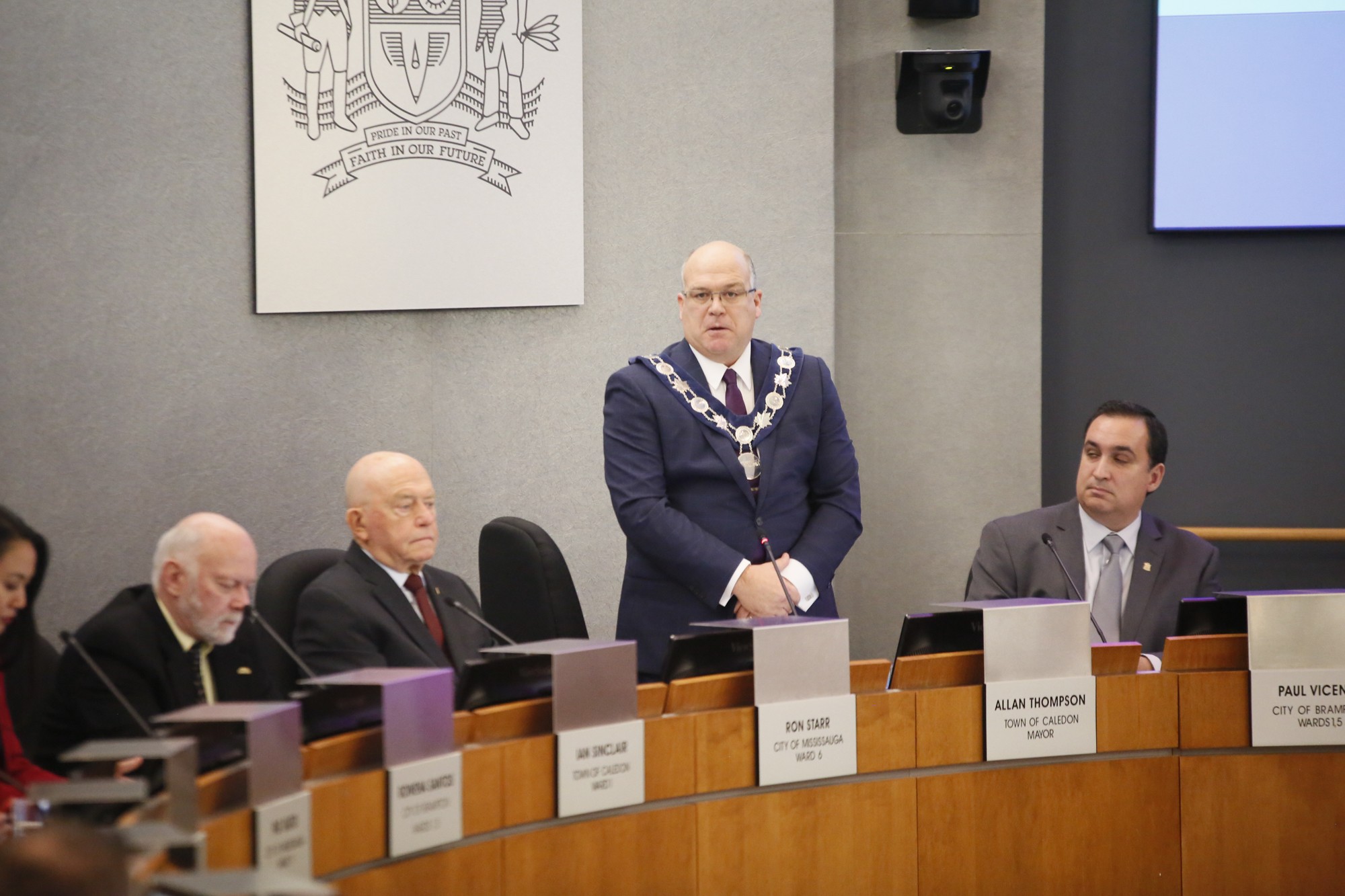 Caledon Mayor Allan Thompson
ROPA34, and all other developments in Peel Region, require regional funds to build infrastructure. The pot is contributed to by Mississauga, Brampton and Caledon and through development charges, with Mississauga paying the most as the biggest city.
"Regional tax dollars are allocated by votes participated in by 24 Regional Councillors," Parrish said by email. "Mississauga taxpayers pay the lion's share of those dollars. He who pays the piper usually has more to say about who calls the tune. This MZO ignored the wishes of 16 of those Councillors (regional minutes show the number was actually 15-8, with one absent), despite Minister Clark's claim [in an interview with TVO] he doesn't issue those MZOs without the support of Council."
Downey, again, does not see the project through the same lens. "Development Charges and the increase to our residential and commercial tax base will go to the costs of infrastructure and local municipal services," she said.
Asked about the controversy of overturning two majority decisions by the Region of Peel, the Ministry of Municipal Affairs and Housing said Caledon had explained the region was delaying the process. It's unclear why the province would not directly consult the higher tier municipal government especially after its elected officials twice voted to delay.
"The Town of Caledon reached out to explain that, due to the economic impact of COVID-19 and the increasing need for housing in the area, the Town wanted help to speed up this community so it could be completed as soon as possible… Despite support from planning staff, Peel Council continued to defer staff reports like the one tabled to council on March 12, 2020… The ministry will not hesitate to approve additional housing to deal with an affordability crisis that has put housing of all types out of reach for more and more Ontarians." the spokesperson said.
It's a highly unusual use for an MZO, as the zoning orders are not intended to speed up applications being pushed by developers, and the claims of housing affordability would suggest the province should be expediting more viable affordable housing projects across the GTA, including more dense housing near transit lines, not sprawling subdivisions cut off from transit and reliant on cars.
The emphasis on increased housing supply and affordability highlighted by the province is at odds with maps included in the ROPA34 report presented to council in March. The Stage 2 section of the project is largely low-density subdivision development with a few areas of medium density and no high density whatsoever. The map created by regional staff suggests the plan for the area will not significantly boost housing in a particularly dense or environmentally friendly way. And there is no information on whether ROPA34 will include any affordable housing for low income families.
What has been made clear is that the Ford government has worked closely with developers and the province's lobbyist registry shows that a number of large builders have been actively lobbying the Ford government on a range of planning matters in Caledon since the PCs took office.
The ROPA34 lands
"It's a bunch of developers who have egos, who distract the public process. It's the politicians — both at the Town of Caledon and at the Province of Ontario — who have no regard for public process… My observation is the developers are controlling the politicians both at the local and the provincial level," Groves told The Pointer. "The Doug Ford government is undemocratic and draconian."
---
Email: [email protected]
Twitter: @isaaccallan
Tel: 647 561-4879
---
COVID-19 is impacting all Canadians. At a time when vital public information is needed by everyone, The Pointer has taken down our paywall on all stories relating to the pandemic and those of public interest to ensure every resident of Brampton and Mississauga has access to the facts. For those who are able, we encourage you to consider a subscription. This will help us report on important public interest issues the community needs to know about now more than ever. You can register for a 30-day free trial HERE. Thereafter, The Pointer will charge $10 a month and you can cancel any time right on the website. Thank you.
Submit a correction about this story