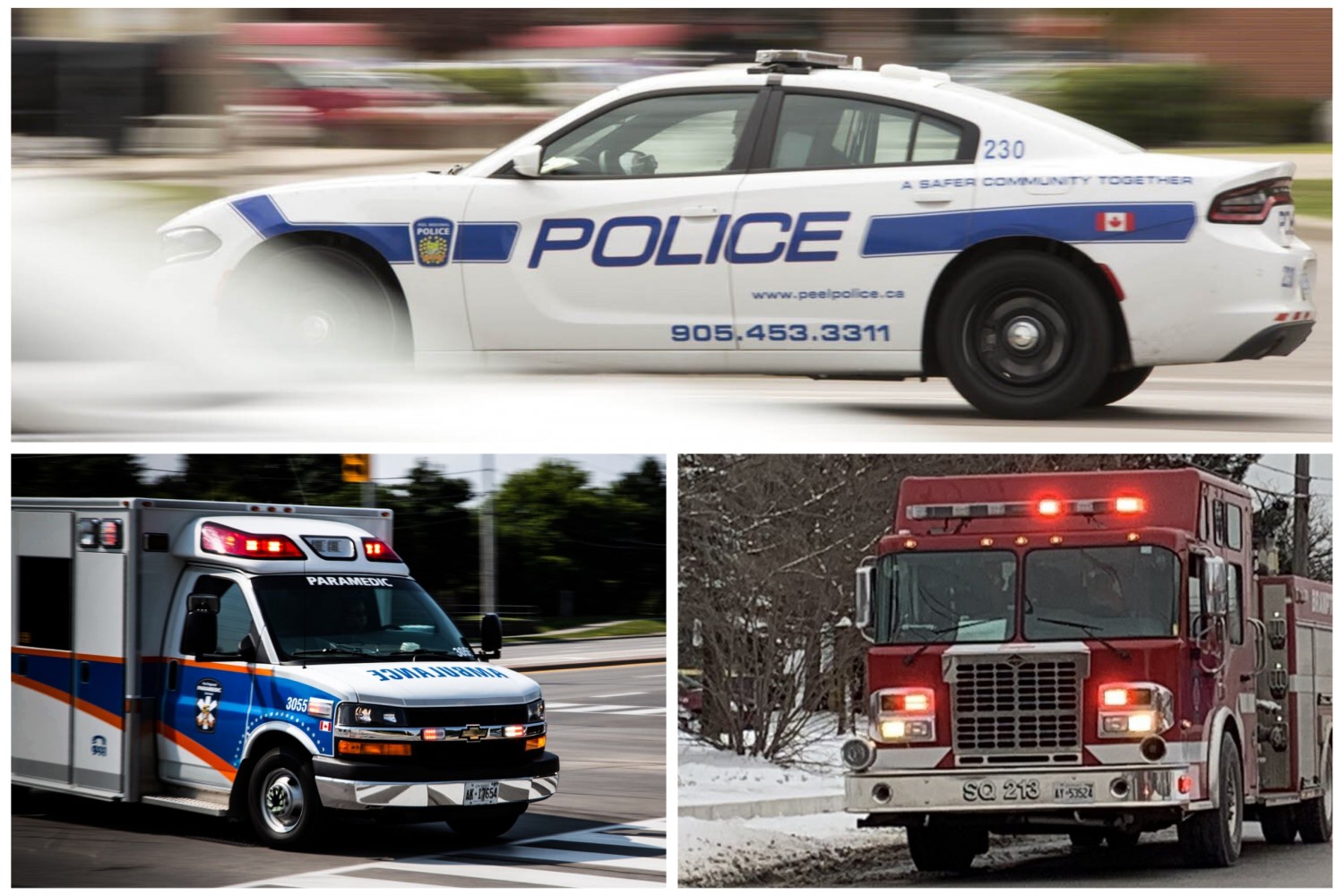 Images from The Pointer files/Brampton Fire Service/Twitter
Peel tax dollars flow disproportionately to police, while fire and paramedics struggle
"Police, fire or ambulance?"
That's what you're asked at the start of a 911 call.
Trained dispatchers try to keep the conversation calm. By the time a call ends, one of the three emergency services will be preparing to race through city streets under flashing lights and a blaring siren.
The services they provide often overlap. Firefighters are often the first responders on the scene of a medical incident or car crash, while the role of police as first responders to mental health crises is well documented. Paramedics arrive first in an acute medical emergency, such as a heart attack or COVID-related problem.
First responders in Peel work for a range of different bodies to provide help to residents when they need it most. In Caledon, the Ontario Provincial Police (OPP) and the Caledon Fire and Emergency Services team respond to fires, crashes and some medical calls. Local fire services do the same in Mississauga and Brampton, while the Peel Regional Police handle everything from break-ins to murders. The entire region receives medical support from Peel Paramedics.
Emergency services are supposed to be offered to residents without bias, with each body properly funded to keep Peel residents safe. But the politicians and bureaucrats who craft and deliver budgets in Peel have not allocated public resources for first responders on a needs-based principle. Significantly more local tax dollars are lavished on the Peel Regional Police than either Brampton or Mississauga fire, while the paramedics are left with relatively little compared to funding for police over the last few years.
Emergency services in Peel receive varying support from local politicians.
(Image from Isaac Callan/The Pointer)
An analysis by The Pointer of emergency service budgets in Brampton and Mississauga over the past six years shows the vast majority of public dollars for the three arms of the emergency service goes to the police service.
Calculations are based on net operating budgets after revenue or grants are factored in, while capital budgets reflect funds from development charges, property tax and municipal reserve accounts. Figures used are the proposed budgets approved each year (The Pointer consulted documents from 2016 to 2021) to capture the figures accepted by elected politicians. The actual annual cost of running emergency services can vary based on factors such as the number of emergencies, cost of fuel or level of overtime worked.
Peel police receives more calls and has a broader mandate than the other two emergency services, however, the rate of increase for its budget has outpaced the fire and paramedic budget.
The total 2021 budget for the Peel Regional Police was more than half a billion dollars, with an operating budget of $462.5 million and a reserve-funded capital budget of $56.4 million. The large public expenditure means the service cost $394.53 per capita in Brampton and Mississauga based on figures from the 2016 Census.
Fire services in Brampton and Mississauga cost less than half the per capita cost of policing. This year, Brampton Fire averages $143.16 per resident for its operating and capital budget, while Mississauga Fire comes in at $184.99. Peel Paramedics, which receives a particularly significant portion of funding from the Province, costs just $66.05 per capita.
Over the past six years, budgets for all emergency services have increased above the rate of inflation.
Police are the most expensive per capita service in Peel Region.
(Graphic by Isaac Callan/The Pointer)
In 2016, the operating and capital costs of Peel Police came to $301.46 per capita, rising to $394.53 based on the 2021 budget. Peel Paramedics saw their total per capita cost rise from $58.86 in 2016 to $66.05 this year, while Mississauga Fire increased from $149.31 to $184.99 per capita. Brampton Fire rose from $110.60 in 2016 to $143.16 in 2021.
The overall Peel Police budget has increased 31 percent over the past six years.
The Peel Regional Police's oversized share of taxpayer dollars came under increased scrutiny last year as calls to reprioritize funding away from frontline policing (or "defunding") swept North America. The demands came after the murder of George Floyd by a former Minneapolis police officer, Derek Chauvin, now serving a 22.5-year prison sentence.
Calls to significantly reduce police funding are unrealistic in Peel, where 94 percent of the police operating budget is tied into wages and benefits linked to union contracts.
Current labour contracts are not open to renegotiation, and the police services board does not have the power to cut or freeze salaries at its discretion. The provincial government is able to issue an order to freeze public sector salaries, including police, but even if the unlikely scenario unfolded it would not impact existing labour costs.
The current contract for officers sees a first class constable start at $100,420 representing a 41 percent increase from the $71,400 starting salary in 2006. The deal is backed by the powerful police union, which would undoubtedly fight strongly against any effort to freeze salaries or reduce staff levels.
The operating budgets for all emergency services in Peel have grown steadily since 2016.
(Image from Isaac Callan/The Pointer)
As around half-a-billion dollars per year have poured into policing, other emergency services have suffered. Paramedics are starved of infrastructure dollars, the City of Mississauga's fire department faces a hefty building and repair bill, which has been neglected for decades, and the emergency response time for the fire departments in both cities is well below the national standard.
Call volumes for Peel Paramedics are projected to increase to between 208,633 and 356,603 calls annually by 2036 — up from about 137,000 in 2019. It means, on the low end, paramedics will need to handle 572 calls every day, or, at the high-end, they will be dealing with nearly 1,000 calls a day.
It's a "dramatic pace" Paramedic Chief Peter Dundas previously told The Pointer and will require significant investment. Projections show a needed capital investment of $139.6 million between 2021 and 2030 in order to add new reporting and satellite stations and expand the ambulance fleet to be able to effectively respond.
The tax and reserve-funded capital budget for Peel Paramedics has ranged from $30.1 million to $5.2 million per year since 2016. Unlike operating budgets, which grow steadily and are dominated by labour costs, capital budgets can fluctuate wildly from year-to-year. The paramedic reserve-funded capital budget totalled $90.8 million over the past seven years.
The paramedic capital budget has varied massively over the past six years.
(Image from Isaac Callan/The Pointer)
Brampton Fire's expanding operating costs have been offset by its reduced capital budget, which was slashed to just $2.4 million in 2021, compared to $11.5 for Mississauga Fire.
The former has kept investment to a minimum over the past six years, never budgeting more than $8.2 million for its capital costs in a year. The 2021 budget saw even its limited investments drop further. In 2018, the service's capital budget increased by 10 percent, rising a further 39.5 percent the following year. In 2020, the capital budget was slashed by 32.3 percent and it fell again by 56.1 percent this year.
Peel Police receive the lion's share of taxpayer support for first responders.
(Image from Isaac Callan/The Pointer)
To the south, Mississauga offers a cautionary tale for Brampton about underinvesting in fire infrastructure. After decades of ignoring the pressing need, choosing to invest public dollars in other priorities, councillors were forced to approve $66 million in repairs to 17 fire stations over the next decade and budget for multiple new fire stations that should have been built many years ago to keep up with population growth. This neglect will lead directly to a one percent budget increase every year up to and including 2026.
Mississauga has roughly half the number of fire stations it needs to meet basic standards. The lack of new fire stations, which is directly linked to inadequate response times in the city, came because staff and councillors decided not to prioritize the projects. Tax dollars were spent elsewhere and the rate of budget increase kept to a minimum.
"With competing capital funding needs across the City, a balance was required to fund fire stations, roads, community facilities, and maintain state of good repair of the City's many assets," Shari Lichterman, former commissioner of community services and current chief financial officer for the City of Mississauga, previously said.
These "competing" needs include policing, which receives an outsized share of public funding in Peel, while fire and paramedic services make tough choices about the level of service they can provide with what's left for them.
---
Email: [email protected]
Twitter: @isaaccallan
Tel: 647 561-4879
---
COVID-19 is impacting all Canadians. At a time when vital public information is needed by everyone, The Pointer has taken down our paywall on all stories relating to the pandemic and those of public interest to ensure every resident of Brampton and Mississauga has access to the facts. For those who are able, we encourage you to consider a subscription. This will help us report on important public interest issues the community needs to know about now more than ever. You can register for a 30-day free trial HERE. Thereafter, The Pointer will charge $10 a month and you can cancel any time right on the website. Thank you
Submit a correction about this story