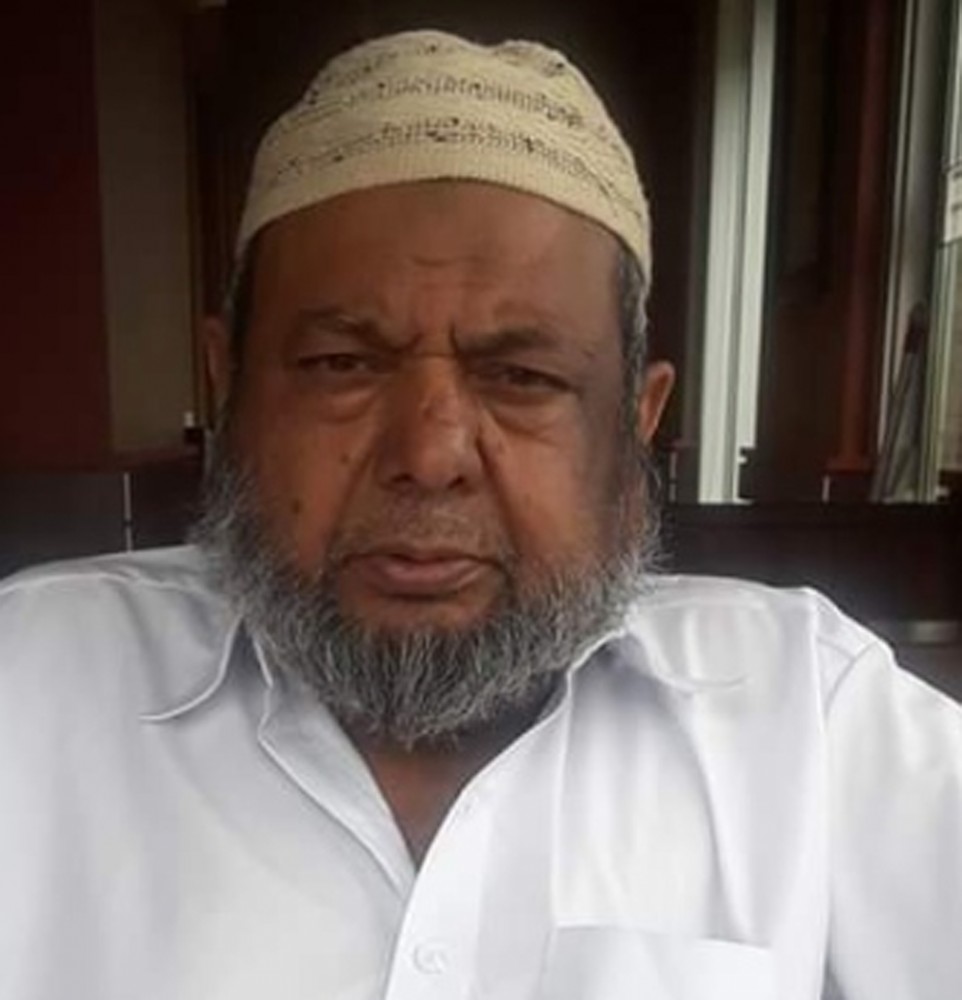 Photos from the SIU/Twitter/Screengrabs from YouTube
SIU report on Ejaz Choudry's death shows officers acted reasonably within a 'deeply flawed' system 
Witnessing Officer #10 had a critical decision to make.
A man with a history of mental illness was inside his Mississauga apartment. He had fallen silent. The call that triggered the police response revealed he was schizophrenic and armed with a knife.
His name was Ejaz Choudry.
WO #10 also knew the man suffered a number of health conditions that left him frail, and at times, barely able to walk. He was aware of a history of heart issues, that Mr. Choudry, who was 62, had not been taking his medication and that he was a diabetic who was also recovering from recent lung surgery. After nearly three hours of back and forth between responding officers standing outside the front hallway door and the distressed man, there had been almost 20 minutes of silence.
WO #10 was concerned.
Had Mr. Choudry's overlapping health conditions, exacerbated by the stress of the police presence on a hot day, pushed him into medical distress?
There was also the potential for self-harm. When officers first attended the second-floor apartment with the family, Mr. Choudry was kneeling on a prayer mat and had two knives. He was asked to drop them. He did not comply. The officers and family members left the apartment.
Almost three hours later, Mr. Choudry was still inside.
The man needed to be on medications which he wasn't taking and he had two knives. He had told the officers through the front door he had no intentions of hurting himself. But could they be sure of this, given the circumstances. Could he be in medical distress?
WO #10 quickly weighed all the information as he put his tactical plan into action. It would involve a double-breach, with officers forcing their way through the door of the second-floor balcony, followed by a second team through the front door five seconds later.
An officer who had been called to the scene to speak in Punjabi with Mr. Choudry continued trying for a response from the man on the other side of the apartment's front door. There was none and no sound of movement inside.
WO #10 knew a decision had to be made.
Less than a month had passed since the world watched a cellphone video of George Floyd desperately gasping for breath and calling out for his mother before dying under the weight of a Minneapolis police officer. The killing, and the video that chronicled it in graphic detail, sparked a global backlash and protests against police use of force when encountering racialized and mentally ill citizens. Peel's force was the subject of local demonstrations.
The tactical plan had its risks, but how would it look if the man died of medical distress while a throng of police officers stood idly by outside his apartment?
WO #10 chose the tactical unit, setting in motion a series of events that led to the death of 62-year-old Ejaz Choudry, after two bullets to the chest from the pistol of a Peel police officer.
Ladders from the Peel Regional Police Tactical Response Unit (TRU) lean against the second floor balcony of Ejaz Choudry's apartment.
The flashing blue and red lights from the cruisers and the strong police presence at major incidents peaks the morbid curiosity in many. It means police now often work with an audience, and social media has turned this almost daily ritual into a global phenomenon.
When officers stormed the balcony door of Choudry's Mississauga apartment, a cell phone camera was used to record it and send the images out into the world, instantly.
The blurry video opens with three officers crowded onto the small balcony of the red-brick apartment building. Their weapons are drawn and trained on the door. Less than five seconds into the clip, one officer kicks the door, popping it partially open. A second kick sends it swinging back on its hinges and shouting begins.
Blurry cellphone video captured the entrance of tactical officers into Choudry's apartment.
"Police!"
"Put it down! Put the knife down! Put it down!"
The video does not capture what the officers are seeing inside the apartment, or who they are yelling at.
A pair of loud sounds echo through the area surrounding the apartments. A few more seconds pass. Two muzzle flashes are seen and the unmistakable burst of gunfire rings out. The officers rush inside.
More shouting can be heard.
"Put the knife down! Put it down!"
Two more bangs cut off the shouting (Special Investigations Unit investigators determined these were the shots of an ARWEN launcher, which discharges rubber bullets). Then silence. The video cuts out – the tragic climax of a police interaction captured in an 18 second cell phone clip.
The video garnered viral attention, and with people already scarred from the most recent killings at the hands of police — Floyd, and Breonna Taylor in the United States, and D'Andre Campbell, Jamal Francique and Clive Mensah here in Peel Region — the tragedy captured in those 18 seconds added another log on the growing fire.
Hassan Choudary, the victim's nephew (their names are spelled slightly different), was visiting family in Windsor when he got the news. He didn't believe what happened until he saw the video. It was quickly spreading across social media and local news websites.
"I broke down in such a terrible way and I couldn't function. It took me about 30 minutes to even get up," he previously told The Pointer. The grief quickly turned to anger. Anger that was matched by community members, who took to the streets in the days after the shooting demanding "Justice for Ejaz."
"There was no reason that what occurred should have occurred," Choudary said.
Demonstrations took place in the area around Choudry's apartment in the days after the shooting with family members calling for an independent inquiry into their relative's death. The Special Investigations Unit had already begun to review the circumstances of the shooting, but protocols dictate that no information can be shared with the public until the investigation is complete, a process that typically takes months. Chief Nishan Duraiappah offered his "heartfelt condolences" and urged the community to be patient.
"As the investigation into this tragic incident moves forward, you have my assurance on the full cooperation of Peel Regional Police with the processes and procedures of the Special Investigations Unit," he stated. "I ask for calm and patience as we sketch our path forward and as the investigations unfold what transpired."
The SIU urged members of the public to "avoid making any premature conclusions."
Except the video was hard to refute. The 18-seconds of shouting, ARWEN blasts and gunshots, for many, told them everything they needed to know. Police were called to the apartment to "check on the well-being of a man", and this is what it led to? How can that be?
Demonstrators gather outside Ejaz Choudry's Malton apartment, demanding justice and police reform in the days after his death.
"When they arrived, they used a ladder to break into his apartment with guns drawn and screaming. They shot and killed Ejaz Choudry in his own home, while he was alone," bellowed Brampton East MPP Gurratan Singh inside the Legislature several days after the shooting. He made no mention of the lengthy police interaction over almost three hours that preceded the 18-second video clip that had gone viral.
"Instead of being greeted with a crisis team able to de-escalate the situation and get him the help he needed, he was confronted by a tactical team who used a ladder to climb up his apartment balcony, broke through the backdoor, and then shot him within seconds. The officers responsible for this man's death deserve to be held accountable, and that's what this community is fighting for. We demand #JusticeForEjaz!" wrote the newly formed Malton People's Movement in its first post on Instagram.
It's unclear why the unfolding public narrative did not include details of the original call to 911 and the initial response by police who attended to Mr. Choudry when he was first approached inside his apartment, or the ensuing attempts to communicate with him.
Brampton East MPP Gurratan Singh at Queen's Park.
The Malton group would quickly become central in many protests and demonstrations in the city, blocking local intersections and congregating at police headquarters. Some of the protests led to arrests. The community demanded the officers involved in the shooting be named and fired for their actions. It has never been the practice of police, or the SIU to name officers involved in these incidents.
To frustrated residents, the lack of information around the events only fuels the frustration and speculation. For many, the perception is the SIU is not an independent body, and it operates with a pro-police bias that has a habit of clearing officers who have shot civilians. It's a narrative that is advanced by some politicians. A petition calling for signatures of support for an "independent" inquiry set up by MPP Singh's office states an SIU investigation "isn't good enough".
"Cops investigating other cops HAS NOT DELIVERED JUSTICE. THE SIU overwhelmingly sides with the police in their investigations, AND SIU REFORMS HAVE BEEN WALKED BACK BY THE GOVERNMENT," it reads.
In response to the months of protest and calls for action that followed Choudry's death, Mississauga Mayor Bonnie Crombie and Brampton Mayor Patrick Brown brought forward a motion to have Region of Peel Council take a "formal position" on the need for police, SIU and mental health reform, by writing a letter to the Premier and Solicitor General. As part of the letter, a motion requests the immediate implementation of recommendations made by Justice Michael Tulloch under his 2017 review (many of which were first approved by the former Liberal government, then scrapped by the Doug Ford PCs) and the enactment of other pieces of legislation designed to enhance the SIU's methodology and independence. The PC government has indicated an unwillingness to reopen the discussion around such legislation.
When the SIU report on Mr. Choudry's shooting was released earlier this month, it provided the most detailed account yet of what happened the night he was killed, dispelling narratives that were created and fuelled by the 18-second video clip and propagated by politicians, advocates and media.
For the first time, members of the public were given a look far beyond the 18-second video clip. The report shows much more than police simply storming a balcony, kicking down a back door and shooting a mentally ill man. The dispelling of a popular narrative was also seen in the death of Regis Korckinski-Paquet, who in May of 2020 fell to her death from the balcony of her family's Toronto apartment building while police were present. Immediately following her death, social media, and even local news sites were filled with the narrative that Korchinski-Paquet had been pushed from the balcony by Toronto police officers. However, when the SIU investigation concluded months later, Director Joseph Martino found "the evidence establishes this did not occur." In fact, Korchinski-Paquet was alone on the 24th floor balcony when she fell.
The scene inside Ejaz Choudry's apartment as sketched out in the SIU report.
In Mr. Choudry's tragic case, Director Martino stated that while many of the decisions made on that day in June 2020 were open to "legitimate scrutiny", nothing that happened amounted to criminal wrongdoing and the officer's decision to shoot Choudry was "objectively reasonable, necessary and proportional to the threat posed by Mr. Choudry, notwithstanding the tragic loss of life it caused."
---
At approximately 5 p.m. on June 20, Choudry's daughter first called 911 for medical assistance and was provided with the number for the Emergency Medical Services, non-emergency line. She informed the dispatcher that her father suffered from schizophrenia, was not taking his medication and "acting confused" (it's unclear which medication she was referring to). She also said Choudry had a small pocket knife "but was not dangerous".
Paramedics, as is common practice when dealing with a potentially armed individual, contacted police for assistance. Police and paramedic responders arrived at the apartment around 5:30 p.m. They attempted to speak with Choudry through the apartment door, but he told them to leave. Along with Choudry's daughter, two officers entered the apartment and found him sitting in his bedroom on a prayer mat.
Officers asked to see the pocket knife, but Choudry told them to leave and began praying. When Choudry's daughter translated the request into Punjabi, he removed a large kitchen knife, a cleaver, from beneath the prayer mat.
"(He) held the knife at eye level with the blade pointing toward the officers. He again told the officers to leave," the SIU report states.
The officers left the apartment, marking the beginning of what turned out to be a nearly three-hour-long standoff with officers.
As is required in situations with armed individuals, or any type of stand-off, the Tactical Response Unit (TRU) team was called and arrived at the apartment around 6 p.m.
At this time, with officers stationed outside the apartment door, the family, who had already left the apartment unit, was asked to wait downstairs. Mr. Choudry continued to talk with officers through the closed door, repeatedly telling them to leave.
The knife Choudry was holding is seen in this SIU photograph.
"Mr Choudry was difficult to understand, but at times responded in English, telling the officers he was not going to open the door and to go away," the report states.
A Punjabi speaking officer arrived at the scene at approximately 6:45 p.m. and attempted to convince Choudry that the police were there to help him.
"Mr. Choudry told him to go away and that the police could not help him," the report states. "Mr. Choudry said he was frustrated with his family and called his brother an idiot. He did not answer when asked if he had a knife, but confirmed that he had no intention of hurting himself."
When asked if he had taken his medication, Choudry told officers he had "took all of it". It's unclear in the report what this means. In the initial phone call from Choudry's daughter to 911, she informed the person on the line that her father wasn't taking his medication.
"Mr. Choudry then began to pray loudly in another language, potentially Arabic," the report continues. "WO #9 asked if the police could come in and Mr. Choudry stated words to the effect that the police needed a court order. He told the police that if they came in, they would watch what happens. WO #9 asked him to clarify this and Mr. Choudry repeated this statement."
After an hour of the Punjabi-speaking officer's attempts to convince Choudry to open the door without success, a Crisis Negotiator Team was called, but it was about an hour away. WO #10, the Duty Inspector in charge of the scene, also requested that officers contact the hospital where Choudry had been recently treated to learn more about his health conditions and seek advice from a mental health professional.
Family members requested that they be allowed to help try and calm Choudry down, but officers declined. It's a decision that Martino states is open to "legitimate scrutiny" as they had experience in calming him down and actually had helped facilitate his safe apprehension before. However, it's noted that allowing them to try and negotiate with Choudry was "inherently risky". It's not clear in the report how many times Choudry had been apprehended before.
"Using a loved one to negotiate with a person in crisis might prompt a dying declaration making the situation worse. In the present case, WO #10 was also cognizant that the family members had been unable to de-escalate the situation earlier that evening. In addition, a person without protective equipment (such as a family member, mental health professional or negotiator) would generally not have been placed near the apartment door when Mr. Choudry was armed with a knife," the report states, adding that Mr. Choudry had been told his brother wanted to speak with him.
"In response, Mr. Choudry expressed frustration with his family and disinterest in speaking with his brother."
Around 8 p.m., Choudry stopped responding, and WO #10 began planning what should be done if he remained non-responsive. About 20 minutes passed. He had weighed the circumstances and put together a tactical strategy. He made the decision to enter the apartment.
It was a decision Martino described as not a "departure from what a reasonable person faced with the same choices would do." He states it is significant that the decision to enter the apartment was not made until after Choudry had fallen silent, at which point it almost became necessary.
"The approximately 20-minute long period of non-responsiveness alarmed WO #10, who was worried that Mr. Choudry was at risk for self-harm. Beyond that, WO #10 was concerned about Mr. Choudry's physical condition. He was of the understanding that Mr. Choudry was not taking his medication, had diabetes, a history of heart issues and recently had lung surgery," Martino writes. "He had been advised that Mr. Choudry could barely walk or breathe and was concerned Mr. Choudry's breathing was exasperated by the heat of the day. Faced with these concerns, and being unable to gain a visual on Mr. Choudry, WO #10 was in a position where he had to weigh the risk of immediate intervention with the risk of not acting in the event Mr. Choudry was in medical distress."
While the 18-second video clip viewed by thousands across the country clearly shows the events on the balcony, Martino states the only direct evidence of what happened inside the apartment — outside the line of sight of the bystander camera — comes from the other two officers in the video. The subject officer did not provide an interview to the SIU or provide his notes from that night — which is his legal right.
After the door is kicked open, Martino provides a detailed analysis of the evidence he received from the officers on the balcony.
Inside the apartment, Choudry is standing in the living room holding a large kitchen knife in his right hand.
"According to the officers, Mr. Choudry had the knife extended towards the officers and immediately began moving in their direction."
The Subject Officer (SO) who shot Choudry is seen on the balcony on the far right.
As can be heard in the video, instructions are shouted for Choudry to drop the knife, which he doesn't do.
Witness Officer #8 fired his taser, which he "believed" struck Choudry in the torso "but had no apparent effects." A forensic pathologist would later confirm a CEW probe struck Choudry in the abdomen.
At the same time, Choudry continued to move toward the officers, and the other TRU officer fired the ARWEN three times, aiming for the arm holding the knife. He estimated Choudry was about 8 feet away when he fired the non-lethal projectiles. The other officer estimated Choudry was about 5 to 6 feet away when the ARWEN was fired.
"Both officers reported that Mr. Choudry was undeterred by the ARWEN discharges and continued moving towards the officers," the report states.
Both officers estimate Choudry was about 3 to 4 feet from the balcony door when the fatal shots were fired.
After he was shot, Choudry backed into the apartment and fell to the floor. He was still clutching the knife in his hand.
"The officers commanded him to drop the knife and when Mr. Choudry did not do so, WO #2 discharged his ARWEN two more times at Mr. Choudry firing rubber projectiles. WO #8 then delivered a hard kick to Mr. Choudry's arm, resulting in the knife falling to the floor," the report states.
The second TRU team burst into the front door from the hallway at about the same time, quickly followed by paramedics who immediately began to perform CPR with the aid of one of the officers. Choudry was pronounced dead at 8:38 p.m.
For many in the community, the decision to not lay charges has created more questions than answers.
"The police forced their way into a frail, elderly man's home. They claimed they were compelled to intervene for his safety," a statement from the family reads. "Yet, the police refused to let Ejaz's family speak to him. They opened his door with weapons drawn. Within seconds, an officer shot and killed Ejaz in his own living room. Ejaz committed no crime. He did not deserve any of this."
"What was the justification for using lethal force against a frail, elderly man in his own home? Why did it take nearly a year to make this decision to not lay any charges?" asked the National Council of Canadian Muslims on Twitter, sharing disappointment that no charges were laid in what it describes as a "clear-cut case". "The lack of enforcement and penalty here showcases the much larger issue surrounding a failed system of review and the absence of police accountability."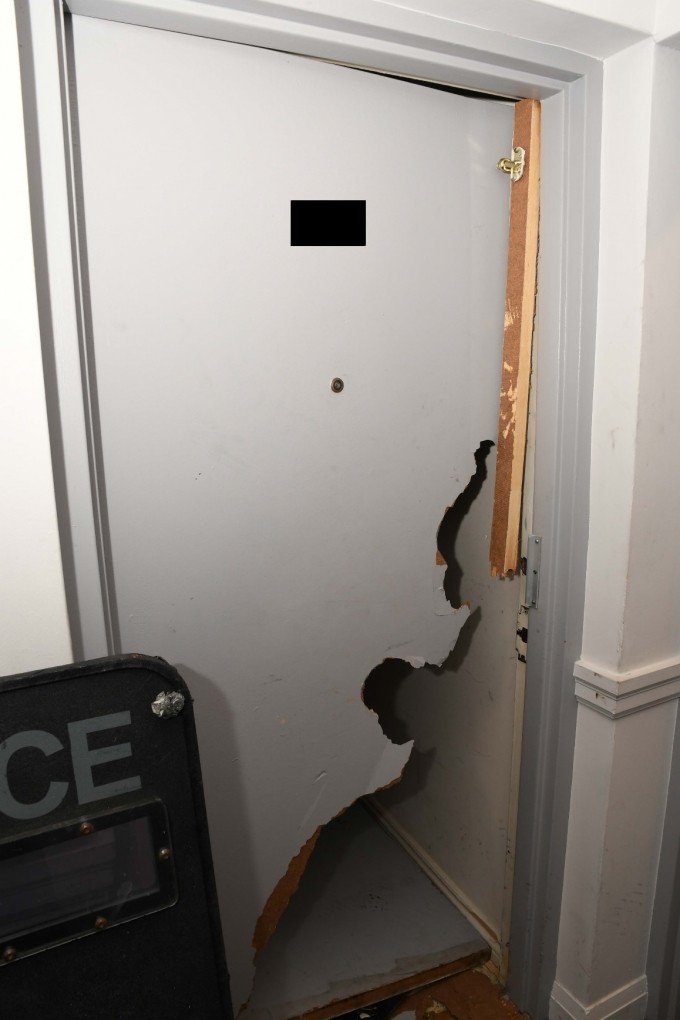 The front door of Choudry's apartment.
MPP Singh stated the report is the result of an "appalling, utterly broken police oversight structure" that continues to fail racialized Ontarians and those with mental health issues.
However, as the SIU report explains, once the police arrived on scene, the actions they took, even the shooting of Mr. Choudry, "was objectively reasonable."
Police could not have left and abandoned the situation of an armed individual who could potentially pose a danger to his family and himself, and police had few options but to use lethal force once two non-lethal options had already failed to stop Choudry's advance.
"There was no realistic way to retreat because the officers were perched on a small, crowded balcony they could only exit by using ladders. There was also no time to switch tactics and try other methods, such as using oleoresin capsicum spray or a baton, to disarm Mr. Choudry. Any other option to respond to the threat, such as going hands-on with Mr. Choudry or closing the balcony door (which swung into the apartment), would have increased the risk that the officers would suffer serious injury or death," Martino writes.
While there is disagreement about the tragic outcome, both those demanding justice for Ejaz, and Martino agree that there is a bigger problem here, as he points out Choudry's killing is only the latest in a series of recent deaths involving people in crisis.
"In the wake of these deaths, there has been a call from families and the community to reform policing, including the way mental health crises are handled by first responders. There have been concerns that police presence can escalate these situations and make them worse. In Mr. Choudry's case, his paranoia about police played a significant role in his death and these concerns have obvious validity," he states.
Martino said much of the same after his report into the Peel police shooting of D'Andre Campbell last year. The officers were cleared of wrongdoing in that case as well.
When officers entered the kitchen and found Campbell with a knife they immediately pulled their weapons, which only served to further agitate a person in mental health crisis, and in that case, instead of de-escalating the situation, circumstances went the other way, "quickly turning into an armed standoff," Martino wrote. The Director pointed out that "systemic issues" may exist in how police respond to mental health calls, but the "narrow" mandate of the SIU is only to determine if a criminal offence occurred, and not to "delve into the broader public policy considerations."
The police have also stated they should not be the ones responding to these incidents. As PRP Chief Nishan Duraiappah has said several times, police are not trained mental health professionals. However, the legislation and the Mental Health Act continue to mandate that in mental health crises, police are the first responders. While police can never be excluded from responding in the most severe cases of armed individuals in crisis — creating questions about the need for better recruitment and training practices for police officers — it's clear that a better system can be created where police are not the ones sent to every mental health call.
A police tactical response, which involves military-like precision, specific operational orders and physical force, is the exact opposite of how to deal with someone in the midst of a mental health episode. It's like using a square peg to fit a round hole.
Finding a solution to this problem is critical as the pandemic begins to fade and more and more people are battling mental health struggles.
"We recognize that more has to be done to support those in crisis, and police should not be the primary responders called upon to manage mental health calls. While we are addressing the growing needs for mental health support, we know that gaps still exist," Chief Duraiappah stated.
Families who have lost loved ones want justice, and typically that means holding the officer who pulled the trigger accountable for what happened.
When someone does something wrong, they are punished. The killing of another innocent human being is inherently wrong, and when no punishment is doled out, it's startling. However, from a criminal justice perspective, police are legally allowed to use force, including lethal force, meaning what is morally wrong is not always criminal. It's a fundamental disconnect that means SIU reports will rarely deliver the justice families are seeking.
"That knowledge, that we are not responding well to the needs of this population, often does not sit very comfortably with the outcome of a criminal investigation into whether the individual officer was legally justified in using lethal force," says Abby Deshman, the criminal justice program director at the Canadian Civil Liberties Association. "Those are two different tracks of analysis that have something to do with each other, but I think the outcry, the anger, the grief, the very justifiable questions, all of those are completely warranted and completely understandable and the disappointment that the accountability mechanisms and the answers that are provided are not providing justice to that person, that is also completely understandable," she adds. "Does that mean that criminal charges should have been laid in every single case, not necessarily, we are working within, and police are working within, a very flawed system."
Critics point to problems with the SIU and its "failure" to hold officers accountable, or a need to reform the way police are funded in order to better direct resources to social services to help these individuals.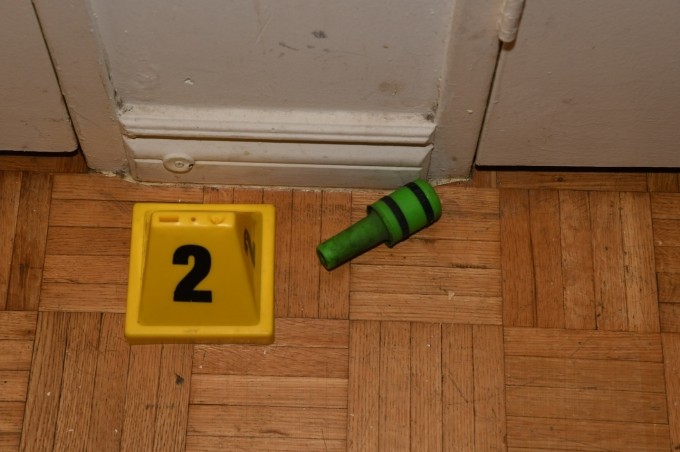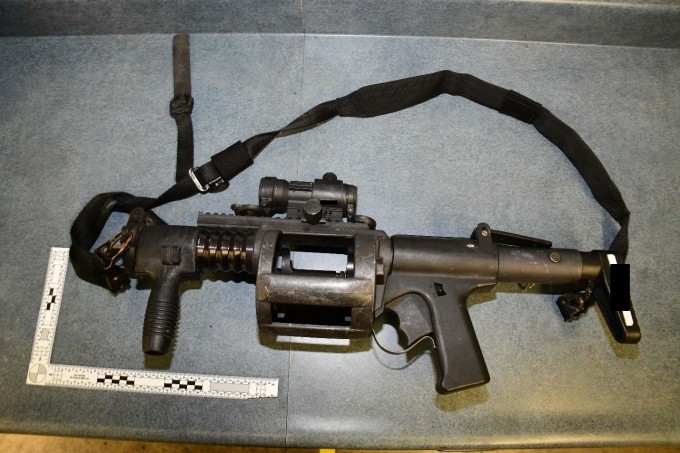 The tools of a tactical unit, like an ARWEN that fires rubber bullets as seen above, are the exact opposite of what is needed when trying to deescalate those in mental health crisis.
For many jurisdictions in North America, success has been found by changing the fundamental nature of how mental health calls are handled, and in some cases, have almost entirely removed police from the equation.
In Peel, the Mobile Crisis Rapid Response Team is one such example. The program pairs a crisis support worker with a police officer to respond to calls for those in mental health crisis. It has shown to be very successful in limiting police apprehensions in such cases and reducing the time officers spend at hospital with those in crisis.
Between January 13 and February 12, 2020, the MCCRT teams were called to 164 instances, of which 46 led to an apprehension, or 28 percent of the time. Peel police say that without the MCCRT team, 90 percent of the cases over that first month would have led to the individual being taken into custody. The trend continued throughout 2020. Mental health calls responded to by a frontline officer alone resulted in an apprehension 83 percent of the time, compared to only 21 percent of calls handled by an MCRRT.
However, the resources for this program are woefully inadequate for a region where mental health calls have increased more than 50 percent in five years, rising from 4,000 in 2014 to over 6,000 in 2019. The night of Choudry's death, PRP were unable to get MCRRT assistance because they were busy on another call.
An MCRRT team that pairs a crisis worker with a police officer is just one example of different methods for responding to mental health calls.
According to Chief Duraiappah, because of the limited MCRRT resources, frontline officers are still responding to approximately 62 percent of mental health calls. There are plans to put additional MCRRT teams on the street in 2021, but it's been made clear a gap will still exist with PRP unable to send MCRRT to every mental health call that they should attend.
"There needs to be more funding for our partners at CMHA here," the Chief told councillors at budget time. Peel is one of the lowest funded jurisdictions when it comes to dollars for mental health and addictions. The Central West LHIN, which includes Brampton, and the Mississauga Halton LHIN, received $66 and $53 respectively per capita from the provincial government for mental health and addictions support, well below the provincial average of $107 per capita.
'I do think we need to broaden our lens when we're looking at how do we address this problem, how do we tackle this issue? How do we, as a community, provide better services, supports and responses to people who are in crisis?" Deshman says.
There are many examples of other programs to handle mental health crises, and some of them are decades old.
In Oregon, the incredibly successful — and now in high demand for training in other jurisdictions — CAHOOTs program has been operating since 1989 and pairs a health worker (nurse, paramedic or EMT) with a crisis worker who are called to deal with a variety of mental health related crises, including financial distress, suicide threats and substance abuse.
"CAHOOTS staff are not law enforcement officers and do not carry weapons; their training and experience are the tools they use to ensure a non-violent resolution of crisis situations. They also handle non-emergent medical issues, avoiding costly ambulance transport and emergency room treatment," states the White Bird Clinic in Eugene, Oregon which launched the program.
There is also the Community Response Team in Washington, DC which provides 24/7 mobile crisis support from teams of behavioural specialists, healthcare providers and those with lived experience of substance abuse, homelessness or mental health issues.
There's also the civilian-led Mobile Crisis Team in Baltimore, and the civilian "crisis responders" in Olympia, Washington. All are examples of jurisdictions that are attempting to take the police response out of dealing with those in mental health crisis as much as possible.
For such a model to work in Ontario, a change to the Mental Health Act would be necessary to permit first responders, other than police, to respond to these types of calls. It's something Mayor Crombie advocated for immediately after Choudry's death.
It's unclear whether the Province is considering such a change.
---
Email: [email protected]
Twitter: @JoeljWittnebel
---
COVID-19 is impacting all Canadians. At a time when vital public information is needed by everyone, The Pointer has taken down our paywall on all stories relating to the pandemic and those of public interest to ensure every resident of Brampton and Mississauga has access to the facts. For those who are able, we encourage you to consider a subscription. This will help us report on important public interest issues the community needs to know about now more than ever. You can register for a 30-day free trial HERE. Thereafter, The Pointer will charge $10 a month and you can cancel any time right on the website. Thank you.
Submit a correction about this story