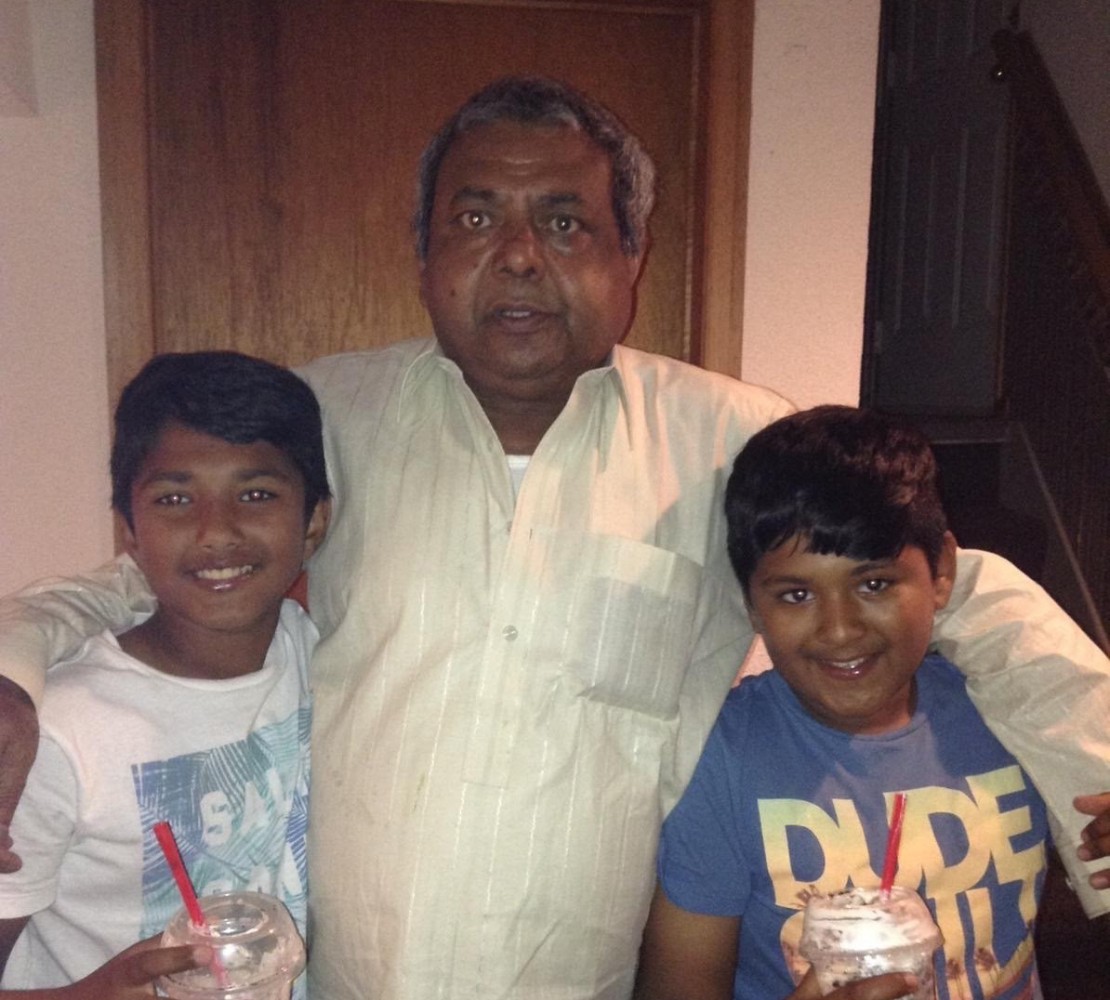 Photos from Choudry family/Screengrabs from YouTube/Graphics from CMHA
'I just broke down': Ejaz Choudry passed away a month ago; His family is still looking for answers
By all accounts, Ejaz Choudry was a simple man with a regular routine, whose presence was a big part of the community he resided in.
Every morning, he would come down to the entrance of his building on Goreway and Morning Star drives in the Malton area of Mississauga, waving at the motion sensor to open the door for anyone walking out of the building. Everyone who walked in was greeted by him.
"He had no value for monetary money or wearing this or driving that," nephew Hassan Choudhary told The Pointer. "He was a very simple and humble man."
Mr. Choudry spent a lot of his time taking part in religious practices, praying five times a day at the local Mosque or making dhikr, a form of devotion in Islam that offers particular praise to God. Hassan said his uncle faced numerous medical issues, and wasn't able to drive. Whenever it was time for one of the five daily prayers, anyone headed to the Mosque would invite Mr. Choudry along for the ride. As a token of his appreciation, Mr. Choudry would buy them coffee and treats for their kids, Hassan said, from the local Tim Horton's his uncle frequented.
Hassan Choudhary
Mr. Choudry's name was not one everyone recognized, his nephew said, but one glance at his face would remind people of the friendly man loved by many in the community.
The events that occurred on the night of June 20 shocked Hassan and many others in the neighbourhood. His 62-year-old uncle, who was a father to four, was shot dead by police on the eve of Father's Day. It started as a call from his 18-year-old daughter to a non-emergency helpline but it's not clear how it resulted in the presence of police. Mr. Choudry had schizophrenia, heart problems and used an oxygen tank at the time of his death, Hassan recalled.
The situation left many in the family riddled with guilt, including Mr. Choudry's daughter, Nemrah. She was given specific instructions to call the non-emergency line whenever her father's health was suffering. With his list of problems, he was a frequent hospital visitor.
With pain in Hassan's voice, he recalled how Nemrah blames herself for what happened to her father, saying that if she knew the result of the call, she would have never called that help line. "You've given her that instruction, you've given her that this is how to approach the situation, and you completely went against it," Hassan said in frustration. As the oldest of her four siblings, Hassan said she's trying to stay strong for her family.
A second dose of guilt is coming from Hassan's mother, the youngest sibling and only sister of Mr. Choudhry and her brothers. She was the sibling who arrived in Canada, subsequently sponsoring her brothers to come to this country for a better life, with Mr. Choudry arriving in the early 90's from Pakistan. Hassan recalled the immense guilt his mother went through when the incident occurred, holding herself partially responsible for what happened to her brother. "When it comes down to my mom, someone who really put in so much time and effort to try and bring her brother over to a better country, feels that bringing him here might be the reasons why he died," Hassan said. "If this was back home, maybe this wouldn't have happened."
Mr. Choudry was seen as a father figure by his siblings. As the eldest, he filled that role when his father passed away. For the younger generation Hassan resides in, Mr. Choudhry was like a grandfather to them. He was the life of every family gathering, Hassan remembers fondly.
"It was very common to find the family sitting around him during our Eid festivities. He would sit in the middle, crack jokes, tell us stories and we don't have that anymore," he said. Such an interaction hadn't taken place in months.
Eid was celebrated this year in a very different way. Usually marked with large gatherings, the novel coronavirus prevented similar celebrations from taking place, erasing an occasion where Mr. Choudhry would meet with his loved ones. In order to keep him safe, Mr. Choudhry's extended family largely talked over the phone, Hassan said. "I'm trying to go back to the last time I saw him and seeing his face seeing how he was speaking. I couldn't understand the fact of why police would murder my uncle."
It was so unbelievable for him to fathom what happened that it took a breaking news report to believe it was true. When Hassan received a call from his cousin revealing the news, he was at his in-laws home in Windsor. Initially thinking it was some sort of prank, the images of his uncle's building that flashed on the screen horrifyingly confirmed his cousin's words. "I broke down in such a terrible way and I couldn't function. It took me about 30 minutes to even get up."
A video circling social media showing a tactical team storming into Mr. Choudry's apartment confirmed his uncle's death. "There was no reason that what occurred should have occurred," Hassan said. It was a hard reality to swallow for someone who holds the role of "problem solver" in the family; his uncle was gone and there was no way to bring him back.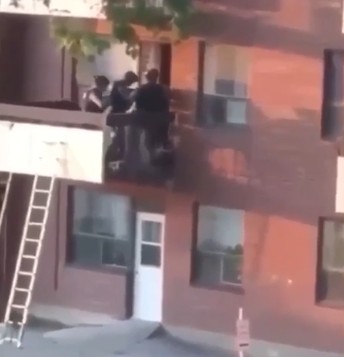 Police officers entering Ejaz Choudry's apartment through the balcony.
Residing in the apartment where they lost someone near and dear to their heart, the widow and four children of Ejaz Choudhry still remain. "They're dealing with that constant relapse of the same thing that happened," Hassan said. The constant fight to keep his uncle's name alive and get answers to his death are being carried on in an effort to get some sort of justice for the family, which is one of the only ways to help them cope with the situation, he said. "We're fighting so whatever we do, somehow there's a result they feel better about." Mr. Choudry also left behind three sons, between the ages of 7 and 16.
Hassan explained he and his cousins grew up in a society that was told to trust the police. His parents stressed that the authorities were always right and should be respected. Losing his uncle changed that. While he was always aware of the injustices police brutality brought onto many communities, he said he only truly understood it when it happened to the man beloved by everyone in the tight-knit family.
In Hassan's eyes, there were many things that went wrong in his uncle's case. According to reports from the family, the officers on the scene were speaking to Mr. Choudhry in English, a language he did not understand. The presence of guns and militarized uniforms also scared him.
"He's not scared of you. He's scared of your uniform, he's scared of your big guns," nephew Khizar Shahzad said at a press conference, the day after his uncle's death. The fact that a mental health problem was met with a tactical response made for a dire situation, Hassan said, suggesting that an expert who could have deescalated the situation should have been present.
Peel Regional Police has such a program, the Mobile Crisis Rapid Response Team (MCRRT). A crisis worker is paired with a police officer to respond to mental health calls. There are only two cars that operate for 12 hours a day. It's not clear if the MCRRT team was called to the scene the day Mr. Choudry was killed.
While Dr. Taslim Alani-Verjee, a clinical psychologist, thinks such programs are a good idea, mental health workers, like police officers, need to receive training on how to deescalate such situations, given they may not be used to dealing with erratic and unpredictable behaviour.
Training for officers, on the other hand, should go beyond physical constraint and involve an understanding of why people get to the point where they need to be calmed; how to deescalate a situation (everything from how the officer is using their voice to the physical stance they take). Officers also need to understand trauma, and what's happening in the brain when a crisis is experienced.
She also believes more money should be invested into programs that assist people battling mental health challenges so police don't have to be called in the first place.
According to Dr. Hannah Rockman, a clinical neuropsychologist, such help is hard to come by. "Access to mental health in Ontario is terrible at this point," she told The Pointer. There are very few mental health day-programs in the province. Those that do exist cost thousands of dollars a month. Treatments for a range of disorders lack funding and psychologists, who can help with such situations, are often only covered by private insurance. The lack of funding has created a crisis in Peel, which receives some of the lowest levels of mental health investment from upper governments compared to all other jurisdictions in the province.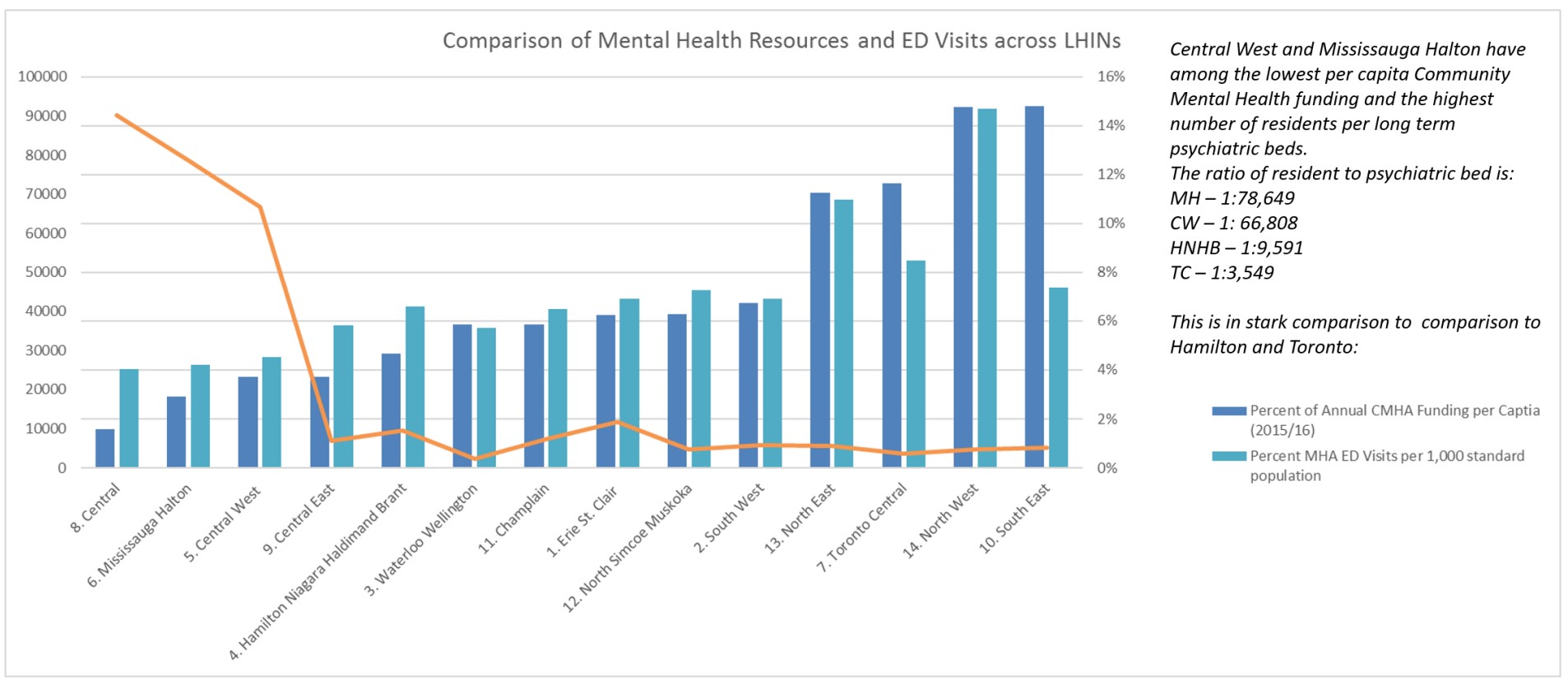 The Mississauga Halton and the Central West Local Health Integration Network, which includes Brampton, receive some of the lowest funding for mental health and addictions programming in Ontario.
As someone who sees many police officers herself, Dr. Rockman says morale amongst them is very low. "They already feel that internally, they get very little support from their colleagues [and superiors]," she said. Along with PTSD, these are the two most common problems that come across her table. The current debriefing after an incident is minimal, she said. "They go 'How was it? Are you okay or do you want to just go get a beer?' That's about it."
Managing the actual toll and the particular trauma suffered by police may assist officers in better handling situations of stress and conflict. While she acknowledges such lax support has improved since years' prior, more work needs to be done.
At Peel police, members of the Organizational Wellness – Critical Incident Response Teams conduct debriefings for those exposed to traumatic work-related experiences, Constable Bancroft Wright told The Pointer. "The aim is to build resilience, provide peer support and gauge wellness," he said.
The organization also takes part in mandatory training for responding to mental health calls. The four-day course covers numerous subject matter, including mental health first aid and presentations from crisis negotiators, Wright said.
A month has passed since Mr. Choudry passed away and the family has yet to get any answers, Hassan said. Dozens of people gathered once again on Monday at the same intersection near the apartment where the tragic incident took place to remember Mr. Choudry and keep his name alive. The support from the community has been overwhelming, Hassan said.
When the incident occurred, the family made posters and stood on the side of the street to express their emotions. When people realized who the posters were for, the numbers increased quickly. The original group started with 10 people, which by the end of the day, turned into 250 people. The next day, there were upwards of 1,600 people who gathered in solidarity at the intersection.
Young and old, including those who worked at Mr. Choudry's favourite coffee shop and the neighbours he held the door for, came to remember the man who had become such an integral part of their closely knit community.
---
Email: [email protected]
Twitter: @nida_zafar
Tel: 416 890-7643
---
COVID-19 is impacting all Canadians. At a time when vital public information is needed by everyone, The Pointer has taken down our paywall on all stories relating to the pandemic and those of public interest to ensure every resident of Brampton and Mississauga has access to the facts. For those who are able, we encourage you to consider a subscription. This will help us report on important public interest issues the community needs to know about now more than ever. You can register for a 30-day free trial HERE. Thereafter, The Pointer will charge $10 a month and you can cancel any time right on the website. Thank you.
Submit a correction about this story