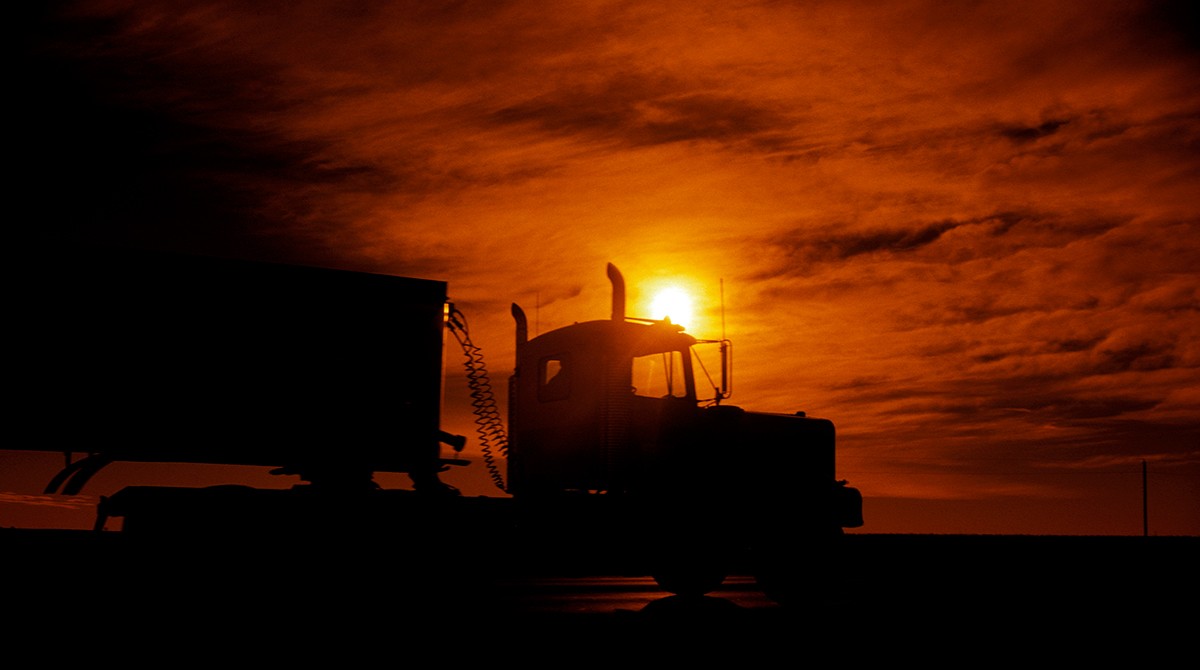 Flickr/Facebook/Truck World/NAPTA
Truckers eat up millions of kilometres of asphalt to keep us safe in the time of coronavirus
Brothers of the highway, children of the wind,
That Detroit diesel pirate ship goes rollin' out again,
Sailin' for that settin' sun, freedom's your best friend,
Brothers of the highway, children of the wind.
Brothers of the Highway — George Strait
---
Cal Semenyk has been practicing social distancing for most of his 68 years on the planet.
For the past 48 he has spent the majority of his waking hours isolated in the cab of a 16-wheeler truck, his hands clamped tightly around the steering wheel as he pilots his "big rig" on both sides of the 49th parallel – eating up thousands of kilometres of blacktop as he carries vital goods to markets south of the border, then turns around and brings a full trailer back to Canadian customers.
In the past, it was a thankless job, low-paying, long hours, and perceived by many as a profession made up of "the lowest of the low" (Semenyk's words).
But now, at his advanced age, all has changed. Truckers are frontline fighters in our life-and-death battle against COVID-19. They are "essential workers," and "vital cogs in the wheel" of a massive cross-continent supply chain. Truckers are our exalted "road warriors."
In a romanticized version of this story, Semenyk is a modern-day Don Quixote, the grizzled oldster tilting at windmills as he takes the wheel against a phantom foe, the novel coronavirus. But realistically, he and other drivers operate in a parallel universe – still employed in an economy that has ground to a halt while other sectors are parked on the sidelines.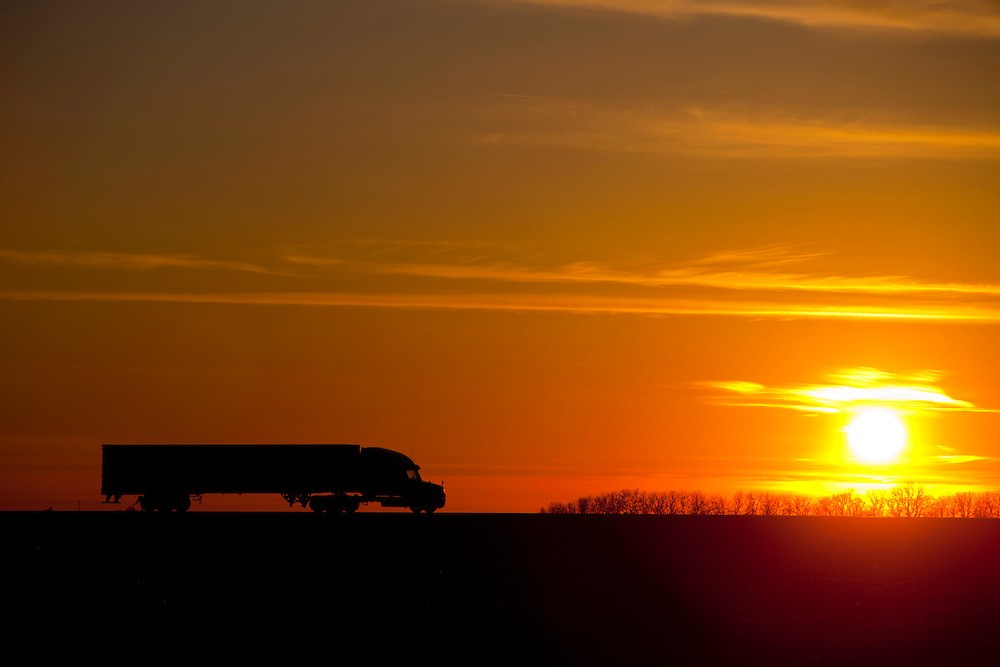 A few weeks ago, The Pointer caught up with many of our road warriors, including Semenyk, a contract driver with Grace Transport out of Strathroy. He continues to run out the kilometres like a man swimming against a tide, as a younger and more diverse demographic of drivers dominate the industry. Yet his experience is invaluable as society needs all hands on deck to get past this pandemic.
From the owners' perspective, people like Raminder Sandhu of Load Solutions Inc., based in Mississauga, it's a more troubling time, and this ongoing financial struggle means his firm might have to take a pause and shut down as its customer base melts away. One major client, General Motors, has shuttered operations, and that ripple effect is wreaking havoc on his firm's bottom line. The same is true for an industry sector in general that is the third largest employer in Peel Region.
"The trucking industry has always been hard, and it's getting harder," Sandhu says.
When Semenyk was reached by The Pointer, he was on his way to Dallas, Texas, the turnaround point on his trip south before returning to Canada via the Michigan/Ontario border crossing near his home in Sarnia.
He grew up and earned his chops as a driver in Mississauga, where his older brother and his family still live. Over the years, he has been a frequent visitor at many of the truck stops that dot both his hometown and Brampton.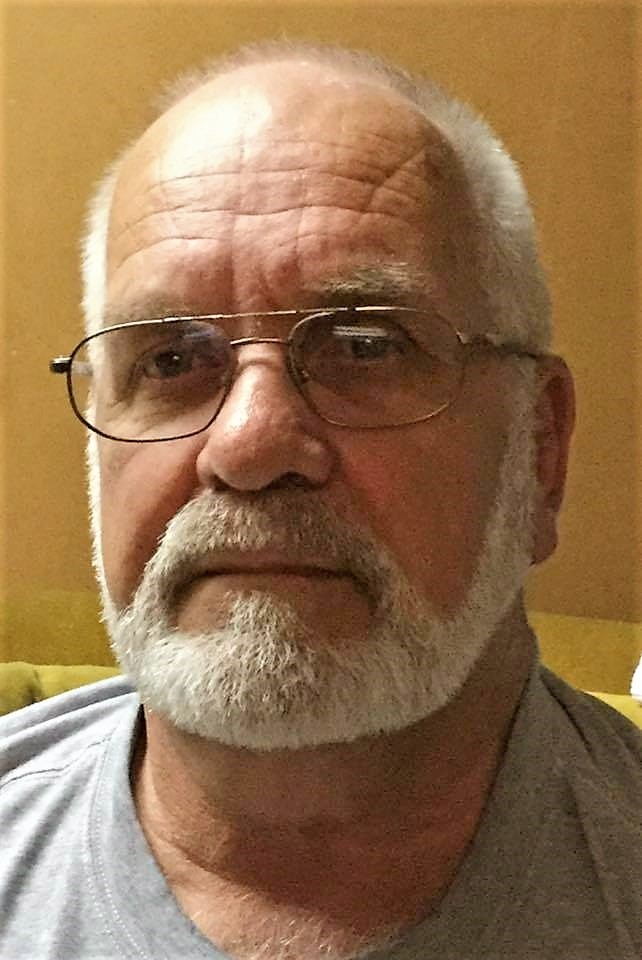 Cal Semenyk
One of his favourite haunts was the Husky Terminal at 401 and Shawson Drive in Mississauga. It's very much like a small town, dominated by a massive parking lot for 120 big rigs, a store open day and night, 12 showers, a truckers lounge, the Husky House restaurant, internet, ATM, laundry service, CAT scales (to weigh a load) and a travel store. There's also a hotel situated kitty corner to the station, and many drivers use it for an overnight stay until they pick up their next haul.
But the economic tsunami has broken the back of most businesses, even truck villages.
In the ever-changing kaleidoscope of life, as the pandemic throws our world off orbit, the trucking profession, for those who are surviving the downturn, and parts of the sector itself have been enlivened by the new role as saviour.
Before the pandemic, the trucking industry was on fumes, short of drivers, working at low margins, stymied by new rules and regulations (how many hours truckers can spend on the road before having to take a break) and infested with too many rogue firms failing to meet the stringent safety standards set out by the province.
It was only last year, that Peel police laid a total of 58 charges from 63 inspections after a mid-summer truck safety blitz, and 22 trucks were deemed "not roadworthy." The summer before that, the OPP conducted a week-long safety enforcement, called Operation Safe Trucking. It unveiled an alarming statistic that showed 4,816 commercial motor vehicles involved in accidents, resulting in 46 fatalities on Ontario roads.
Now that the pandemic is here, worries persist that rogue operators will continue to give the industry a black eye, and Sandhu says LSI, a mid-sized company, with 110 trucks, that operates on both sides of the border, is worried these outliers will lower prices and standards and harm the overall health of the industry.
It's especially tough to compete when companies like LSI – with headquarters and a terminal in Mississauga, and two other terminals in Buffalo and New Jersey – lose a customer like GM. It has been forced to recalibrate, to see how it can keep its trucks and upwards of 130 drivers on the road.
Sandhu, who lives in Brampton, is one of the five partners. He came to Canada from Punjab, India at age 24, and began with LSI in 2005. He got his first job in the industry as a driver and remembers fondly the freedom he felt behind the wheel and the pastoral views of the U.S. and Canada through his windshield. When reached by The Pointer this week, he was caught between moods – reflective and worried. He's proud that an industry and profession is shining bright during the pandemic, yet his firm is only operating at about 25 percent capacity. If customers dry up and the economy continues to evaporate, they will pause operations and try to reorganize.
He thinks Punjabis, now ubiquitous in the Canadian industry, have a natural affinity for trucking, drawn to it by a chance to learn the business and quickly rise to owner/operator.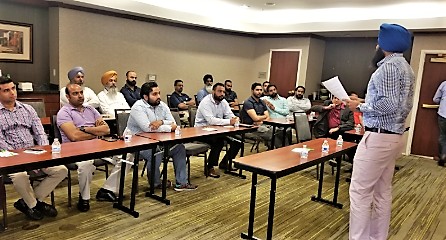 A meeting of the North American Punjabi Trucking Association
There were 260,000 South Asian-Canadians in Brampton as of the 2016 census and another 165,000 in Mississauga, and within those numbers is a cohort of Punjabis deeply aligned to the industry, filled with an enterprising spirit.
LSI has been a member of the Ontario Trucking Association, but also has ties to the North American Punjabi Trucking Association and the Indian Trucking Association, which began in Mississauga.
Sandhu believes a pause in business "will give us time to reassess our model and think about where we want to go in the future."
According to trucknews.com, a Canadian-based industry website, the challenges of COVID-19 range from companies like GM slowing down production to inspectors who don't want to check loads on delivery because of fears the virus might survive long hours on surfaces.
Another major concern is the ability to attract new workers into an industry that was already projected to be short 25,000 drivers across Canada by 2023. It's a hard life. Long hours, days, even weeks away from family. The deadlines are tight and pay is sometimes thin. We usually only think of truckers while on highways, annoyed by these big ships that dominate the road.
Industry data used by trucknews.ca shows just how important trucking is to the economy. "The trucking and logistics sector employs 3.6% of Canada's workforce, translating to more than 650,000 workers. Truck drivers account for 300,000 employees, while 90,000 people are in shipping and receiving, 70,000 are courier service drivers, 38,000 are material handlers at warehouses and distribution staff. The remainder are managers, supervisors, administrative staff, and accounting personnel," states a recent article on the industry website.
But as Sandhu says, the future is suddenly unclear.
It might include a consolidation for him with one or more other firms, which continues a pattern in the trucking industry that began after the economic meltdown in 2008-09.
It was a trying time then, he says, but as the economy bounced back, LSI rode the wave, hiring more drivers, adding more trucks, and reaching across the border – west to Chicago, and down into the northeastern U.S., into New York, New Jersey, New England and Pennsylvania.
But the reasons for this current economic slowdown are different, more profound, based on public health. The federal, provincial and state governments have forced many businesses to close. The good news is that the supply chain sector was immediately recognized as "essential" and while regular travellers have been bivouacked, truckers pour through the borders.
Sandhu's firm faces the additional problem of having many Punjabi drivers who are not yet Canadian citizens, and their work visas complicate crossings. Many drivers have also expressed worries about their safety in travelling from Canada to the U.S.
Semenyk is undaunted, fueled by his company's contracts, and the fact he has often faced death on the roads from accidents and driving through some of the worst weather imaginable. "A little virus isn't going to stop me," he says.
He feels safe in his 2019 Kenworth T680 with 53-foot trailer. The $160,000 vehicle features a 60-inch cab and sleeper, and most times, it's a sanctuary against the outside world. After losing his wife to cancer and his daughter to a traffic accident years ago, being on the road again gives him solace, and a chance to self-isolate.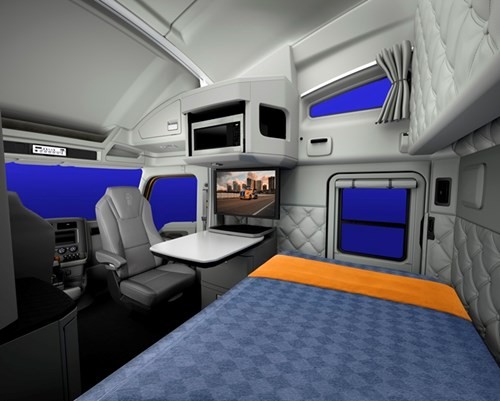 The cab inside a truck just like Cal Semenyk's
What he sees now through his windshield is all new, and a little disturbing: thin traffic, truck stops shuttered or partially open, and no place to find a good cup of coffee. It's almost dystopian, like a bad 1950s sci-fi movie. Still, this is the life he chose and loves, and in a pandemic, the landscape is sublime, even strangely peaceful.
For owners, it's much more off-putting.
Sandhu thinks the red tape that enwraps the industry today, especially in Canada, is acting as a restrictor plate on future opportunities. Couple that with the constant battle to find good drivers (unemployment rates in the industry were too low prior to the pandemic), a need to stay up to date with the latest technology, a shortening of drivers' hours, paying out the large expenses that come from owning a mid-sized trucking company and the fact there are ever-shrinking margins because more fly-by-night firms are undercutting the bigger players, is why he's constantly worried.
Throwing a global pandemic into this bitter cocktail makes the present situation harder to swallow.
Yet he is also philosophical and grateful that most of his brothers in the industry, and citizens in general, still retain their health. A little economic hiccup isn't the end of the world, he says.
Still, the pandemic is having a piling-on effect. Kim Richardson of the Truck Training Schools Association of Ontario, based in Caledonia, which serves the interests of over 450 firms, knows that margins these days can be granular, but believes the sector has already shown how important it is to everyday Canadians. It has also lifted the profession of trucker from the status as "dead-end job" into a noble vocation, an essential one.
He, of course, is slightly biased – a fourth-generation trucker. He learned the business from his grandfather and father and passed it along to his son and daughter. He says he has never been so proud of the drivers and the industry as he is today.
He remembers visiting his Grade 10 guidance councillor and she asked him what he wanted to be when he grew up. He first said, "an NHLer." When she asked for a second choice, he said, "trucker – like my dad." He knew from her response that she was unimpressed. He wonders what she might say today.
He said our current situation is an opportunity for society to "redefine success and break the old stigmas we used to have toward some of our professions." He said people who clean, work as grocery store clerks, and take care of the elderly in old folks' home, are just a few of the many in our society who should be re-labelled as "essential", and paid accordingly. That includes truck drivers and those in the transportation industry.
Richardson predicts there will be a reshuffling of the sector once the pandemic passes that will eliminate "many of the bad players in the business who are not now following safety protocols."
"You don't have to drive very far these days to see some of the garbage being run on our roads," he adds.
While many of these broken down trucks are travelling the back roads to avoid scrutiny, they will not survive as properly regulated companies with the best track records, game plans and best service get rewarded, he says.
Sandhu agrees that it's an "opportune time" to reorganize, and his partners are leaving all options on the table, including consolidation.
As mentioned earlier, transportation and warehousing is the third largest employer in the region, which features seven 400-series highways, two rail lines, one massive CN intermodal terminal in Brampton, and the largest and busiest airport in the country, Pearson International.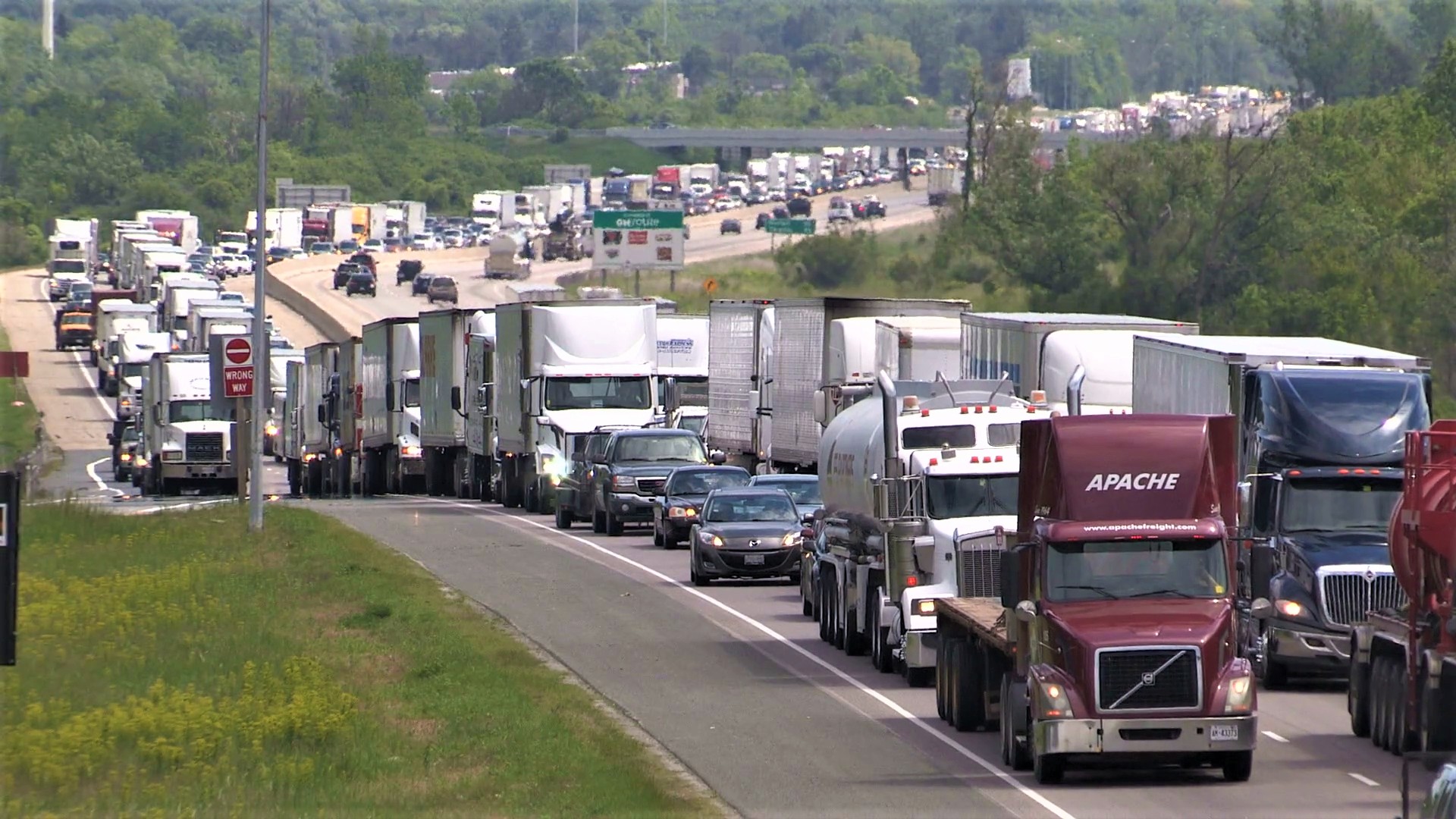 Stretches of highway in and around Peel Region prior to the COVID-19 outbreak were packed with trucks, part of the epicentre of the industry in Canada
The number of trucking firms feeding off this rich market runs the gamut, from panel vans to small commercial vehicles doing local runs, to the short-haulers and the big riggers, the cross-border haulers. Right now, with the economy in free fall, many of the trucks still in service, are half or partially full, making turning a profit difficult.
Truckers like Semenyk have long been captured in song and verse, including the one sung by country artist George Strait leading off this story. But the composite drawing is changing rapidly, and the Punjabi community has shown a natural affinity for the industry.
Sandhu is hopeful Ottawa and Queen's Park will step up and help a sector that has shown how crucial it is to the betterment of our society. Every truck filled with food or medical equipment that reaches its destination only reinforces his argument.
An old guard like Semenyk is hardened by the millions of kilometres he has put on his personal odometer. He understands the basic fundamental of trucking: get goods to market quickly and safely, and do it by not complaining about the challenges faced each day behind the wheel — bad weather, lousy roads, unscheduled stoppages, grinding gridlock, and crazy car drivers who feel the need to zig and zag around trucks.
The only thing between what he did 48 years ago when he started and today, is he now needs to continually wash his hands, and maybe wear a mask when he's around those who load and unload his truck.
The industry has survived tough times in the past, and according to Semenyk, Richardson and Sandhu, it will survive this one, too, even if it is much more punishing.
For all the negatives directed toward the trucking industry, this pandemic has been its redemption, infusing the industry with a new sense of purpose, says Richardson. "I'm so damn proud to be a part of this business," he says. "They are the best people in the world."
Truckers come in all guises, from old and white and stuck in their ways, like Semenyk, to young and turbaned road warriors, who now drive for a company like LSI.
But leave it to Semenyk to put a trucker's life, and what they do, into perspective.
He says if you think society gets panicky over a pandemic, or finds it hard to get its head around those who put so much value on hoarding toilet paper or other items, just imagine a world without trucks and truckers? Imagine no one or nothing to haul freight to your stores shelves? Imagine if there are no bananas or milk or the other items that fill up the shelves of your favourite grocery chain and help feed your family, and get them through a pandemic?
"If it wasn't for trucks and truckers, I guarantee that within two days, there would be panic on the streets," he says.
Semenyk's truck is closing in on the dock just outside of Dallas, the first stop on his 2,100-kilometre, two-way journey. He has to go, but had to continue his last thought. "Almost everything in your home comes to you from a truck. The world couldn't operate without trucks and truckers."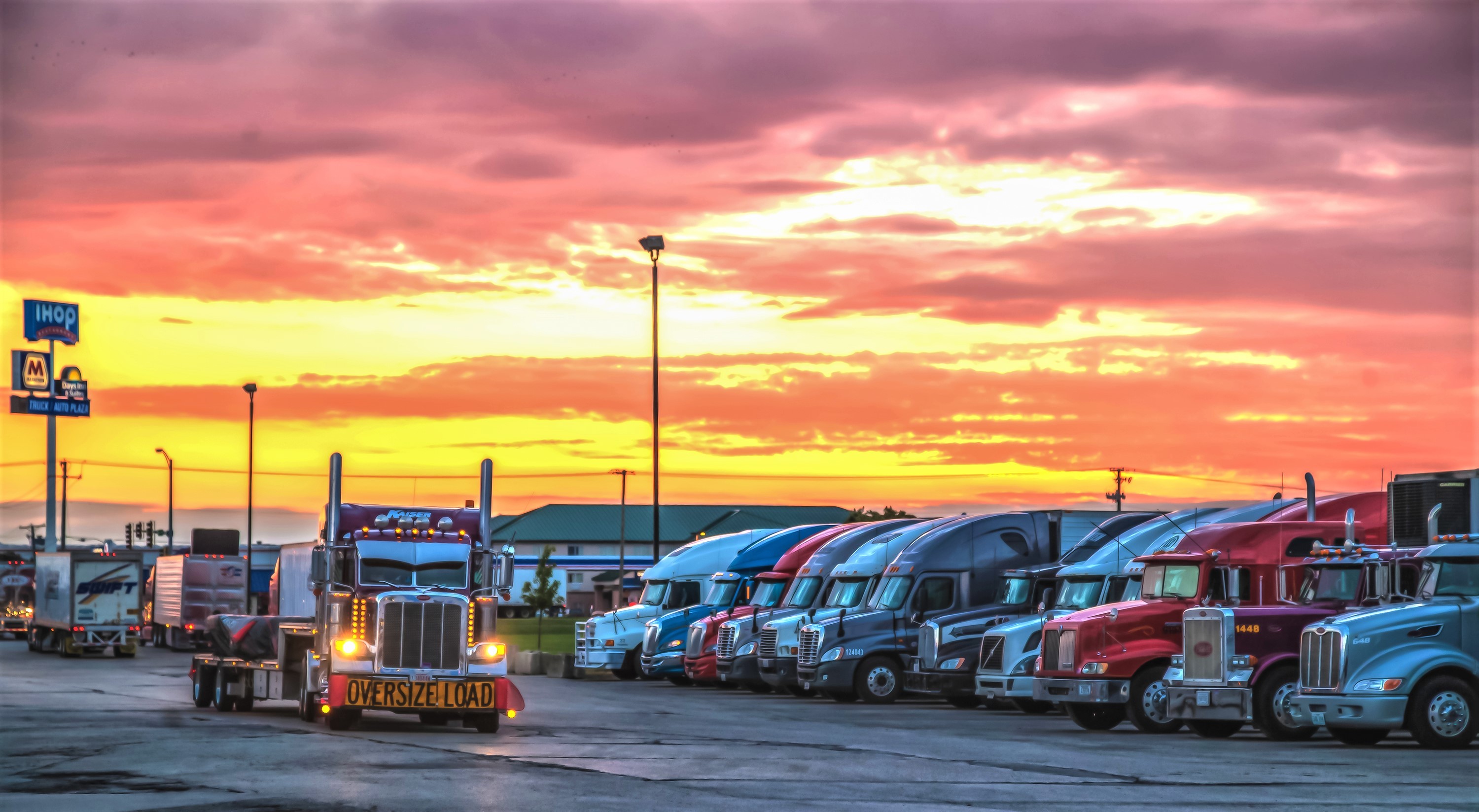 He loves the buzz of being a trucker, the freedom of the road and the fact he can self-isolate himself from the world around him. His cab is like a capsule, carrying him though a time-space continuum. He doesn't need any of the modern-day technology afforded to drivers like GPS, because he can find any dock in any North American destination as if he were a homing pigeon. In most cases, he has been there before. All those miles are etched into his face and can be heard in the crackle of his voice, but he admits that the breakdown of his body – two really bad shoulders, and a recent hernia operation – are reasons why, at the end of this year, he will retire from the business – finally taking his hands off the wheel.
He says truckers are like burned out air force pilots, once they complete their last mission, they need to be grounded. He's getting close.
When he started in the business, he was making 38 cents a mile (most of his driving is in the U.S.) and it's only risen to 45 cents today – with no provision for danger pay, or driving while in the midst of a pandemic. He thinks it's fitting, almost poetic, that he's exiting as a pandemic has changed everyone's life overnight, especially truckers. He's proud to end by helping bring goods to a public that is nervous and in desperate need of comforting.
Recently, he parked his truck at a McDonald's to get a coffee – practicing, of course, the latest in social distancing. When he returned to his truck, a woman at the other side of the parking lot shouted at him.
She said: "I just want to thank you for what you do. Without you and all the other ones, we wouldn't be able to get by in this world."
Semenyk is often isolated in his emotions. But her words touched him. It put those hundreds of thousands of miles of blacktop in perspective.
If you agree with that woman in the parking lot, the Ontario Trucking Association in Toronto has recently put up a hashtag on its website #thankatrucker. It's the best way to pay homage to our brothers and sisters of the highway.
---
COVID-19 is impacting all Canadians. At a time when vital public information is needed by everyone, The Pointer has taken down our paywall on all stories relating to the pandemic to ensure every resident of Brampton and Mississauga has access to the facts. For those who are able, we encourage you to consider a subscription. This will help us report on important public interest issues the community needs to know about now more than ever. You can register for a 30-day free trial HERE. Thereafter, The Pointer will charge $10 a month and you can cancel any time right on the website. Thank you.
Submit a correction about this story