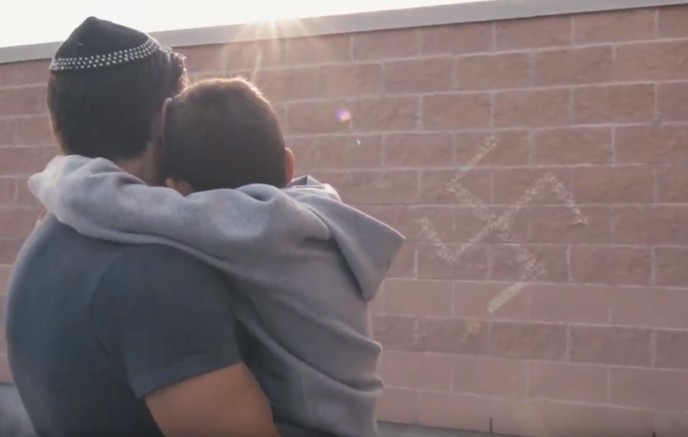 The Pointer file photos/Peel Regional Police
As Facebook comes under fire Brampton and Mississauga saw a recent decline in some hate crimes but a rise in race-based incidents
When a hate crime occurs against an individual, it's not something that impacts that person alone. It's a larger message to a group of people with a screaming declaration: "You are not welcome here."
Research from the federal Department of Justice (DOJ) shows it's common for people from religious and racial-minority communities to experience post-traumatic stress and feelings of increased fear for themselves, their family and members of their community when a hate crime is committed against them.
That's often the response criminals who commit these acts are hoping for.
Despite the impact and severe consequences, hate crimes remain one of the most underreported types of illegal acts, with two thirds of hate-motivated crimes in the world never being reported to police, as stated by the DOJ.
There are multiple reasons for this: the fear of being further victimized and not being taken seriously are two leading ones. The sensitive nature of hate crimes directed toward members of the 2SLGBTQ+ community, and other particular groups, appears to be accompanied by fear that police will stigmatize them or show other bias instead of addressing alleged crimes in a neutral manner.
Not reporting these acts played a role in the drop in certain types of hate crimes Peel police investigated in 2019. But racially-motivated crimes continue to be on the rise.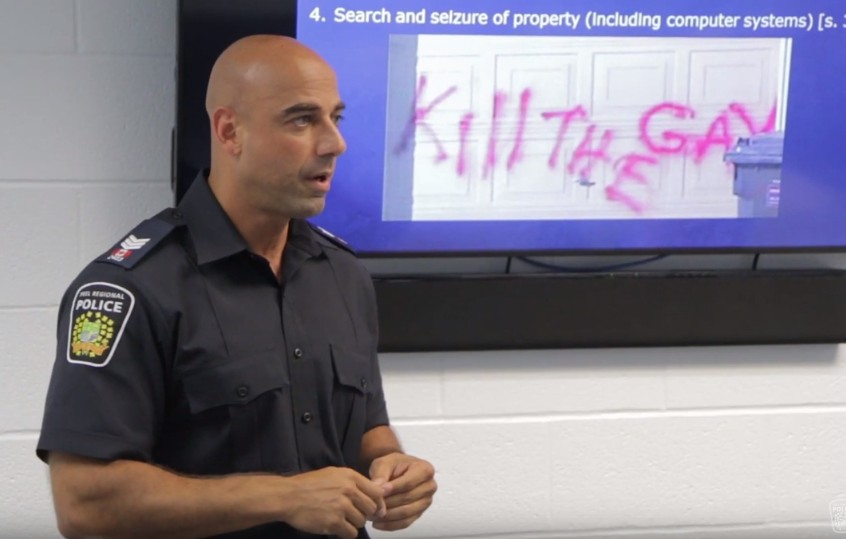 Peel police Detective Feras Ismail says more leaders and politicians are using social media to encourage intolerance
It marked the second year in a row that saw an overall reduction; in 2018, 107 hate-motivated crimes were reported, and in 2019, the number dropped to 97. In 2017, 158 hate-motivated crimes were reported.
PRP's report highlights some of the reasons for under-reporting, which include a lack of knowledge of what a crime is, a lack of trust and the belief that a situation may not be serious enough to report.
It's possible that the two cities are seeing a reduction in hate crimes, as more educational campaigns have been launched and Peel police has in recent years stepped-up efforts to inform the public. It's also possible that more attention to such crimes and harsher outcomes for perpetrators, have acted as deterrents.
But the data suggests hate crimes are not actually on the decline.
It is important to differentiate between a hate-motivated crime and hate-motivated incident. The former is a criminal act and leads to criminal charges. Incidents under the latter category, such as hostile speech, will not be considered a criminal act, even though the behaviour may be based on a bias or intolerance against the victim's race, religion or sexual orientation.
Detective Feras Ismail, a member of the Equity and Inclusion Bureau, acknowledged that this "is a fairly tricky area" to navigate, given the freedom of speech laws that exist in the country.
Around the world, conversations about the line between hate speech and freedom of expression are pointing to social media platforms, particularly Facebook, which has a poor track record of monitoring and preventing the hateful targeting of certain minority groups.
There is currently a growing global boycott of advertising by hundreds of multinational companies that have pulled spots from Facebook following the campaign "#StopHateForProfit", after it was found that the social media giant, with some three billion users across all its platforms, has continued to host hateful posts.
Allowing expressions and imagery such as the live-streaming of a video showing a shooter killing 51 people and injuring another 49 in two New Zealand Mosques last year, has made Facebook a target for creating widespread support for hate crimes. Messages and videos are now shared millions of times everyday encouraging others to attack marginalized groups.
In one day alone, Instagram, owned by Facebook, hosted almost 12,000 messages claiming Jewish individuals were behind the 9/11 attacks. Thousands more espoused Nazi ideology and the list of other messages designed to promote hate and encourage acts against minority groups is now far too long to even quantify, criminal justice authorities around the world have stated.
Platforms like Facebook have done little to censor or prohibit leaders and politicians who use social media as a tool to expand their support, as successful xenophobic nationalist campaigns become easier to launch.
The 2019 annual hate motivated crime report from PRP found that out of the 41,268 crimes reported, 97 were categorized as hate/bias-motivated crimes. Less than half of those, 40, lead to charges. The report does not include any information pertaining to the number of hate-motivated incidents, part of the data Detective Ismail said is much needed, when he addressed the police board at the end of May.
Mischief was the highest reported hate-motivated crime for 2019 with 42 occurrences. This was a decline from previous years, with 53 such cases in 2018 and 106 in 2017. The report credits the sharp decline to the arrest of one of two offenders in 2018, who were responsible for a rash of anti-Muslim graffiti incidents. The arrest brought 45 counts of mischief against the one suspect. It's not clear if the second suspect was identified, apprehended and charged or if either were convicted for their crimes.
While the overall theme of the report highlighted a general decrease, this was not the case for hate crimes motivated by race or nationality, which saw an increase in 2019. In 2017, there were 39 of these cases, in 2018 there were 26. That number jumped to 52 in 2019. Attacks against members of Black communities represented the highest number of cases in 2019, with 30, a slight decline compared to 33 such incidents in 2018. Members of South Asian-Canadian communities were targeted in 22 cases in 2019, compared to 18 in 2018. White victims, targeted for their religion or sexuality, also saw an increase in cases from four to six between 2018 and 2019.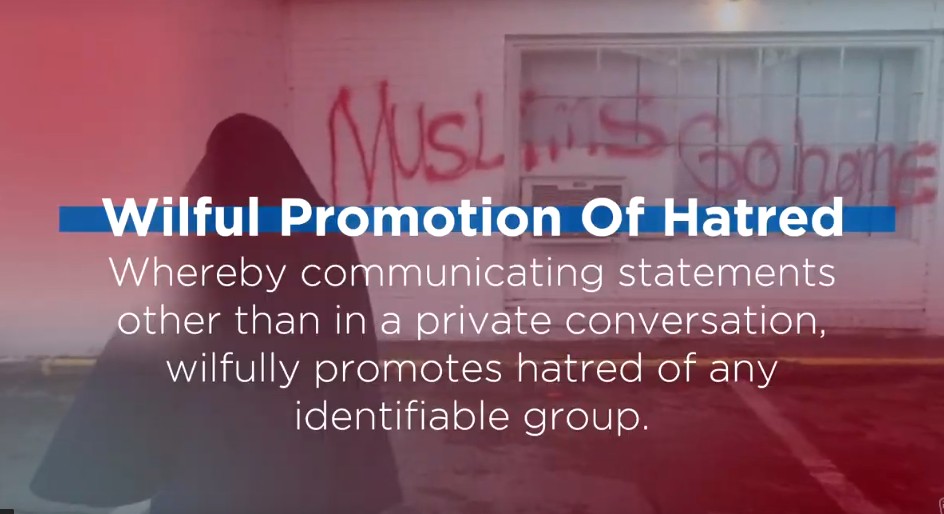 Peel police educates the public about what a hate crime is and the need to report incidents
The report also illustrated a reduction in hate crimes against two religious groups who saw large numbers in the past: members of the Jewish and Muslim community. But there was an increase of hate crimes motivated by religion against the Sikh community; 2019 saw eight such cases, while 2018 had three and 2017 had two.
When Ahmad Attia, vice chair of the Peel Police Services Board, asked what was causing such an increase for members of the Sikh community, part of the answer lied in an offender's inability to differentiate between religious groups. "Some of those incidents that were targeting the Sikh community were in fact meant to originally target the Muslim community," Detective Ismail said, which was concluded after further investigation found details of the hateful commentary alluding to Muslim-specific bigotry.
Detective Ismail believes "xenophobic sentiments" by politicians and other influencers played a role in these numbers. "There are some leaders that are tweeting out comments and making comments that are starting to create this and fuel fires of this right wing movement. You're starting to see the ripple effects of that kind of [hate] work their way into various segments of our community."
Despite the reduction in the two cities, antisemetic incidents increased by 62.8 percent across the province in 2019 compared to the year prior, according to B'nai Brith Canada. The numbers were led by Toronto, with 32 percent of its hate crimes targeting the Jewish community, and York Region, with 30 percent.
While Detective Ismail believes the numbers for Mississauga and Brampton create a sense of hope, in comparison to the national average, the number PRP wants to see is zero. "We have to be leaders in this field," he said. "We can't wait for others."
Chief Nishan Duraiappah said addressing intolerance is the "number one priority for this organization." Steps have been taken to make this a reality, he added, but did not explain.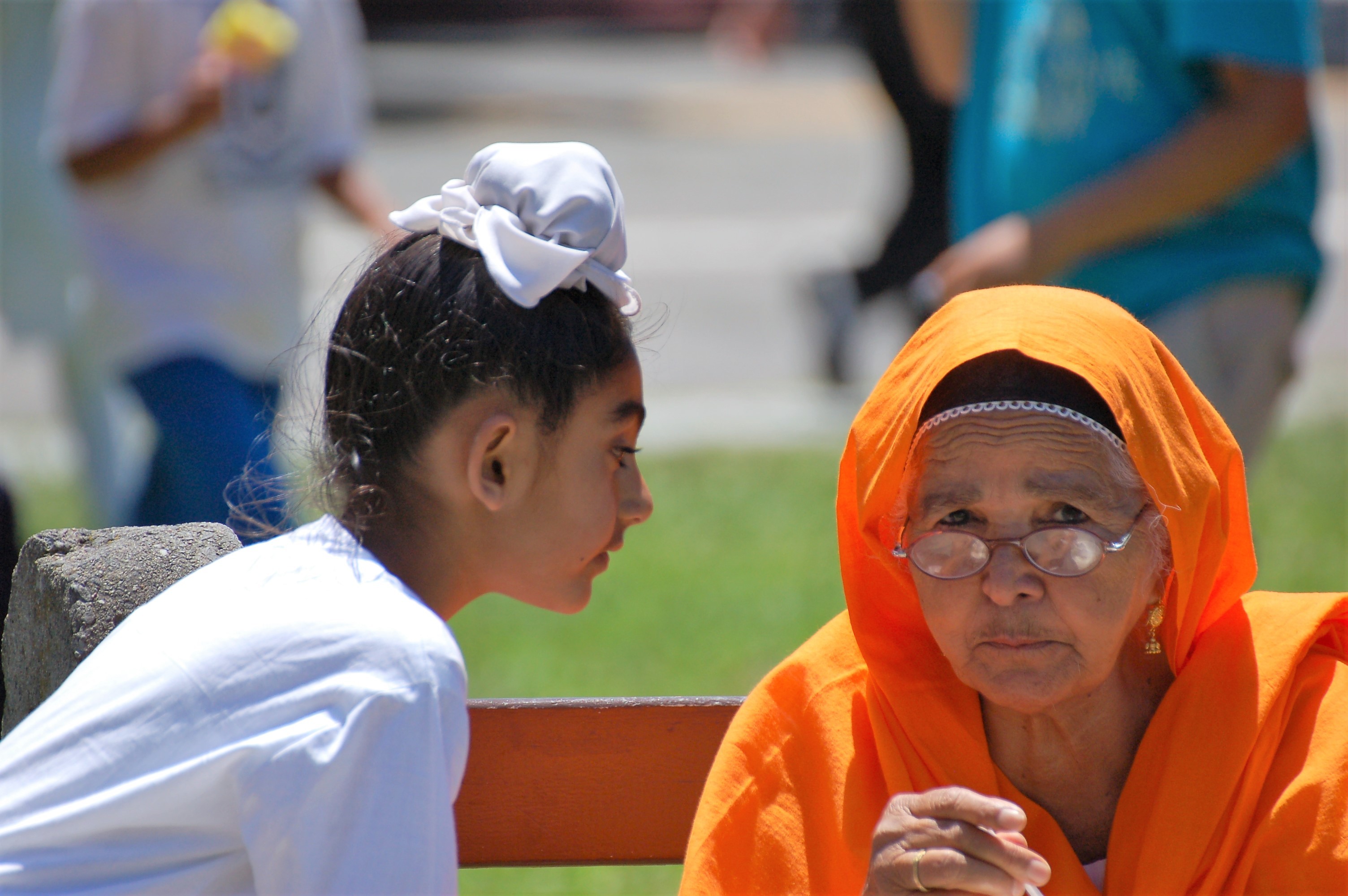 More members of the huge Sikh community in Brampton and Mississauga experienced hateful acts against them last year, many of which are not reported
The organization focuses on a victim-centred approach, Detective Ismail said. Anyone being targeted by any sort of hate in any capacity receives support from the organization, including a follow-up call to check in on a victim's well-being and put them in touch with any services they need under PRP's Reassurance Protocol.
Ismail said these actions are multi-purposed: they let individuals in the community know support is there and their experience is valid. "It also reminds perpetrators that as an organization, just because something doesn't meet the criminal threshold, does not mean that it is not important to us [or] that we condone such behavior." Detective Ismail also took part in the creation of a course on hate-crimes that is taught at the Ontario Police College and has been endorsed by the Ministry of Community Safety and Correctional Services.
A second ongoing initiative is the Safe Place Program. It allows local businesses and public locations to display the PRP Safe Place Sticker at their front entrance, window or door. The sticker lets members of the 2SLGBTQ+ community know the premise is a safe place that can be used to call and wait for police if they are victimized, or fear they might be, by a hate incident. The organization's most recent partner is the Dufferin-Peel Catholic District School Board, and 400 stickers are currently affixed on 200 locations across the region.
---
Email: [email protected]
Twitter: @nida_zafar
Tel: 416 890-7643
Submit a correction about this story