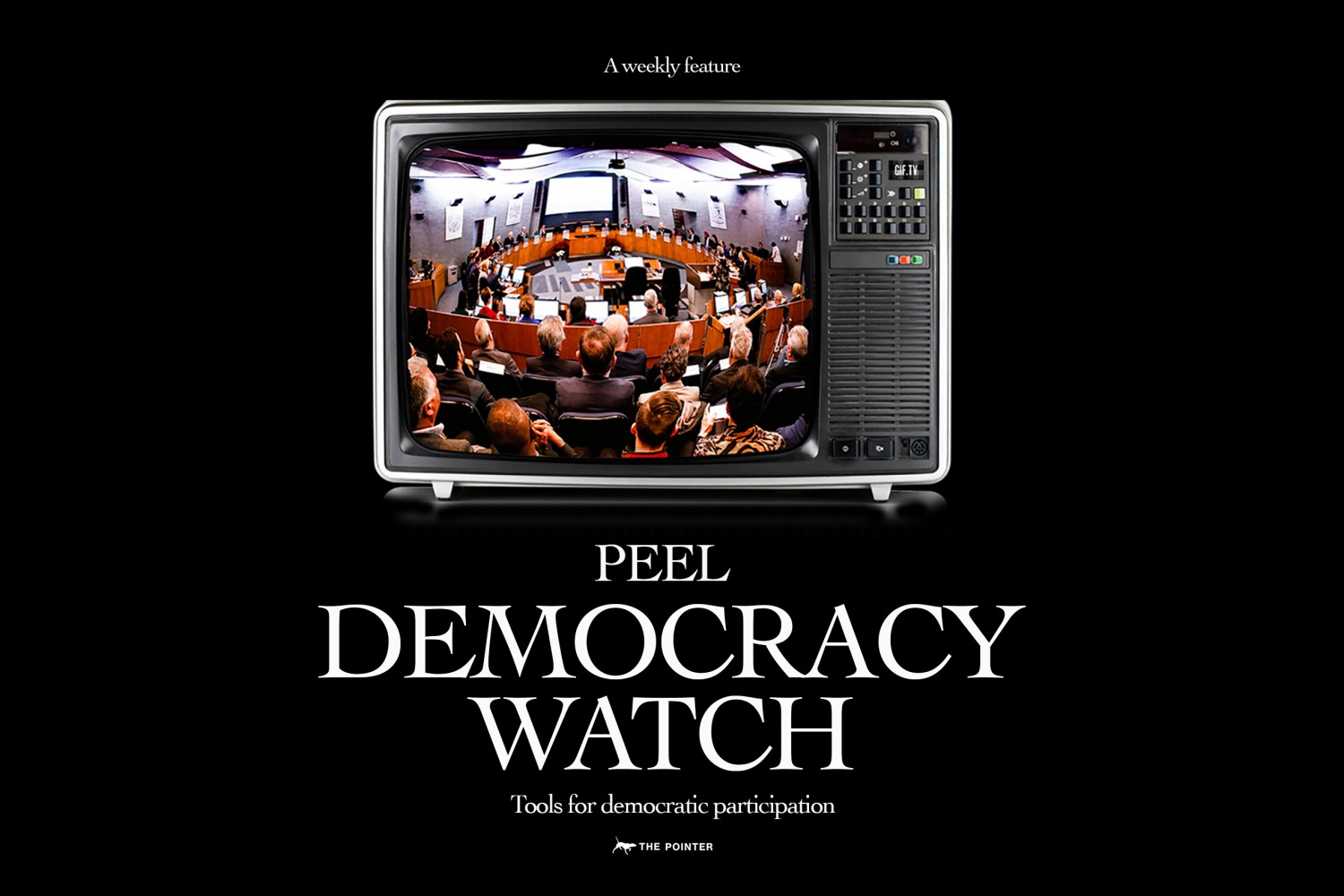 Feature illustration from Joel Wittnebel/The Pointer
Brampton secures loan for electric buses; MiWay maps route to net-zero 
Each week, The Pointer checks agendas of public institutions involved in decision making that impacts the citizens of Peel. This feature is designed to act as a guide for local residents, unlocking the often stodgy and byzantine process of local government.
---
Accessibility Advisory Committee
Date: March 8 | Delegate | Full agenda | Watch live
Last-minute discussion on e-scooters and presentations from opponents
Weeks after the City of Brampton decided to move forward with plans to introduce e-scooters, the City's Accessibility Advisory Committee will get a say. David Lepofsky, the chair of the Accessibility for Ontarians with Disabilities Act Alliance and a strong opponent of e-scooters, will present, alongside Bernard Akuoko, the program lead of advocacy for Accessibility & Community Engagement.
The 6:30 p.m. timing of the meeting will clash with an e-scooter consultation in Mississauga.
Previous reporting:
You can view the staff slide presentation the committee will consider here.
Committee of Council
Date: March 9 | Delegate | Full agenda | Watch live
Advocates ask Brampton to clean up its pension fund
Representatives from Shift Action for Pension Wealth and Planet Health will ask the City of Brampton to make changes to its pension plan to better align with investments that will help mitigate climate change. The group is looking for the City to "urge AMO to formally request that OMERS [pension fund] implement clear and measurable targets that fully align OMERS' investment strategy with the goals of the Paris Agreement to limit global heating to 1.5°C, including a measurable timeline to eliminate fossil fuel related investments".
Previous reporting:
You can read the minutes of Brampton's environmental committee, which already discussed the issue, here.
Brampton nears major deal to finance electric buses
Brampton Transit is almost ready to sign a historic agreement with the Canada Infrastructure Bank to finance a transition to electric buses. The deal allows Brampton to borrow the price difference between diesel and electric buses at an interest rate of one percent. The loan can only be repaid through fuel savings from the transition and, if they do not occur, it will be forgiven. The deal could pay for 450 new zero-emissions buses by the end of 2027.
Previous reporting:
You can read the detailed staff report, including conditions for the loan, here.
Brampton pushes to keep car manufacturing jobs in the city
A presentation from staff will outline the steps Brampton is taking to retain the Stellantis car assembly line in the city. The plant, previously owned by Fiat-Chrysler before a historic merger, makes gas-powered cars and is a major employer. Uncertainty hangs over its future, with the current collective agreement set to expire in 2023.
Previous reporting:
You can view the staff presentation here.
Brampton seniors raise concerns about budgeting
A letter from the Brampton chapter of the Canadian Association of Retired Persons (CARP) raises a series of concerns about how the City is budgeting and the unsustainable practice of zero percent tax increases. "We are concerned that Brampton City Council may unwittingly replicate the past municipal experiences of, for example, the cities of Toronto and Mississauga," the letter says. The criticism from CARP echoes harsh words the Brampton Board of Trade shared in December.
Previous reporting:
You can read the letter from CARP here.
Brampton to discuss integrity commissioner
Councillors will discuss the City's integrity commissioner at the request of Councillor Martin Medeiros. This comes exactly a week after councillors voted to refer Councillor Rowena Santos to the integrity commissioner for links to a consultant who received funding from City Hall in relation to the failed BramptonU project. The current integrity commissioner, Muneeza Sheikh, has ties to Mayor Patrick Brown.
Previous reporting:
Councillors to reconsider cancelled capital projects and hospital funding
A separate discussion proposed by Councillor Medeiros will focus on unfunded projects and Brampton's hospital expansion. Council voted during the budget process to delay funding for a range of projects, including the Centre for Innovation. The funds saved were put toward a hospital expansion to avoid any tax increases.
Previous reporting:
Questions about legal service available to Brampton councillors
Councillors will also discuss Justice Risk Advisory Services, a legal hotline provided to council. The company appeared in Brampton Mayor Patrick Brown's expenses in 2019 to the tune of $44,000. "This agreement is a fixed monthly charge that would be incurred regardless of usage and is a service available to all members of Council," Brown told The Pointer last year, saying it was legal advice for all members of council.
Previous reporting:
Special Council Meeting
Date: March 9 | Delegate | Full agenda | Watch live
Brampton will hold a special council meeting to ratify various decisions from its committees before a break. Councillors will not meet again on March 16 or 23. The next full council meeting is scheduled for April 6.
General Committee
Date: March 9 | Delegate | Full agenda | Watch live
Mississauga needs 84 more hectares of parkland
A parkland strategy for the City of Mississauga notes it has a parkland deficit. As of 2021, there was a 36 hectare deficit in urban growth centres and major nodes and 43 hectares in other areas of the city, for a total of 79 hectares across Mississauga. That deficit is expected to increase to 84 hectares by 2041. The parkland strategy is required under the Planning Act.
Previous reporting:
You can read the Mississauga staff report here.
Malton Youth Hub set to open in 2023
A project spearheaded by Mississauga Ward 5 Councillor Carolyn Parrish will be ready to open in the third quarter of 2023. The Malton Youth Hub will be a space for young people in the area to meet, create and learn. The City is currently looking for service providers who can offer programming at no cost to youth.
Previous reporting:
You can read the timeline and staff report here.
Mississauga needs 66 electric buses by 2030 to meet climate goals
The City of Mississauga's transition to a zero-emissions future relies heavily on how it builds and maintains its transit fleet. A new staff report outlines a timeline required to hit its climate goals with an electrified bus garage and vehicles by 2028 listed as a must. All new buses from that year onwards must be fully electric in order for Mississauga's goals to be met. "MiWay's plan is to fast-track the fleet replacement program with a target fleet composition of 391 hybrid buses (almost 80% of the entire fleet) and 101 diesel buses by the end of 2027," the report explains.
Previous reporting:
You can read the staff report and its timeline here.
Diversity and Inclusion Advisory Committee
Date: March 9 | Delegate | Full agenda | Watch live
An update on diversity and inclusion inside City Hall
A presentation from KPMG details equity, diversity and inclusion recommendations for the City's recruitment and succession planning. A damning audit last year found that just 0.6 percent of Mississauga's employees aged 50 to 69 were racialized. The work by KPMG makes several recommendations including the addition of a dedicated resource to support talent diversification efforts.
Previous reporting:
You can view the slide deck here.
Council
Date: March 10 | Delegate | Full agenda | Watch live
Peel considers Brampton's request for help funding Peel Memorial expansion
An information report by Region of Peel staff offers context for a request from the City of Brampton for Peel to contribute $62.5 million to hospital expansion. Regional staff say there is no reserved funding available for the request, meaning the Region of Peel would have to raise taxes, take out debt or delay other projects to help with Brampton's hospital request.
Previous reporting:
You can read the staff report and its funding suggestions here.
Peel considers incentives to encourage new long-term care homes
Region of Peel staff are recommending a financial program to encourage new long-term care and hospice projects in the region. Staff are proposing extended deferrals for payments of development charges and grants-in-lieu to help support new long-term care homes and hospices. The program would only be open to non-profits.
Previous reporting:
You can read the full staff report here.

Special Board Meeting
Date: March 8 | Delegate | Full agenda | Watch live
Board looks for new ways to fund facility upgrades
Trustees at the Dufferin-Peel Catholic District School Board will meet to discuss urgent financial matters. The board has around $6.2 million available in funds raised from selling excess lands, according to a staff report. It also has "several urgent facility renewal needs" that the Ministry of Education will not fund. Staff recommend requesting an exception to traditional financial rules that would allow the board to redirect its excess land funds.
A full list of the urgent repairs and details of how they could be funded can be read here.
The Peel Regional Police Services Board has cancelled its March 25 meeting. The next meeting will be on April 29.
---
Email: [email protected]
Twitter: @isaaccallan
Tel: 647 561-4879
---
COVID-19 is impacting all Canadians. At a time when vital public information is needed by everyone, The Pointer has taken down our paywall on all stories relating to the pandemic and those of public interest to ensure every resident of Brampton and Mississauga has access to the facts. For those who are able, we encourage you to consider a subscription. This will help us report on important public interest issues the community needs to know about now more than ever. You can register for a 30-day free trial HERE. Thereafter, The Pointer will charge $10 a month and you can cancel any time right on the website. Thank you
Submit a correction about this story