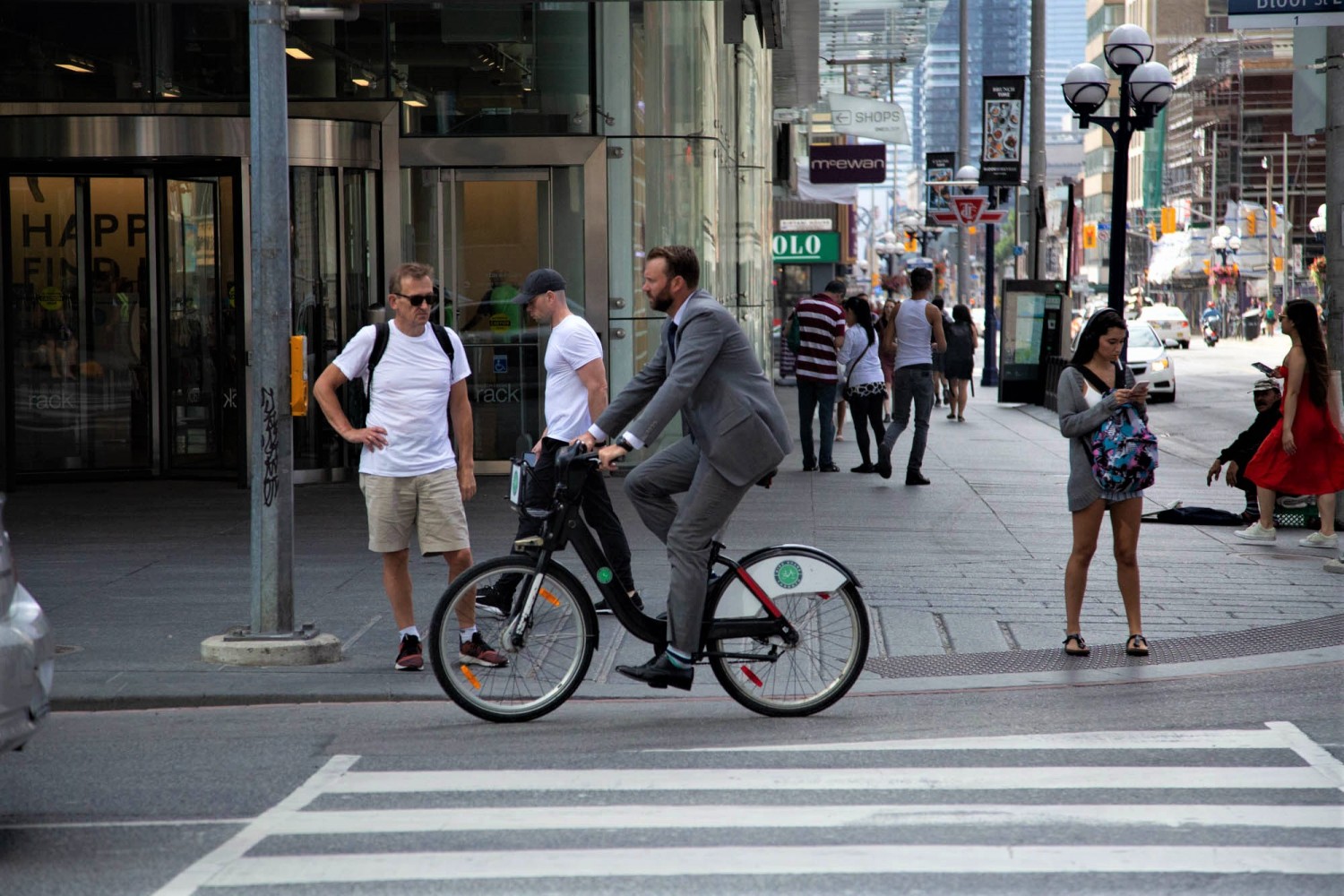 Photos by Joel Wittnebel and Isaac Callan/File photos/Maps City of Mississauga
Mississauga moves toward municipal bike-share scheme as province debates e-scooters 
Cities have long been lending their residents books through the library system, now many in North America offer e-scooters and bikes. Across the continent, municipalities – including Hamilton, Toronto and Calgary – operate systems which allow tourists and locals to rent micro mobility transit for minutes or hours at a time.
Mississauga's current reliance on the car is expensive and harmful to the long term health of its residents. Micro mobility, in the form of bikes and scooters, could be the perfect solution and help drive residents toward public transit by closing the gap between bus stops and people's front doors.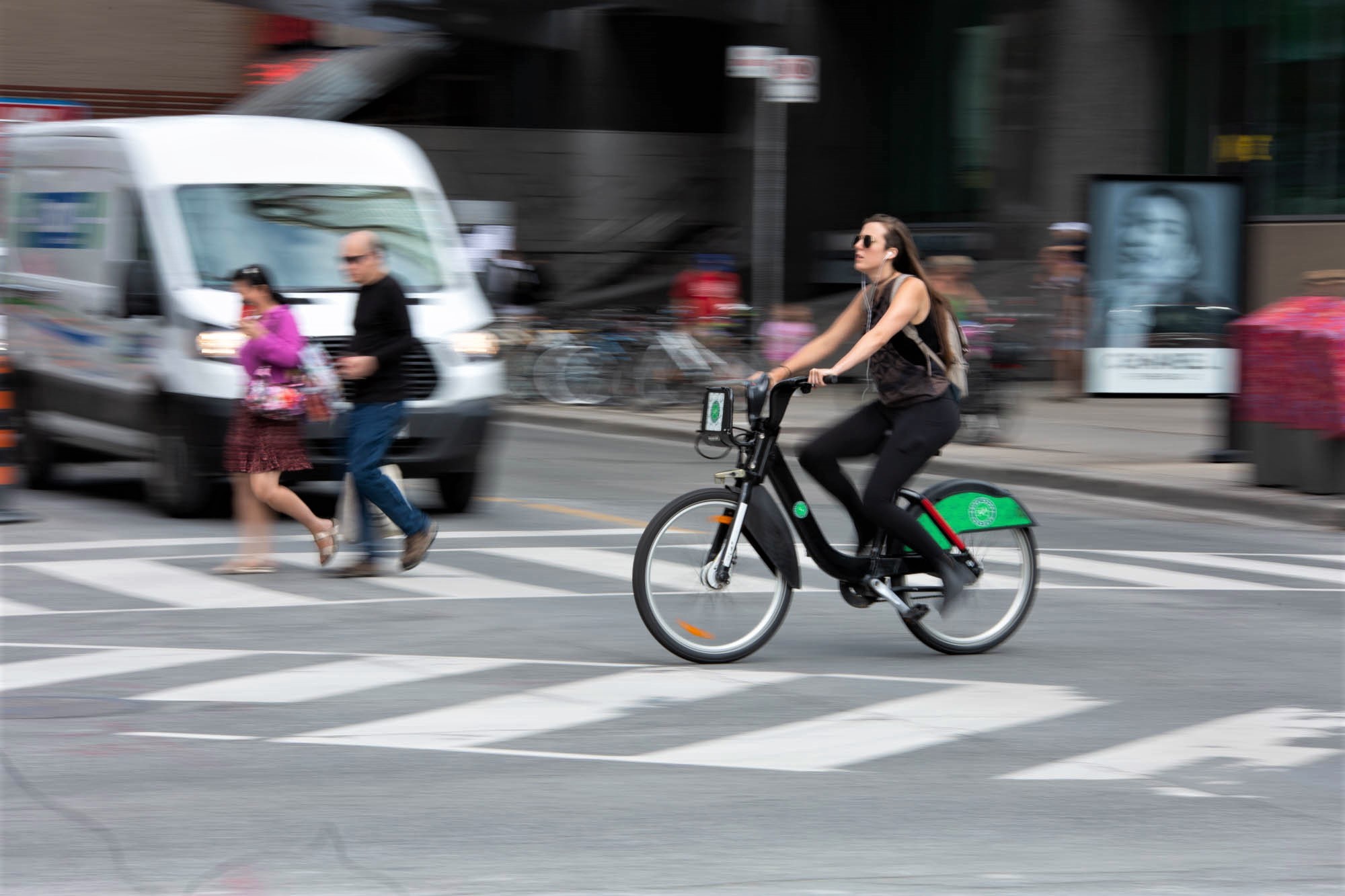 A cyclist in Toronto takes advantage of the city's struggling bike-sharing system
In their infancy, plans are afoot to introduce such a scheme to the city, with staff preparing a final report. Following a presentation by Matthew Sweet, Manager of Active Transportation, Mississauga City Council unanimously voted to have staff build a plan to phase micro mobility into the lives of Mississaugans.
Bike and e-scooter sharing schemes are increasingly popular across the world, as cities look to increase active transport and reduce the number of single occupancy vehicles on the road. Mississauga's micro mobility suggestions consider a reasonable journey to be five kilometres, offering increased connectivity, particularly around GO stations. In particular, current projections suggest this scheme could significantly increase ridership to Clarkson and Cooksville GO.
A Map of the possible bike-sharing alignment with Mississauga's GO stations
The introduction of microtransit systems in a city can take several forms. Some cities, such as Toronto, favour a docking system to rent bikes to citizens. This scheme requires "dumb" bikes to be taken from and returned to "smart" docks. Alternative schemes, such as the one currently operating in Hamilton, opt for dockless bikes, where GPS systems and payment options are located in the bikes themselves. With plans still at an early stage, both options are being explored by Mississauga.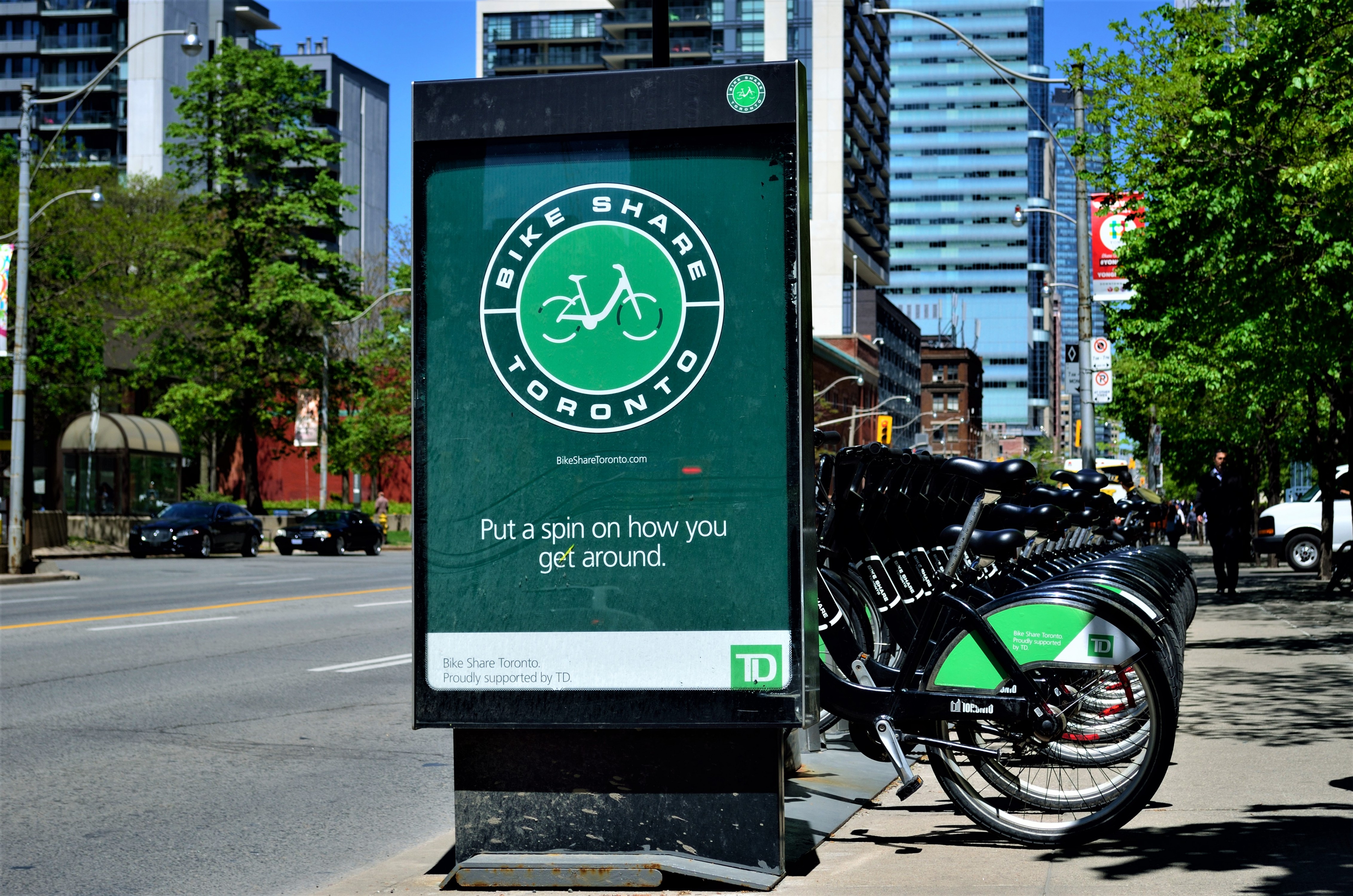 Toronto would like to see its bike-sharing docks empty
Considering the city's diverse population, the presentation also suggested that bike-sharing instructions should be offered in several unofficial languages, alongside considerations for those who are less technologically literate.
However, questions will naturally be raised as to the viability of such a scheme in Mississauga. As a city built around the car, many multi-lane roads are actively hostile to cyclists, making it an environment often dangerous to the amateur cyclist. Cycling infrastructure is being slowly phased into development within the city, though it has yet to be established in any meaningful way.
Another problem is the lack of density throughout most of the city. Aside from the Square One Mall city-centre area, it remains to be seen if enough residents or visitors could sustain a bike and scooter-sharing scheme, if the vast majority of people continue to be forced into cars because of the distances to destinations.
Maps showing the potential for bike-sharing trips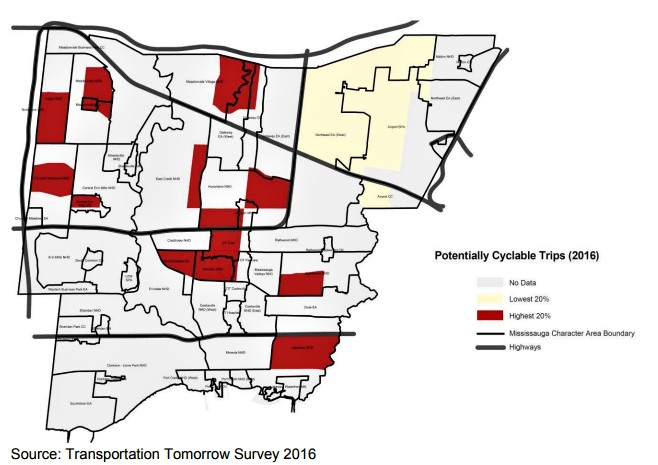 One project which could act as a major active transport asset for the city going forward is the planned Hurontario LRT, which is set to break ground in the spring. The light rail route includes provisions for active transportation, alongside a designated and buffered cycle lane.
If this planning remains consistent as the city continues to develop, Mississauga could begin to turn a corner in its transit psychology at the perfect time. Rapid transit plans for major arteries, particularly Dundas Street and Lakeshore Road, could follow the Hurontario Street model and adopt separate cycle lanes in their redevelopment over the next few years. These changes, known in planning as "complete streets", could begin to embrace micro mobility and short-term bicycle rentals to help the city with its movement of people.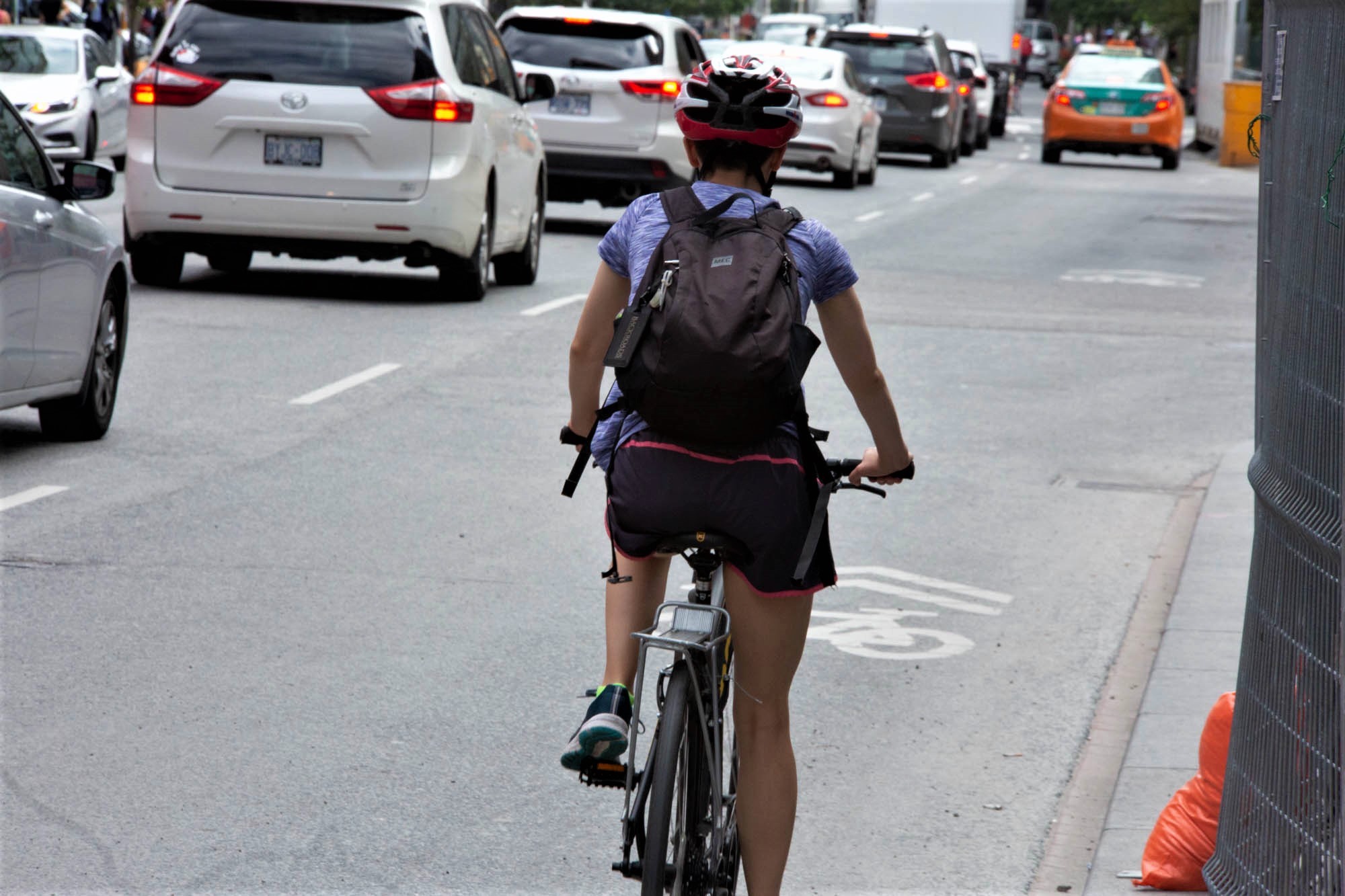 A Toronto cyclist uses a designated bike lane to pass traffic
The target audience for such a mobility scheme would likely be younger citizens who do not own a car or those from low income backgrounds. Asked at the Cycling Advisory Committee in September about the utility of the service for students, Sweet described the demographic as "potentially a key driver." University of Toronto Mississauga actually already operates its own program under the title Bikeshare, which allows students to rent bikes for 48 hours free of charge. However, the ability to drop bikes off throughout the city under a municipal service could increase its utility to students even further.
Other forms of micro mobility, particularly e-scooters, are more complicated. Ontario is currently finalizing plans for a five-year pilot program which, as it stands, would allow e-scooters and e-bikes to use bike lanes and roadways, though they would be prohibited from sidewalks and highways. Cities such as Mississauga, that are toying with the introduction of e-scooters alongside bike rentals, are keen to bend Premier Doug Ford's ear on the topic.
"Society is moving in that direction, the province is doing a review and we need to be out ahead of that. I think that City of Mississauga representatives and staff need to be at the provincial consultations," Councillor Chris Fonseca told The Pointer. "I do believe that if we do our due diligence right now and take the necessary steps to put a framework in place, we will be in the best position to ensure 'vision zero' is achieved. That focus is around safety for pedestrians, cyclists, motorists and all other road users. That would include all the micro mobility users as well, so that they are all best protected."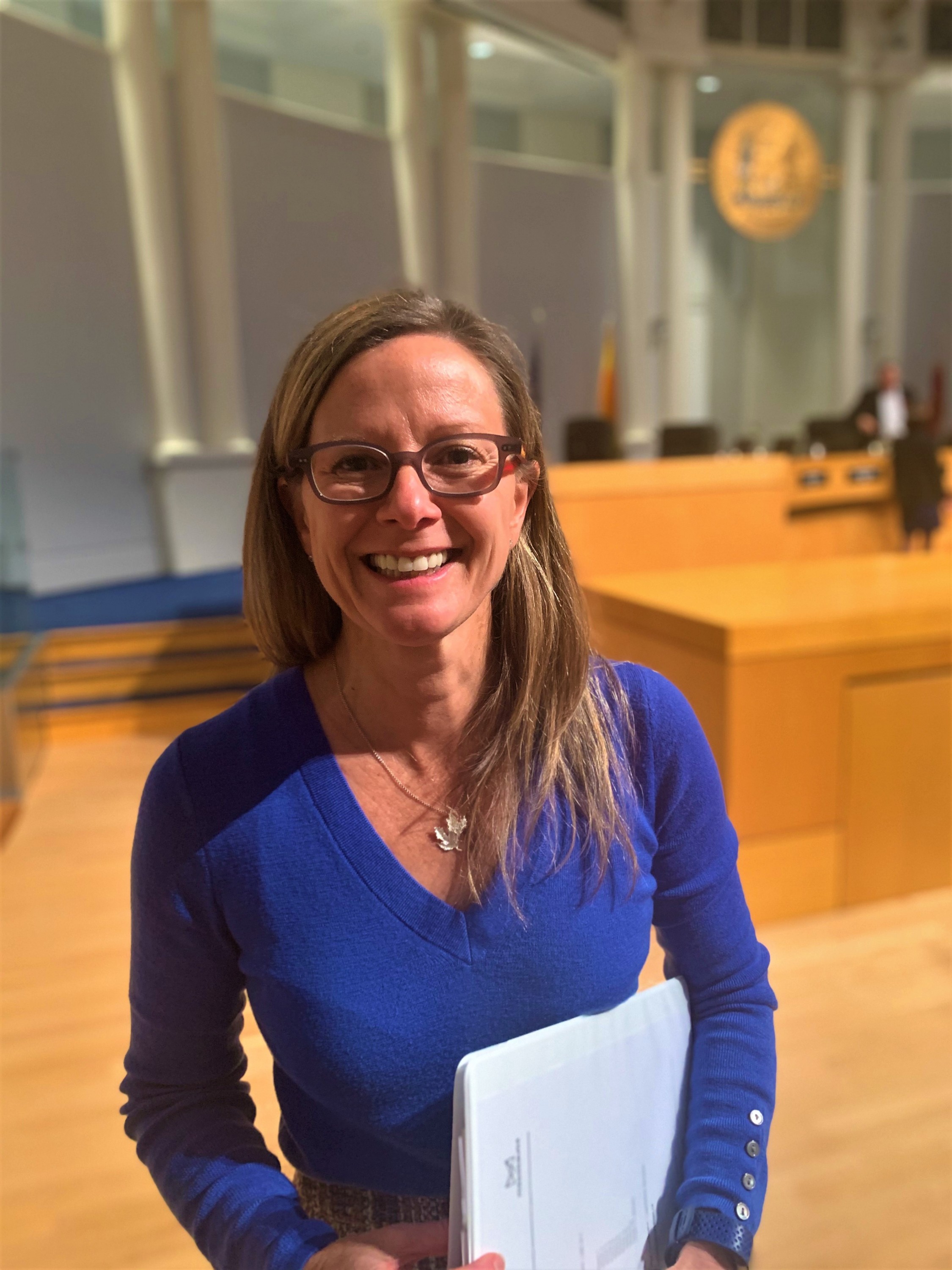 Mississauga Councillor Chris Fonseca
Adding that education and advertising were key to raising public awareness of roadsharing, Fonseca suggested advertising to give cyclists more room on the back of MiWay buses.
In addition to safety concerns, problems with Toronto's already functioning micro mobility scheme act as something of a warning to Mississauga. Though bike rentals are still operational in the city, thanks to a municipal bailout, Toronto's Public Bike Scheme Company filed for bankruptcy in 2013. In 2018, the service had a budgetary gap of $1.1 million, with major branding sponsor TD Bank pulling out of its deal with the service in 2016.
Ultimately, there are many hurdles for Mississauga to surmount before it becomes a successful micro mobility city, something Toronto, with much greater density and a more mature cycling infrastructure, seems to be failing at.
The city could focus bike-sharing around existing transit hubs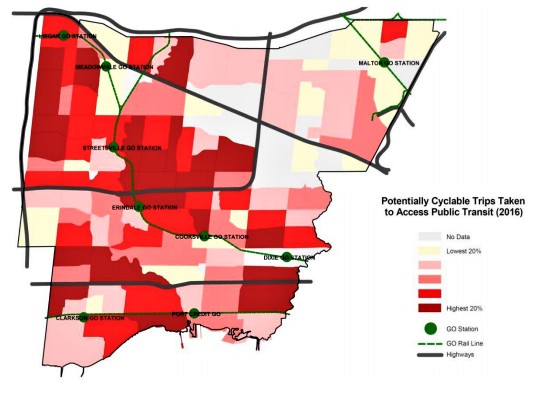 The city will need to coordinate with the province in order to get the provisions it needs put in place, while also considering local issues such as operation of bikes and scooters while intoxicated, inadequate infrastructure and a cultural reliance on the car.
The city is proceeding with its work to decide if micro mobility could be part of a transit revolution in Canada's sixth largest municipality.
Email: [email protected]
Twitter: @isaaccallan
Submit a correction about this story