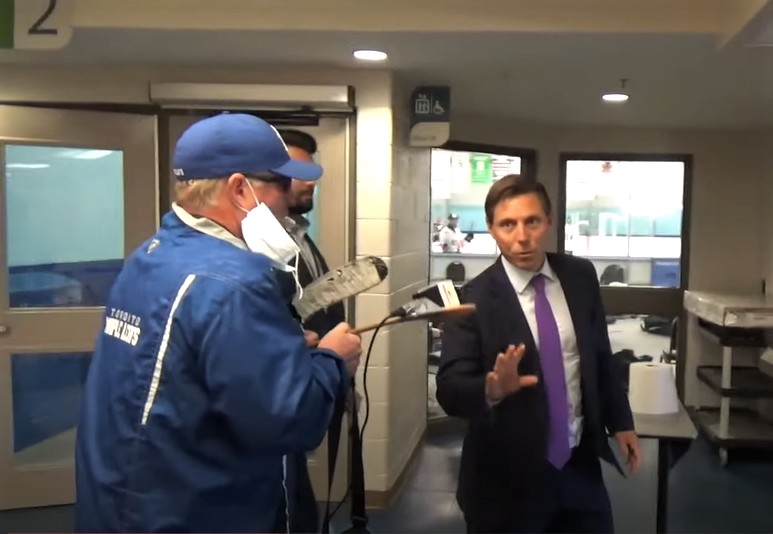 Photos from Rebel News/Patrick Brown
Integrity commissioner's exoneration of Patrick Brown's hockey excursions riddled with inconsistencies 
Over the summer, Rebel News aired a video of Mayor Patrick Brown at an indoor ice rink at Brampton's Earnscliffe Recreation Centre without a mask on. The August 4 video shows Brown standing next to a hockey bag with his name on it.
Rebel News reporter David Menzies was there with a cameraman after someone tipped off the outlet about Brown's weekly attendance at the arena to play hockey with his friends while the general public was not allowed to play under pandemic restrictions at the time.
The camera eventually zooms in on Brown and Menzies is seen in the video asking the mayor, standing right next to the bag with his name on it filled with equipment, if he was there to play a game. Brown appears surprised and slightly frazzled before saying he was only there to check on the facility.
Brown claimed the hockey bag filled with equipment, with his name on it, was not his.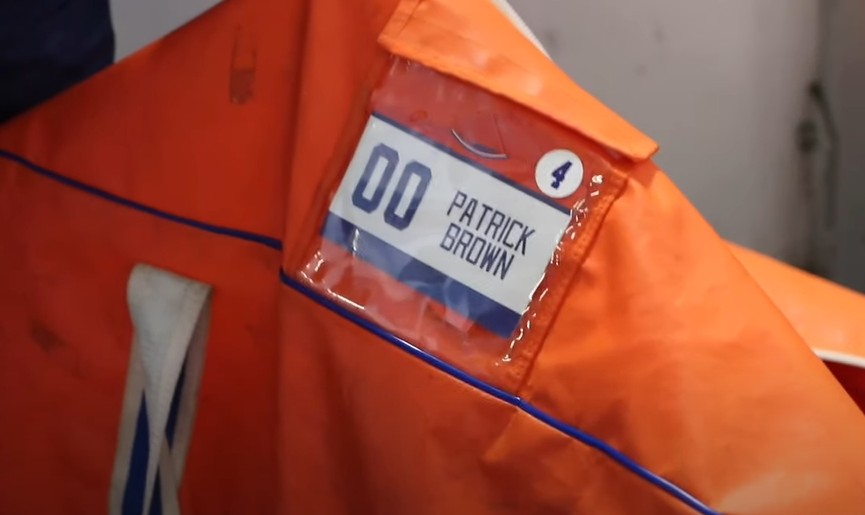 A screengrab from the Rebel News video of the hockey bag Brown claimed was not his.
The video and subsequent ones taken by Rebel News in the following weeks showing Brown at the arena to play hockey went viral, with hundreds of thousands of views. On YouTube and other social media Brown was widely criticized for playing hockey with friends while children and others were not allowed to do the same. Previously, the mayor had repeatedly taken to social media asking residents to socially distance and respect directives to avoid situations where viral transmission in the community could occur.
Rebel News, through lawyer Aaron Rosenberg, filed a complaint to Muneeza Sheikh, Brampton's integrity commissioner, against Brown's actions.
It states Brown "may have violated" numerous rules in the City's Code of Conduct, including number 4 (use of city property) rule 7 (improper use of influence) rule 15 (discreditable conduct) and rule 18 (failure to follow council policies and procedures).
The complaint also suggests Brown might have violated the City's mandatory face covering bylaw, provincial reopening guidelines, and that he might have been involved in altering rules outlining the use of City facilities by the public on the City's website, days after he was caught on video by Rebel News.
Sheikh ruled that Brown did not violate any aspects of the Code of Conduct she was allowed to consider.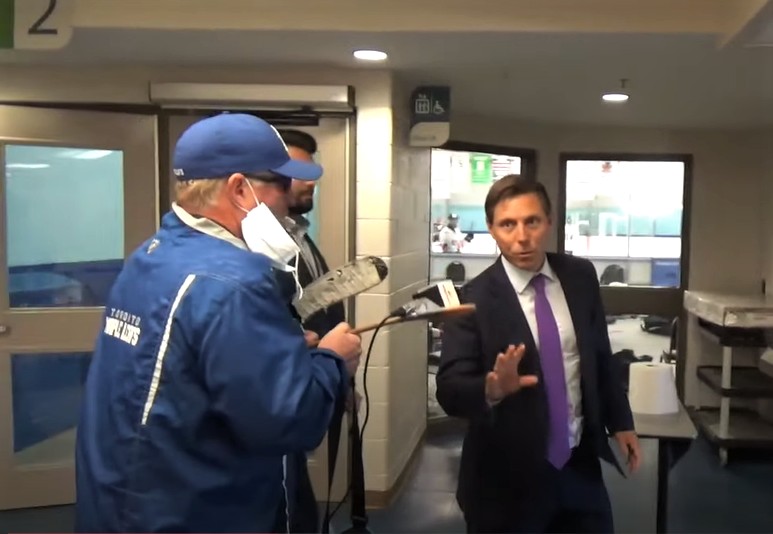 Mayor Brown inside the Earnscliffe Recreation Centre without a mask on.
She was unable to investigate whether Brown violated provincial restrictions or Brampton's mask bylaw because those are not part of her jurisdiction. She states her mandate is to oversee issues applying to the Code of Conduct, City bylaws, and the procedures that cover the ethical conduct of council members. Examining if a member of council did something illegal or breached a City bylaw that doesn't relate to the Code of Conduct is not under her purview, she writes in her report.
"I conclude that I was expected to infer that if Mayor Brown had violated the Mask Bylaw, the Emergency Orders, and/or had ordered the website to be altered, he was also guilty of violating the above Rules of the Code."
It's unclear why she excluded the application of rules 7 and 15 of the Code of Conduct, which prevent council members from using undue influence and from behaving in a discreditable way.
The Province's framework showed indoor recreational activities were limited during Stage 2 and were reserved for amateur or professional athletes. Scrimmage games were not allowed. "Indoor recreational activities are not permitted except for indoor driving ranges and rod and gun clubs," the framework said.
Despite this, Brown admitted he had been attending the arena since late June to play hockey. The video taken about six weeks later clearly captured a game being played.
In her report, Sheikh implies it's not her jurisdiction to investigate if the City opened arenas before the Province allowed certain types of use at the indoor facilities. What she could examine, for example, was if Brown abused his powers to open the arena for his own use. Given the complaint is focused on activities that happened on August 4, a time when the city was in Stage 3, she believes the City was allowing all residents to rent out arenas on that day for private use.
But Brown admitted he had been using the facility with friends since June 24 when the city was still under Stage 2 restrictions.
It's unclear why Brown played games during Stage 2 when use of indoor facilities was extremely limited and ice rinks weren't open for public use. Sheikh does not address this in her report.
Sheikh also accepts Brown's position that he wasn't there to play hockey but just to drop in "to see his friends". But that is not what he claimed in the video, which captures him saying he was there "just coming to check on our facility". Moments earlier a player in full equipment is asked in the video where Brown is. "He hasn't showed up yet," the man tells Menzies, who then asks if the mayor plays in the game that's going on. "He does," the player says.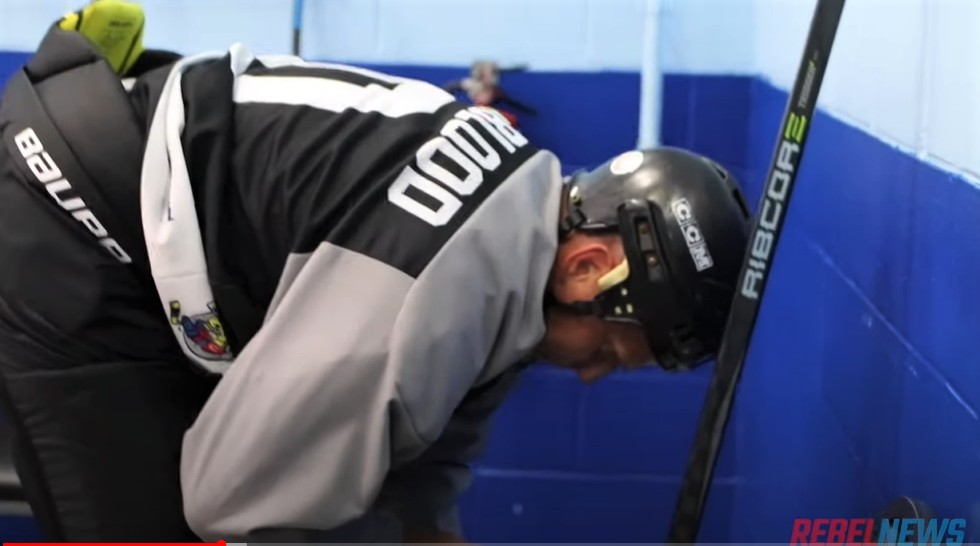 A player at the rink confirmed Brown would be playing in the game on the day Rebel News visited.
But Sheikh, who says she viewed the Rebel News video, chose not to accept what was said in it, and instead accepted what Brown told her when he was interviewed for her probe.
If Brown was there to play a game, he would have showed up before the group's time on the ice started, the report states. The bag with his name on it was being borrowed by a friend, Brown claimed, a statement Sheikh states she confirmed with that friend. However, this is not what Brown said at the time, when he claimed he must have gifted the bag to someone as he frequently receives hockey bags. This did not make sense, as the name card on the bag was removable, inserted into a plastic slip, and it was unclear why someone would keep Brown's removable name card.
Despite the key piece of evidence, Sheikh does not include the name of this individual in the report and there is no explanation for why the hockey bag sitting next to Brown in the video is completely full with equipment, while all the other players are already on the ice playing. There is no explanation by Sheikh as to why the friend would have left a full bag of equipment with Brown's name on it, sitting next to the ice, while the others were already playing.
Nowhere in Sheikh's report does it state Brown was there to check on the facility, as he told Menzies in the video. She also does not mention the name of the staffer who accompanied Brown and drove him to the arena that day, and it does not appear he was interviewed, despite being a key witness.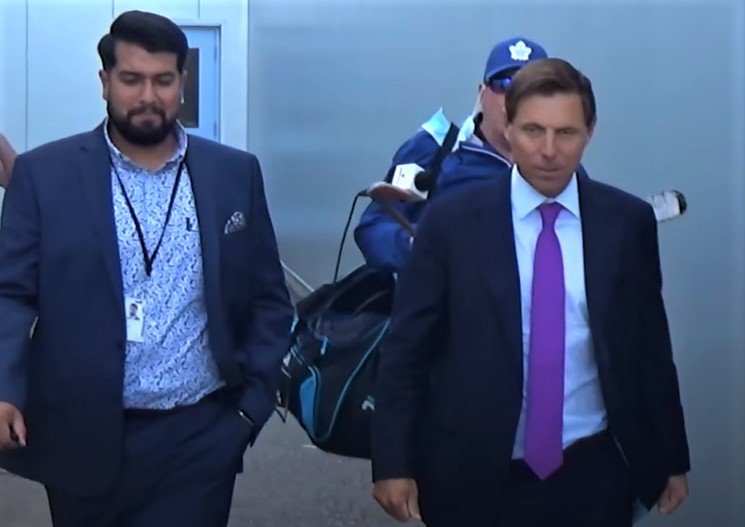 Nick Gahunia, who works in the mayor's office and was present on the day in question, was not interviewed by Brampton's integrity commissioner.
The only part of the complaint Brown agrees with is that he wasn't wearing a mask while inside the facility on August 4.
The director of enforcement and bylaw services claimed at the time that Brown didn't need to wear a mask if a facility is rented for private purposes, and Sheikh accepts this claim in her report.
Examining the City's mask by-law and its amendments, The Pointer was unable to determine how this was the case. Bylaw 135-2020 states masks must be worn in all public establishments including "indoor community, sports and recreational facilities, and clubhouses". Someone engaged in athletic or fitness activities doesn't have to wear a mask, as long as their activity is within the Emergency Orders. There is no mention of private gatherings.
In Sheikh's report, Paul Morrison, the City's director of bylaw enforcement, states if Brown was in the building on August 4 and was a participant, he did not have to wear a mask. Brown reiterated many times in Sheikh's report he was not there to play that day. It's unclear why Sheikh accepted this but also used Morrison's mask justification that only applies to "participants".
Section 12 (7) of the bylaw also stipulates employees of a municipality don't have to wear a mask in an area not for public access. Morrison confirmed this in Sheikh's report, noting "if Mayor Brown was not there as a participant but as an employee or agent of the City of Brampton, Mayor Brown was not required to wear a mask." In no point throughout Sheikh's investigation does Brown state he was there as an employee. He stated he "dropped in to see his friends before returning to his next scheduled event."
On August 8, the day Rebel Media published the video of Brown, the City's website stated the following regarding regulations at facilities: "arenas are open for use by affiliates/major user groups for figure skating and ice hockey training and modified game play." After the video quickly went viral on the 8th, which was a Saturday, the wording on the webpage was changed a day later, on a Sunday.
The updated webpage stated, "City of Brampton Recreation Centers (sic) and indoor facilities are not open for walk-in public use for the safety of the community and to prevent the spread of COVID-19. Arenas are open for use for figure skating and ice hockey training/modified gameplay." The complaint included the apparent cover-up through a changing of the stated rules that would excuse Brown's use, citing it as a possible abuse of power.
Sheikh called this evidence of having the website changed to cover Brown's actions "circumstantial". At the time, a City spokesperson told The Pointer the City regularly updates its website to mirror any changes to City amenities. The change to the website was made by someone on a Sunday, a day after the video was released.
The complaint does not pin the alteration of the webpage to fit Brown's excuse to anyone specifically. Brown said he didn't ask for the website to be changed this way, a statement Sheikh accepted.
Sheikh noted she was unable to examine if Brown broke any of the City's rules in its Code of Conduct because the complainant didn't provide "reasonable and probable grounds" on how Brown's behaviour was a violation of the code.
"It is not the Integrity Commissioner's responsibility to attempt to construct a viable complaint when provided with minimal details and insinuated violations of the Code… The Complaint's ambiguities and deficiencies inevitably affected my decision."
Sheikh suggested the inference of the complaint was "if skating in public arenas was not permitted on August 4, the only reason Mayor Brown could have done so was if he had abused his position to obtain ice time" or "improperly exercised his influence on city officials."
Sheikh does believe it would have been best for Brown to wear a mask while in the arena. "It would have been a small thing to model such socially conscious behaviour to his friends and acquaintances, and any city staff who may have been present." While he didn't apply the "exemplary" standards members are instructed to under the Code of Conduct, she doesn't believe not showing "exemplary" behaviour breaks any rule.
She did not apply the Code's prohibition of discreditable behaviour in her findings, despite all the evidence that Brown changed his story, that he was at the arena to play hockey, despite his claims, and that he violated provincial rules that were in place.
The report fails to address Sheikh's previous ties with Brown and if this represents a conflict of interest. Sheikh's husband's company was paid to do work for the Ontario PCs when Brown was the party leader and she publicly came out in Brown's defence when he faced allegations of sexual misconduct that led to his downfall from provincial politics (Brown denies the allegations).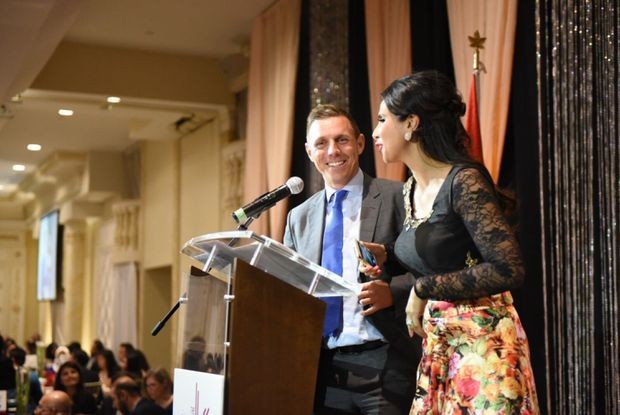 A photo of Patrick Brown and Muneeza Sheikh used on one of Brown's previous campaign websites.
It's unclear how Sheikh, who has no experience in municipal law or as an integrity commissioner, got the job shortly after Brown became mayor.
Duff Conacher, a legal scholar and director with Democracy Watch who is an expert in government accountability, was adamant that Sheikh's ties to Brown taint her credibility as Brampton's integrity commissioner.
"An integrity commissioner is essentially a judge for members of council on ethics issues and cannot have even the appearance of bias. And her relationship with Patrick Brown crosses the line, and as a result she will have to step aside and let someone else be the decision maker if there's any complaints filed about him," Conacher told CBC News after she was hired. Brampton's previous integrity commissioner, Guy Giorno, resigned in the weeks after Brown's election stating that because the two knew each other and had worked together in the past, the connection could be perceived as a conflict.
Sheikh's report was not discussed at Wednesday's council meeting. Council voted to discuss matters relating to the integrity commissioner at a council date next month when she would be present to answer any questions.
---
Email: [email protected]
Twitter: @nida_zafar
Tel: 416 890-7643
---
COVID-19 is impacting all Canadians. At a time when vital public information is needed by everyone, The Pointer has taken down our paywall on all stories relating to the pandemic and those of public interest to ensure every resident of Brampton and Mississauga has access to the facts. For those who are able, we encourage you to consider a subscription. This will help us report on important public interest issues the community needs to know about now more than ever. You can register for a 30-day free trial HERE. Thereafter, The Pointer will charge $10 a month and you can cancel any time right on the website. Thank you.
Submit a correction about this story