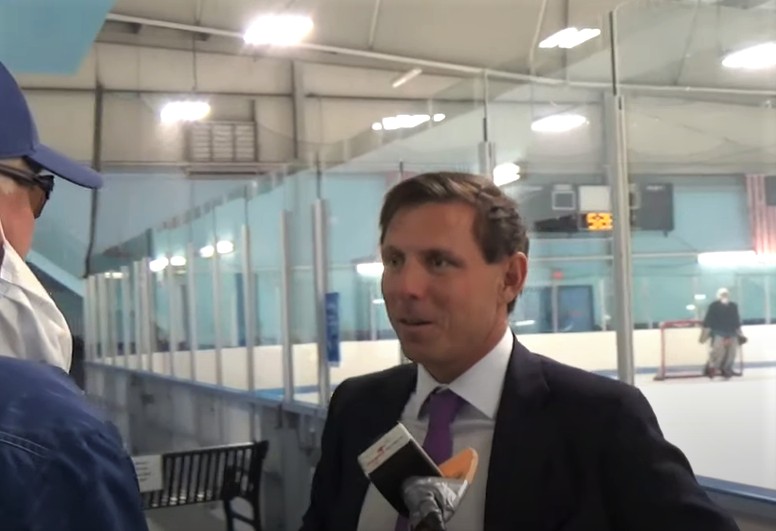 Screengrabs YouTube courtesy Rebel News/City of Brampton
Mayor Patrick Brown's story on visit to indoor hockey rink riddled with inconsistencies
At weekly press conferences that have sprung up since the City of Brampton declared a state of emergency, Mayor Patrick Brown has repeated a similar message exhorting residents to keep themselves and others safe.
At the most recent press conference on August 5, Brown said Brampton's decreasing daily case counts, in comparison to when higher infection numbers in the city were the norm, were why residents need to remain "diligent" if everyone wanted to see a return to normal life, adding that the city's mandatory face covering bylaw goes a long way to achieving the collective goal.
It states everyone in a public indoor space has to wear a mask. Now, questions are swirling after the release of a video shot later the same day that shows Brown ignoring his own strong words.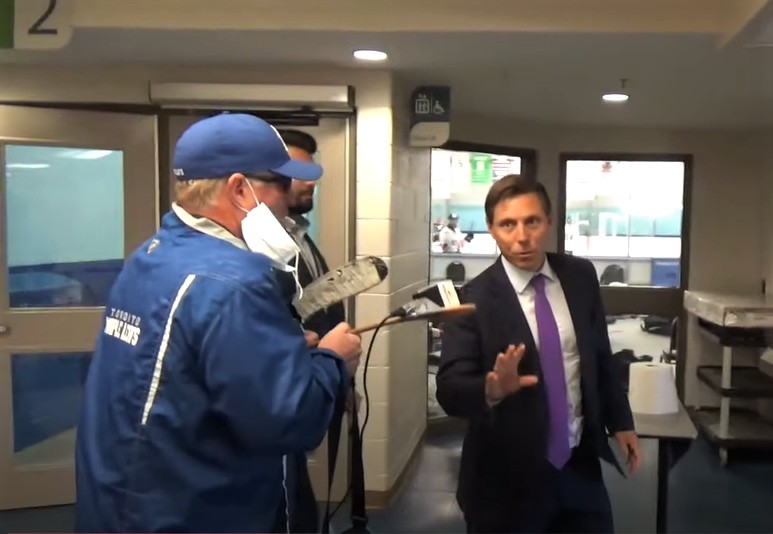 A Rebel News video shows Mayor Patrick Brown this past Wednesday at an indoor Brampton ice rink
On Saturday, Rebel News published a video that has since been widely circulated showing Mayor Brown inside the hockey arena at Brampton's Earnscliffe Recreation Centre with no mask, allegedly getting ready to play a pick-up game with friends.
Brown is first shown leaning over next to a hockey bag and two sticks, but stands up when his name is called out.
When asked by Rebel News reporter David Menzies what he was doing there, Brown, who looked surprised to see the camera, responds.
"So, you play hockey here?" he's asked.
"No, I'm just coming to check on our facility," Brown replies.
Menzies said earlier in the published report that Rebel News received a tip stating the mayor was there every Wednesday at 5 p.m. to play hockey with friends.
Brown is shown standing next to Nick Gahunia, his strategic advisor in the mayor's office. Neither are wearing masks. They walk out of the arena, get into a car driven by Gahunia and drive away, as Menzies continues to ask questions with the camera capturing the entire sequence.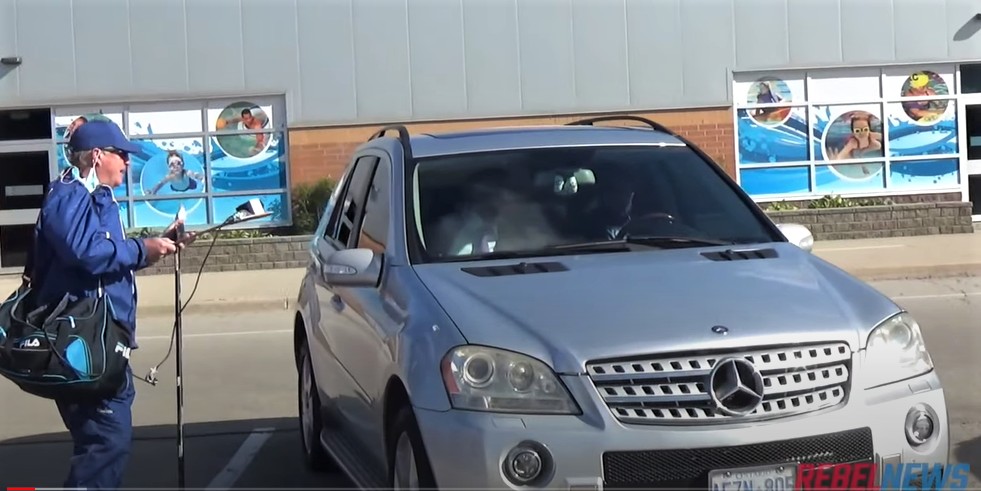 City Hall employee Nick Gahunia and Patrick Brown leave the arena
Brown provided a statement and responded to a question from The Pointer.
"Our arenas have been open for rentals since June 24th when we entered stage 2. It took us 5 days to prepare but by June 29th the city was operational," he wrote in a message Saturday evening. "I have been playing once a week since then. Under stage 2 it was limited to training and drills."
Brampton entered Stage 2 on June 24.
The Stage 2 "Framework" published on the Government of Ontario website for businesses and municipalities, states: "Outdoor-only recreational facilities that operate low-contact attractions and activities will be allowed to reopen… Indoor recreational activities are not permitted except for indoor driving ranges and rod and gun clubs."
It's unclear why Brown has been playing pick-up games since the end of June when the provincial guidelines did not state anything about allowing indoor hockey in Brampton until a month later, when the city entered Stage 3.
In the video Brown denied he was there at the rink that day to play hockey. But when asked about it, one player who was approached before Brown arrived, contradicts Brown's claim of being there to check on the facility.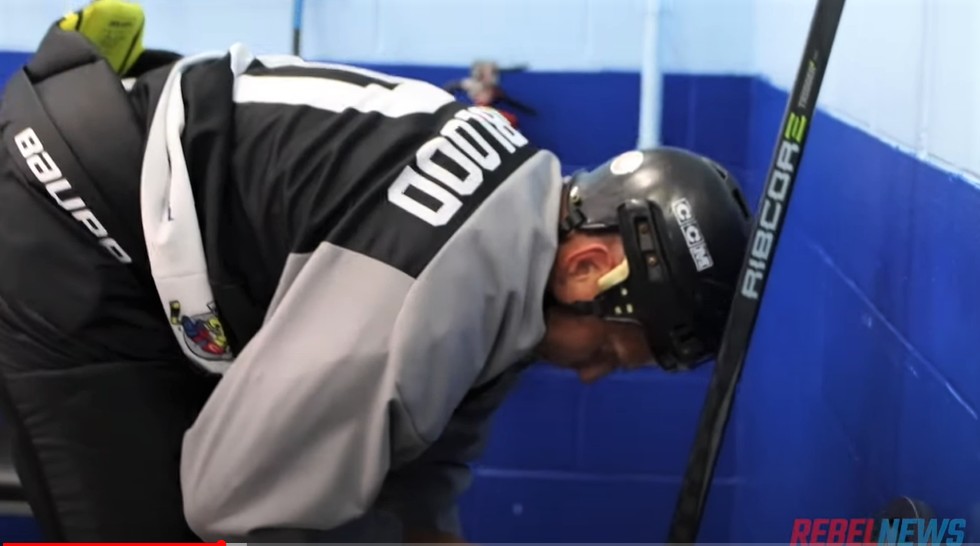 The player who confirmed Brown plays in his pick-up game
When asked where Brown was, the player responds, "he hasn't shown up yet." When asked if Brown plays in the pick up game, the man says, "he does."
Unlike his claim in the video that he was there to "check on our facility", he told the Brampton Guardian he went to say "hi to friends" at the end of the scheduled pick-up game, arriving around 5:50. But the digital clock in the arena visible in the video when Brown is first shown says the time was 5:25.
Being there just to say hi to friends would appear to violate the City's rules for the use of the indoor arenas, which state there is no lingering allowed. It's also unclear why a taxpayer-funded staffer inside City Hall would drive and escort the mayor inside just for a social visit.
Brown told The Pointer he had played the day before, and had the camera crew been there they would have seen him skating.
The mayor told NewsTalk 1010 Monday morning, referring to the day the video was shot, "I wasn't able to play that day" and that he does play "once a week" with his buddies.
In the video, Brown said he was not there to play that day, but after he rushed away the cameraman returns and shows the hockey bag where Brown had been leaning over, which has a plastic slip allowing the owner to insert a name tag. The camera zooms in to show that the name tag inserted into the transparent pocket says "Patrick Brown 00". He told The Pointer it must have been a bag being used by one of his friends who he had given it to, as he receives a "bunch" of them. It's unclear why the name tag was not changed and why the video shows the bag was clearly still full, with the zipper open showing the equipment and pads still inside.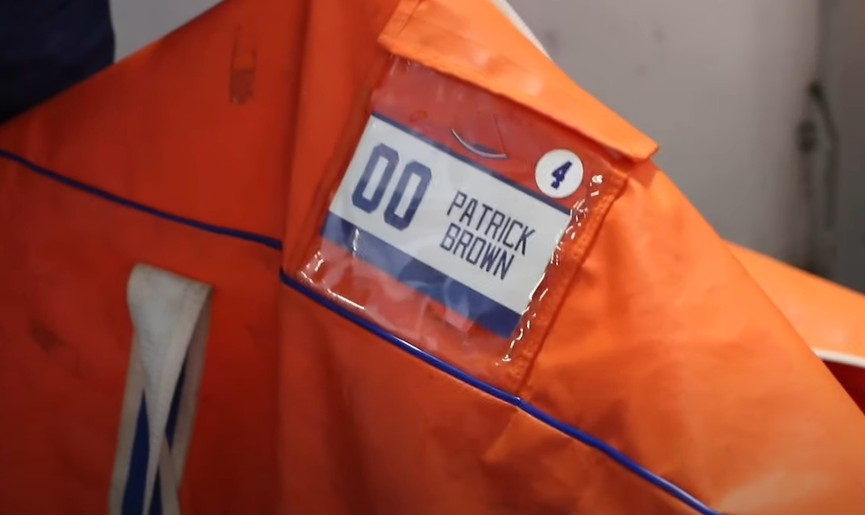 The hockey bag shown in the video
It's unclear why staffer Nick Gahunia, who also wasn't wearing a mask, accompanied Brown. Questions relating to Gahunia were not answered by the City on Monday.
Since the video was released, Brown has stated he has done nothing wrong. It's unclear why Brown left the rink in a hurry escorted by an employee.
The province's Stage 3 "Framework" states: "In Stage 2, outdoor recreational facilities that operate low-contact attractions and activities were allowed to reopen. Indoor recreational activities can resume in Stage 3." It adds: "Amateur and recreational sports leagues may resume so long as they do not allow prolonged or deliberate physical contact between players or if they have modifications to avoid physical contact between players."
Gary Collins, the director of communications for Brown, told The Pointer the mayor is not part of any team or league and Brown himself has said he plays "pick-up," or informal, games.
Brown has also been questioned about why he was not wearing a mask inside the public facility. A City spokesperson told The Pointer a face covering is "not required at a private event where the public are not invited or permitted access."
This response appears to contradict public health guidelines and the City's own rules to keep people safe.
The Mandatory Face Coverings bylaw that took effect July 10 states every person has to wear a mask when visiting a public establishment, whether or not a fee is charged. The bylaw says this does not include "portions of community centers (sic), arenas or other buildings that are being used for the purpose of providing day camps for children or for the training of amateur or professional athletes."
After the mandatory bylaw was passed by Council, Brown warned residents during one of his frequent COVID-19 press conferences that wearing a face covering was no longer just a "recommendation".
Mississauga's similar bylaw states all players entering an indoor facility must wear a face covering, which can only be removed when they are taking part in a sport, Catherine Monast, a spokesperson for the City of Mississauga told The Pointer. The covering must be put back on when they are finished with the activity, under all circumstances including when a City facility is rented.
In the video, all City staff and security personnel in the arena are wearing masks.
Since its release and subsequent questions about whether rules have been followed, the City of Brampton's webpage for guidelines around the use of facility rentals has been altered. On Saturday, the day the video was posted, the City's website stated "arenas are open for use by affiliates/major user groups for figure skating and ice hockey training and modified game play."
According to Google, it appears the page was changed the next day.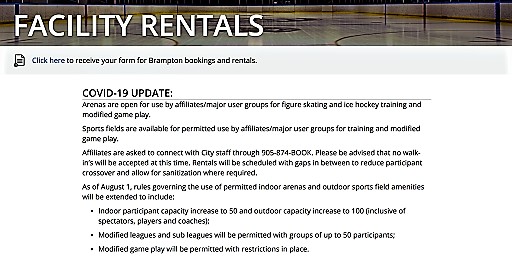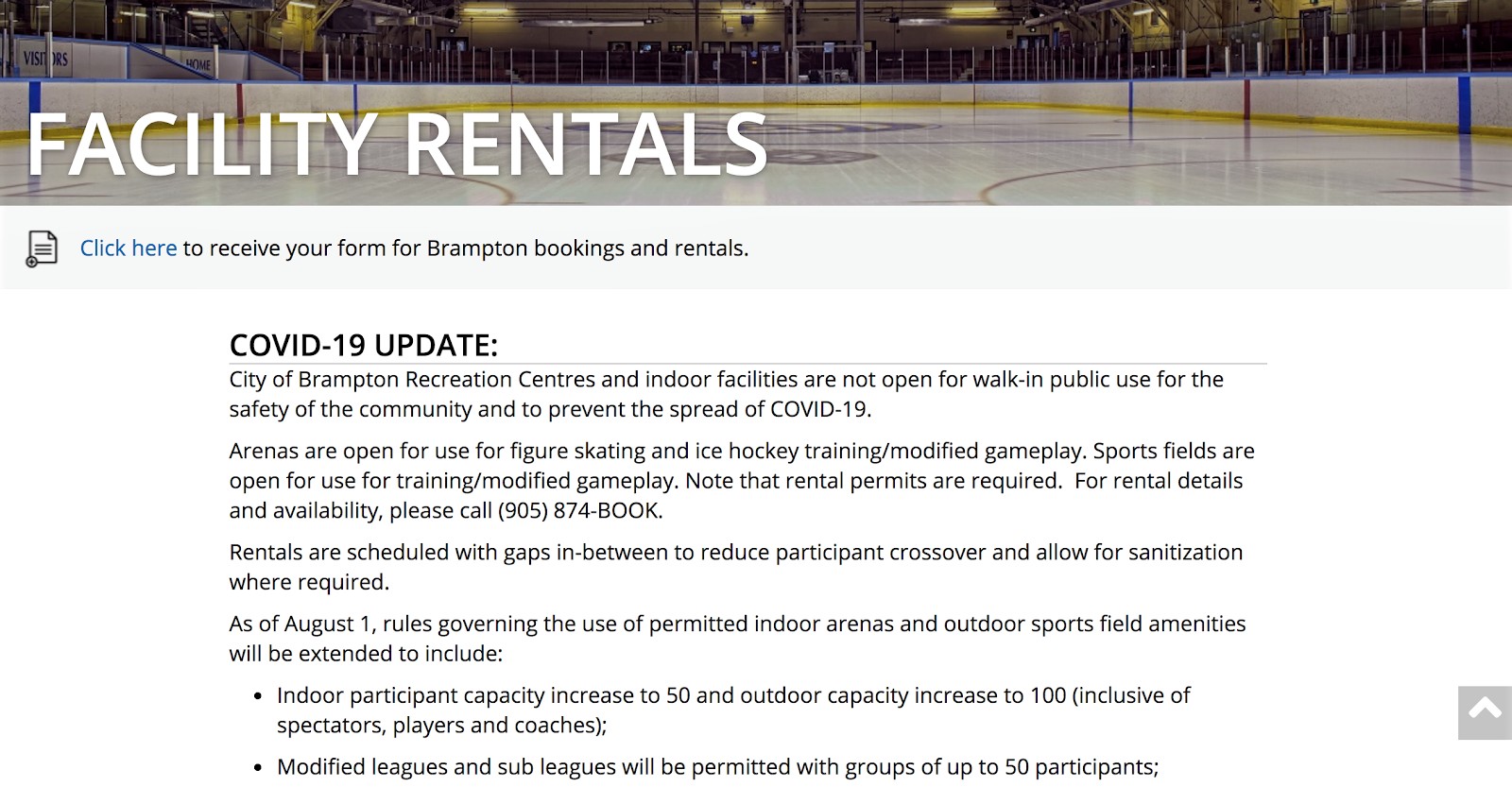 The City's Facility Rentals webpage Saturday, above, and the same page on Monday, below, after it was changed on Sunday
As of Monday, a different statement was on the same City webpage. "City of Brampton Recreation Centers (sic) and indoor facilities are not open for walk-in public use for the safety of the community and to prevent the spread of COVID-19. Arenas are open for use for figure skating and ice hockey training/modified gameplay," the website now states. Asked why the page was changed right after the release of the video, the spokesperson said the City regularly updates its website to reflect updates on the city and its amenities. It appears the change was made on a Sunday, but the City did not tell The Pointer when it was done.
On the day the video was shot, Brown had been in Council for a regular public meeting to deal with the business of the city. When councillors left for an in camera (closed) session on August 5, they returned, but Brown did not come out with them. Councillor Jeff Bowman (Wards 3 and 4), who is the acting mayor, had to close the session in Brown's absence, not long before he was shown in the video at the ice rink.
Following the exchange between Brown and Rebel News, a member of a private security company, Paladin, appeared and issued members of the media outlet trespass notices, banning them from attending the City's recreational facilities for a year. A City spokesperson told The Pointer the company is contracted by the City "and are authorized to act on behalf of the City with respect to all security matters, including trespass to property."
It's unclear who gave the security guards the authority to ban the media employees for a year.
---
Email: [email protected]
Twitter: @nida_zafar
Tel: 416 890-7643
---
COVID-19 is impacting all Canadians. At a time when vital public information is needed by everyone, The Pointer has taken down our paywall on all stories relating to the pandemic and those of public interest to ensure every resident of Brampton and Mississauga has access to the facts. For those who are able, we encourage you to consider a subscription. This will help us report on important public interest issues the community needs to know about now more than ever. You can register for a 30-day free trial HERE. Thereafter, The Pointer will charge $10 a month and you can cancel any time right on the website. Thank you.
Submit a correction about this story