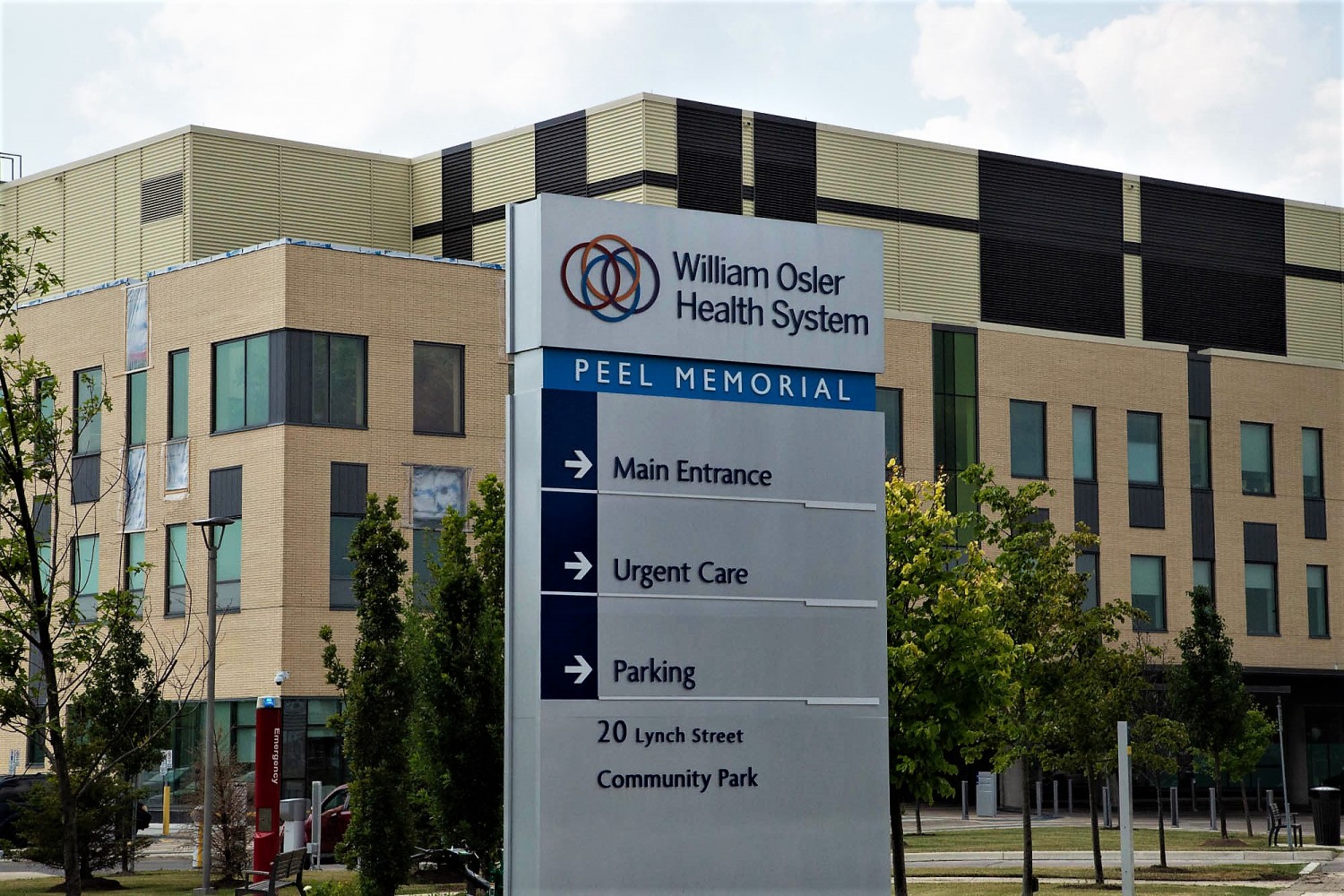 The Pointer file photo
'The fact is, we need way more than what we're getting—we are in a crisis': Anger mounts over Brampton's latest hospital fiasco
"We asked for 850 beds in that motion and we're getting 250 beds in seven years?" Those were the angry words of Brampton Councillor Jeff Bowman Wednesday, as he recalled a resolution of council last year that officially declared a local healthcare emergency and demanded Queen's Park address the city's ongoing hallway medicine crisis.
Earlier this year, Premier Doug Ford came to Brampton and promised that Peel Memorial will be turned into the city's desperately needed second hospital, which was followed by a barrage of social media posts and public appearances by Mayor Patrick Brown trumpeting the announcement of Brampton's second full-service hospital.
Once again, it appears Brampton residents are the victims of more broken promises. And this time they are being asked to pay for something that isn't even close to what they expected.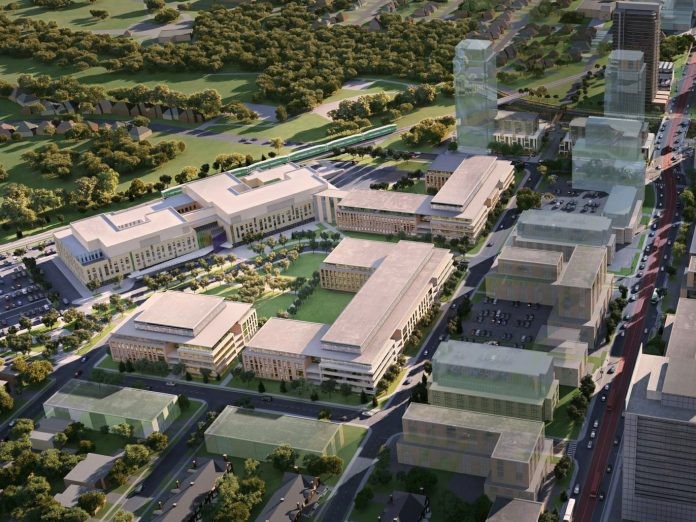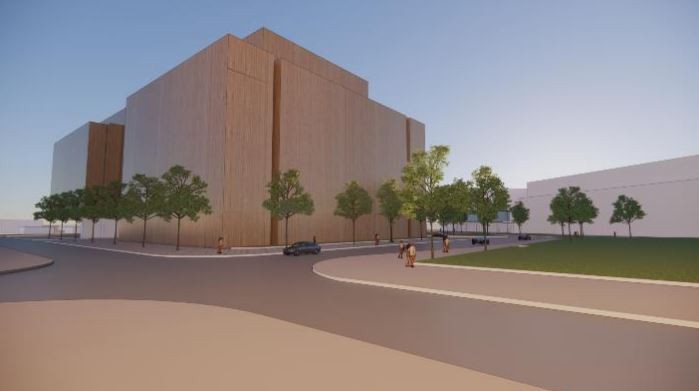 What council members were shown Wednesday, bottom, and an early rendering of what Peel Memorial's future development was supposed to look like, top, when it was presented years ago.
(William Osler Health System)
A last-minute staff report on the proposed Phase-2 development of Peel Memorial had been rushed onto the meeting agenda Wednesday and elected officials didn't even have time to read it when the document was provided to them in the morning, moments before the council session started.
When they did flip through it, a presentation by William Osler Health, which manages Brampton Civic, the city's lone hospital, and Memorial, an integrated facility that has no inpatient beds, no full-service medical units, only minor day-surgical capacity and no emergency department, created more doubt about what taxpayers are now being asked to pay for.
Staff told council members that a $125 million share for Memorial's expansion will have to be covered locally, by Brampton taxpayers. The Province has yet to put any money in its budget for the project, but did mention it as part of the ten-year capital plan.
"I think it'd be irresponsible of me to make a decision involving $125 million today because I've had no time whatsoever to go through the report," Councillor Michael Palleschi said.
When Osler's CEO Dr. Naveed Mohammad told members about the proposed plan, speaking virtually through a video link, some expressed their disappointment over the 250-bed proposal, which did not include any acute-care capacity, leaving some searching to express their frustration.
"I don't know how to put this any other way: we are critical. We are too far behind everybody else. When we get those 250 beds opened, we'll be another 500 beds behind," Bowman said. "We should be pushing this government, right now, before this election, to make sure that when this hospital opens, it has a minimum of 850 beds."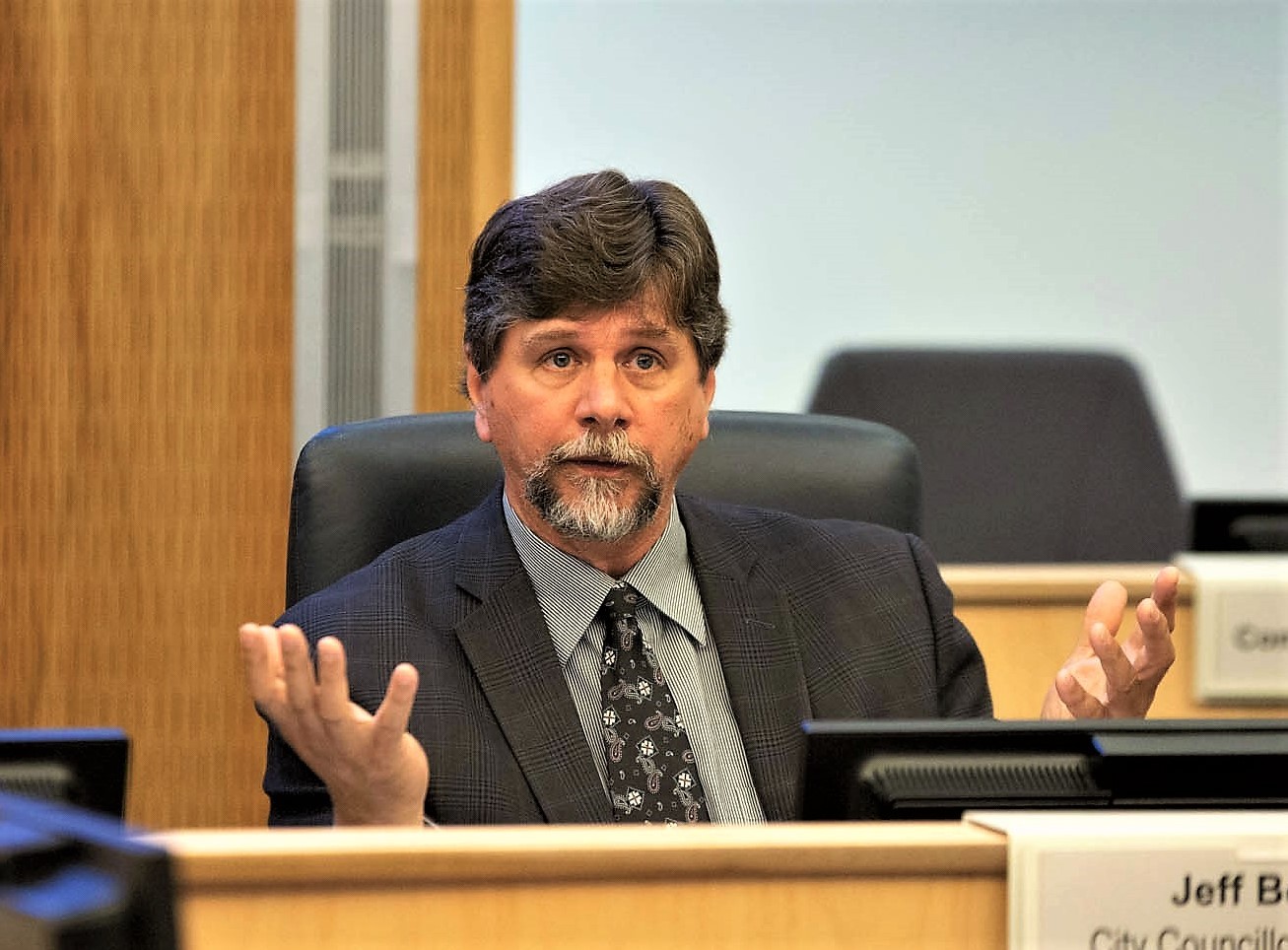 Councillor Jeff Bowman is one of many people who have told The Pointer how angry they are over the proposed Memorial plan.
(The Pointer files)
He later told The Pointer that a full public consultation, with detailed information on exactly what will be delivered by Osler and the provincial government, has to be held before any local funding commitments are made.
"How is it possible that the residents and those frontline workers who have worked so hard in Civic and Peel Memorial for the past several years are expected to accept this gross inequity for another 6 years and beyond?" he wrote in an email Friday. "I asked for a public meeting to be held prior to budget to inform residents what they will be getting in real terms for the levy of a possible 125 million dollars."
Councillor Pat Fortini, who has demanded the City take responsibility for its local funding requirement, after his wife suffered at Civic during the pandemic before he rushed her to Georgetown Hospital where she received proper care, called the announcement "disappointing" shortly after the vague presentation Wednesday.
Councillor Gurpreet Dhillon told The Pointer that Brampton taxpayers were promised a full-service hospital, but that's not what they will get, if the plan even moves forward.
"Brampton taxpayers have paid their fair share for decades, and have been treated like second-class citizens," he wrote in an email Friday, expressing his frustration.
"Though the announcement of an expansion is welcome news, we are still severely behind in the number of beds Brampton requires to meet the provincial per-capita average, and also in the number of medical units required to be considered a 'full' hospital. We will be receiving a handful of inpatient beds, however, the very sick patients will likely be sent to other, full-service hospitals."
Dhillon said his constituents were led to believe the Memorial expansion would go a long way toward finally addressing the city's ongoing hallway healthcare crisis.
"Taxpayers do not mind paying their share of the $125 million, but their expectation is for a hospital that will also treat heart patients, cancer patients, and diabetes patients. Unfortunately, that is not what we're getting."
He said what's needed are hundreds of "acute-care beds", to treat Brampton residents who need immediate treatment and surgery for a wide range of medical issues.
Resident Chris Bejnar, the co-founder of Citizens For a Better Brampton, who for years has advocated to get equitable healthcare funding for the city's taxpayers who contribute to Queen's Park and Ottawa, but don't see that money coming back to their community, could not hide his anger after watching Wednesday's council meeting.
"It was quite shocking to see how Council was trying to pass a motion to what essentially would be the largest tax in our city's history ($120-$125 million), all without having concrete details and plans from the William Osler delegation, and more disturbing without any public consultation or input."
He echoed Bowman's concerns about cutting the public out of a process that so many are desperately relying on.
"Did Council not realize that William Osler's plan is not going to deliver a 24/7 Emergency Department and acute in-patient beds on OPENING day?" he wrote in an email.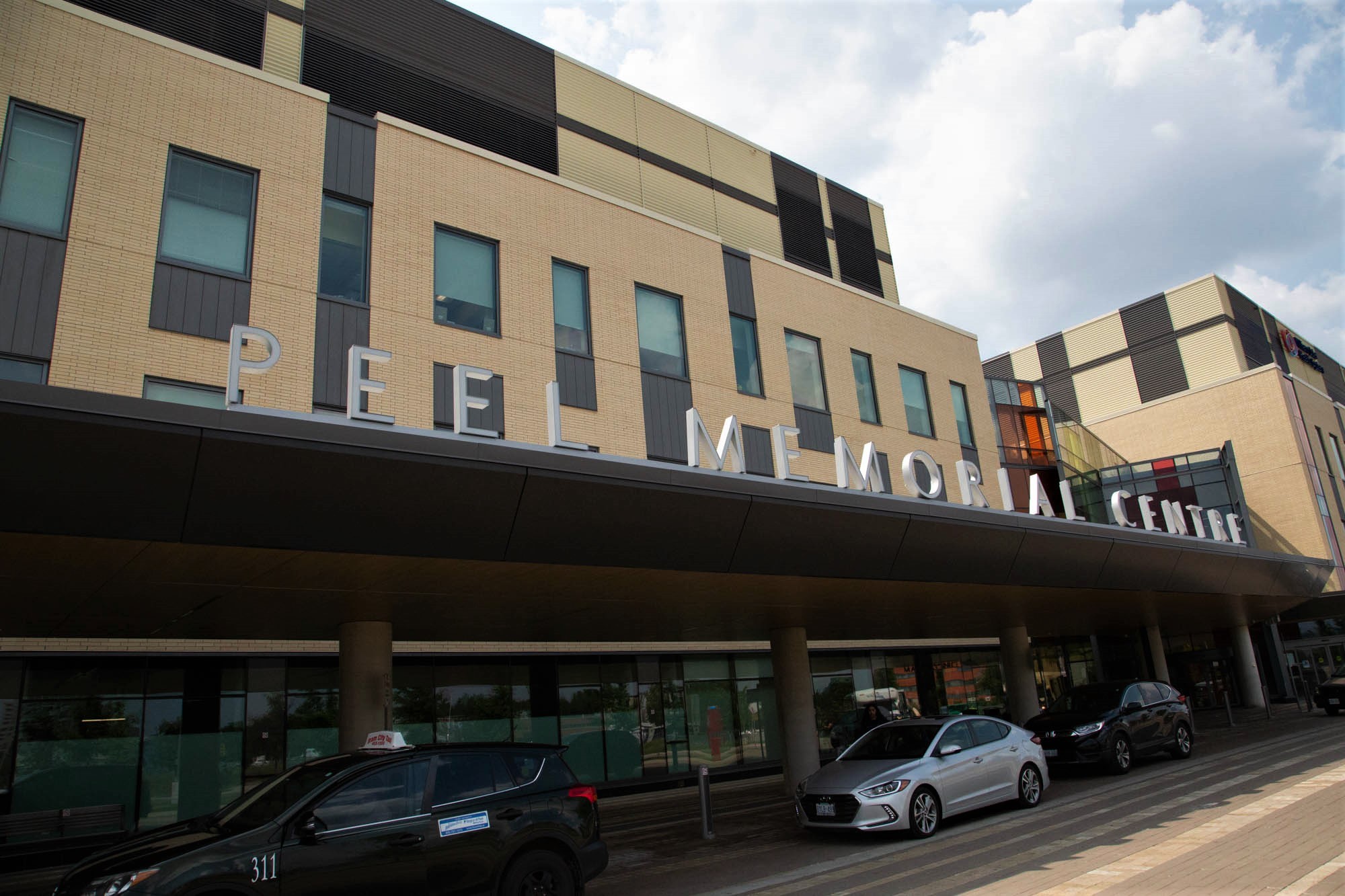 Peel Memorial is not a hospital and will not become one under the proposed phase-2 development.
(The Pointer file photo)
Bejnar met with Osler officials a few weeks ago and confirmed the phase-2 expansion will not turn Memorial into an actual hospital upon its opening.
The 250 beds, he was told, will be for ambulatory care, chronic care and mental health care, with the possibility of 100 acute-care beds years after phase 2 opens.
This might happen eventually, with the proper funding, but Bejnar said Osler has not provided concrete timelines for the project, funding assurances beyond the initial phase-2 development or any commitments toward complete medical units for comprehensive emergency care, cardiac care, acute cancer and diabetes treatments or the types of surgical capacity a large city like Brampton badly needs.
But his biggest frustration is over the lack of an immediate, full-service emergency department and acute-care beds to accommodate the most urgent and common medical needs.
The Canadian Association of Emergency Physicians has described the need for "acute-care" hospital bed capacity, which is what is most crucial to deal with the minute-by-minute medical needs of communities when heart attacks occur, emergency surgery is needed, accidents require immediate procedures, seizure and stroke patients are rushed in, acute respiratory problems often due to the flu and more recently COVID-19 have to be treated, cancer-related problems present themselves, along with a whole host of other maladies that require proper medical units only found in full-service hospitals.
"The lack of acute care beds in Canada means that most hospitals frequently operate at unsustainable occupancy rates of higher than 95%, a level at which regular bed shortages, periodic bed crises, and hospital overcrowding are inevitable. Functioning at capacities above 95% occupancy does not allow for flexibility in the system to accommodate the natural peaks in patient volumes and admissions that will periodically occur," the Association states.
Peel Memorial, under the proposal presented Wednesday, will also not have an Intensive Care Unit to treat the most critically ill patients.
"That these two critical components (an emergency department and acute-care capacity) will only come years later after Phase 2 is completed and new funding is allocated—why didn't Council ask the tough questions… isn't that their job?" Bejnar asked.
Instead, Patrick Brown spent most of his time talking up the 250 beds, even though acute-care wasn't part of the proposal.
"Don't you need these two most basic criteria to create a 'world class hospital' as Doug Ford boldly promised back in March?" Bejnar asked, "so that we can finally get an 'H' on the building? Has Council not learned its lessons from the mistakes made with Phase 1 that literally squandered a few hundred million by not delivering what was needed in the first place?"
"William Osler should have been sent a clear message and sent back to the drawing board. They need to begin challenging the Ford government and the Ministry of Health for what we really need like other Health Networks have been able to achieve. No other community in Ontario has had to raise that kind of money in order to receive equitable healthcare for its citizens?"
Bowman said the same during Wednesday's meeting.
"We should be pushing this government, right now, before this election, to make sure that when this hospital opens, it has a minimum of 850 beds," he told colleagues.
"The fact is, we need way more than what we're getting—we are in a crisis."
Osler officials told council members that the vast majority, about 70 percent of similar projects, require a local share from the municipality which works out to ten percent of the capital cost.
They were also told this does not include any of the medical equipment that has to fill the entire facility, which has to be completely covered by the City and Osler.
It's unclear how all of this will be paid for. A levy on Brampton taxpayers was one option discussed, along with a strange twist that was brought forward by staff.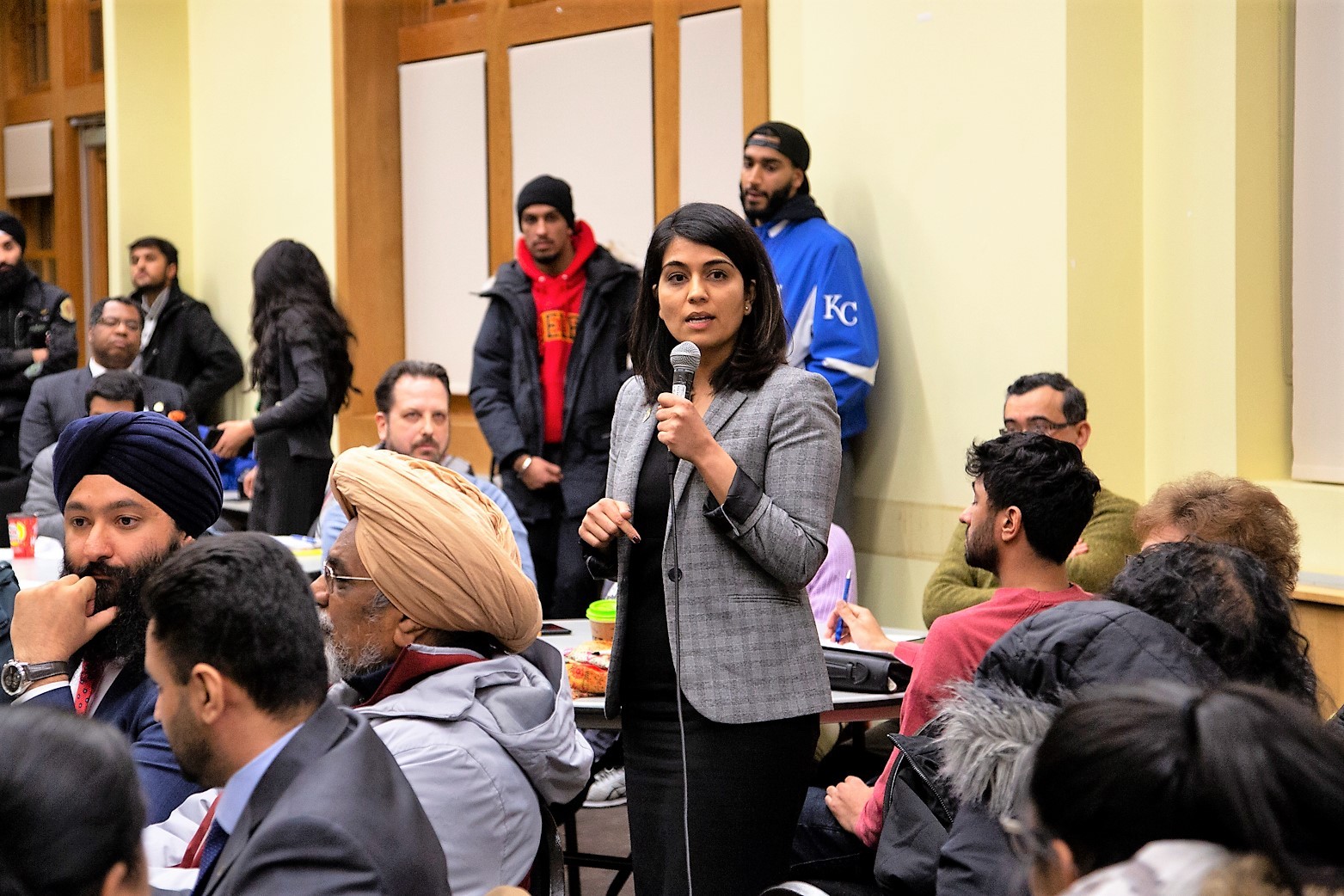 Brampton NDP MPP Sara Singh, pictured at a healthcare townhall in the city two years ago, says the PC government is not being transparent about the Memorial expansion plans.
(The Pointer file photo)
CAO David Barrick included a presentation in the staff report that said one option is to use $50 million that has been found due to capital projects that have not been completed. This could be added to the more than $21 million sitting in a City account from the original Phase-2 levy that was collected last decade, when the project was supposed to have been completed.
Bowman said he was not only shocked to hear about the $50 million from "returned" capital allocations, which are approved and mandated by council, he can't understand how Barrick could have put the money in Wednesday's presentation as an option without even telling elected officials about the so-called found money, or asking for permission to suggest it be used for the Memorial expansion.
Not surprisingly, Brown, who has made it clear that he does not want the appearance of any tax increase (a levy is the same thing) while he is mayor, said he prefers funding options that would find alternatives.
He failed to explain that no matter how anything is funded by the City, it all comes out of the pockets of taxpayers, whether it's from reserve accounts, "found" money or from taking on debt.
It remains unclear why, if other municipalities have sometimes been excused from covering a local share, Brampton, which has far less than half the per capita number of hospital beds compared to the Ontario average, is being forced to come up with at least $125 million.
A motion forwarded by Fortini and passed calls for the Region of Peel to consider paying for part of Brampton's share. If Regional Council agrees, Mississauga could ask for the same, as it plans for its own upcoming hospital expansion, which will be three times the size of the proposed Memorial project.
The NDP has criticized the PC government for its failure to clearly commit to a full hospital expansion as well as another facility in the city that would open as a full-service hospital. The PCs defeated an NDP motion for a separate hospital in Brampton.
"There is very little clarity on what is coming forward," Brampton Centre MPP and NDP Deputy Leader Sara Singh, told The Pointer Friday.
"We still don't see plans for a third hospital coming to Brampton and it's not clear if we will have a full-service ER department coming to Peel Memorial. There don't appear to be any clear dates and we are in an election year, so these could be empty promises. A full-service hospital is what the plans for Peel Memorial were supposed to be and it's not quite clear if we're going to get to that point either."
A full public consultation is supposed to take place before any final decision on the $125 million and the proposed phase-2 plan is made.
The Peel Memorial expansion will be dealt with later this month, as the staff report was referred for discussion when council members and the public have been able to properly digest the document that was rushed onto Wednesday's meeting.
---
Email: [email protected]
Twitter: Anukul_AT
---
COVID-19 is impacting all Canadians. At a time when vital public information is needed by everyone, The Pointer has taken down our paywall on all stories relating to the pandemic and those of public interest to ensure every resident of Brampton and Mississauga has access to the facts. For those who are able, we encourage you to consider a subscription. This will help us report on important public interest issues the community needs to know about now more than ever. You can register for a 30-day free trial HERE. Thereafter, The Pointer will charge $10 a month and you can cancel any time right on the website. Thank you
Submit a correction about this story