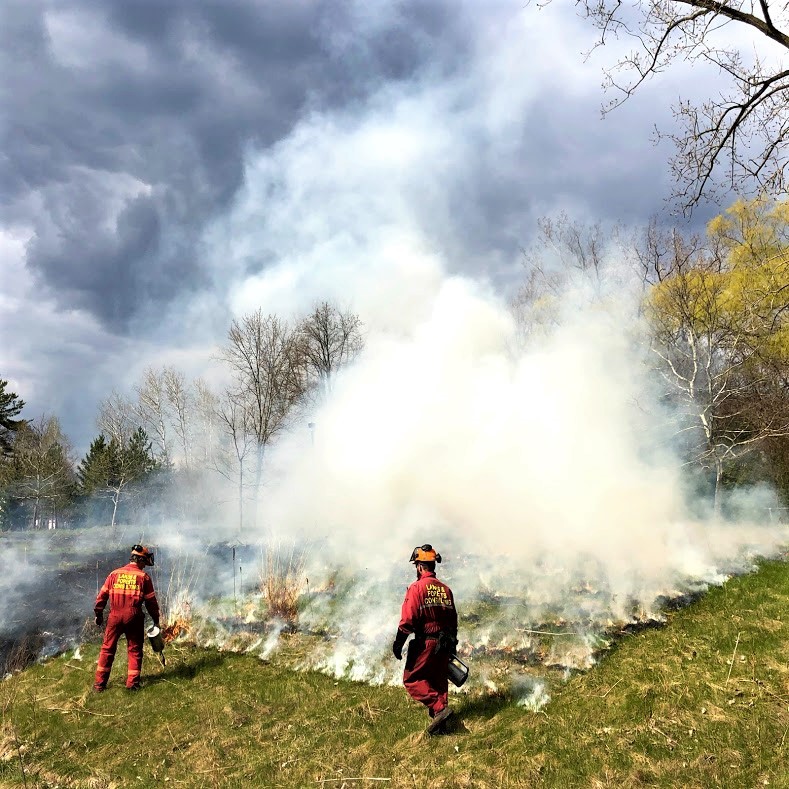 Photos courtesy City of Mississauga/The Pointer files
Mississauga works to preserve its remaining green spaces
At 5 p.m. on April 19, Jack Darling Memorial Park didn't look its best.
Mississauga's grassland prairie, located in the northwest corner of the waterfront park, was completely black. Just hours earlier it had been a green thicket of foliage, blades of yellowing grass and branches blowing in the wind. Then it was gone, its greenery reduced to ash and left lightly smouldering under a darkening grey-blue sky.
The dramatic transition was no accident. It had been planned for weeks.
The frogs, turtles and butterflies that call Jack Darling home were disturbed early that April morning. Staff from the City of Mississauga's forestry department formed a line at the top of the park and began to walk through the grass. The crunch of boots on the cold, dry grass was a warning: "hide". The animals that didn't get the hint were gently removed from their habitat and moved to safety.
With the sweep completed and the park's tiny residents evacuated, fires were lit.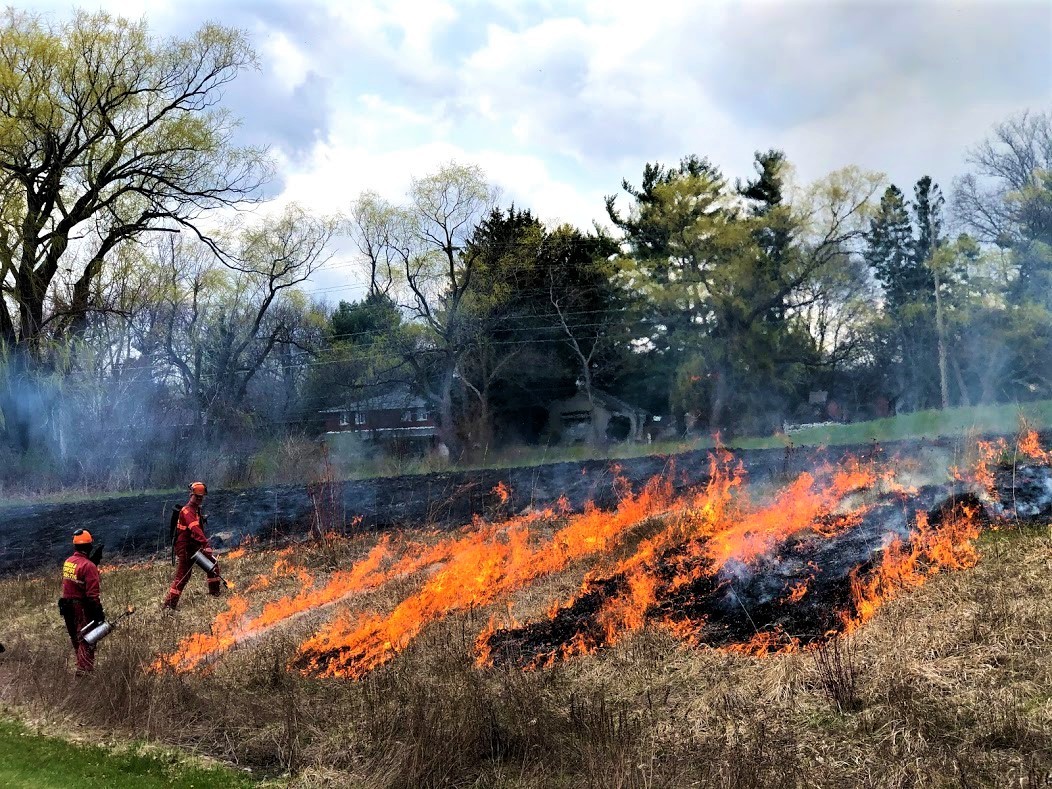 The workers were dressed from head to toe in orange jumpsuits. Strapped to their backs were black bags, attached to metal handheld drip torches. The wicks poked out above the ground. As the oily rags caught fire, staff began to work, slowly and methodically pouring the flames onto the grass.
Through the afternoon, the team carefully burned the prairie, cutting strips of blackened ash from a canvas of green.
"The reason that we burn the tall grass prairies at Jack Darling is because periodic fires are an important component to maintain and enhance tall grass prairie ecosystems' Felicia Radassao, woodlands and natural areas technician for the City of Mississauga, told The Pointer. "The burn is used to maintain the health of it as well as to control non-native invasive plants, as well as the introduction of woody plants coming in. Basically a fire helps to maintain a prairie to stay as a prairie rather than to transition into a thicket and then into a forest."

Staff complete the prescribed burn at Jack Darling Memorial Park (Photo City of Mississauga)
In decades and centuries past, the area was a natural tallgrass prairie adorning the edges of Lake Ontario. It grew wild and free, tamed by extreme changes in weather or Indigenous stewards of the land lighting a spark.
Jack Darling is now a tiny oasis of nature beheaded by Lakeshore Road, with several ribbons of asphalt laid throughout for cars to park. To maintain the patch of prairie in a healthy state that mimics nature as much as possible, a burn is scheduled once every three years, recently in 2012, 2014, 2017 and now.
The prairie sits along the waterfront, an area at the heart of Mississauga's ambitious new development plans. Three kilometres to the west, the site for Brightwater will feature around 3,000 new units when it's completed and Lakeview Village, another five kilometres west, will create roughly 8,000 homes. Jack Darling will offer a small dose of nature for residents in condominiums and towers along the waterfront.
Unlike a natural prairie, the small area of Jack Darling Memorial Park is under constant threat from invasive species.
"Because Jack Darling is a city park surrounded by urban development, there's always potential for non-native invasive plants to be carried in by birds or air or water," Radassao explained. "Because of the shape, and the amount of edge to the prairie site, it makes it easier for non-native plants to enter the site, which is part of why burns are used. To maintain it to be a prairie."
The City's fight against invasive species on behalf of nature extends beyond prescribed burns. Last week, Mississauga launched its annual campaign to reduce the number of gypsy moth caterpillars in the city. Caterpillars feed on the leaves of oaks and other deciduous species, leading to weakened trees that can even die.
An Interactive Treatment Map and a Reporting Form has been launched to show the publicly-owned trees along specific streets and in certain parks proposed for treatment. Staff and contractors will be applying pest management strategies.
Maintaining nature's chaotic perfection in the midst of a rapidly growing city is hard. The burn at Jack Darling takes hours of careful planning, layers of protective equipment and the perfect mix of diesel and gasoline to keep a small area healthy. The meticulous work is part of a broader project in Mississauga to maintain wild and natural spaces as towers of steel, glass and concrete sprout around the booming city.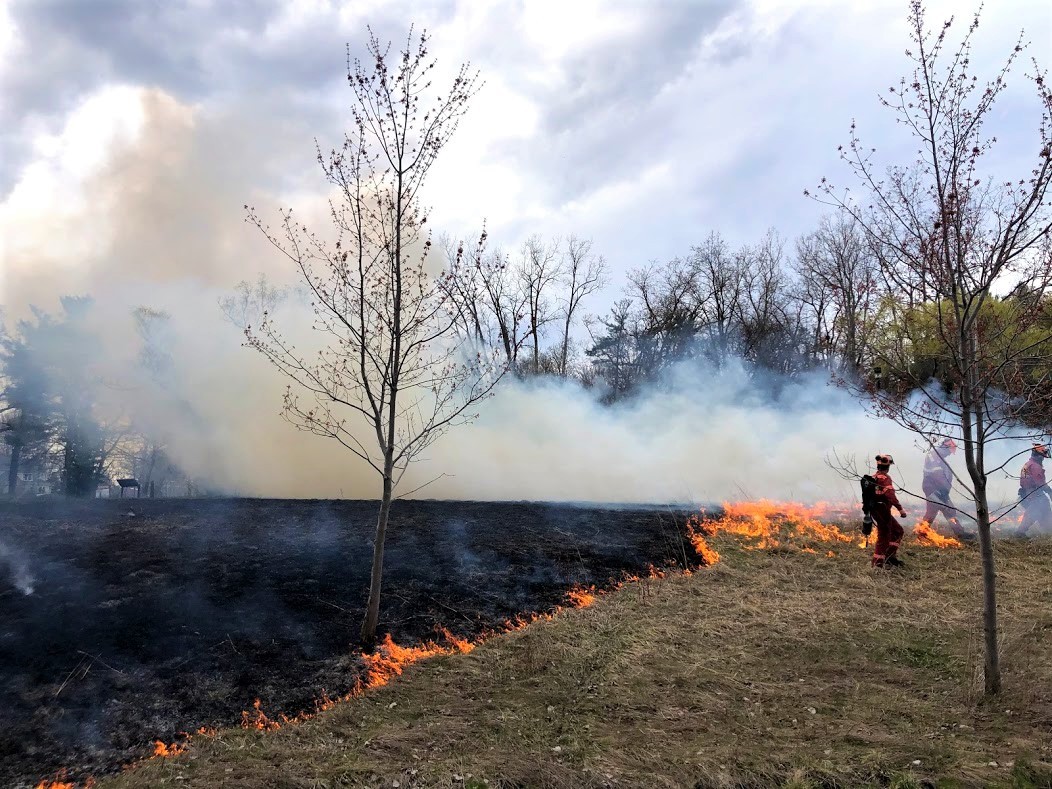 The shape of Jack Darling's natural grasslands prairie means it has a large edge and is at risk of invasive species. (Photo City of Mississauga)
Countless studies, including recent research inspired by pandemic isolation, show people need nature. The inherent calm of leaves rustling in a forest or crickets chirping in a field is one of the few things humans have struggled to manufacture. In our frantic digital world, whole sections of audio apps are devoted to recreating the sounds of nature to bring relaxation into the home.
A 2012 study concluded urban forests help improve the health of residents by providing a space for outdoor activities, a 2016 paper said they could reduce stress, heart rates and blood pressure, while a 2018 study showed they can reduce rates of crime and violence. In studies going back to 1992 and 2007, academics said people in hospital rooms with views of trees healed faster and a 2015 paper argued urban forests increase property values.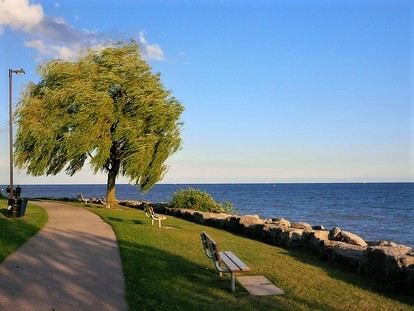 Much of Mississauga's shoreline will soon feature large, dense developments. (Photo The Pointer files)
Fifty years ago, many of those natural benefits were still inherently part of the area, before Mississauga was even created. Few would have associated the young city with the bustle of modern life. It was the opposite.
Through the 1970s and beyond, the city grew horizontally as a sleepy suburb on the edge of Lake Ontario. Farmland was converted into subdivisions, the area cut in half by the verdant greenery of the Credit River and its valley. Every home had its own backyard where families could tame nature and at least one car to visit the real thing.
All of this is changing fast.
The city has now been built out to its boundaries and it cannot expand further. Its last few acres of vacant land have been earmarked to host businesses and the new developments that are proposed suggest balconies instead of yards. Policy from City Hall concentrates on convincing residents to forsake their cars and adopt bikes and buses instead.
This new reality means the remnants of nature left in the city, combined with the highways that lead to the waterfalls of Hamilton and the vineyards of Niagara, are no longer enough. Residents need access to the wild beauty nature creates. As living spaces adapt to a more sustainable world, 'third places' outside smaller units are becoming more vital in Mississauga, where sprawling back yards are being eschewed in favour of a nearby park that provides condo dwellers respite from their vertical lives.
The documents guiding Mississauga's urban forestry and wilderness projects are old, dating back to 2012 and 2014. The various plans identified a need to increase the city's treescape, something that a one-million-trees initiative hopes to address.
According to its Natural Heritage and Urban Forestry Strategy (2014), just 15 percent of Mississauga is covered by an unevenly distributed forest canopy. The majority of this smattering is in residential areas, brightening the streetscape, but failing to create the escape nature can bring when it is undisturbed.
"We're always looking for opportunities, through the forest section, to further grow our existing natural resources," Sarah Pyatt, supervisor of woodlands and natural areas, told The Pointer. "A big part of that is diversity: not all of it has to be forest. A great example is the presentation of prairie habitat or the creation of meadow habitat. That ideal of having a diverse ecosystem... brings resilience and brings a better healthy ecosystem. That's what we're pursuing within our parklands."
In this context, carefully maintaining the few truly natural spaces in the city, no matter how small, is vital. As more residents arrive in Mississauga without a backyard or car to call their own, they will look toward shared public places.
Jack Darling Memorial Park offers a perfect example: a natural space on an arterial road served by transit routes.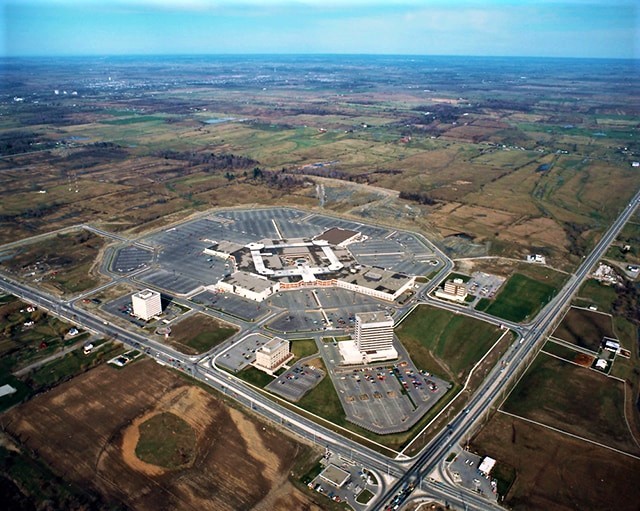 Square One shopping mall surrounded by farmland as Mississauga's natural spaces were paved over starting in the '70s. (Photo City of Mississauga)
"Many people recognize the restorative and therapeutic effects of nature, but many assume these benefits are found beyond the city — that one must travel out of the urban mix for positive experiences and benefits," a study by The Nature Conservancy in Washington explains. "In fact, there is a wealth of evidence that nature is critical within and around the city itself."
According to Mississauga's 2014 strategy, the City has formidable challenges to bring nature to its residents. In total, almost a third of Mississauga's natural urban forest systems are on private land and "much" of its natural heritage is similarly owned by private interests, not the public.
It was part of the giveaway to the private sector under the leadership of Hazel McCallion, who was nicknamed 'The Queen of Sprawl'. The city is now paying for the lack of vision, after decades of development that saw subdivisions, strip malls and industrial parks replace the area's previous wetlands, prairie and other natural spaces.
Now, Mississauga is on the lookout for more spaces to protect. These natural oases exist in the midst of a rapidly growing urban jungle. Where Jack Darling Memorial Park has kept much of the land's original characteristics, other areas that were transformed for private interests could be converted back into wild spaces for the public to enjoy.
To achieve this, nature has to be allowed to reclaim land in stages.
"We [can] build a meadow first and then build towards a forested ecosystem," Pyatt explained. "There's always succession when you're talking about ecology, so we're trying to mimic that as best we can."
---
Email: [email protected]
Twitter: @isaaccallan
Tel: 647 561-4879
---
COVID-19 is impacting all Canadians. At a time when vital public information is needed by everyone, The Pointer has taken down our paywall on all stories relating to the pandemic and those of public interest to ensure every resident of Brampton and Mississauga has access to the facts. For those who are able, we encourage you to consider a subscription. This will help us report on important public interest issues the community needs to know about now more than ever. You can register for a 30-day free trial HERE. Thereafter, The Pointer will charge $10 a month and you can cancel any time right on the website. Thank you.
Submit a correction about this story