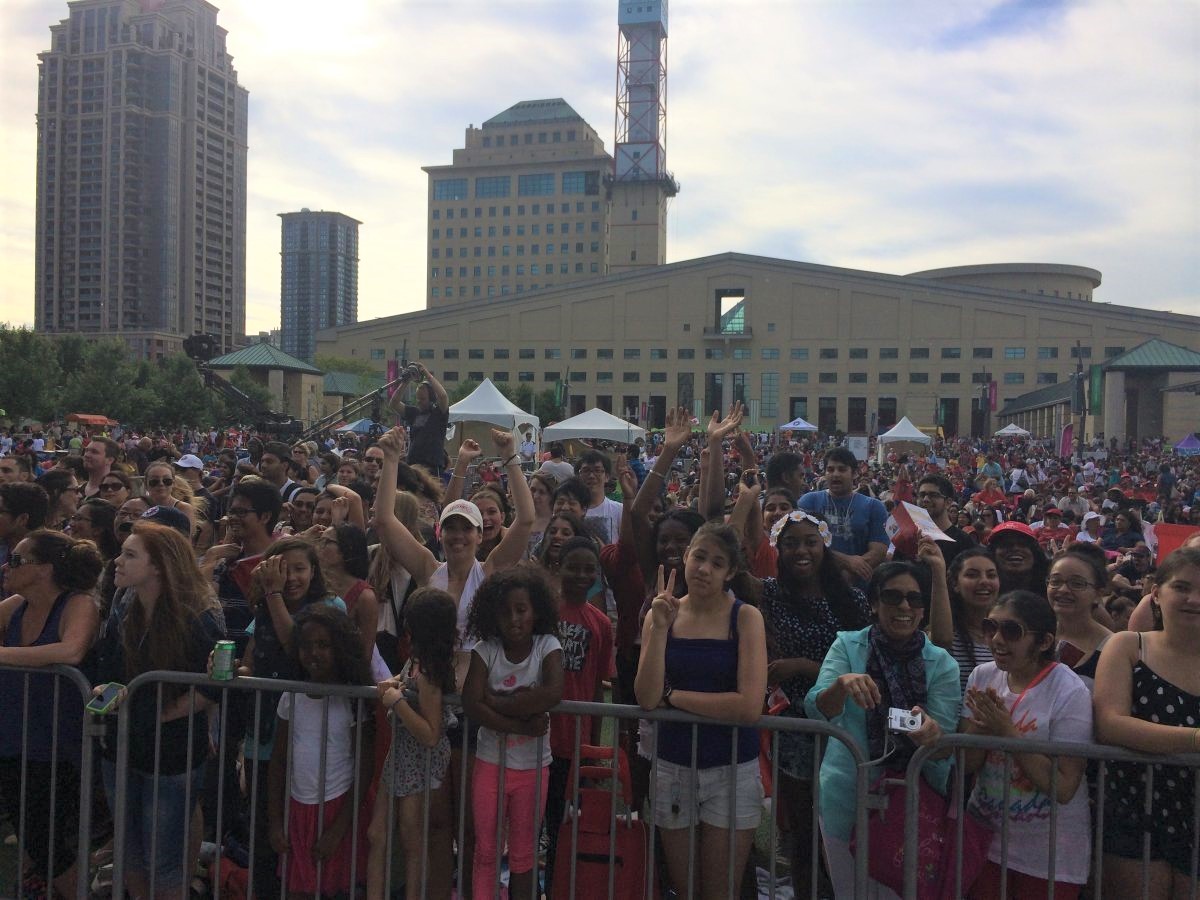 Screen Grab-YouTube/The Pointer file photos/Screen grabs and charts City of Mississauga/Kojo Institute
City Hall doesn't reflect its residents; can Mississauga's white leadership change this?
Mississauga is an ocean of humanity. City Hall is an island in the corner.
The country's sixth largest city is one of the world's most diverse. Residents of every race, religion and ethnicity live here. Unlike other cities that have become siloed, Mississauga's pluralism has evolved into a truly multicultural mix. Even immigrant-rich Malton features a broader cross-section of newcomers.
There is one place where this refreshing pluralism is not so evident.
The local government looks very different.
The vast majority of staff at City Hall are white, fewer than one in five members of the City's leadership team are racialized and just one councillor identifies as a visible minority.
A long-awaited survey of staff working for the City of Mississauga, shared with councillors on Wednesday, confirmed what anyone could see. It found City Hall does not look like, or share the cultural values of the residents it's supposed to represent.
A comprehensive study of staff identity and their experience working at City Hall was first called for in the City of Mississauga's Workforce Diversity and Inclusion Strategy in 2017. It was originally scheduled to take place in March 2020, but the ongoing pandemic delayed its completion and release.
In total, 47 percent of the City's part-time and full-time staff members completed the optional survey, answering self-assessed questions about their identity. The participation figure is better than a 28 percent response rate to a similar survey in Brampton in 2019, but falls well short of offering a full picture of City Hall. Some of the lower response can be attributed to the number of part-time recreation staff not currently working as a result of COVID-19.
The results reveal a government, and specifically its leadership, that fails to represent the diversity of the taxpayers it serves.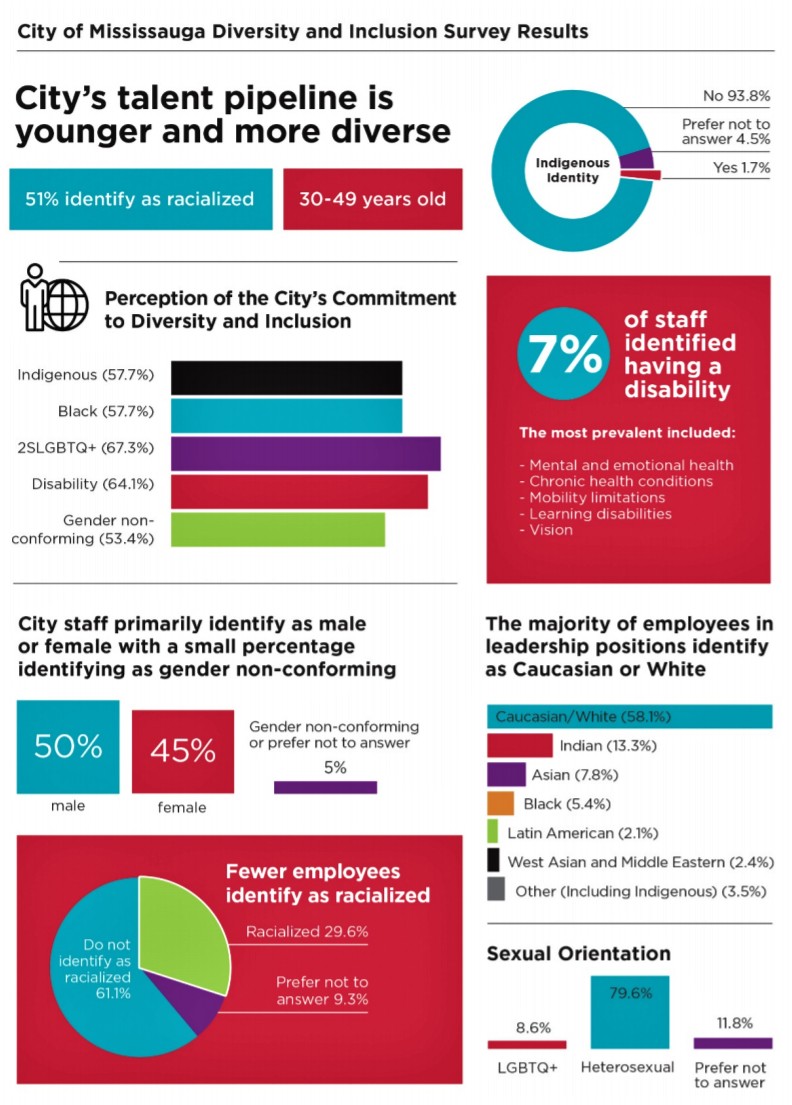 Some key findings from Mississauga's diversity and inclusion survey
In Mississauga, according to the 2016 Census, 57 percent of all residents identified as a visible minority and this figure is now around 60 percent. According to the internal staff survey, just under 30 percent of staffers are racialized and only 17 percent of the City's leadership team is non-white. The City's council has just one racialized member, Dipika Damerla, out of 12 local elected officials, and City Hall's senior leadership team (commissioners and city manager) is entirely white.
"I think we're all in agreement that our staff should reflect the diversity that is our city, that it should be a microcosm of our city," Mayor Bonnie Crombie told The Pointer at her Wednesday press conference, after being asked if Mississauga's white senior leadership team could handle the task of bringing equity and inclusion to City Hall. "We understand that we do have work to do to better recruit, better train, offer leadership positions to everyone."
A key issue raised in the City of Mississauga's diversity work to date is that white staff, no matter how well intentioned, do not have the same outlook as their racialized colleagues. Reports in 2017 and again in 2021 show staff who are part of majority groups in the workplace (white staff, for example) believe the City is more committed to diversity and inclusion work than equity-seeking staff, the very employees the work is designed to empower.
The City's 2017 strategy originally warned, "straight white able-bodied men are more likely to rate the organization as committed to diversity and inclusive than members of equity seeking groups." Four years later, the results of the City's first attempt at a comprehensive survey of its staff's identities and experience revealed the same distorted view among white staff, who don't think there's a problem, is still widely present.
Only 56.3 percent of Black employees who responded to the recent survey felt the City was committed to diversity and inclusion. A further 53.8 percent of Indigenous staffers felt the City had a commitment to diversity, along with 53.8 percent of gender non-conforming employees and 66.8 percent of employees living with a disability. In contrast, 82.3 percent of white employees believe the City is committed to diversity and inclusion, as do 79.5 percent of heterosexual staff, a cohort that is over-represented by white employees.
Mississauga's City Manager and two of its four commissioners are white men (one position is currently vacant and was previously held by a white man). The City's strategic director of initiatives, Rob Trewartha, who has the diversity file in his portfolio, is also a white man. Of the leadership team as a whole, 90 percent of whom responded to the survey, just 17 percent identified as racialized.
This suggests the City is in a difficult position to make the changes it has committed to. The staff charged with guiding Mississauga to a more diverse future are demonstrably more likely to think they're succeeding than racialized staff. With a homogenous (primarily white and male) senior leadership team, key cultural competency and lived experience can't be learned; it does not exist in the instincts or subconscious of the City's ultimate decision makers.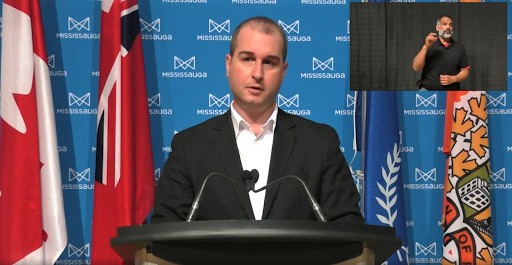 Rob Trewartha, director of strategic initiatives in the city manager's office, responds to questions at Mississauga's May 12 press conference.
Cognisant of this, the City has hired two new staffers to lead diversity work within the city manager's office and human resources department. Uzma Shakir and Jaspreet Pabla, both racialized women, will work on the diversity file with Shakir reporting directly under Trewartha.
"A lot of our strategy going forward will be led by Uzma Shakir," Trewartha told The Pointer at Mississauga's press conference. "I do recognize that I'm the one that is overseeing this portfolio, but Uzma will really be the one that's driving it forward."
An Equity Advisory Council will be established in June, composed of 12 to 14 employees, making recommendations regarding diversity and inclusion.
"It's also likely the precursor to employee resource groups and other groups that could be formed across the City with some of our employees… that do not identify as white, able-bodied men to hear their voice and to bring their concerns and perceptions to the floor," Trewartha added.
His use of the word "perceptions" illustrates Trewartha's unfamiliarity with the language around equity and inclusion dialogue.
It's the 'perception' of most white men inside City Hall that there is no problem, and using this type of language is viewed by researchers as code for majority-group members who don't truly believe there is an issue, or don't have the lived experience to understand how inequity has far reaching consequences, including economic ones.
Kike Ojo-Thompson, the founder of Kojo Institute and an award-winning expert on equity, inclusion and diversity, says that bringing equity-seeking groups to the table is just the first step. Ojo-Thompson also previously held equity-focused roles at the Peel Children's Aid Society and the Ontario Association of Children's Aid Societies.
"The whiteness at the table, is it prepared to be deferential to the leadership, the knowledge and awareness of those with lived experience? Part of the problem with being racialized at key decision making in leadership tables is that the very powerful and unexamined ideas about you in society follow you into the workplace," she told The Pointer. "One of the structural problems that prevents us from being successful at that work is our democratic process approach, the idea that everyone around the table will get a vote or will get 'equal say'. If the issue at hand is not your lived experience and if you don't understand how the issues are operating and the impacts etc, then should you have an equal vote to mine when I'm living the experience?"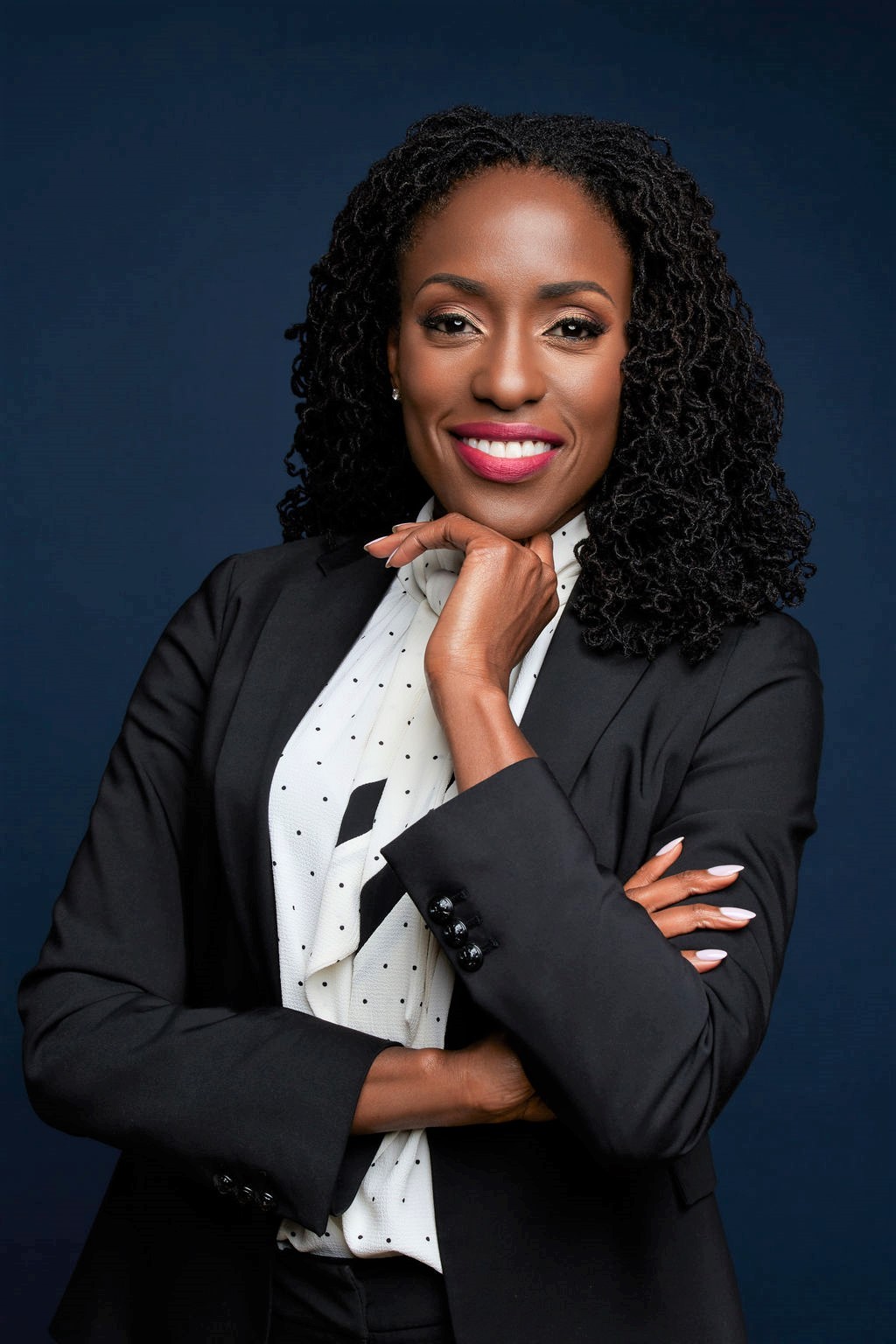 Kike Ojo-Thompson says white decision makers should have a healthy mistrust of their own blindspots
Uzma Shakir, who was the director of equity, diversity and human rights at the City of Toronto, is faced with a significant task. She will have to disrupt: informing a white senior leadership of the things they do not know and do not have the lived experience to know, while convincing them to, effectively, allow power and influence to be spread out more fairly, to everyone, including to those who do not look like the group inside City Hall that has benefited from the unequal distribution of power.
Of the employees who completed the City's survey, only 35.9 percent said they were fully aware of the City's diversity strategy and 44 percent said they were somewhat familiar. It is likely this figure would be even lower if the staff members who chose not to respond to the survey at all were included.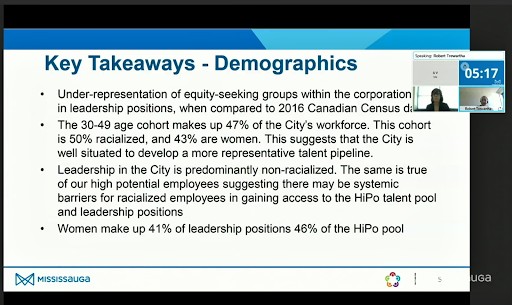 Councillors listen to a presentation Wednesday laying out the demographic disconnect between staff and residents.
Progress has been slow on the diversity front in Mississauga, with some newfound urgency entering City Hall after the Black Lives Matter protests swept across North America last summer.
Between its creation in 2014 and summer 2020, the City's Diversity and Inclusion Advisory Committee (DIAC) met just 10 times, with little accomplished and two meetings cancelled due to a lack of quorum. Its rare schedule compared poorly to the Mississauga Cycling Advisory Committee, for example, which met 11 times in 2019 alone. About 60 percent of Mississauga's population is non-white, while only 3 percent of its residents use their bike as a primary mode of transportation.
Frustrated by a lack of action, and in the context of an increased awareness of anti-Black racism, Crombie moved a vast motion over the summer filled with promises. It resolved to reform DIAC to improve its mandate, declared racism a crisis and formed a Black Advisory Caucus to steer the mayor's policies around anti-Black racism.
Crombie is currently hosting a speaker series and engagement sessions with the Black community setup by her caucus. The caucus was originally scheduled to report back to council six months after the motion (November 24, 2020) but only met for the first time on November 30.
It has come under fire from one particularly active equity group, Advocacy Peel, which suggests the Caucus does not go far enough to force change. "She doesn't want voices like mine because I will ask questions, I know particular statistics to ask for, data to ask for, evidence to ask for," Kola Iluyomade, founder of Advocacy Peel, previously told The Pointer. "It's an illusion of power. They will give you access, but access is not power."
Him and others at the forefront of advocacy among Peel's diverse Black communities have voiced criticism over the way Crombie has handled the Caucus, questioning why many of the most active groups are not represented.
Crombie's own office of six staff is 50 percent non-white with just one male staffer, she pointed out. "I always do try to hire with the [philosophy] if I have two capable people, two people of equal merit, I'd like to give the nod to the person of diversity," she said Wednesday.
In total, just half of the 22 recommendations included in the City of Mississauga's 2017 diversity strategy have been achieved.
"In 2017, we came up with a diversity plan, I guess, but fast forward to 2021 and we haven't seen the changes that we would have liked to have seen," Ward 7 Councillor Dipika Damerla said Wednesday, after hearing the results of the survey. She pushed staff to bake tangible accountability into their equity work with measurable targets and deadlines. "As we plan, I guess, 2.0, our diversity plan 2.0, it would be nice to define what would success look like and some timelines."
Council and the City's leadership repeated their commitment to change multiple times during the meeting, sharing optimism for the future. Hiring Shakir and Pabla suggests an acknowledgement the current City leadership is ill-equipped to deal with the problem and some willingness to bring change.
"White people need — and have needed — accountability partners to help them continue along the right track," Ojo-Thompson said. "In my practise I talk about healthy distrust… when you hold dominant identities, one must hold themselves in healthy mistrust of themselves because it's harder to see the issues, it's harder to understand what's operating, it's harder to see how one is implicated."
Speaking briefly to councillors on Wednesday, Shakir laid out immediate and simple changes the City could make to its hiring policy that would bring improvements.
"It actually starts with how you define your job," she explained. "If the majority of your population is immigrant and they're not trained in Canada or educated in Canada, often they fall by the wayside because they just don't qualify for some of the requirements that we identify. Whereas if we change our requirements to transferable skills, suddenly a window of opportunity opens up."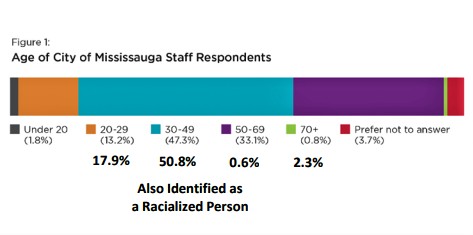 Shockingly, less than one percent of employees aged between 50 and 69 are racialized.
The constant refrain of distant, but inevitable, change councillors and senior staff have clung to is the future.
The survey data reveal some alarming realities of just how apathetic and ignorant previous leaders, who claimed change takes time, have been.
Just 0.6 percent of City employees between the age of 50 and 69 are racialized compared to 50.8 percent of staff aged 30 to 49.
The numbers are jarring and seem like they can't be true. It suggests, for example, that almost everyone around today's Mississauga council table was utterly clueless about the issue of equity and inclusion for an entire generation.
The figures may be skewed as they do not factor the total numbers of staff within the organization. Thirty-three percent of respondents were staff aged 50 to 69 and 47.3 percent were aged 30 to 49.
The issue council must address is how this more diverse and younger cohort will translate into racialized staff taking up leadership positions. The vast majority (68.4 percent) of the City's high-potential employees are aged between 30 and 49, yet just 28 percent of high-potential employees identify as racialized. These figures are among the most accurate in the survey as 89 percent of those identified as high-potential staff members responded to the survey.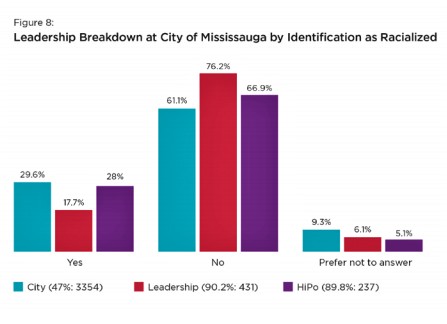 The majority of high potential employees are aged 30 to 49 (shown in the first graph), the City's most diverse age cohort, yet only 28 percent of this talent stream identifies as racialized (shown in the second graph).
"I look at the positive side of it which is that the majority of your diversity, both in terms of racialization as well as gender, is 30 to 49," Shakir added. "That's where the majority of the cohorts are. The problem is that they're not funnelling through to high potential employees or to leadership. That's something systemic we can actually look at."
Ojo-Thompson says that careful and deliberate succession planning with Black, other racialized staff and Indigenous people in mind is key. "The most successful spaces that I've seen make this kind of change were simply intentional," she added. "They target-hired, they were unashamed and unapologetic in doing so. And that's what you have to do."
The City will complete a second survey in the future, but has not yet set a date. "This survey is the first of its kind for the City of Mississauga and serves to establish a benchmark for the organization at this point-in-time," a spokesperson said.
Moving forward, the timing will be decided by COVID-19. The City did not say it would be collecting continuous race-based data within the human resources department, instead relying on irregular but more detailed and deliberate surveys.
"I was extremely disappointed in seeing the results," Crombie said Wednesday. "But of course [it's] a very necessary step for us as a City to go through."
---
Email: [email protected]
Twitter: @isaaccallan
Tel: 647 561-4879
---
COVID-19 is impacting all Canadians. At a time when vital public information is needed by everyone, The Pointer has taken down our paywall on all stories relating to the pandemic and those of public interest to ensure every resident of Brampton and Mississauga has access to the facts. For those who are able, we encourage you to consider a subscription. This will help us report on important public interest issues the community needs to know about now more than ever. You can register for a 30-day free trial HERE. Thereafter, The Pointer will charge $10 a month and you can cancel any time right on the website. Thank you.
Submit a correction about this story