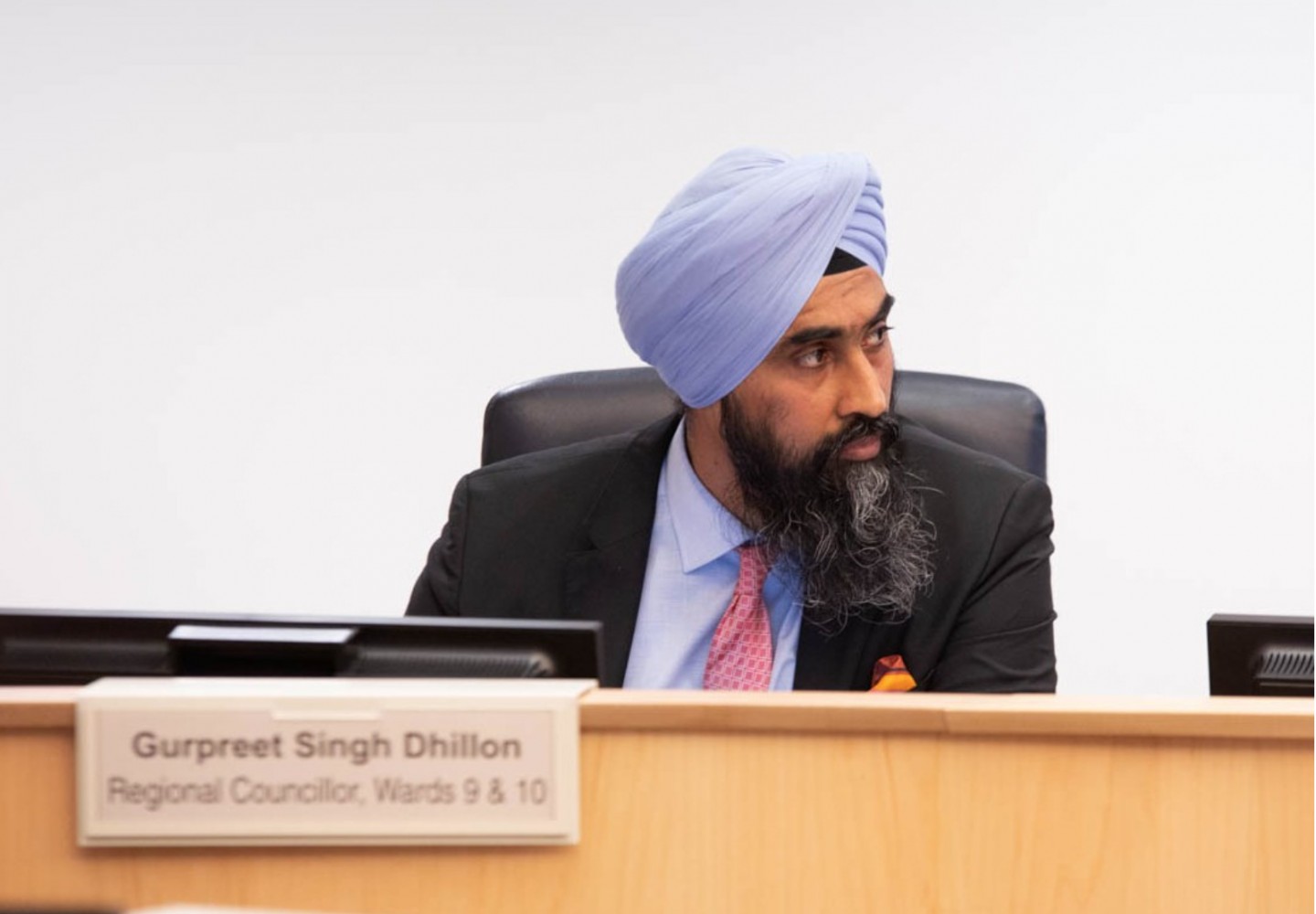 Feature image from The Pointer files
Court upholds most of commissioner's findings against Gurpreet Dhillon in sexual misconduct case
The Superior Court of Justice has ruled that most of an integrity commissioner's report into allegations of sexual misconduct against Regional Councillor Gurpreet Dhillon should stand.
Dhillon filed an application for a judicial review July 28, 2020, asking the court to quash integrity commissioner Muneeza Sheikh's findings after her probe into alleged behaviour by Dhillon that, if true, would amount to violations of code of conduct rules meant to hold members of council accountable.
His legal team requested that council defer any action on the findings until after his legal challenge, which has taken six months after being heard on December 16. Council ignored the request and the IC's report was presented and acted on in August.
None of the allegations against Dhillon have been proven in court, and the IC only has the power to use the City's code of conduct to determine if violations under the municipal rules have occurred.
Dhillon is accused of sexually assaulting a Brampton businesswoman while on a trade mission to Turkey in November 2019. The assault allegedly occurred in an Ankara hotel room near midnight between November 14 and 15. Sheikh's report alleged Dhillon kissed the woman without her consent, allegedly pulled her skirt and underwear off, touched her chest and buttocks and allegedly attempted to arouse himself in her presence.
Regional Councillor Gurpreet Dhillon in Turkey in 2019. (Image from Gurpreet Dhillon/Twitter)
In her investigation, Sheikh found Dhillon violated Rule 14 (harassment), Rule 15 (discreditable conduct), Rule 18 (failure to adhere to council priorities), and Rule 19 (obstruction) of Brampton's Code of Conduct.
A three judge panel conducting the review ruled in favour of Sheikh and the City on all matters except one: her recommendation that Council limit Dhillon's communication with his constituents to email and only outside of council meetings.
"Council did not consider more reasonable limits that would allow the Councillor to communicate with members of the public, particularly his constituents, about City business by methods other than e-mail. There is no justification for this overbreadth, and the outcome is unreasonable," the review states, pointing out that under provincial legislation that creates the power of municipal integrity commissioners, there are no provisions for this part of Sheikh's punitive recommendations.
Dhillon accepted the ruling as positive. "Today's ruling provides a measure of vindication."
But he maintains the court should have thrown out the commissioner's report. He stated it was completed unfairly in a statement he released, and cited a relationship between Sheikh and Mayor Patrick Brown. Sheikh's husband completed work for the Ontario PCs while Brown led the party, and she publicly defended him when allegations of sexual misconduct were levelled against him, leading to his sudden departure from provincial politics in 2018.
Dhillon also stated there was "direct political interference by the Mayor and his staff" in the investigation by Sheikh. The Pointer sent Dhillon a list of questions asking him to explain what he meant. "As per now my statement provided will be my comments," he told The Pointer.
Sheikh found out about the allegations against Dhillon from Brown, who informed her after the alleged victim spoke to the mayor about the alleged incident. Brown and members of his staff visited the woman and heard a recording that she allegedly made of the encounter with Dhillon.
Dhillon's main contention in the judicial review application was that Sheikh did not have a formal complaint from the alleged victim when she launched her own investigation, despite the code of conduct's clear rule that states an investigation can only be initiated through a complaint.
The court ruled it was reasonable to initiate a probe and eventually a formal complaint was filed by the alleged victim a few months after Sheikh began her work.
Another issue that Dhillon did not raise was why Sheikh began an investigation while police were still probing the matter. The Province's Municipal Act states an integrity commissioner has to set aside any complaint that involves criminality and cannot get involved until after police have completed their work in the matter.
Sheikh wrote in her report that she contacted Peel police when she was contemplating her own investigation, and was told the force was not dealing with the matter. She stated the RCMP was not investigating and that she was not aware of any criminal investigation by any force.
It's unclear why Sheikh did not inquire about an investigation in Turkey and cooperation with Canadian authorities, as Peel police openly provided this information to The Pointer in August.
It appears that other police forces were investigating which should have forced Sheikh to set aside any investigation until the authorities had finished dealing with the entire criminal and legal process.
Peel Police confirmed to The Pointer in August Turkish authorities were conducting an investigation. "There is an investigation but it's happening over there," spokesperson Constable Taryn Hill said at the time. She said Turkish authorities were cooperating with Peel police.
Constable Himmet Gill, another spokesperson with the force, told The Pointer Monday Peel Police is not handling the investigation and is unaware of its status.
"We weren't approached about this to do the investigation at all," he said, pointing to the RCMP as the police force responsible for any investigation into the matter. Gill confirmed Peel Police have not had communications with the RCMP regarding the case because it would handle the matter independently. "They wouldn't do that because it's their own investigation. There's no need for them to do that for us." Neither the RCMP nor Turkish authorities have reached out to Peel police asking for any information.
The Pointer reached out to the RCMP about the status of any possible investigation but did not receive a response ahead of publication.
The alleged victim, according to Sheikh's report, spoke with the RCMP and Peel police, and Brown offered to have the chief of the force contact her.
It raises a number of questions, including why Brown interfered, meeting the woman with a group of City staff present, hearing her evidence, then offering to reach out to the chief. Brown has not explained his behaviour. It's also unclear why Sheikh reached a conclusion that amounts to support for criminal allegations against Dhillon, even though police have spoken with the alleged victim but have not pursued criminal charges against Dhillon. It remains unclear if that could still be a possibility.
Dhillon's Challenge
---
Dhillon's legal team raised four issues about Sheikh's review and the subsequent response, the first arguing the integrity commissioner didn't have "lawful authority" to commence her investigation.
In their application, Dhillon's legal team say Sheikh didn't have the authority to start an investigation because a formal complaint, listed as a requirement under the Council Code of Conduct Complaint Protocol, was not filed by the complainant. Sheikh only learned about the issue after a phone call with Brown on November 27, 2019, after he spoke with the alleged victim. In response, Sheikh argued the Municipal Act, outlining her responsibilities and powers, allows her to start an investigation without a formal complaint.
The judicial panel examining the issue stated it was "reasonable" for Sheikh to commence her investigation on the information the complainant shared with Brown, as Sheikh explained in her report the nature surrounding the allegations was concerning and she wanted to have a better understanding of what happened, which she claims was allowed under the Complaint Protocol.
A formal complaint was provided on March 20, 2020 after Sheikh notified the alleged victim of the requirement once Dhillon's lawyer raised the issue. Dhillon's lawyer argued the complaint shouldn't be accepted since it only came after his legal team raised concerns about Sheikh not receiving a formal complaint before starting her investigation.
The panel said an integrity commissioner can contact a complainant to supplement information that's missing and the court can deny dismissing a finding based on a technical irregularity, such as not having a formal complaint, if no substantial wrong occurred.
"Granting Councillor Dhillon's requested relief regarding the absence of a Complaint Form prior to March 20, 2020, would privilege form over substance, at the expense of ensuring accountability and transparency of elected officials, and I decline to do so," the judicial review states.
No Denial of Procedural Fairness
---
Dhillon's legal team also stated Sheikh denied Dhillon procedural fairness, his right to ensure decisions are made fairly, by failing to provide Dhillon with all the evidence in the case, and denying his "right to be heard" after Sheikh released her interim report.
Dhillon requested all documents pertaining to the case, including a summary of evidence from witnesses and an audio recording made by the complainant, listed as being made part way through the assault in Sheikh's report, be shared with him. The final report states the commissioner heard the alleged victim say no 74 times in the recording that lasted 2 minutes and 57 seconds.
Her report states a copy of the transcript was served to Dhillon, alongside a summary of the phone call and email exchange between herself, the mayor, and his director of communications, Gary Collins. Dhillon's legal team argued it was "fundamentally unfair" to only provide him with parts of the evidence when the commissioner had access to all of it.
Regional Councillor Gurpreet Dhillon said in a statement the case against him involved "political interference" by Mayor Patrick Brown and his staff. (Photo from The Pointer files)
Sheikh states in her report she asked Dhillon to meet with her for an interview between late January and mid-April 2020 to go over the recording but the pair never met after Dhillon resisted an interview. Dhillon had asked for an audio copy of the recording prior to any interview so he and his lawyer could examine the evidence, but Sheikh said the alleged victim asked not to share the recording. It's unclear why she made this request, as it's common for the accused to be given all the key evidence against them when such cases are dealt with through the courts.
Sheikh provided Dhillon with an interim report on July 14, setting a one-week response deadline. Sheikh told his lawyer she's "not certain" she can take into review any comments Dhillon has outside of any inaccuracies regarding communications with his legal team or his view on the penalty because he didn't participate in an interview. Citing the lack of disclosure and fair procedure while denying all allegations, Dhillon only spoke through his lawyer, which influenced the court's ruling against his arguments.
"Counsel wrote that Councillor Dhillon categorically denied the allegations," the ruling states. "He did not take the opportunity to provide any substantive comments, nor to put forward his side of the story. He was offered the opportunity to do so and chose not to. There was no denial of procedural fairness."
Fair Findings
---
Dhillon's application for judicial review states Sheikh made three errors, resulting in her conclusions being invalid. The judges did not agree.
In her report, Sheikh states Dhillon obstructed her investigation by refusing to meet with her, and thus found him guilty of Rule 19 of the Code of Conduct which states in part:
"No Member shall obstruct the Integrity Commissioner in the carrying out of his or her responsibilities."
Dhillon's defence said an interview was not a requirement and said nowhere in the Municipal Act, Complaint Protocol, or Code of Conduct does it state otherwise.
The judges reviewing the case upheld the commissioner's decision and turned to Sheikh's findings around the City's Respectful Workplace Policy for evidence. The policy states everyone has the right to work in a safe and respectful environment, and requires elected official to "Cooperate with investigations of harassment or discrimination to resolve issues." The findings state Dhillon refused to be interviewed to provide his side of the story, and given there is no definition or examples that provide an inclusive view to what's considered obstruction, Sheikh's response is "reasonable."
"Councillor Dhillon did not cooperate in the investigation in that he (i) refused to attend an interview; and (ii) put forward no actual response to the serious, substantiated allegations that had been made," the findings state. The judges say Sheikh's decision was an "acceptable outcome… given the statutory context, the wording, and purpose of the Code of the Conduct, and the ethical standards expected of Council members."
The panel also struck down Dhillon's claim the commissioner relied on statements from third parties the complainant spoke with to substantiate her findings. Sheikh states in her report many of her interviewees "did not have firsthand knowledge" of the situation. Coupled with her reliance on the audio recording and her statement to council that the interviews were used to confirm timings and prior inconsistent statements, Dhillon's argument was not accepted.
Claims of inconsistent details regarding evidence were also dismissed. Dhillon's application for review took issue with the commissioner failing to address inconsistent details the complainant told her compared to other witnesses. These include whether Dhillon was invited to the complainant's room or the other way around, whose room tea was ordered to and the order of some events during the alleged assault.
"To the extent there were any inconsistencies in the complainant's prior statements to third parties, their impact on the complainant's credibility was clearly outweighed by the corroboratory audio recording," the ruling states.
The Penalties
---
Sheikh recommended Dhillon be suspended without pay for 90 days, council issue a formal reprimand and Dhillon issue an apology. Council also accepted the remedial measures Sheikh outlined, including removing Dhillon as a member and chair of any committees, not allowing him to travel outside the province on City business, limit his access to his office and only allow him to communicate with residents over email outside of council meetings.
The panel accepted these actions as fair with one exception; it was unreasonable to only allow Dhillon to communicate through email with members of the public.
"It interferes with the Councillor's ability to represent his constituents and discharge his duties as Councillor," the judicial review findings state. The panel said Council can take this matter up and discuss a different measure.
Dhillon is ordered to pay $20,000 each to the commissioner and City for costs.
---
Email: [email protected]
Twitter: @nida_zafar
Tel: 416 890-7643
---
COVID-19 is impacting all Canadians. At a time when vital public information is needed by everyone, The Pointer has taken down our paywall on all stories relating to the pandemic and those of public interest to ensure every resident of Brampton and Mississauga has access to the facts. For those who are able, we encourage you to consider a subscription. This will help us report on important public interest issues the community needs to know about now more than ever. You can register for a 30-day free trial HERE. Thereafter, The Pointer will charge $10 a month and you can cancel any time right on the website. Thank you.
Submit a correction about this story