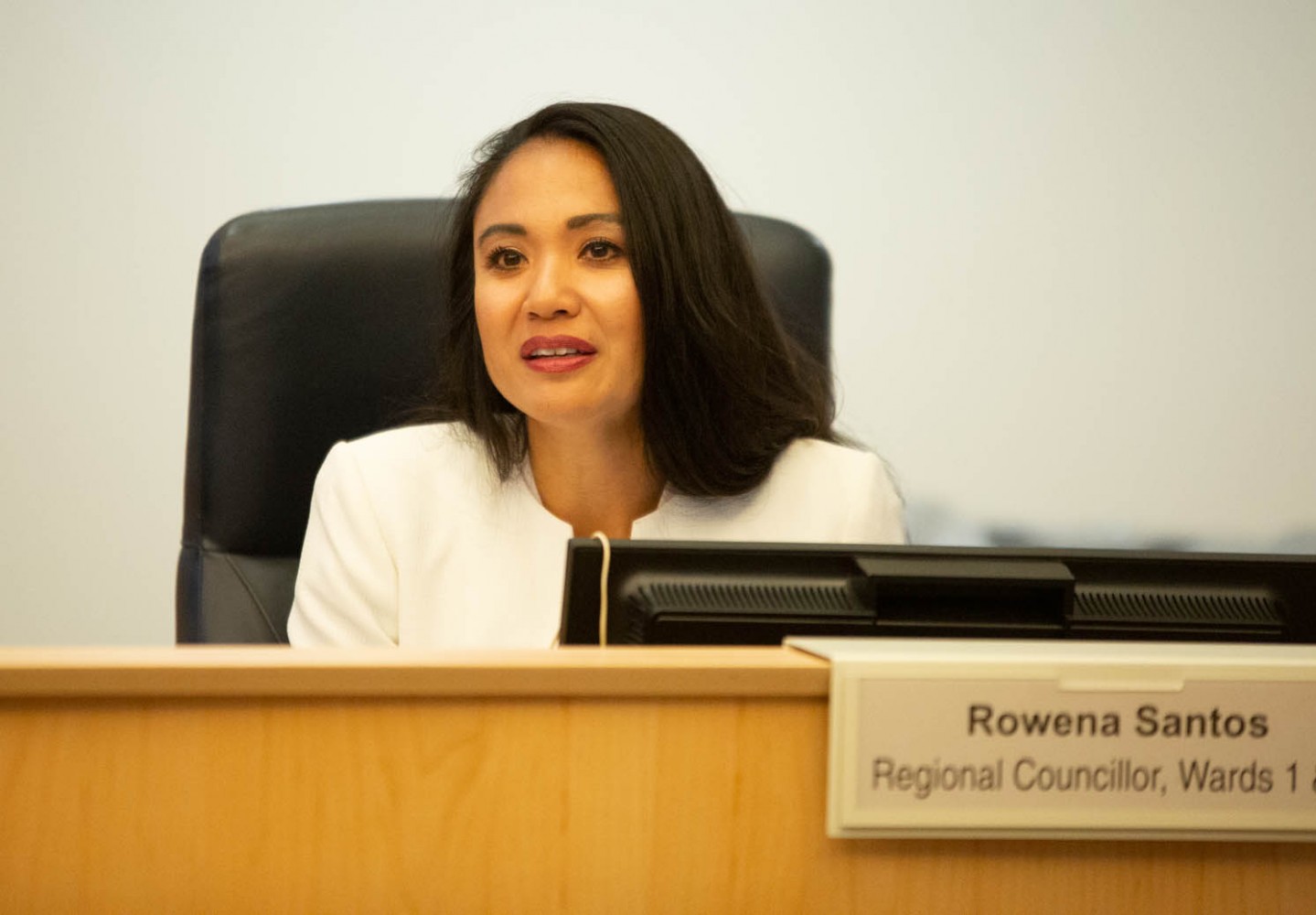 Feature Image from The Pointer files
Rowena Santos votes against motion calling for integrity commissioner investigation into her links with university consultant
During Wednesday's heated City Council meeting, sparks flew and rules around impartiality in Ontario's Municipal Conflict of Interest Act appear to have been ignored by Councillor Rowena Santos when members discussed Brampton's ill-fated university project.
A debate about BramptonU, hauled out of closed session by Councillor Pat Fortini, left several members furious after learning about details around the project that had been kept from them.
"What concerns me is I was left in the dark," Councillor Martin Medeiros said during the discussion. "Regarding BramptonU, as far as I know, there's no negotiations because it seems dead in the water. It seems done."
Fortini, Medeiros and other members not aligned with Mayor Patrick Brown were livid after learning hundreds of thousands of dollars had been sent to consultants by City Hall, itemized in a package of documents, including financial records, that was left anonymously at Fortini's neighbour's house for the councillor to see. Armed with information they had never seen before, members zeroed in on one consultant, David Wheeler, for his personal and political connection to Santos, Brown's closest ally on council.
The documents reveal Wheeler, who taught Santos business courses as a post-secondary instructor, worked on the project as a contractor for the Academy for Sustainable Innovation (ASI) as early as March of 2019, nine months before he was actually awarded a $100,000 contract by the City through what was supposed to be an open bidding process to have the work completed.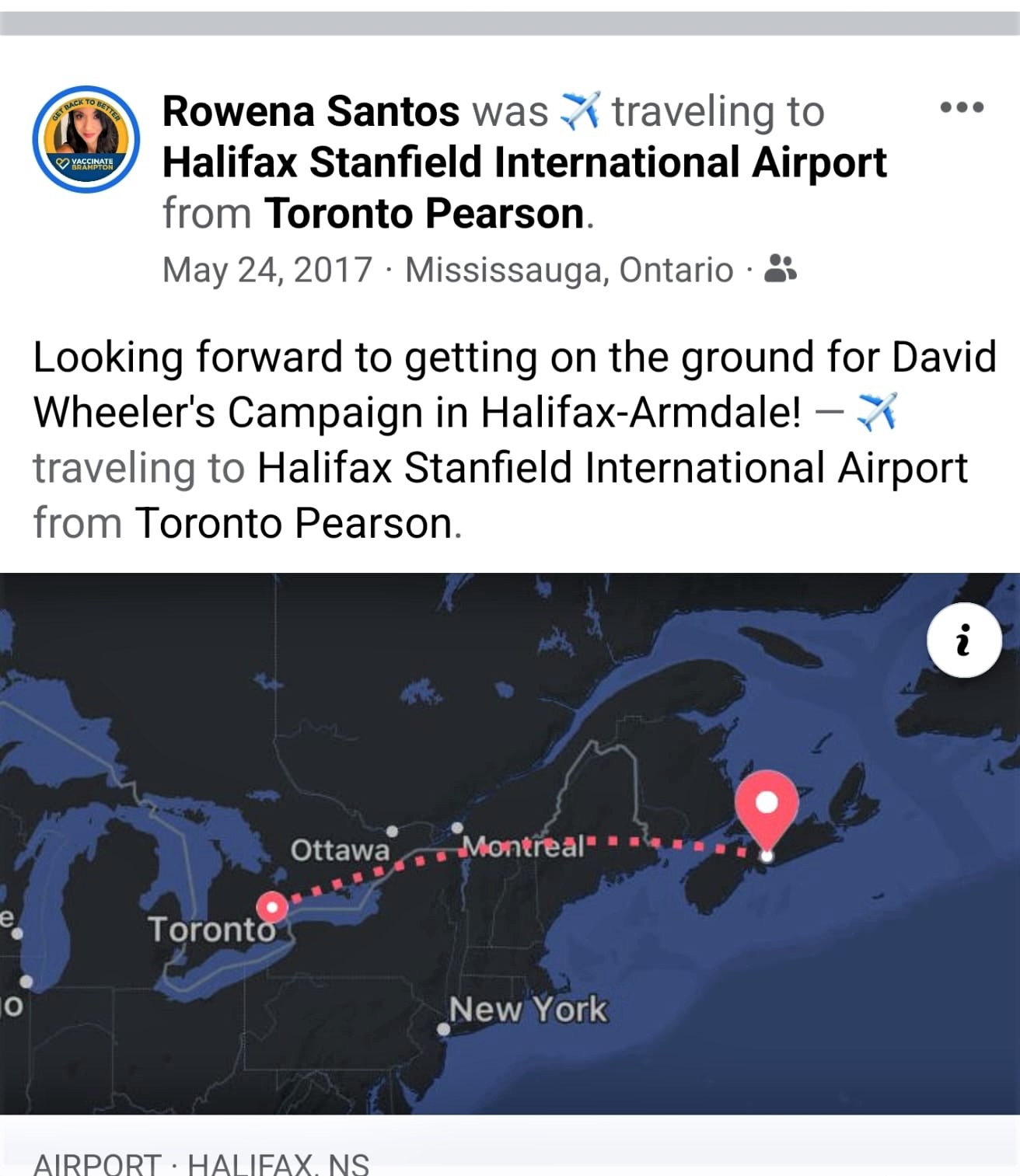 A Facebook post by Rowena Santos in 2017.
Two firms were awarded more than $600,000 in public money to work on the university plan, the second firm was Stakeholder Research Associates (SRA). Wheeler co-founded ASI, but is no longer listed on its website and says he "stepped back from most of [his] Canadian affiliations, including ASI".
A draft strategy for BramptonU was submitted to the City of Brampton in July, 2019, about four months before ASI or SRA were awarded the BramptonU contracts. It includes references to Wheeler and the work he began on BramptonU in the spring of 2019.
The draft report was handed into the City's CAO but most council members were unaware of it until Fortini received the package of documents recently. The Pointer also obtained the documents. The report dated July 9, 2019 angered councillors who were flabbergasted to find out Wheeler had been working on the projects nine months before council members awarded him the contract following what appears to have been a sham RFP bidding process. For more than $600,000 councillors on Wednesday questioned what taxpayers got back in return, pointing out much of the 82-page document consists of information and photos copied and pasted from the internet.
"We didn't get much of a turnaround to engage in a competitive process," Councillor Charmaine Williams observed Wednesday, referring to the few weeks in the fall of 2019 that were designated for the bidding period. "It's almost like we knew who we were going with, who we were going to award these contracts to."
Fortini questioned what taxpayers received in return for at least $600,000.
"All these invoices and emails flying around and all this money going into this BramptonU for a… report that was only done for about 82 pages, pictures and all. It's very concerning," Fortini said. "I've never seen these people come back to delegate, I don't know what they've done for this type of money."
At multiple points the meeting descended into a shouting match. Some councillors who tried to defend the BramptonU plan tried to shift the discussion to other post-secondary expansion efforts, frustrating those who saw this as an attempt to deflect from the alarming amount of money spent on work for BramptonU with very little original research actually produced.
Santos tried to conflate the scheme with Brampton's blue ribbon panel during the previous term of council which she was not even a part of (when the City attempted to secure the since cancelled downtown Ryerson University campus, which was scrapped in 2019 when the PC government pulled provincial funding).
Fortini confronted Santos, shouting to have his point of order heard.
"We're talking here in circles, a bunch of proposals and all," he exhorted. "We're talking about the BramptonU, forget about the blue [ribbon], I want to know what happened to this money!"
"It's almost on the verge of criminality here," Medeiros said during the tense debate.
SRA received more than $530,000 for its work and council learned the total amount spent on BramptonU might be closer to almost $1.4 million. Only $300,000 was approved by council for the two consultants. Rob Godfrey, a close friend and political confidante of Mayor Brown works for SRA. Interim CAO Paul Morrison has promised to get all the answers about how the two consultants were hired, if a proper procurement was used, when they actually started their work and how much in total was paid, before reporting back to council shortly.
It is unclear why ASI was awarded a contract by the City of Brampton to develop a university. Wheeler told The Pointer he was a "sub-contractor" during the work he did on BramptonU, with contracts going to ASI and SRA.
"The Academy for Sustainable Innovation (ASI) partners with organizations and individuals who are passionate about leading Canada's transition to a low-carbon, socially-inclusive economy," the organization's website explains. "Our Transition Leadership programs invite current and future leaders to explore the skills, capacities, and mindsets they need to impact change across the Canadian economic landscape."
ASI did not respond to questions sent by The Pointer asking to explain how the company or Wheeler would be qualified to help design and launch a brand new university, a process that takes decades and is generally no longer done in Ontario, which usually requires a partnership with an established university institution.
In December, questions sent to the same contact address were forwarded by ASI to Wheeler to respond directly.
"I am Councillor Santos' former professor at the Schulich School of Business and have been an occasional mentor to her ever since," Wheeler told The Pointer in December. "All of the contractual work I did on the BramptonU project went through the City's formal processes, so no conflict of interest ever arose. Councillor Santos had no role in the specification or award of any contracts; this was all done by officers of the Council acting under instructions (I believe) from the full Council."
During Wednesday's meeting, some members made clear they had no idea Wheeler had been working on the project since March of 2019, when Santos was helping organize his involvement behind the scenes.
"Councillor Medeiros and I met with Mr Wheeler on July 3rd, 2019 to discuss the idea of Brampton U," Councillor Jeff Bowman told The Pointer Thursday. "I do not remember being shown the 82-page draft that was submitted to the CAO's office only a day later. This was the first and only meeting I had with Mr. Wheeler. At no time when we were considering the proposal from ASI/Stakeholder Research was there any declaration from any councillor or the Mayor that they knew or had any association with the proponents. We were informed at council yesterday that a councillor had checked with and received clearance from any pecuniary interest by the IC in August 2019, well after the agreement was already in place. I found the totals of the invoices presented yesterday for Brampton U shocking."
In a 2017 Facebook post, Santos described Wheeler as a "dear friend".
Santos flew to Halifax the same year to assist with Wheeler's election campaign when he unsuccessfully sought a provincial seat to represent one of the city's ridings. Both have direct connections to the NDP; Santos has worked for the Party in Ontario. Brampton council members have raised concerns that a political ally of Santos received a large contract from the City of Brampton directly through her relationship.
Rowena Santos supported David Wheeler in Halifax in 2017.
(Image from Facebook)
Bowman said he is also concerned after learning about the connection between Patrick Brown and SRA employee Rob Godfrey.
Santos has never publicly declared a conflict of interest over BramptonU.
"That's like me calling one of my professors, and they can be the most technical, sound professors in the world, but it just doesn't look good," Medeiros said during the meeting.
Santos told councillors Wednesday she had reached out to Brampton's integrity commissioner "a number of times" to ask if she had a conflict of interest over BramptonU. She shared a copy of the letter from the integrity commissioner written in August 2019 with Brown and City Clerk Peter Fay. She did not respond to a request from The Pointer to review the letter, nor did she respond to questions.
"'Given that no pecuniary interest exists in relation to you or the initiative, I simply see no conflict of interest issue here'," Santos said during the council meeting, reading from the integrity commissioner's letter. "'The fact that Mr. Wheeler taught you over 20 years ago or that you have a continued friendship with him have no bearing on his involvement on the initiative. On the contrary, it is my view that it is your job as a City councillor to bring forth individuals who can further initiatives through their expertise that can benefit the City of Brampton'."
The letter was from integrity commissioner, Muneeza Sheikh, and dated August 22, 2019, according to Santos. It's unclear why Santos did not seek advice when Wheeler was first engaged near the start of that year, or when he began to do his work in March of 2019. He had already submitted his draft report more than a month before the date of the integrity commissioner's letter to Santos.
The integrity commissioner, Muneeza Sheikh, has herself been accused of being in a conflict of interest for accepting the job despite having connections to Mayor Brown. She had appeared at events with him, publicly defended him when he was accused of sexual misconduct (which Brown denies) while leader of the Ontario PCs and her husband at the time had done work for the Party when Brown was its leader.
Democracy Watch and governance experts said Sheikh should not have taken the role due to the perceived conflict. She had no previous experience in municipal law and had never worked as an integrity commissioner.
Her opinion to Santos regarding the relationship with Wheeler appears out of step with Ontario's Municipal Conflict of Interest Act.
"Members are expected to perform their duties of office with integrity and impartiality in a manner that will bear the closest scrutiny," it states. "Where a member, either on his or her own behalf or while acting for, by, with or through another, has any pecuniary interest, direct or indirect, in any matter and is present at a meeting of the council or local board at which the matter is the subject of consideration, the member, (a) shall, prior to any consideration of the matter at the meeting, disclose the interest and the general nature thereof; (b) shall not take part in the discussion of, or vote on any question in respect of the matter; and (c) shall not attempt in any way whether before, during or after the meeting to influence the voting on any such question."
It is unclear why Santos voted on the motion Wednesday to have an integrity commissioner investigate her relationship with Wheeler. She voted against the motion brought forward by Medeiros, which passed 7 to 4. Santos, Brown, Councillor Paul Vicente and Councillor Michael Palleschi tried to prevent the probe, but they failed. Santos has a direct pecuniary interest in the matter, as she could be docked salary if the investigation leads to a recommendation that council hand down such a punishment. Despite this obvious conflict she took part in the vote anyway.
Sources have told The Pointer the investigation into the relationship between Santos and Wheeler will not be handled by Sheikh.
It is unclear if Santos should have sought advice from her lawyer rather than the integrity commissioner.
The Brampton Council Handbook states, "Members, for example, who have concerns over a possible conflict of interest should obtain their own independent legal advice, and may wish to set up a relationship in advance with a legal advisor to assist as may be required, particularly where advice may be required on short notice". The integrity commissioner can advise in some circumstances, including advice regarding obligations under the Municipal Conflict of Interest Act and how members can avoid formal complaints.
An email from Santos to former CAO Joe Pittari, Brown, Councillor Paul Vicente and Babu Nagalingam (Brown's chief of staff) obtained by the Pointer shows a relationship between Wheeler and BramptonU began months before Santos consulted with the integrity commissioner. During the council discussion, Santos said the letter from Brampton's integrity commissioner "includes the series of different things that occurred that got us to the point of bringing forward the BramptonU proposal". The letter was written in August, 2019, but Wheeler arranged to visit Brampton to discuss the project in March.
"A meeting with David Wheeler (who is flying in from Halifax) is scheduled for Thursday at 3pm," the email from Santos, dated March 11, 2019, explains. "I had been reminding folks about this for a few weeks now."
Santos did not respond to questions from The Pointer. She also did not respond to questions about her relationship with Wheeler ahead of a separate article about BramptonU in December.
David Wheeler (left) with the original Academy for Sustainable Innovation team.
(Image from the Academy for Sustainable Innovation)
Part of a motion moved by Medeiros Wednesday asks the City of Brampton's integrity commissioner to probe Santos's dealings with Wheeler. The motion called for an investigation into "the relationship between Councillor Santos and the consultant(s) utilized".
Despite Santos herself being named as a subject of the proposed investigation, she did not leave the virtual council chamber for the vote or declare any conflict of interest on a decision that directly involved her conduct.
It's unclear why an investigation into Brown was not asked for, considering his close ties to Rob Godfrey, whose firm received more than a half million dollars to consult on BramptonU with little to show for it. Brown did not declare any conflict of interest Wednesday.
"I appreciate that councillors are trying to put a veil on this, trying to put [up] smokes and mirrors," Medeiros said, after Councillor Paul Vicente, Santos' closest ally and ward partner, said the issue at stake was communication. Medeiros said it was about the taxpayer's money. "The point is… how much money did you spend on this? What did you spend it on?"
Updates on BramptonU have been rare.
Since Brown flooded social media about the doomed plan, the City of Brampton has tried to juggle three separate university projects, with its own original plan to create a university from scratch neglected. "When you've got too many eggs in the basket [they] all fall at once," Fortini said Wednesday.
The 2021 provincial budget announced early exploratory work to consider the creation of a medical school in Brampton run by Ryerson University. A July 2021 announcement also suggested that Guelph University and Humber College were preparing to partner to open a joint venture in Brampton's downtown. There has been no word on BramptonU's progress, beyond broad references to advocacy.
"There seems to be a lot of confusion out there in the public," Bowman said Wednesday. "There seems to be a lot of confusion with our council."
It is unclear exactly what residents of Brampton are getting from the project. The city, home to some 700,000 people, is somewhat unique for its lack of a major standalone university campus, something that was at the heart of the push for BramptonU.
A plan for Ryerson University to expand to Brampton was scrapped when the Progressive Conservatives cancelled $90 million in funding for the planned downtown campus shortly after taking office in 2018. Sheridan College and Algoma University have footprints in the City, but councillors, led by Brown and Santos, pushed hard for a university of their own.
It was always going to be a hard sell. Algoma, the youngest university in Ontario, first applied to become accredited as a university in 1994 and did not have its wish granted until 2007, and that was after decades of operating as a college first, a typical prerequisite for new universities. But since the Liberals took power in 2003, after the Algoma transition was already in the works, the Province has used a model for post-secondary expansion that requires partnership with an existing university.
Rowena Santos, Patrick Brown and Harkirat Singh were the faces of BramptonU.
(Image from City of Brampton/YouTube)
Even Mayor Brown, once a staunch advocate for the project, admitted Wednesday it may be over.
He argued the City's campaign to create a new university from scratch in less than 10 years should be credited with the half-commitments made to Brampton's post-secondary education plans. He praised the City's ambition.
"The former Minister [of Training, Colleges and Universities] Ross Romano and his [former] parliamentary secretary David Piccini were warm to the idea of a BramptonU, but not committal," Brown admitted Wednesday. "I would say that if we had simply accepted defeat when Ryerson was cancelled, we probably wouldn't have ended up with anything."
But it remains unclear what the city is getting. Brown continues to claim a medical school is coming, but the Province has refused to commit to the idea, and if it eventually does, it could be decades before such a program is launched. Medical schools are typically attached to large existing universities with extensive research capacity and an affiliated teaching hospital. Brampton has none of these features. Meanwhile York University is more than a decade ahead of Brampton's push for a medical school, and it still has not received a commitment from Queen's Park to open Ontario's next medical school.
None of this has stopped Brown from repeating his claim that Brampton is getting a medical school, which he stated again during Wednesday's meeting.
Following the fiery discussion, and allegations of conflict of interest, council voted unanimously to pause the BramptonU project, which members said is already dead in the water.
Interim CAO Paul Morrison promised to prepare a report detailing the finances of the project, consultant work and its progress. It will not resume until the report has been finished, and perhaps not even then.
"We really need to let the public know the truth about what's going on," Bowman said.
---
Email: [email protected]
Twitter: @isaaccallan
Tel: 647 561-4879
---
COVID-19 is impacting all Canadians. At a time when vital public information is needed by everyone, The Pointer has taken down our paywall on all stories relating to the pandemic and those of public interest to ensure every resident of Brampton and Mississauga has access to the facts. For those who are able, we encourage you to consider a subscription. This will help us report on important public interest issues the community needs to know about now more than ever. You can register for a 30-day free trial HERE. Thereafter, The Pointer will charge $10 a month and you can cancel any time right on the website. Thank you
Submit a correction about this story