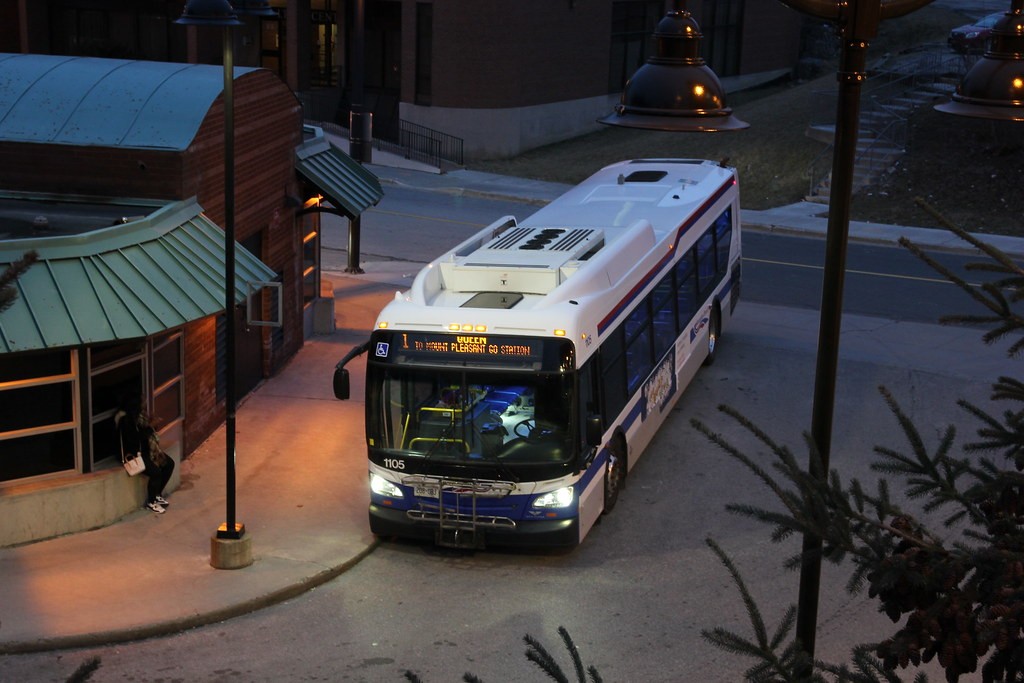 Photos from The Pointer file/City of Brampton/Brampton Transit/Ruby Sahota/Milan Suvajac & Creative Commons/BillyCabic & Creative Commons
After Brown stalled transit expansion Brampton gets major funding but it's not aligned with green targets 
Local, provincial and federal representatives gathered virtually last week to announce funds to construct a desperately needed transit storage and maintenance facility in Canada's ninth largest city. But they didn't mention the mismatch with environmental and sustainability policies all three governments are committed to.
Investments have been pledged to build Phase 1 of the facility at an estimated cost of $174.7 million. The money has been secured under the federal government's Investing in Canada Infrastructure Plan – the contributions are: Ottawa, $69.9 million; Queen's Park, $58.2 million; and City Hall, $46.6 million. Brampton has already confirmed it will fund its portion of the project through external debt.
The first phase will be built to house up to 250 40-foot standard buses, although the City plans to store 60-foot articulated buses as well. Despite hopes it would be electrified from the outset, the current funding will only allow for a standard garage to be built.
The City, like many other municipal administrations across the country, knows its transit fleet has to be converted to electric vehicles as soon as possible to meet strict emissions targets needed to stop the devastating impacts of climate change.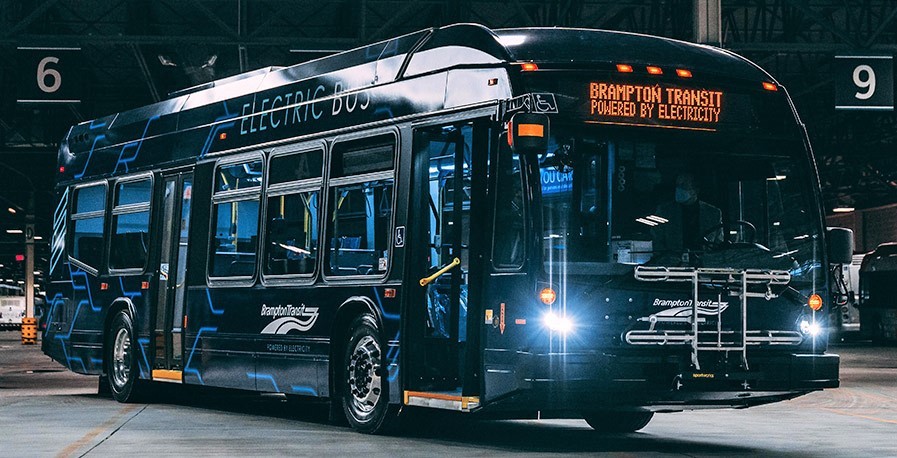 Brampton is rolling out an eight-bus electric pilot program this spring funded by Ottawa and the City has recognized major investments will have to be made to convert its fleet of about 500 buses to electric or other low-emission vehicles.
The City is currently falling way behind in its environmental and sustainability program and the new transit facility, which did not secure the funding for electrification as Mayor Patrick Brown had claimed he would do when he delayed funding for the facility, will not be able to accommodate a future electric bus fleet.
It would have to be converted in order to support necessary green infrastructure to meet the City's own targets.
These goals are informed by the Community Energy and Emissions Reduction Plan, under the Environmental Master Plan (EMP). Council passed a resolution under these commitments to reduce GHG emissions by 80 percent from 2016 levels by 2050.
The EMP outlines ambitious goals for addressing a number of environmental concerns, both within the City's organization and the community, including significant reduction of greenhouse gases.
The plan's first update last year shows the City failed to reach the majority of its goals, on target for only 3 of 20, and has omitted key details that would explain what went wrong, and how far the City still has to go.
One of the key items in the City's "Action Plan" is the completion of an analysis to completely electrify the transit system.
The lack of progress comes as the Community Energy and Emissions Reduction Plan states transportation accounts for 60 percent Brampton's greenhouse gas emissions. The City of Brampton declared a "climate emergency" in 2019, but the environmental report shows little has changed since that time.
The main culprit of the corporation's emissions is the City's "fleet", which includes all City vehicles, and road maintenance equipment.
"As the population of Brampton grows, service requirements increase, and this in turn increases the size, requirements, and pressures put on the City's fleet for the provision of services, as well as the GHG emissions produced from a growing fleet," a spokesperson stated, regarding the report's findings. "(A) Sustainable Fleet Strategy will, among other things, identify opportunities and approaches to improve fuel efficiency and reduce GHG emissions of our fleet."
However, last week's funding announcement for a massive new transit facility does not align with these sustainability commitments or the new electric bus pilot program, in cooperation with the federal government, launching this spring.
"We are thrilled with today's announcement, it is a great day for public transit in Brampton," Alex Milojevic, general manager of Brampton Transit, told The Pointer in an email last week.
The new facility is vital for the future of bus transit in Brampton. In the rapidly growing city, storage capacity impacts the number of buses that can be put into service and, as a result, the frequency of bus routes. Sub-zero Canadian winters make outdoor bus storage and cleaning near impossible, meaning the amount of indoor storage space directly correlates to the number of buses the city can own and operate.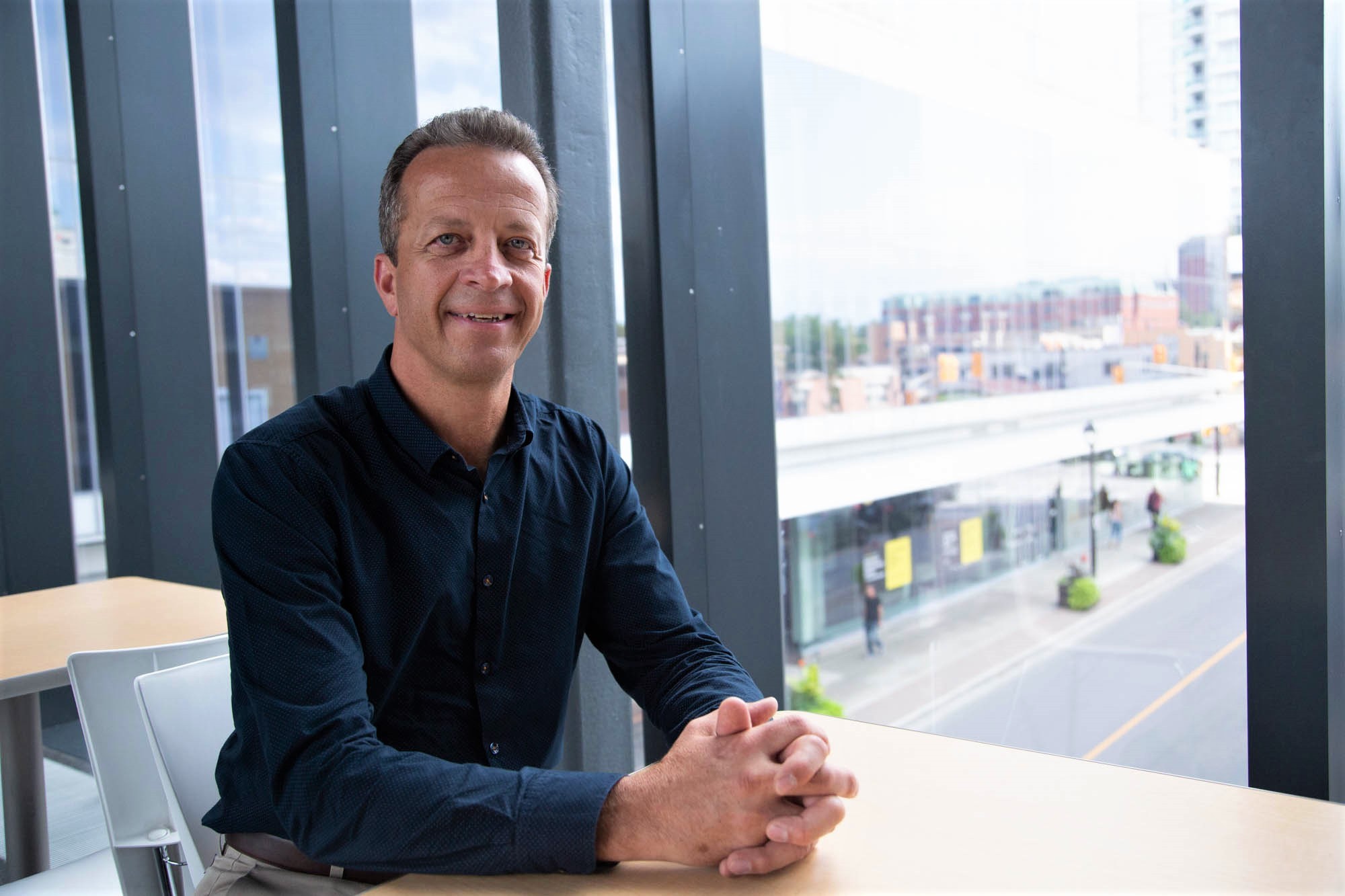 Alex Milojevic, general manager of Brampton Transit
For years, staff at City Hall have been concerned about storage space as Brampton Transit has grown and its ridership has skyrocketed. In 2015, the City's master planning process said there was a need for two new bus garages to be built: one in 2021 and another in 2028. The move was mapped out, years in advance, to limit capacity issues at the City's two existing transit storage facilities, which are currently at their maximum capacity.
In the years after the 2015 master plan called for two new garages, explosive ridership growth outpaced expectations. In 2017, it grew 18 percent and in 2018 it increased a further 14 percent.
But in 2019, shortly after the election of Mayor Patrick Brown, who ran on a no-tax-increase agenda, just two years before staff had said the first garage would be needed, council cancelled the plan under the new mayor's leadership. Instead, one large facility would be built in 2024 to reduce operating costs and buy some more time.
In Brampton, frequent bus service is essential because rapid transit like GO Train is rare.
Floodplain issues with the site selected for the mega facility mean it will be constructed in two phases and, as a result, it will essentially have two separate garages side-by-side. Construction of the second phase relies on additional funding and the realignment of Rainbow Creek. It will create storage space for an additional 188 buses.
Shortly after the new plan was adopted it was, once again, changed.
In his 2020 push for a second consecutive tax freeze (Brampton has now frozen its taxes three years in a row), Brown was behind a plan to displace the project's funding. A total of $135 million, previously earmarked for the 2024 garage, was removed from the budget.
While the move gave the mayor his tax freeze, the explanation offered by the City at the time was that some extra planning could allow for electrification (it's unclear why, under this rationale, the money had to be removed from the capital budget). "There's been a little bit of tinkering because we're looking at electric buses and how that might change it, but we expect we're going to have a partnership with the federal government for that," Brown said in February of last year, his words suggesting a deal was likely.
Fourteen months later, Brown's tone around the securing of funding for full electrification is notably less confident: "We welcome the Government of Canada's and the Government of Ontario's investments in Brampton Transit's third storage and maintenance facility," he said in a City media release. "Building on our Council's commitment to being a green city, we continue to seek funding to electrify the facility."
In some ways, the gamble paid off. Funding from higher levels of government, which was always likely as municipal transit projects are a stated goal of Ottawa's massive infrastructure plan, has at least been secured. But if the local funds had stayed in the 2020 budget, the City might have had more options for an electrified facility.
Instead, Brampton finds itself going to Ottawa cap-in-hand, repeatedly. It is now in need of more funds, this time for electrification. The City will also have to quickly consider how it will pay to transform its fleet, which will cost hundreds of millions of dollars. The federal government has just announced plans to invest in the electrification of municipal transit buses.
On March 4, the Liberal government announced $2.75 billion in funding over five years, starting in 2021, "to enhance public transit systems and switch them to cleaner electrical power, including supporting the purchase of zero-emission public transit and school buses."
The money is part of an "eight year, $14.9 billion public transit investment recently outlined by Prime Minister Justin Trudeau, and will also support municipalities, transit authorities and school boards with transition planning" to help reach emissions reductions targets established by Ottawa and other jurisdictions.
But without the infrastructure to support electric buses and no money budgeted for the possible requirement of a local share, it's unclear if Brampton will be at the back of the line when the federal government starts distributing funds.
This is where Brown's unsustainable zero-tax-increase policy becomes dangerous. The City is already reeling from his cuts and funding cancellations, as the downtown core continues to decay while Brown makes excuses for holding back tens of millions of dollars already pledged for critical infrastructure.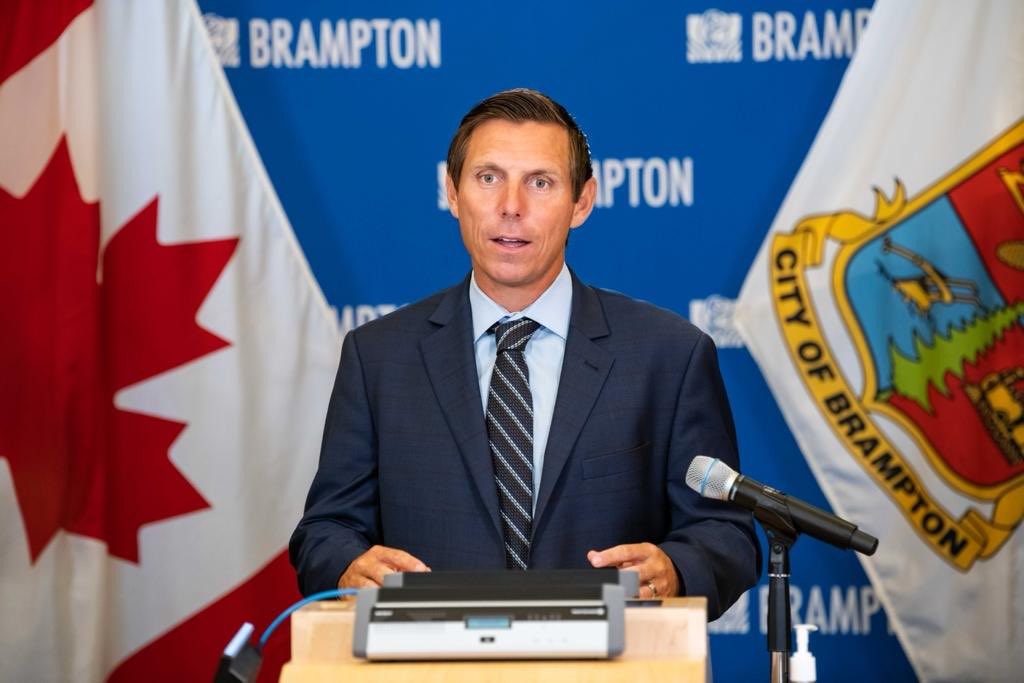 Brampton Mayor Patrick Brown
"Investments in infrastructure during this extraordinary time provides an opportunity to create jobs, stimulate economic growth, and to make our community more inclusive and resilient," Brampton Liberal MP Ruby Sahota said in a media release from her office last week.
Sahota has previously shared her frustration with inertia at City Hall, blaming the lack of requests for infrastructure out of City Hall for delays in Brampton funding. In the run-up to the 2019 federal election, she said the City's lack of action has been largely to blame for Brampton's woeful share of federal infrastructure dollars.
During the previous federal government term, Edmonton received almost 40-times the infrastructure investment from Ottawa compared to Brampton, using a per capita comparison. Going into the 2019 federal election Brampton had received about $42.4 million from the Investing in Canada Infrastructure Plan, compared to commitments of more than $1.9 billion for Edmonton. This meant Brampton's federal income taxpayers subsidized investments in other communities.
On a per capita basis, Brampton should have received about $972 million.
Brown's tax-freeze fixation is actually costing the city hundreds of millions of dollars, as capital plans that could qualify for federal funding are shelved and the local share needed to secure higher-level funding for other projects is ignored.
Ruby Sahota has expressed frustration with City Hall in the past
Sahota has in the past voiced her frustration with City Hall.
"Oftentimes [proposals for federal funding] had become so bureaucratic that members of parliament weren't even informed sometimes as to what proposals were being submitted," she said in 2019. "We have encouraged our councillors to speak to us about proposals which are being submitted because we want to be their champions on Parliament Hill. We want to have the ear of ministers and say that their department has received something."
Staff and councillors in Brampton perhaps proved her point in their handling of the transit facility request.
During the summer, council passed a motion directly asking Ottawa for $150 million to electrify their unfunded facility, after Brown removed the funding from the budget. In a frank response, Infrastructure Canada told the City it had gone about the process completely wrong and should apply for an electrified facility through the proper channels.
As of October 30 last year, there were no funding streams available for Brampton to apply for an electrified transit facility. "The City of Brampton continues to seek $150M in additional funding to electrify the facility," Milojevic added in his Thursday email response.
In February, City staff also began exploring the option of funding bus electrification through the Canadian Infrastructure Bank (CIB), a federal loans scheme. It would save Brampton upfront costs, but would equate to debt funding in the long term.
Council approved staff's request to enter a memorandum of understanding with the CIB to discuss the details of a possible agreement. "Both sides are actively working towards the final goal of a financial agreement that would allow the City of Brampton to help finance the higher upfront cost of electric buses compared to conventional buses, though lower costs are anticipated during operation over the life of the electric buses," Milojevic said.
It is unclear from this response if the agreement would involve funds to electrify the bus fleet and facility or just vehicles.
Brampton is now in a catch-22. It needs to electrify the entire transit system to meet necessary emissions-reduction targets, but the upfront cost of these investments can't be supported when the mayor is dead set against spending more money.
So ongoing funding to keep the outdated transit system running prevents the needed innovation.
Last year about $113 million was pledged to keep the old system operating, with Ottawa committing $45.3 million, Queen's Park $37.8 million and City Hall $30.2 million toward the replacement and refurbishment of existing buses, the creation of a new transit hub and changes to onboard cameras.
A similar announcement made in Oakville at the same time included funding for 16 new electric buses, while the overall Ottawa and Queen's Park share for the neighbouring municipality's transit needs was about twice the per capita amount committed to Brampton.
Last week's confirmed funding for the new Brampton facility's first phase means a clearer timeline is finally emerging for the project. Its environmental assessment will be available online for consultation until April 19, with construction planned to begin in 2022.
The building is currently set to open in late 2024.
---
Email: [email protected]
Twitter: @isaaccallan
Tel: 647 561-4879
---
COVID-19 is impacting all Canadians. At a time when vital public information is needed by everyone, The Pointer has taken down our paywall on all stories relating to the pandemic and those of public interest to ensure every resident of Brampton and Mississauga has access to the facts. For those who are able, we encourage you to consider a subscription. This will help us report on important public interest issues the community needs to know about now more than ever. You can register for a 30-day free trial HERE. Thereafter, The Pointer will charge $10 a month and you can cancel any time right on the website. Thank you.
Submit a correction about this story