Photos by Mansoor Tanweer/Joel Wittnebel
Youth gang activity prompts region to fund community hubs in Malton and Brampton
Regional funding looks set to finally arrive for a community hub in Malton, aimed at keeping young people out of gangs amid a backdrop of violent crime. Region of Peel council discussed the hub on Thursday, eventually moving towards the possible introduction of similar projects in Brampton.
The Malton Community Hub is the brainchild of Mississauga Councillor Carolyn Parrish, who represents the local Ward 5 area. In 2017, Parrish and city staff identified an unused former swimming pool building attached to Lincoln Alexander School near Malton Community Centre. The building, which the councillor said is still heated despite being empty due to its link with the school, was selected as a potential location for a new community project.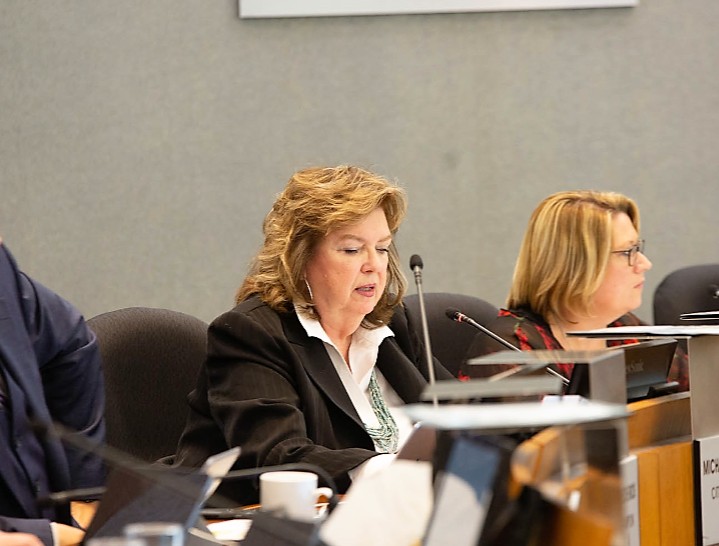 Mississauga and Regional Councillor, Carolyn Parrish, represents Malton
In July 2018, city staff costed the concept and set out their aim to use the space for a variety of community agencies and engagement programs, with $6 million for the plan identified as the responsibility of the Region of Peel, while a further $3 million would be provided by the City of Mississauga.
Pending business case approval, the community hub hopes to be open by 2022.
Expressing frustration during the regional council meeting at perceived heel-dragging by the region, Parrish said she would "slash my wrists" if regional colleagues did not play ball at budget time and offer $6 million of funding to allow the project to move forward.
"We can't keep saying 'okay, it'll be subject to budget' and go through the same discussion every time it comes up," Parrish said. "So I would like a commitment today, around this table, that once we [Mississauga] have invested our $3 million, that the $6 million, without question, is there and that it is not subject to someone dickering with it in the next budget. [That] it's actually a commitment."
However, the councillor's wait for funding is over and the light is poised to turn green.
"I can confirm that council will receive the draft 2020 budget on November 7. We will begin budget deliberations on November 28," Stephen VanOfwegen, the Commissioner of Finance and CFO at Region of Peel, told Parrish and assembled councillors. "In that budget, based on council direction… we will be proposing a one time budget of $12 million dollars to satisfy both the Brampton and Mississauga requests [for community hub initiatives]."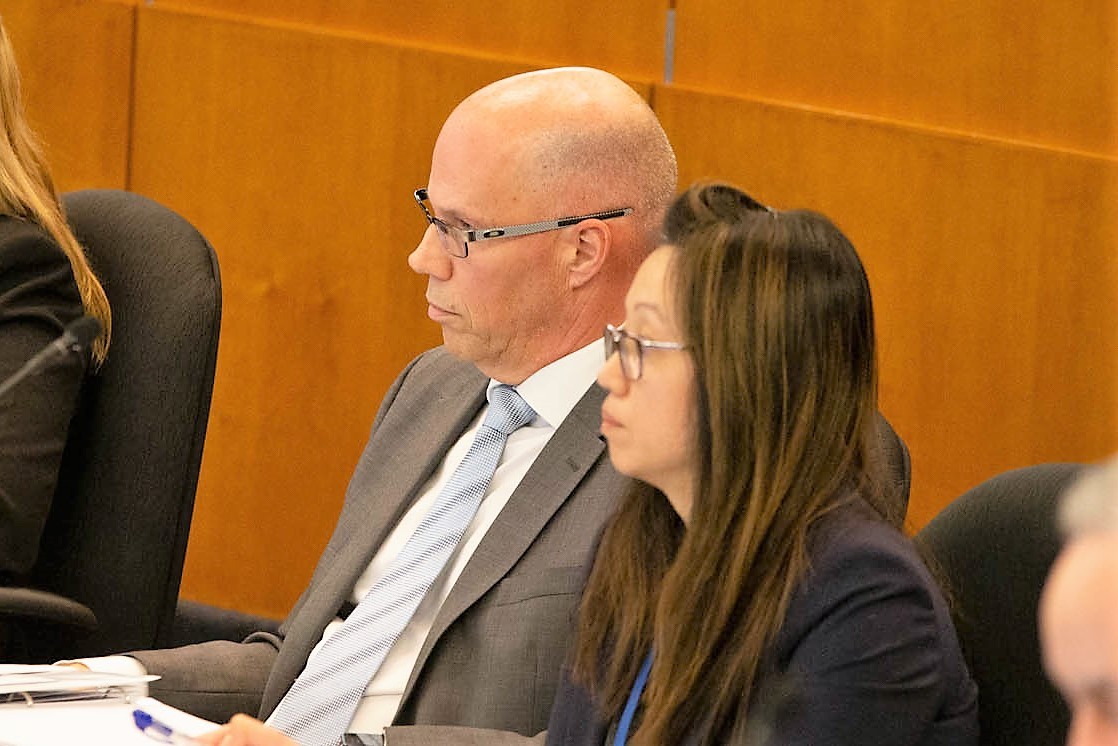 Stephen VanOfwegen, the Commissioner of Finance and CFO at Region of Peel
If regional council move forward with the one-time grant as suggested, significant capital will be available for a community hub in Brampton as well as the one already planned in Malton. As Brampton councillor Martin Medeiros accepted on Thursday, the Flower City is behind the Malton Community Hub in terms of the planning process. However, the discussion on Thursday lit a fire under the concept of a series of community hubs in both Brampton and Mississauga.
The idea of community hubs sparked interest from Mayor Bonnie Crombie as well as councillors Pat Saito, Martin Medeiros, Michael Palleschi and Rowena Santos.
With violent crime and gang related activities at the forefront of people's minds in Peel, particularly following the tragic Malton gang-style shooting of 17-year-old Jonathan Davis and five others who were wounded in the September ambush, the argument for a community hub is simple. Such a facility could help as an upstream measure to prevent youth from entering a life of crime. Programs run from community hubs, established by the one proposed in Malton, would offer activities for young people to help keep them away from gang activity and prevent youth gang involvement before it even happens.
"I fully support that we move as quickly as possible to get this done," Councillor Saito said, speaking in strong support of the concept. "And fully support that we need similar hubs in Brampton and likely in Caledon as well... Let's start putting out money into preventative programs for youth. Let's get them off the street. Let's give them the resources they need so they don't need to join gangs, so they don't need to move into a world of violence that's the only thing available to them. So, when the Brampton report comes forward [in November], I am going to be very supportive of it."
Though newer than Malton's proposal, staff at the City of Brampton are working to establish youth hubs at the Century Gardens Lawn Bowling Clubhouse as well as repurposing surplus space within South Fletcher's Sportsplex. The youth hubs, which the region's $12 million grant could help establish, plan to focus on social and health services for young people.
The passion for the project on display from an array of councillors on Thursday, meant that even cost seemed to be no obstacle. In particular, Parrish suggested that federal and provincial partners could, and should, step in to help with the operating costs. Citing provincial responsibility for some dental programs, as well as Jagmeet Singh's affinity for Peel, Parrish and Brampton Councillor Santos suggested lobbying their federal and provincial partners to provide grants and funding streams for the project.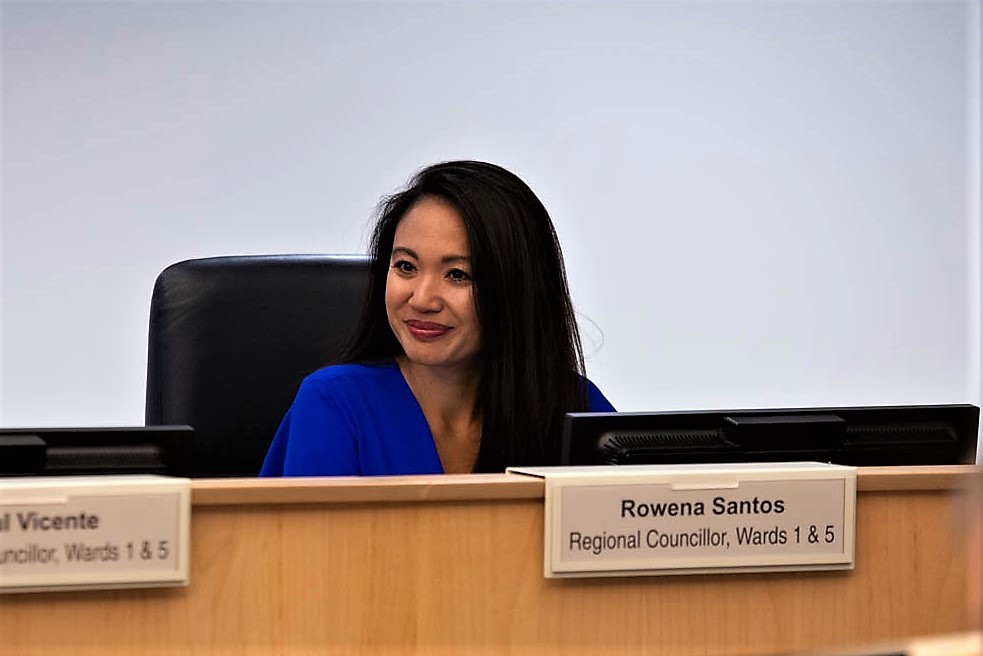 Brampton and Regional Councillor Rowena Santos wants to lobby higher levels of government for funding help
"I'm wondering if we're looking into putting pressure on our MPs to either open up funding streams or funding and grant opportunities to support community hubs like this," Santos asked, also suggesting letters be dispatched to Brampton and Mississauga's Liberal MPs to push for project funding. Parrish proposed that Jagmeet Singh, one of the political leaders who will hold the balance of power in Canada's 43rd Parliament, could advocate for the project too, describing him as "Brampton's secret weapon."
Some would be forgiven for thinking council got carried away on Thursday. As The Pointer has consistently reported, Brampton and Mississauga have received well below their fair share of federal infrastructure funding, while the provincial government has taken a $90 million university campus away from Brampton and a $200 million LRT loop from Mississauga in the past 12 months alone. Neither municipality has a track record of big federal or provincial handouts.
But this could be the beginning of a more aggressive approach toward local MPs and MPPs, to start doing a better job of securing fair share funding for their constituents, who pay taxes, but have not received an equal share of funding from Ottawa and Queen's Park in return.
Deepak Anand, the PC MPP for Mississauga-Malton, confirmed to The Pointer that he felt the community centre was a fantastic initiative. He added it was something he would happily lobby for as soon as exact demands are tabled. It is also thought by councillors that the project could fit into the federal Liberal minority government's promise of $250 million for municipalities to help tackle gang-related activities.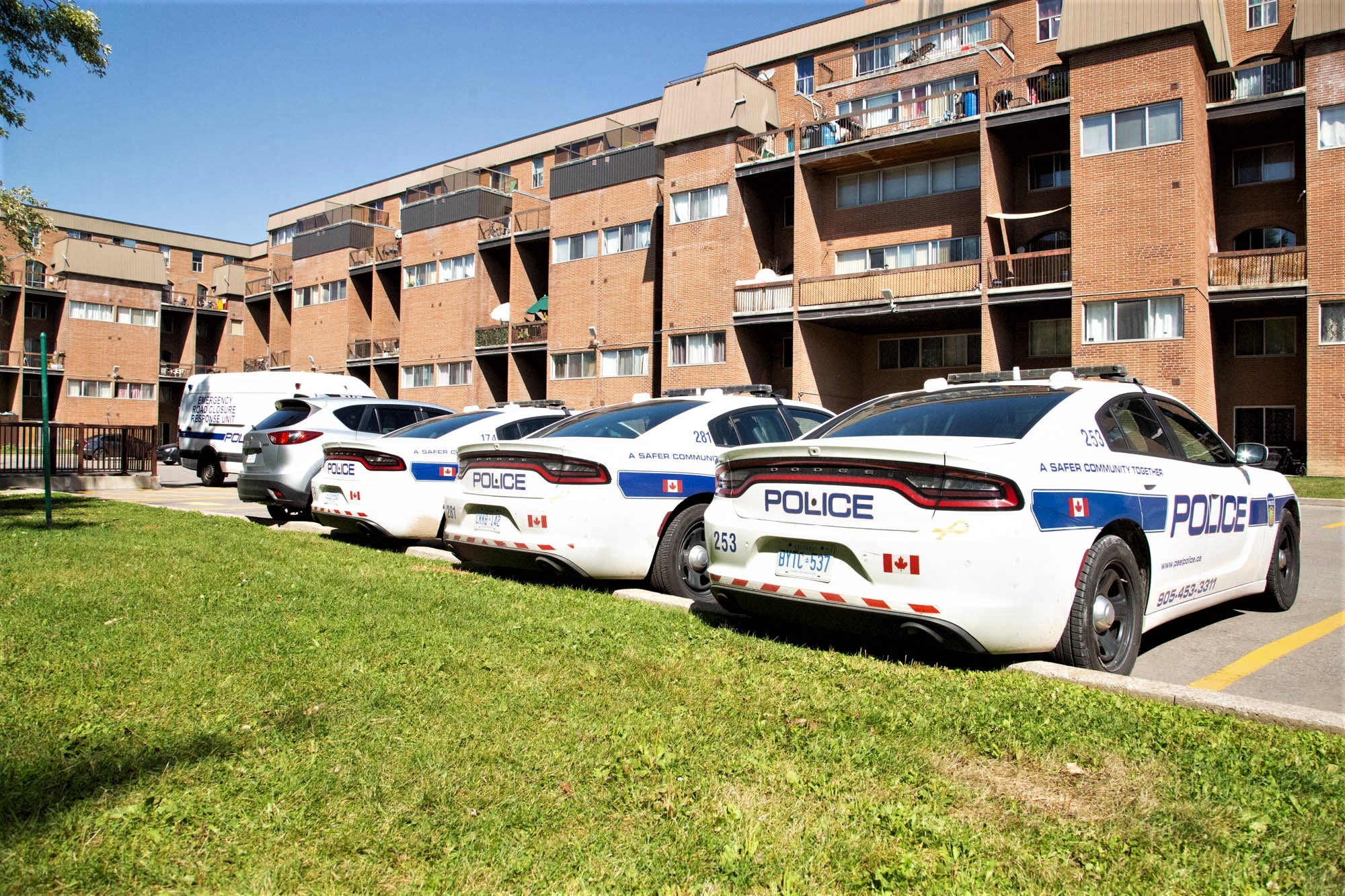 The Malton apartment complex where 136 bullets were fired in a September gang-style attack, killing one and wounding five
"As the MPP for Mississauga-Malton, I will always support any initiative that is beneficial to the community," Anand said in an email response. "Malton deserves and needs a physical space where organizations can offer programs and services that support local community needs. It is a terrific idea to utilize a public asset, such as the decommissioned Lincoln M. Alexander Secondary School pool, for the greater community good. This initiative has my full support."
With provincial goodwill on offer, a minority federal government in need of support and rare agreement at the regional level, the future looks bright for community hubs in Peel. An idea originally spearheaded by Mississauga's Carolyn Parish and community residents could, with the right organization, spread out across the region, as the new police chief and politicians search for answers to Peel's rising gang crime.
However, there is a sting in the tail. As Regional Chair, Nando Iannicca, pointed out to Parrish, Mississauga may have left the region before the budget is even agreed.
Doug Ford's regional governance review will be revealed soon, with three very different options on the table. The decision could amalgamate Peel's three municipalities into one city; divide them into three independent municipalities; or leave things exactly as they are. If, as Mississauga and Parish wish, the eventual decision is to split into separate entities, capital funding for Malton and other community hubs could disappear.
The funds, which seem so close today, may vanish once more, setting the project back to square one.
Email: [email protected]
Twitter: @isaaccallan
Submit a correction about this story