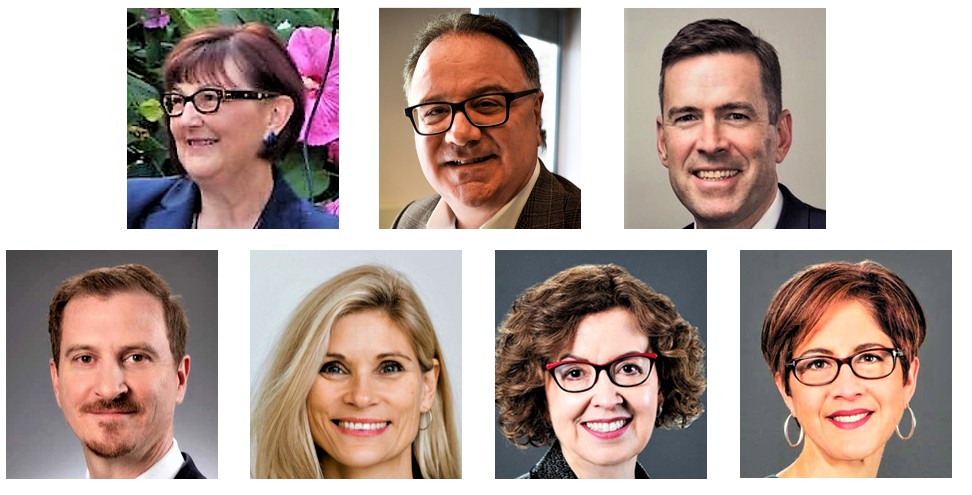 Feature images Janice Baker/The Pointer file photo/Region of Peel
Economic Inequality: Region of Peel under-hires visible minorities, completing a hat trick of municipalities
The Region of Peel likes to trumpet its diversity and commitment to multicultural values.
Its government releases marketing material that constantly showcases this, featuring a United Nations mix of diverse residents.
These hard working individuals, and their families, pay the taxes that prop up the regional government. Like their representation in the general population, they make up about two-thirds of that tax-paying pool.
But unlike their white counterparts, they do not get the same economic opportunities, grossly under-represented among the staff inside regional government who enjoy lucrative public-sector salaries and lavish benefits paid for by those same residents who are largely excluded from the most senior jobs.
The Regional government, and its administration, has followed Mississauga and Brampton in releasing a workplace census that shows its staff do not reflect one of the most diverse areas in the country.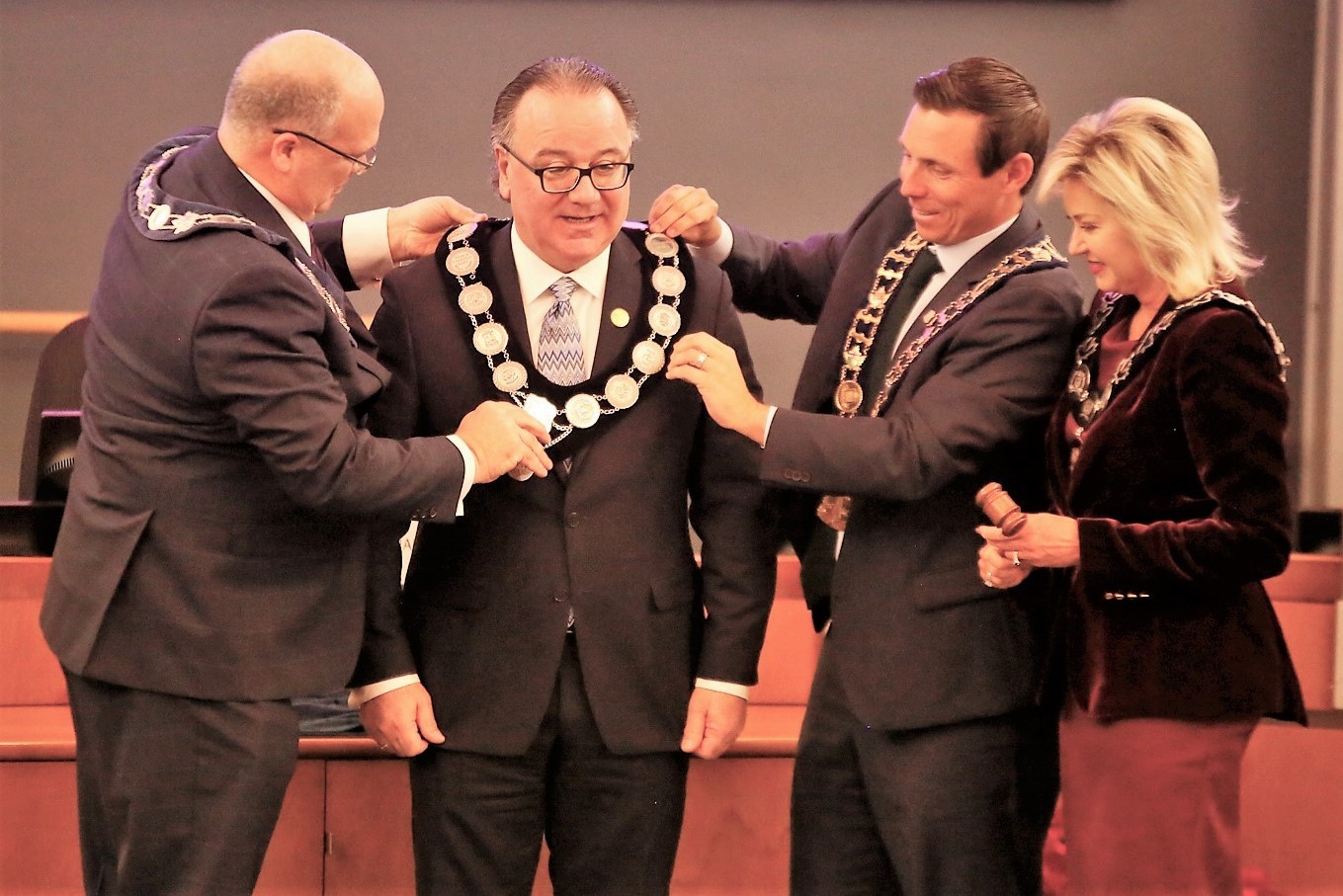 Peel's mayors and chair, from left: Allan Thompson, Nando Iannicca, Patrick Brown, Bonnie Crombie (The Pointer file photo)
It means the three local governments in both cities all face almost identical failings over representation, and the ideals of equality that are supposed to ensure all taxpayers in Peel have the same opportunities.
The staff responsible for services in Peel that range from transit and snow clearing to public health and caring for the elderly, and the non-union management and executives, do not share the lived experience of taxpayers.
The most lucrative taxpayer-funded jobs are being held by administrators who are overwhelmingly white, while a mosaic of diverse residents pay for their rich compensation packages.
When Mississauga and Brampton councillors received reports at the local level revealing an unrepresentative staff, councillors had extensive discussions. The surveys, which revealed what was already clear to most, sparked at the very least a conversation to do better.
"I think we're all in agreement that our staff should reflect the diversity that is our city, that it should be a microcosm of our city," Mississauga Mayor Bonnie Crombie said in May, when a similar report was released there. "We understand that we do have work to do to better recruit, better train, offer leadership positions to everyone."
When the Region's survey landed in front of councillors last week, they barely blinked. During a virtual council meeting Thursday, members allowed the latest indictment of local hiring policy to sail through, barely saying a word, failing to give voice to the vast majority of voters who put them in their seats, voters who are largely overlooked when seeking employment in many levels within the Region of Peel.
According to the survey, 41 percent of employees are racialized, but among senior ranks representation is worse. The overall figure compares to a regional population where, according to current projections, about two-thirds of all residents are non-white. The number of racialized staff at the Region is more reflective of the population than either Mississauga, where only 30 percent of staff are racialized, or Brampton, where the number sits at 37 percent (three quarters of that city's residents are visible minorities).
The Region's leadership team is less representative than its workforce as a whole. Sixty-two percent of all leadership staff are white, compared to 38 percent of staff who self-identified as racialized.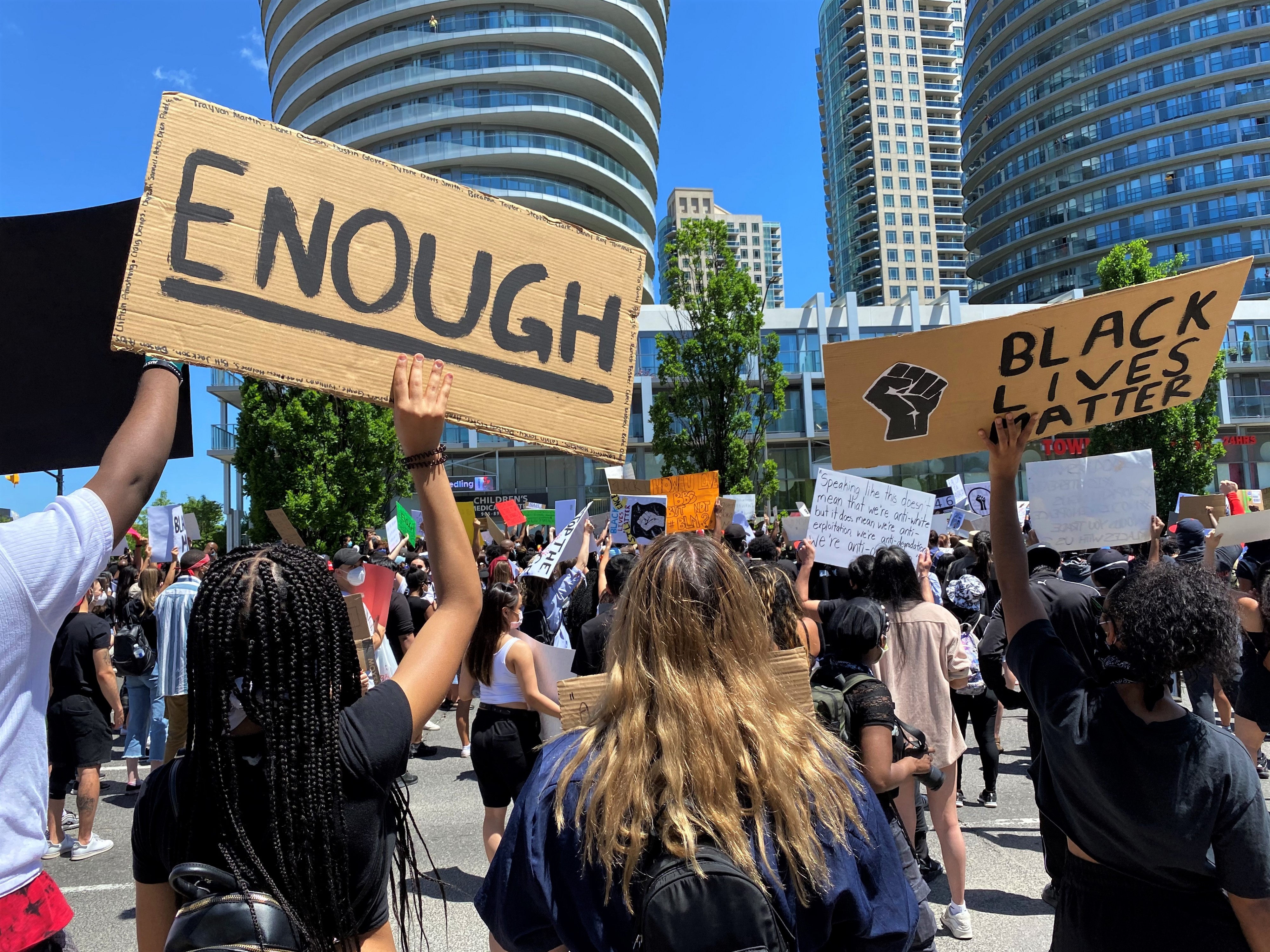 A Mississauga protest against anti-Black racism in Peel. (Image from The Pointer files)
"We intend to focus on an inside-out approach to ensure that our organization is on a path to address barriers to creating a diverse and inclusive workplace," Juliette Jackson, the Region of Peel's director of culture and inclusion, told councillors. "Although there is much work to be done, we believe we have momentum and we are now in a position to begin addressing gaps in equity and inclusion in our community."
Jackson is also the president of the Peel Children's Aid Society's board of directors. The organization is currently reeling from a provincially-backed review that found a "seriously troubled" and toxic work environment harming Black and racialized staff.
The Region of Peel issued an anonymous workforce census to its employees over a four-week period in fall, 2020. Around 3,000 employees — or 50 percent of the workforce — responded to the survey. The figure means an accurate picture has only been gathered for half its employees, but the Region says it "reached its goal" with a 50 percent turnout.
It's possible that visible minority staff are over-represented in the survey responses, and the inequality is even worse than the results suggest. But councillors did not ask these obvious questions on behalf of taxpayers, so the actual figures remain unclear.
It's also unclear what the lack of diversity looks like among the highest reaches of senior staff ranks, where executives ultimately make the decisions that go before council and dictate the culture of the entire organization. The report mentions the lack of diversity among "leadership", but does not define each of these levels or provide a breakdown. A quick scan of the photos that showcase these individuals on the Region's website shows they are overwhelmingly white.
Peel's executive leadership is exclusively white. Clockwise from top left: CAO Janice Baker; Chair Nando Iannicca; Commissioner of Finance Gary Kent; Commissioner of Health Nancy Polsinelli; Commissioner of Human Services Janice Sheehy; Commissioner of Public Works Kealy Dedman; Commissioner of Services Sean Baird (Images Janice Baker/The Pointer/Region of Peel)
Very little was explained about the methodology of the survey.
Many of the findings in the survey are near-carbon copies of the results Mississauga and Brampton unearthed. They also mirror the findings of equity surveys at the Peel Regional Police. Black and Indigenous women, for example, have a less positive experience of diversity and equity work than white men and women.
"Respondents identifying as a man have greater access to advancement opportunities," the census found.
Despite disturbing findings that confirm yet another Peel institution is failing to represent and provide opportunities to the taxpayers it serves, councillors barely paused to read the report.
Thursday's regional council meeting was dominated by procedural spats over how to appoint the Region of Peel's chair, with some discussions around COVID-19.
Jackson's presentation washed over councillors, with only Caledon members Annette Groves, who is Jamaican-Canadian (with Indian heritage), and Johanna Downey, who identifies as white but has grandparents with African heritage, making any comments on its contents. The Mississauga and Brampton mayors were not at the meeting, attending the Ontario Big City Mayors Caucus.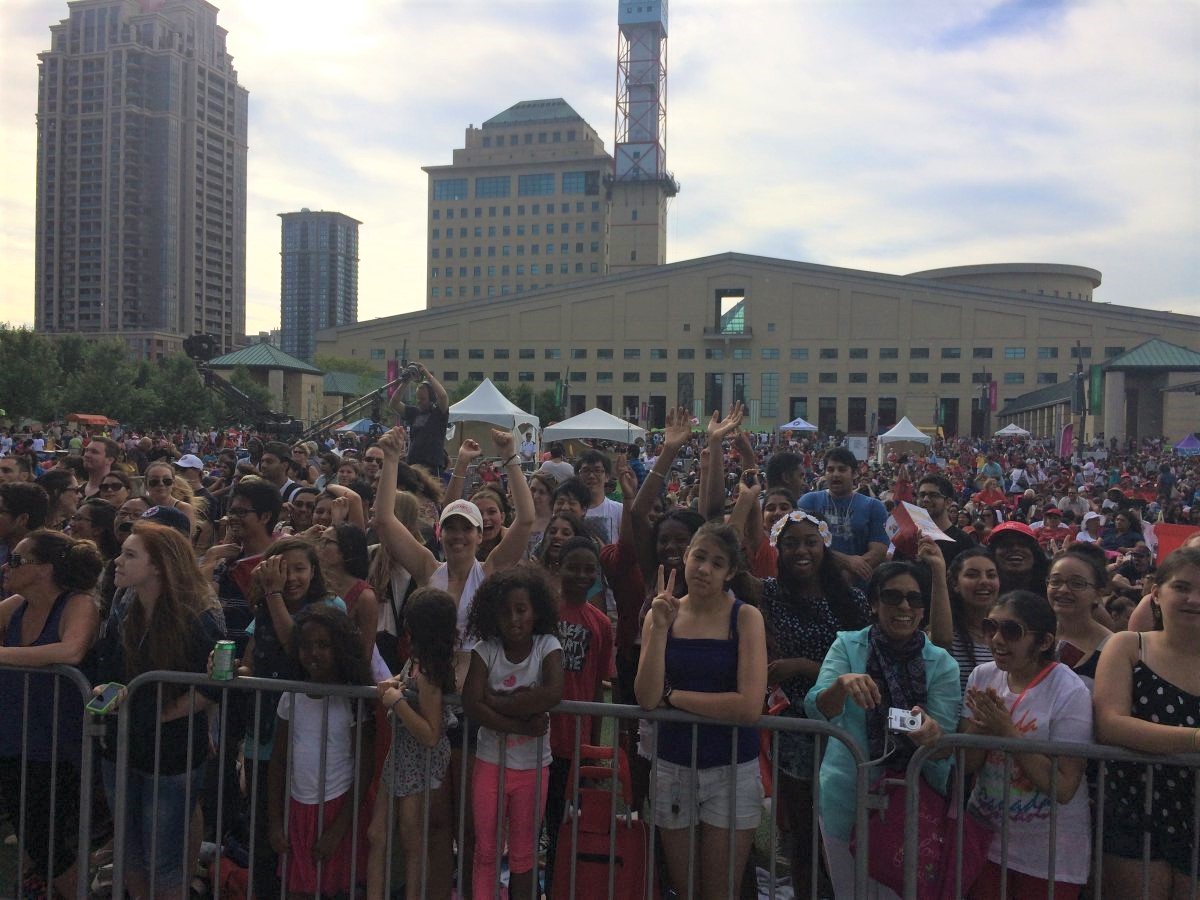 Mississauga and Brampton make up the vast majority of Peel Region (Image YouTube screengrab)
The presentation came to council via the Region of Peel's diversity committee. Mississauga councillors Dipika Damerla, John Kovac and Sue McFadden, along with Brampton councillors Gurpreet Dhillon and Rowena Santos, sit on the committee, which Downey chairs. Other council members might not have had an opportunity to analyze the report.
"Our region has changed a lot," McFadden told The Pointer. "I've been doing this for 25 years and I can tell you, it has changed dramatically. We have to change, each municipality and the Region."
McFadden chairs the Mississauga Diversity and Equity Committee (DIAC), which she has admitted in the past has struggled to fulfill its mandate. The group was launched under Crombie after she became mayor in 2014, but has been a large disappointment, with meetings frequently cancelled and no clear agenda proposed by members. But it is often used by the mayor and others such as former Mississauga councillor Nando Iannicca, the current chair of Peel Region, as an example of progress, even though it has achieved very little.
McFadden, who is frank about DIAC's failings, says that the use of outside consultants has helped to push her committee closer to growing into and fulfilling its vital mandate in Mississauga.
McFadden, who represents a part of her city that has seen massive growth and a huge demographic shift since she was first elected in 2006, was the only Brampton or Mississauga regional councillor to address questions sent by The Pointer about the diversity and equity survey.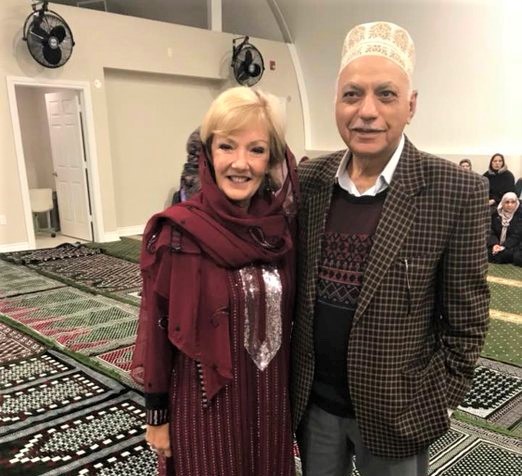 Mississauga and Regional Councillor Sue McFadden is the co-chair of the city's diversity committee; she visited a new Mosque in her community in 2019. (Image from Sue McFadden/Twitter)
The Region of Peel's work was done using the services of WorkTango, a company that specializes in surveying staff. "Employee surveys that shift employee feedback to active conversations and enable leaders to act," a tagline on its website reads.
"Our inaugural workforce census was developed by WorkTango, an external vendor procured by the Region of Peel, who has consulted with data analysts and social scientists with input from industry leaders, City of Toronto included," a spokesperson for the Region of Peel said. "They partnered with the Diversity, Equity and Inclusion firm, Feminuity."
The Region will now embark on its own work to reform how it hires, promotes and looks after staff. Inside its Bramalea headquarters, conversations about unconscious bias and systemic barriers mirror those taking place in Brampton and Mississauga, according to staff.
It will conduct a review of its "processes and practises" to be completed next year, with recruitment, promotion and salary being key areas of focus. It will also work on a general diversity and inclusion strategy for the entire organization, something that was delayed by the pandemic.
Three municipal corporations that serve the same community and have identified almost identical problems in staffing will each come up with their own unique responses.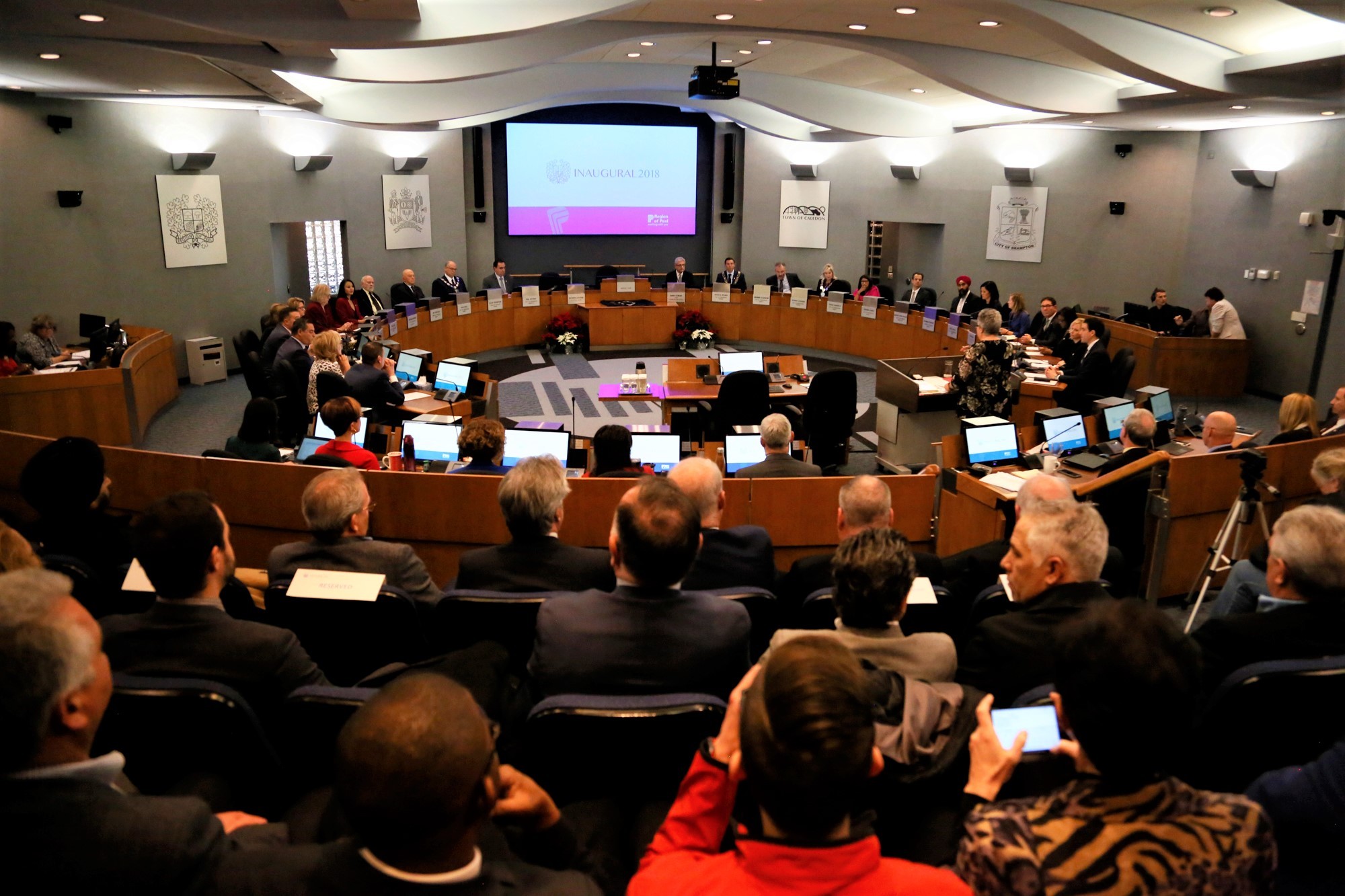 A Peel Region Council meeting at the headquarters in Brampton (The Pointer files)
McFadden says she has invited Jackson to attend DIAC, the Mississauga diversity committee, to learn from its history, and avoid some of the mistakes that were made. Peel's 2022 budget will include some funding for diversity and equity work, but no details were provided.
Duplication within three levels of municipal government, all facing the same failures, is something that ETIO Public Health Consultants and Public Health Insights, an organization that works with various public-sector institutions, addressed in a report last year. The group argued that an umbrella model for a province-wide approach to sweeping equity problems across Ontario is needed to avoid the piecemeal approach being haphazardly used in places like Peel.
It's clear that Ottawa and Queen's Park support immigration and diversity, but the rapid demographic shifts in Canadian society over the past few decades, as a result, have not been met with inclusive approaches among white administrators who hold much of the power, and continue to protect the status quo that benefits them and those who identify with them.
Often, who you know, and whose social networks you connect with, can dictate employment opportunities, instead of experience and competence.
ETIO suggested an interview process to be used across Ontario with racially diverse people on each panel and questions based on the specific requirements of the job, not other external factors. Since the Region and both cities fulfil similar roles, and it is not uncommon for staff to move between the organizations, this process could be standardized across Peel's municipal organizations.
"The Region is on a journey to becoming a more diverse, equitable and inclusive workplace," a spokesperson said. "Our team is committed to this journey, brings a variety of skillsets, experience and subject matter expertise, and works with industry professionals such as WorkTango to lead the development, analysis and reporting of the workforce census to ensure subject matter expertise and effective delivery of content."
It's unclear what has prevented the Region of Peel from being an equal-opportunity employer.
Regular tracking of hiring and promotions, especially into the senior ranks, will now have to take place by the Region, in order to live up to its claim of being "committed to this journey", one it has failed to take despite decades of rapid demographic shifts that have been obvious to anyone who lives in Mississauga or Brampton.
At the Region, the diversity of staff is often even more crucial than it is inside either Brampton or Mississauga City Hall. The Region is responsible for providing critical public health care support, some long-term care and community social work that looks after human services, on top of being responsible for policing and paramedic services.
Having staff with the cultural competency and lived experience of residents to design effective programs and deliver equity-based services for Peel's diverse population is critical.
Institutions across the two cities are facing internal crises because they have failed to recognize this, resulting in deeply damaging realities caused by the disconnect between leadership and those residents they are supposed to serve.
"They have to be able to relate to the people that are coming for those services," McFadden said. "I don't understand what has happened in another country [or cultural group], I can't relate, other than the fact I hear it a lot, but I haven't lived it. So we need people that understand what has happened in those countries."
Often, lived experiences rooted in other places, end up becoming a problem in Peel, because, as McFadden admits, staff hired to represent the community, do not reflect them.
At the same time, the economic opportunities needed for residents to thrive, are being kept from them.
---
Email: [email protected]
Twitter: @isaaccallan
Tel: 647 561-4879
---
COVID-19 is impacting all Canadians. At a time when vital public information is needed by everyone, The Pointer has taken down our paywall on all stories relating to the pandemic and those of public interest to ensure every resident of Brampton and Mississauga has access to the facts. For those who are able, we encourage you to consider a subscription. This will help us report on important public interest issues the community needs to know about now more than ever. You can register for a 30-day free trial HERE. Thereafter, The Pointer will charge $10 a month and you can cancel any time right on the website. Thank you
Submit a correction about this story