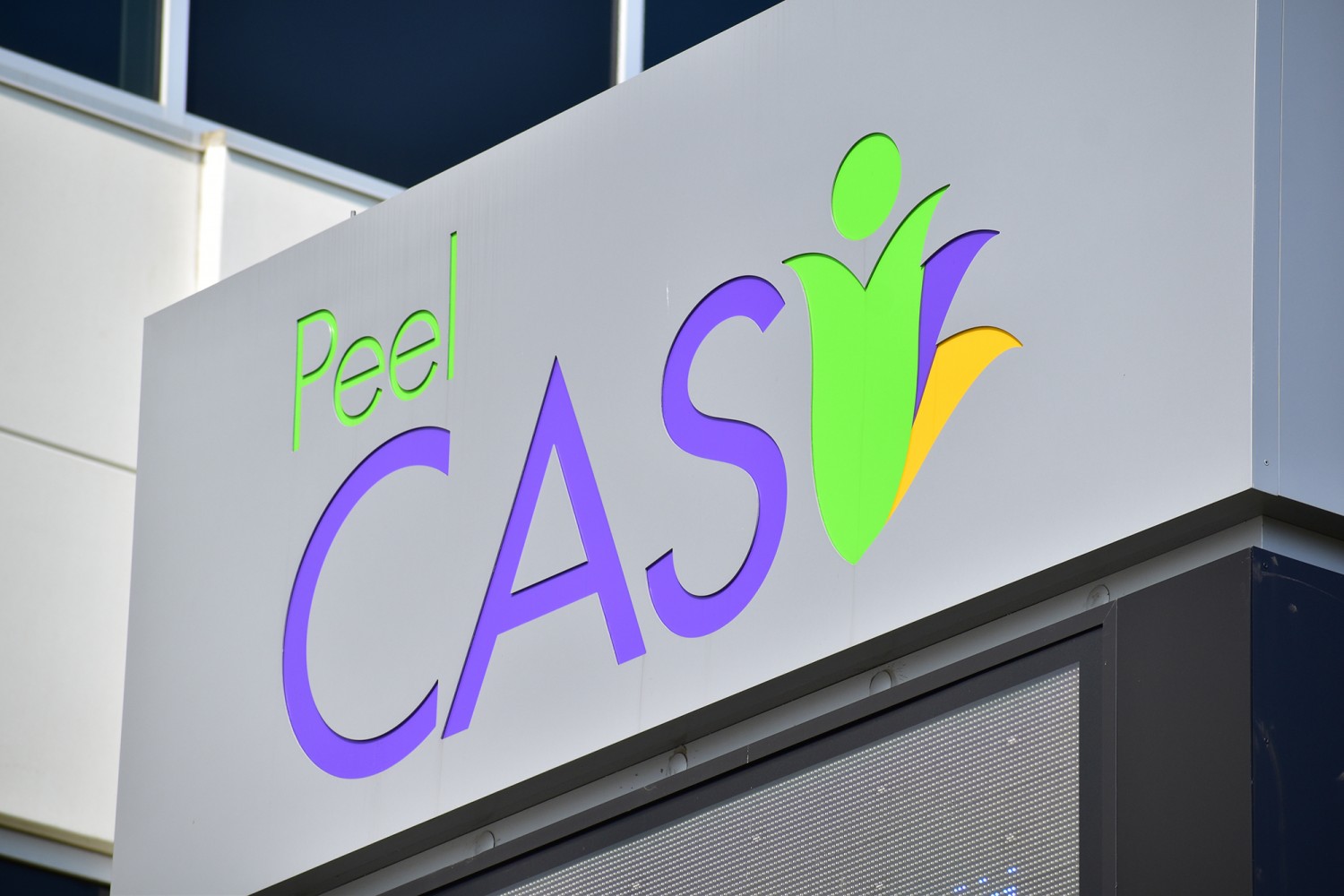 Image from Isaac Callan/The Pointer
Provincial investigation of Peel CAS reveals 'seriously troubled' workplace and a 'culture of fear'
Many of Peel's most vulnerable residents are in the care of its Children's Aid Society which provides desperately needed support. A provincial review has confirmed what stakeholders have been saying for months: the organization, responsible for protecting young people at risk, is in peril itself.
"The workplace environment is seriously troubled," the investigation report explains. The provincially-ordered probe was launched at the beginning of the year, after allegations of anti-Black racism and a toxic work environment at Peel CAS were levelled by staff.
The troubling revelations were released Friday.
"The leadership culture is described as command-and-control; the union-management relationship is described as dysfunctional; communication lacks clarity and transparency; conflict is avoided; safe spaces for difficult conversations are lacking; and too much change is expected too quickly."
This is not the first review to highlight concerning issues within the children's welfare organization. Almost a year ago, Peel CAS was implicated in damning allegations of anti-Black racism and a harmful workplace culture.
In October 2020, a summary report of sessions conducted by Breakthrough Counselling and Wellness collated the experiences of Black staff (who remained anonymous) within the CAS. It is responsible for the care of young people in the region often facing tremendous obstacles and works hand-in-glove with the Peel District School Board, the Dufferin-Peel Catholic District School Board, the French Catholic Board and the Peel Regional Police. These organizations deal with their own issues around bias and PDSB and Peel police are reckoning with systemic discrimination inside their organizations as well.
In the report by Breakthrough Counselling, commissioned by the Peel CAS union, staff members described a divide between management and leadership. The document referenced nepotism within the organization and said Black staff see senior leadership as "untrustworthy" when handling their concerns. The report included the finding that management "has no picture of what is happening to or being experienced by Black staff."
After the union-led initiative to canvas Black staff and help them process the transformative events of 2020, when anti-Black racism protests swept North America, the Province triggered a review of Peel CAS.
The ministry-backed review, ordered in February, has finally delivered its verdict. A lengthy report, which fails to focus a spotlight on the anti-Black racism allegations that prompted it, describes an organization not looking after its staff, confirming earlier allegations.
Investigators from two separate third-party organizations have now each come to the same contrasting conclusion: Peel CAS is serving its community well, while simultaneously failing its staff.
This tension is illustrated through the example of data collection. When it comes to serving clients, Peel CAS uses it effectively to "evaluate client services and make improvements". On the other hand, for staff, "the board does not have metrics in place" to understand if its commitment to a healthy and inclusive workplace is being met. Pages upon pages of the review show, in no uncertain terms, Peel CAS is not meeting that commitment.
"The safety, well-being and inclusion of our staff and the community we serve are our highest priorities," Juliet Jackson, Peel CAS Board President, said in a statement. "The report has made it clear that while we have focused and delivered on our commitment to excellence in service delivery, we have at times lost sight of the needs and experiences of our own dedicated staff - the foundation of our agency. We must do better, and we will do better – through concrete, unified, measurable action."
A colourful play park behind Peel CAS' Mississauga headquarters.
(Image from Isaac Callan/The Pointer)
A key to creating an organization that succeeds while failing staff comes from how credit is given. Several findings show senior leadership taking public praise for achievements delivered by staff who are working themselves to the bone.
"Workload demands have led to burnout and concerns for safety," the report says. It shows that Peel staff are carrying a higher workload than workers at other children's aid societies around Ontario.
In the third quarter of the 2020-2021 year, for example, Peel CAS' case carrying workers were served with 78 cases each, compared to an average of 56 for comparable children's aid societies. That means workers in Peel were handed almost 40 percent more cases than their colleagues at comparable organizations. The impact of this is felt by both staff and the families the organization serves, with staff working themselves to the edge and vulnerable youngsters receiving fewer quality hours in Peel than they do in other regions.
It means staff are burned out as they ensure children's safety, complete monthly visits with families where concerns have been identified and manage difficult collaborations with community partners.
A quest for excellence within the organization called "Perfect Peel" is seen by staff as the ultimate priority. The report says many feel it takes precedence over their well-being or safety.
Before the Ministry-backed review was published, senior leadership within Peel CAS pushed back against the union's work, which was met by denial and inaction. In a 55-minute interview with The Pointer in December, confronted with the union report and experiences of Black staff, CEO Rav Bains conceded his organization was far from perfect but said it is not unique in this failure.
"Like every institution, there's more work to do, including the media, including all the other systems," he said. "So we've said that upfront."
The provincial review was ordered when it became clear the union and Peel CAS leadership could not agree. That mistrust is documented in the review and listed as a key failing that impacts workers.
"Many staff describe a lack of morale due to unresolved conflicts in the organization, such as union-management relations and a lack of respectful communication between individuals," the report says. "Little or no recognition for years of service or achievement or exceptional provision of service."
Investigators say staff believe leaders are engaging in "frequent and repeated" use of contractors to weaken the union and "invoke fear and uncertainty in employment status".
Peel MPPs with CEO Rav Bains (second left, front) in July.
(Image from Twitter/Rudy Cuzzetto)
Morale in the organization is low as a result of many leadership issues. Investigators report that staff believe there is a "lack of accountability" when it comes to racism or sexism, with concerns "dismissed" and "minimized". The report says experiences of racism are "dealt with through blame and shame discourse". A business-first approach to management has put staff well-being at the bottom of the priority list and "responses to broader workplace issues are seen as reactive or performative with little time for planning or follow through."
The top-down structure of Peel CAS has stifled its growth and fostered a "culture of fear" within its workforce. That culture is referenced both in the original CUPE 4914 report and again in the Ministry-backed review.
Multiple sources within the organization who spoke to The Pointer expressed concern about what senior leadership would do to move forward and frustration that the report did not put anti-Black racism at its centre. Some were concerned the review may not result in individual accountability at the top of Peel CAS.
None were willing to speak on the record for fear of reprisals. "There is a perception by some staff that speaking up against management will lead to loss of employment or loss of opportunities," the review says.
"The critical insights and recommendations in the report will help guide this agency towards healing, rebuilding trust and meaningful, transformative change," Bains said in a statement released after the report. "Our leadership team is committed to working collaboratively with staff, the union, the Ministry and the Board to act on this report and build an organization where everyone feels respected and supported."
Research conducted by investigators shows Black staff feel particularly undervalued. Survey scores reveal they have significantly less faith in the organization than their colleagues.

The Province's review into Peel CAS was published last Friday.
(Image from Isaac Callan/The Pointer)
Over 359 staff, managers and board members were consulted in the workplace study, overseen by the Centre for Conflict Resolution International (CCRI). The investigators used surveys, focus groups and interviews to conduct their research.
The workplace assessment was part of a broader audit that included financial and policy analysis. The entire process was led by the Osborne Group, a Toronto consulting firm. Six provincial staff members also contributed to the work.
A key area where the review appears to have strayed from its roots is the complaints of anti-Black racism. Allegations of anti-Black racism within Peel CAS surfaced after the work of Breakthrough Counselling and Wellness' with Black staff last year portrayed a culture where racialized staff felt simultaneously marginalized and tokenized. They are "used for photo ops, so the organization can appear to celebrate diversity", the original report said.
Despite this focus in the initial report, CCRI's work did not centre on anti-Black racism, focusing instead on workflow challenges. CCRI specializes in conflict resolution rather than investigating equity issues and was hand-picked by Bains and CAS' senior leadership team.
An internal Peel CAS email, sent by Bains to all staff members and reviewed by The Pointer, shows that CCRI was Peel CAS' senior leadership's first choice reviewer. The communication, sent on January 11, told staff CCRI has been retained to review Peel CAS. It was sent more than a month before the Province confirmed it would be investigating the organization. It's unclear why Peel CAS did not approach multiple firms to gauge who would be best equipped to review the troubling allegations levelled by staff.
"Although the decision to enter into a contract with CCRI as part of the comprehensive review was made by the ministry, CUPE 4914's (the union) Anti-Black Racism Committee was consulted on the use of this vendor," a provincial spokesperson previously said in an email. "The Committee met with their membership in February to present this option and the membership voted in support of the use of CCRI."
Rav Bains with Mississauga Mayor Bonnie Crombie.
(Image from Twitter/Peel CAS)
The workplace review focused on perception and culture, with only a few mentions of systemic issues and how to address them. It frames the issues within Peel CAS as a divide between management and staff, not the anti-Black racism staff described in last year's report.
The initial review work was completed for mid-July, with investigators then asking clarifying questions of Peel CAS. The final report was delivered on September 2 and published on October 1.
Shane Vieira, Peel CAS' director of communications, says this process did not involve the organization either seeing a draft of the investigation or having any influence over how it would be presented. He told The Pointer the process was only to verify information that had already been collected.
"The review has been a completely independent process, led by the Osbourne Group and the Centre for Conflict Resolution International," he wrote in an email. "Peel CAS was asked to fact-check some statistical information about the organization for verification purposes only. We have not seen the draft report or any of its findings or recommendations. We have not provided any input or had any involvement in its preparation."
When the initial report by Breakthrough Counselling and Wellness was completed and Peel CAS responded, senior staff said its findings would play a key role in future work. Bains said a new report would "not replace anything" and Chima Nsitem, Peel CAS' director of diversity, equity and inclusion, said the report would "be used as a guide".
The Province also said the contents of the union report would be shared with CCRI.
However, Breakthrough Counselling and Wellness confirmed to The Pointer that CCRI and Osbourne Group had not approached the organization with questions.
Reviewers at CCRI said Peel CAS relied on third-party organizations to act as a "buffer" or a "band-aid" to staff concerns. Experts and outside consultants have come and gone, ultimately not allowing "for the honest and difficult discussions needed to address how racism is impacting staff and leadership within the organization".
Staff at Peel CAS serve vulnerable young people in the Region of Peel.
(Image from Isaac Callan/The Pointer)
Behind the concerns about a toxic work environment is a chaotic set of policies. The Peel CAS' human resource policies are, in many places, inadequate when dealing with discipline, complaints or sick leave issues and often not aligned with key provincial legislation.
The harassment and discrimination policy, for example, is not in line with the Ontario Human Rights Code and does not specify the employer's duty to investigate all complaints. The staff discipline policy "lacks clearly articulate steps to handle discipline issues". Meanwhile, the sick leave policy is not detailed enough and may not conform to the Employment Standards Act.
"A number of policies were found to be out date[d], not within best practice and needing an improved focus on inclusion," the report says.
Despite its wide-ranging internal issues (balanced to a certain degree by a positive reputation in the community), Peel CAS' leadership will be allowed to play a key role in the next steps. The organization will submit a plan to the Province explaining how it will act on the damning revelations.
In the first meeting with staff since the report was released, Bains and Peel CAS' leadership showed few signs of changing. An event on Monday with staff, which The Pointer obtained audio from, lasted around an hour, with board president Juliette Jackson, Bains and consultants on hand to present their view of the review. The event wrapped up without taking any questions from staff, continuing the style of top-down management highlighted in the review.
Peel CAS must complete and submit its work plan within 45 business days.
"We will continue to be in close communication with the society throughout this process," a Ministry spokesperson said.
---
Email: [email protected]
Twitter: @isaaccallan
Tel: 647 561-4879
---
COVID-19 is impacting all Canadians. At a time when vital public information is needed by everyone, The Pointer has taken down our paywall on all stories relating to the pandemic and those of public interest to ensure every resident of Brampton and Mississauga has access to the facts. For those who are able, we encourage you to consider a subscription. This will help us report on important public interest issues the community needs to know about now more than ever. You can register for a 30-day free trial HERE. Thereafter, The Pointer will charge $10 a month and you can cancel any time right on the website. Thank you
Submit a correction about this story