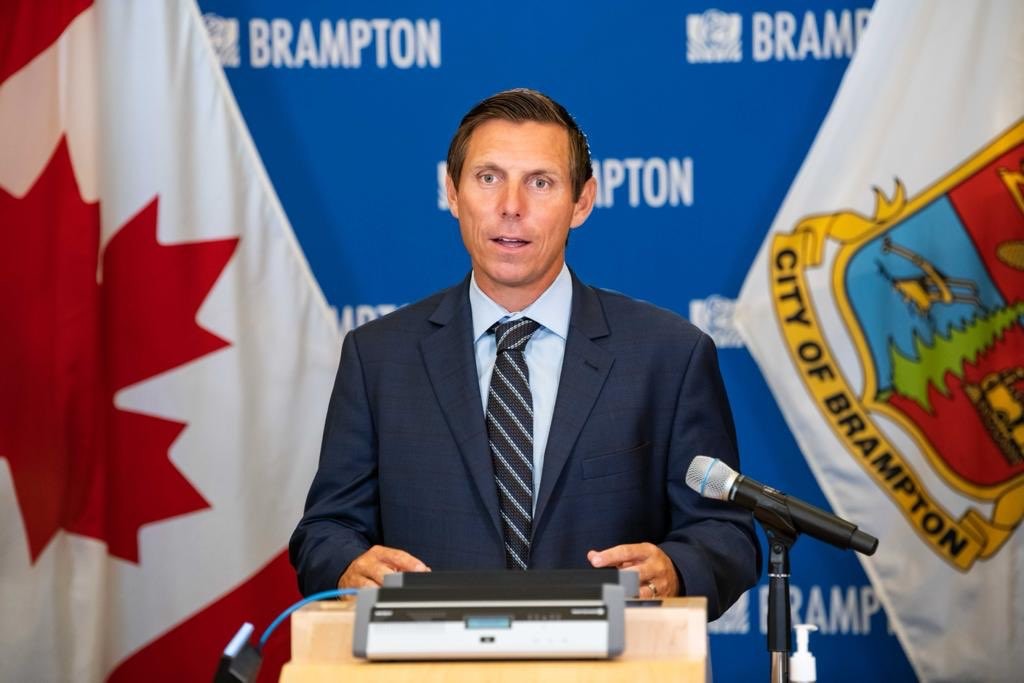 Photos from The City of Brampton/Optimum Publishing International
Patrick Brown dodging questions about his spending & disturbing conduct inside City Hall
Since The Pointer began reporting on a number of troubling irregularities inside Brampton City Hall early in the new year, Mayor Patrick Brown has suddenly refused to answer questions.
A $44,000 expense listed under his name for legal fees in 2019, is one of many issues Brown refuses to address. The hiring of unqualified individuals for key roles, the quashing of accountability and oversight mechanisms and the handing out of lucrative City contracts to people he knows, are some of the mounting concerns The Pointer has tried to ask the mayor about, but Brown has dodged questions for almost two months.
The first notable refusal to answer questions was in early November, when The Pointer sent a standard email request asking about details of a meeting Brown had with Premier Doug Ford.
A number of freedom of information requests had been filed by The Pointer to obtain documents available to the public that would help explain questionable decision making under Brown regarding his use of taxpayer money, hiring and other issues inside City Hall since his arrival at the end of 2018.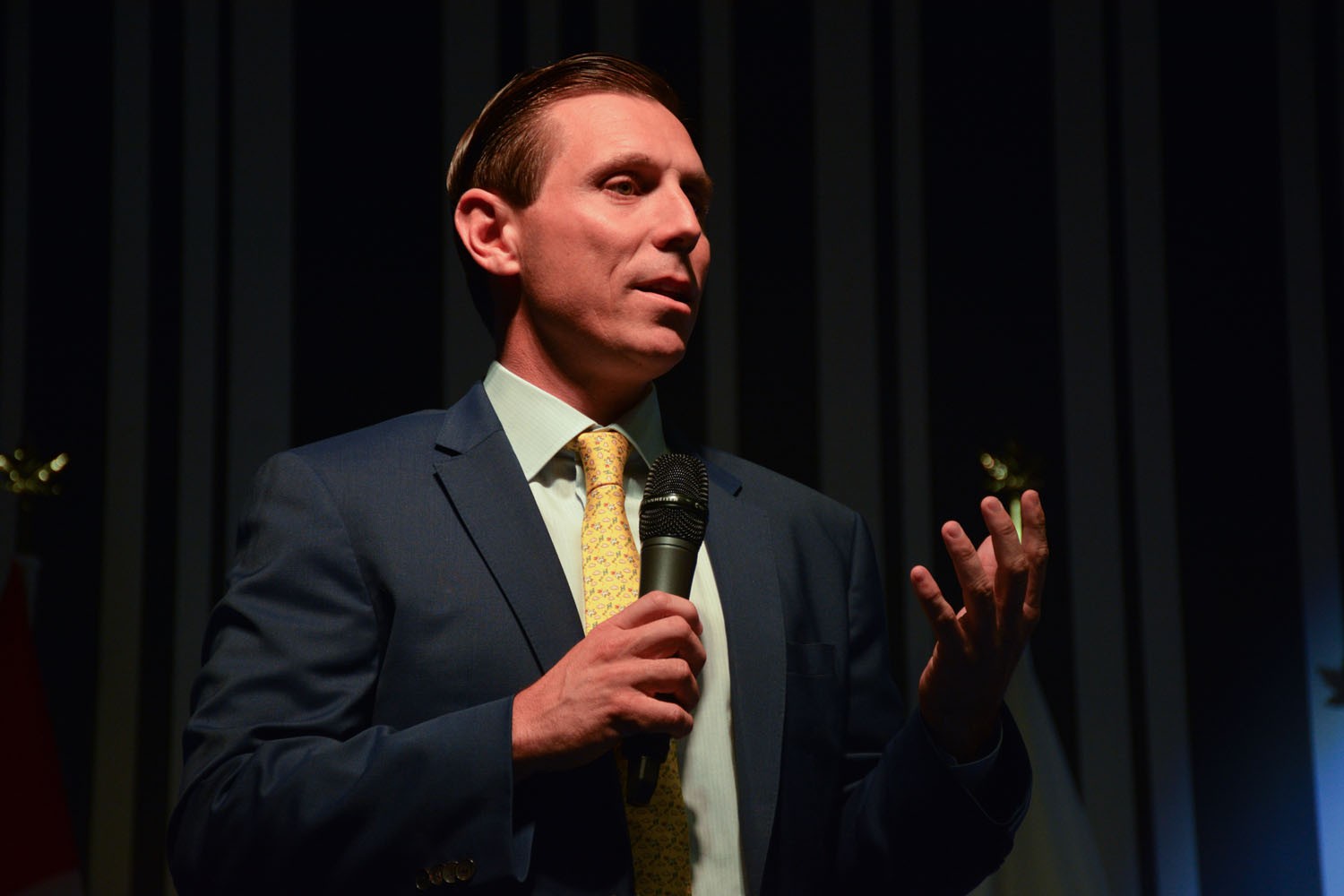 After being elected in 2018, concerns have mounted inside City Hall about Brown's conduct. He has refused to answer questions from The Pointer on a number of key issues.
"The Mayor has invited you to ask questions on Wednesday at his 9 am news conference," Gary Collins, Brown's director of communications, wrote in response to the request, breaking with the tradition of being able to send questions for the mayor through email.
Instead, his weekly press conference, meant primarily for updates on the ongoing COVID-19 pandemic, became The Pointer's only avenue to get answers from Brown on a mounting number of issues being looked into.
It's been more than six weeks since Brown took a question from The Pointer during his weekly briefing.
The freeze out started immediately after a story published by The Pointer in late January detailed the hiring of Brett Bell, a long-time Conservative political associate of Brown, who was given a contract to consult on the creation of a controversial municipal development corporation, despite having no apparent experience in the area. Bell created a company after he was asked by someone at City Hall to do the work which was previously being done by a firm with five decades of experience prior to Brown's election as mayor.
The last time The Pointer was called on by Brown to ask a question at the weekly press conference was January 20, a day after the story was published. During the brief opportunity, questions on Brown's 2019 expenses were raised, specifically the $44,365.66 listed under his name for external legal expenses.
The Pointer had been trying for months to obtain details from the mayor and his staff about the $44,000 charged to Brampton taxpayers, but little information about what exactly it was for and why Brown needed external legal representation was provided.
On January 20, during the virtual press conference, Brown said he doesn't believe the expense was related to his office, and asked The Pointer to clarify the charge with the City's communication team. When The Pointer told him the cost is listed under his name and asked if it was related to a since settled defamation lawsuit filed against him in 2019 by provincial minister Vic Fedeli, now head of Ontario's economic development, jobs and trade ministry, Brown denied this and quickly wrapped up the press conference.
Mayor Brown was sued over statements made in his memoir, released after he was elected as mayor of Brampton.
"Your question, I think I heard, was that in relation to a lawsuit to do with Vic Fedeli? No that's not, but thank you for the question and that completes our questions for today," Brown said before rushing away.
When The Pointer followed up shortly after, asking for clarification, Brown changed his story and said the cost that was attributed to him was also to cover expenses charged by other council members: "This agreement is a fixed monthly charge that would be incurred regardless of usage and is a service available to all members of Council. Staff made a judgement call to allocate the charges to the Mayor's Office at the time, although they reflect the fixed monthly charge and not 'usage' of the service. This fixed charge will be corrected on future statements," he responded in a January 21 email.
It's unclear why Brampton taxpayers would be paying for a fixed monthly legal service to council members even if they do not use it. It's also unclear why Brown, whose name the expense for 2019 is listed under, felt such a service was needed.
He has not explained what he has used the service for and why he felt it was needed.
Under traditional expense reporting rules, it is not an accepted practice for council members to list costs under another member's name. Each member is expected to show taxpayers what exactly their money is being spent on and why elected officials are incurring such costs, individually.
The Pointer reached out to all 10 councillors to ask if they were aware of this cost. City Councillor Jeff Bowman said he didn't know what legal expense could be listed as a group cost. He doesn't believe he had any personal legal expenses and feels if the amount was incurred by him as an individual councillor, it should be listed under his expenses, for transparency and to be accountable to taxpayers if he is using their money for such purposes. Regional Councillor Martin Medeiros said he's not aware of what the $44,000 legal charge on Brown's 2019 expense report was for either and doesn't know what Brown was talking about when he said the entire cost put under his account covers usage by all members of council. Regional Councillor Gurpreet Dhillon said the same. The remaining seven councillors did not respond to The Pointer ahead of publication.
The bylaw for the external legal expense was approved by council in 2019, creating an agreement with Justice Risk Solutions (JRS) Inc. to assist members of council with legal services. A city spokesperson said JRS "provides access to a 24/7 legal advice telephone hotline, legal opinions and general legal risk management advice."
The company had not been used prior to Brown's arrival at City Hall and the spokesperson confirmed no similar arrangement had ever been provided to council prior to Brown's election.
Details have been hard to get.
On January 22 The Pointer asked Brown again for explanations pertaining to the cost and why it was under his name alone. He did not provide any explanation.
On the City's website, it's easy to find details of other corporate accounts and how much members of council and their team spent on things such as external trade missions or conferences. But details on the external legal expenses are not listed. In an email last month, The Pointer asked the City why this was not included. No response was provided.
After The Pointer was not given a chance to ask questions at Brown's weekly press conference for a second time in a row on February 10, Natalie Stogdill, manager of media and engagement, apologized, saying it was a technical mix up. She explained the IT team signalled to the mayor to move onto a new reporter because the follow-up from the prior reporter was taking a lot of time but the mayor mistook this action to end the press conference.
"All members of the media who call into the COVID-19 Press Conference and specify they would like to ask a question are entered into a queue. Due to timing, not all media outlets can be addressed," Stogdill told The Pointer over email.
Prior to the publication of a series of articles, beginning in late January, revealing a pattern of disturbing behaviour inside City Hall under Brown's watch, The Pointer's questions were addressed by the mayor during his weekly press conference.
In the past five press conferences, however, Brown has taken questions from a handful of other reporters, before cutting the meeting off around 9:30 a.m. without calling on The Pointer.
He has claimed more questions can't be taken because council meetings begin at the same time. Brown has broken this rule a number of times before. At last week's press conference, he took questions from reporters past the 9:30 mark, when council had already begun.
The Pointer has been told by staff familiar with the process the names of reporters are presented on a screen in an order for Brown to call on. He can choose who to address. If a name isn't called, it's likely to have been skipped.
This is not the same process Mississauga uses.
All reporters get to ask questions and the press conference doesn't end until the list of callers is exhausted. Unlike Brampton, the reporters are called on by the mayor's director of communications or a city staffer, and Mayor Bonnie Crombie doesn't pick specific media outlets herself.
The Pointer has never had an issue with Crombie, who has provided responses to all questions during her weekly press conference.
The article published the day before Brown last called on The Pointer at a press conference, probed concerns some councillors had over the City's decision to hand a contract to a man Brown has long been associated with. MenesCo was selected to work on a report outlining how an arms length Municipal Development Corporation could be established to take over management of the City' real estate assets. Bell, the company's director, and Brown knew each other for more than two decades through their affiliation with Conservative politics. Bell told The Pointer his relationship with Brown had nothing to do with him getting the contract.
The project was proposed under the community services department, but was taken over by the chief administrative officer, David Barrick, after he was hired by a committee Brown chaired in late 2019. When The Pointer asked why Barrick took over the development corporation project, the City did not provide an answer.
The Pointer has sent dozens of questions to the City since the fall about conduct under Brown's leadership that have not received a response. One of these requests focused on who the privacy officer, Uzma Ashraf, reported to. She was hired by Barrick and is responsible for the freedom of information process inside City Hall to ensure members of the public and the media get transparent access to all information that is supposed to be publicly available.
The City's organizational chart from December showed Barrick had moved the position, which is supposed to be independent, from a reporting line directly to council into his office, reporting to the CAO instead.
His quiet move was illegal, as a City bylaw and provincial legislation only allows council to determine if the head of privacy will report functionally to anyone other than the elected officials.
Barrick was never given this authority.
Brampton CAO David Barrick
Barrick told council last month freedom of information requests were under legislative services, working with the City Clerk, who is mandated by council to oversee the FOI process with reporting directly to council. Councillors voiced their frustration with Barrick for moving the privacy head away from the clerk under his direct authority, which members pointed out had never been granted to him. Barrick denied Ashraf worked in any other department besides legislative services, which was not true, according to the organizational chart which showed the function in his office, reporting directly to Barrick.
Someone with the same first and last name as Ashraf, with the same spelling, donated to Brown's 2018 mayoral campaign. The Pointer asked the City multiple times if the head of privacy hired by Barrick is the person who contributed to the mayor's election campaign and if City staff knew about this prior to the hiring. The Pointer never received an answer.
Silence has also met questions on how the City hired the chair of the Arts, Culture, and Creative Industry Development Agency, why the City's internal audit department, which is supposed to be completely independent, was moved under Barrick's authority, and questions on how the City's external contract process is currently functioning.
The Pointer's latest attempt to ask questions came Friday during a federal funding announcement. The Pointer was told one question and one follow-up could be posed. When The Pointer raised questions to Brampton's MPPs about paid sick days, a matter not related to the announcement, Brown jumped in before anyone could respond, saying questions should focus on the announcement.
Brampton PC MPP Prabmeet Sarkaria did respond to the question.
Brown, however, continues to avoid a mounting number of issues residents are growing more and more concerned about.
"Brampton is now 'Fortress Brown'," resident Peter Bailey, a keen City Hall watcher, recently posted on Facebook, and said in an email sent to The Pointer, voicing frustration over conduct under Mayor Brown's leadership and his unwillingness to explain himself. "He has surrounded himself with his people including a CAO and senior administrators in order to keep a tight rein on his personal fiefdom…"
---
Email: [email protected]
Twitter: @nida_zafar
Tel: 416 890-7643
---
COVID-19 is impacting all Canadians. At a time when vital public information is needed by everyone, The Pointer has taken down our paywall on all stories relating to the pandemic and those of public interest to ensure every resident of Brampton and Mississauga has access to the facts. For those who are able, we encourage you to consider a subscription. This will help us report on important public interest issues the community needs to know about now more than ever. You can register for a 30-day free trial HERE. Thereafter, The Pointer will charge $10 a month and you can cancel any time right on the website. Thank you.
Submit a correction about this story