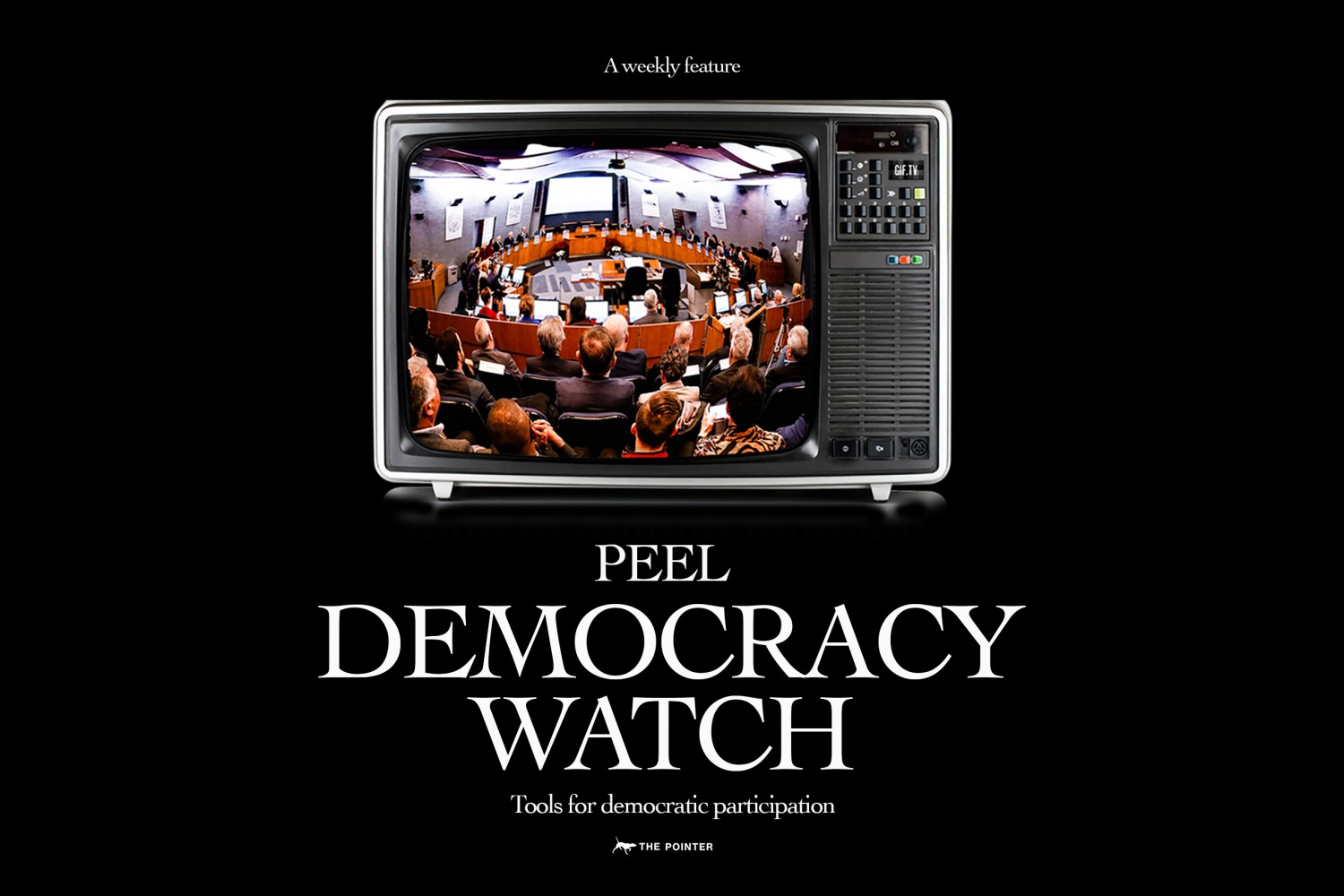 Feature illustration from Joel Wittnebel/The Pointer
Peel residents pushing back against sprawl; Patrick Brown's refusal to pay for needed transit infrastructure could lead to 'significant cost escalation'
Peel Democracy Watch is The Pointer's weekly feature aimed at increasing the public's awareness and political involvement in the Region of Peel by highlighting key agenda items, motions and decisions.
---
Council
Date: April 6 at 9:30a.m. | Delegate | Full agenda | Watch live
Mississauga holding public consultation for new growth paid bylaw
City staff have put together a report detailing Mississauga's plans to implement the community benefits charge (CBC), a planning tool created by the PC government that changes the way municipalities are able to collect revenue from developers. The public meeting is being held at 9:30 a.m on Wednesday and will allow the public and other stakeholders to ask questions and provide feedback on the changes. The Pointer reached out to the City to understand why this public consultation is being held during council time, when the majority of the public is unable to attend. According to a city spokesperson there is no law forcing Mississauga to hold a public consultation on the CBC, so the city is discussing the items along with a separate report on development charges (DC). "For the statutory meeting for DC's, we do it during a Council meeting to ensure Council has visibility and an opportunity to hear directly from stakeholders," the spokesperson said.
Read the City's press release here and staff report here.
Previous reporting:
Council to vote on height increases along Lakeshore Road East
After a lengthy and heated Planning and Development meeting on March 28 that saw members of the public push back against proposed changes to height restrictions along Lakeshore Road East, Mississauga City Councillors will have the opportunity to approve the Official Plan Amendment (OPA) to bump the height of proposed buildings along the main thoroughfare. The four kilometre section of Lakeshore Road in question stretches from Seneca Avenue to Etobicoke Creek and has been the subject of many building applications. The current official plan allows buildings to be only four storeys high, but the new OPA would increase this to a maximum of eight storeys.
Previous reporting:
Council asks MPs and MPPs to meet for a discussion on affordable housing
Mississauga councillors want to meet with local MPs and MPPs to discuss the city's ongoing problems with affordable housing. The vague motion included on Wednesday's agenda explains council is seeking an opportunity to address the elected representatives on the crisis. No specific timing is attached, but the motion says it will take place Friday, April 8. More details will be announced at the meeting.
Read the motion here.
Previous reporting:
Planning and Growth Management Committee
Date: April 7 at 9:00a.m. | Delegate | Full agenda | Watch live
Committee prepares to vote on final draft of boundary expansion
Portions of the Region's Municipal Comprehensive Review (MCR) are nearing completion, and after Thursday, residents will have a clearer idea of how councillors envision future growth in Peel. This meeting will determine if Peel is expanding its urban boundary further as a way to accommodate future growth over the next three decades; or if councillors will mandate that development to take place within existing boundaries—preventing further urban sprawl. Previous meetings saw tension between developers, committee members and vocal environmentalists, and Thursday's meeting is looking no different. Regional staff will present the official plan review and prepare for a tsunami of questions, concerns and further pushback from a number of residents already signed up to delegate. Peel must adopt and finalize plans before July 1, 2022 according to the Province.
Read staff's summary here.
Previous reporting:
Waste Management Strategic Advisory Committee
Date: April 7 at 1:00p.m. | Delegate | Full agenda | Watch live
New long-term organic waste plan needed
In July, Peel's Anaerobic Digestion Facility was quietly canceled, leaving the Region with no way to divert green organics away from its landfill. Since its cancellation staff have been looking at new ways to divert 75 percent of organic materials away from landfills by 2034. Staff have three options to present to the committee Thursday showing a patchwork of ideas instead of the hightech digestion facility previously held up as the solution to the Region's waste problem. The new options include securing capacity through short-term contracts; securing long-term waste capacity through a long-term procurement process; retrofitting Peel's in-house composting system or a combination of these options.
Previous reporting:
Staff provide comments on national single-use plastic regulation
Christmas Day 2021, the Ministry of the Environment and Climate Change Canada proposed a single-use plastics ban, allowing municipalities like Peel to comment by early March 2022. Staff and council support the direction to reduce plastic consumption and move towards a circular economy. According to the report, staff are "generally supportive" of the ban as it aligns with Peel's long-term waste management strategy. There are a few recommendations to the federal government. Staff asked the ministry to develop national standards for compostable products and packaging, invest in waste management infrastructure, expand the list of banned items and require all businesses ensure any alternatives to single-use items are recyclable or compostable.
Read staff's comments here.
Previous reporting:
Council
Date: April 6 at 9:30a.m. | Delegate | Full agenda | Watch live
Brampton looking to use Region of Peel integrity commissioner on interim basis
After firing Muneeza Sheikh, Brampton's previous integrity commissioner, council is looking to use Peel's integrity commissioner and lobbyist registrar, Principles Integrity, on an interim basis until a replacement can be found. The company confirmed it would be available until July 2023 or until the City has appointed a new integrity commissioner and lobbyist registrar. The interim agreement ensures the City continues to have a mechanism in place for filing allegations against councillors for violations of the Council Code of Conduct.
Previous reporting:
Staff requesting to initiate construction for new transit facility
With plans to locate the vital piece of transit infrastructure at 10192 Highway 50, Brampton staff are requesting authorization to enter contracts to get the transit maintenance and storage facility built, finally. The city's growing transit system cannot expand without it. Staff's report details the project's history since 2019, explaining the many meetings and layers involved and a tentative timeline of the facility with a completion date now pushed back to the latter half of 2026, after it was initially supposed to already be finished years ago. During a closed session of council, the Request for Proposal (RFP) for the design-build competition was cancelled due to the costs being higher than the total of $175 million approved for the construction phase. Instead, a "Limited Tendering" procurement is being proposed that would see project designer WSP Canada be awarded a contract, without a bid competition, to complete the design and engineering phase, then act as a sort of subcontractor with an eventual construction partner that would be supervised by the company to ensure costs stay within budget. The project was thrown upside down when Mayor Patrick Brown had it postponed early in his term to ensure his promised tax freeze. Now construction and electrification could end up costing tens of millions more than what it would have cost years ago.
Read the staff report here.
Previous reporting:
Planning and Development Committee
Date: April 5 at 7:00p.m. | Delegate | Full agenda | Watch live
Official plan amendment pending for 45 three-storey townhouses
Tuesday's meeting will be used to host a public meeting for a proposed development at 13656 Emil Kolb Parkway in Caledon. The area currently hosts low single/semi detached dwellings, but the project by Harvestone Centre Inc. is proposing the official plan be changed to allow the construction of a high density development.
Read public meeting report here and a letter of opposition here.
Administration and Finance Committee Meeting
Date: April 5 at 7:00p.m. | Delegate | Full agenda | Watch live
Report shows more students leaving board in last two years
The Dufferin-Peel Catholic District School Board (DPCDSB) has seen a student enrolment decline. Trends in Ontario show a similar decline due to pandemic related stress and families moving away from the province. A staff report compares DPCDSB with Peel District School Board (PDSB) and graphs the students departing across all grades, but students coming from PDSB occurred in Junior Kindergarten and Grade 9. In the Region of Peel, only Caledon will have an anticipated projected growth of enrolment, both Brampton and Mississauga schools are projected to see decreases.
Board updating long-term facilities master plan
A large majority of schools within DPCDSB are nearing the critical 30 or older mark, the time when buildings start having more issues. Over 70 percent of the current schools were constructed 40 years ago. The board has used portables, portapaks and other forms of movable classrooms in areas where school enrolment has exceeded capacity. The temporary measures are not being used as much because of the decline in student enrolment in Brampton and Mississauga. According to a report, the board spent $456,000 over the past two years in portable inspections, remediation and repairs. Staff have determined 90 a number of portable classrooms are "surplus." Due to COVID-19 some major building renewals were not started on time and were referred to later years.
The report can be found here on page 74.
---
Email: [email protected]
Twitter: @taasha__15
---
COVID-19 is impacting all Canadians. At a time when vital public information is needed by everyone, The Pointer has taken down our paywall on all stories relating to the pandemic and those of public interest to ensure every resident of Brampton and Mississauga has access to the facts. For those who are able, we encourage you to consider a subscription. This will help us report on important public interest issues the community needs to know about now more than ever. You can register for a 30-day free trial HERE. Thereafter, The Pointer will charge $10 a month and you can cancel any time right on the website. Thank you
Submit a correction about this story