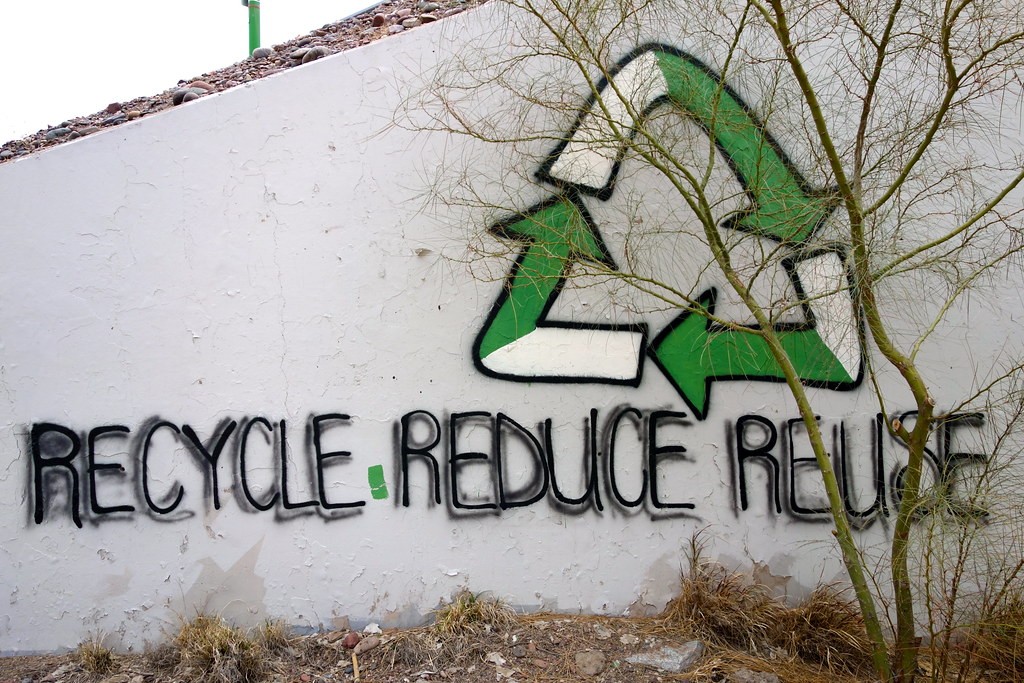 Feature image from Kevin Dooley licensed under CC BY 2.0
The cost of recycling the wrong way: Peel & Mississauga not on the same page
"Large latte for Omar."
Similar words greet every disposable coffee cup at the start of its life. Dressed in a cardboard sleeve and topped with a hard plastic lid, these cups are sent into the world to serve a single, brief purpose. In Canada, a 2017 estimate suggested between 1.6 and 2 billion coffee cups are used, then thrown away each year.
The life of a single-use paper cup is short and unpredictable. Some make it to the end of the street, others languish on an office desk. An unlucky few don't even leave the coffee shop.
These cups have shorter lives than the average fruit fly and most meet a messy, sticky and inappropriate end. Their users toss them into the garbage, recycling or green bins, or drop them on the ground where they roll along the curb or are engulfed by the mud of a public park. Each of these options poses its own risks.
It's hard to understand how in a world where humans can send a rover to Mars, we still have not figured out the correct way to dispose of the single-use coffee cup to prevent them from disrupting crucial waste management processes. Placed in the blue bin, the plastic lining of these cups risks condemning reams of newspapers and printouts to an unplanned burial in a landfill. In a green bin, they contaminate compostable waste. Dropped on the street, cups pose a threat to any animal that tries to investigate and gets stuck.
What do you get when a Police officer and a skunk cross? Law and Odour.

Great job by Constable Zamani for taking this high risk task. Helping out a furry friend in need. #protectanimals @MoveTheWorld @AnimalPlanet
Be mindful not to litter, keep our community safe and clean. pic.twitter.com/0kAcRhY6Yn

— Peel Regional Police (@PeelPolice) June 5, 2021
For those who dispose of them properly, it involves splitting the single-use cup down to its component parts, with the plastic lid and cardboard sleeve tossed in the recycling, and the paper cup itself going into the trash, destined for landfill.
The problems caused by the single-use coffee cup are a microcosm of the larger issue facing municipalities attempting to transition towards a green economy — where does the responsibility lie? Is it on the producers to create products that are easier to recycle? Is it up to municipalities to implement better waste management efforts? Or is it up to consumers to educate themselves on the products they use to better understand how to dispose of them?
For decades, plastic manufacturers controlled the narrative, impressing upon consumers that it was solely their responsibility for recycling products properly. That is slowly starting to change, but it will take significant effort all along the chain — from producer to consumer — to solve these complex waste management issues, as the decisions of one always impacts the other.
Disposable coffee cups end up in the recycling, green bins or abandoned in parks. (Image from Isaac Callan/The Pointer)
In 2017, the City of Mississauga had a particularly unpleasant recycling problem. Something much worse than wayward coffee cups. More than 80 percent of its public park recycling was contaminated with dog waste.
Unattentive residents were disposing of their dog mess in recycling bins, soiling the contents and guaranteeing a collection of packaging and aluminum cans would head to landfill. "Once dog waste is deposited into recycling containers; it contaminates the entire container, requiring its content to be treated as landfill," a City staff report explains.
Residents may not consider the impacts of tossing a small bag of dog waste into a public recycle bin, but the ramifications of that quick decision can be significant. Each load of waste sent to landfill is slowly pushing Ontario to current landfill capacity. Last year, the Ontario Waste Management Association estimated that without new landfill space, Ontario's current garbage dumps would be completely clogged with trash by 2032.
The vast majority of recycling Mississauga sampled in 2017 was being ruined by dog waste. (Image from City of Mississauga)
To battle this unpleasant blight on Mississauga's environmental efforts, councillors approved a pilot project to make things easier. The project took ownership of the problem, putting simple messaging at the heart of the solution.
Specific dog waste disposal bins were placed in three parks for a trial project. The bins were clearly labelled for waste to attract attention instead of simply lecturing dog walkers on their mistakes. The unique bins feed into a concrete container underground and their contents are eventually turned into energy.
The pilot was a major success.
The quantity of dog waste collected in the specialized containers has increased year-on-year and the quantity of ruined recycling is falling. The problem isn't completely solved, 53 percent of 2020 recycling in the three pilot parks is contaminated, but clear improvement has been made.
Buoyed by the results, councillors approved an expansion to the program set to take place in 2023. Several asked for it to be increased for parks in their own wards.
In Mississauga, clearly labelled bins are accommodating dog waste to stop walkers from improperly trying to recycle it. (Image from City of Mississauga)
"The Dog Waste Pilot successfully addresses the disposal of dog waste while helping to improve waste diversion and reduce recycling contamination in City parks," Jodi Robillos, director of parks, forestry and environment, said in a media release.
The pilot represents a proactive example of government making an effort to reduce barriers to recycling. The City took ownership of a problem plaguing its recycling options and offered a carefully tailored solution.
Signs have been placed on recycling bins telling residents not to try and recycle dog waste, while clearly labelled alternatives have also been provided. For those in the three pilot parks who continue to recycle their canine waste, there are few excuses left.
Mississauga's proactive approach stands in contrast to an issue plaguing Peel as a whole. The Region is tasked with collecting waste and recycling from residents in Brampton, Caledon and Mississauga.
For more than a year, glass put out to be recycled has instead been diverted to landfill sites.
"We've seen high levels of contamination in our glass stream, from porcelain and ceramics items that belong in the garbage," Erwin Pascual, manager of waste planning at the Region of Peel, told The Pointer in a statement. "These items get mixed in with or contaminate other recyclables, such as glass, and cannot be separated. This affects the quality of the glass material collected, which can no longer be recycled, and ends up being disposed of as garbage and sent to the landfill."
Over 90 percent of recyclable plastics are recovered and sent to end-markets in Peel.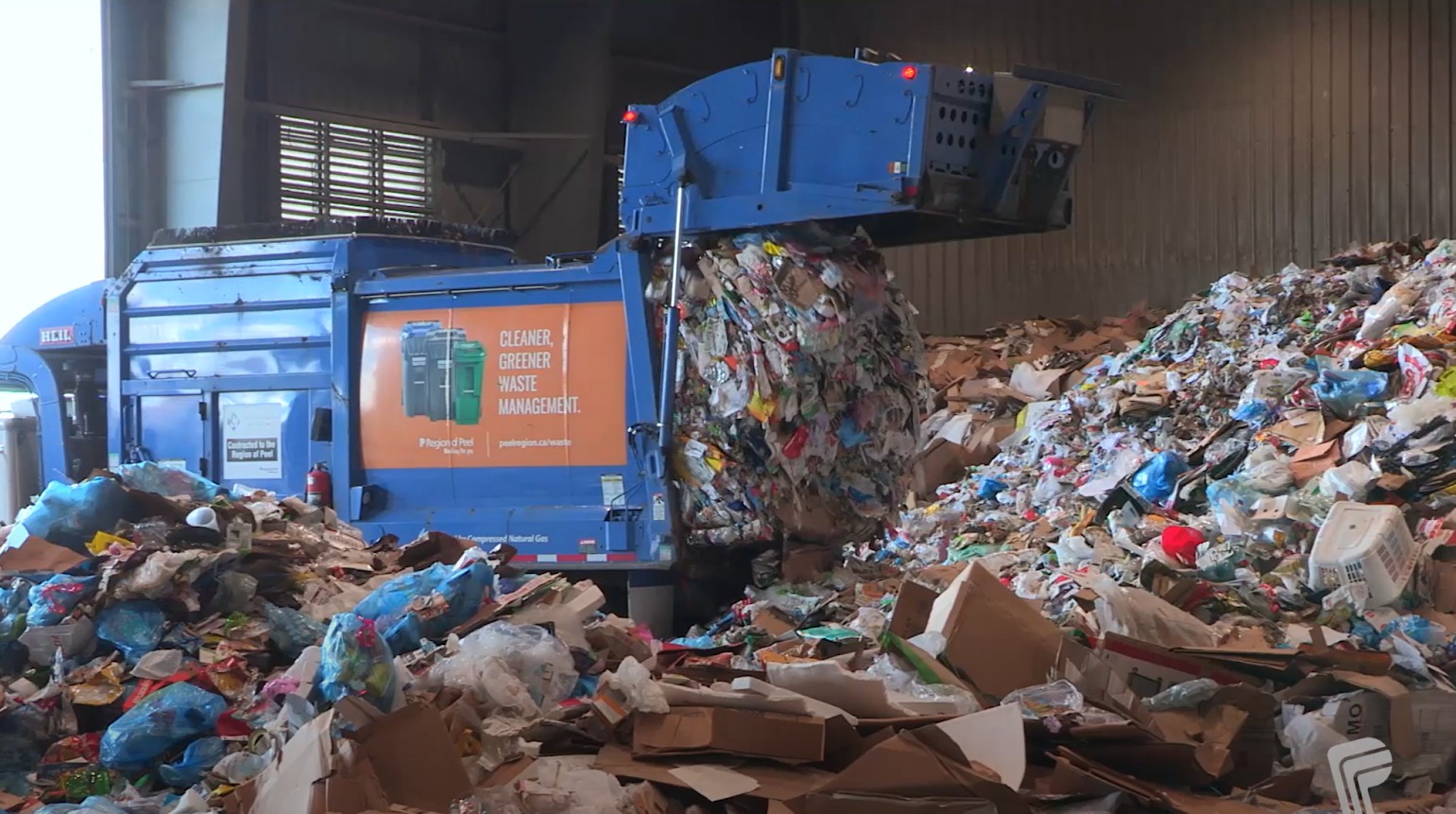 The Region runs recycling programs for residents in Brampton, Caledon and Mississauga. (Image from the Region of Peel and YouTube)
Despite glass being binned for a year, the Region is short on solutions. It's waiting for residents to stop making the same mistake and hoping it can begin recycling glass again soon.
The laissez-faire approach to shared responsibility has made the problem difficult to solve.
Residents need to work harder to understand what can and cannot be recycled, but governments should make it as simple as possible to do so. Staff are not committing to a timeline for glass to be recycled again, they say there are too many variables at play.
"Some residents are unaware that if they do not sort their items correctly, it ends up in the landfill," Pascual said. "Until we see an improvement in better sorting at the curb and significantly lower levels of porcelain/ceramic contamination in the recycling stream, only then can we revisit the process of getting our glass material recycled."
This places significant responsibility on people in Peel to get their act together. The fate of glass recycling hangs on how attentive residents are when they drag their bins to the curb for garbage collection day.
Peel's approach is similar to society's plan for the coffee cup: read up on the recycling rules or you'll be responsible for an avoidable extra bag sent to the landfill.
There is a delicate balance to be struck between resident and government responsibility for recycling. (Image from Isaac Callan/The Pointer)
Some of this will change in 2023 when Ontario's overhaul of the blue box recycling system comes into play. The Province plans to shift responsibility for recycling away from cities and towards manufacturers. It will standardize what can and can't be recycled, in place of the current fragmented local system.
Queen's Park has also promised blue boxes will begin accepting single-use products like plastic cups, stir sticks or straws. In total, 70 percent of all waste went to landfill in Ontario in 2019, according to a spokesperson for the Province.
In the future, the fate of each coffee cup may become clearer. Cups could find themselves reunited at the end of their short lives in industrial facilities, preparing to be reincarnated as waterproof decking or lawn furniture.
Until then, the onus remains on residents to make the biggest changes. Governments can lead by example by making the process as accessible as possible, but nothing is compelling them.
---
Email: [email protected]
Twitter: @isaaccallan
Tel: 647 561-4879
---
COVID-19 is impacting all Canadians. At a time when vital public information is needed by everyone, The Pointer has taken down our paywall on all stories relating to the pandemic and those of public interest to ensure every resident of Brampton and Mississauga has access to the facts. For those who are able, we encourage you to consider a subscription. This will help us report on important public interest issues the community needs to know about now more than ever. You can register for a 30-day free trial HERE. Thereafter, The Pointer will charge $10 a month and you can cancel any time right on the website. Thank you.
Submit a correction about this story