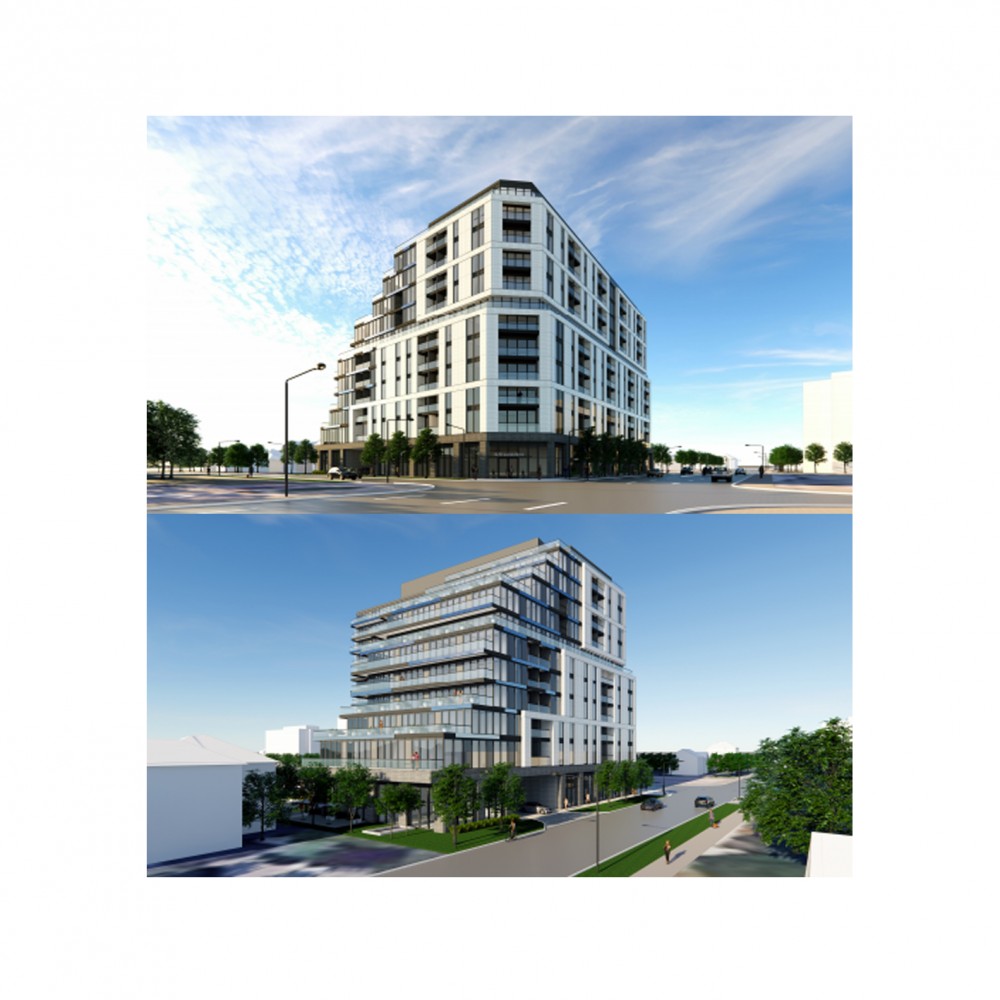 Photos from Google Maps/Renderings from Lakeview Community Partners/City of Mississauga/Plazacorp/Marinas.com
Developers pushing for more height along Mississauga waterfront, despite restrictions
In Mississauga, where the city meets Lake Ontario, developers are salivating.
The patchwork of sprawling communities that make up the waterfront represent a wealth of opportunities for the building industry. But locals, keenly aware of the canyon created by homogenous glass towers sprouting on either side of Toronto's Gardiner Expressway along the lakefront, are wary of what is being proposed.
Mississauga's historic lakefront districts, where significant growth is set to take place over the next two decades, are the city's store window. The billions of dollars in investment represents a chance to sell itself to the world and show off its signature feature: the pristine Lake Ontario shoreline.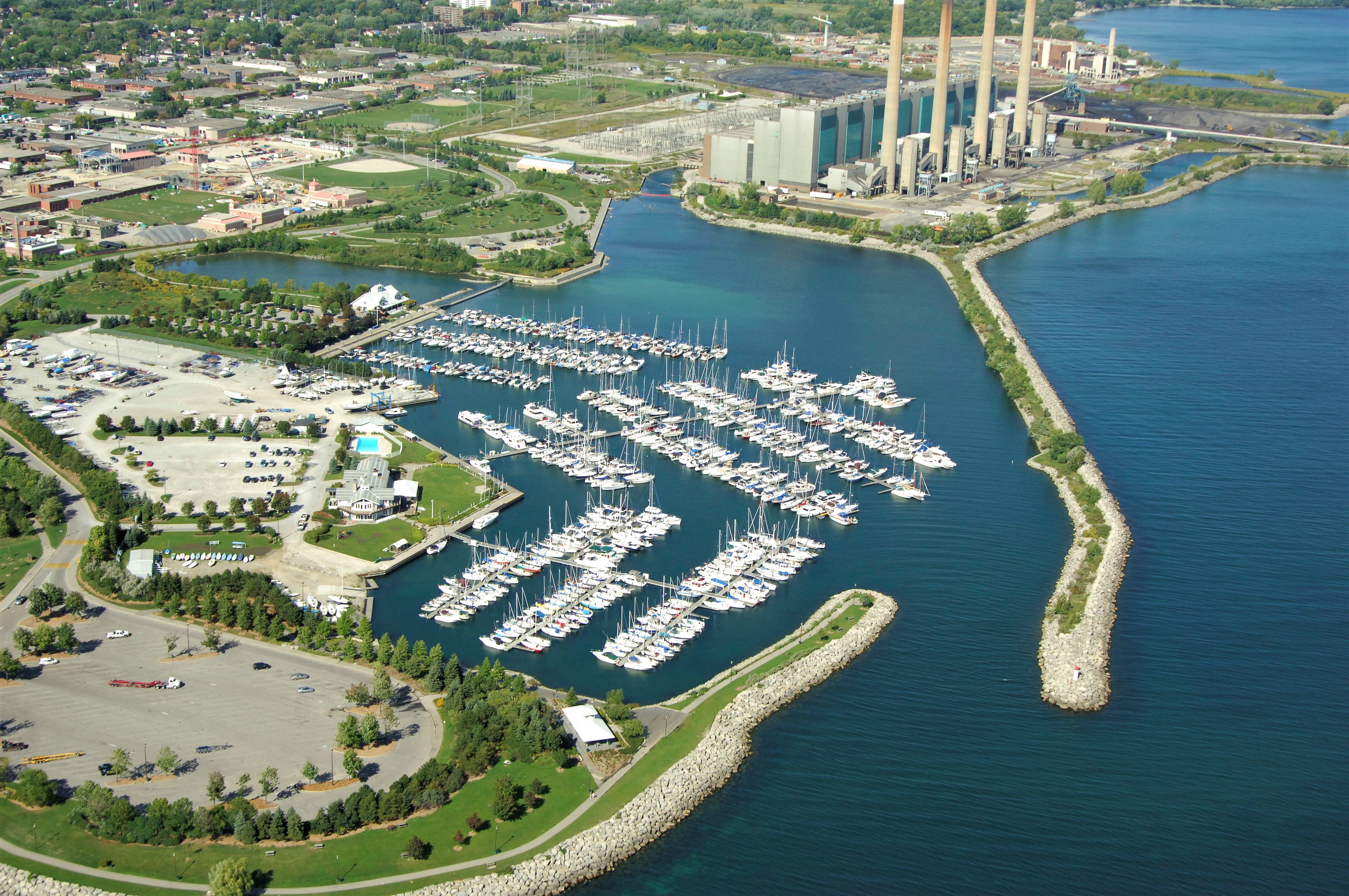 The City of Mississauga is at a critical juncture in the development of its waterfront.
Making the right choices — and promoting smart growth — will have significant impacts on the future of Mississauga. So far, developers and residents have not shared a cohesive vision each group imagines for the future design of the area.
The city has to get it right, otherwise, it could end up with a waterfront like Toronto's: walls of glass and concrete that cut residents off from what should be the city's brightest jewel.
In Mississauga the future will emerge from Lakeview Village, on land once occupied by a coal-fired power station. It will define the direction of the country's sixth largest city.
Valued at $6 billion dollars, it will deliver more than 8,000 residential units to house at least 17,000 new residents when completed.
For the past several years, it has been at the heart of a struggle as residents have campaigned vigorously to rein in insatiable developers from erecting buildings with too much height and density. Locals fear it could turn into an isolated waterfront enclave, not a publicly accessible multi-use area, complete with parks, recreational and cultural spaces, dining and entertainment, as initially envisioned.
Despite the best efforts of locals, the development is on track to be approved with significantly more density than had been imagined when the project was first taking shape.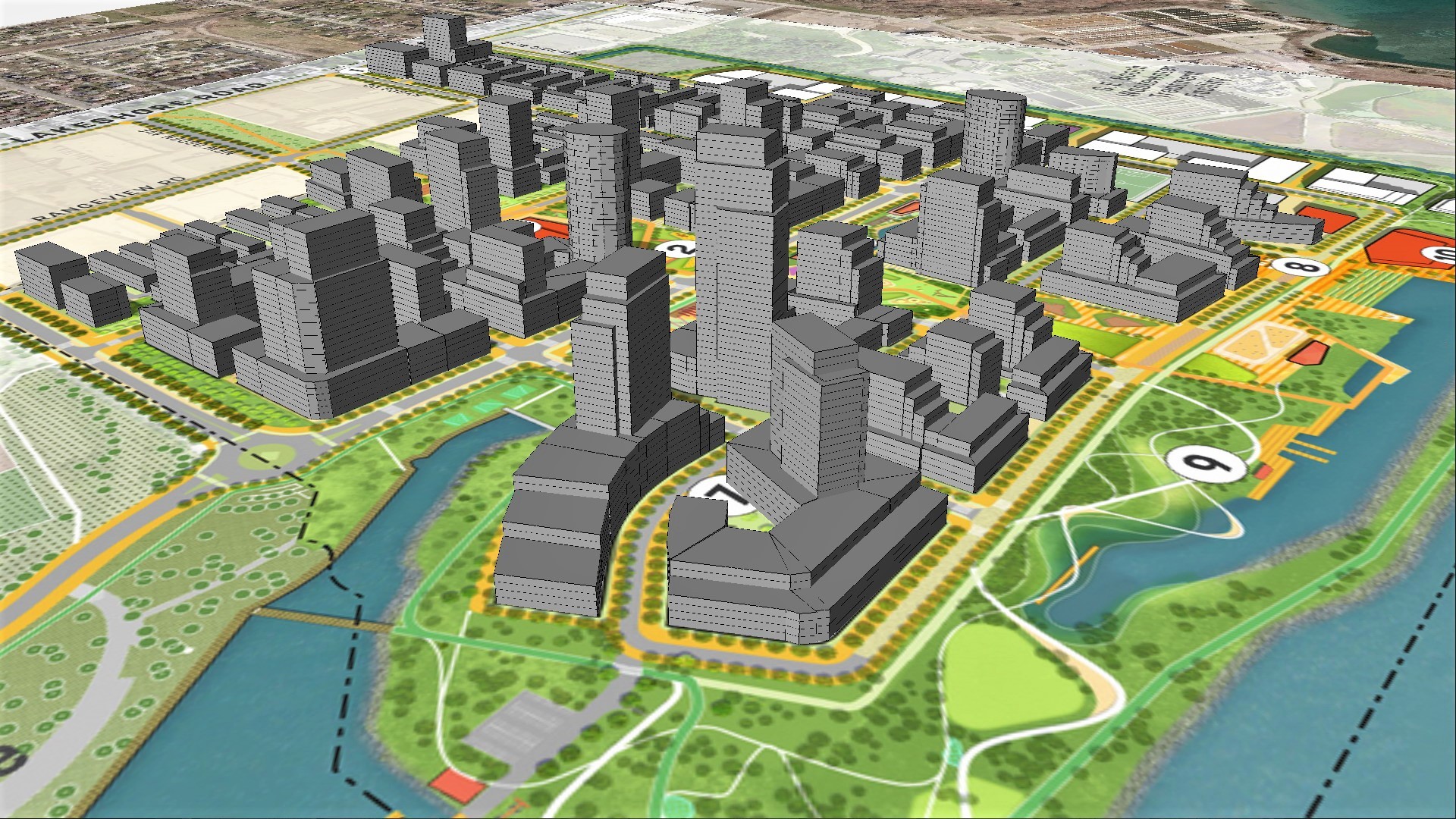 A comparison of the vision initially proposed by local residents and planners for Lakeview (top), compared to the plan brought forward by developers with considerably more height and density.
Mississauga's waterfront won't be defined by Lakeview Village alone. From its border with Toronto in the east to its western edge next to Oakville, developers are beginning to circle. One stretch in particular, between Port Credit and Lakeview Village, has been subject to a variety of proposals locals are unwilling to support.
In its Official Plan, the City of Mississauga assigned a maximum height of just four storeys to buildings along the Lakeshore Road corridor. Keen to maximize investments in rare waterfront property, builders are peppering the City with applications that dramatically exceed the limits.
At 420 Lakeshore Road East, where a Beer Store is currently located, developers have suggested tripling the height allowed under the existing zoning. An application asks to turn a small, box-like shop into a 12-storey residential block.
"If permitted, this development will be the genesis for the transformation of the Lakeview community as we know it today into a concrete wall of high-rise buildings along Lakeshore akin to downtown Toronto," the Lakeview Ratepayers Association wrote in a list of concerns.
Developers are proposing to turn the Beer Store at 420 Lakeshore Road East into a 12-storey residential building. Residents who live in nearby homes have serious concerns with the proposal.
The application is a microcosm of the area's struggle. In its current form, Lakeshore Road is a collection of plazas and restaurants with the odd grocery store or boutique. To both the north and south of the thoroughfare, housing is largely traditional and suburban.
Provincial and local smart growth priorities mean this will have to change somehow, but residents are loath to see their city repeat the decisions of neighbouring Toronto by fabricating a panel of non-descript condominium towers from the ground. Few in Mississauga's affluent Ward 1 want to see their view and access to the water blocked.
The development industry takes the opposite approach. The applications being submitted to the City of Mississauga show builders think four stories is simply too little for a stretch of prime real estate along Lake Ontario, which should draw tens of thousands of buyers/residents to the area.
The disregard for the Official Plan in some of the requests suggests a confidence that provincial growth goals and the need to increase the supply of housing will force the City to compromise.
"Adjacent residential homes will lose their right to privacy and quiet enjoyment of their homes," the ratepayers association said of the Beer Store proposal. "The proposed development will be adjacent to residential homes. Residents of a 12-storey building will be able to look into the backyards and thus, the private lives of residents across the neighborhood. This is a disconcerting and unacceptable outcome."
Renderings of the proposed building for 420 Lakeshore Road East.
Locals have a willing partner in their councillor, Stephen Dasko, who says he won't let Mississauga emulate Toronto. Speaking to The Pointer, he voiced frustration at the uncoordinated planning that results when developers chip away at the Official Plan one application at a time.
"A row of condos along the waterfront is not in the cards, as far as I'm concerned," he said. "Having a row of tall buildings along Lakeshore is not in the cards for me either. The Lakeshore corridor is a continuous ribbon as I look at it and it needs to have a heart and a soul. Proper planning needs to rise to the top."
The Beer Store development is not the only project flagged by locals as concerning and more applications will likely follow.
A seven-storey affordable housing project being planned by the Region of Peel on East Avenue has also raised concerns, along with a recent application to build a 15-storey apartment block at 1381 Lakeshore East.
The Region of Peel's affordable housing proposal for 1381 Lakeshore East.
The latter application is in the early stages, Dasko posted on his website to inform residents. According to the post, developers would like to rezone the land from mixed use to high density and roughly quadruple height beyond current restrictions.
Communications from the Lakeview Ratepayers show the group is frustrated by a lack of consultation with developers. The local ratepayers organization is calling for a new study of the Lakeshore corridor to update the City's own guidelines.
"The four storey [limit] is in the Official Plan and the Local Area Plan," Dasko said. "Quite frankly, I'm of the belief that if that's what's in the plan, it's in the plan. If it is to be revisited, it should not be done on an application-by-application basis, it should be done as a whole… [with] each one of those possibly being precedent setting."
If Mississauga is to reconsider its waterfront corridor holistically, it may need to hurry. Legislation from Queen's Park passed down to cities has placed emphasis on infill developments and planning new growth around transit. Lakeshore Road is home to three GO stations (Long Branch, Port Credit and Clarkson) as well as three planned stops on a bus rapid transit corridor, as yet unfunded, and will be the southern point of the Hurontario LRT which is scheduled to be operational in 2024.
"You've got a province that's absolutely gung-ho for development and is bringing in density where there is going to be transportation and all the rest of it, on the one hand," Deborah Goss, president of the Lakeview Ratepayers Association, told The Pointer in October. "On the other hand, we're not hearing the transportation component. One isn't jiving with the other."
Provincial Policy Statements, which came into force in May, push for density with urgency.
"Efficient development patterns optimize the use of land, resources and public investment in infrastructure and public service facilities," the policy's "vision" section states. "These land use patterns promote a mix of housing, including affordable housing, employment, recreation, parks and open spaces, and transportation choices that increase the use of active transportation and transit before other modes of travel."
This means cities should be planning to grow in areas that already have transit links and established communities. Lakeshore Road is well placed for these policies.
Buoyed by the Province, developers are chomping at the bit to see local policies change, so they can sink their teeth into Mississauga's underutilized waterfront. Residents are cautious about the changes, concerned the lakefront area will lose character, privacy and see congestion worsen, while failing to develop in a way that allows the coastline to be integrated and featured at a human scale.
Despite valiant efforts by locals, the fight to save Lakeview Village's original vision was lost. One building in the site's current plan is 24 storeys, dwarfing any of the proposals along Lakeshore Road.
But, with the reality of an increasingly pro-developer Local Planning Appeals Tribunal (LPAT), cities have to be careful with applications, even when they don't fit the Official Plan. If any of the developers behind the new density proposed for Lakeshore can demonstrate it is good planning in line with the Province's ambitions for growth, the City could be overruled and such development would go forward regardless.
Finding a way to compromise, without creating precedent for a forest of towers, will be a difficult task.
"What is unique is we're literally the cul de sac of Peel Region; you can't build any further south, you're into Lake Ontario," Dasko said at a December 10 Region of Peel meeting, highlighting the need to proceed with care in Ward 1.
---
Email: [email protected]
Twitter: @isaaccallan
Tel: 647 561-4879
---
COVID-19 is impacting all Canadians. At a time when vital public information is needed by everyone, The Pointer has taken down our paywall on all stories relating to the pandemic and those of public interest to ensure every resident of Brampton and Mississauga has access to the facts. For those who are able, we encourage you to consider a subscription. This will help us report on important public interest issues the community needs to know about now more than ever. You can register for a 30-day free trial HERE. Thereafter, The Pointer will charge $10 a month and you can cancel any time right on the website. Thank you.
Submit a correction about this story