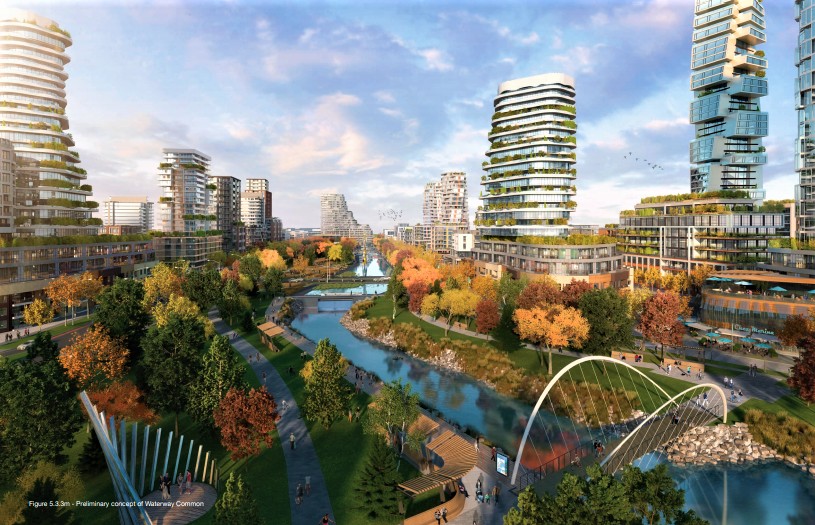 The Pointer file photos/Renderings City of Mississauga/Government of Ontario/YouTube
Environmental adjudicators removed from planning body; pro-developer stance looms over Mississauga flagship project
At city hall in Brampton or Mississauga, Planning and Development meetings are generally predictable and even mundane. Councillors convene to hear about different developments, they ask questions of staff, listen to deputations from interested parties and then vote one way or another.
To those sitting in the rows of public seating, it would seem to be a straightforward process: the case is heard and a decision is made based on the facts and planning principles that are supposed to serve the best interests of the entire community.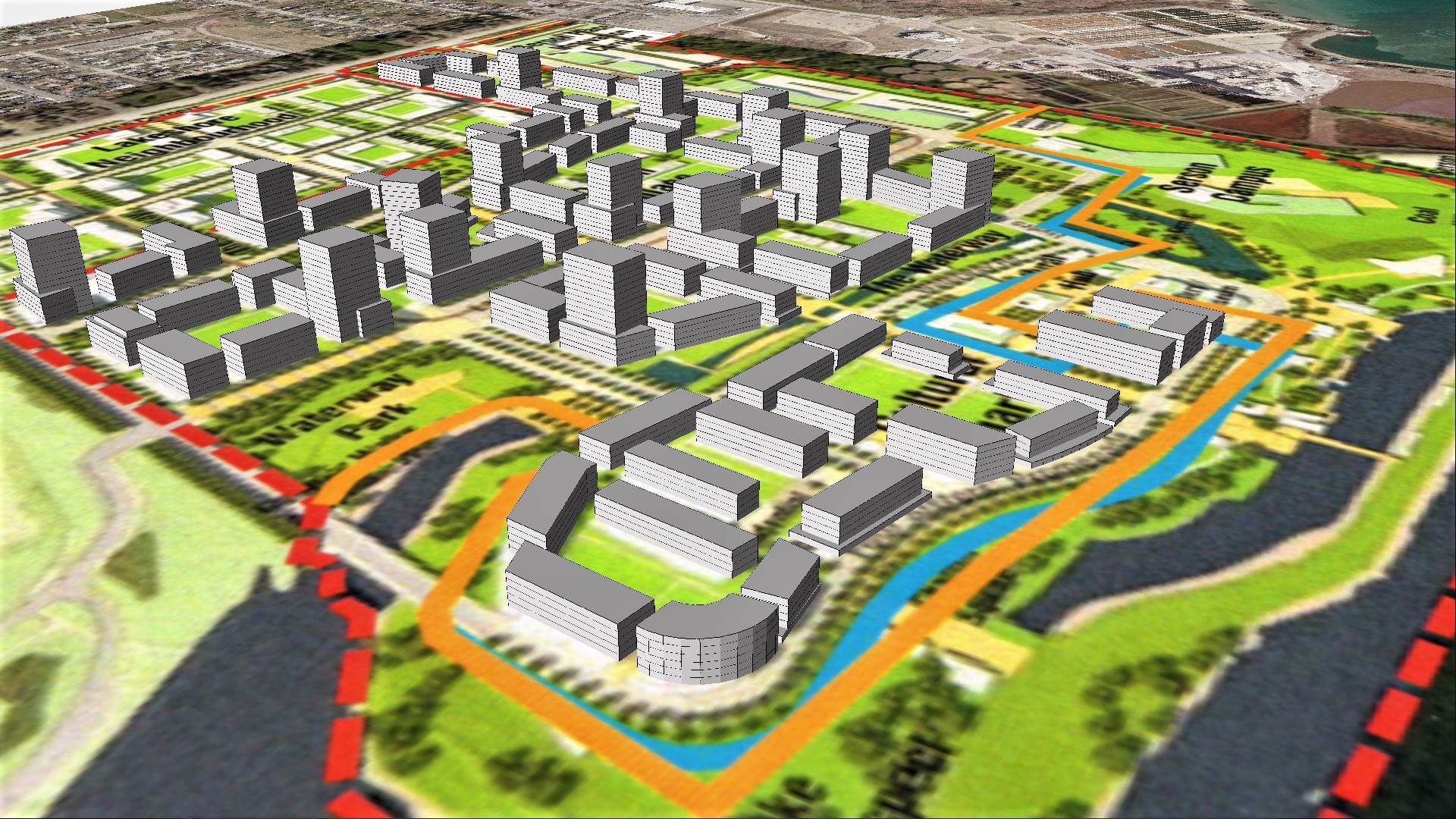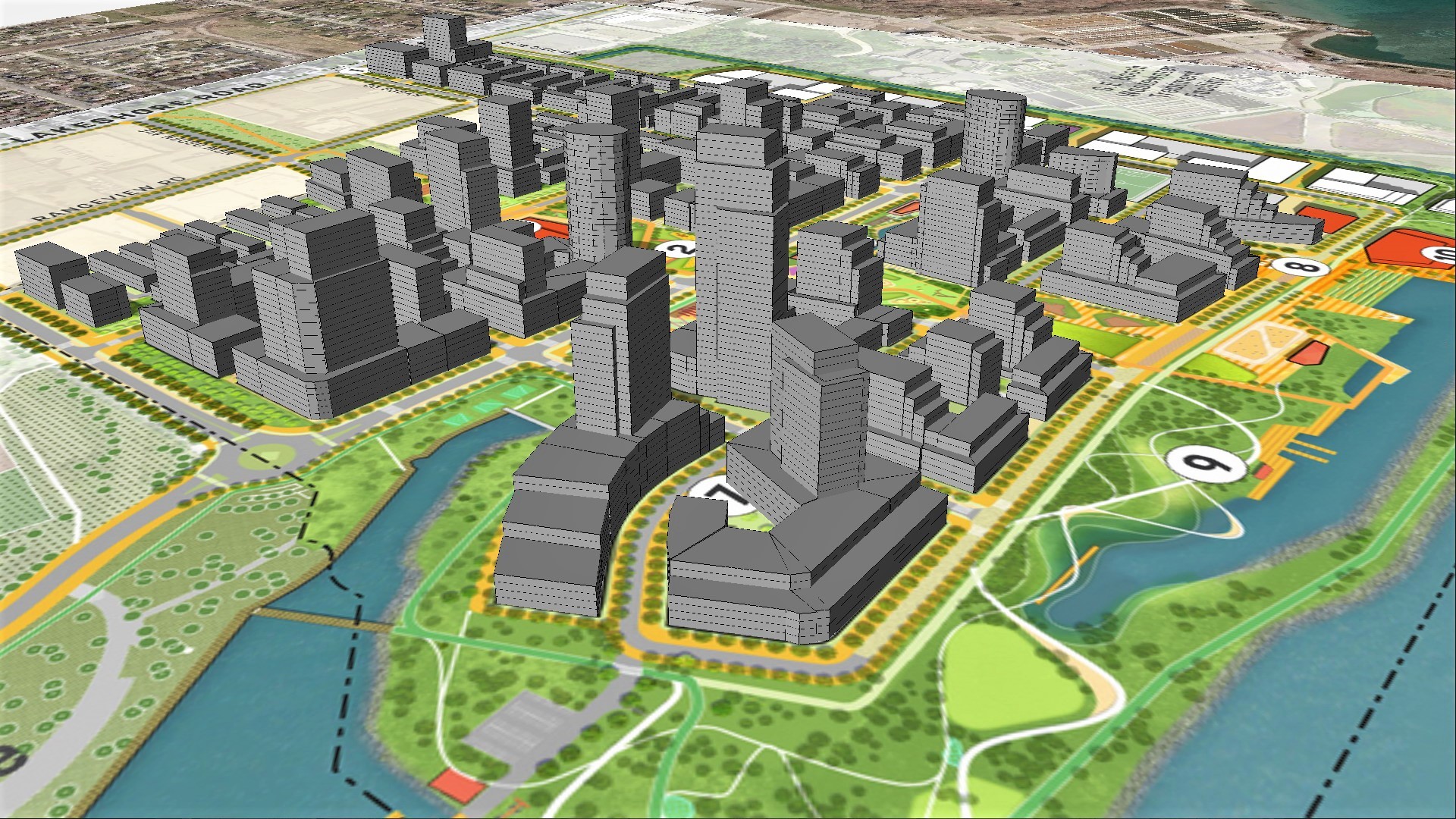 The original community-driven plan for Lakeview Village approved by Mississauga Council, above, and the later plan submitted by the project's development group, now supported by Council
However, hanging over the whole process is an unspoken power: The Local Planning Appeal Tribunal (LPAT). The LPAT is a provincial body tasked with mediating disputes between cities, residents and developers. Similar to a legal court of appeal, it is supposed to hear the merits of all arguments and make a final ruling.
In reality, the process of making these arguments (or defending them) is expensive. For cash-strapped cities who want to spend property tax dollars on infrastructure and services, an LPAT hearing is another cost they don't need to juggle.
For residents, it can be prohibitively expensive. But for developers, who often employ high-priced lawyers and consultants familiar with legal techniques and loopholes that have been used to win planning disputes for decades, such costs are simply passed on to unwitting buyers who purchase the properties once built. And, as a bonus, the favourable decisions made by the old Ontario Municipal Board (OMB) and now the LPAT, almost always result in larger projects and more profits for developers.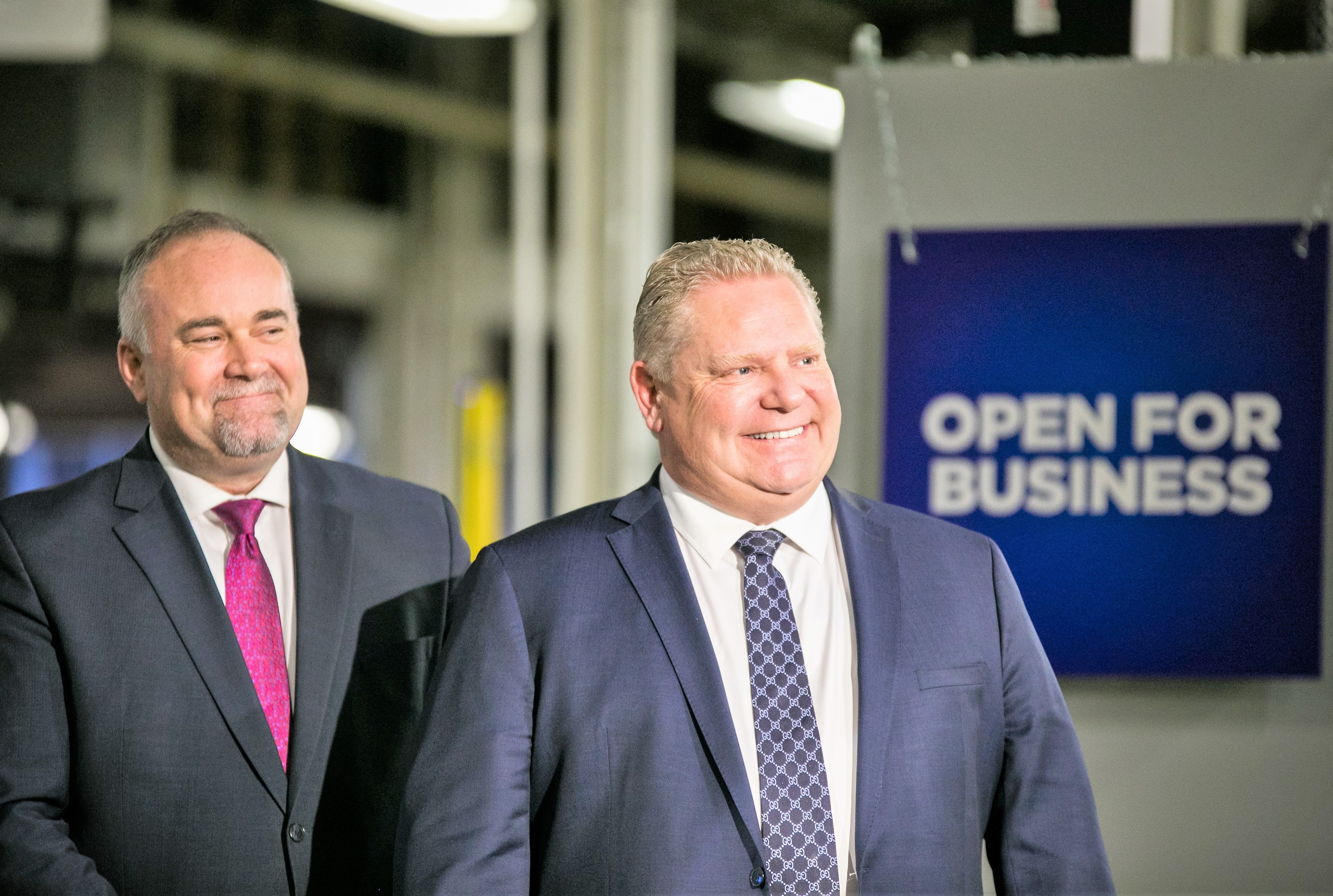 Premier Doug Ford has overseen the reshaping of the LPAT, sparking fears the mediation body is again controlled by developer interests
After years of developer-control of the OMB, the Kathleen Wynne Liberal government recognized municipalities had lost the ability to oversee their own planning and follow smart growth legislation adopted by the province. Developers could simply appeal planning decisions that went against their interests to the OMB and then either stall out the expensive process or use a friendly culture within the agency to their advantage.
The OMB was eventually made up of staff who ultimately made the decisions, after having spent years working in the development industry, often with the same people fighting against municipalities.
When it was scrapped in favour of the LPAT, many municipalities, especially those facing significant growth, breathed a sigh of relief. The new agency was mandated to uphold growth and planning legislation and the ability of cities, not developers, to dictate how growth would occur.
But under the rule of Premier Doug Ford, a developer-friendly leader who has promised to look after the interests of builders, even if it means opening up the protected Greenbelt to them, dynamics at the LPAT have changed.
It appears that history, including a legacy of sprawl and bad planning across the GTA, did not serve as a lesson for Ford and those in the LPAT carrying out his wishes.
On Tuesday (Feb. 18), one resident group in Rockwood (near Guelph) received an interim decision from the LPAT in favour of the creation of a quarry in their area which residents argue will cause severe environmental damage and "devastate the community." The Concerned Residents Coalition (CRC) brought their local community together to raise $800,000 in order to appeal the quarry application at the LPAT, arguing the project does not represent good planning.
CRC President Doug Tripp told The Pointer his experience of the LPAT was "entirely different and considerably more difficult" for residents than appealing to council and councillors. "In order to be party to any action like ours, there is a price tag," he said. "In our case, [it was] community support and individual donations of $800,000, that was the price for us to engage in this case as a community group. That alone is a major barrier for many, many communities. [...] It's a fundamental injustice in my opinion that a community group like ours has to raise that kind of money to be part of the process."
With the interim decision now made in favour of the application, despite the best efforts and expense of the group, CRC are considering other ways to fight the quarry. As Rockwood exemplifies, expensive disappointment is something of a speciality at the LPAT.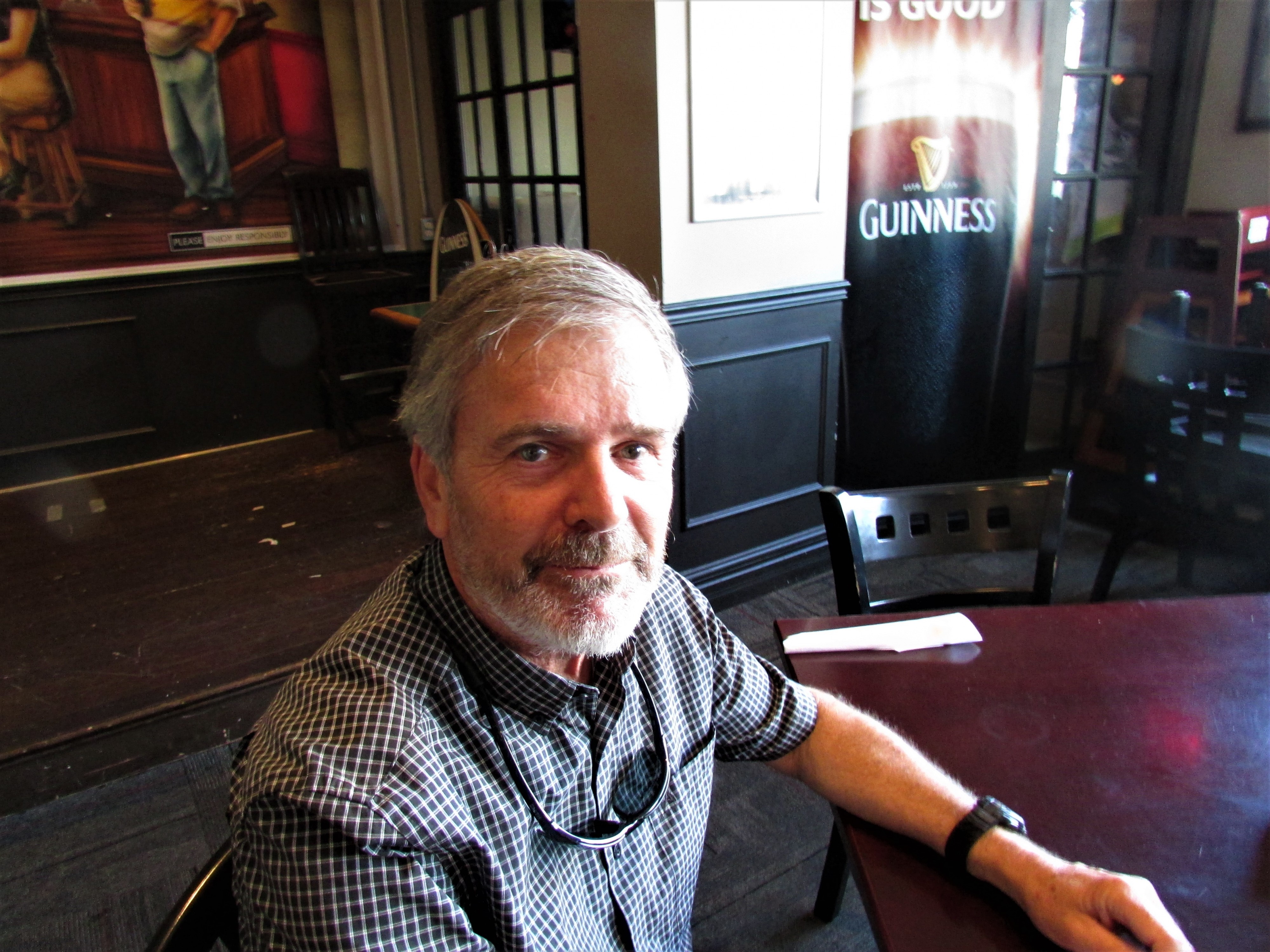 Landscape architect and Lakeview resident John Danahy
John Danahy, a professional landscape architect and professor at the University of Toronto who helped pioneer the project that has now become Lakeview Village, is critical of the LPAT. In 2016, when the provincial government was reforming the OMB, Danahy wrote about the changes that needed to take place.
"The first principle I can suggest is do everything possible to minimize the so called need for the [LPAT]," he argued at the time. "It is a place of last resort. No one at a city or a citizen's group actually wins at the [LPAT]. Unlike private sector development business interests, cities and citizens do not stand to gain extra profit [...] there are only costs combined with degrees of impact to existing members of the community. Inclusive planning is the only way that all interests have an equal opportunity to have their voice heard."
---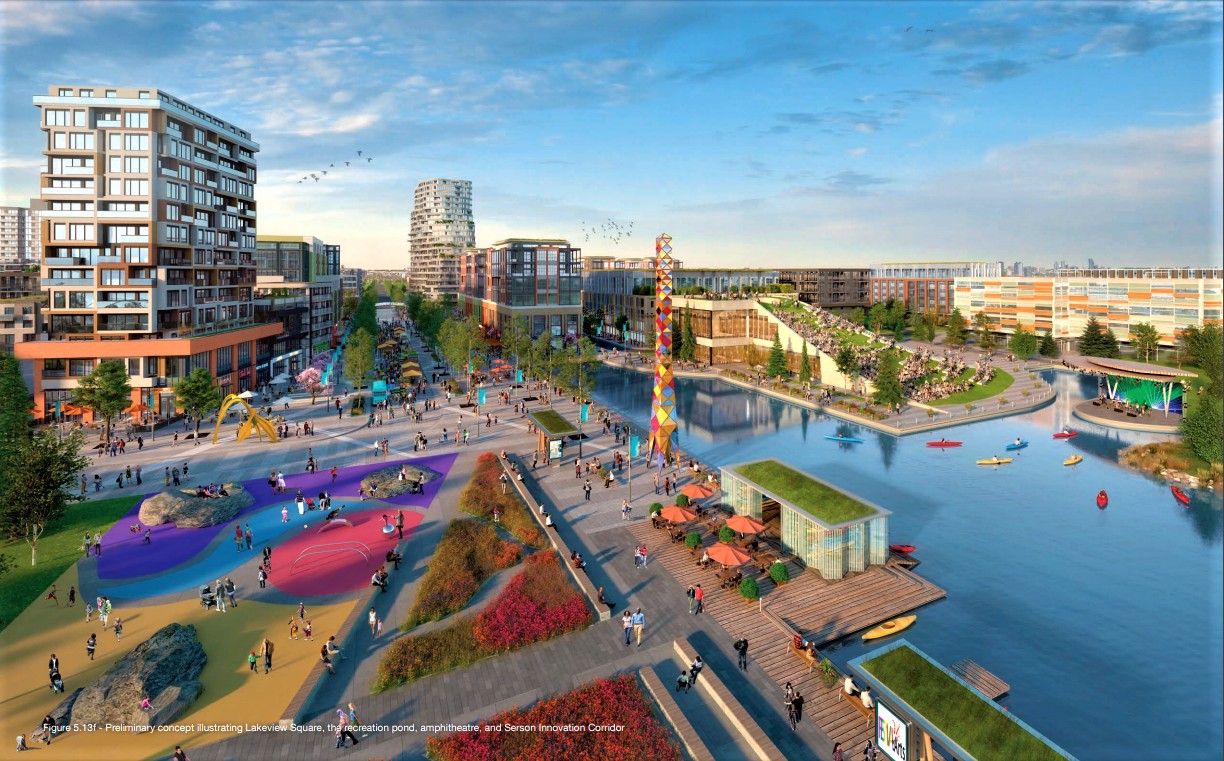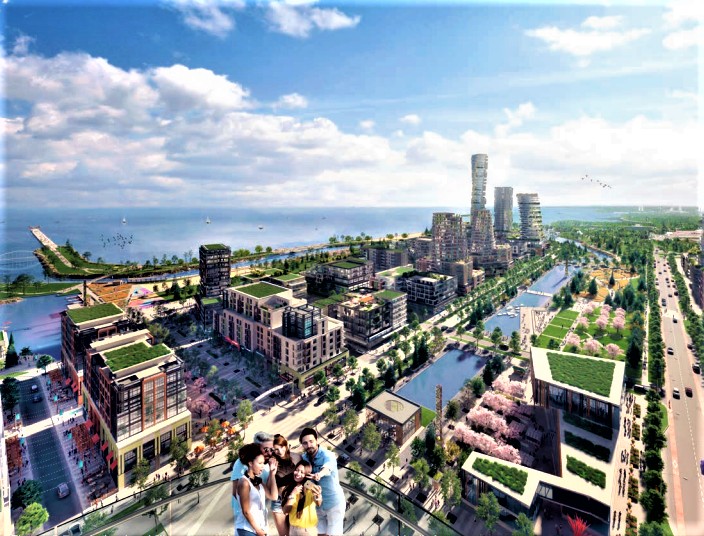 Renderings of the Lakeview Village project
"The fundamental problems remain the same [now in 2020] for citizens and elected officials," he told The Pointer.
The LPAT offers a route for development interests to call foul on decisions made by city planning departments on behalf of smart, sustainable growth and sound building principles.
The introduction of the LPAT in spring 2018 attempted to address the erosion of local control and gave more power to cities.
A York University Masters thesis succinctly explained the change: "A direct consequence of many of the procedural changes to Ontario's land use planning appeal tribunal is that municipal decision makers have been given increased power and control over the planning process."
Then, in 2019, it changed again.
As part of a series of wide-ranging, developer-friendly moves introduced by the Progressive Conservatives under Bill 108 (More Homes, More Choice Act), the majority of tribunal rules reverted to the old OMB model, though the LPAT's name was maintained.
Opponents of the new changes say Bill 108 ended the LPAT's mandate as a nonpartisan court of appeal, instead handing much of the control back to developers. Environmental Defence, for example, argued the cost of appeals and old OMB rules would mean cities simply couldn't afford to face developer challenges and would cave to many pressures before any appeal was even launched.
"Participating at the OMB [LPAT] is expensive and many municipalities can't afford to, or won't risk participating in a multi-million dollar hearing with your tax dollars footing the bill," the organization wrote in 2019. "That's likely what developers are hoping; that they will get their way as fewer hearings will occur as municipal budgets will also be stretched by provincial budget cuts."
This fear represents the broad influence the LPAT has over the planning process, even when it is not involved. Naturally its decisions have a direct impact on some residents, but the precedents that are set impact city building more broadly. If a municipality opposes a development plan because it represents bad, unsustainable growth, unreasonable long-term infrastructure and servicing costs or design that is not aligned with community-driven principles, it might simply relent because local officials know the LPAT will uphold a developer's appeal. With this understanding, builders know they have the upper hand in any negotiation.
Recent changes to the current configuration of appointees at the tribunal do nothing to alleviate the fear of the LPAT siding with developers.
In December, the Ontario government appointed Bryan Tuckey, who served from 2012 to 2017 as CEO of the Building Industry and Land Development Association (BILD), a developer-driven industry lobby group, to serve on the LPAT. The Globe and Mail later reported that four adjudicators with environmental backgrounds had been removed from the LPAT. Justin Duncan (former staff lawyer for activist group Ecojustice), Marcia Valiante (a former University of Windsor environmental law professor), Hugh Wilkins (who previously worked as a lawyer for World Wildlife Fund) and environmental lawyer Paula Boutis were all let go.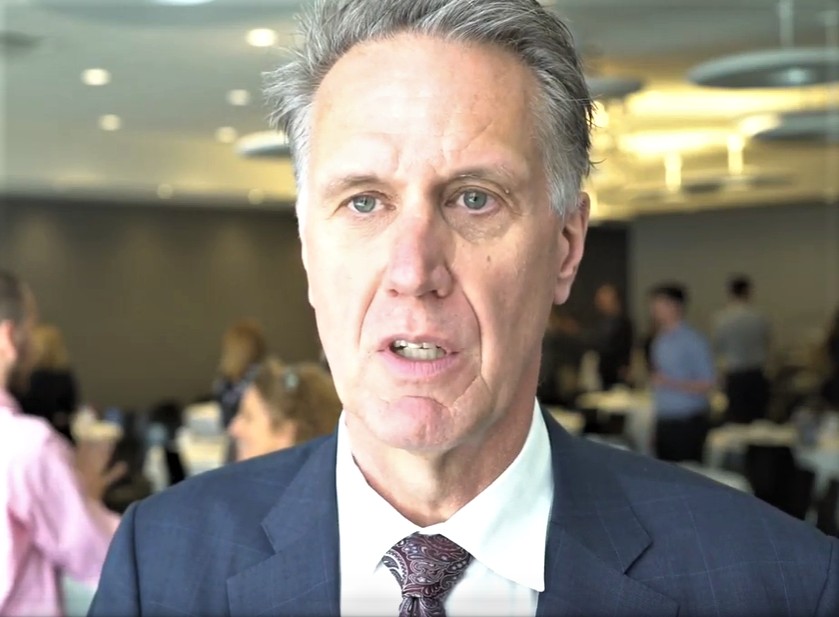 Bryan Tuckey, former CEO of the development industry lobby group BILD, was appointed to the LPAT in December
"Anybody who had ever been a public-interest environmental lawyer or consultant or worked with an environmental group was shown the door," Duncan told the Globe and Mail.
Though Tuckey has worked for the province in the past, under former PC premier Mike Harris, he is best known for his tenure as CEO of BILD, when he was a vocal critic of the previous Liberal government's efforts to curb land-gobbling sprawl across southern Ontario.
BILD's core mandate, driven by Tuckey for half a decade, is clear: lobby for home builders who want more land opened up to construct new houses.
During a December committee meeting inside Queen's Park, when Tuckey's desire to join the LPAT (he publicly stated he pursued the position) was addressed, opposition members raised concerns that appointees to various agencies had close ties to Ford.
It was pointed out to Tuckey by NDP MPP Marit Stiles that a previous ruling by the City of Toronto's integrity commissioner had found BILD had inappropriately lobbied the premier's brother, Rob Ford, when he was mayor of Toronto, right before Tuckey became head of the lobby group.
"BILD has had some record here of a close relationship, shall we say, with the Ford family," Stiles said to Tuckey during the committee meeting. "On that, do you have a relationship with Premier Ford or any member of his staff?"
"No, I do not," he replied.
Stiles then pointed out an op-ed written by Tuckey as BILD CEO, published in the Toronto Star.
"You were criticizing Bill 139, which, I believe, was the Building Better Communities and Conserving Watersheds Act, 2017. One of the things that you pointed out was that you felt that Bill 139 would have a negative impact on what you called 'the highly successful mediation model of the OMB'. The OMB, I think, historically, for many people across Ontario, was seen to favour the interests of developers to a great extent. In fact, I wonder if you still think today that the OMB had what you would call a 'highly successful mediation model'."
Tuckey responded: "I think the legislation related to LPAT is much more clear and forthcoming in that model to bring people together, to find common ground and to find areas where you can resolve disputes outside of the adjudicative function."
The recent staffing decisions at the LPAT, removing environmental experts, and bringing in the former head of BILD raise questions about decision makers overseeing planning disputes in Peel and across the province. Will development interests hold more sway rather than protections for smart growth, environmental and sustainability issues and the ability of local governments to control their own urban planning?
The trend under the Ford government points to an answer. BILD and others representing developer interests, addressed the PC "housing supply action plan", early in Ford's tenure as premier. His government was told by these interests to end "mandate creep" by Ontario's 36 conservation authorities, which use environmental and other protections that can have the effect of stifling home building.
Last year, in a stunning move, Minister of Environment, Conservation and Parks Jeff Yurek, sent a letter to the provincial conservation authorities directing them to focus their work on four very narrow areas, effectively telling them not to get involved in decision making that could impact planning for development.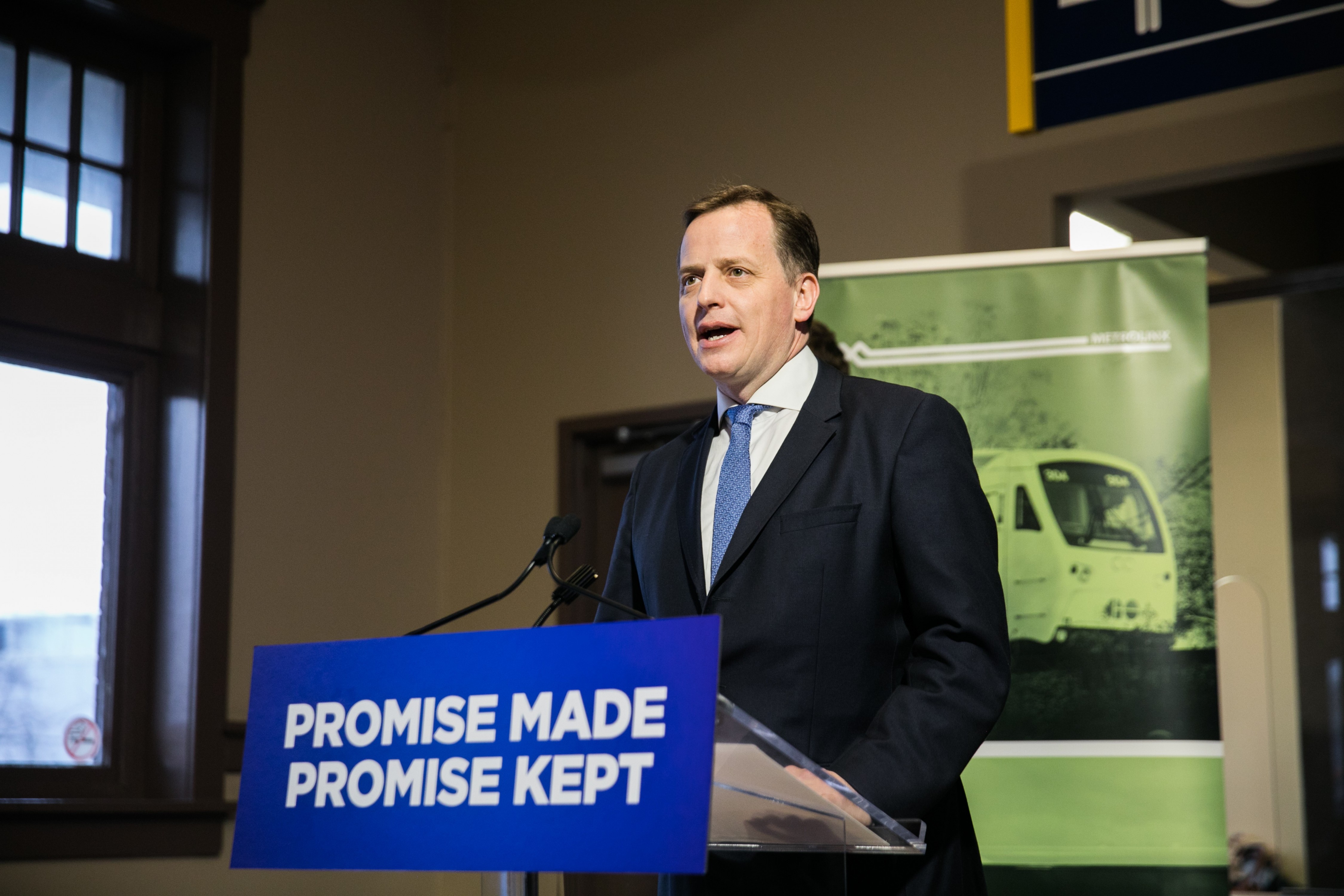 Environment Minister Jeff Yurek
Mississauga Councillor Karen Ras, Chair of the Credit Valley Conservation authority, fired a stinging letter back to Yurek, telling him his letter was irresponsible and the direction lacked legislative justification to prevent conservation authorities from doing their job to ensure sustainability and environmental protection.
But the LPAT now, just like the old OMB, serves as a trump card for developers who put profits ahead of conservation and smart growth.
In Mississauga, the fear of an LPAT decision in favour of developers was a key reason residents in the Lakeview area saw their hard earned dream of Inspiration Lakeview, built to a human scale, grow instead to massive heights and density.
The project, now called Lakeview Village, was a citizen driven call for tactical density on Mississauga's waterfront, with locals working with the city to design an innovative master plan bringing density, ecological living and community space to the site of an old power plant. However, as the project progressed, developers were brought in and the ideals residents had spent years carefully crafting began to disappear.
When the land was sold to Lakeview Community Partners (LCP), the residents' vision was sold with it.
"In my opinion, Inspiration Lakeview was just dropped and the developers plan was substituted," John Danahy, who helped advise citizens on the plan, told The Pointer. "A lot of people think a lot of the same elements are there, but that is a totally different plan from the one everyone worked on. They were supposed to buy the land and buy the plan ... [but, they did not] and because of the fear of being able to defend that plan at the [LPAT], we are where we are."
"Lakeview was a model of community engagement," he added, before noting how "afraid" politicians are developers could take them to a costly LPAT hearing, meaning cities don't set strict rules, instead giving away extensive ground in negotiations.
"LPAT is the trap door that allows it [developer control of planning] to happen," he said.
Lakeview demonstrates the unseen power of the LPAT, an increasingly developer-friendly body, setting precedent for good planning. This bears particular significance for the Region of Peel as the Ford government's push for the GTA West Highway rumbles on.
The PCs, who reactivated the highway after their Liberal predecessors scrapped it over fears of emission-inducing sprawl and bad planning in the surrounding corridor, argue it is necessary to facilitate population growth and ease pressure on the existing highway network.
However, many opposed to its creation say it is a project lobbied for by developers. Dave Wilkes, current president and CEO of BILD, wrote: "The GTA Corridor West was not just a proposed highway. It was a means to unlock both commercial and residential land for development."
Whether the LPAT has the teeth or inclination to uphold any appeals along this corridor, to ensure smart growth and environmental sustainability, remains to be seen.
Some have no faith in the tribunal system at all and would like to see it abandoned altogether.
In 2019, Kenora City Council passed a resolution condemning the LPAT, arguing it takes planning "out of the hands of democratically elected municipal councils." In Burlington, Mayor Marianne Meed Ward has also argued for an end to the system, previously telling The Pointer: "I won't quit until the LPAT is gone."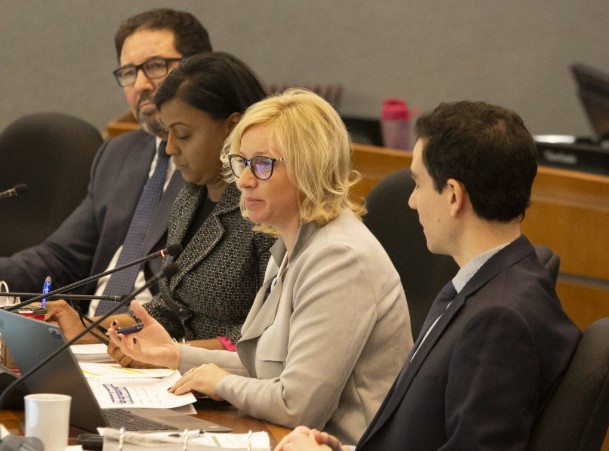 Caledon and Peel Region Councillor Jennifer Innis
However, Caledon and Peel Region Councillor Jennifer Innis, Chair of the Toronto Region Conservation Authority, has expressed no opposition to Bill 108 or the LPAT and, unlike her Credit Valley Conservation authority counterpart Karen Ras, Innis failed to push back against the province's direction to the conservation authorities, telling them to stay out of issues that could impact development. She has a long history with the PC party, working as a political staffer in the early 2000s under former premier Ernie Eves and two former PC ministers.
Innis, according to an article in the Toronto Star, was accused of getting the chair position with the help of developers who allegedly lobbied other members to hand the job over to the developer-friendly councillor (click here to read the story).
Among some Mississauga and Brampton leaders, feelings about provincial control over planning are mixed.
After Bill 108 was passed, handing more power to developers, Mississauga Mayor Bonnie Crombie sent a letter to the province expressing frustration at the sudden changes to a system the city had just been starting to work with in a cohesive way.
In Brampton, Chair of the Planning and Development Committee, Martin Medeiros, was more conflicted. "I see both sides of it," he told The Pointer, explaining the LPAT can help push density opposed by residents and needed for city planning, while acknowledging the issue this causes when taking decisions out of the hands of elected officials.
---
Email: [email protected]
Twitter: @isaaccallan
Tel: 647-561-4879
Submit a correction about this story