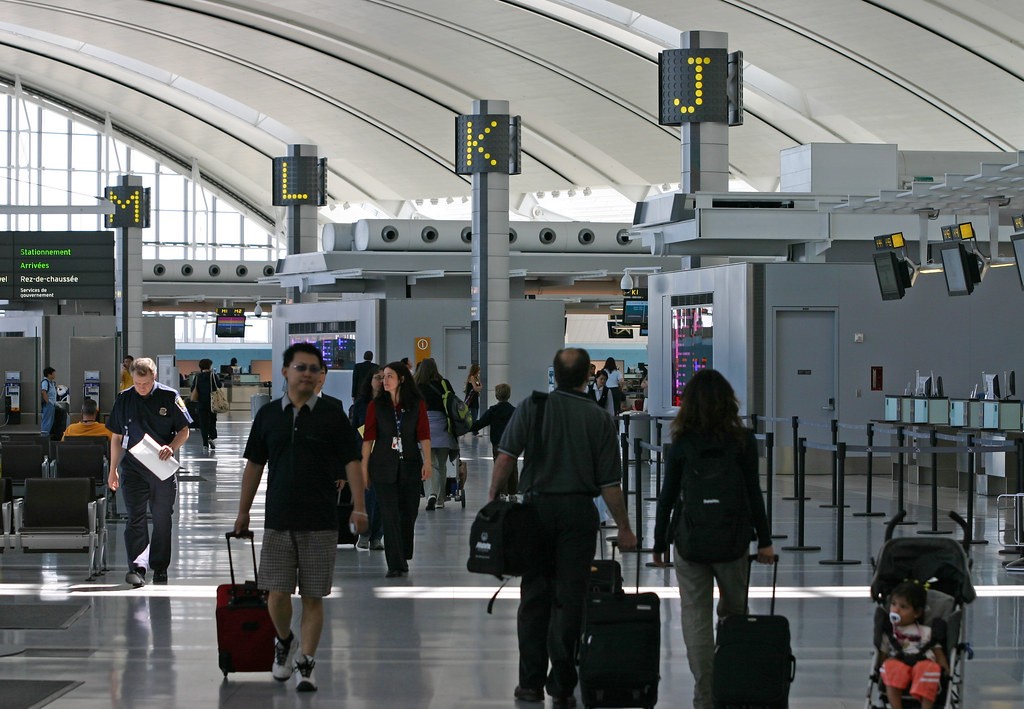 Feature image by Dan Zen licensed under CC BY 2.0
Peel losing residents in droves; immigration continues to drive slowing growth
The Region of Peel is in the midst of a tense conversation about its future. Councillors, developers and a group of citizens are debating how to plan and grow the area over the next few decades.
On one side, the residential construction industry is pushing for more fields in Brampton and Caledon to be opened up for development. Builders want to transform undeveloped land into new housing, arguing the GTA's sky-high house prices are evidence that new supply needs to come online as quickly as possible. Facing off against them is a well-organized group of residents, backed by non-profits like Environmental Defence, who argue Peel can accommodate all its growth in the areas that have already been built up.
In the backdrop to this push and pull, the surprising reality is that Peel's strategic role as a high-growth area of Southern Ontario, which has welcomed hundreds of thousands of newcomers needed to sustain the province's economic growth over the past three decades, has sputtered.
Discussions based on projections of how many people will live in Brampton, Caledon and Mississauga in years to come, and how they should be accommodated, are suddenly fraught with uncertainty. Numbers that are used to anticipate housing demand, employment needs and all the other growth-related considerations, need to be adjusted to factor the impact of the pandemic, changing land use pressures, transportation habits and the continued trend of current residents leaving Peel in large numbers.
New data from Statistics Canada show a growing reliance on immigration propping up Peel's population figures. Dramatic changes to how people resettle in a difficult real estate and employment market, compounded by the COVID-19 pandemic, have made the job of predicting future population much more difficult.
The annual net increase of immigration to Peel rose 60 percent from 22,467 in 2011/2012 to 36,124 in 2020/2021, even with a slowdown during the ongoing public health emergency.
Peel is so reliant on immigration that its population would have decreased over the past few years if it were not for newcomers arriving from beyond Canada's borders.
It's a trend that has been documented over recent years, as a number of factors might be pushing more and more residents out of the region. The dire lack of affordable housing, with more than 22,000 people on Peel's wait list, and a recent report that a staggering 80 percent of the region's residents can not afford current prices, is a major problem.
A lack of infrastructure, public transportation and supports for families such as child care, could all be contributing to the exodus. Cultural considerations, as many of Peel's communities have become increasingly fragmented, might also play a part in the decision to leave.
Poor economic development in much of Brampton, where employment is largely limited to low-to-medium-income jobs, is another issue.
In 2020/2021, for example, a net of 36,124 immigrants arrived in Peel, while the net number of births and deaths resulted in a gain of 8,374 residents. A net total of 2,716 people moved out of Peel to other provinces within Canada and 32,211 residents left Peel to live elsewhere in Ontario. If the number of foreign immigrants arriving in Peel is removed from these figures, the population would have shrunk by 26,553 last year.
Even with new arrivals, the City of Mississauga's estimated population dropped from 772,227 on July 1, 2020, to 769,303 the following year. Peel as a whole saw its population growth slow for the second consecutive year to its lowest increase in at least 15 years.
The number of Peel residents leaving the region annually to move elsewhere in Ontario has increased by 300 percent in a decade.
Peel's population growth has slowed since 2019.
(Image from Statistics Canada)
The man steering Peel's growth decisions does not see a reason to be concerned by the numbers.
"It's really long-term planning," Adrian Smith, the Region of Peel's chief planner, told The Pointer. "We're looking at a 30-year horizon, so it gets factored in. It is expected that there will be fluctuations in that, there will be times when there's lots of it happening for various societal, demographic reasons and there will be other times where there is a little bit less."
The pandemic plays a part in this equation, with the number of new immigrants to Peel decreasing over the past two years.
In 2018/2019, before the pandemic impacted immigration patterns, Peel welcomed a net total of 50,816 immigrants. The next year, which included the first half of 2020, the number dropped marginally to 48,247. And in 2020/2021, the first period of time entirely within the pandemic, the net number of new immigrants fell to 36,124.
The net number of non-permanent residents moving to Peel (usually international students or people on a work visa) also dropped for the second year in a row. Between 2019/2020 and 2020/2021, the net total of temporary immigrants dropped by 14 percent, falling six percent the year before. Between 2017/2018 and 2018/2019 it rose by 49 percent.
In tandem, the number of residents leaving Peel has grown every year for the past half-decade. Between 2018/2019 and 2020/2021 alone, the annual net number of residents leaving the region for other areas in Ontario jumped by more than 10,000 people.
Peel's population figures rely heavily on immigration.
(Image from Isaac Callan/The Pointer; Data from Statistics Canada)
The data suggest many who live in Peel are looking for a pathway out.
One reason could be the impact of the pandemic. The early days of 2020 were dominated by stories of families fleeing to the countryside or smaller communities to escape the oppression of lockdowns in urban centres and data suggest that could be a factor in Brampton and Mississauga. While Peel lost 32,211 residents to other parts of Ontario between July 1 2020 and the same time in 2021, smaller and more rural regions made gains. Halton grew by 4,645 residents from other parts of Ontario and Simcoe welcomed 10,662 net new provincial residents.
The cost of housing is likely behind much of the exodus from Peel. The average price of a home (all categories) in Brampton last year sat at $1.2 million according to the Toronto Regional Real Estate Board, while Mississauga properties went for an average of $1.1 million. The latter is the sixth most expensive Canadian city to rent in according to aggregator Rentals.ca which puts the average one-bedroom rent in Mississauga at $1,786 per month, and that is down from pre-pandemic prices.
But real estate alone does not provide a complete explanation for Peel's recent population trends. Durham Region, on the other side of the GTA, with a similar suburban character to Peel, had an average 2021 house price of $925,710, while one of its cities, Oshawa, is the tenth most expensive place to rent in Canada.
Despite this, the area recorded a net increase of 10,365 people moving from within Ontario in 2020/2021.
In fact, the number of people who left Peel is comparable to those fleeing the City of Toronto, which has roughly twice Peel's population. A net total of 40,384 people moved from Toronto for other parts of Ontario, compared to 32,211 who left Peel last year.
The December home sales price report from TRREB showed prices in Peel actually outpaced Toronto. The average selling price during the month in Peel was $1,189,424, compared to $1,023,029 in its larger neighbour to the east.
The cost of housing could be one factor driving people out of Peel.
(Image from Isaac Callan/The Pointer)
So what is Peel getting wrong?
It's a question local politicians need to figure out. Peel's current population dynamics suggest many established residents want to move on and a major reliance on immigration (both temporary and permanent) will continue to be needed for the region to continue to grow.
"Like all major cities, Mississauga – and Peel Region as a whole – is dealing with a housing affordability crisis," a spokesperson for Mississauga Mayor Bonnie Crombie told The Pointer. "The Mayor has continued to advocate for more support from our provincial and federal housing partners. She believes we need changes to legislation and more funding to bring more housing to the market for low and middle-income families. Safe, affordable housing is key to Mississauga's ability to attract more people to our city."
The mayor's office highlighted a push in Mississauga to build denser, transit-oriented communities, saying the City had issued more building permits in 2020 ($1.4 billion worth of construction) than ever before. Lakeview Village and Brightwater on the Lake Ontario shoreline are two examples of the progressive development taking place in the city which politicians hope will tempt locals to stay.
"The Mayor also knows that building a complete and connected transit network is key to attracting people to the City," the spokesperson continued, highlighting the Hurontario LRT, which will open in 2024. "It's hard to underscore just how transformative this project is and how critical it is to the future economic prosperity of the City."
The Pointer reached out to Brampton Mayor Patrick Brown for comment. He did not respond. The city, under his leadership, has continued to see decay, particularly in and around the downtown core which has deteriorated due to neglect, as Brown has refused to invest in the city to meet his aggressive cost cutting mandate, which has not been applied to the biggest driver of rising taxes in Brampton, excessive salaries and benefits inside City Hall. Key projects and the need for funding to expand crucial services such as health care, have borne the brunt of Brown's cuts. The mismanagement under Brown, which was highlighted by the Brampton Board of Trade recently, as issues like the city's ongoing healthcare crisis are ignored by the mayor, could be pushing some residents away.
Smith is confident that the numbers leaving and arriving in Peel will even out. He and his team keep a close eye on the changing data and prefer to make minor adjustments to plans instead of starting over from scratch.
"You plan for the long-term but you do expect some fluctuations," he said. "We'll see a bit of a pent-up demand [for immigration after the pandemic] … regardless of the timing year-by-year, long-term over the next 30 years, Peel is poised for significant growth."
---
Email: [email protected]
Twitter: @isaaccallan
Tel: 647 561-4879
---
COVID-19 is impacting all Canadians. At a time when vital public information is needed by everyone, The Pointer has taken down our paywall on all stories relating to the pandemic and those of public interest to ensure every resident of Brampton and Mississauga has access to the facts. For those who are able, we encourage you to consider a subscription. This will help us report on important public interest issues the community needs to know about now more than ever. You can register for a 30-day free trial HERE. Thereafter, The Pointer will charge $10 a month and you can cancel any time right on the website. Thank you
Submit a correction about this story