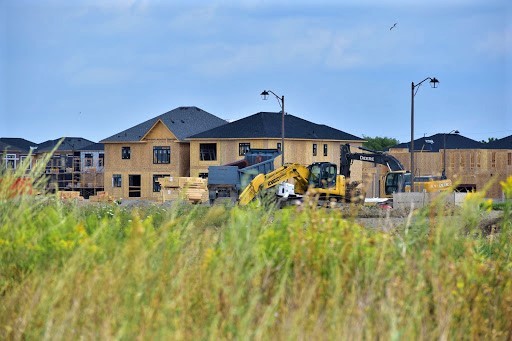 Photo Isaac Callan-The Pointer
In Peel's tug-of-war between sustainability and human desire, is 7,400 acres too much for future housing?
Standing in the shadows of the conflict in municipal planning, one side orchestrates the sprawling approach used across southern Ontario since the end of the Second World War, razing prime agricultural land and greenspace to accommodate market demands; while another points to irrefutable evidence of planetary climate chaos made exponentially worse by the way urban societies have developed.
Ontario's municipalities are being asked by the provincial government to undertake a sweeping review of how they plan to accommodate growth over the next few decades, while simultaneously ensuring GHG emissions targets and other climate-sustaining goals are met.
We are at a reckoning.
The Greater Golden Horseshoe continues to house an outsized portion of Canada's rapid growth, but land-gobbling sprawl to accommodate this ongoing population explosion simply cannot continue.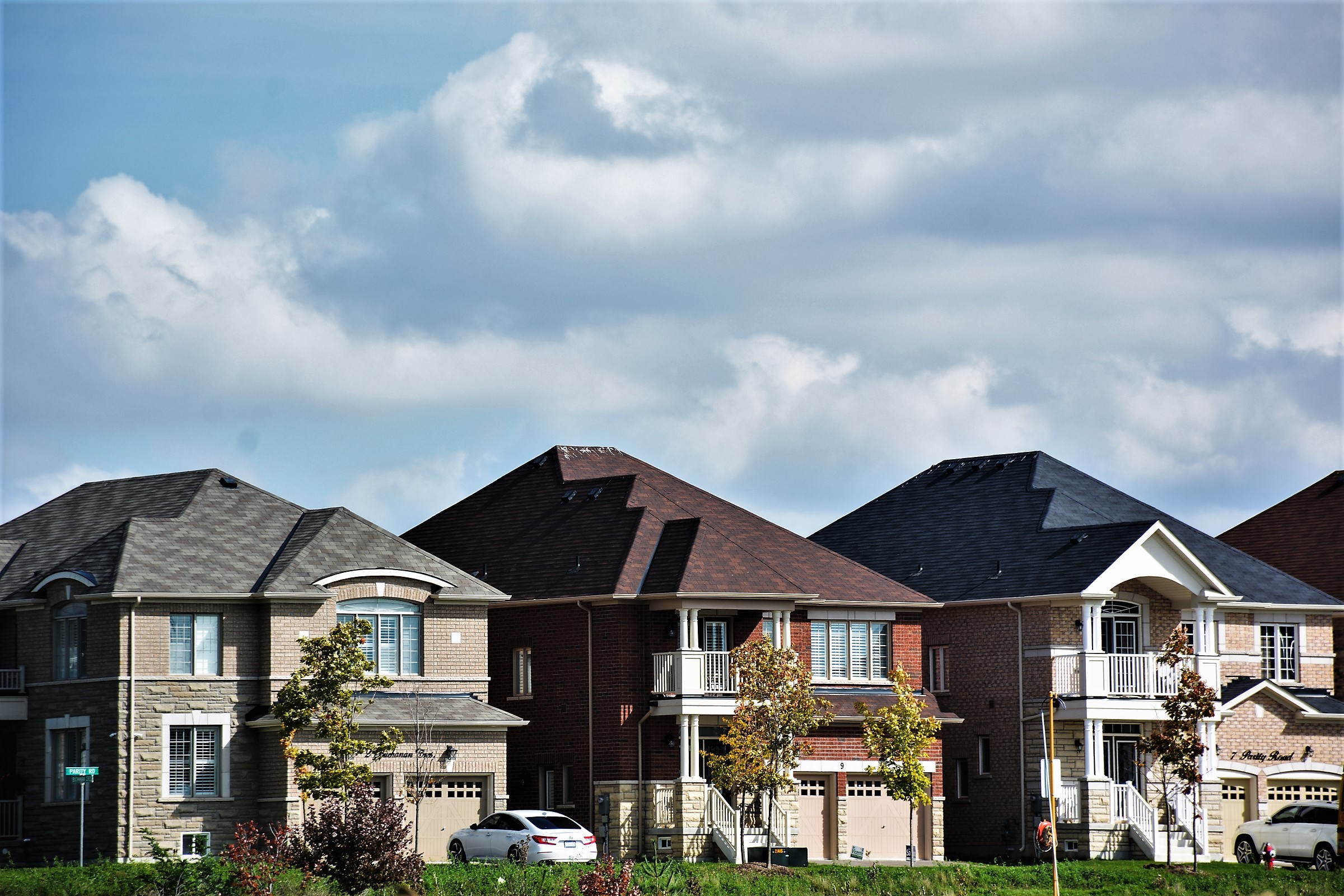 This type of subdivision development has defined Peel and while such homes are desirable, they are not sustainable.
(The Pointer file photo)
Never before in the past 70 years has sustainability been so omnipresent in official municipal planning considerations.
"The over-arching theme of this Plan is sustainability," Peel's recent proposed Official Plan Review states, "which refers to meeting the needs of the present without compromising the ability of future generations to meet their own needs. Regional Council will work towards sustainability by applying a sustainable development framework which will provide a holistic approach to planning, action and measurement. The principle of sustainable development is important given the need to address significant issues such as developing a sustainable society and addressing specific issues such as the impacts of climate change through mitigation and adaptation measures."
Just twenty years ago, this type of language to set the entire tone in the master document for Peel's future growth strategy, would not have been found.
And prior to that, the '70s, '80s and '90s were a developer's fantasy, controlling weak municipal governments that handed over their emerging towns and cities to sprawling subdivision construction in exchange for brimming public coffers enriched by billions of dollars in fees paid by builders.
Here is the new reality, as outlined in the proposed Peel Official Plan Review: "To support planning for complete communities in Peel that are compact, well-designed, transit-oriented, offer transportation choices, include a diverse mix of land uses, accommodate people at all stages of life and have an appropriate mix of housing, a good range of jobs, high quality open space, and easy access to retail and services to meet daily needs."
The big question is this: What are the daily needs of the public?
Of course, there is no single answer.
There may be just as many residents across Southern Ontario who feel they "need" a sprawling 4,000 square-foot home with a four-car driveway on quarter-acre lots, designed in the quiet suburban planning style of cul-de-sac developments.
Many are eschewing this type of lifestyle for more urban types of living, in compact communities serviced by transit and immediate amenities available within a fifteen-minute walk.
Modern planners are convinced that policy approaches can create even more demand for this type of housing and community design.
The subdivision development industry says the main driver of demand in the housing market, as evidenced by the lack of supply, is the desire for large, single-family houses.
Recently, single and semi-detached home prices have skyrocketed throughout the province and country, showing many in the public want a classic family home. In October 2021, the average home price in Peel was over a million dollars. Year over year the prices for single and semi-detached homes are currently up 29.7 percent and 31.5 percent in the 905.
Supply of these types of homes is hard to find in urban areas as most cities in the GTA are filled out, and those who currently own such coveted properties are not rushing to sell them. This is what's driving the ballooning prices.
Sprawling subdivisions and suburban neighbourhoods make up much of Brampton and Mississauga, with some designated areas moving to high rise apartments, condos or stacked townhouses. Single family homes, meanwhile, have bidding wars on them and go tens of thousands of dollars over the initial asking price.
The pandemic has shown many city dwellers how important space is. Strict stay-at-home orders had mental health impacts on many used to moving freely around their city. The 500-square foot apartments many have survived in didn't offer any sort of escape, and young families raising children in smaller urban quarters felt the emotional challenges of compact living.
The dilemma for planners is in creating the types of communities that offer two seemingly incongruous outcomes: compact, sustainable lifestyles; and space to live comfortably the way many want.
The last word of that sentence is the key.
Want.
What we want versus what we need.
Peel's proposed Official Plan Review addresses the current provincial demand for cities to submit a "Municipal Comprehensive Review" to Queen's Park next year in order to ensure alignment between municipal planning and official provincial growth policy.

These are Peel's projected growth numbers; the question is how will all these new residents be accommodated?
(Region of Peel)
The Peel document states: "A settlement area boundary expansion may only occur through a municipal comprehensive review where… minimum intensification and density targets" and "sufficient opportunities to accommodate forecasted growth to the horizon of this Plan is not available through intensification and in the Designated Greenfield Area with the Region of Peel and applicable lower-tier municipality; the proposed expansion will make available sufficient lands not exceeding the horizon of this Plan... while minimizing land consumption; and the timing of the proposed expansion and the phasing of development within the Designated Greenfield Area will not adversely affect the achievement of the minimum intensification and density targets in this Plan, as well as the other policies of this Plan."
The proposed plan is filled with language detailing the priority of protecting greenfields, ecosystems and sustainable planning practices, making it clear that expansion of current urban boundaries to allow development will not be approved unless it is absolutely necessary to accommodate growth.
There has always been a steady market for the white picket fences, verdant lawns and sprawling properties that have defined suburban living, but the proposed plan and the MCR's directive to adhere to provincial smart growth policy is an attempt to change "wants" by forcing a different type of demand.
With the effects of the pandemic in mind, Regional staff and council are tasked with accommodating the housing market while planning for the future of Peel. The Municipal Comprehensive Review (MCR) will plan for the expected population boom to 2051, figure out where homes and employment buildings will go and keep in mind the ever present climate crisis. Staff are tasked to finish this by July 2022, with an outlined and approved plan by the Region on what the next steps are.
Peel expects to accommodate 700,000 people and 335,000 jobs over the next 30 years; where they will go is discussion residents and planning committee members have been deciding. Mississauga is largely built up, with a few remaining areas within its boundary to use for growth such as infill sites (like the Lakeview development). Brampton has much more undeveloped space left, as the city's northern half sprawls closer to the boundary with Caledon.
Caledon is where prime land developers want to get their hands on exists. The rolling grassy knolls and stretching farm fields hold billions of dollars in revenue for builders, but are also home to complex ecosystems, watersheds and the entry to the protected Greenbelt.
The MCR is guided by the Government of Ontario's Planning Act, and asks Peel to accommodate housing market demand, needs of existing Peel households, responses to climate change, how modern infrastructure is approached, while supporting complete compact communities, affordable housing, sustainable transportation and healthy development.
A small group of vocal environmentalists has called on the Region to set a hard urban boundary, an invisible barrier between urban and rural life where no developers can touch the already fractured environment.
Mississauga already has a set urban boundary since it is surrounded by Toronto to the east, Oakville to the west, Lake Ontario on the southern border and Brampton to the north.
Brampton's northern boundary ends at Mayfield Road; the street serves as a metaphorical and physical line between rural and urban living. Caledon's urban boundaries are set around the outskirts of Bolton, the township of Caledon East and the new Mayfield Road development area near the southwest corner of the municipality.
A scenario of a hard urban boundary has been taken into consideration by Peel staff and was presented to the planning and growth committee recently. To understand where the Region can build, a Land Needs Assessment (LNA) was conducted, from there a Settlement Area Boundary Expansion (SABE) was concluded. The methodology was mandated by the Province to help guide all municipalities through the same process.
The LNA took into account five different scenarios with ranges of density and amount of land needed to accommodate the inevitable increase in population.
Three main scenarios were tested in order to explain how to take a balanced approach to planning.
(Region of Peel)
Through the various considerations, staff can predict how much land would be needed through a SABE. Each scenario is given an outcome of how much land the Region would need to move forward with that plan. These calculations are based on how dense an area will be with people and jobs.
According to a staff report presented October 7, if there was no boundary expansion, to accommodate the forecasted growth to 2051, the intensification rate of the Region would have to increase by 75 percent, much more than the provincially mandated minimum intensification increase of 50 percent.
Peel Region staff said under this scenario most of the increased density would have to occur in Brampton and Mississauga with much more condo/apartment development, as Caledon does not have infrastructure and surrounding features to support this type of required intensification.
On the opposite end, if staff planned only with the mindset of a housing market approach, intensification would drop to 39 percent, from Peel's rate of intensification of about 46 percent between 2006 and 2020, and the boundary expansion would need to include 5,900 hectares, or 14,600 acres of new land for much less dense development.
Staff like Adrian Smith, chief planner and director of growth management and strategic planning for the Region, recommend a balanced approach to the Municipal Comprehensive Review.
"We really want to push the needle, we really want to encourage more intensification and density, we know we want to have more transit supportive [communities], but we need to meet the needs through those variety of forms of housing," Smith told The Pointer. "But we want to have a balance and not completely undo things in terms of the impact."
The current balanced approach scenario from staff shows an intensification rate of 55 percent, while needing to expand the urban boundary to accommodate an extra 3,000 hectares, or 7,400 acres for housing-related growth and 1,400 hectares, or almost 3,500 acres for new employment land.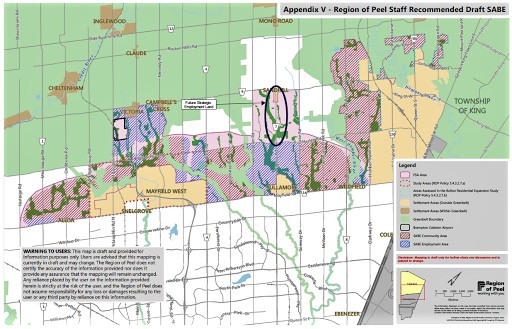 Where Peel Region is thinking of expanding its growth.
(Region of Peel)
The province recommends an increase in population through a minimum 50 percent increase in intensification within cities, showing Peel is willing to plan for walkable, healthy compact communities.
A 15-minute community is a concept urban planners try to work toward. Every basic need is within a 15-minute walk and public transit is immediately accessible for other requirements. The goal of these cities is to lead by smart growth planning and accommodate all of the new population within a more compact boundary, often ensuring no additional land is gobbled up for sprawling subdivisions and unsustainable population growth design.
Large urban centres like Montreal, Toronto and Vancouver would fall under this threshold of development, as most of the core population lives within a densely designed area with direct access to modes of frequent, sustainable transportation.
The three cities host towering skyscrapers and many mixed-use developments to accommodate the influx of employment and housing needs. There is a segment of the population that does not want to live in an apartment or condo building, putting demand on single and semi detached homes in those cities and the surrounding areas, which could be a problem for the City of Hamilton.
Late November, its local elected officials rejected an urban boundary expansion, meaning the municipality will have to accommodate the forecasted additional 110,320 housing units within the current limits. The same process of planning for 2051 is applied to Hamilton, like all other Ontario municipalities, and staff presented similar scenarios as Peel's, with different density targets for each.
By rejecting the expansion options 13 to 3, roughly 3,200 acres of land will stay outside the city's urban boundary and be off base to developers. The historic win for the environmentalist groups lobbying council against the sprawl tactics pushed by builders showed nearby municipalities there is an alternative to more sprawling growth to house future residents.
Shortly after, Ontario's ministry of municipal affairs and housing criticized the city's decision to hold the urban line, illustrating the major difference between the current PC government and the previous Liberals that launched the province's smart growth legislative approach.
According to Global News a ministry spokesperson said in an email, "Hamilton city council's rejection of an urban boundary expansion will only serve to drive home prices further out of reach for Hamiltonians and exacerbate the housing crisis."
Cities no longer have the luxury of planning sprawling subdivisions, with the threat of climate change at their doorstep.
But along with increasing global temperature, is the unrelenting rise in population.
This is where the conundrum lies.
If people's desires and wants determine the housing market, and Peel must accommodate the housing market, is expansion into untouched land the only answer?
Or, can the Region help change the types of homes and communities residents want, by providing proper transit to support compact living, along with all the other planning that lends to desirable 15-minute living?
The City of Hamilton believes it can do this.
"It's a complex web," Smith told The Pointer when asked about the dilemma. "In order to support some of that higher density, it's not just about building apartments and condos, you've got to have good infrastructure."
Infrastructure like transit systems eliminated the need for wide roads, parking lots and other wasted spaces, offering more area for housing and employment, as well as dining, shopping, arts and culture. Greenspaces can also be better planned when communities are not dominated by the car. Walking and cycling to such features, for commuting and just for leisure also suddenly become more feasible when planning isn't dictated by developers married to sprawl and the vehicles used to get people around in the sprawl.
Mississauga has already undertaken its transformation away from sprawl toward smart growth, and projects like the one pushed by the owners of Square One, Oxford Properties, are the key.
In 2020, the development company announced a plan to build 37 towers in the parking lots surrounding the massive mall. When complete they will house 18,000 people and join a forest of downtown skyscrapers, where Rogers' M-City will include towers that have already begun their construction climb 60 storeys above the street level.
While projects like this are appealing to the environmental concerns many residents have, towering skyscrapers in the vastly suburban Region are a contrast to the low density neighbourhoods many residents are used to living in.
The baby boomer generation found comfort in large single-family homes. A housing crisis coincided with two-and-a-half decades of Conservative rule in the province, and by the mid-'80s tens of thousands of hectares across southern Ontario were unlocked for new developments.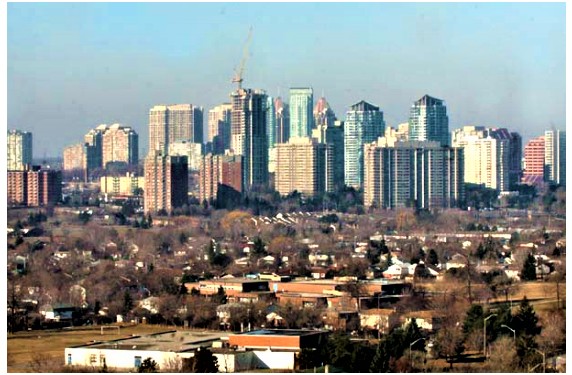 The Missing Middle: Mississauga has gone from sprawling subdivisions to towering skyscrapers; but the key to smart growth is medium density housing somewhere in between.
(City of Mississauga)
When environmental concerns were raised and the effects of climate change were more present, the Liberal government in the mid-2000s created an amendment to the Planning Act, requiring municipalities to accommodate more factors than just the housing market, and smart growth legislation called Places to Grow was introduced.
Today, millennials, according to a study by the Ontario Real Estate Association, are more likely to want lower density housing.
The study looked at the social and economic circumstances of millennials and their demands when entering the housing market and showed while density is desired, not too much density.
"It meant a very strong demand for what we call ground related single/semi townhouses as opposed to apartments, particularly high rise apartments," Frank Clayton, a senior research fellow at the centre for urban research and land development at Ryerson University, told The Pointer. "So as a result of that, the housing market was very robust for single/semi townhouses and apartments were less robust."
Planners like Smith cannot go against what people want, as it would lead to residents "leap frogging" to different parts of the province.
"They're gonna go to the Orangevilles, the Brantfords and the Barries, which also is going to be kind of counterproductive in terms of what you're trying to do, from a climate change-complete community-transit friendly point of view, so you're not going to win anyway," Smith told The Pointer.
Planners need to shape communities with housing demands and environmental concerns in mind.
"If you reduce the supply, you didn't produce new houses that people were demanding. So therefore the supply was limited, the demand was growing and prices went crazy," Clayton said, referring to the recent market.
Planners in urban centres are tasked with creating neighbourhoods and cities that revolve around healthy, commuter friendly lifestyles, with transit hubs, arts and culture along with other cosmopolitan features needed to attract future residents.
The question not yet answered is whether this will change desires, or will many of tomorrow's homebuyers still demand more land for sprawling lifestyles, just like their parents?
---
Email: [email protected]
Twitter: @taasha__15
---
COVID-19 is impacting all Canadians. At a time when vital public information is needed by everyone, The Pointer has taken down our paywall on all stories relating to the pandemic and those of public interest to ensure every resident of Brampton and Mississauga has access to the facts. For those who are able, we encourage you to consider a subscription. This will help us report on important public interest issues the community needs to know about now more than ever. You can register for a 30-day free trial HERE. Thereafter, The Pointer will charge $10 a month and you can cancel any time right on the website. Thank you
Submit a correction about this story