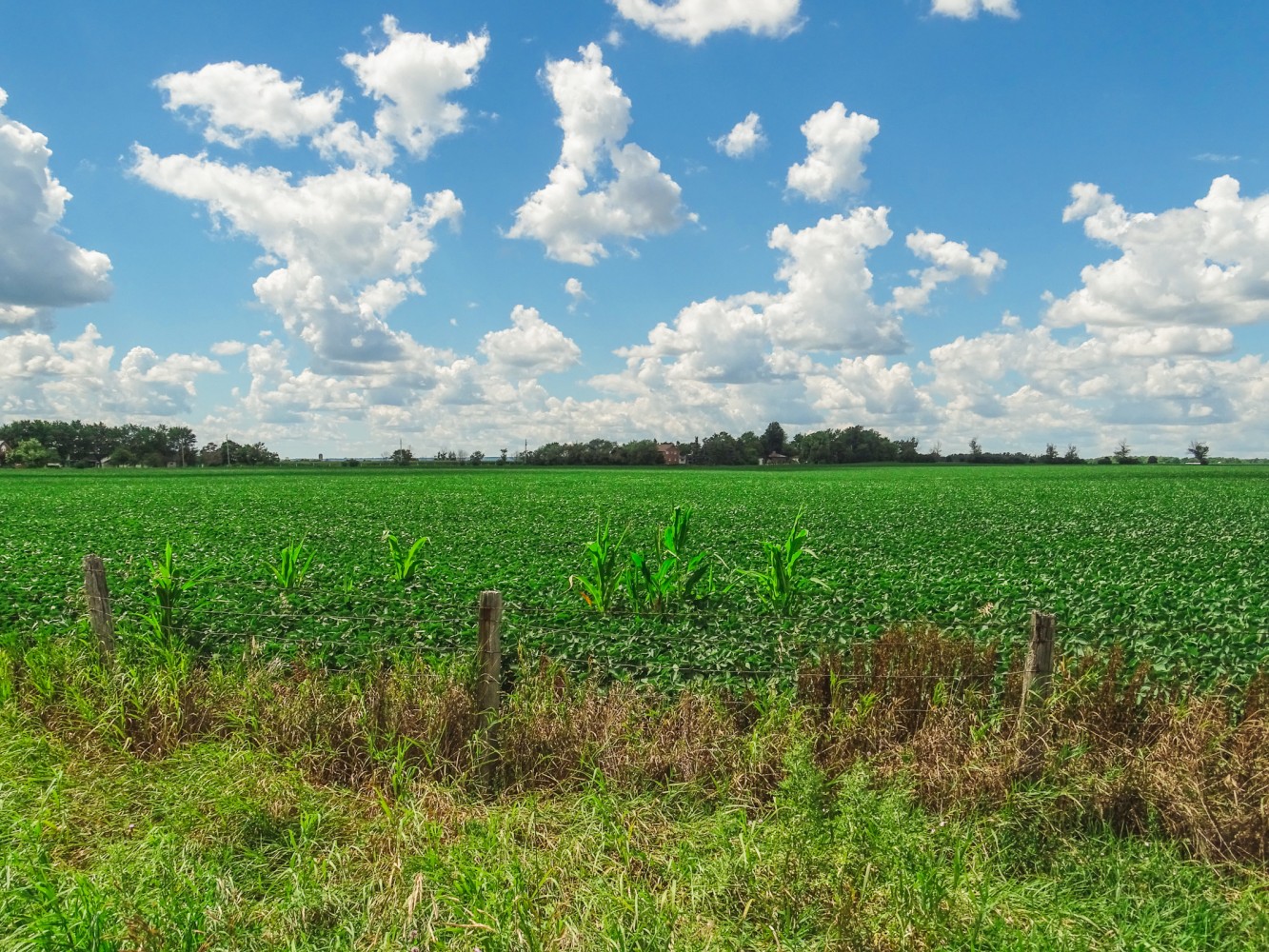 Photo from Natasha O'Neill / The Pointer
As Peel plans its next 30 years of growth will developer-driven sprawl or the planet win out?
Defining a hard urban boundary so development and sprawl cannot penetrate might not be the first idea for a festive annual celebration.
But the Region of Waterloo has made it one.
In 2017 the Hold the Line Festival commenced, bringing together rural and urban communities to celebrate both sides of the line. Local craft brewers, musicians, artists, businesses and farmers made ending sprawl in the region something to be celebrated.
Advocates in Peel aren't asking for a festival, but they are asking for the Region to enact a hard urban boundary, a line on the map used so no more rural land is taken over for subdivision housing or warehouse developments.
"They understand the value of farmland right next door as something that is a neighbour rather than something that is a distant commodity," Rahul Mehta, local activist and Mississauga resident said at Thursday's Planning and Growth Management Committee meeting, describing the sensibility behind Waterloo's festival.
Now, alarms are going off, as local environmentalists and those concerned about sustainability contemplate Peel Region's municipal comprehensive review (MCR). The completed plan will act as a guidebook for the Region over the next three decades for how Peel can accommodate the expected population growth and where these new residents will live. Currently, expanding past the urban boundary is still possible and being pushed by many developers keen on building more sprawl.
The dotted black line represent the Region's current urban boundary.
(Map from the Region of Peel)
Mississauga and Brampton's urban boundary is pretty much set, as neither can expand much farther. Caledon is the focus for the Region, with lots of open space and potential for further development.
Brampton's northern boundary ends at Mayfield Road; the street serves as a metaphorical and physical line between rural and urban living. Caledon's urban boundaries are set around the outskirts of Bolton, the township of Caledon East and the new Mayfield Road development area near the southwest corner of the municipality.
What advocates are calling for is a hard urban boundary, which wouldn't allow Peel to grow past a certain point and would force developers to build within existing settlements, indefinitely. Smart growth advocates and environmentalists widely view the hard urban boundary as a barrier to sprawling residential and low-slung commercial development that is currently favoured by Premier Doug Ford and his cohort of private sector builders closely connected to the ruling PCs. Regions such as Waterloo and the City of Toronto are now unable to expand certain types of zoning for growth outside their existing urban area. Advocates say establishing a hard urban boundary can act as a placeholder to prevent unneeded sprawl, until the next large population expansion needs to be accommodated.
The Pointer asked the Region of Peel if it is considering expanding urban growth in Caledon further into the protected Greenbelt.
"We have no plans at all to accommodate new urban growth within the Greenbelt in Peel and fully support the long term protection policies of the Provincial Greenbelt Plan," a spokesperson said.

Old School Road in Caledon is the potential spot for the controversial GTA West Highway.
(Photo from Natasha O'Neill / The Pointer)
The provincially-mandated MCR began in 2013 and will be completed and approved by the Province in July 2022. Under the Government of Ontario's Planning Act, the Region has to update its plan every five years, to ensure planning for services like transportation and housing is in line with the projected population growth. In 2019, the Province updated the Growth Plan, mandating cities and regions plan for their population into 2051.
The Province and GTA municipalities have done a poor job over the past 30 years of matching growth with services for that growth. Queen's Park designates population targets based on a series of projections, including the area's share of new immigrants, birth rate and those expected to arrive here from other parts of Ontario and Canada. Regions, which get buy-in from their municipal partners, determine how many projected new residents will be allocated to each. The individual municipalities are then expected to approve the appropriate number of building permits annually to accommodate the population each is expected to house.
Sprawl and private interests throw all of this into chaos. When the growth is not planned properly, often by municipalities, the Province can't afford to pay for sprawled out infrastructure such as GO Transit, hospitals, schools and roads. The municipalities also can't afford this type of planning, as sprawl and the associated spread-out infrastructure costs far more than building in a compact, dense form, supported by tightly-knit, compact transit, manageable road systems and utilities that don't have to be built out to far flung areas.
Municipalities such as Milton have done an excellent job of planning according to smart growth principles. As the municipality's population exploded over the past two decades, accepting the lion's share of Halton's allotted growth targets, under provincial legislation that demanded a more dense model, previous Liberal governments utterly ignored Milton. It accepted Queen's Park's mandated growth, but was woefully underfunded for schools, GO Transit, healthcare and other provincial services.
In recent years, the Province has realized it needs better planning processes with the regions and municipalities to ensure they make smart, affordable decisions around growth, while Queen's Park has its feet held to the fire by these partners who expect the Province to pay for all the population-based services it's responsible for.
The Regional Official Plan (ROP) was titled 2041+ to comply with planning for one extra decade. By September the plan will be renamed again to Peel 2051. To date, Regional staff have been gathering data and holding workshops and open houses to update the public. Most of the work has been consultation with residents on what services need to be adjusted and what they want to see in Peel as the region grows.
A well-designed ROP is critical for a booming region like Peel in order to understand what it needs to prepare for. The document will be used to plan for housing, transportation, climate change, utilities, social services and what the next steps for each city should be. This is critical for Mississauga and Brampton which are quickly running out of space to accommodate allocated growth targets, leaving Caledon's expansive rural lands as a possible option.
Sustainability and smart growth proponents would like most of Caledon's growth to occur in a dense, compact form in and around Bolton, the only existing urban area.
But developers who have bought up rural land for residential and commercial construction, along with some pro-developer Caledon council members such as Mayor Allan Thompson and councillor Jennifer Innis, have supported a hopscotch-form of growth that seems to benefit landowners and private interests who stand to profit from more sprawl and the use of existing rural lands.
Because of its geography, excessive development in Peel will continue to eat away at protected green spaces and eventually begin to threaten the Greenbelt if a hard urban boundary is not drawn for the Region. Already, small pieces of the Greenbelt are being lopped off or built around to make way for planned development projects. It's becoming increasingly common in the Region's development applications for spaces like agricultural and rural land, greenland systems, the Greenbelt, and the Oak Ridges Moraine to be considered in Peel's expansion plans.
In recent years, Peel's population has been growing exponentially, increasing 20 percent between 2006 and 2016. It's a growth rate that is not expected to slow. By 2051 the region is expected to reach 2.2 million people; both Brampton and Mississauga will have close to 1 million residents, with 985,000 and 925,000 respectively, and Caledon will more than triple to 300,000 (it has about 90,000 residents currently). Decisions about where these new residents will live, and in what types of homes, are crucial not just for future residents, but for those who currently call Peel home.
Throughout the pandemic, residents have been asking Peel to delay the consultation process on this crucial plan. Many residents say virtual workshops have not been as easy to attend and the lack of involvement is a cause for concern. Other advocates are saying it is unreasonable to plan so far into the future, claiming this is just another way for the Region and Province to "unlock" rural farmland for development.
"It's not just possible, it's highly desirable; 2051 is only 30 years from now," Shauna Brail, associate professor with the Institute for Management and Innovation at the University of Toronto Mississauga, recently told The Pointer.
"To be able to think of a kind of mid-range, longer-range future for the Region, you can't do that by planning in five year increments. So, first it takes time to be able to develop it, it takes time to build the infrastructure, both the physical infrastructure, like water and sewer access, but also the social infrastructure, the schools, and the libraries and community centers in the public spaces," she continued.
Planning for 30 years needs to avoid many of the problems Peel has experienced in the past, as low projections locked-in funding for services and infrastructure that fell far short of the actual needs as populations swelled far beyond the earlier models. Brampton was largely to blame, as council members approved far too many building permits, under pressure from developers who wanted to profit as quickly as possible from the lands they had assembled. Research has shown these councillors received most of their election campaign funding from the same developers who then got what they wanted, leaving Brampton with a huge population and not enough schools, hospital beds and transit to support all the newcomers.
Using building permit information, the number of secondary units has grown tremendously in recent years, specifically in 2019 and 2020, an illustration of both the demand for housing in Peel and the willingness, locally, to meet that demand. Both years have surpassed the historic five-year average and regional council's endorsed growth levels. If this continues, Peel could grow far beyond the projected extra 270,000 units by 2051 and the additional 700,000 residents. Councillors in Peel have told The Pointer they expect the population will increase by more than a million by 2051. Caledon alone is geographically larger than Toronto, which currently has about three-million residents. Even with half its density, Peel could easily reach 2.5 million residents in 30 years, especially if developers continue to get their way.
Secondary suites have grown in popularity in cities where housing is too expensive for residents.
(Graphic from Region of Peel, April 29 presentation)
"Peel has exceeded the provincial population forecast and looks to be on track to meet the provincial 2031 forecast of 1.64 million people by 2026, which is five years early," Duran Wedderburn, a Regional planner and growth management staffer, said. (It's possible the 2021 Census will show Peel is actually ten years ahead of schedule, and with the number of residents living in illegal, unregistered secondary suites, the population could be even higher.)
All of these dynamics make it even more crucial for the Region and Province to get the planning right, ahead of the looming deadline next year.
Regional staff have made it clear asking the Province for more time or to pause the plan is not recommended. If a Region does not meet the July 2022 deadline, the Ministry of Municipal Affairs and Housing will step in and essentially plan the growth itself.
Wrapped around the issue of Peel's hyper growth are questions about employment and housing for these new residents, which are key areas of focus for the Region. However, environmental activists are calling for climate change to be made a top priority. If the planet's future is at the top of the list of concerns, everything that trickles down from there can be beneficial for Peel. Smart growth planning is crucial for battling the impacts of human activity, something the Intergovernmental Panel on Climate Change has made abundantly clear. If developments are built smarter, constructed as "complete communities" this can help solve climate issues, problems around employment and housing as well, while also creating a more affordable and sustainable model for growth.
"Are we going to continue the perpetuation of these modes and planning by expanding the urban boundary? Right now, it is impossible to meet our current climate targets," Mehta said.
Housing is nearly impossible to find in Peel, unless your budget is between $650,000 to $1 million. Prices continue to soar on semi-detached and detached houses, condos and apartments. By 2051, the Region expects to accommodate 270,000 additional and different types of units. To do this, it is looking to expand the number of townhouses and apartments. Currently, detached and semi-detached homes are 60 percent of the housing market, with 25 percent dedicated to apartments. By 2051, the hope is to increase apartments to 31 percent of the housing stock.
The decision between expanding or not expanding is the decision the Land Needs Assessment will bring.
(Graphic from the Region of Peel, June 17 presentation)
The age of future residents will play a factor in what types of housing will be in demand. As predicted by the 2051 data, families with children will dominate the housing market, and they have the highest preference for "ground-related housing." Younger adults, under the age of 39 have preferences for apartments.
Regional staff say the accommodation of the majority of housing should be planned in current urban boundaries but with the demand for semi and detached family houses, the need for expansion is still present. If the Region were to accommodate the current market demands through expansion, 48 percent of houses will be detached or semi detached homes. With no expansion of the urban boundary, apartments would eventually dominate the Region's housing landscape, accounting for up to 66 percent of the future supply.
According to a presentation given by Wedderburn on April 29, the Region can accommodate 529,000 additional residents inside the existing urban areas.
"While a significant share of new growth will be in denser housing forms, to accommodate local need and market demand, single and semi-detached units will still be needed in Peel to provide housing choice across all housing market segments," reads the Regional Council report from staff, dated June 3.
To figure out where the urban boundary might end up, a Land Need Assessment (LNA) must be completed. While it is still underway, an estimated 173,000 people will need homes in Peel over the next few years. To meet housing demands and population growth the LNA is leaning toward 3,000 hectares of designated greenfield space (DGS) to utilize for residential growth.
Designated greenfield spaces are still green areas that are within the current urban boundary.
(Graphic from Region of Peel, April 29 presentation)
The space is already land within the urban boundary of Peel, making it fair game for developers and the Region to build on. While it is able to be built up, the space does play an important role within the Region. Large patches of grass, with trees or a wetland can reduce carbon emissions and soak up excess amounts of rainfall. Paving over any sort of "green" space will not benefit the environment or the Region's Climate Emergency plans.
Employment land is a whole other beast.
More jobs will be needed for those flocking to Peel. The 2041+ plan expects to create 334,000 additional jobs by 2051. Currently, 50 percent of commercial land is dedicated to the industrial sector, 30 percent to population-related employment (day-to-day services, retail, banking, groceries etc) and major office space takes up 19 percent.
COVID-19 has had a huge impact on the way people do business, much of it within the confines of their own home. At the June 17 Planning and Growth Management Committee meeting, the Region adjusted its employment prediction to add home-based businesses. This adjustment means 28 percent of future commercial land will be in the industrial sector, 33 percent for offices, 34 percent for retail and services and 6 percent will include home-based businesses.
The LNA is expected to develop about 1,400 hectares of land to support all the additional commercial needs. A large portion of this would be for manufacturing which needs a large amount of space.
The current planning is trying to determine what the future density for parts of Peel should be, as sprawl is not a viable option, while hyper-density is also not desirable for many stakeholders. It's a much more delicate balancing act than what's seen in large urban centres such as Toronto.
Depending on the level of intensification, expanding beyond the current urban boundary will have varied impacts on the natural world.
(Chart from Region of Peel report June 17)
Higher densities in cities generally make for smart growth. People who choose to live in urban communities want services to be close, transportation to be easy and housing to be affordable.
"When you intensify, you create the opportunity for housing to become more affordable," Brail said. "You create the opportunity if you intensify, in mixed use communities, where land uses particularly around things like work and home are not quite as separate and distant. And where you create opportunities for commercial residential and office space.
"In the same general vicinity, you actually can reduce the need for both commuting and traveling. And therefore you know, whether it's driving or by bus or transit or by bike, you create opportunities for people to live their lives in a way that is sort of more community oriented but also more environmentally sustainable, and improves quality of life."
The Pointer asked Regional staff if a hard urban boundary will be established.
"Through the currently ongoing Municipal Comprehensive Review of the Peel Official Plan we are required by Provincial policy to plan for growth to the year 2051 and will be setting an urban boundary to accommodate that growth. Our analysis shows that, although the majority of growth can be accommodated in existing urban designated areas in Peel, some urban expansion will be needed in southern Caledon to accommodate growth over the next three decades," a spokesperson for the Region said.
Staff have not detailed what impacts the expansion will have on the environment.
"For instance, the highway (the planned 413), the material has to come from somewhere, well, it's coming from near the escarpment and coming from the headwaters. So that has an impact, especially when they're excavating below the water table," Jennifer Le Forestier, Federal Green Party candidate for Dufferin—Caledon said.
Without setting a hard urban boundary, Regional Council could vote to expand the area further into precious farmland, or even the protected Greenbelt, under recent legislation pushed through by Ontario's PC government.
If they decide instead to hold the line, Peel could host its own annual festival, to celebrate a victory for the environment.
---
Email: [email protected]
Twitter: @taasha__15
---
COVID-19 is impacting all Canadians. At a time when vital public information is needed by everyone, The Pointer has taken down our paywall on all stories relating to the pandemic and those of public interest to ensure every resident of Brampton and Mississauga has access to the facts. For those who are able, we encourage you to consider a subscription. This will help us report on important public interest issues the community needs to know about now more than ever. You can register for a 30-day free trial HERE. Thereafter, The Pointer will charge $10 a month and you can cancel any time right on the website. Thank you.
Submit a correction about this story