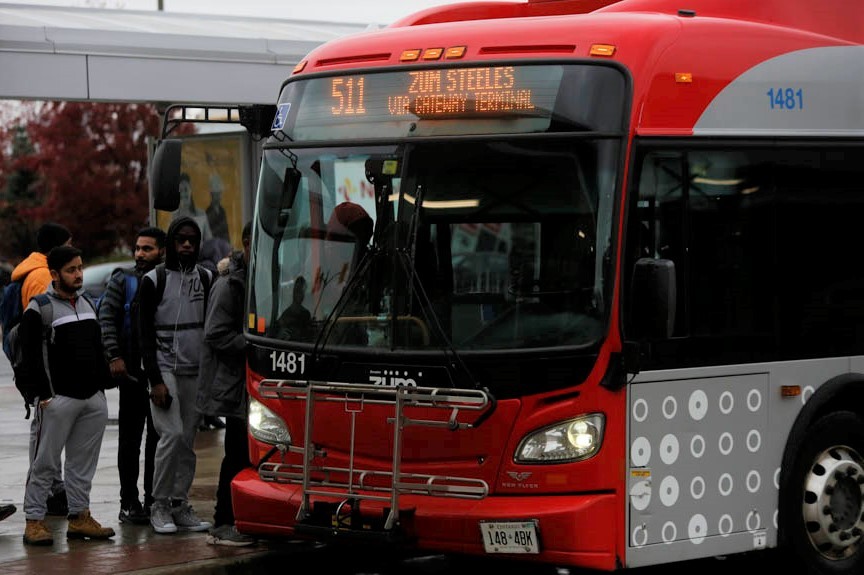 Feature image from The Pointer Files
Questions mount over Brampton Transit's future—public blocked from getting answers  
How will Brampton Transit convert its diesel bus fleet to electric? How will the City pay for a rapid transit route along Queen Street? Or a $1.7 billion tunnelled light rail extension? What about recovering ridership lost during the pandemic?
These are just a few of the dozens of pressing questions that surround public transit in Brampton.
Before the pandemic, Brampton Transit was a North American success for its enormous growth. Annual ridership shot up 18 percent in 2017 and 14 percent in 2018, before it fell off once Mayor Patrick Brown and his cost-cutting agenda arrived, as growth sputtered to just two percent in 2019, failing to even keep up with population growth during his first year in office. Then, in 2020, the pandemic struck, decimating ridership and revenues.
Four consecutive tax freezes under Brown have starved the service of funds. A haemorrhaging of investment in key projects has been masked by a pandemic that brought transit systems around the world to their knees.
The double-edged impact on the city's transit system has occurred with little regard for the vital role the operation plays in the rapidly growing municipality.
"Because of how expensive car insurance is [many new immigrants] are basically guaranteed to take transit when they first arrive," Sylvia Roberts, a member of the Brampton Transit Advisory Committee, told The Pointer. "Every year we will get a huge, continued wave to take transit because of that. The only real constraint on growing ridership is capacity."
Roberts, bursting with ideas and her own experience with transit in Brampton, is one of the committee's members who will not be meeting, as scheduled, on February 7. Faced with questions about the future of transit in Brampton, City Hall has cancelled the transit committee's next meeting because it claims there is nothing to talk about.
The meeting is one of just two scheduled to take place all year.
"In the lead-up to agenda closing, there were insufficient items requiring consideration to warrant a meeting at this time," a spokesperson for the City of Brampton said. "As is appropriate, cancellation of the meeting was done in consultation with the two Committee Co-Chairs and Brampton Transit."
Councillors Michael Palleschi and Paul Vicente, the committee co-chairs, did not respond to a request for comment.
The Brampton Transit Advisory Committee, which was created by councillors at the beginning of 2019, is designed to give residents an opportunity to advise City Hall on major transportation projects. Members are tasked with providing "advice and recommendations to Council, from a community perspective, on topics and issues relating to the provision of public transit services and public transit infrastructure in the City of Brampton."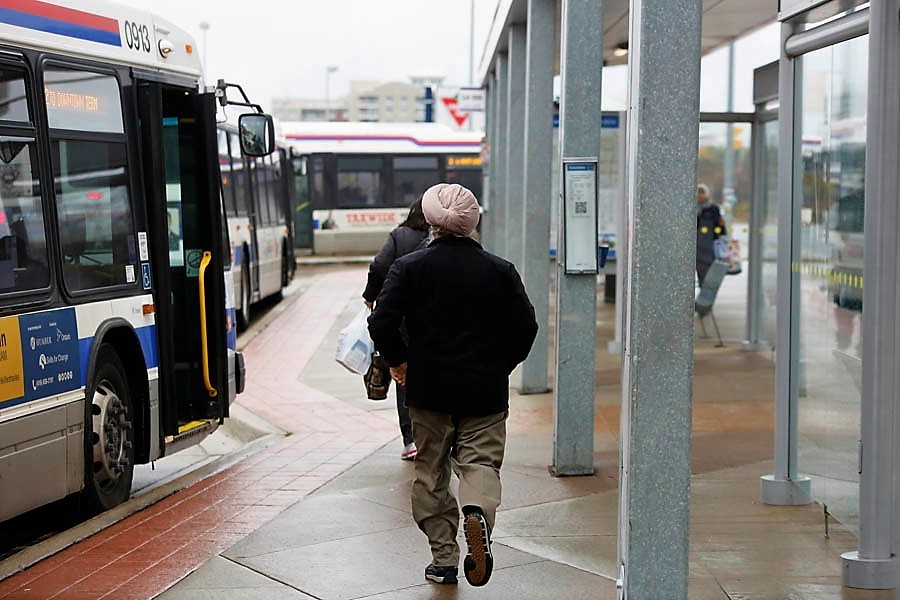 The Brampton Transit Advisory Committee is tasked with providing advice to councillors on issues relating to transit. It is a key avenue for citizens to engage with broad transit planning in the city.
(The Pointer file photo)
Despite the claim that there is little for the committee to address, Brampton City Council has fumbled through major transit issues in the past few weeks. The controversial future of a potential $1.7 billion downtown LRT extension of the Hurontario line from Steeles Avenue, where it is supposed to turn around under the current plan, was dealt with at the Region of Peel last week, with a surprising funding request that staff at the higher-tier government seemed perplexed by.
Brampton's transit committee, which should have provided guidance on the matter, has not even been given the opportunity to weigh in. Issues around the feasibility of running the LRT into downtown either on or under Main Street haven't even been properly addressed by the committee.
It remains unclear why council and staff would not work through the City's own transit committee to seek input on key projects and decisions.
During the budget, as Brown put the finishing touches on his fourth tax freeze, funds were cut from Brampton Transit's fuel budget, without any engagement with the committee.
A motion from the mayor directed staff to "adjust the transit fuel allocation" by cutting around $3.7 million. That figure is exactly how much Brampton Transit had asked its fuel budget to increase by in 2022, in order to cope with the rising cost of diesel.
"Some of the pressures that we have are diesel fuel," Alex Milojevic, director of Brampton Transit, had explained to councillors during the budget process. "Fuel has been budgeted previously at $0.85 a litre. For 2022 we budgeted at $1.07 a litre and, currently, the price is around $1.17 a litre. So we are experiencing some financial pressures on the fuel. For every $0.01 a litre that fuel goes up at the pumps, it is [an] approximately $175,000 impact on the transit fuel budget."
Brampton's 2021 budget pegged the price of fuel at $0.85 per litre, requiring an increase in 2022 of $3.7 million just to reach $1.07 per litre.
But the transit advisory committee has not met since that decision was made to ask how the transit service will cope when the fuel budget is exhausted. Members have not been able to query how an inaccurately priced fuel budget could impact attempts to ramp up service hours that were slashed during the pandemic. The decision, which will ultimately impact the public if it leads to service disruption or reductions later in the year, only drew brief scrutiny by the same politicians that ultimately pushed the cut through, with Brown failing to explain how the transit system will operate after the fuel budget is completely spent well before the end of the year.
When the mayor and staff under his direction took his aspirational (and unfunded) plan for a $1.7 billion tunnelled downtown LRT to the Region of Peel last week, Regional Chair Nando Iannicca was asked by Vicente to write a letter to the Province requesting to move the final stop for the Hurontario LRT to the north side of Steeles Avenue rather than its current position south of the intersection.
There was no prior discussion on the matter among transit committee members, who were once again shut out.
The irregularity of its meetings means entire projects pass the citizen-driven committee without a chance to comment. That has been further compounded by February's cancellation, a move that further reduces scrutiny of key projects and decisions.
A proposed transit hub in Brampton's downtown is yet another example.
On January 19, Brampton staff asked Committee of Council for permission to begin looking for a contractor to plan a downtown transit hub that will incorporate GO Transit, Brampton Transit and a potential future light rail system. The request sailed through on the consent agenda without councillors asking any questions about the project.
The LRT component of the request involves an idea that has not even been approved, and a project (to extend the LRT into Brampton's downtown) that does not have one cent of funding, despite its $1.7 billion price tag, which would make it the most expensive capital plan ever undertaken in the city.
It did not go to the transit committee, which will now not be able to discuss it until its next meeting on May 9. As a result, project planning under the recent request will proceed without any public scrutiny by residents or councillors.
"I simply wanted to know some basic information on it because the committee has been given no information on it," Roberts said.
She has been responsible for driving much of the transit committee's conversations. At its most recent meeting on October 25, 86 percent of all agenda items were submitted by Roberts.
Sylvia Roberts is a member of the transit advisory committee.
(Image from The Pointer files)
Two months ago, on November 17, City staff brought a report to councillors to inform them of the status of the downtown transit hub. The space, which will replace the current terminal, was originally planned to be part of the City's Centre For Innovation. Future expansion of the GO Transit railway through Brampton's downtown pushed the Centre For Innovation south and now means the transit hub would be a stand-alone facility.
"The new Downtown Transit Hub is planned to increase the capacity and quality of the transit system by potentially doubling the number of bus bays while featuring passenger and operator amenities such as ticketing area, waiting area, washroom facilities, and concessions, and canopies," the November staff report explained. "The terminal will also be planned and designed to accommodate electric bus technologies."
But the City's commitment to fund those electric technologies has been completely scrambled due to Brown's refusal to spend money on them. Instead of moving forward with a badly needed major transit storage and maintenance facility for future bus fleets that had been approved prior to his election, he scrapped the funding as soon as he was elected to make good on his campaign pledge to cut taxes.
Now, the sudden change to the downtown transit hub is another impacted major project. The timing of the updates in November and January mean the City's own transit committee will not be given a chance to comment on either report.
"The result is that it simply meets too infrequently to be involved in a vast array of things," Roberts said.
The committee's mandate is wide-ranging and it is set up to comment on a range of different initiatives. It is a "sounding board" for Brampton Transit staff and should be providing direction on provincial plans, high-level studies for future transit growth in the city and a range of other matters that similar committees in other cities deal with much more frequently. Members, including a representative from the Brampton Board of Trade, offer recommendations for "priorities on transit matters of local and/or regional significance".
Members review staff decisions and offer direction and advice to ensure Brampton Transit meets the needs of thousands of residents who rely on the crucial service. All of that will now be paused until May, with only two meetings of the advisory committee to take place all year.
The proposed bus rapid transit route along Queen Street also falls under the committee's terms of reference.
An initial business case published in December 2020 by Metrolinx suggested the Queen Street bus rapid transit corridor could begin construction in 2023. The total length of the area Metrolinx has considered for its initial corridor is 18.5 kilometres through Brampton and a further 5.5 kilometres in Vaughan.
Brown has failed to outline a financial plan under his cost-cutting mandate that would allow the plan to receive required investment from the City.
There have been no high level discussions by the transit committee, with the participation of the public, to ensure the BRT will get off the ground next year.
The project costs could vary dramatically depending on the scope of what is decided on. One suggested scenario would see existing traffic lanes converted into separate, painted bus lanes for between $3 million and $5.1 million per kilometre. That option, Metrolinx estimates, would cost roughly $93 million in total. An alternative possibility would be to widen Queen Street for most of its length—estimated at between $15.7 and $26.4 million per kilometre and totalling just over $481 million.
Roberts is an eager proponent of the plan. "Even if the project ends up costing 50 percent more than they are planning and the benefits are half of what they're expecting, there will still be more benefits than costs," she said, taking data from the initial business case. "The project's returns are just that good."
The transit committee was offered a brief update on the project as part of a general outline in October with no opportunity to offer input or help shape the plan, but will now have to wait until May to ask any further questions. Studies to move the project forward are currently being ordered by Metrolinx and the date for construction to begin is now up in the air. The City of Brampton is asking other levels of government for the funds it needs to build the route. It's a habit of Brown, refuse to pay for anything through the budget he has to answer for politically and then go to other levels of government for the needed funds.
The committee has not had the opportunity to scrutinize him for an approach that is putting transit expansion in jeopardy.
Metrolinx is studying rapid transit along Queen Street.
(Rendering from Metrolinx)
"Once complete, the PDBC (Preliminary Design Business Case, which is currently being ordered) will help inform decisions related to the next stage of the project, including delivery and funding," a spokesperson for Metrolinx said. "As we advance, the construction timelines assumed in the IBC will be reconsidered. Metrolinx will continue to engage the City and regional partners to move the project forward."
Projects for the committee to discuss do not end there.
A million dollars to pay for rapid transit planning along Steeles Avenue appeared in the 2022 budget document without a committee discussion, while Roberts has pushed vocally and repeatedly for the introduction of all-day, all-night transit service to unlock dining, entertainment and other cultural opportunities in Brampton.
The move, she argues, could help the City with capacity concerns around storing buses by keeping them on the road longer. It would also allow those without cars or who want to consume alcohol at bars or restaurants an option to get home at night without paying for expensive taxis.
But there's no venue to debate ideas.
Without its transit committee, council is flying blind and the public is being starved of potential services. Few of the current council members ever step foot on a municipal bus and the lived experience of riders is a key factor absent from the council table.
"I think a lot of this could benefit by having a week where every City councillor is expected to take transport to work," Roberts said. "I think that would substantially open their eyes… I think if they actually tried to use it they would find out there is nowhere near enough service hours."
It's another idea that will have to wait months before it's brought forward.
---
Email: [email protected]
Twitter: @isaaccallan
Tel: 647 561-4879
---
COVID-19 is impacting all Canadians. At a time when vital public information is needed by everyone, The Pointer has taken down our paywall on all stories relating to the pandemic and those of public interest to ensure every resident of Brampton and Mississauga has access to the facts. For those who are able, we encourage you to consider a subscription. This will help us report on important public interest issues the community needs to know about now more than ever. You can register for a 30-day free trial HERE. Thereafter, The Pointer will charge $10 a month and you can cancel any time right on the website. Thank you
Submit a correction about this story