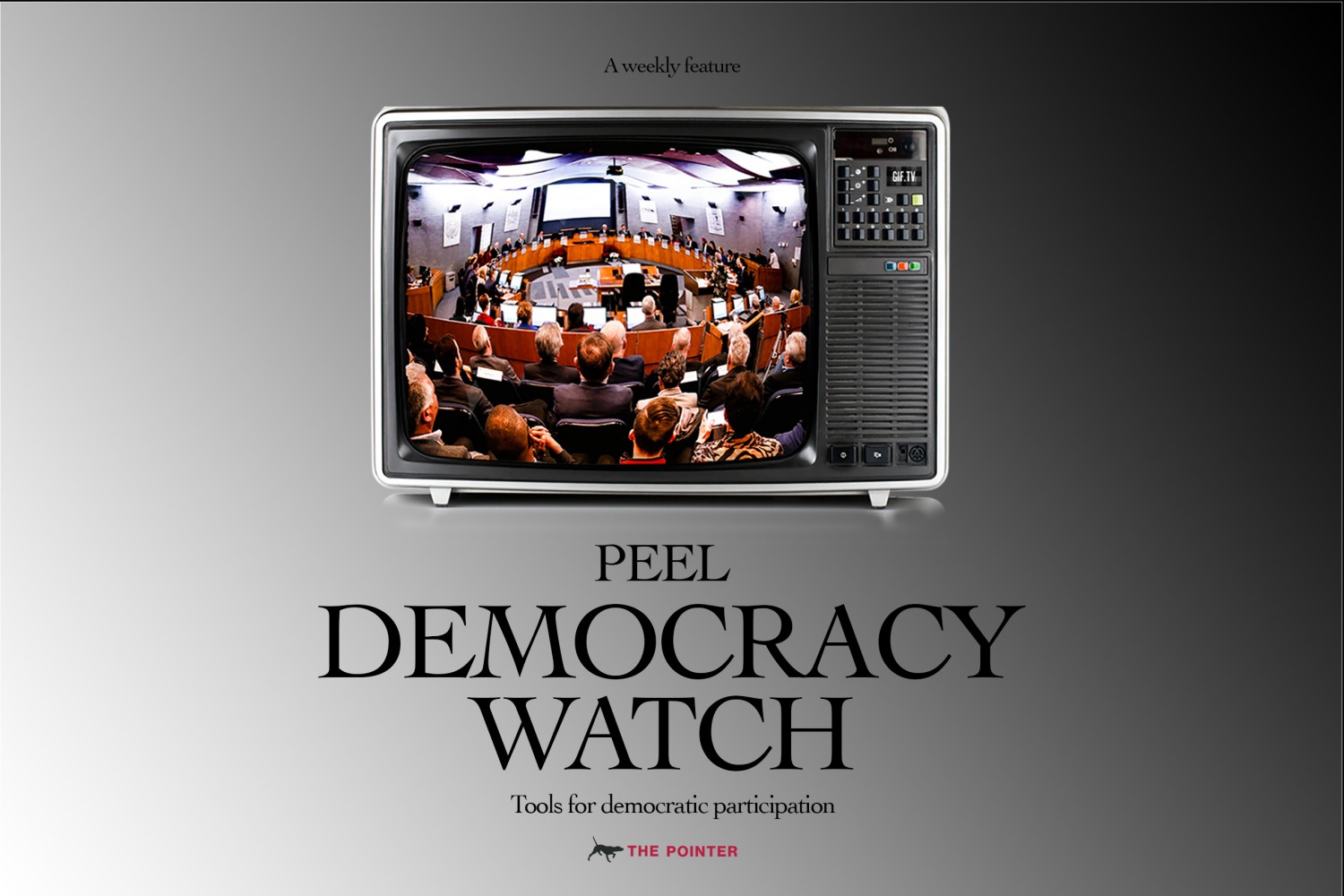 Feature illustration from Joel Wittnebel/The Pointer
Peel allocating $6.5M for homeless healthcare; 40,000 childcare spaces needed; developers push for more sprawl in Caledon
Each week, The Pointer will check the agendas of public institutions involved in decision making that impacts the citizens of Peel. We will summarize particularly important reports or motions under various headings. This feature is designed to act as a guide for local residents, unlocking the often stodgy and byzantine process of local government.
---
Council
Date: March 24 | Delegate | Full agenda | Watch live
Peel funding homeless healthcare organizations:
The Region of Peel is allocating millions of dollars towards valuable health organizations assisting people suffering homelessness. Homeless Health Peel and The Governing Council of the Salvation Army will enter into a contract for up to 19 months to deliver healthcare and social services to people with complex needs at the Region's homeless shelter at 1767 Dundas Street East in Mississauga. The total cost estimate is $6.5 million, with $5.2 million from Home in Peel deferred revenue account and $1.3 million from the Housing Services base operating fund. This comes just as the last of the emergency relief money from the Province related to COVID-19 recovery is ending.
Previous reporting:
Childcare providers struggling to retain staff:
COVID-19 has been tough on many frontline workers, including early childhood educators (ECE) who have added responsibilities, hours and stress due to the pandemic. A 2021 survey shows as many as 72 percent of Peel ECEs are considering leaving the sector. A mass exit of workers in childcare spaces could be an issue for the anticipated $10 a day child care agreement the federal government is aiming to reach with Ontario. According to a staff report, in order to meet the growing demand for child care for children under the age of five, the Region will need to secure 40,000 more spaces over the next four years. Federal money to kickstart retention programs is one solution council is considering.
Previous reporting:
Council
Date: March 23 | Delegate | Full agenda | Watch live
Dr. Loh recommends lifting mask mandates:
March 21 marked the first day Ontarians can access stores and certain amenities without wearing a face mask. The mandatory mandate has been in place for just over two years. On Wednesday, Dr. Lawrence Loh, Peel's Medical Officer of Health, sent a letter to council explaining the bylaw enacted to keep masks on should be lifted. In his words masks have been a "critical measure" needed to reduce the spread of COVID-19. With more "improving indicators", Dr. Loh believes Mississauga should follow the Province's lead. The City's bylaw is set to expire March 31.
Read Dr. Loh's letter here.
Previous reporting:
Reaffirming opposition to Highway 413:
Mississauga Councillor Carolyn Parrish has been a vocal opponent to the PC government's GTA West Corridor, or Highway 413, a highway planned to run along, and sometimes through, the Greenbelt's southern edge. Mississauga council has already passed a motion in opposition to the project, and a new motion from Councillor Parrish looks to advocate for other options to reduce congestion. The motion coming forward on Wednesday refers to the recent announcements by Premier Doug Ford that the province will eliminate license plate renewal fees and remove tolls on two provincially owned highways connected to the 407 ETR. Parrish suggests this shows "room for creative solutions." If passed, the motion would request the Province to work with the owners of Highway 407 ETR to decrease tolls and the money currently planned to go toward Highway 413 be redirected to local transit projects.
Read the motion here.
Previous reporting:
Recommended rezoning for 18-storey retirement residence:
City staff are recommending council approve a rezoning for an 18-storey retirement residence and another 13-storey building, linked by a seven-storey podium on the corner of Mavis Road and Father D'Souza Drive. Currently, the land is occupied by a five-storey long term care home and parking lot. The land is in the East Credit neighbourhood surrounded by mostly low rise homes. Staff concerns include designated lanes and turning movements for waste collection trucks, other mixed use opportunities, pedestrian friendly designs and further study on traffic impact.
Planning and Development Committee
Date: March 28 | Delegate | Full agenda | Watch live
Official plan amendment for Lakeview community building height:
Just over a year ago staff started looking at Lakeshore Road East between Seneca Avenue and Etobicoke Creek. In order to contain the expected population growth in the next 30 years, staff have recommended an official plan amendment to the height of buildings along Lakeshore Road from a maximum of four storeys to eight storeys. Multiple concerns from residents have been raised including changes to the community character, increase in height and the need for affordable housing.
Previous reporting:
Note: Brampton City Council is cancelled March 23 due to March Break vacations. At time of publication, the March 28 Council Workshop listed on the City's website contains no public details about topics of discussion.
Heritage Committee
Date: March 22 | Delegate | Full agenda | Watch live

Heritage property to be designated at 10244 Mississauga Road:
Sitting north of Bovaird Drive West on Mississauga Road, hidden by a row of large white pine trees, sits an old, beaten down house. The design of the property is in the Gothic Revival style used in older Ontario farmhouses and was likely built in 1875. Its condition has deteriorated so much that staff believe the best way forward is to disassemble the building and rebuild it on a new lot. Sedgwick Marshall Heritage Homes Ltd. is responsible for deconstruction and re-building. ARGO TFP Brampton is the current owner of the land.
Read the designation report here.
Previous reporting:
Council
Date: March 22 | Delegate | Full agenda | Watch live
Caledon names provincial election priorities:
With the June 2 election approacing, Caledon staff have put together a list of the Town's priorities going into the campaign period. At the top of the list is support for a Caledon-Vaughan GO Rail Line to help the Town's transportation goals; better broadband internet and rates for residents; funding for infrastructure and allowing more equity in local planning "with response to growth, settlement areas and boundary expansions." The report also notes some of Peel's broader election hopes, which include further funding for pandemic response, investing in childcare spaces, affordable housing and increasing public transportation.
Previous reporting:

Planning and Development Committee
Date: March 22 | Delegate | Full agenda | Watch live
Update on Peel 2051 irks developers:
Regional staff have been clear there is no wiggle room for Caledon to sprawl outside the settlement boundary expansion area (SABE). Certain Caledon councillors have pushed back along with many developers. The SABE is a study within the municipal comprehensive review, a process the Region is leading with its local municipalities. The Wildfield Village Landowners Group continuing to push for a further expansion of the urban boundary, which threatens environmentally significant Greenbelt lands.
Read SGL Planning and Design's letter here and Borden Ladner Gervais (on behalf of Cedar City Developments) letter here. Town of Caledon's stance here.
Previous reporting:
Peel District School Board
Date: March 24 | Delegate | Full agenda | Watch live
Ontario per-student funding receiving 2.7% boost
During the 2022 to 2023 school year, the per-pupil funding average across Ontario will be approximately $13,059, a $339 (or 2.7 percent) increase from the previous school year. It's unclear how much more the Peel District School Board will receive per student. The board has been underfunded for years, receiving less than the provincial average for per-student funding. The province states these investments will provide more learning opportunities, mental health assistance, and funding to continue remote learning next school year.
Find the budget timeline here and staff report on funds here.
Previous reporting:
Peel Police Services Board meeting for March 25 has been cancelled. The next meeting of the board is scheduled for April 29.
---
Email: [email protected]
Twitter: @taasha__15
---
COVID-19 is impacting all Canadians. At a time when vital public information is needed by everyone, The Pointer has taken down our paywall on all stories relating to the pandemic and those of public interest to ensure every resident of Brampton and Mississauga has access to the facts. For those who are able, we encourage you to consider a subscription. This will help us report on important public interest issues the community needs to know about now more than ever. You can register for a 30-day free trial HERE. Thereafter, The Pointer will charge $10 a month and you can cancel any time right on the website. Thank you

Submit a correction about this story