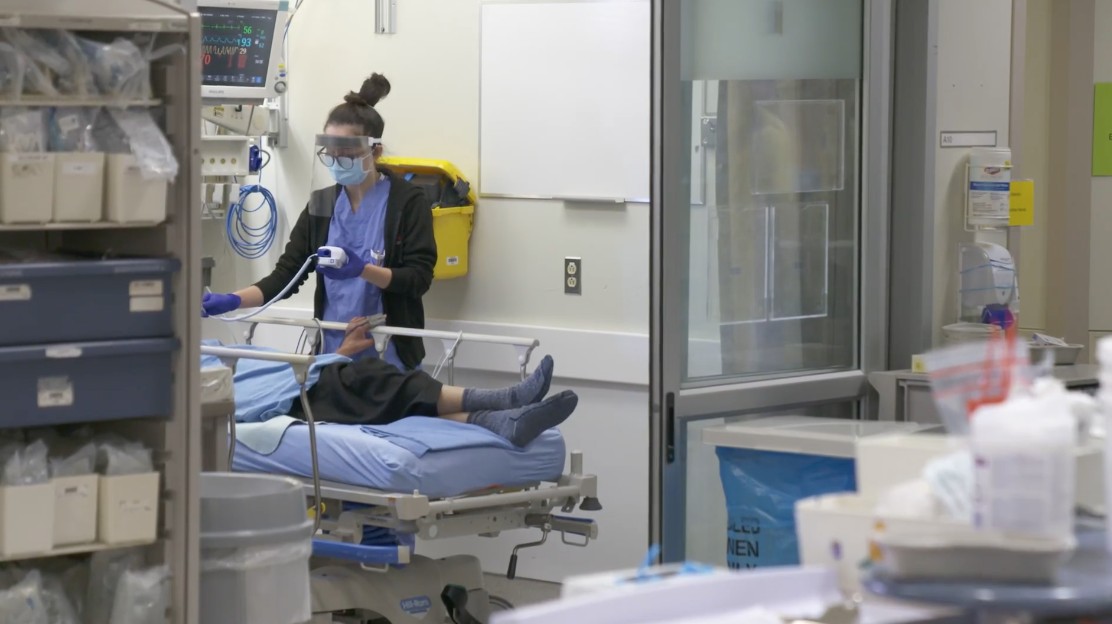 Feature image from Trillium Health Partners
Mississauga sees rise in hospitalizations as nursing shortage compounds Omicron wave; severity still not as bad compared to prior waves
The latest wave of virus crashing over Peel, and so many other parts of the world, is posing unique challenges to healthcare providers and those responsible for setting pandemic policy, as hospital pathology data continue to suggest less severe conditions in the current wave, while staffing issues have become a major threat to public safety.
There are currently 343 Trillium Health Partners' staff off due to COVID-related issues. Trillium manages both of Mississauga's hospitals, as well as an ambulatory facility in south Etobicoke.
Following almost two years of unfathomable pressure on their shoulders, more and more nurses are finally feeling the effects after a non-stop effort against the novel coronavirus, while some have been unable to prevent recent infection from the highly contagious Omicron variant.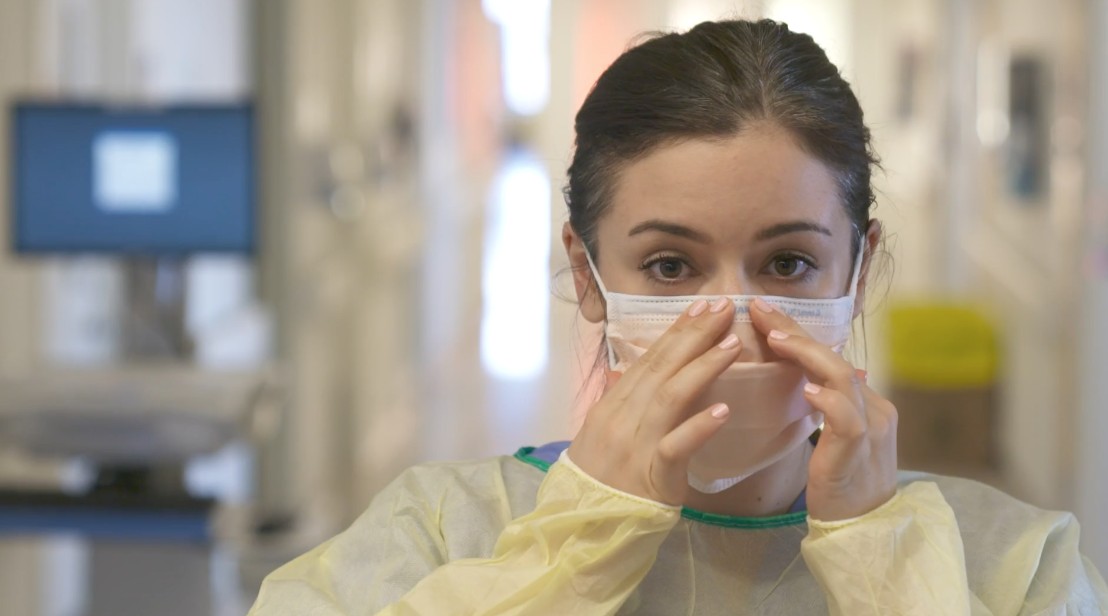 A combination of burnout, the Omicron variant and long hours is placing unprecedented pressure on Ontario nurses.
(Trillium Health Partners)
The growing fear among many hospital staff is that admission data and ICU numbers that suggest this wave might not be as severe as earlier ones, thanks to high vaccination rates and a variant that might not cause disease as severe as previous strains, won't mean much if hospital capacity is dramatically reduced due to lower staff levels.
Mississauga's two hospitals, Credit Valley and Mississauga Hospital (both managed by Trillium Health Partners) have 180 patients confirmed with COVID-19, 13 are in critical care (ICU) as of January 5. According to Trillium Health Partners' own data, hospitalizations are increasing on a rapid slope, but ICU occupancy remains low.
Just over a year ago, THP reported 30 COVID-19 patients in its ICU, on December 31, 2020. However, even though that was more than twice the number compared to January 5, 2022, there were fewer overall cases in Mississauga around that time about a year ago. The moving seven-day average of daily new infections in Mississauga two weeks prior to December 31, 2020 (the lag period prior to when the most serious cases would have resulted in ICU admissions about 14 days later) was about 150 cases. Two weeks prior to Jan 5, 2022, the moving seven-day average in Mississauga was about 360 cases.
These figures suggest that even with a much higher case count due to the highly transmissible nature of Omicron, not as many patients are developing severe symptoms that require the most serious medical intervention. High vaccination rates are also a factor in the lower ICU levels.
Dr. David Jacobs, a radiologist at Humber River Regional Hospital in Toronto, and the president of the Ontario Association of Radiologists, has been reporting his COVID pathology findings after his shifts, based on the lung imaging of patients.
"The vast majority of the chest X-rays coming through on these patients are normal," he tweeted January 5 at 5:45 am, nearing the end of his overnight shift. "A small number show very mild pneumonias which are less severe than in previous waves."
"A very small number are downright horrible."
"The normal X-rays and the near normal ones belong to younger patients and vaccinated patients of all ages. There are vanishingly few pediatric cases with pneumonias."
"The horrible pneumonias are seen in the unvaccinated, the immunosuppressed, and some elderly patients."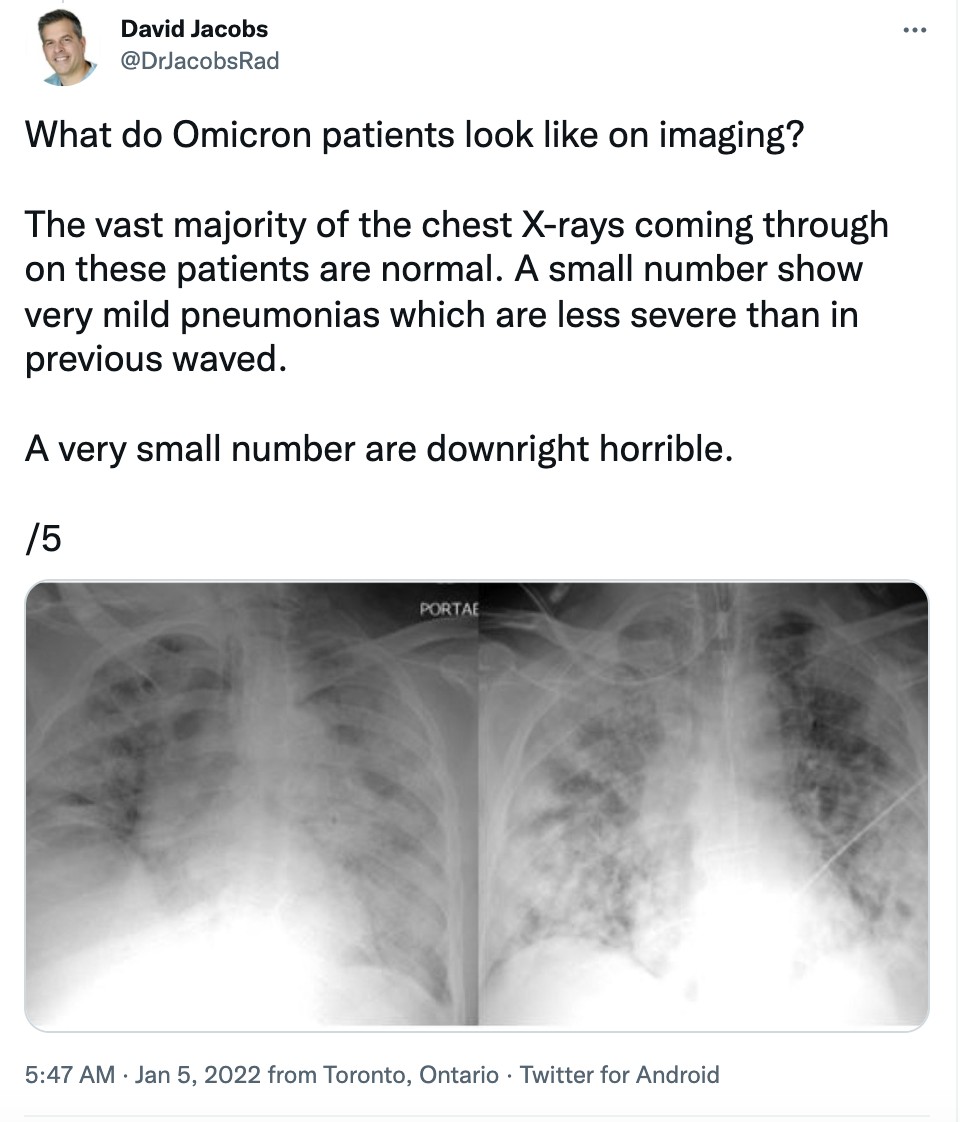 One thing Dr. Jacobs has pointed out, as a particular point of caution, is the toll Omicron and its highly transmissible behaviour is taking on frontline staff.
"The first observation is that the ER team at my hospital are absolute heroes," he tweeted early Wednesday. "And I don't say that lightly. They are taking the brunt of the Omicron wave both in terms of patient volume and exposure to the virus."
Ana Yedra is a day surgery nurse who as of Tuesday, January 4, was being thrown into another unit in Trillium Health Partners' Mississauga hospital.
The pausing of elected surgeries and small diagnostic tests is creating an additional backlog of 8,000 to 10,000 procedures per week according to Matthew Anderson, CEO of Ontario Health. Previous to the halt, Yedra says THP had just started catching up on the backlog from previous years.
This directive requires Yedra to work in other areas of the hospital, attempting to fill the gap created by colleagues out sick, off due to burnout or those who have not been replaced after leaving the profession.
"Some of our experiences are not really not suitable, I would say, for the floors, because most of us are OR [operating room] nurses," Yedra told The Pointer. "So now we have to learn new things, like how to cater to the patients admitted in the hospital with COVID."
Most professions require some flexibility in subject-matter knowledge. Nurses have very set expertise and know a lot about the work in their specific unit, not necessarily how all units work. Some who have been in the profession for years are able to apply previous knowledge to other areas of the hospital, but the vast majority will work on COVID-19 wards doing smaller assistive tasks, if they do not have the experience to deal with more complex care.
"Patient safety is at risk because well, first of all, there's one nurse looking after six patients and it's hard to do everything," Yedra said.
For almost two years, nurses have been dealing with various peaks in hospitalizations and ICU capacity; many are now at their wits end with Omicron; even if it is not as severe, or if vaccines are doing their job, the recent patient volumes have been overwhelming. Many might not be admitted, and those who are might not stay in hospital as long as patients were earlier in the pandemic, but this is of no relief to frontline staff still dealing with overwhelming numbers of patients now contracting Omicron, as the unprecedented daily case numbers show.
For Yedra, burnout usually hits after a long hard shift and shows up in how exhausted she is emotionally and physically at home.
"Sometimes I find myself staring blankly, I'm just sitting and can't move," she said.
It becomes a struggle to eat dinner or interact with her young children, another added pressure Yedra has on top of the latest pandemic crisis. When Premier Doug Ford announced schools would move online until January 17, at least, with only 48 hours notice, Yedra was one of many parents scrambling to find daycare.
Omicron has created an extra layer of worry for Yedra, as she continues to work everyday while potentially being exposed to the virus and bringing it home unknowingly to her family.
Previously, Ontario reported Omicron is four to eight times more transmissible but seemingly less severe: according to preliminary studies from South Africa, United Kingdom and Denmark as The Pointer previously reported. The slightly optimistic view of the variant cannot be overshadowed by the internal crisis within hospitals.
Peel Public Health (PPH) has reported a doubling of both daily admissions and people within hospitals across its jurisdiction. On December 24, PPH reported three COVID-19 hospital admissions in the region per day, with 22 admitted, the following week's report, on December 31, showed there were six new admissions per day with 63 in hospital. Peel's next epidemiology report with updated data will be released on January 7.
Provincially, on January 5, Ontario had 285 COVID patients in ICU which is approximately 16 percent of all adult ICU patients in the province. At the same time last year, 373 adult COVID patients were in Ontario ICUs.
The highest recorded COVID ICU occupancy in Ontario occurred on May 1 of last year, when there were 889 patients with COVID-19.
Again, when looking at the percentage of overall positive cases in Ontario that lead to ICU admissions, we are still in a better position now, compared to previous waves.
But with the possibility of reduced hospital capacity due to staffing losses, healthcare officials and medical experts are stressing caution, and a return to restrictions in order to help the hospital sector.
A large proportion of patients in Ontario hospital are people without COVID-19.
(Government of Ontario)
This along with nurses leaving the profession in prior months has left many hospitals on the brink of collapse. This week, Brampton's lone hospital, Civic, reached stage 2 of a Code Orange, meaning demand for care has outpaced capacity to deliver it.
In a press release, William Osler Health System explained an increase of COVID-19 patients and staffing shortages occurring simultaneously are to blame.
On January 3, Dr. Kieran Moore, Ontario's Medical Officer of Health, explained how ICU and hospitalization admissions are the numbers the government will follow to understand the impacts on the healthcare system. This comes after case counts have reached numbers higher than ever before in the pandemic. But with the increased transmissibility of the Omicron variant, combined with early studies and hospital data showing outcomes as less severe, basing policy decisions around case counts alone will no longer be an effective approach.
"Ontarians and all key decision makers should be monitoring the hospitalization rates," Dr. Moore said. "That will ascend fairly rapidly over the coming weeks, we anticipate that it will reach its maximum by the end of January and then start to descend."
Moore said the timeline implemented for the new restrictions — in place until January 26 at least — is to prevent further impact on the healthcare system.
On December 31, PPH recorded a single day increase of 2,089 new cases, but due to lack of available testing, this was thought to be a serious undercount. Just prior to this, the province changed eligibility for who can get tested, noting testing capacity limits had been reached.
As of December 30, only people who are symptomatic, high risk or work in high risk settings, such as long-term care, can be officially tested under the provincial system. Those who are symptomatic or asymptomatic, but test positive on a rapid test, should isolate for 5 days.
At some point, widely circulating viruses can no longer be tracked and the person-power behind the testing and tracing becomes more of a burden than a benefit, once there is such a high level of community spread. Public health units have to shift focus to wider forms of data, like testing of wastewater, to accurately understand community transmission.
"At a certain threshold of spread, it is no longer feasible or useful to continue testing and tracking all individuals who may have COVID-19 [or] specific details of where spread is occurring," PPH told The Pointer. "We have reached this threshold with the Omicron variant in Peel."
The testing situation is increasingly problematic for those working on the front lines of essential services, which is why the province aimed testing at high-risk settings. Heightened transmissibility without effective, widespread testing increases the likelihood of hospital staff having to isolate if there's even a possibility of viral contact, which is the situation Ontario hospitals are seeing.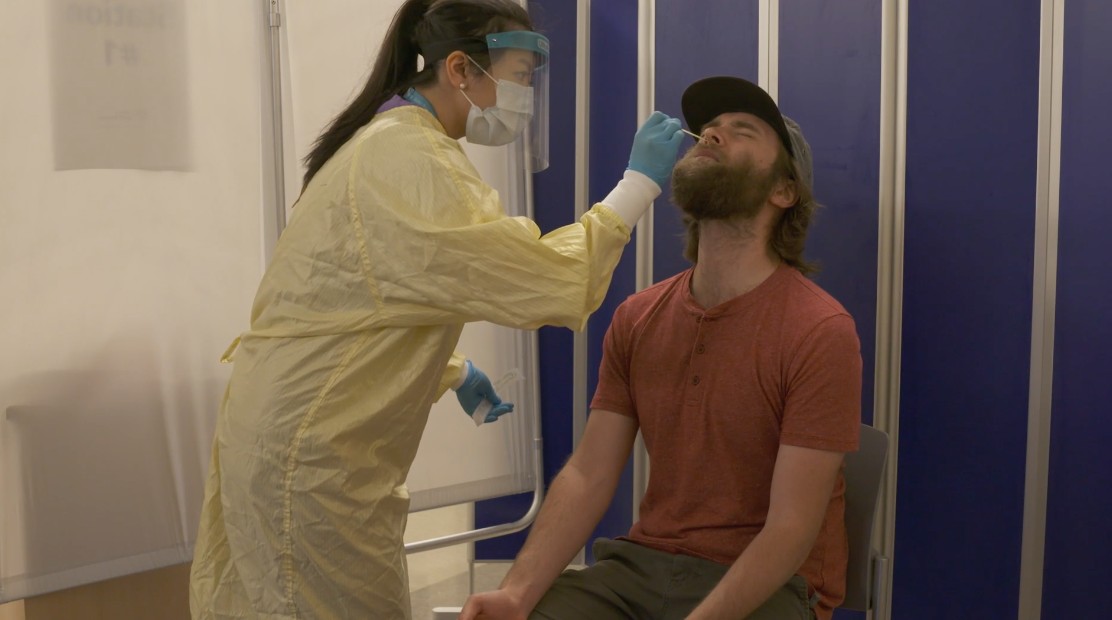 Changes to Ontario's testing regime mean only those who are symptomatic, high risk or work in high risk settings qualify for provincial testing.
(Trillium Health Partners)
"Somebody can be coming in for an anxiety attack, and they have no COVID symptoms, but they can asymptomatically transmit to every person they come into contact with, including of all the staff and interdisciplinary team, which is a high risk contact exposure," Sarah Walji an emergency psychiatric nurse at Trafalgar Memorial Hospital in Oakville said.
She says her emergency department is overcrowded with patients, not all of them with COVID, but all it takes is one positive case to see an increase in people isolating within the community.
If a nurse tests positive, the domino effect can be seen throughout the unit, since the profession demands nurses work in extremely close quarters. The situation rapidly deteriorates when more nurses on critical units become ill, making it more difficult to cover all the vacant slots on every shift.
"Then you're having a whole bunch of these nurses kind of burning out at this point, they're ending up in periods of anxiety, mental health, stress, depression, suicidal ideation," Walji describes.
Previously Walji described her burnout symptoms to The Pointer in September when she was also an NDP candidate for Mississauga-Lakeshore in the recent federal election.
On top of working as an ER nurse, Walji is a contact tracer for PPH. Recently she has seen more people being tested from older age groups and younger ones, due to the new testing guidelines.
With the rapid spread recently, hospitals have been left scrambling. A few nurses per unit can be rearranged but when hundreds of staff are isolating is when hospitals start sounding the alarm.
In Quebec, where the nursing shortage has been felt throughout much of the last two years, crippling healthcare services to the point of near collapse, the province asked nurses who are positive for COVID-19 to continue working if they are asymptomatic or even with mild symptoms.
Cathryn Hoy, President of the Ontario Nurses Association (ONA) and DJ Sanderson who represents Peel for ONA, told The Pointer some nurses in Ontario have also been asked to continue working despite being positive.
"I have heard from some of our hospitals, from our leaders, that these are options that they are looking at, because they need the workforce," Hoy told The Pointer.
Both described increased frustration among nurses across Ontario. The Ford government's refusal to exempt nurses from Bill 124, which limits some public sector wage increases to one percent annually, is partly to blame for the large number of healthcare providers leaving the profession, according to nursing groups.
"No one is looking at the impact of what work is being left behind or unattended to, and which residents of Ontario are being left behind," Sanderson said.
As those on the frontlines are now saying, there's little hope in vaccines and a possibly weaker variant, if patient volumes continue to skyrocket and there are fewer nurses to take care of them.
---
Email: [email protected]
Twitter: @taasha__15
---
COVID-19 is impacting all Canadians. At a time when vital public information is needed by everyone, The Pointer has taken down our paywall on all stories relating to the pandemic and those of public interest to ensure every resident of Brampton and Mississauga has access to the facts. For those who are able, we encourage you to consider a subscription. This will help us report on important public interest issues the community needs to know about now more than ever. You can register for a 30-day free trial HERE. Thereafter, The Pointer will charge $10 a month and you can cancel any time right on the website. Thank you
Submit a correction about this story