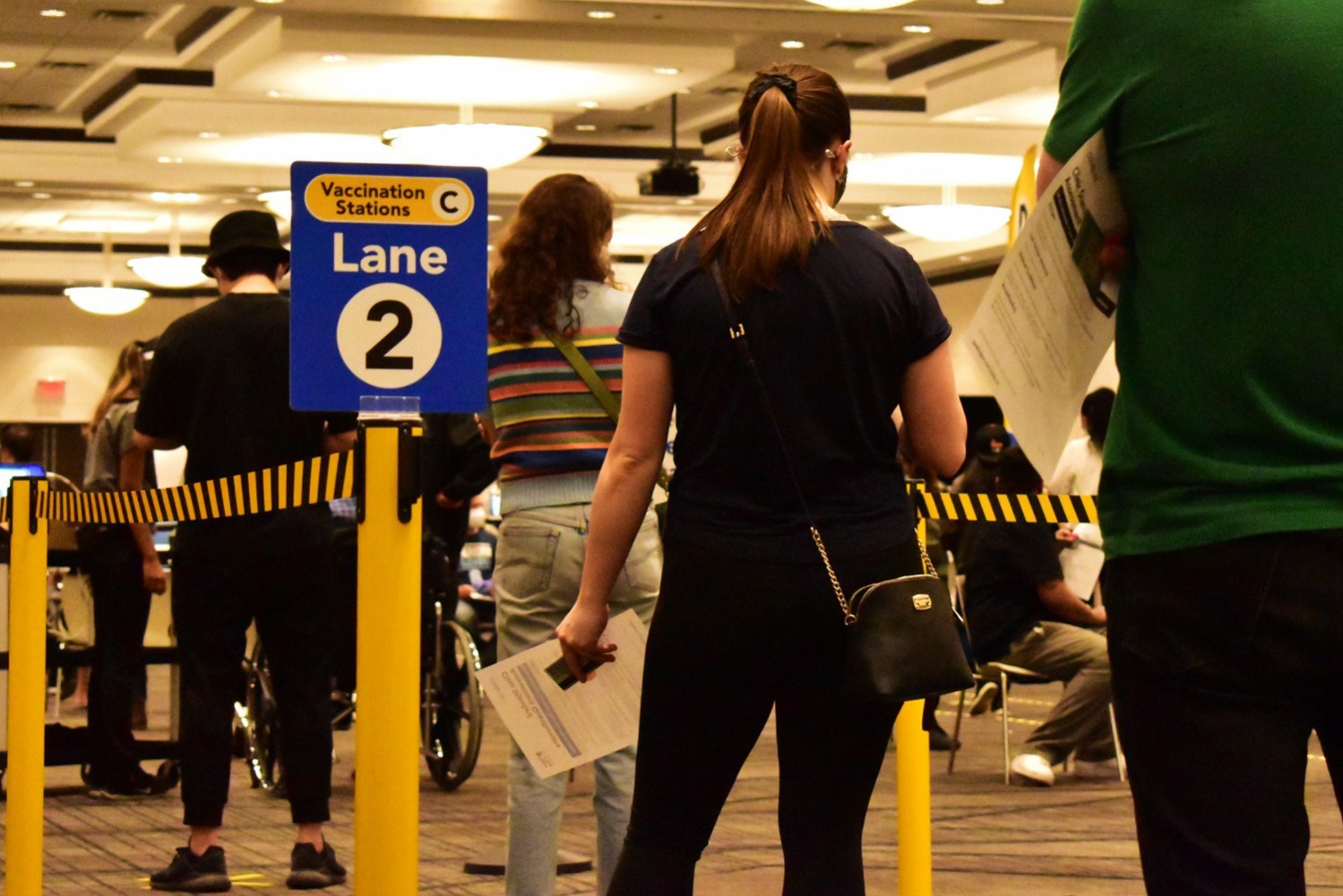 Feature image from Isaac Callan/The Pointer files
Even with Omicron looming Peel's in much better shape compared to the nightmare a year ago 
"I'm concerned that to some degree we are forgetting about the human element behind some of the other numbers I report. I keep hearing some people weighing the economic impact against the cases and hospitalizations I reported, and, morbidly, even against the lives lost to date."
Those were the words of Dr. Lawrence Loh, Peel's top public health official, one year ago.
A year later, much has changed, but the arrival of Omicron after months of relative calm, marked by the return to things that make we humans human—what the French might call a wonderful mix of esprit de corps and Joie de vivre—has plunged Peel and much of the world from the brief post-inoculation euphoria into an existential crisis.
Dr. Loh stood at the podium last December looking tired. Daily new infections were heading toward the high three digits and the test positivity rate was above 10 percent as hospital staff wondered if the virus would finally breach their last line of defence.
Peel was routinely surpassing the daily case counts of every Ontario jurisdiction, even Toronto with twice the population. It was a national hotspot and the PC government still didn't heed its own advice to fix the most broken part of the province, as Premier Doug Ford had described it just ahead of the Labour Day weekend nearing the end of summer 2020.
The reality seen around the world was that only a sweeping vaccine response could control the viral spread in countries like Canada, and, more specifically, in hotspots like Peel where a deadly struggle between the medical reality and social/economic/political considerations led to avoidable pandemic outcomes.
By the end of this past spring Peel's crippling third wave had subsided and the impressive vaccination rollout led to a summer that seemed to loosen the collective grip on our own lives.
Now with Omicron here, testing society's broader accommodation of a viral family (Severe Acute Respiratory Syndrome Coronavirus 2 or SARS-CoV-2) likely with we humans for the remainder of our days on Earth, there seems to be two diverging pandemic realities.
Yesterday (Tuesday) the Region reported 134 new cases in Peel, up disconcertingly from the 7 total cases reported on July 12, but just a fraction of the 649 new cases reported exactly a year earlier, on December 14, 2020.


Using data on Peel Public Health's COVID-19 dashboard, The Pointer compared daily new case counts from 2020 and 2021, showcasing a very different reality.
(Natasha O'Neill / The Pointer)
As of today, approximately 86 percent of Peel's population above the age of four has initiated a vaccination, and more than 88 percent of those who are older than eleven have had two doses.
With such widespread protection, and boosters being ramped up (anyone 18 and over in Ontario will be able to book a third shot as of Monday) the debate is now shifting to how to best manage an emerging fourth wave as Omicron spreads rapidly around the world.
Ottawa is now advising against non-essential travel, residents are being asked to limit social circles once again and new measures in Ontario have been introduced to prevent viral spread in long-term care settings.
Whether border closures, lockdowns and the return to students learning at home might follow, is up in the air.
A recent first-person piece written by journalist Matthew Walther and published in The Atlantic captured not just the sentiment that's swept his small Michigan hometown but growing swaths across the developed world as the response to Omicron renews debate.
"I don't know how to put this in a way that will not make me sound flippant: No one cares. Literally speaking, I know that isn't true… But outside the world inhabited by the professional and managerial classes in a handful of major metropolitan areas, many, if not most, Americans are leading their lives as if COVID is over, and they have been for a long while."
We would never hear this from Dr. Loh or Dr. Theresa Tam, Canada's Chief Public Health Officer. But experts on the evolution of viruses and the human immune response have in the last week considered different scenarios for the inevitable Omicron wave.
"If it can get around the vaccines, but in the end really causes less severe disease, that's probably a step in the right direction," Dr. Elizabeth Halloran, a biostatistician and vaccine trial expert, told The Atlantic, echoing early observations by virologists who have suggested Omicron might spread more rapidly than other variants but could cause much less severe symptoms.
If this proves true, a policy response deemed unnecessarily severe could backfire, as more and more residents grow frustrated with barriers to their normal routines.
According to an overview from the World Health Organization (WHO) on December 10, the threat of the new variant depends on a number of factors: how transmissible it is; how well vaccines and previous infection protect against it; and how severe new infection is.
The first comprehensive data to come out on Omicron is from South Africa, where a rapid increase in cases was seen in the second week of November (scientists do not know where Omicron originated and there is evidence that the variant was present outside Southern Africa before it spread in certain pockets there). In two days, the WHO confirmed the spread of the new variant to 63 countries along with community transmission in South Africa and the United Kingdom. Canada has 80 confirmed cases, Peel had detected seven cases as of December 10.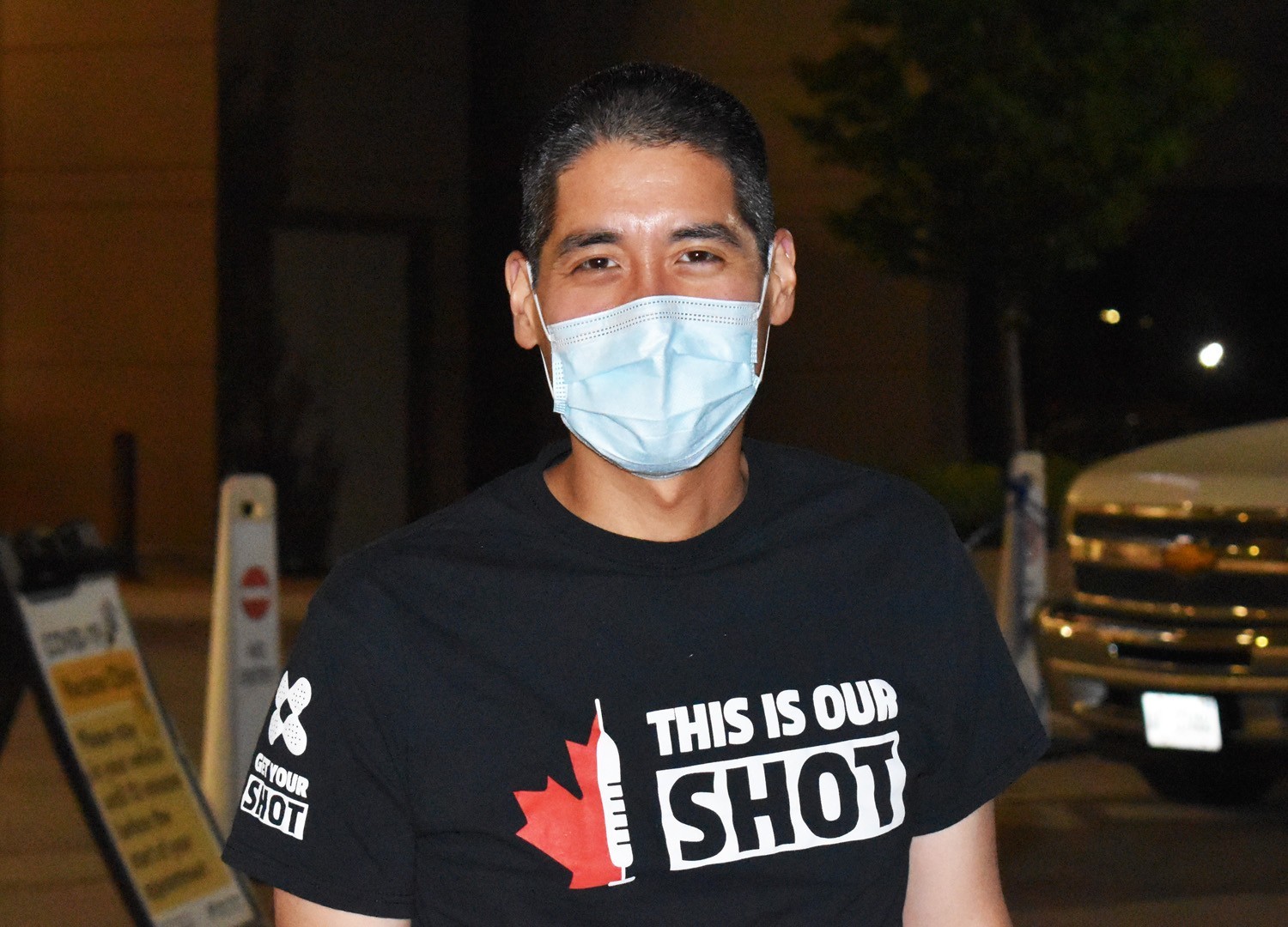 Peel's medical officer of health Dr. Lawrence Loh during an evening vaccination effort earlier this year.
(Isaac Callan/The Pointer files)
According to a weekly epidemiology report by Peel Public Health, the variant has been detected in the G.E Booth wastewater facility. Between December 1 and 3, the testing for Omicron was done and it came back positive. Wastewater has been a valuable tool in detecting the emergence of variants early and will continue to provide data for PPH on how quickly Omicron is spreading on a local level.
Early studies indicate Omicron is more transmissible than the currently dominant Delta variant. A report from the National Institute for Communicable Diseases (NICD) in South Africa explains the reproductive number, a measurement of how fast the viral spread is at a point in time by averaging the number of secondary infections caused by each case, showed a reproduction rate of below one in October that had jumped to 2.55 secondary infections caused by each case by the end of November.
Using a specific PCR test to determine Omicron's ability to spread, the UK Health Security Agency has seen transmission rates that outpace the Delta variant.
"The observed growth advantage may be due to immune evasion or transmissibility. It is most plausible that it is a combination of both."
The latest data from Statens Serum Institut in Denmark show that 1.7 percent of all new cases were caused by Omicron on December 1, 15.6 percent by December 11 and 18 percent a day later.
Because of the likelihood of more rapid transmissibility, based on early clinical research and the transmission data coming in from countries, estimates from research groups worldwide (that are not yet published) and from the European Centre for Disease Prevention and Control, explain Omicron is at least 1.5 times more transmissible than Delta and will likely be the dominant variant in the world by March. In Ontario, health officials say it could be four to eight times more transmissible and is expected to be the dominant strain by the end of December.
On Wednesday, the Federal government advised Canadians to not travel abroad, highlighting worrying trends of increased cases in other countries.
"Things are getting much worse very quickly," Health Minister Jean-Yves Duclos said.
The minister worries people will travel abroad and get sick with COVID-19, inhibiting them to travel back to Canada and access healthcare. Mandatory testing upon arrival is another strategy the government is using to slow the spread of Omicron.
But once it gains a foothold here and community spread occurs with little impact from outside travel, there is not much point in trying to keep something from breaching our borders, as it will already be spreading from within just as fast.
Shortly after the announcement from the Federal government, Premier Doug Ford announced anyone 18 and older in Ontario can book their booster shot starting Monday at 8 a.m. The first set of new restrictions are being placed on venues with capacity of over 1,000 people, which will be capped at 50 percent starting December 18. This includes stadiums, concert venues and event places, which previously had capacity limits lifted in October.
Widely criticized by the medical community for under usage, the Province has also started providing free rapid tests across the province, targeting malls, Christmas markets, transit hubs and select LCBO stores for distribution. The Province also allocated a rapid test for all students in schools.
The fear of more stay at home orders and lockdowns is suddenly in the air once again.
"Everything's on the table," Ford said in response to a question asking about lockdowns Wednesday.
The governments are considering more layers of protection, and other measures will likely be announced in the coming days and weeks.
There is a slightly optimistic view Omicron could be quickly running its course in South Africa. December 15, NICD outlined the possibility of the wave to be on a downward trajectory in the hardest hit province of Gauteng, suggesting community spread might occur quickly (even faster in populations with lower vaccination rates) providing natural immunity through infection just as fast, with a possibility that cases are not as severe. The population of the province is considerably younger than Canada's and there remains the likelihood that those with compromised immune systems and poor respiratory health could become seriously ill due to Omicron.
"Although the data are still being gathered, the evidence suggests that the current wave may be milder," the NICD report states.
Data from South Africa shows a clear surge in cases at the end of November, around the time of the Omicron detection.
(National Institute for Communicable Diseases)
Health experts are being cautious as early studies suggest Omicron causes a less severe outcome than previous COVID-19 variants. Hospitalization data is limited but according to research in Europe, it shows that out of 402 confirmed cases as of December 9, for those with severity information all were either asymptomatic or had mild symptoms. Of the 402 cases, no deaths were reported.
Dr. Kieran Moore, Ontario's chief medical officer of health expects Omicron to quickly outpace Delta in the province.
"This means even if it is less severe, with so many people infected, there may be significant demands on the healthcare system," Moore said Tuesday at a press conference.
On the other side of the world, South Africa reported an 82 percent increase in hospitalizations from COVID-19 from November 28 to December 4. A large portion of the increased hospitalization is due to Omicron but no information on the severity of symptoms was included in the published report.
About 23 percent of South Africa's population is believed to be fully vaccinated; in Canada almost 77 percent of the population has received two doses.
Dr. Moore announced further measures to assist the control of spread in long-term care and retirement homes, including visitors who must be fully vaccinated, further proactive testing twice a week, and the need for a negative test for all visitors and support workers who provide essential services to the homes.
"I certainly hope that it is less severe, but we are planning for the worst, so equal to Delta," Dr. Moore said. "Hoping is not a strategy."
Vaccines are still believed to be effective against Omicron but a study from Pfizer determined that three doses increases protection significantly compared to two. There is not enough evidence to understand how much lower an efficacy rate two doses provides versus three, as reported by the World Health Organization.
"Evidence is showing us that [vaccines] still likely provide strong protection against severe illness especially with a booster dose," Dr. Moore said.
Canada will likely look to other countries where vaccination rates are high to understand the outcome of Omicron.
"Our understanding is still evolving," the WHO stated in a technical briefing.
Regardless of how Omicron plays out, our COVID reality was stated rather bluntly by American virologist Dr. Trevor Bedford recently.
"People need to realize that it's going to be around forever," he told Medpage Today. "Every year, just like we have flu season, there will be COVID season. It's going to be a thing that we have to deal with every year."
"We'll be working on better vaccines, on better ventilation, and on antivirals."
Governments will also have to work on better policies to deal with this new normal.
---
Email: [email protected]
Twitter: @taasha__15
---
COVID-19 is impacting all Canadians. At a time when vital public information is needed by everyone, The Pointer has taken down our paywall on all stories relating to the pandemic and those of public interest to ensure every resident of Brampton and Mississauga has access to the facts. For those who are able, we encourage you to consider a subscription. This will help us report on important public interest issues the community needs to know about now more than ever. You can register for a 30-day free trial HERE. Thereafter, The Pointer will charge $10 a month and you can cancel any time right on the website. Thank you
Submit a correction about this story