Feature image from The Pointer files
Easing COVID restrictions too fast is a problem; Texas is a tragic example
For a majority of the pandemic, Peel, and Brampton specifically, was a COVID hotspot. The large essential workforce, and inadequate resources from the Province allowed viral spread to run rampant.
Brampton was hit particularly hard. Its lone full-service hospital struggled to keep up with volumes before the pandemic, and a surge of COVID patients only exacerbated poor conditions created by a lack of frontline healthcare resources in the city.
Brampton Civic had to rely on facilities in surrounding areas to accommodate patients the hospital had no room for. Dr. Naveed Mohammad, president and CEO of William Osler Health System, which manages Civic, shared on Twitter that Osler transferred the most patients of any hospital system in the province during the height of the third wave. Along with Brampton Civic, Osler runs Etobicoke General Hospital in Toronto. Mohammad wrote in late spring that 1,125 patients had been transferred to other hospitals out of the two facilities.
At the height of the pandemic, Peel hospitals relied on patient transfers to keep operating.
(Photo from Isaac Callan/The Pointer files)
While local hospitals must now deal with a staggering backlog of surgeries and other medical procedures put off during the pandemic, there are small victories to be celebrated. The city hit a milestone this past week as it was shared that there were no COVID patients in the intensive care unit at Brampton Civic for the first time since the pandemic began.
It's another sign that conditions are slowly returning to some semblance of normal, as people are itching to go back to their pre-pandemic lives.
Mayor Patrick Brown, who often leads based on the populist winds of the day, is trying to tap into this sentiment, but his latest move appears oblivious to the reality facing Brampton, and the suffering so many in the city have had to endure for a year-and-a-half.
In a motion to be presented at today's (Wednesday August 11) City Council meeting, he will ask fellow members to support his request to have the provincial government amend its Reopening Ontario legislation. He wants to remove requirements for people to wear masks at outdoor events and gatherings where physical distancing is possible.
The motion specifies locations including outdoor parks and playgrounds, where the risk of transmission is lower. The Pointer was unable to find instances of other municipalities in the GTA asking for these rules to be relaxed.
It's also unclear why he is bringing the motion forward, as existing rules essentially allow residents to make their own choice about mask use in many public spaces. At a park or walking down a sidewalk, there is nothing preventing individuals from choosing not to wear a mask.
He wants the Province to amend a law it does not have in place. The Reopening Ontario Act does not make it mandatory to wear masks outdoors if physical distancing measures are followed. "Face masks or coverings are required at outdoor events whenever (it) is not possible for members of the same household to be at least two metres from other persons," Brent Ross, a spokesperson for the Ministry of the Solicitor General, told The Pointer.
Ontario is currently in Stage 3 of the Province's reopening plan and masks are only required outdoors in certain scenarios and if physical distancing is not possible. For example, masks have to be worn by outdoor spectators at a sports game unless they're with their own household and others are at least two metres away. The same goes for those dining outdoors and attending outdoor concerts, movies, or other events. But, if you are at a restaurant either inside or outdoors, you are not required to wear a mask at the table.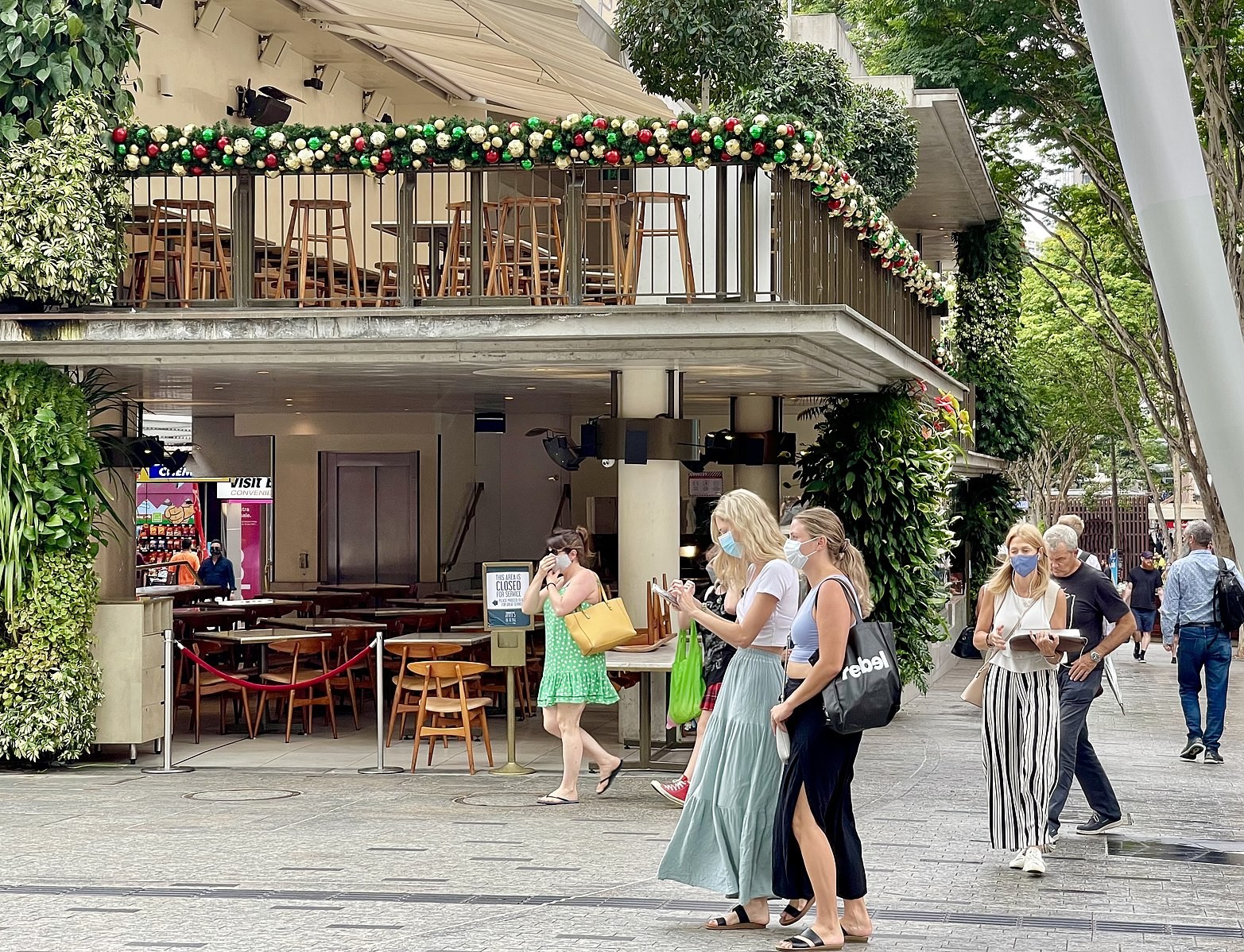 Due to low transmission rates of the novel coronavirus outdoors, masking is not required if phsyical distancing can be maintained.
(Image from KGBO/Wikimedia Commons)
The City's own facemask bylaw does not specify the use of masks outdoors, unlike the regulations put out by the Province. Each municipality was able to pass their own bylaws on mask mandates when the Province implemented them last summer, as long as they are in line with what the Province has established.
"Municipalities always have had the right to pass a bylaw which enhances the intent of a provincial regulation but cannot negate that same regulation through the passage of a bylaw," Ross said.
A large body of research shows forgoing masks outdoors is acceptable if physical distancing can be maintained, due to the inability of the virus to effectively spread in open-air environments. A report in The Journal of Infectious Disease, published in February, examined studies that looked at transmission of the virus indoors and outdoors. Of the positive cases, there was less than a 10 percent chance the infection was contracted outdoors. The chances of contracting the virus indoors was 18.7 times higher.
The report found factors such as a long duration of personal contact and a lack of masks and other personal protective equipment contributed to the cases of infection spreading outdoors. COVID-19, a respiratory disease, spreads through aerosol droplets. Poor ventilation indoors can cause the droplets to accumulate and infect.
"The risk of COVID-19 transmission outdoors is diminished, but vigilance is still required," Dr. Lawrence Loh, Peel's medical officer of health, told The Pointer.
He explained masks aren't necessary outdoors for unvaccinated individuals as long as a six-feet distance can be maintained, aligning with advice the Ontario Science Table made in May.
Dr. Loh says unvaccinated individuals should adhere to a "two out of three" rule.
(Graphic from Ontario Science Table)
For vaccinated individuals, he referred to the Public Health Agency of Canada, which states it is acceptable for small groups to gather outdoors without masks or social distancing.
Easing restrictions, on the face of it, appears to be the proper thing to do as the pandemic has slowly faded from the general consciousness of a public consumed by the isolating impacts of the pandemic since March of 2020. Many are now preoccupied with enjoying a summer free from lockdown restrictions and the constant bombardment of news about rising case numbers.
However, there are reminders that the pandemic is not over, and moving too fast with the loosening of rules can create regretful consequences. Ontario learned that lesson in 2020 — when restrictions were eased, sparking the second wave in the fall months, when Brampton was hit brutally hard, often reporting five to six times the infection rate compared to Ontario overall around the late summer of last year.
Now, Texas serves as a cautionary example.
Governor Greg Abbott announced the state would end its mask mandate in March and open up "100 percent". He said COVID was still present, but cited increased vaccination, reduced hospitalization, and other improving statistics that meant masks were no longer needed. Five months later, Texas is in a near state of disaster. A surge in COVID cases, led by the highly infectious Delta variant, has caused hospitals to overflow with sick patients. At least one healthcare organization is erecting field tents to deal with the acute crisis.
It's a sight familiar to many in Ontario. The first COVID specific field hospital popped up in Burlington last year. Another was built in the parking lot of Sunnybrook Health Sciences Centre in Toronto back in April, during the height of the third wave. At the time, COVID cases were surging and Ontario was reporting thousands of cases every day.
Brampton was the worst hit in the Province with 406.7 cases for every 100,000 residents during the week ending April 17 compared to 282 in Toronto and 206 for Ontario as a whole. In the last week of April, 140 patients were transferred out of Brampton Civic to surrounding facilities, according to details shared at a weekly press conference in Brampton at the time. This was reportedly more than all other Ontario hospitals combined over the same period.
According to the Center for Disease Control (CDC), the Delta variant is twice as contagious as some other versions of the virus. The organization says unvaccinated people remain the greatest concern, but a threat also exists for those who are vaccinated because of "breakthrough" infections: The onset of symptoms 14 days or more after being fully vaccinated. According to Peel Public Health (PPH), Delta is the "predominant strain" in the region.
"The Delta variant seems to produce the same high amount of virus in both unvaccinated and fully vaccinated people," but decreases at a faster rate for vaccinated individuals, making them less infectious than those not inoculated, according to the CDC.
PPH's weekly epidemiological update for the week ending August 6 shows the variant's current reproduction rate is one, "indicating sustained growth" of the virus.
But when speaking to The Pointer, Dr. Loh said breakthrough infections represent only a small amount of the total number of COVID cases in Ontario. Between December 14 and July 24, 8.5 million Ontario residents were fully vaccinated. In that period, 1,988 breakthrough cases were reported, representing 0.5 percent of the total COVID cases. It's not clear how many of these cases are linked to the Delta variant but the report notes "an increasing number" of Delta cases began to be reported in May, and it's reflected in Peel. At a weekly press conference in Brampton today, Dr. Loh said, "four percent of recent cases had received two doses of the vaccine."
A graph showing the number of fully vaccinated Ontario residents.
(Graphic from Ontario's COVID-19 dashboard)
Of the 321 COVID cases reported Tuesday in Ontario, 78 involved individuals who are fully vaccinated; 20 of these cases involve Delta but information is not available to indicate if any of these cases involved vaccinated individuals.
Ontario's case count has risen dramatically over the last couple of days. Of the 321 cases reported Tuesday, 10 percent (31) were reported in Peel, which aligns with its share of the provincial population. In comparison, one-week prior, on August 3, a total of 139 cases were reported and 7 percent (18) of them were in Peel.
While the latest numbers are still far below the highs seen in Peel, when more than 1,000 daily new cases were being reported at the height of the third wave in the spring, the recent increases are cause for concern, especially with a variant that is far more transmissible, and given the reality that some 20 percent of the public appears disinterested in getting vaccinated.
If a large segment of this cohort gets infected, the healthcare system could once again be pushed to its limit.
All signals are pointing to the start of a fourth wave, Dr. Loh said. "High and growing vaccination coverage in the community is anticipated to provide a reduction in severe and mortal outcomes, while also helping to reduce opportunities for transmission," he told The Pointer.
Brown's motion to lift mask requirements will be debated at Council today.
---
Email: [email protected]
Twitter: @nida_zafar
Tel: 416 890-7643
---
COVID-19 is impacting all Canadians. At a time when vital public information is needed by everyone, The Pointer has taken down our paywall on all stories relating to the pandemic and those of public interest to ensure every resident of Brampton and Mississauga has access to the facts. For those who are able, we encourage you to consider a subscription. This will help us report on important public interest issues the community needs to know about now more than ever. You can register for a 30-day free trial HERE. Thereafter, The Pointer will charge $10 a month and you can cancel any time right on the website. Thank you.
Submit a correction about this story