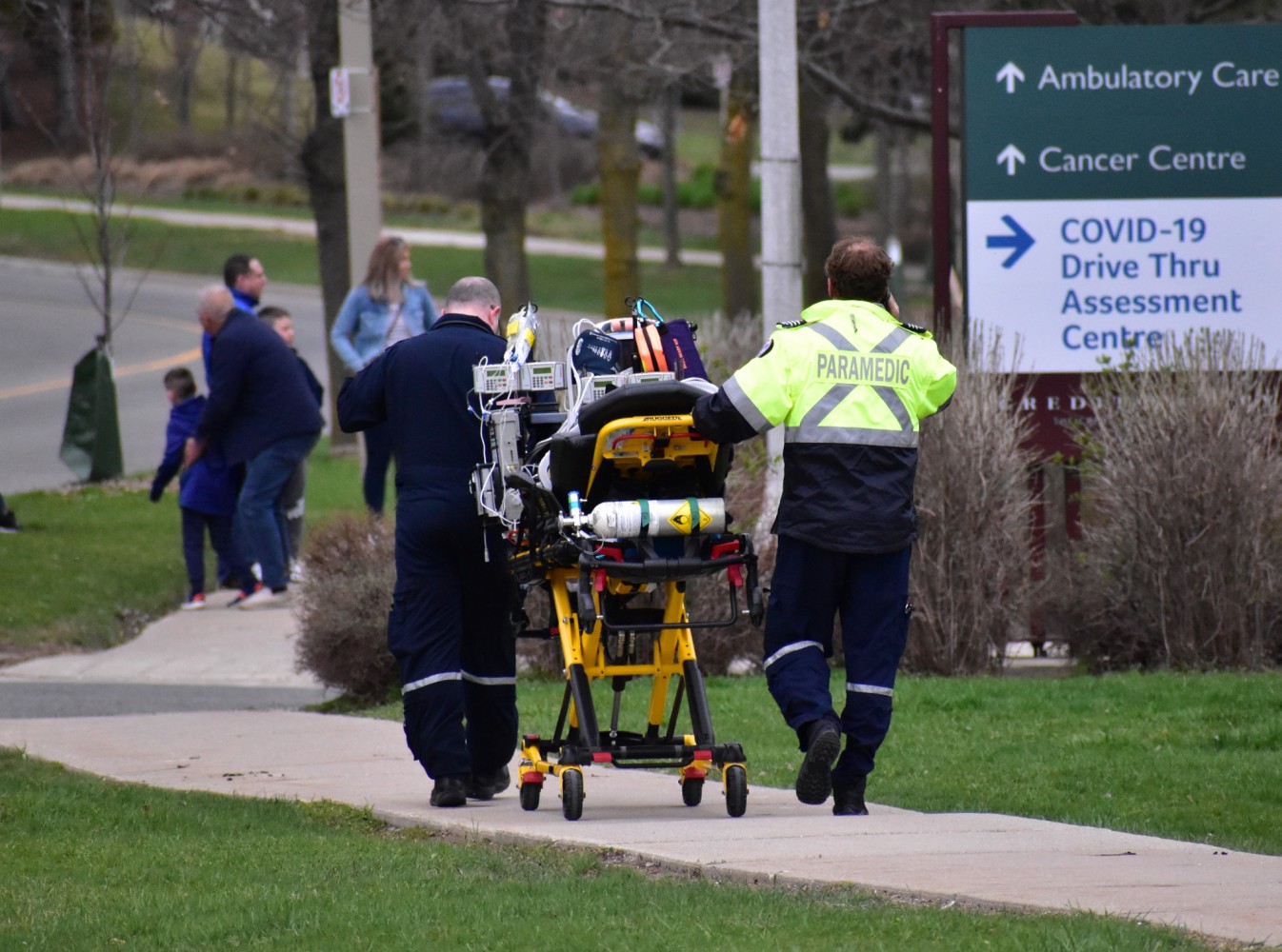 Photos from Isaac Callan/The Pointer/Region of Peel/Government of Ontario
Peel's healthcare system on the brink of collapse
The pandemic picture in the Region of Peel has never been worse. Case numbers on Friday reached an all-time high for the pandemic with Peel recording 1,232 new novel coronavirus infections, according to provincial data.
Hospitals are full, relying on patient transfers to distant locations. Public health contact tracers are drowning in calls, as the number of new daily cases in Peel threatens to regularly top 1,000. Vaccines offer a glimmer of hope, but the region's top public health official, Dr. Lawrence Loh, says they are simply not enough on their own.
It's a situation local officials hoped would never arrive. The weekly COVID-19 incidence rate sat at 406.7 cases per 100,000 residents in Brampton and 351.6 for Peel as a whole for the week ending April 17, compared to 282 in Toronto and 206 per 100,000 for Ontario as a whole. The test positivity rate for the same period was 22.4 percent for Brampton and 14.5 percent for Mississauga. Anything above 2.5 means viral spread in an area is out of control. Hospitalizations in the region this week are 77 percent higher than they were a fortnight ago.
Figures maintained by Queen's Park show a record number of new cases in Peel Friday.
The seven-day average test positivity rate for Peel Region as a whole was 15.4 percent on April 14. The number compares to a second wave high of 13.7 percent, according to provincial figures.
To enter the red (control) zone of Ontario's reopening framework (currently suspended in favour of a stay-at-home-order) regions need a rate of 40 cases per 100,000 residents or lower. Brampton's is ten times higher. In the past, the World Health Organization suggested any percent positivity above 3 percent showed the pandemic was out of control in that testing jurisdiction, and the ability to track the viral spread with any effectiveness was lost. Brampton's positivity rate is almost eight times higher than this.
The COVID-19 incidence rate for Peel Region continues to increase, straining local healthcare resources.
Peel's local leaders accept the disaster has arrived. Now they're working out what comes next.
At 5:30 AM on Tuesday, Peel Public Health issued a press release indicating it was ready to take drastic measures. The announcement promised Dr. Loh would use powers granted to him under Section 22 of the Health Protection and Promotion Act to close workplaces. Employers with five or more COVID-19 cases over the past 14 days that could have been reasonably acquired at work (where there was no other likely source of infection) would be ordered to close.
Workplaces impacted are ordered to shut down for 10 days. The 10-day closure is designed to break the chain of transmission rather than to coincide with the length of quarantines.
The decision to issue the Section 22 order across the region marks a departure from Dr. Loh's early pandemic philosophy. On previous issues, including mandatory masking, he was reluctant to release commands on his own, preferring the Province or local councillors to make the ultimate decisions.
Now, Loh says the stakes are too high.
"With the increase of cases across Peel Region recently, our focus continues to be on safe work environments for the many residents who have had to continue to physically go to work," Dr. Loh told The Pointer through a spokesperson. "Peel Public Health has always held the strategy of doing what is best for the residents of Peel in their unique experience with COVID-19."
Mississauga Mayor Bonnie Crombie questions Dr. Lawrence Loh on Thursday.
The order, which Toronto announced it would also be issuing with some local adjustments, comes with the issue of paid sick days yet to be resolved. Although the Province has been dropping an increasing number of hints about implementing its own paid sick days program, details remain scarce. Peel Public Health has ramped up its advocacy on the issue, but again says the need for workplace closures is too pressing to wait for Queen's Park.
"We have not seen the top of the third wave yet," Dr. Loh warned councillors Thursday. "I want to be very clear: we are certainly very precarious in terms of our ongoing capacity to address the COVID-19 outbreak. We are being challenged by a higher case load than has ever been seen in our community."
The third wave threatens to overwhelm Peel's public health response and hospitals, simultaneously. Growing case numbers need to be dealt with by contact tracing teams within a few days in order to establish whether an infected person could have possibly passed on the virus, but Peel Public Health can't keep up with higher case counts. This is leading to stretched contact tracing resources and difficult decisions around prioritization. In many cases, those who are infected continue spreading the virus before public health teams can identify them as transmission risks. Each additional infection has a cascading effect now out of control due to the lack of resources to contain out-of-control spread.
Firefighters in Mississauga have stepped up to administer vaccines at Peel's mass vaccination clinics in anticipation of the need for Peel Public Health and hospitals to reallocate resources. Firefighters will receive training next week, ready to administer doses as the system has reached the brink of collapse.
Hospitals in the Region of Peel are stretched far beyond capacity
"Getting our firefighters trained to vaccinate is so important right now," Mississauga Mayor Bonnie Crombie said at her Wednesday press conference. "We know that our hospitals are overwhelmed and staff at the mass vaccination clinics may soon be recalled to help with critical care at the hospitals. If that happens, our firefighters will be ready to step up and keep getting vaccines in arms."
"It's a sign of the strain of what's been happening," she added.
Mississauga Fire Chief, Deryn Rizzi, noted just how far outside their normal jurisdiction the move was. "Firefighters put out fires, they attend motor vehicle collisions, they help with medical emergencies and we're so proud to be able to say we're going to be helping put vaccines in people's arms," she said.
Around the virtual council table on Thursday, elected officials pitched their own ideas to help. A motion from Brampton Mayor Patrick Brown called on the federal government to limit flights from national and international COVID-19 hotspots, citing fears around the arrival of new variants. Councillors also gave their support to Dr. Loh's request for the whole of Peel Region, including parts of south Mississauga and Caledon with lower COVID-19 rates, to be considered a hotspot by the Province. Neither decision can be made by the Region of Peel, but the motions establish positions for future advocacy.
On Thursday evening, the federal government announced a temporary ban on direct flights from India and Pakistan.
The topic that dominated Thursday's regional conversation was vaccines.
Data from Peel Public Health's dashboard and the Province's vaccine website show that, as of April 23, the region had administered 423,162 doses — 9.6 percent of Ontario's total vaccine doses. The region's population equates to 10.5 percent of Ontario's total.
This marks a steady improvement from late-March when Peel's share amounted to less than seven percent of the Ontario total. Recent promises from the Province suggest its vaccine allocation should continue to rise.
The region's vaccine capacity could increase further over the next few weeks, as it rolls out a series of COVID-19 pop-up vaccine clinics at workspaces. Maple Lodge Farms, Maple Leaf Foods and Amazon have signed up to host and finance clinics across the region that will offer vaccines to essential workers within the facilities and to local communities.
Peel Public Health is still finalizing the details, but Brian Laundry (director of strategic policy and performance for health at the Region of Peel) told councillors the vaccines will be in addition to the doses already allotted for pharmacies and mass vaccination sites. He promised that, although doses from Peel's allocation would be used on the day, Peel Public Health would be "reimbursed" by the Province.
"This is an innovative public-private partnership and will be the first of its kind in Ontario," he said. "The lessons learnt from this initial rollout can be shared with other regions across the province."
The news could help to ease difficult choices. Without a promise the Province will provide extra vaccines specifically for pop-up clinics, organizing the targeted vaccine sites meant reducing the number of appointments available at more efficient mass vaccination locations. Dr. Loh has previously shared his preference for mass vaccination efforts to move quickly through age groups.
"The reality is the supply of vaccines that we have is finite," Loh told The Pointer on April 14 at a Mississauga press conference. "If you take it away from mass clinics, it's going to go to mobile or it's going to go to primary care or pharmacies, [but] then you're going to see less throughput on mass [sites], we're going to have to cancel clinics there and really figure out how we balance things."
---
Email: [email protected]
Twitter: @isaaccallan
Tel: 647 561-4879
---
COVID-19 is impacting all Canadians. At a time when vital public information is needed by everyone, The Pointer has taken down our paywall on all stories relating to the pandemic and those of public interest to ensure every resident of Brampton and Mississauga has access to the facts. For those who are able, we encourage you to consider a subscription. This will help us report on important public interest issues the community needs to know about now more than ever. You can register for a 30-day free trial HERE. Thereafter, The Pointer will charge $10 a month and you can cancel any time right on the website. Thank you.
Submit a correction about this story