The Pointer file photos/Twitter Government of Ontario
Despite its 'childcare desert' label Brampton daycares are only 20 percent full because of the pandemic
Before licensed daycares across the region were allowed to operate at full capacity a month ago, they had to ensure safety measures were in place. Preparing for little ones to re-enter daycare meant more than dusting off toys and ensuring ample space to socially distance was available for everyone.
Staff had to be trained on protocols under provincial guidelines and ensure masks and other personal protective equipment were being used. Each childcare facility also had to create a COVID-19 response plan in case a child, parent or staff member became exposed to the virus.
BrightPath Early Learning and Childcare Centre in Bolton recently had to put this plan into action. On September 25, Peel Public Health declared an outbreak at the facility when two children tested positive for COVID-19. Three more children have also tested positive since, a statement from the company declares. The affected area will remain closed for a 14-day period. The rest of the building reopened September 28, after it was thoroughly cleaned, according to the statement.
In Brampton, there are four confirmed cases of COVID-19 among children at daycares. In Mississauga, two children have tested positive and one staff member.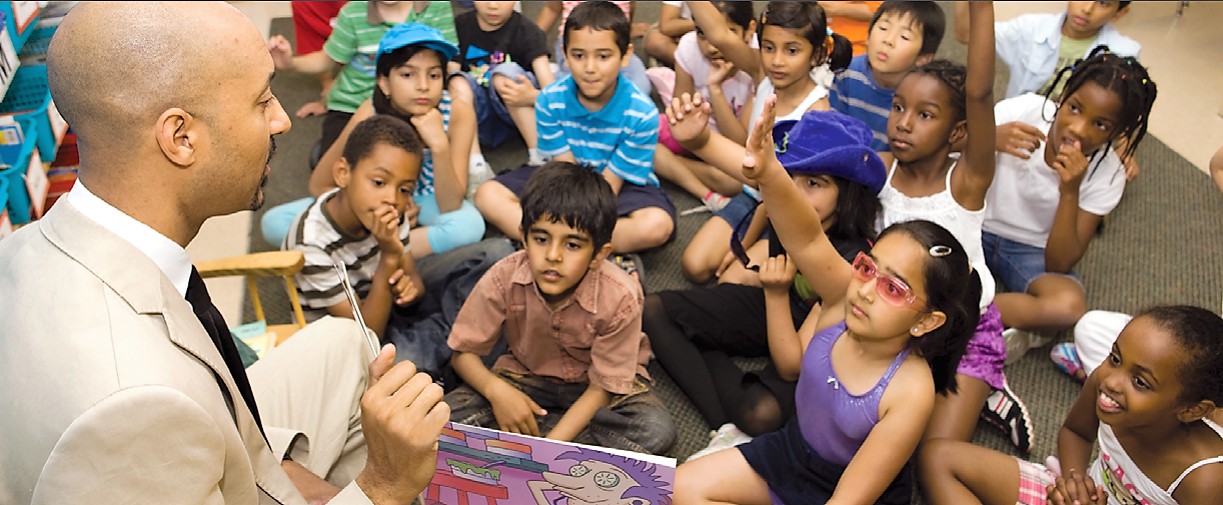 Pre-pandemic scenes like this are not seen now in daycares and schools across Peel
The cases come as daycares across the region struggle to find parents willing to send their children back into spaces that might pose a risk.
In Brampton, the situation has not been what most people were expecting. Based on enrollment numbers from early September, there were 8,126 childcare spaces in the city that were available to be filled and only 1,672 were being used, a Peel Region spokesperson told The Pointer, with 97 percent of licensed childcare centres in the region reopened as of September 1. A total of 44,527 spaces across Peel were reopened, the spokesperson said.
The concern of parents choosing to keep children home is reflected in the particularly low rates of in-school learning across Peel.
Some 54,600 elementary students in the Peel District School Board are now learning from home, almost half the overall elementary cohort in the board, which has about 57,300 students currently in class.
At the largest private Sikh school in Ontario, located in Brampton, the worry over sending children out of the house, especially younger ones, has an added dimension, which could be one reason why the city's daycare facilities are so empty.
"People are generally concerned because of the uncertainty," Ripsodhak Singh Grewal, says. He's the senior administrator of the Khalsa Community School, where slightly more than half of its nearly 900 students from JK to Grade 12 are currently learning from home. "Their safety is on their mind, they're afraid of the risks of sending their children out of the home. That's what the parents are telling me. Speaking to some parents, they have seniors at home, and that's why they don't want to take the risk."
Many grandparents live with families across the city, a cultural practice shared by many different groups, which creates increased anxiety over sending children into settings where the virus could be contracted, putting elders in the household at increased risk because of their age and susceptibility to developing more severe cases of the disease.
Grewal said the high rates of COVID-19 and poor testing capacity in the city, with families reporting waits in excess of five hours at Brampton's lone assessment centre, are also causing worry among many parents opting to keep their children at home.
The September 1 reopening date for childcare facilities under the current measures was chosen with a number of different challenges in mind. Schools in Peel began to reopen for orientation September 8. Many people, such as teachers, were starting to attend work in person again, under the Stage 3 requirements imposed by the Province, joining many essential workers in Brampton whose employment has not allowed them to stay at home throughout the pandemic.
In anticipation of kids going back to school, the need for daycare was expected to resume at its usual level, with long wait lists and high costs, due to the lack of availability in Brampton and other parts of Peel.
It was a cause for skepticism particularly in Brampton. In a 2018 study by the Canadian Centre for Policy Alternatives, the city was dubbed a "childcare desert". This meant there was only one childcare space for every four to five children in the city, according to the report, titled Child Care Deserts in Canada. The scarcity is specifically noted in the area with the postal code that begins with L6R.
Many parents voiced frustration through the summer over the possibility of inadequate childcare spaces, after centres were initially allowed to reopen June 12, but with only 10 people, including children and staff, in each facility. Visitors weren't allowed and any toys that could spread the virus were to be removed.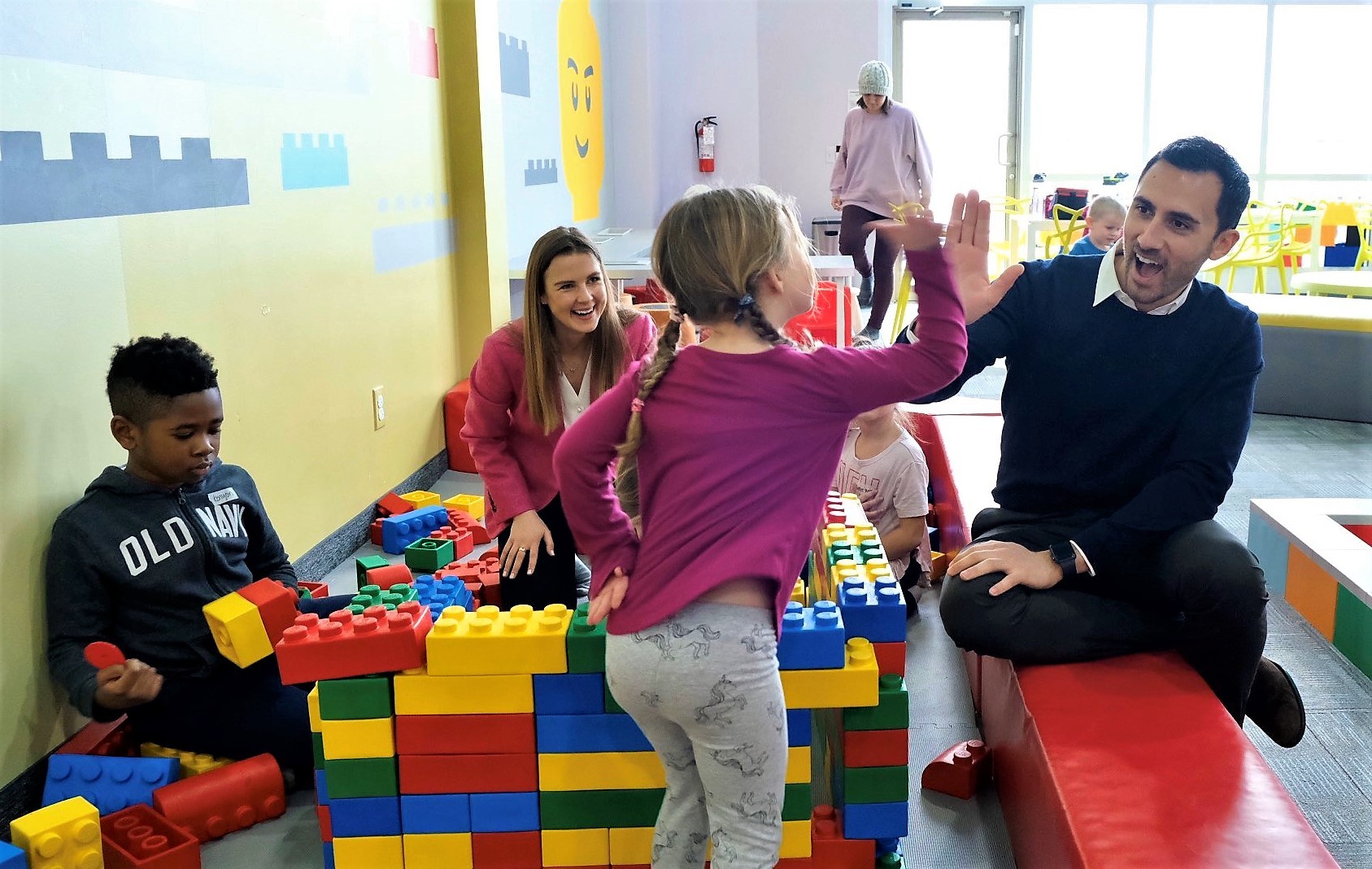 Education Minister Stephen Lecce visits a classroom prior to the pandemic; earlier grades in Peel have also seen a sharp drop in classroom attendance
Erin Leigh, a teacher with the Halton District School Board, was concerned that her pre-school aged daughter would not have a space once the school year began and she had to go back to work. "My fear is, if we get to September, and things haven't gotten any better, I have a really big problem," she told The Pointer back in June.
One month after Leigh shared her worries, the provincial government announced daycares could run at full capacity again as of September 1.
These numbers only reflect licensed daycares, as the Region does not receive information on unlicensed daycares. Ten licensed childcare agencies also work with caregivers to run some daycares in homes. Peel Region is responsible for running childcare facilities in Brampton, Mississauga and Caledon.
A number of other reasons might explain why Brampton's childcare spaces are roughly one-fifth full, including cost, as many households have seen incomes reduced because of the pandemic.
According to In Progress: Child care fees in Canada 2019, a report by the Canadian Centre for Policy Alternatives, the average monthly payment for daycare for a preschooler in Brampton was $1,050 a month in 2017. In 2019, it dropped to $944 a month. The price change came with a new childcare affordability program the Region adopted in 2018.
With funding from the federal government through the province, eligible licenced daycares were allowed to charge qualifying parents $6 a day for part-time care, and $12 a day for full-time care for children 4 and under.
When the Doug Ford PC government cut childcare funding for Peel by $4.2 million for 2020, the program was canceled, and eventually expired in May, increasing the average cost of childcare. In 2019, Peel was allocated $173.3 million. In 2020, funding was cut to $169 million.
The recent report from the Canadian Centre for Policy Alternatives shows four of the top five cities with the highest fees for preschoolers are in Ontario. The province being "market based" plays a role in this, the report indicates. This means the demand for daycare is high, but not enough spaces are offered, which contributes to the steady increases in costs for parents, especially when the government in power cuts its funding. This has a particularly harsh effect on lower income families.
To assist with added COVID-related costs, such as enhanced cleaning and personal protective equipment for staff, the Region was given $17.9 million through the government's Safe Restart program, a September 24 regional staff report states. The money will go to 150 licensed daycare centres.
Another reason behind Brampton's current childcare situation is the impact COVID-19 has had on women.
Numerous reports have indicated women, specifically racialized and low-income earners, have been impacted at a disproportionate rate compared to men, as they have been asked to pick between childcare, during a time of financial uncertainty, or their jobs.
Women's labour participation has fallen to its lowest in 20 years, a report from the Ontario Chamber of Commerce, titled The She-Covery Project, revealed.
Many are choosing to stay with young children, even it puts their employment at risk. The word "choosing" might not be appropriate, as women often have little choice. If family incomes are reduced, they sometimes have to sacrifice childcare costs, which can easily be more than what some women earn.
And even if they do make more than men in the household, research shows women are still the ones more commonly expected to forego work as an option instead of using childcare.
Dubbed the she-cession, the term represents how more women are losing their jobs and less women than men have been able to regain employment throughout the pandemic. Between April and August, 200,200 men were able to regain employment compared to 131,700 women, the Chamber of Commerce report states.
The impact of the pandemic has been notably worse for racialized Canadians, who were twice as likely than white Canadians to take on "domestic responsibilities" and stop looking for, or reduce time spent doing paid work.
These realities are compounded in Brampton where about three quarters of the city's residents are visible minorities, so women pushed out of the labour market end up keeping children at home because they don't have the money to pay for daycare, and because they themselves are forced to stay at home.
Of course, many families are likely choosing to keep young children in the house, simply to avoid the risk of infection, as Grewal said.
The Chamber of Commerce report, however, highlights the complex dynamics many women face.
"Temporary business shutdowns during the state of emergency most severely affected sectors that predominantly employ women. Restrictions on schools and paid childcare facilities have shifted additional hours of unpaid family care onto parents, and this work has largely been taken up by mothers," Claudia Dessanti, senior policy analyst for the Ontario Chamber of Commerce, said.
Childcare is a crucial component that can assist women in going back to work. The report indicates two strategies are needed: a short term strategy to address childcare during the pandemic and longer-term system wide reforms that will make childcare more accessible and allow more women to work.
On Friday, the provincial government released two new childcare reports: Strengthening Early Years and Child Care in Ontario, and the Early Years and Child Care Annual Report 2020.
The former highlights a number of commitments the Province plans on making to improve childcare. This includes creating more flexible options for families and service providers so that daycare can become a more viable option during the pandemic and beyond.
---
Email: [email protected]
Twitter: @nida_zafar
Tel: 416 890-7643
---
COVID-19 is impacting all Canadians. At a time when vital public information is needed by everyone, The Pointer has taken down our paywall on all stories relating to the pandemic and those of public interest to ensure every resident of Brampton and Mississauga has access to the facts. For those who are able, we encourage you to consider a subscription. This will help us report on important public interest issues the community needs to know about now more than ever. You can register for a 30-day free trial HERE. Thereafter, The Pointer will charge $10 a month and you can cancel any time right on the website. Thank you.
Submit a correction about this story