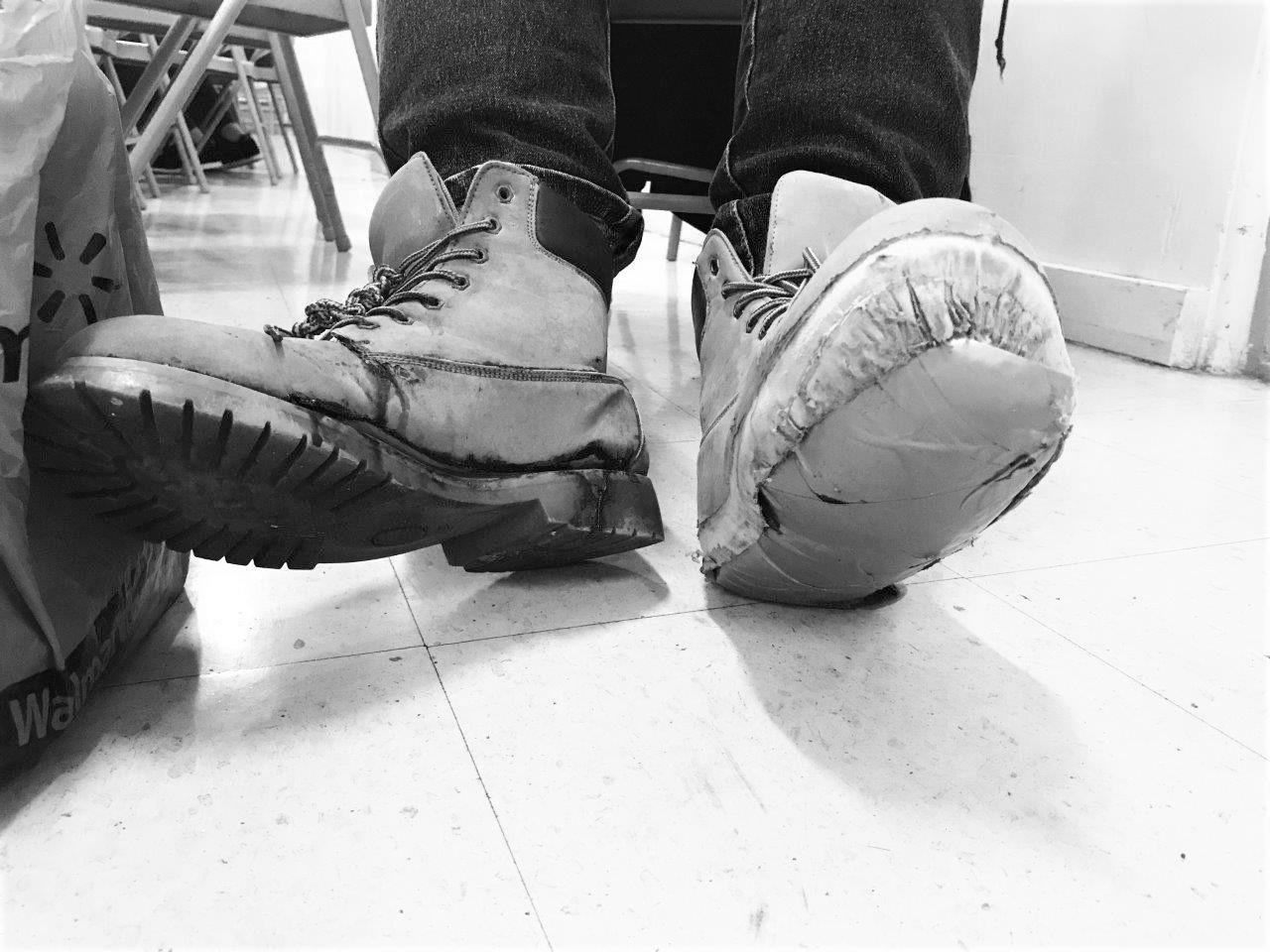 Flickr
New Peel group needs government support as critical homeless healthcare funding dries up
Clinton Baretto is not sure who coined the term "blackmarket of goodwill", but likes to use it when describing the dedication of his colleagues.
Little did he know that his own emerging brand of blackmarket healthcare was about to become a salvation across Peel, as an unforeseen global crisis made its way to our doorstep.
As a nurse practitioner primarily giving critical healthcare to people suffering from homelessness, Baretto knew one small gesture can go a long way.
Standing in downtown Brampton on a chilly November morning, gesturing expressively with his hands, he recounts how Homeless Health Peel (HHP) came to be. Through tireless hours and a passion for providing adequate healthcare to every resident, Baretto's story starts from his experiences working as the primary care lead at the Central West Local Health Integrated Network (LHIN) for Brampton.
He was mainly tasked with what he calls "sales", engaging primary service providers and family doctors to understand their needs and their patients' needs during unprecedented times. Bringing people on board and up to speed on providing the best care for Peel's residents became part of his calling.
This tent encampment in Mississauga was one of many that popped up across Peel during the pandemic.
(The Pointer files)
A nurse from Peel Outreach, a regionally run program assisting those with precarious housing, connected with Baretto hoping he could link them with a primary care provider.
"Most people in Brampton don't seem to have a family doctor, and my colleagues who are drowning in family practice, they had no time to give to serve this population," he told The Pointer.
Instead of letting the ask from the program slip through the cracks, taking someone down into the depths of our forgotten healthcare castoffs, Baretto took it upon himself to dedicate a few hours a week to provide care to those suffering homelessnsss.
He commandeered the Peel Outreach van and immediately brought care to people.
For so many on the streets or imminently facing homelessness, their health is way down the list of hourly priorities.
Finding food is usually at the top. Staying safe from all the forces that constantly push in and prey on the vulnerable is another constant consideration. The need for shelter, especially in the dead of winter also consumes the attention of those surviving on the edge.
Their broader healthcare, making sure basic well-being such as looking after their teeth, heart health and fending off respiratory illnesses, falls further down this daily set of priorities. Sustaining themselves 24 hours at a time is the way many homeless individuals operate.
Baretto wanted to offer them a wider, unique blanket of protection.
"I started out my career in the far north working in First Nations communities," he said, "so I'm used to doing home visits."
Most Wednesdays he would show up to work with a list of patients to see and would set out for the day ahead. This valuable support gave hundreds of people access to basic healthcare that would have been elusive, normally.
The support Baretto received from colleagues and other service providers allowed him to expand the outreach and showed him the potential of the "blackmarket of goodwill". Sometimes his coworkers would notice gauze or tape missing from the supply cabinet, but would turn a blind eye knowing the items were being put to good use.
Baretto would bring his supplies to the tent cities and other hovels popping up across Peel to follow up on past assessments and treatments.
"In a lot of ways, it's no different than family practice. You don't get fixed on your first visit," he said. "It's a process, and a lot of times it's things like maintenance."
Continuing the care allowed Baretto to monitor his patients. His compassionate beliefs around trauma informed healthcare are what made him approachable for many in these vulnerable communities, including some who had negative experiences in the healthcare system previously.
The work he accomplished gave him pause at the end of 2019.
He could have never predicted what was coming.
At a crossroads he decided to walk away from his family practice, leaving behind a steady income, and dedicate more time to the community.
He took a leap of faith.
Baretto's old colleagues would reach out to ask him to cover their vacations so he could continue providing care on a wider level while keeping a roof over his own head.
"They knew they were supplementing my income, so I could build this. It was basically buying me time," Baretto said.
In order to provide his skills as a nurse practitioner to other practices, Baretto founded a corporation so he could do his work on the side in more of an official capacity.
The opportunities to cover vacations and provide more care to the community continued in early 2020.
Then COVID-19 arrived.
Normalcy in healthcare was thrown out the window.
Shelter at home orders left the cities' most vulnerable populations on the wayside, leaving overburdened healthcare services and public health officials scrambling to assess the mounting crisis, as the virus began to paralyze the system.
Priorities had to be shifted.
As usual, many most at risk were on the brink of falling further into the cracks.
Shelters could only house about half the number of clients, due to social distancing requirements. Many social service agencies had to close their doors while virtual platforms could not be accessed by those who needed help most. Even community kitchens were forced to discontinue their work and shut down, as the virus ravaged Peel.
Baretto was given an opportunity by the Region of Peel to lead nursing services at an isolation centre for the homeless population. In order for nurses to be contracted for this work they need to be hired by an agency where they can be paid and have insurance. Struggling to put together a desperately needed centre, Baretto hashed out an agreement with the LHIN and the Region to provide a handful of nurses from different programs.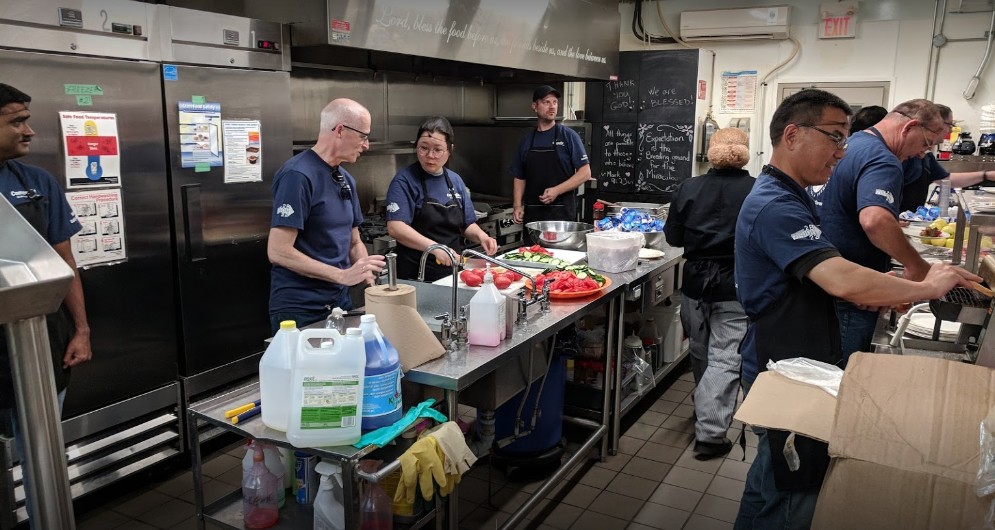 Before the pandemic shut it down, the Regeneration community kitchen in downtown Brampton served people suffering from homelessness.
(Regeneration)
However, a few nurses a week was not nearly enough for Baretto to take advantage of providing more health services for the homeless community.
There was a chance to do something more.
Baretto went to Regeneration, a non profit organization based in Brampton, hoping it could provide the bookkeeping and insurance to hire more nurses for the isolation centre. Luckily, the organization agreed to help, thinking its assistance would only be needed for three months.
While working with people suffering from homelessness, Baretto wouldn't always see his patients every week and without a permanent address it was hard to keep track of them.
The voluntary 14-day isolation period in the hotels provided the nurses with the chance to monitor patients and make sure other aspects of their health were being looked after.
As the virus spread the so-called three-month period turned into months. When August came Regeneration needed to focus on its primary care needs and terminated the nurses they hired for the isolation centres.
"In fairness, they [Regeneration] went as far as they could," Baretto said.
It was the same story across the board. Emergency funding that was being used in desperate circumstances for the most vulnerable was drying up. The two higher levels of government had provided almost $29 million in supports through the Region of Peel but this would end by April of 2021 with no idea how the homeless would receive critical care after that.
Social service organizations often do more with less. Less funding, less staff and can only provide so much of their focus to specific needs for short periods of time. Regeneration provides safe spaces, hot meals and further access to other services to people suffering from homelessness.
Baretto found himself back at square one, knowing how important it was to continue doing this work during a global pandemic. Nurses were already feeling burnt out, many hospitals were bracing for the second wave as some restrictions were lifted allowing the virus and its variants to spread throughout the community.
Without other organizations to step up and assist Baretto in hiring nurses he went to the Region with an offer.
"If you're [the Region] willing to recognize my corporation... I will run it as a non-profit, I will do the same billings just like Regeneration," Baretto recounted to The Pointer. "You just need to support me around how to invoice and all the business side of it."
With the tight timeline and a virus starting to pick up pace again, Peel agreed and nurses let go from Regeneration were hired back under Baretto's new non-profit healthcare corporation.
"All of a sudden, now we're a nurse-run service, such a thing hasn't really existed," Baretto said.
Working with the Region on the isolation centres allowed Baretto to bring on more nurses and build a compassionate company from the ground up. The group of seven (including Baretto) made a list of everything they disagreed with about the management of past nursing systems they worked in and vowed to do better.
Using a philosophical and ethical framework the group recognized their own profession's shortcomings. Historically, the job is very demanding and traumatic in many cases, especially throughout an unrelenting crisis like the pandemic. Exhausted nurses have been isolated from their own families. They continue to work inhumane hours. Inside hospitals they have to draw on their compassion and replace loved ones while they watch patients die. Nurse burnout has reached an all time high and has forced many to leave the industry altogether.
A study released by Critical Care Services Ontario (CCSO) found 73 percent of hospital staff reported feeling emotionally exhausted, 60 percent lacked a feeling of personal accomplishment and 48 percent noted a depersonalization in their care.
"There's a joke in nursing," Baretto said, "'I'm worried that my patient hasn't peed in four hours, and then I realize I haven't peed in 12."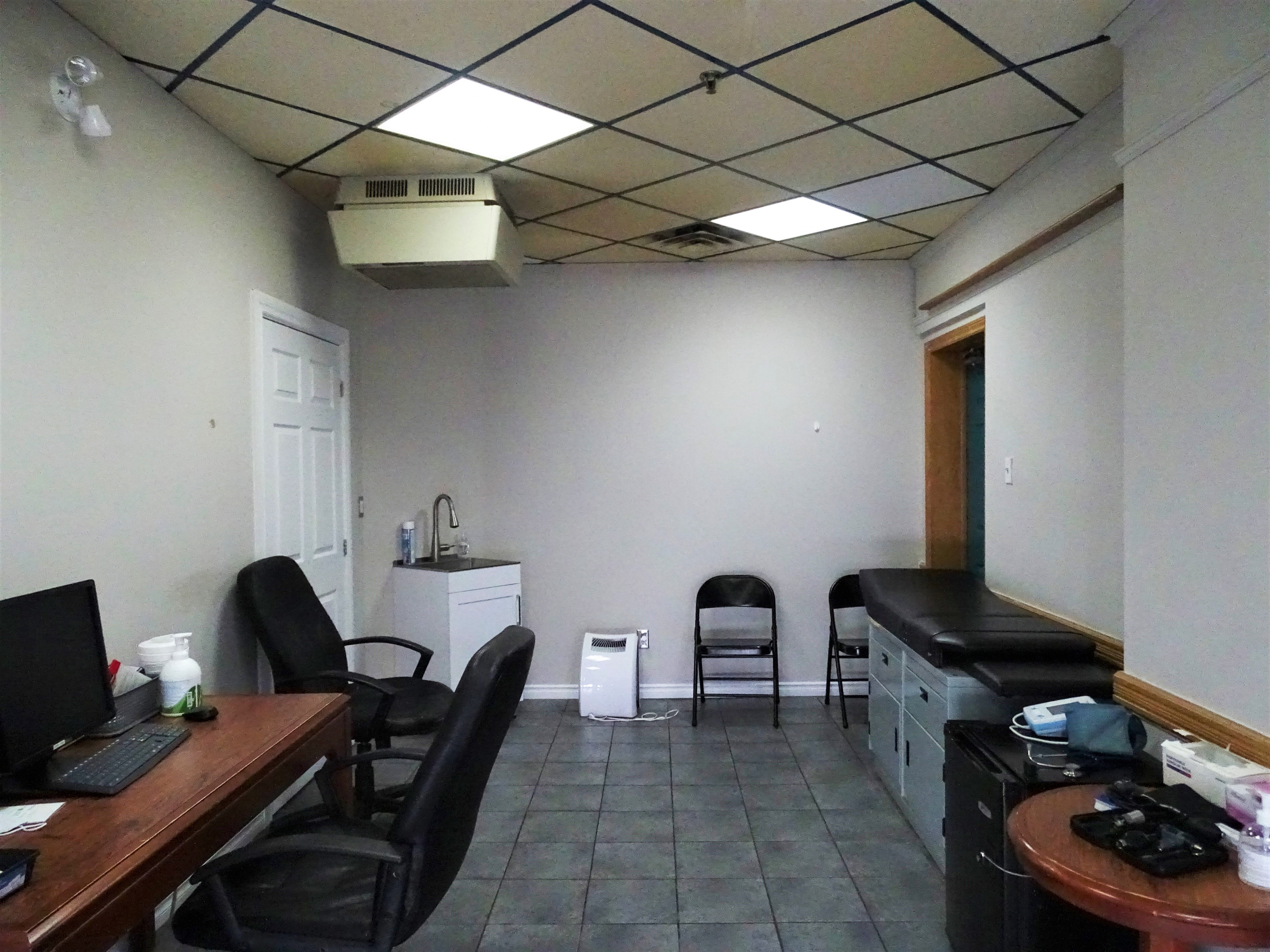 At the back of the Nelson Street Drop-In Centre is a small clinic room for Homeless Health Peel.
(Natasha O'Neill / The Pointer)

The pandemic gave this small group the opportunity to rewrite the way they perform the crucial work of nursing.
The innovative organization fills the gap many nurses in other organizations cannot tend to. By providing care specifically for people suffering from homelessness, Baretto and his team can focus on the best needs for a specific group of patients.
HHP nurses found many patients were suffering from addiction and started offering withdrawal management to them while in isolation.
Covid testing was extremely backed up, so those who were awaiting results would be in the care of HHP nurses. If they tested positive they would continue to stay in the centres. Once they tested negative is when typically the nurse's job would end, before the group began to change the dynamics. Instead HHP built a rapport with individuals and would continue its care model from the Nelson Street Drop-In Centre affiliated with Regeneration in downtown Brampton.
The Region provided the drop-in centre as a base for Regeneration and carved out a small room in the back for HHP to operate.
The organization is now busy with hundreds of visits every month.
Baretto and his team have discovered many people are in the "active-dying" phase, when without intervention they might have only a few days or weeks to live. This can be the result of infections not being treated or from common disorders faced by the vulnerable, such as acute liver failure from alcohol abuse.
"When they come to us, we don't discharge them unsafely," he explained. "We're not going to send somebody to the shelter who's actively dying, so we have to keep them and start doing palliative care."
The funding HHP received to run the isolation centres and clinic were entirely from money given throughout the pandemic to address the crisis. Now, as the drop-in-centre funding and other forms of support trickle away, the organization will have to slow its operations, if no sustained, long-term financial backing is found.
"Unless we get funding, we go back to life as it was before COVID," Baretto said.
Over the pandemic the Region and its social services, along with clinical healthcare providers like HHP have filled a mountainous need. Despite increasing demand, programs were able to deliver emergency help to individuals across Peel. It showcased what these programs can get done, even on shoestring budgets.
Between February and September 2021, 524 people who had precarious housing were taken into isolation centres and were referred to housing support workers. And 302 (58 percent) were discharged from the centres into stable housing.
"Lack of adequate, stable provincial health funding for the homeless means that the improved access to health supports made possible through the pandemic will end in 2022, if permanent funding cannot be secured," read an October report by Regional staff.
At the Nelson Street Drop-In Centre, people suffering from homelessness were given medical treatments, counseling and Naloxone kits. Between February to April 2021, 3,600 visits were made to the centre. Over the same period, Peel police reported an overall decrease in calls for the downtown Brampton area related to unwanted loitering and other issues involving the homeless population.
Throughout the past year and a half, the Region has been given about $93 million in emergency funding for vulnerable populations. The additional rooms provided by isolation centres decreased the transmission of the virus and provided life altering support and medication to people.
The money given for these programs allowed a glimpse of what Peel could accomplish, but it was not permanent. In June, federal funding for the homeless ended; the Ontario Isolation Centre Initiative funding ended in September, and Social Services Relief Fund Phase 4 support ends March 2022.
Those who benefited greatly from the programs offered will be impacted the most when their supports are taken away.
Baretto hopes to continue providing care the homeless population deserves, but it does not come without a monetary — or human — cost.
He and his small, dedicated team are doing everything they can to secure funding so Homeless Health Peel can not only prevent the region's most vulnerable from falling further through the cracks but help them recover and regain control over their own lives.
---
Email: [email protected]
Twitter: @taasha__15
---
COVID-19 is impacting all Canadians. At a time when vital public information is needed by everyone, The Pointer has taken down our paywall on all stories relating to the pandemic and those of public interest to ensure every resident of Brampton and Mississauga has access to the facts. For those who are able, we encourage you to consider a subscription. This will help us report on important public interest issues the community needs to know about now more than ever. You can register for a 30-day free trial HERE. Thereafter, The Pointer will charge $10 a month and you can cancel any time right on the website. Thank you
Submit a correction about this story