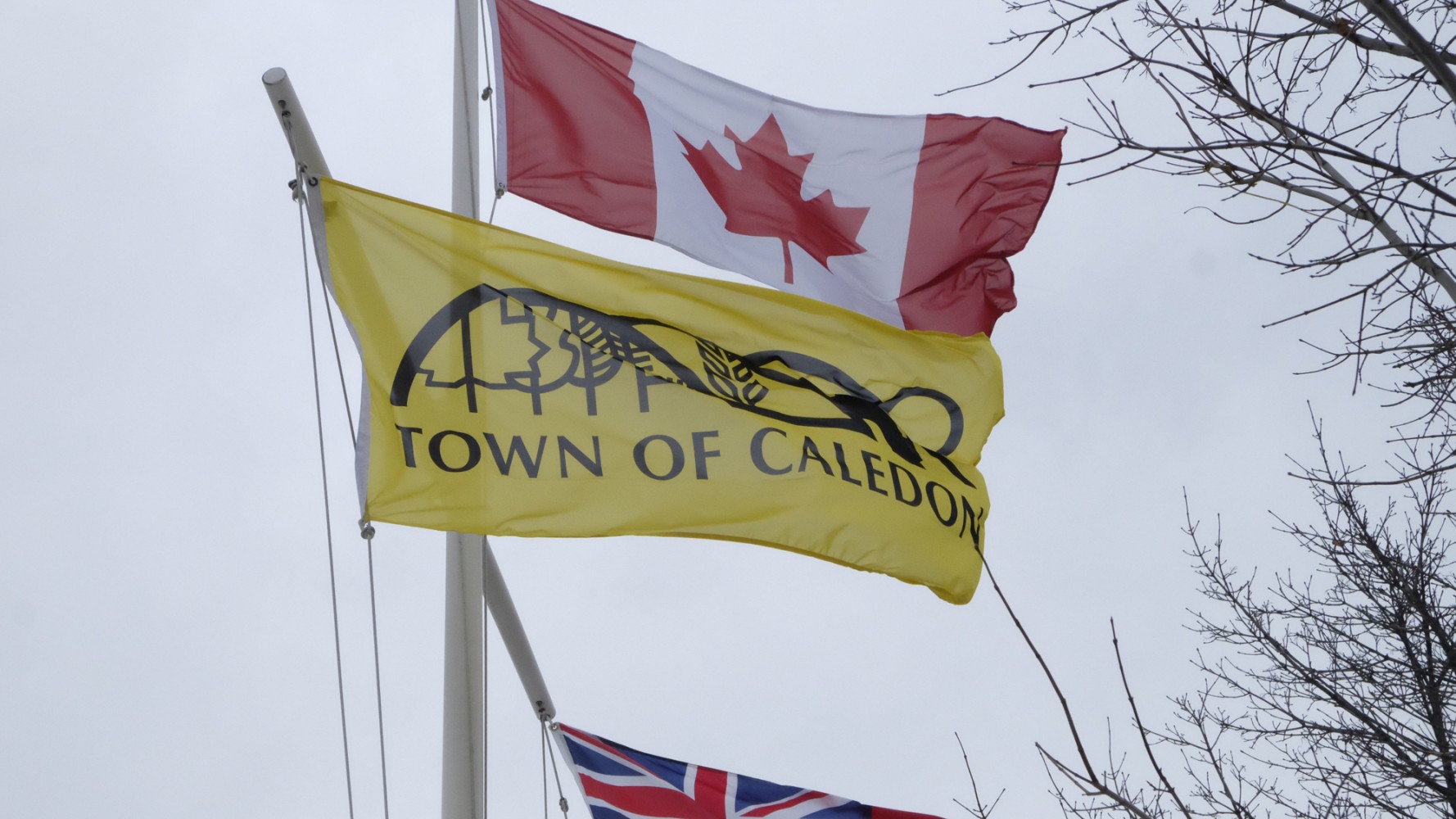 Feature image from The Pointer files
MZOs have turned urban planning into the wild west; Caledon adopts new rules to bring the public back into the process 
Patrick Brown counts Hazel McCallion as one of his political mentors. The former Mississauga mayor rode a populist wave of tax freezes for decades and is known for being one of the most formidable leaders in Canadian history.
"She has been [an] incredible public servant, an example to so many and a mentor, from whom I have learnt so much," Brown tweeted in 2021 when McCallion was appointed to the Order of Ontario.
She is famous and infamous for many things in Mississauga. One phrase is used time and again: "Do your homework". It was the title of an exhibition celebrating her legacy in 2017 and an accompanying short film.
It's advice Brown and his council has ignored.
Brampton City Council has approved a flood of Minister's Zoning Orders (MZO) over the past six months with no consultation and almost no research. An MZO effectively gives the Province a veto over the traditional planning process, expediting development projects, often without the participation of the public, typical studies to address issues such as traffic volumes or the inclusion of standard timelines to ensure the City can properly coordinate numerous moving parts.
Before the Progressive Conservatives came to power in 2018, it was a rarely used tool that was relied upon, on average, less than once per year in Ontario. Between March 2019 and 2021, the current government approved 44 MZOs, with a slew of new requests now waiting for a green light from Queen's Park.
Brampton's addiction to the tool came to an embarrassing crescendo in November.
Two consultants, representing an industrial bakery and retail giant Canadian Tire, presented to councillors to tell them Brampton had requested to rezone land they owned without even telling them. The consultants said an MZO request had endangered jobs in a provincially significant employment land that employs some 2,500 people.
"Is there a solution here?" Brown asked staff after the presentations, asking them to do his homework long after it was due.
New developments are supposed to go through a rigorous approval process. MZOs can shorten the process dramatically.
(Image from Isaac Callan/The Pointer)
The flood of MZO requests from the City of Brampton is part of a broader trend. The Toronto Regional Conservation Authority (TRCA) says it has received 48 MZO requests within its jurisdiction since the beginning of 2020. Peel is split between the Credit Valley Conservation Authority (CVC) and TRCA, meaning this figure does not capture all MZO requests in the region.
Ian Sinclair, a councillor in the Town of Caledon, says he has seen enough.
"I am becoming very uncomfortable with the very large pocket of developers showing up at Caledon demanding a public information [meeting] be held right away, but having already written down to the Minister of Municipal Affairs with their rezoning bylaw request," he said at a planning meeting last week. "It puts council on the back heel, [it puts] staff in a very difficult position."
He moved a motion to bring some rules and order to the chaotic rain of MZO requests. Sinclair's motion puts specific limits in place for future MZO requests received by the Town of Caledon. The motion, which passed at the meeting, demands a "complete and meaningful" public meeting for all MZO requests that includes comments from municipal staff and outside bodies like conservation authorities.
It also calls for a report from planning staff offering a recommendation about the project. Any MZO request will also have to conform with the Provincial Policy Statement, the Caledon Official Plan and the Region of Peel's planning outline. The motion requires a "clear and convincing statement justifying the extraordinary agency of a Minister's Zoning Order".
Currently, if an MZO request comes before council, there are no requirements for councillors to demand any further review or study from Town staff. This instead can leave them to rely solely on information from the developer.
The motion passed unanimously with an amendment that called for an ecological benefit from projects. It will only apply to Caledon, not other municipalities in Ontario. The Province has said it requires municipal support to pass an MZO on land it does not own, but technically landowners Caledon rejects in the future could bypass the process and go straight to Queen's Park with their MZO requests
The rules will apply when Caledon receives an MZO request from a developer.
Sinclair's motion is a significant change for Caledon. The Town has been a staunch supporter of the controversial GTA West Highway, which could spring swathes of undeveloped land for future construction. At its February 22 meeting, another request for a Minister's Zoning Order was received, this time from the Humber Station Village Landowners Group.
In July 2020, Caledon successfully ignored a decision by the Region of Peel and rammed through a Minister's Zoning Order to spring a subdivision in the south of the town.
Brampton Councillor Martin Medeiros recently admitted staff in his City were uncomfortable with the widespread use of MZOs. The City of Mississauga has introduced limited guidance around the Orders, stopping short of Caledon's motion.
Phil Pothen, Ontario environment program manager for non-profit Environmental Defence, believes Sinclair's motion is the first of its kind in Ontario. His organization has been campaigning for municipal councils to implement policies that strictly govern when MZOs are required.
"As long as we allow this issue to be framed as: are MZOs good? Or are MZOs bad? We're not going to get anywhere," he explained to The Pointer. If codified rules can be added to the process that guarantees the planning tool returns to its status as an exceptional measure, Pothen says good planning can prevail.
The director of Ryerson University's Centre for Urban Research and Land Development, David Amborski, shared a similar sentiment in the fall. "Have them set some criteria first for what they'll be considering," he said.
Some experts and environmental advocates have been calling for rules to govern MZOs.
(Image from Isaac Callan/The Pointer)
Ed Sajecki, Caledon's chief planner, was cautious about Sinclair's proposal. He said it would reduce council's ability to push through MZOs that do not fit within the rules (the stated aim of the motion). "There will be situations that may come up where you really want to pass an MZO and my only comment would be is we don't want to tie you up so that you're putting yourself in a position where you would have to kind of break your own rules," he said.
Sinclair's motion comes too late for some requests. It is also a significant change of course as Caledon has gleefully embraced MZO requests just months ago.
In October, Caledon council requested an MZO to spring a 2.2 million-square-foot warehouse in the Greenbelt for a developer, Tribal Partners. The project requires the realignment of a tributary of the Humber River and will back into woodlands and waterways nearby. Sinclair was the only councillor to vote against the request to expedite the warehouse project, moved by Caledon Mayor Allan Thompson. The MZO request from Tribal was approved with limited discussion and staff input.
"It's staggering to see what's going on here," he said at the time. "It looks to me as if Tribal has had a fine time writing their own ticket here."
In a February report, TRCA staff said the ad-hoc planning MZOs have created makes caring for the long-term health of the environment almost impossible. The report says the process limits opportunities to protect natural heritage and reduce threats like flooding.
Jennifer Innis, a Caledon councillor and the TRCA's chair, claimed during the push to fast-track the 2.2 million-square-foot warehouse that it would somehow benefit the environment. "In this site it was possible and it's been committed to… In fact, not only are they (the natural features) protected, they are enhanced. The environment will benefit from the work that will be done on this site," she said. It was a bold claim for a development project that will destroy wildlife habitat and farmland.
Caledon Councillor Christine Early, who also supported Sinclair's motion, took a different view. She welcomed the structure for MZO requests to guide town council moving forward.
"I think it's going to be a tool in our toolkit and I love the fact that he has put something on the floor that kind of has some defined parameters and defined criteria that's going to help future councils navigate through MZOs that might be inevitable," she said.
The tension around how MZOs should be used is part of a debate playing out across Ontario. A recently completed report by the Ontario Housing Affordability Task Force estimates the province needs an additional 1.5 million homes over the next decade. It says zoning rules must be relaxed in some areas and government hoops scaled back.
"Municipalities allow far more public consultation than is required, often using formats that make it hard for working people and families with young children to take part," the report says. "Too few technical decisions are delegated to municipal staff."
In the short term, developers and councils like Brampton or Caledon say they have used MZO requests to speed the process up and get projects online. It means councils are skirting the planning process instead of fixing it.
MZOs are just one planning conundrum councils are grappling with.
The Region of Halton recently voted not to expand its urban settlement boundary and maintain all development within areas it had already delegated. The move, which was campaigned for by groups pushing to end sprawl, forces development to take place largely in existing urban and suburban areas. It was seen by advocates as a victory for dense planning and public participation.
The controversial vote earlier this month, which passed 15 to nine, saw almost 60 delegations. Both sides cited climate change as a reason to either expand or maintain the urban boundary.
"Climate change is the big thing that they're worried about," Jane Fogal, a Town of Halton Hills councillor, said during the debate before the motion passed. "This is the moment in time when the leadership at the municipal level must step up to the plate. We have to do it. We've been granted a marvelous situation here where we've been over-designating land for the last 10 or 20 years and so we've got a stockpile [up] to 2041."
Halton Hills Mayor Rick Bonnette told The Pointer the move would stifle local job creation needed to create complete communities. "We do have some industrial lands along Steeles Avenue, but probably in the next 10 years it is going to dry up and then we are not going to have any more opportunities," he said. "One of the concerns people said [is] climate change and I get that, I support that … but to have jobs just 10 minutes from Georgetown is a lot better than having jobs in Brampton, Mississauga, Toronto."
The planning headaches facing municipal and provincial leaders in Ontario are complicated.
Balancing public engagement with the need for housing and pressure from developers is set against concerns about how to build density in existing neighbourhoods and keep enough space for employment lands that bring high-paying local jobs.
Pothen and Environmental Defence say motions that go as far as Sinclair's—or further—will help bring some order to the chaos. They admit there are some circumstances where an MZO can be necessary to enable projects like affordable housing; codified rules can help maximize those public benefits without creating a feeding frenzy for developers.
"We commend Councillor Sinclair on actually taking the initiative to set some standards which … have been completely absent," he said.
---
Email: [email protected]
Twitter: @isaaccallan
Tel: 647 561-4879
---
COVID-19 is impacting all Canadians. At a time when vital public information is needed by everyone, The Pointer has taken down our paywall on all stories relating to the pandemic and those of public interest to ensure every resident of Brampton and Mississauga has access to the facts. For those who are able, we encourage you to consider a subscription. This will help us report on important public interest issues the community needs to know about now more than ever. You can register for a 30-day free trial HERE. Thereafter, The Pointer will charge $10 a month and you can cancel any time right on the website. Thank you
Submit a correction about this story