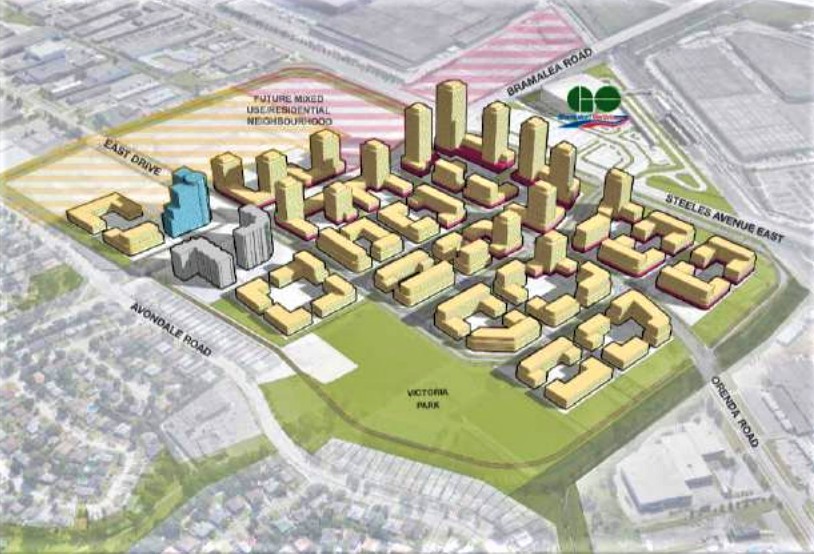 Feature image from Lark Investments
Brampton council rubber-stamped developer's request to circumvent local planning for massive project without even telling the landowners
"Let's unpack that for a moment: currently, this area is 99 acres, … [it] employs 2,500 people and is in a provincially significant employment zone. And yet, an MZO was requested by council to change the underlying land use permissions without consulting the industry, without compatibility studies and without the required language and agreements in place to protect the industry."
That was the incredulous reaction of an executive after finding out the property his company sits on had just been included in a giant development proposal that was rubber-stamped by Brampton City Council, which moved to have the Province approve the plan without any public consultation or use of the normally required local planning process.
Brampton Council is now dealing with the problems of its recent blitz to push major developments by shutting the public out of the legislated process intended to ensure residents ultimately control how the places where they live will be shaped in the future.
Between late September and mid-November, Brampton councillors sent seven requests for Minister's Zoning Orders (MZO) to the provincial government. An MZO effectively gives the Province a veto over the traditional planning process, expediting development projects, often without consultation, the participation of the public, typical studies to address issues such as traffic volumes or the inclusion of standard timelines to ensure the City can properly coordinate numerous moving parts.
Before the Progressive Conservatives came to power in 2018, it was a rarely used tool that was relied upon, on average, less than once per year. Between March 2019 and 2021, the current government approved 44 MZOs, with a slew of new requests now waiting for Queen's Park's green light.
One such request in Brampton, made in October for an entire planned community, might have backfired. The project, which could be as large as 12,500 residents, was rushed through without even consulting the landowners whose properties are required for the massive development proposed by one of the companies that owns land in the Bramalea area.
Brampton City Council has requested seven MZOs.
(Image from Scribble Maps)
On Wednesday, councillors heard from two of these landowners. Representatives for Canadian Tire and Choice Properties appeared at a virtual City Council meeting to say they had been completely blindsided by the MZO request. The move could negatively impact companies in an area that employs some 2,500 people.
"We spoke to our neighbours about the MZO," Joseph Beck, vice president of development and planning with Choice Properties, said to councillors. He's the executive who expressed shock after finding out what council had done, without even informing the landowners and businesses that would be profoundly impacted by the move to use an MZO to force a development proposal.
"We have now spoken to landowners and tenants that cover more than half of the area under the proposed MZO. We did not encounter a single landowner that was aware of the MZO prior to it being considered and did not find a single landowner that was supportive of the MZO in its current form."
Choice Properties owns land that would have to be rezoned if Brampton's October request for an MZO is approved by the Ontario PC government.
Weston Foods, which employs around 200 people, occupies the Choice Properties' land and recently invested $20 million into the site to expand and modernize its facilities. The industrial space is one of the largest bakeries in Canada.
Lawyer Neil Davis spoke on behalf of Canadian Tire, saying the corporation was completely in the dark about the MZO request, only becoming aware after the request was submitted. Canadian Tire now says it requires changes to the MZO to allow for its own future plans.
Weston Foods, a bakery, is one of the properties that will be impacted if an MZO is approved.
(Image from Google Maps)
The project that councillors pushed forward with an MZO request sent to Queen's Park in October is being branded as Emerald Heights. It has the potential to be the biggest development in Brampton's history.
The developer, Lark Investment Incorporated, owns approximately 15 hectares out of a 99-hectare area it suggests could be redeveloped. Other parcels are owned by groups including Canadian Tire, the Region of Peel and Choice Properties.
Lark has proposed an initial master plan of around 6,500 residents and 1,200 new jobs. It expects to host about 3,800 of those residents in the initial phase of the development on land it owns and anticipates that, at full build-out, the area will be home to 12,469 new Bramptonians, with more than 7,300 on the 15 hectares Lark already owns.
The project is at a similar scale to Lakeview Village in Mississauga. The mixed-use development will convert industrial land on the city's waterfront into a planned residential area and has been subject to dozens of hours of community debate that has spanned many years. The land was first bought by a developer in 2018 (plans pre-dated the sale) and shovels have not yet entered the ground on its first buildings.
Mississauga councillors have seen why projects like Lakeview Village have taken years to plan, with repeated consultations involving area residents to ensure the eventual development fits with community values and the type of environment local citizens want to live in.
In Brampton, baffled landowners have retained experts to present to council, requesting changes to a plan they were not informed about. Canadian Tire and Choice Properties both expressed concern that they knew nothing about the MZO request that could potentially impact their operations dramatically. They only found out about the move after it was confirmed by council that an MZO request for the giant development had been sent by the City to Queen's Park for final approval. It is a frustrating precedent for landowners who, rather than attending public engagement sessions through a normal planning process, are being forced to delegate at council meetings to request changes to a policy that has already left the station. Landowners would possibly have to take legal action if the Province greenlights a developer's proposal, in order to protect their interests.
Brampton municipal planning staff on Wednesday scrambled to create an amended request for an MZO that would capture the concerns of landowners in the impacted area. A spokesperson for the Ministry of Municipal Affairs and Housing told The Pointer no decision has yet been made by the Province on the initial request to circumvent the mandated local planning process.
The miscommunication, caused by a complete lack of consultation, was predictable.
When Brampton sent off the initial request in October, after less than four minutes of discussion, the City suggested the onus to consult with local stakeholders was on Queen's Park. "The Minister of Municipal Affairs and Housing reviews MZO requests and determines what technical issues are present and whether public consultation should occur in advance of a decision on the matter," a City spokesperson, at the time.
The Province refuted that suggestion.
"It is our expectation that municipalities have done their due diligence and have conducted proper consultation in their communities before any request for an MZO comes to the Minister for consideration," Conrad Spezowka, a spokesperson for the Ministry of Municipal Affairs and Housing, said, after Brampton Council approved the request to have the Province issue an MZO to spring the huge development proposal.
Under Ontario's Planning Act, it is the responsibility of the municipality to ensure all the proper stakeholders have been consulted before a development application is approved and must ensure "at least one public meeting is held for the purpose of giving the public an opportunity to make representations in respect of the current proposed plan." This public accountability requirement is completely removed from the MZO process.
The Province has said it expects cities to consult before asking for MZOs, something Brampton failed to do.
(Image from Isaac Callan/The Pointer)
Municipal planning staff and councillors are now left to clean up their own mess. Local business owners are directing their frustration at City Hall, the level of government that is supposed to be closest to the people.
As Beck pointed out to councillors, the MZO, if successful, would trigger the biggest development in Brampton's history on top of provincially significant employment land, without first consulting businesses in the area that would be directly impacted.
He told elected officials they and City staff failed to even ask businesses for permission to change current zoning designations for what the land can be used for.
In their initial request for an MZO, councillors deliberately circumvented the standard process normally used to address complex planning proposals. The motion, which was moved by Mayor Patrick Brown and seconded by Charmaine Williams and Pat Fortini, came during City Council after being referred out of the more appropriate Planning and Development Committee, which is set up to deal with specific issues around growth, land use and development.
The Emerald Heights proposal originally appeared on an October 18 Planning and Development agenda. During the meeting's agenda discussion, for which only eight of council's 11 members were present, it was immediately referred to the following council meeting without any discussion. At the council meeting that followed, on October 20, councillors once again gave the item no discussion before passing the request to have an MZO issued by the Province to green light the development.
"Canadian Tire was not aware that a portion of its lands were being included in the request until after the resolution was passed by council," Davis told councillors.
The retail giant plans to build a 1.3-million square foot "state-of-the-art" warehouse on its current lands, a move that will create around 900 jobs. Canadian Tire has now effectively been forced to tie its wagon to the MZO request, having to ask for all its lands to be included and rezoned to allow for its expansion plan to take place.
"Issues of compatibility that directly impact our operation were not even considered by the MZO," Beck said.
After the presentations by Beck and Davis, City staff were left to pick up the pieces.
Mayor Patrick Brown moved the MZO request originally.
(Image from The Pointer files)
"Is there a solution here?" Brown, the man who pushed for the MZO in the first place, asked staff. As the mover of the original motion, the mayor was essentially asking municipal staffers to bail him out after he failed to properly consider what he was doing.
"I think everyone's saying that they think this expedited planning tool is helpful," Brown added, despite hearing from landowners mere minutes before who explained how the process had omitted them from any consultation and tossed a wrench into their future plans.
Residents across Ontario, environmental groups and numerous municipalities have raised serious concerns over the way MZOs are being used by some developers, friendly politicians and the PC government, despite Brown's claim that "everyone" finds the use of MZOs "helpful".
Even Ontario Auditor General Bonnie Lysyk recently released a scathing report that is deeply critical about how MZOs are being used to subvert the mandated, publicly driven, local planning process.
It wasn't the first time Brown tried to mislead the public on MZOs. He previously claimed, wrongly, during a council meeting that the reason he and others were pushing so many MZO requests, which cut out the public, was because the Province had issued a deadline to get these asks to Queen's Park by the end of fall.
The Province confirmed Brown's claim was incorrect and no such deadline for MZO requests was ever issued by Queen's Park.
Two hours after Beck and Davis outlined the alarming lack of professionalism by Brown and other council members, staff returned with a motion for consideration.
It was passed and effectively replaced the October 20 MZO request to Queen's Park with additional clauses. The new motion referenced the need for current employment uses to remain, expanded the area to include around eight more acres of Canadian Tire's lands (almost a new MZO in itself for its warehouse plan) and asked Lark Investments (the developer) and the City to begin engagement with property owners.
The new request will now be sent to Queen's Park for consideration.
---
Email: [email protected]
Twitter: @isaaccallan
Tel: 647 561-4879
---
COVID-19 is impacting all Canadians. At a time when vital public information is needed by everyone, The Pointer has taken down our paywall on all stories relating to the pandemic and those of public interest to ensure every resident of Brampton and Mississauga has access to the facts. For those who are able, we encourage you to consider a subscription. This will help us report on important public interest issues the community needs to know about now more than ever. You can register for a 30-day free trial HERE. Thereafter, The Pointer will charge $10 a month and you can cancel any time right on the website. Thank you
Submit a correction about this story