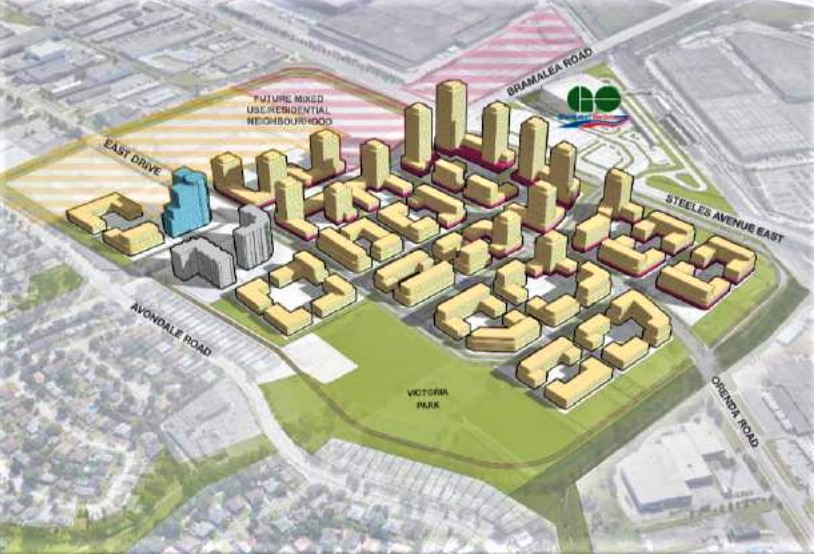 Feature image from Lark Investments
Brampton asks Queen's Park to skip public consultation on massive development & 12,500 new residents as MZO mockery continues
How do you feel about a new planned community in your backyard to house 12,500 residents next to Bramalea GO Station? And what about the construction of a new headquarter near Highway 50 where 800 employees will work?
Well, the City of Brampton's elected officials don't want to know.
Instead, Mayor Patrick Brown has rammed through a request for the Doug Ford PC government to hand out another Minister's Zoning Order—this time for the biggest project in Brampton's history—in what has become a complete butchering of the process around local planning to manage a city's own growth.
The public is being abusively sidelined by people like Brown and Ford who appear committed to taking control over such decision making away from the public and handing it to developers.
"They should have gone through planning. Where does an MZO fall in the rest of the council or committee process?" Councillor Jeff Bowman told The Pointer. "It belongs in planning with lots and lots of opportunity for public input. Something of that size, like Shoppers World, needs full public consultation because it's going to have lots of impact."
Bowman said without a full review of the developer's proposal, which should have come before the planning committee, it makes it very difficult to raise any questions about a plan that gets pushed through using a Minister's Zoning Order (MZO).
At Wednesday's Council meeting, Brown's brief comments about his motion to request the MZO didn't even include any mention of the actual project being proposed by a private company to undertake the massive construction venture. There was no recorded vote and the matter, to effectively create a new town within the city, was over in the blink of an eye.
The provincial government, under Ford's leadership, and City of Brampton, under Brown's leadership, are now claiming the other has the responsibility to use the MZO process properly without abusing the public trust.
Instead, the public is being left entirely out of the circular game being played by both governments, led by the past two PC Party leaders, known for their close relationships with developers.
"It is our expectation that municipalities have done their due diligence and have conducted proper consultation in their communities before any request for an MZO comes to the Minister for consideration," Conrad Spezowka, a spokesperson for the Ministry of Municipal Affairs and Housing, told The Pointer.
But the assertion that the City is responsible for a proper public consultation was contradicted by a Brampton spokesperson who said the Province has to ensure proper public participation. "The Minister of Municipal Affairs and Housing reviews MZO requests and determines what technical issues are present and whether public consultation should occur in advance of a decision on the matter," a City spokesperson said.
The previously obscure planning mechanism being used routinely by the Ford government is intended for extraordinary circumstances only, to override local authority over how residential and commercial development will shape communities. The special veto is supposed to be used in situations when a project has to be expedited due to compelling reasons, and where a long list of regulations and legislative controls has to be ignored due to severe time constraints.
Past governments have barely used MZOs and critics across Ontario are calling the Ford government's sudden change of course an abuse of the democratic process. Instead of public consultations and the ability to question a developer's application, to ensure conformity with community standards and relevant legislation, an MZO circumvents such due diligence, with unilateral authority taken over by the minister who grants the approval.
The Ford government has done so, in some cases, with little understanding of local impacts and concerns.
"This is an opportunity for us to enhance our supply." That was Brown's claim for justifying the MZO request, before he also claimed the current planning process has "created a housing crisis".
After Brown's brief statement calling for the MZOs, which lasted barely a minute, he asked, "Are there any comments". There were none, and his motion to cut out the public from a process that would usually take years and involve extensive community meetings to review the developer application and ensure responsible planning of new neighbourhoods, was passed before anyone watching could even understand what just happened.
Brown failed to explain why he does not want the normal, publicly-driven approval process used. He has established a track record of cutting out Brampton residents from crucial decision making, for example, his recent push to build a world-class cricket stadium in the city, with few details and almost no public input.
Brown's claim that the MZOs are needed because the current public planning process has "created a housing crisis" is a line the building industry has long used to justify what developers see as their right to control planning. Many Conservative politicians like Brown and Ford have supported developers seeking to act on their own, and since 2018, when the PCs were elected, MZOs have often allowed the private sector to dictate planning and growth, not the public.
The first request approved by Brampton Council Wednesday after no discussion took place on Brown's motion to trigger two MZOs, could allow an entire mixed-use community that, at full build-out, might house almost 12,500 new residents. The second is for a corporate headquarters within the study area of a planned provincial highway.
The first development is being branded as Emerald Heights — and has the potential to be the biggest development in Brampton's history.
The developer, Lark Investment Incorporated, owns around 15 hectares out of a 99-hectare area it suggests could be redeveloped. Other parcels are owned by groups including Canadian Tire, the Region of Peel and several numbered Ontario companies.
There is very little public information available about Lark Investment Inc. and a search by The Pointer did not find any websites associated with the company.
Lark has proposed an initial master plan of around 6,500 residents and 1,200 new jobs. It expects to host about 3,800 of those residents in the initial phase of the development on land it owns and anticipates that, at full build-out, the area will be home to 12,469 new Bramptonians, with more than 7,300 on the 15 hectares Lark already owns.
The site Lark has proposed could be transformed significantly.
(Image from Lark Investment Inc.)
The developer's lengthy letter to council is full of vague predictions and estimates. It has retained a series of experts to model factors that include traffic, required school spaces, population targets and issues caused by a railway line. The developer estimates that it could generate between $250 million and $450 million in development charges, a number that has not been assessed by municipal staff. Since the application is already landing on Minister of Municipal Affairs and Housing Steve Clark's desk, the studies mean the developer is being allowed to make its own claims to receive a building permit, a process that is supposed to be in the hands of experts with the municipality, under the scrutiny of the public and elected officials.
"As detailed in yesterday's motions, the MZOs would allow timely permissions to introduce important new investments into the City to assist in providing new residential, commercial and employment developments – supporting job creation and affordable housing options," a Brampton spokesperson told The Pointer.
The developer is pushing how its project would revolutionize the Bramalea GO area. The lands suggested are currently underutilized given their proximity to the Kitchener GO line, but at no point in its letter does Lark explain why it could not simply follow the established planning process.
"The proposal represents an opportunity to transform an area characterized by older low-density industrial buildings (many of which are obsolete) into a progressive and dynamic modern mixed-use residential and employment neighbourhood serviced by higher-order transit and numerous existing and proposed community services and facilities," the developer and its consultants wrote. "It is envisaged that the intersection of Steeles Avenue East and Bramalea Road, anchored by the Bramalea GO Station will serve as a gateway and activity node for the whole of the neighbourhood."
The fact its proposal is now going straight to the Province for approval, instead of the usual process that would see a proponent deal first with City staff and the planning committee before an extensive public consultation and council debate, represents a total subversion of the local planning process meant to protect community standards and responsible growth.
The project is at a similar scale to Lakeview Village and exceeds that of Brightwater, both in Mississauga. The two mixed-use developments will convert industrial land on the city's waterfront into planned residential areas and have been subject to dozens of hours of community debate that has spanned years.
Lakeview Village, in particular, has been part of a lengthy negotiation with residents about height and density. The land was first bought by a developer in 2018 (plans pre-dated the sale) and has still not received final approvals. If an MZO is accepted for Emerald Heights, none of these community conversations will have to take place.
Residents at a public information session about Lakeview Village in Mississauga.
(Image from The Pointer files)
MZOs are a tool in the Planning Act that effectively bypasses the local planning process. Where traditional development applications require multiple public meetings and a lengthy back-and-forth between cities and developers, applications that receive an MZO are fast-tracked through the process. This speed dramatically reduces local power over the application and eliminates the need for public consultation.
The second MZO request Brampton sent on Wednesday, which was walked onto the agenda with no public notice, is to build a corporate headquarters on land that is within the study area of both the GTA West Highway and Highway 427.
The federal government is currently considering the future of the proposed GTA West Highway through an impact assessment review, while the PCs have tied their reelection campaign to its future. The use of lands within its study area remains unclear and planning in the surrounding vicinity has largely been suspended pending a future decision by Ottawa. The land earmarked for an office headquarter is also within an area protected by the Toronto and Region Conservation Authority, suggesting it could be environmentally sensitive.
"This site, municipally known as 11176 Hwy 50, was not subject to a development application and there are no staff reports in association with the development proposal," Brampton admitted.
The second MZO request is for a building that is in the study area of two highway projects.
(Image from Blackthorn Development Corporation)
MZOs were rarely used until the current PC government was elected. Over the past few years, their usage has increased dramatically. Brampton has embraced them in 2021 with open arms.
Before it added two more requests to its shopping list on October 20, Brampton had already requested four MZOs from Queen's Park on September 29.
At the September meeting, three of the four requests were walked onto the agenda without public notice. Councillor Martin Medeiros, Chair of the Planning Committee, added three letters asking for MZOs after the meeting had begun. "I know that is time-sensitive," Brown said, as the items were added to the agenda. The four separate requests were all dealt with together under one motion and Medeiros said the tool was "strategic".
Councillors discussed the four September MZOs with knowledge of the plans. Multiple local officials detailed aspects of the applications and raised various nuanced points, suggesting they had been discussed extensively behind the scenes. The public was not even afforded the time to read three of the four MZO request letters until the meeting had concluded.
The September motion was subject to a recorded vote and passed unanimously.
Councillors have not discussed MZOs at the Planning and Development meeting, electing to bring them straight to council instead.
(Screenshot)
It follows a move by Caledon last week to push through an MZO request for a giant 2.2 million-square-foot warehouse that would encroach into the Greenbelt. Mississauga recently received an MZO to build a film studio near Hurontario Street, the route of its future LRT.
"On October 5, 2021, the Ministry of Municipal Affairs and Housing received four requests from the City of Brampton, which include supportive resolutions from City Council," Spezowka, the Ministry of Municipal Affairs and Housing spokesperson, told The Pointer.
The role local councillors play in this process is key. Despite its aggressive use of MZOs, the current government has repeatedly pledged to only grant Orders that are supported by local council motions. Motions agreeing to MZO requests from local councillors sign away their residents' rights.
In Peel, 2021 is turning into a developer's dream.
In theory, MZOs should only be used in specific scenarios. They are designed to break applications stuck in years of log jams or potentially push forward urgent provincial priorities. Simply increasing the housing stock is not generally considered to be an urgent priority as that is something almost all development applications provide. Because they cut local residents entirety out of the local planning process, they are a controversial tool.
The claim by Brown and the development industry, that current planning is responsible for the housing crisis, is not backed up by facts and critics have detailed how builders often work with elected officials to help maximize their profits, often by skirting local planning protections that fight against excessive heights, a lack of density, poor allotment of land for greenspaces, unmanageable traffic volumes, lack of integration with public transit, environmental damage including negative impacts on air quality, and a host of other issues that require proper planning oversight.
Brown, who moved the motions to ram both requests through on Wednesday, suggested they would help alleviate the City's housing crisis. "This is an opportunity to enhance our supply, we've got a supply shortage and the planning process has created a housing crisis," he said. "It's also an opportunity to expedite some economic initiatives."
By this logic, every planning application could go through the MZO process. Every new project brings the benefit of some jobs or new housing units and the local planning process exists not to block this potential but to allow local residents to voice their views and ensure community standards are met.
Mayor Patrick Brown speaking in support of two new MZOs on Wednesday.
(Image screenshot)
The requests sent to Queen's Park fulfill none of the criteria traditionally associated with an MZO. The two letters to council from the developers behind the latest MZO requests do not even attempt to make an argument about why the applications could not go through the standard local planning process.
"We are requesting Council's consideration for a resolution endorsing and supporting a Minister's Zoning Order ('MZO') for the implementation of our Client's vision, which will serve to deliver considerable benefits to the City of Brampton, the existing surrounding communities, and the Region of Peel," the team behind Emerald Heights, an entire mixed-use community at Bramalea GO station, wrote in a 128-page lobbying letter to council.
The letter did not specify why there was any urgency to rush the enormous application, one that would completely transform the landscape of the Bramalea area.
The request from Blackthorn Development Corporation to build a head office for Rafat General Contractor also made no tangible argument for the unusual rush. It would "generate 200 new skilled jobs and preserve 600 existing skilled jobs within the City and Region", one line of the brief letter said.
As the City explained, this request has not even gone through a preliminary planning application.
Not only does Brampton's most recent request for two MZOs mean the public will be locked out if Queen's Park approves, but the manner the motions were introduced also eliminated public consultation. If the Province does grant the two most recent requests, Brampton will see two major projects built and approved without one iota of public input.
Emerald Heights is an entire planned community.
(Image from Lark Investments Inc.)
The MZO to develop Emerald Heights originally appeared on an October 18 Planning and Development meeting agenda. During the meeting's agenda discussion, for which only eight of council's 11 members were present, it was immediately referred to the following council meeting. The move meant the request did not receive discussion during the planning meeting and was primed to glide through an inattentive council.
At the council meeting that followed, on October 20, councillors gave the item no discussion.
Brown went one step further, walking on an additional MZO request from Blackthorn Development Corporation after the meeting had started. It was the same move used in September to walk three MZOs onto the meeting, a blatant violation of the rules by the mayor who should know that proper advance notice to ensure full public input and informed council debate is required.
Information about the request was not included on the original or revised agendas for council, only available for the public to view after a decision had been made and the request was sent to the Province.
The entire speech, vote and approval lasted less than four minutes.
"Anyone opposed to these motions? Hearing none, the motions carry," Brown said, as council shut down local representation and shipped the approval request for the largest project in the city's history off to Queen's Park.
---
Email: [email protected]
Twitter: @isaaccallan
Tel: 647 561-4879
---
COVID-19 is impacting all Canadians. At a time when vital public information is needed by everyone, The Pointer has taken down our paywall on all stories relating to the pandemic and those of public interest to ensure every resident of Brampton and Mississauga has access to the facts. For those who are able, we encourage you to consider a subscription. This will help us report on important public interest issues the community needs to know about now more than ever. You can register for a 30-day free trial HERE. Thereafter, The Pointer will charge $10 a month and you can cancel any time right on the website. Thank you
Submit a correction about this story