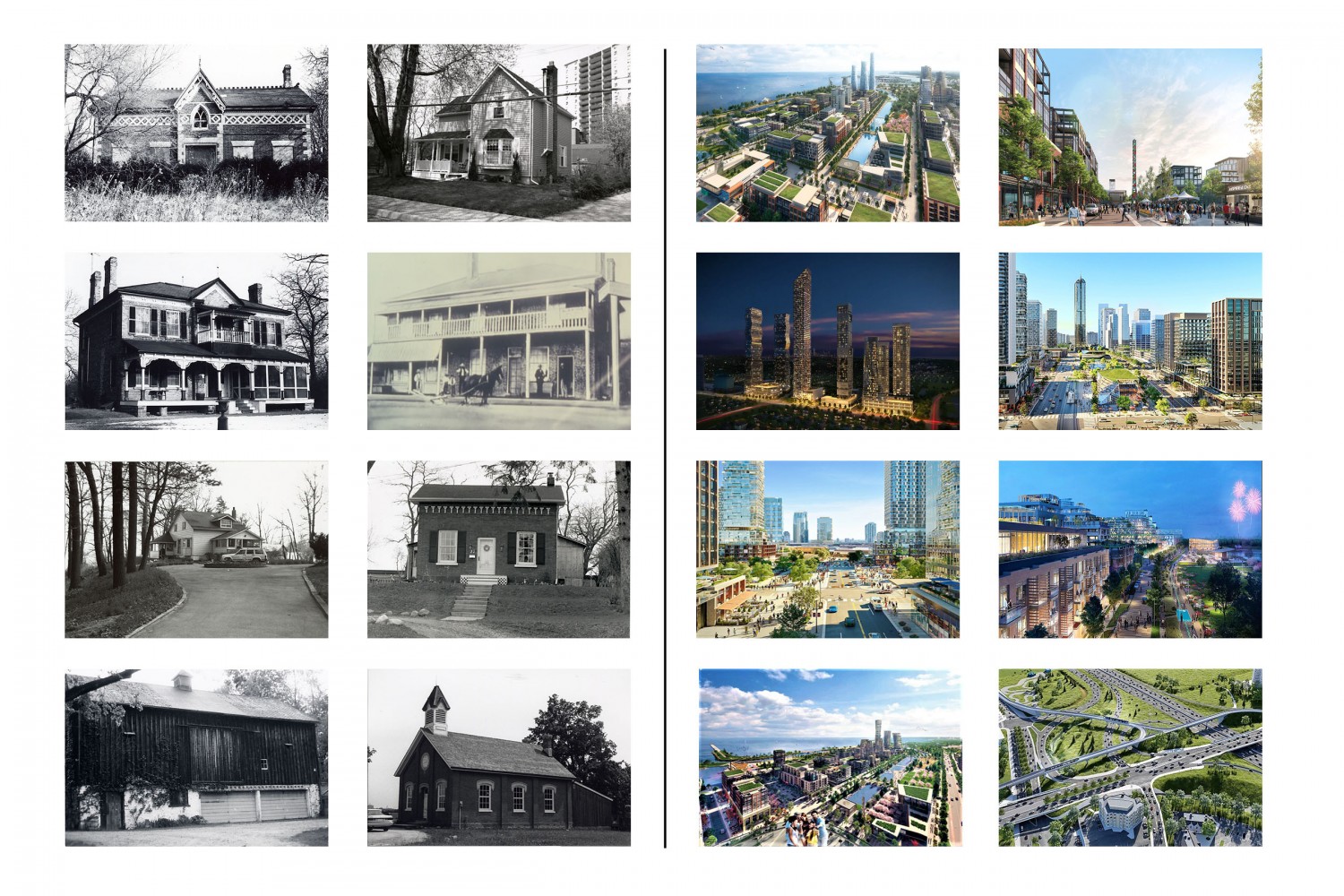 Feature images from Heritage Mississauga/City of Mississauga
Preserving rich heritage in Mississauga's growing metropolis 
"Heritage preservation is not always about the preservation of the building as much as it is about managing change."
Exploring and preserving Mississauga's oldest features is something Matthew Wilkinson lives by. As a historian with Heritage Mississauga and a citizen member of the Heritage Advisory Committee (HAC), he's accepted how quickly the young city is changing.
A Mississauga historian with extensive knowledge in the history of development, Wilkinson has watched the city sprawl outwards to the point where now, there is nowhere left to grow but inside existing neighbourhoods. sees the city entering an era he calls the infill stage. This type of infill development takes land occupied by an older house, structure or a vacant parcel from past industrial warehouses and reuses it.
The Brightwater development — a project by the West Village Partners (Kilmer Group, Dream Unlimited, Diamond Corp. and FRAM + Slokker) — at the base of Mississauga Road and Lakeshore Road West is an example of an infill development. The site was previously an oil refinery and brick yard, both industries producing toxic waste which seeped into the ground. A decommissioning and remediation process was the first step to create the mixed use development. As the expensive land cleaning continues, the West Village Partners have an ambitious vision of what the old industrial sight could soon become.
The top image shows the site of the L.B Lloyd oil refinery in 1935. By 1937 the land was purchased by Goodrich Oil. The second photo shows the developers plans for the land.
(Heritage Mississauga and Brightwater)
Infill can also look like the demolition of an older house on a large property being divided in two. Typically the oldest neighborhoods in Mississauga—Clarkson, Streetsville, Meadowvale—have larger lots, a perfect opportunity for developers creating mixed use projects or multi unit homes.
In July 2021, HAC approved the demolition of a large single detached home at 1470 Pinetree Crescent in the neighbourhood of Mineola. According to the impact assessment, the five bedroom, four bath, 1965 bungalow was in good condition, but the owner was looking to sever the large lot in half, requiring the existing building to be demolished.
"Lots are severed for two main reasons, a high demand for lots in a desirable neighbourhood and financial gain," the report reads. "As a corner lot, this property is ideal for severance."
While subdivided properties aid the city in growing its housing supply and creating denser, walkable communities, it also can chip away at the little heritage Mississauga has left. Mineola is recognized as having a significant cultural landscape, meaning developers need to be cautious of the mature tree cover, sidewalk free roads and homes set back from the street. The property is just off Stavebank Road, an important road in the City's history.
Heritage Mississauga explains Stavebank is a "Given Road," meaning it was used as a transportation route around the Credit River, which runs parallel to it. The road was named after "staves"—small wooden planks sold by farmers when the valley of the river opened for development in the 1840s.
"The road gets its name from the piles of staves that would stack up in the winter months along the east and west banks," the Heritage Mississauga website reads. "One can imagine that the name for the road was in use long before it was formally adopted."
When judging applications that impact heritage properties, HAC has to be certain the proposed development honours the mature trees and large lots, and don't take away from the centuries of history. When severed lot proposals come to HAC, Wilkinson says mitigating changes to the landscape, but allowing for new growth is the delicate balancing act.
"Knowing that is likely to happen, how can we manage it as best we can to create a livable city where heritage is respected and retained, but doesn't arrest the process of change," he said.
Natural features are slowly disappearing in Mississauga, due to fast urbanization. Mature trees are threatened by the increasing heat, invasive species and the impacts of human activity. An element of preserving heritage landscapes is looking at the site with an environmental mindset.
"It's not all about crushing it as best you can," Wilkinson said. "Let's be respectful and understand what this landscape can take, not what the site can take."
Sometimes the designation of a heritage building or landscape can be misconstrued as a way to slow development, which is not the goal. For Wilkinson and members of HAC, their job is to make sure the important history stays present while creating "connected citizens" —residents with a deep involvement with the place they reside.
"This concept of rootedness," he says. "Creating roots in a community and those roots often need commonalities and places to attach — and heritage can provide those."
In a city as fastly evolving and expanding as Mississauga, staying connected to the place can be difficult, especially as the area is constantly changing with new developments. Think of Clarkson, the oldest neighbourhood in the city.
In 1806, just as Treaty 13A was signed between the British Crown and the Mississaugas of the Credit, Clarkson Corners welcomed the immigrants from overseas who quickly erected homes mirroring their settlements from back home. Warren Clarkson arrived in 1808 at the age of 15 and later built a house and farm, which according to Heritage Mississauga is still standing.
"In its heyday, Clarkson was known as the 'Strawberry Capital of Canada', and Strawberry Socials were a focal point of life in the early community," a report from Heritage Mississauga reads.
Despite the rich stories, Clarkson has changed drastically since the the early 1800s, now representing one of Mississauga's wealthiest communities. The once graveled roads and forests now house multimillion dollar mansions, tucked securely behind passcode-locked gates. Instead of chastising change, Wilkinson says honouring and balancing it with heritage is the key to building a vibrant community.
One simple way of doing this is by restoring heritage buildings and creating a purpose for them, whether it be for businesses or homes.
"An empty heritage home does no one any good," Wilkinson states. "The buildings are meant to have a purpose, [but] purposes can change."
The concept is called adaptive reuse, where builders do their best to preserve what they can of the heritage structure and blend it into a new development. A 2020 paper by Western University urban development researcher Marcello Vecchio discusses how Ontario's changing economy has forced many municipalities to deal with the question of how to preserve pieces of the industrial past.
Similar to other Southern Ontario cities, Mississauga's history and economy started with the Industrial Revolution in the mid 1800s. Canada, rich with natural resources like freshwater, became home to industrial sites like oil refineries, manufacturing plants and mines. The working class people employed in these jobs lived nearby building the foundations of the residential areas seen today.
Mississauga's industrial sites lined Lake Ontario, not only cutting off residents from what of the most valuable natural features of the area, but polluting the land underneath them and air they breathed. With the rise of technology came new employment opportunities and education, slowly changing the perception of land and how to use it.
"Now these often derelict and costly structures sit as an eyesore in many communities which experience symptoms of post-industrialism," the paper by Vecchio states.
Vacant land previously home to industrial sites is one way Mississauga has been redeveloping the waterfront communities of Port Credit and Lakeview, bringing nature and residents together. The lack of land places pressure on Mississauga older historic lots. But with a new mindset for infill properties, instead of destroying the older architecture, HAC attempts to draw a line between which buildings or landscapes to advise council to save and which do not add value to history and can be better used for today.
"The idea is never to use heritage as a roadblock, that is disingenuous," Wilkinson says. "It's always our intent to say, 'what, if this merits protection, let's see how we can augment your plan to include the preservation of this building in some fashion, or landscape elements.'"
Restoring the building to its original glory can be a benefit to both the community and developers who have a unique property. Historically, these buildings are farm style homes or barns, and can be refurbished to house multiple units.
Some buildings going through HAC are beyond repair. The committee can then decide the land would be better used for a new development. Alexander Hardy, a citizen member with HAC, says context of the building's location, its history and the proposed project need to be clear when requesting to demolish a structure of interest inside Mississauga.
HAC's team of council members and citizens have an important role in balancing heritage and growth. But when an element is too important to alter or remove, the committee has means to ensure the piece of heritage is preserved for future generations.
The first step is adding the building or natural feature to the Municipal Heritage Register, which flags the property as significant before any development, repair or demolition can occur. According to a 2021 report by City staff there are approximately 1,400 sites listed in Mississauga.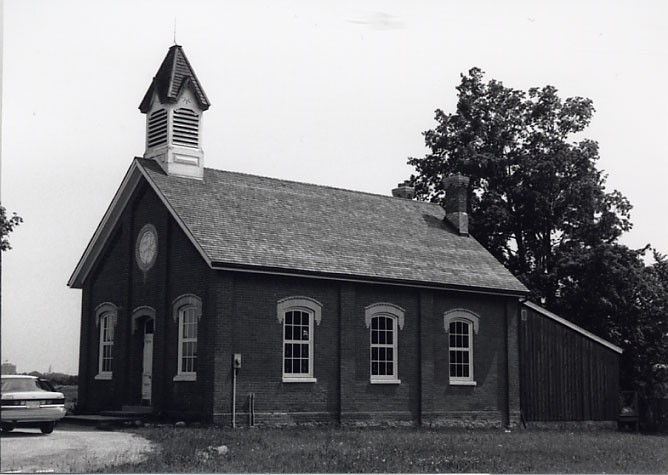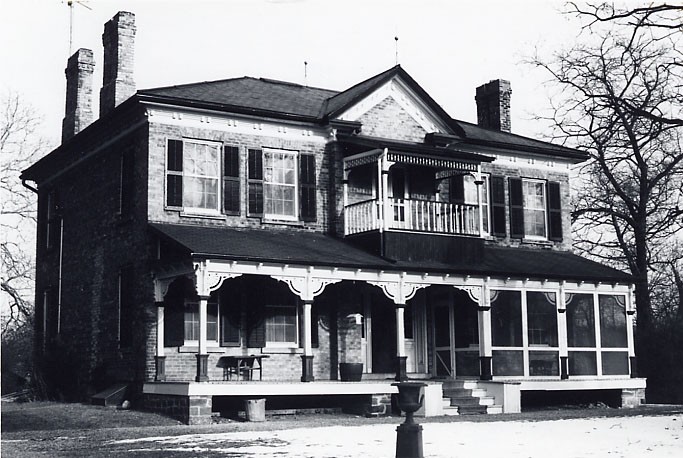 Pieces of history are scattered around Mississauga.
(Heritage Mississauga)
If a listed building is brought before HAC it is accompanied by a lengthy Heritage Impact Assessment, providing details on the construction, history and features of the building. From there the committee can decide to advise council to designate the property on the Ontario Heritage Act. This process means the building is protected from being altered drastically or demolished.
"We have some volunteers that also do research on existing heritage portfolios, researching properties that aren't even listed yet seeing if it's worth bringing them onto the heritage registry, [or] if they should be designated," Hardy said.
Mississauga has approximately 300 designated heritage sites, in comparison Toronto has more than 4,500. Some of Mississauga's more well known sites include the Britannia Schoolhouse off Hurontario Street, the Benares Historic House and Bradley House in Clarkson. Even though Mississauga's roots can be traced back to the early 1800s, its inception as a City only happened in 1974, making it relatively new compared to Toronto.
Last year, HAC provided context and opinions on two properties which Council adopted motions to designate under the Ontario Heritage Act: 60 Cumberland Drive and 3611 Mavis Road, home to Metalworks Studio.
For the home sitting at 60 Cumberland Drive, the significant architecture is what got it protected. According to the impact assessment it is a "rare surviving" piece of international style built in 1942.
International style mostly consists of dark brick buildings giving off a medieval feel due to the concrete and steel features. It was popularized in the 1920s and the home at 60 Cumberland Drive is the only one of its kind in Mississauga.
The house at 60 Cumberland Drive sits on the shores of Lake Ontario in Port Credit.
(Heritage Advisory Committee)
HAC also works to preserve sites that have cultural significance to the City. Metalworks Studio located at 3611 Mavis Road in the heart of Mississauga sits in an ordinary brick building. There seems to be nothing of significance to the drab exterior, but in this case, it's what is on the inside that counts.
HAC and Council designated the property because of its successes as a recording studio, used by a number of popular artists, including Prince, Tina Turner, Katy Perry, Justin Bieber, Tom Cochrane, Shawn Mendes and more. The studio has earned more than 200 gold and platinum awards and has been recognized as Recording Studio of the Year, 17 times.
"The studio is a cultural landmark and has a high degree of prestige within the music industry," a staff report reads. "Therefore, the property has associative value as it is home to the studio."
Another way to incentivize the protection of heritage structures is with monetary compensation to restore the building. Mississauga, like most cities, offers grants to owners of designated heritage buildings ranging from $500 to $25,000. Last year, staff allocated $115,000 in grant money towards 19 different properties.
The grants were successful enough that heritage staff requested an additional $40,000 from the Arts Reserve to address the demand, spending the entire grants budget of $75,000 in 2021.
History should also be kept in mind for the future. The builders of today should be mindful that they are building the heritage buildings of tomorrow.
"In today's construction, how do we keep it at a really high quality level where future generations will be proud of today's decisions," he said.
---
Email: [email protected]
Twitter: @taasha__15
---
COVID-19 is impacting all Canadians. At a time when vital public information is needed by everyone, The Pointer has taken down our paywall on all stories relating to the pandemic and those of public interest to ensure every resident of Brampton and Mississauga has access to the facts. For those who are able, we encourage you to consider a subscription. This will help us report on important public interest issues the community needs to know about now more than ever. You can register for a 30-day free trial HERE. Thereafter, The Pointer will charge $10 a month and you can cancel any time right on the website. Thank you
Submit a correction about this story