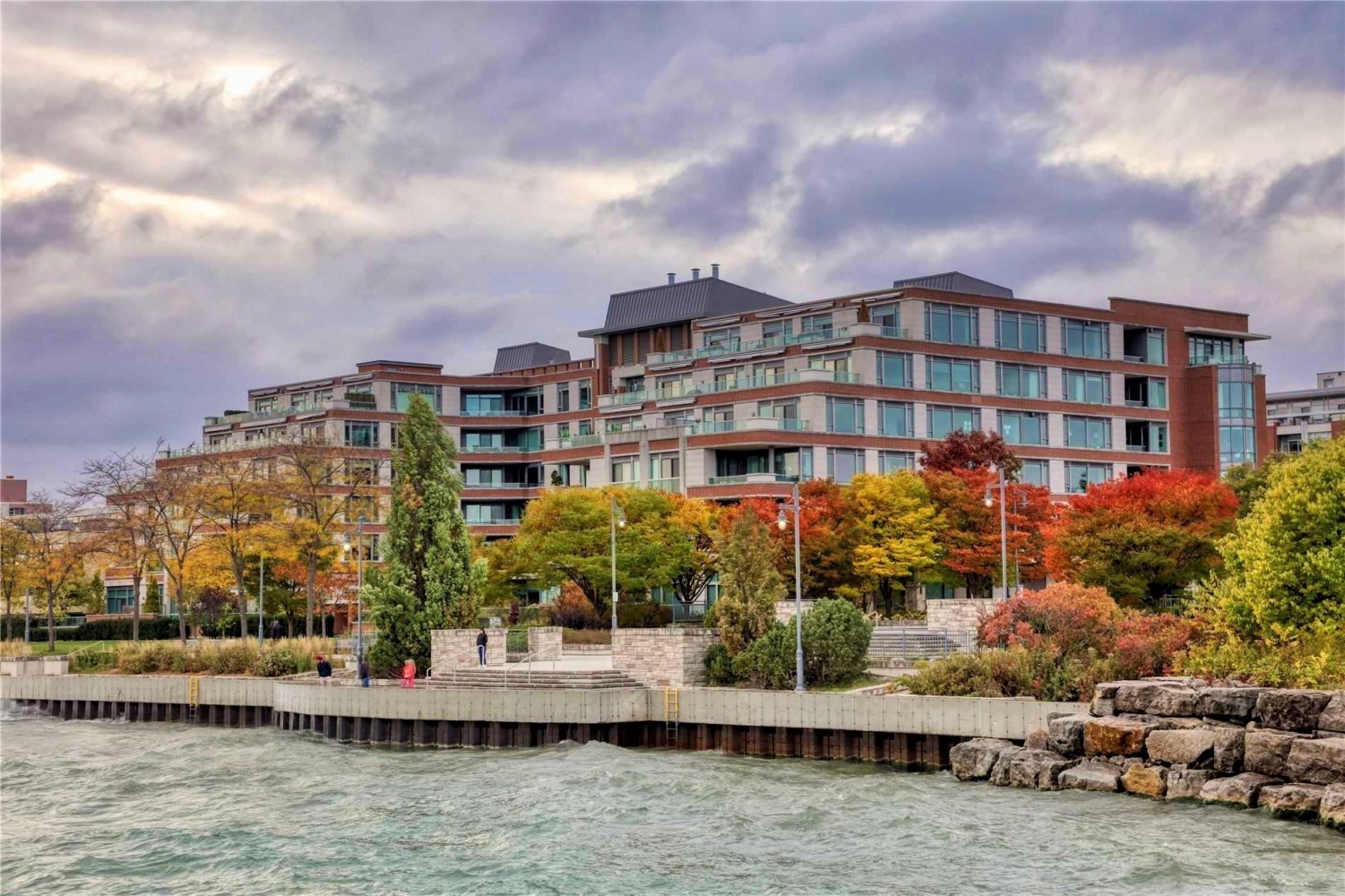 The Pointer file photos/Brightwater/Heritage Mississauga
The team that recreated Port Credit talks about their plans for Brightwater
In James Hillman's book, The Soul's Code: In Search of Character and Calling, he says society has been wrongly shaped by material striving. Instead, we should be chasing loftier ideals, like fulfilling our destiny.
Nowhere is this longing to dance with destiny more apparent than in the 'immigrant experience'. Those who left one country to begin life in another, often faced great challenges, beginning with economic barriers, then acceptance by a sometimes indifferent host culture.
But nothing can stop an immigrant fueled by a powerful work ethic, a belief in self, an off-the-charts skill set, and an arrival on the scene that is perfectly timed.
That's why one of the last chapters to be written on the business history of Mississauga actually began in 1957 when Giovanni Giannone left his small town in southern Italy and emigrated to Canada, starting his own masonry firm.
In 1981, during the height of the building boom in southern Ontario, he created FRAM Building Group, named after his four children: Frank, Ralph, Antoinette and Mariana. The FRAM founder came from good stock, a third-generation general contractor. He soon passed on this vision to his children. Under his son Frank's leadership, assisted by his talented brother Ralph, an architect, they parlayed the Giannone family credo of "old-world craftsmanship" with some new-world craftiness, and in 1998, jumped at the opportunity to purchase the old brownfield lands on the St. Lawrence Starch site (Hurontario and Lakeshore).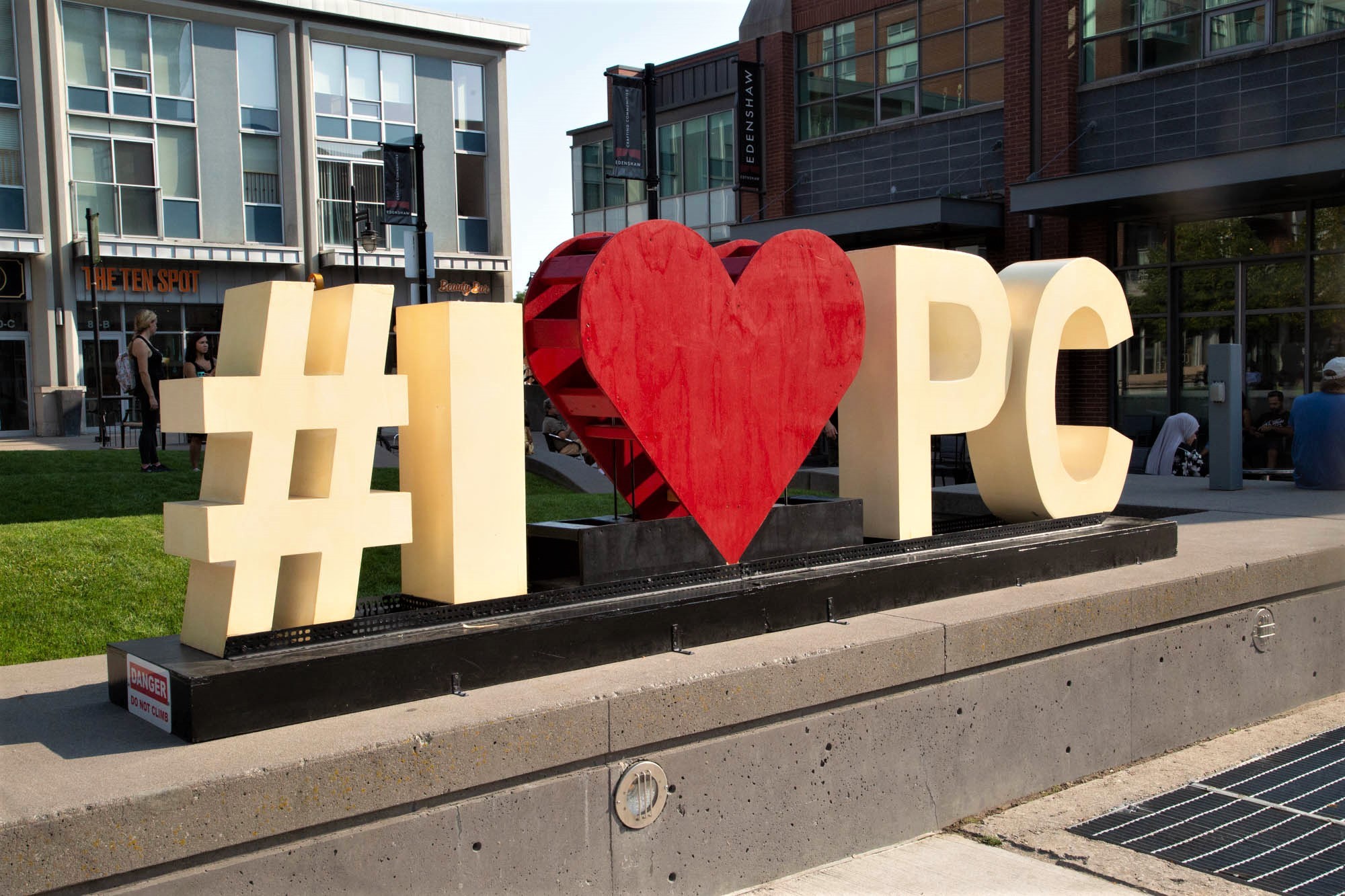 Much of Port Credit Village was redeveloped by FRAM+Slokker over the last two decades.
A series of events had unfolded and seemed aligned to see Port Credit meet its destiny, after the St. Lawrence Starch Company stopped operations and demolished its factory buildings in 1990, to reduce its burdensome property tax payments.
It decided to pivot and develop the giant footprint the industrial-era brick buildings had stood on since long before Mississauga was formed.
The city was just starting to experiment with density after three decades of sprawling suburban growth and the company hired a Vancouver-based consulting team to design a high-rise concept that would house 2,500 units.
But St. Lawrence Starch had no experience in development and when city councillors fearful of local residents who didn't like the idea, demanded more singe-family housing and surrounding parks, the entire project was mired in a five-year struggle.
In 1997, the old Ontario Municipal Board decided that 510 residential units should be built on the site under a partnership between the company, the City and local ratepayer groups.
The St. Lawrence Starch Company, not interested in a process it clearly wasn't experienced with, decided to sell and 18 prospective buyers were narrowed to four, then one.
FRAM+Slokker took over the property in June 1998. A sign was hung on the site and more than 1,000 calls were received in less than four weeks from people who wanted to purchase a home on the shores of Lake Ontario.
But FRAM+Slokker wanted to understand as much as it could about the history of the area, the people and the direction Mississauga needed to move in. Twelve-hundred 20-page surveys were sent out and a popular local restaurant was told each diner who filled one would receive a $25-gift certificate.
Five-hundred responses were collected and FRAM poured over the answers, following up with seven focus groups (mostly for those who replied and some local real estate agents). Likely buyers included affluent empty nesters, snowbirds and cottage owners who usually spent winters elsewhere.
FRAM+Slokker decided Port Credit's destiny was to become a complete community on the lakefront, with full public access to the water and plenty of amenities within walking distance for visitors of all stripes and ages.
Rather than building private properties right down to the shoreline, the village would be more valued, culturally and socially, if everyone had access to the water.
A gradual, human scale urban design with mixed-size residential spaces and configurations was the plan, one that would attract broad interest from buyers, tourists and daily visitors to Port Credit Village.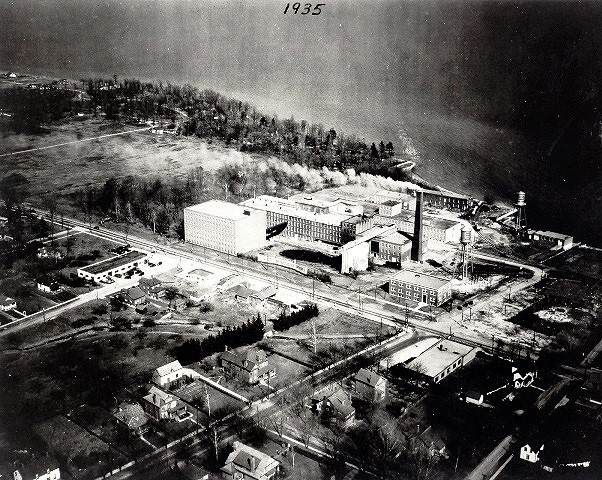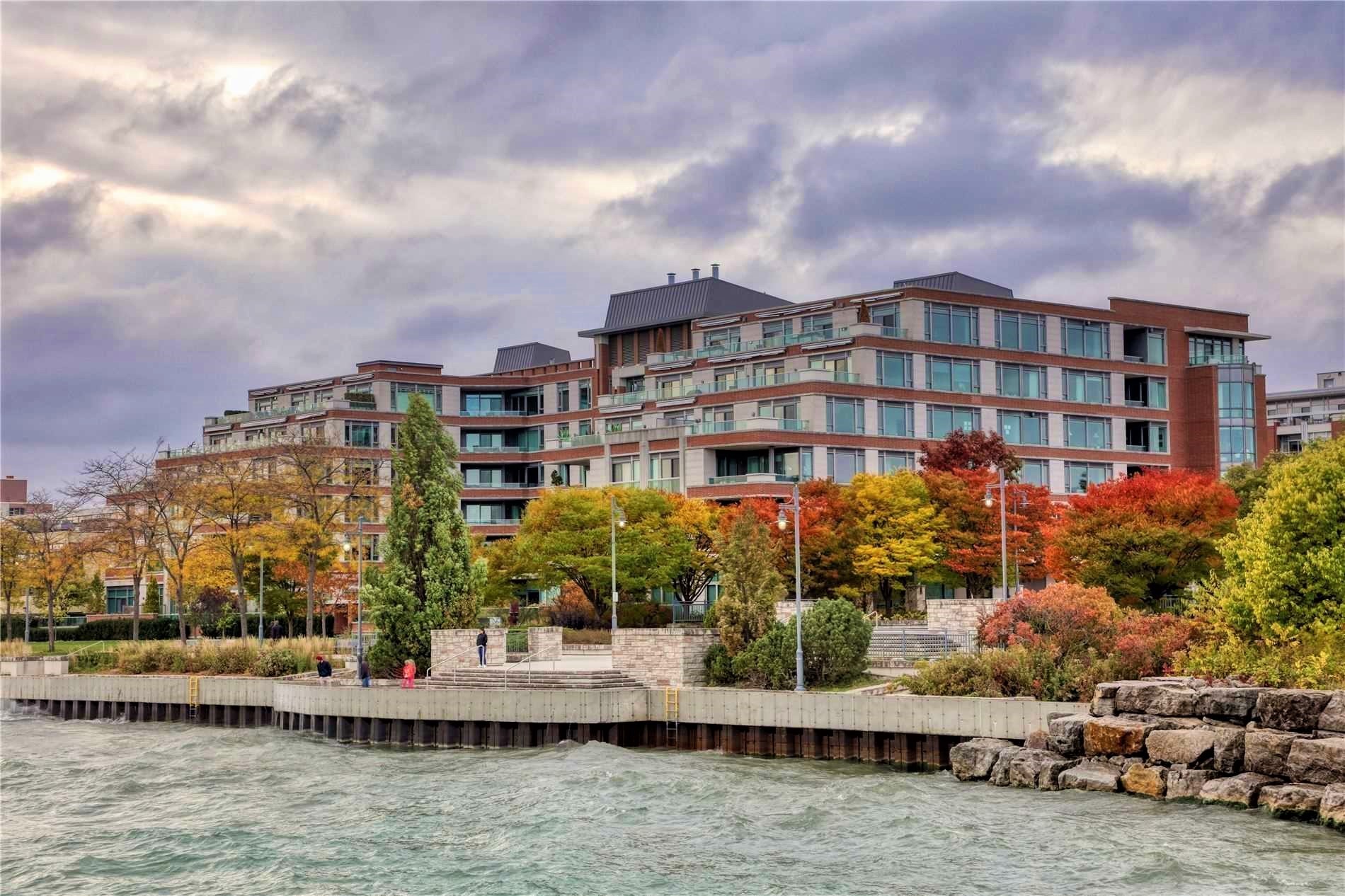 FRAM+Slokker turned the old St. Lawrence Starch factory, top, into the Port Credit Village, bottom.
It has been a massive success.
Opportunity only needed to knock once for a Giannone to accept the huge challenge like remediating the despoiled land, and then turning it into a tony residential/commercial development. In the ensuing years, it helped remake Port Credit.
The soul code that drove the Giannones recognized the power in building complete communities along transit lines, enhanced by the principles of "placemaking". For some added spice, they built unique work/life units as well. The Starch lands infill project was artful, and an instant draw, with long-term city-building benefits.
They answered the key question: could developers win back a degraded lakefront property and bring a human vibe back to the streets? When FRAM purchased the St. Lawrence Starch property in 1998, and partnered with Slokker Real Estate in 1999, the site needed almost $5 million in remediation (a full depth clean up) before work on its residential/commercial development could even begin. In 2019, Frank Giannone accepted the Lifetime Achievement Award from Ontario Home Building Association during the President's Gala at OHBA's 2019 Annual Conference.
In his acceptance speech, he talked about "the importance of my family's support," and recalled his early memories of following his father around his building sites, with his Tonka toys in tow. He also chatted about his four children, and how they showed keen interest in the family business.
One of them is Christina, a mother of a four-year old daughter and six-year-old son. She is now vice-president, planning and development with Port Credit West Village Partners (Brightwater). With an undergrad degree in commerce from the University of Toronto and an MBA from the Schulich School, she is experienced in high-and-mid-rise, mixed-use developments, brownfield reclamation, large-scale multi-phased communities, transit oriented developments, luxury condominiums, revitalization of affordable housing and seniors' lifestyle.
The FRAM + Slokker team is part of the all-star lineup of builders, which includes the Kilmer Group, Diamondcorp, and Dream Unlimited, now set to recreate what Port Credit Village has achieved on the east side of the river. On the opposite side, Brightwater will rise on the site where the old Texaco (and later Imperial Oil) refinery stood for decades. The group hopes it might even surpass the success of its sister development on the other side of the Credit.
Christina revels in her lineage and loves the symmetry that exists between redoing the old St. Lawrence Starch lands and the old Imperial Oil site at Mississauga Road and Lakeshore. She chuckles when recalling that her grandfather, now 90, and living in Mississauga, is often a visitor to the 72-acre site, offering his sage advice. This proud patriarch might live long enough to see another generation of builder emerge from this fruitful family. Christina's son loves bringing his own toys to the site, and seems smitten by the process, and the model village on site. His mother said the "cool" thing about Brightwater is that it is a "legacy project" that will be there for her children and future generations in Mississauga.
Christina was pregnant with her daughter when FRAM + Slokker joined with their partners to take on this giant $2 billion (estimate) project, which has spent upwards of $40 million to remediate the tainted lakefront land, according to a source. She will be a teenager when the project is fully completed and added to the growing inventory of game-changing projects along the city's lakefront.
The Port Credit West Village Partners revitalization will create homes for 7,000 new residents, with 2,995 condo and rental units, 300,000-square-feet of commercial and office space and other components, along with a new 10-acre Waterfront Park. This is the new western extension of the Port Credit community. For the first time in over 100 years, this former brickyard and then refinery, will not be a playpen for dirty industry.
Christina was raised in Port Credit, went to Lorne Park High School, and is now one of the key executives with Brightwater. Last week, she talked to The Pointer about her upbringing and family influences, and the joys of remediating a site into a livable and eco-friendly village for families. The project will soon enter Phase 1 of building, and without even trying to start its marketing campaign, this phase is already 100 percent sold out.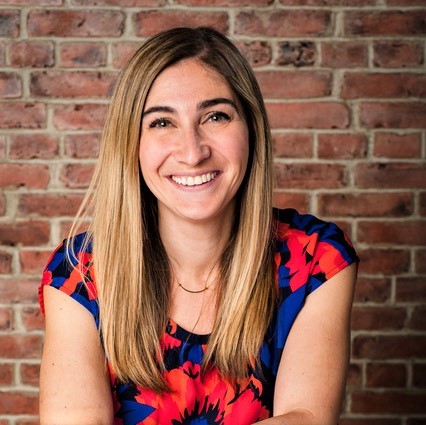 Christina Giannone, one of the executives on the Brightwater team.
She said she is both inspired and humbled by the responsibilities that come with joining a talented team to help revitalize Mississauga's once abused waterfront. The Pointer caught up with her for a 'Question and Answer' session, which has been edited slightly for clarity and length.
---
The Pointer: Urbanologist Richard Florida once said, people increasingly want to "act like tourists in their own city". Is this Brightwater's goal?
CG: "I love that quote. When people ask me about it [Brightwater], my first thought is always: I feel like I am on vacation. But I am lucky enough to also call it home. It is an expansion of that idea, adding to the vibrancy of what makes Port Credit so special. It not only extends the main street and retail corridor west, with destination retail and food and beverage offerings that surround an active publicly accessible square, but it will add to Mississauga's incredible waterfront trail and park network. People are drawn to the waterfront and the natural surroundings. It is also why a focus on health and wellness, innovation and sustainability, is embedded into our master plan and designs.
The Pointer: What is the composite drawing of an average person, family, or business that will eventually settle in Brightwater?
CG: It really is a true mix, there really is something for everyone. We have incorporated flexibility in our designs to be able to offer and respond to the needs across the spectrum of purchasers. For example, in our upcoming Brightwater Towns launch, our team has designed floor plan options for purchasers to select from and customize their unit, based on their own household needs and composition. This includes options for 3-and 4-bedroom unit layouts, den sizes, and elevators, to name a few. We strive to be an inclusive community, attracting anyone looking for modern waterfront village living.
The Pointer: At an Urban Land Institute (ULI) event in 2007, your father and uncle spoke about the St. Lawrence Starch lands, and said there wasn't really a redevelopment model back then, which is quite a bold and risky move, but also seems visionary. Now it's one of the models for turning brownfields into dynamic residential development, with a work-life component, with a complement of commercial and retail. How risky was the Starch lands project, in retrospect, and is Brightwater its natural extension?
CG: It's funny, one of the most interesting case studies that I did in business school was on Apple. One of Steve Jobs' quotes was, 'Our job is to figure out what they're going to want before they do… People don't know what they want until you show it to them.' That seems to resonate with my father's original perspective on the St. Lawrence Starch lands. It's an interesting approach, but a risky one. The risk was mitigated, though, by doing lots of research (through focus groups and questionnaires) and interpreting that information to design what we understood prospective buyers were looking for, and not exactly what they asked for.
But in hindsight, it was a well thought out plan. Ever since I can remember, my father has spoken about the importance of Placemaking. You want to create places and spaces where people want to be, and that doesn't happen if you are passive. By creating, contributing and participating in local events, you create and enhance the true sense of community, and define what village living means. That experiential aspect is something that people crave, today more than ever. And it is something that our Brightwater Partnership team – Kilmer, Diamondcorp, Dream, and Fram+Slokker – really believes in. That means we are partners in the community, not only physically building it, but really defining and supporting what it means for people who live there, work there, visit there, learn there, play there.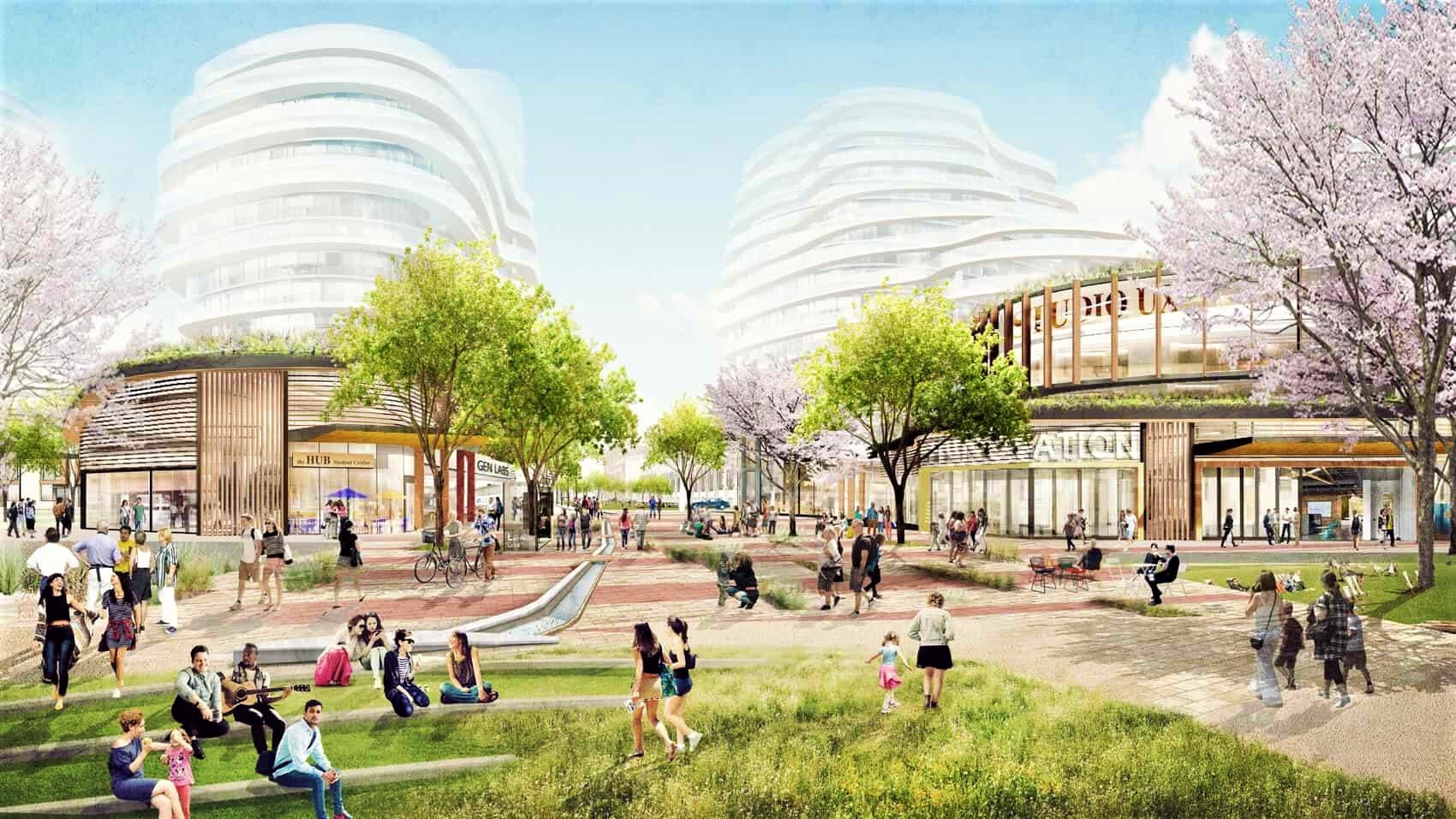 A rendering of the Brightwater development
The Pointer: How much of an impact did the Starch lands project have on you, and was it a driver in your decision to follow your father into the building business?
CG: My family moved to Port Credit in 1985, and it looked a lot different then. I see real estate development as an immense responsibility, and one that I take very seriously, on every project. You are shaping the future of a community, and how people live. Not only for future residents, but our current neighbours today. Homes are the single biggest purchase that an individual makes, and they become the spaces where so many memories are made. Playing a role in that process is one that I am honoured and proud to be part of.
The Pointer: Both the City of Mississauga and Credit Valley Conservation have long-term plans for the entire 22-kilometre stretch of lakefront in the city. Has there been much back-and-forth with the City and others in how your project now fits into the other necklace of projects (Lakeview Village, Port Credit Village, The Shores, the potential remaking of the marina) that would fit nicely into this master plan?
CG: Fram+Slokker's Port Credit Village development had a major impact in shaping the Port Credit that we know today. And Brightwater, as a modern waterfront village, will expand on what makes Port Credit so special already. We're lucky that with the scale of Brightwater, we're able to create a waterfront for all. Our 72 acres sat fenced off, vacant and impacted for over three decades. This site gives us the opportunity to bring it to life, creating vibrant open spaces and parks for all to share, new retail and offices, school, public amenities, and residential units of different types and tenors. We are developing and opening the site up to visitors, patrons, businesses and new residents. While we are not developing the waterfront parks (we are conveying the land to the City of Mississauga) we understand that the City is undertaking a full waterfront parks review to define and refine the incredible public park network in Mississauga. We have also been working alongside the City staff through our approvals process and have shared our vision for what the waterfront could be, inspired by Inspiration Port Credit and further defined by our master plan consultants including Giannone Petricone Associates and Public Work. We will add to that open space network by incorporating privately-owned public spaces that will offer opportunities to animate and activate alongside the parks, and throughout the Brightwater community.
The Pointer: Is the age-old real estate adage "location, location, location" very much Brightwater's biggest draw – by the lake, close to transit, even Toronto only a short GO Train ride away, and bucolic Port Credit Village within easy biking, walking, or riding distance?
CG: Absolutely. It's honestly why I chose to live and work and raise my own family here. One of the strongest themes in our design is connectivity. Connectivity to nature, the parks, trails and waterfront. Connectivity to community, one that is inclusive and diverse. Connectivity to transit (including a shuttle to the GO station). And technological connectivity, living smarter and more innovative. Connectivity to the best event programming that is Port Credit, to keep us and all of Mississauga entertained. I would also say that one of the biggest draws is the walkability to really everything. I think more than ever, in this COVID world, we have realized the importance of location, location, location. Having the ability to open your front door and be steps from an expansive park network along the waterfront offers an exceptional lifestyle – both active and relaxed. Or to pick up groceries, or grab a coffee or a meal. To eliminate a need to get into a car to get to your office, or a school and/or community centre. That is the vision of Brightwater.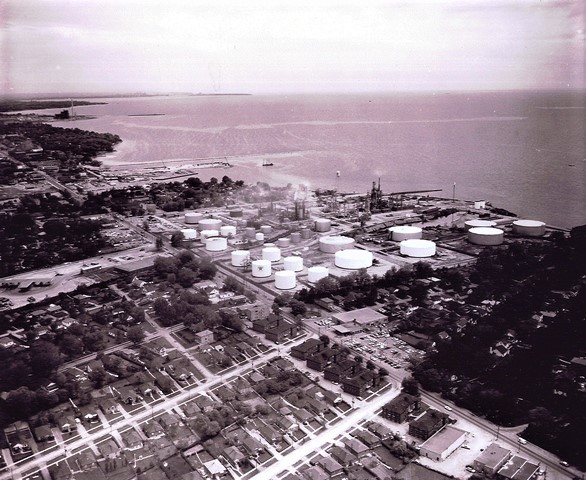 The old Texaco refinery that was bought by Imperial Oil, where Brightwater is now being developed.
The Pointer: Remediation of the lands must be a risky prospect for builders, since you don't really know the extent of the damage you're facing? Did the Imperial Oil property surprise you by the extent of the clean-up needed?
CG: Certainly, any lands with an industrial past will present potential risks for builders. However, it is incumbent on anyone dealing in this type of land, to have a good understanding of any impacts to the lands. Prior to our Brightwater Partnership's purchase of the lands, Imperial Oil, the previous landowner, had conducted extensive research and data collection on its lands as part of its own environmental management of the property. That information collection was an important investment in being able to understand the extent of impacts to the property from its long industrial past. This information was all provided to our Brightwater Partnership prior to the purchase and provided an excellent baseline from which we could plan and deliver a remediation program that met the stringent regulatory requirements for development of the lands.
The Pointer: The industrial age, especially in the post-war period, was prolific in building dirty factories in eco-sensitive areas, like the OPG plant in Lakeview, and the Texaco/ Imperial Oil refinery. Has a new development ethos emerged with hopes of working in concert with Mother Nature?
CG: Having lived in Port Credit for the majority of my life, I've only ever known that site as a fenced off property. I recognize that properties like this do not come about every day, and I take great pride that I am able to help shape a neighbourhood that my kids will grow up living in, playing in, and shopping in. There is no question that the waterfront is a special place. Everyone wants to be close to the water. It's in our nature and we are drawn to it.
The Pointer: Mississauga was once cursed but is now blessed with having some of the most extensive infill property available for redevelopment in North America. What is the opportunity?
CG: [It is the] biggest opportunity – creating a world-class complete community. Opportunities of this scale don't come around very often. So, when it does, it needs to be done right. I'm lucky enough to work for an incredible group of partners, and each brings expertise to the table in planning, building, remediation, leasing and infrastructure. We have also brought on world-renowned designers and consultants, and we also held an international design process. This also means that a major waterfront redevelopment has many active stakeholders, and rightly so. And the vision means something different to different stakeholders: City staff, Regional staff, Credit Valley Conservation, the Province, the School Boards, an active group of neighbours and ratepayer associations, us as developers, future businesses and tenants, and our residents. For our site, the City and the community had undertaken an initiative called Inspiration Port Credit. This framework set the stage and parameters for what is now Brightwater. We met and worked with City staff on a biweekly basis on the plan. We also had regular meetings with ratepayer groups and the Port Credit BIA to share visions, listen to questions and suggestions, and evolve our plan. [Those] meetings started in advance of our bid submission and helped create our plan. Aligning visions is a challenge, but through collaboration you can get there. It becomes something we're all proud of. It becomes a legacy for all of us.
The Pointer: How much talk is there about Brightwater?
CG: I would say there is quite a buzz. In the last year, we were honoured to be given a Pinnacle Award by BILD for the Best New Community Planned/Under Development, as well an Award of Merit by the Canadian Institute of Planners for Healthy Communities Planning, and previously a Brownies ReInvest Award. I was also recently invited to sit on ULI's Panel Discussion called Mississauga: Waterfront Rising, with an update from Mayor Crombie on the visionary evolution of developments along the City's waterfront. She appeared alongside Mississauga City staff. I am confident in our ability to deliver the vision that started with Inspiration Port Credit and that has evolved into our award-winning master plan. The ultimate reward is being a truly complete community, enjoyed and experienced by all who live, work, and visit there years into the future.
---
---
COVID-19 is impacting all Canadians. At a time when vital public information is needed by everyone, The Pointer has taken down our paywall on all stories relating to the pandemic and those of public interest to ensure every resident of Brampton and Mississauga has access to the facts. For those who are able, we encourage you to consider a subscription. This will help us report on important public interest issues the community needs to know about now more than ever. You can register for a 30-day free trial HERE. Thereafter, The Pointer will charge $10 a month and you can cancel any time right on the website. Thank you.
Submit a correction about this story